It continues to be nearly impossible to keep up with all the good comics coming out every year, as there's never been a wider variety of high quality publishers and access to both current and historical comic books. To help ease the search for the best of the best, I'm keeping a list of my favorite comics of 2022 here, with only my absolute favorites of the year making the cut.
Honestly, I've been making best of lists for comics for close to a decade, and I'm happier with my 2022 selections than any prior year. Not only do I love the picks, but it feels like the healthiest variety of styles, creators and publishers I've kept up with, and that's fueling my love of the artform more than ever. Favorites are listed in descending order, with my absolute favorite listed at the bottom!
Related Best Of Lists:
Support For Comic Book Herald:
Comic Book Herald is reader-supported. When you buy through links on our site, we may earn a qualifying affiliate commission.
Comic Book Herald's reading orders and guides are also made possible by reader support on Patreon, and generous reader donations.
Any size contribution will help keep CBH alive and full of new comics guides and content. Support CBH on Patreon for exclusive rewards, or Donate here! Thank you for reading!
Below you'll find all the best comics released in 2022, updated throughout the year as I read more great books. See a graphic novel or series you love missing from the list? Let us know in the comments!
Honorable Mentions:
This graphic novel from Tim Seeley and Ilias Kryiazis sticks with you, especially if you're a parent. Seeley can operate in distinctly comedic (Money Shot) or somber modes (Revival), and Chronophage slides comfortably into the latter, following a badly fraying mother-daughter relationship as a too-good-to-be-true new boyfriend enters the scene for mom. At its core Chronophage is exploring those moments of what life could have been by altering key decisions, and the juxtaposition between the weight and soul-soaring highs of building a family. Kryiazis ensures the story excels through expert pacing, body language, and yes, trippy horror.
For more, check out my interview with Tim Seeley!
One of my newest rules over the last two years is that if I see Stephanie Phillips writing historical fiction, I jump on that series (a lesson first learned reading The Butcher of Paris). That's what we have here in the Comixology original series with artist Philip Krause, as Phillips and team explore pre-World War II America, the rise of Nazi sympathizers in the US, and Jewish New Yorkers brought into government schemes to bring them down. It's hard-boiled crime fiction wrapped in a fascinating historical moment with obvious and fraught modern parallels.
Dave's 35 Favorite Comics of 2022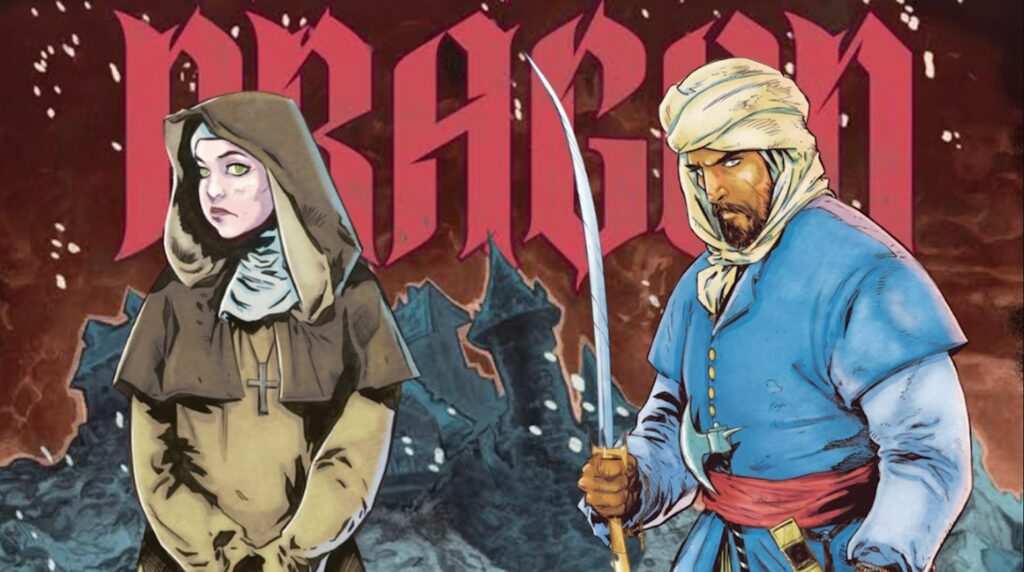 This Kickstarted graphic novel about a demon-possessed Dracula by Saladin Ahmed, Dave Acosta, Chris O'Halloran, and Hassan Otsmane-Elhaou (with Nate Cosby edits) is a phenomenal package, and one of the coolest looking comics I've read all year. Acosta and O'Halloran combine on some of the most spectacular monster-hunting visuals this side of Dracula Motherf***ers,
as Ahmed weaves a familiar Dracula tale, but told from the lens of the Muslim people and territories so frequently ignored in the usual Anglo-Saxon European versions of the tale. The relationship between the fallen Muslim Knight Adil and a Christian Nun he must partner with to take out Dracula is engaging, but it's the visual transformations of Adil's flaming blade or Dracula's final demonic form (I've never seen an interpretation like this!) that send the book over the top.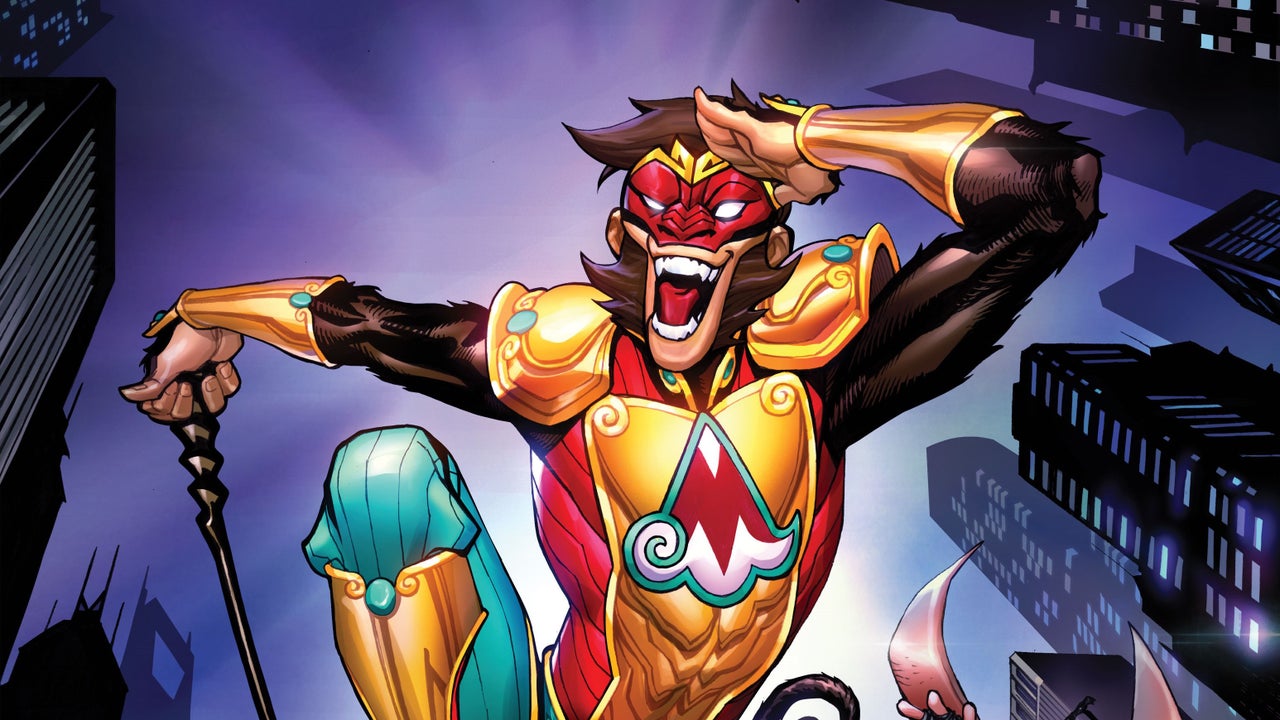 DC's Monkey Prince had me at "written by Gene Luen Yang" and won me over with tremendous charm, confidence, and surprisingly deep integration into Gotham City. The series spins out of DC Festival of Heroes: The Asian Superhero Celebration and features a deliberate focus on Asian creative talent and characters in the story. It's a story that feels both familiar to fans of Billy Batson and Captain Marvel, or Peter Parker and Spider-Man, and uniquely rooted in the mythos of "Journey to the West," and a superhero rooted in a traumatic experience with Batman.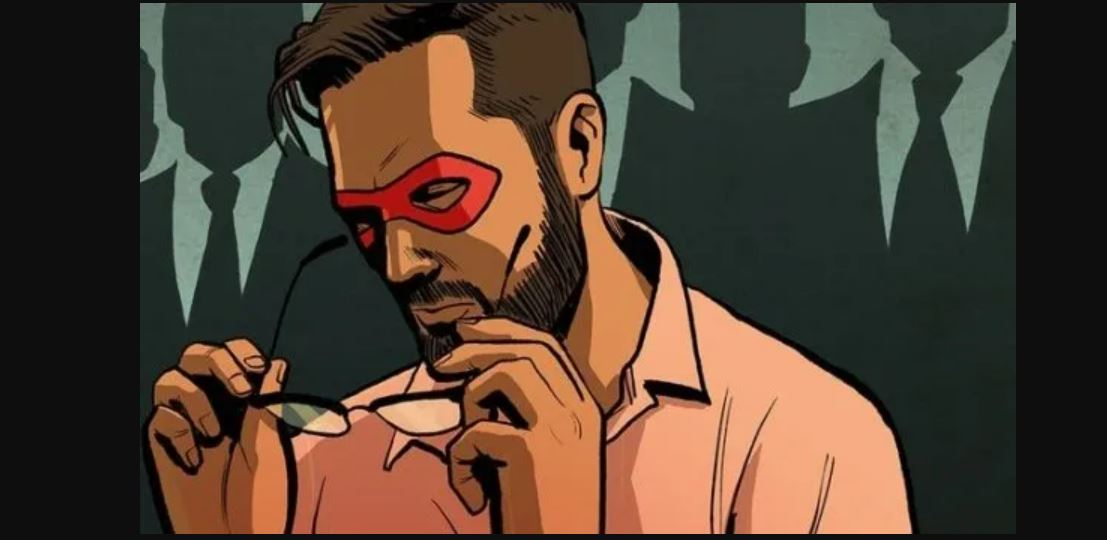 The longer I'm obsessed with comics the more appetite I have for works that test out new angles with the history of the industry and the creators who made it. Recent examples include the jaded, bruised legend of Brubaker/Phillip's Bad Weekend
 or Alan Moore's alternate universe history of the medium in "What We Can Know About Thunderman
".
In Public Domain, Chip Zdarsky taps into the legacy of Jack Kirby and his estate, playing out a What If where Kirby lived through the rise of the MCU, and his family had to grapple with his legacy and creative compensation. It could all play out like depressive legal documents, but in Zdarsky's hands it's a warm, engaging riff on Kirby's spirit and creator rights. It's an incredibly timely commentary on how comics legends are milked for profit, but most importantly, it's a world of instantly charming, compelling characters.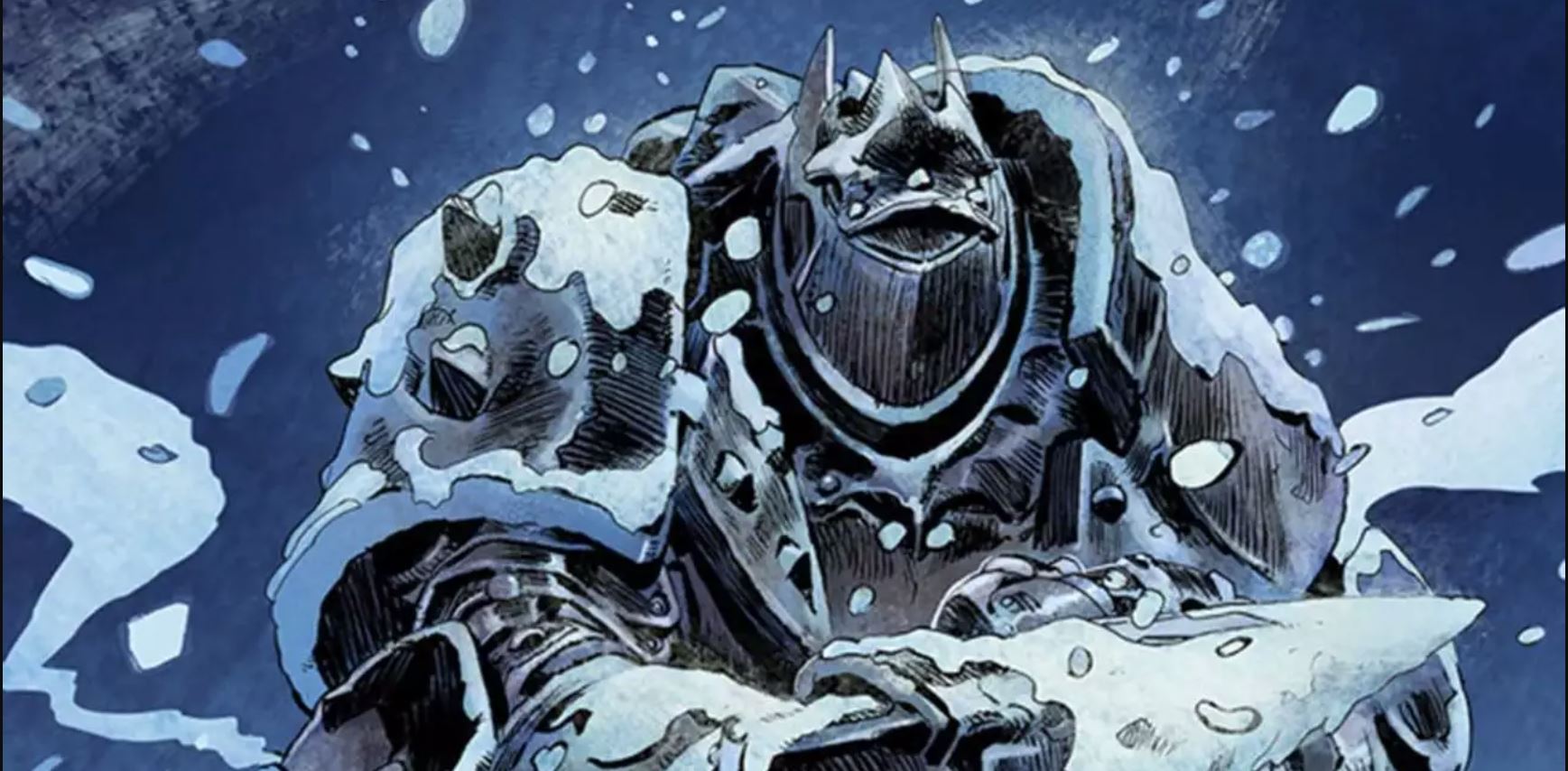 It takes a lot for a silent comic to win me over. There's no advantage of a score, and frankly, as someone who isn't an artist, I always feel like I'm straining to observe truly visual storytelling in ways I don't have to do when I'm following my traditional letterer-prescribed path through narrative. But when silent comics hit, they tend to hit as some of the most memorable in the medium. Things like New X-Men #121, Batman and Robin #18, Hawkeye #11, etc! As luck would have it, I paired my first read of Step by Bloody Step with The Arrival
by Shaun Tan, another silent graphic novel classic, and it made for one of the best comics reading experiences around!
Matías Bergara, Matheus Lopes and Si Spurrier have clearly built something special in Step by Bloody Step, with an oversized first issue that lets Bergara and Lopes flex like never before. Spurrier and Bergara have collaborated to great success previously in Coda, but it's a wonder how assertively they both blaze new trails here.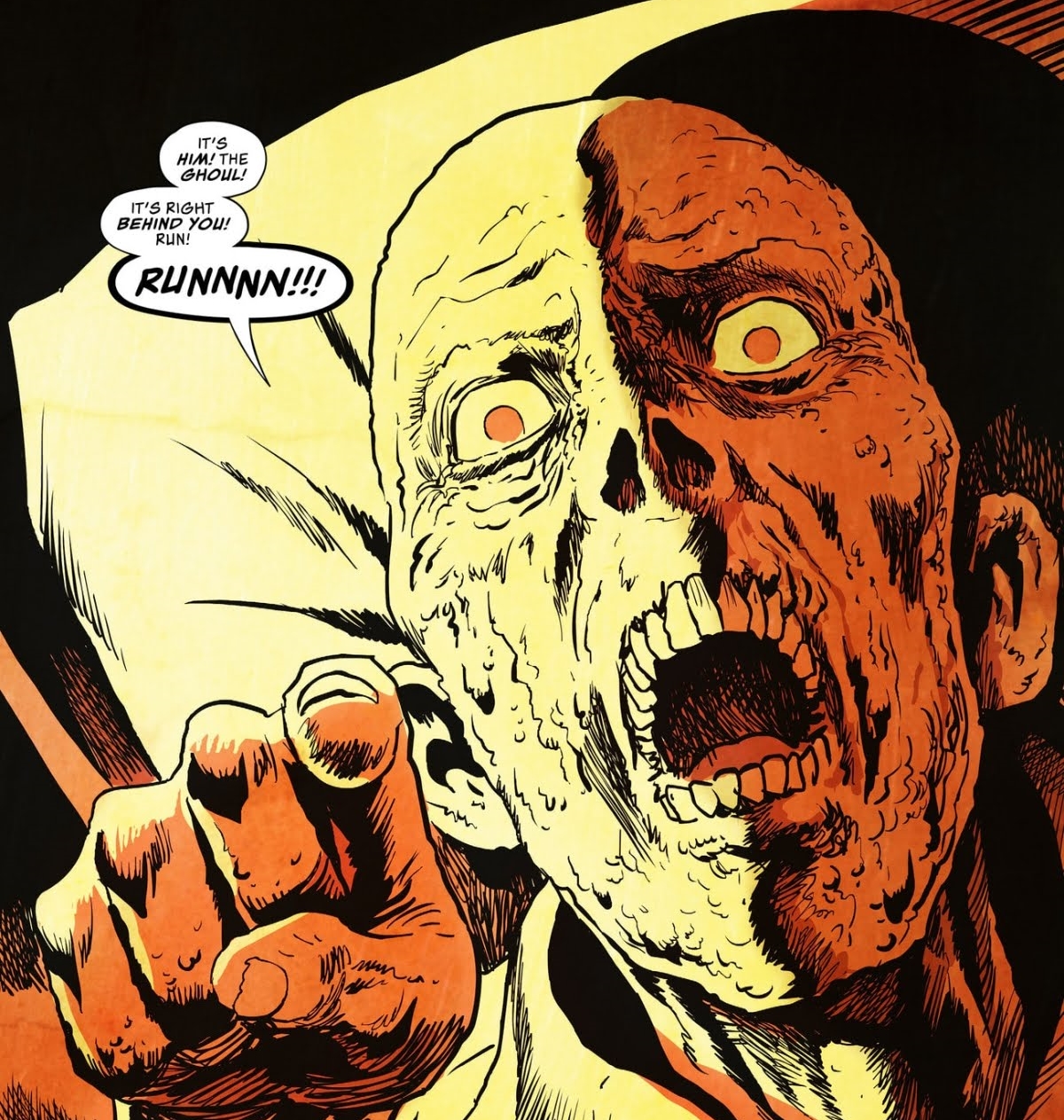 Scott Snyder's post-DC creator-owned career is one of the most interesting in comics right now, launching his own Best Jackett Press imprint with a combination of digital exclusives through Comixology Originals, a Substrack presence, and ultimately print releases through Dark Horse. He's also working with some of the best artists in comics, including Greg Capullo, Francis Manupal, Jock, Tula Lotay and Tony Daniel. I read all of Snyder's work for my interview with him, and the most captivating work is Night of the Ghoul with the incredible Francesco Francavilla.
Snyder and Francavilla doing horror is hardly a surprise – They've collaborated previously on the dark Batman: Black Mirror, and Francavilla's Archie Horror is great – but here they mix in Old Hollywood, father and son dynamics, and of course, the one true monster of the living world, The Ghoul! It's a tense, captivating story, with Francavilla's hot orange horror seeping into melted old movie stills in one of the best comics of the year.
For more, check out my interview with Scott Snyder!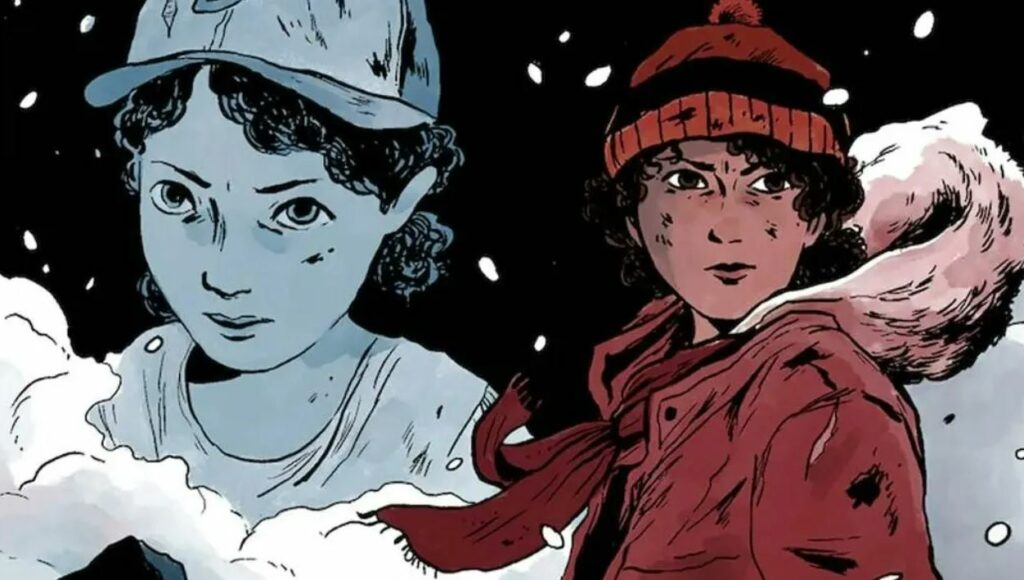 A new Tillie Walden graphic novel is reason enough to celebrate, but Walden's entrance into the Walking Dead universe is that rare mixture of an artist at the peak of their powers merging with a pop culture juggernaut on their own terms. The pairing is certainly fascinating, with the sensitive romantic longing of Walden combining with Robert Kirkman and Charlie Adlard's penchant for spiked baseball bats and putting the "ew" in gruesome. Yet, within the pages of Clementine (a character out of Telltale Games' acclaimed The Walking Dead), Walden is finding a way home, much like Clementine and the crew of young misfits as they attempt to build a walker free space in the snowy mountainside. It's a strong opening statement, although I'll admit the jury will be out on the grand experiment until the full story is complete. In the meantime, it's a wonderfully told chapter in a hopefully enduring extension, and it's nearly impossible to put down.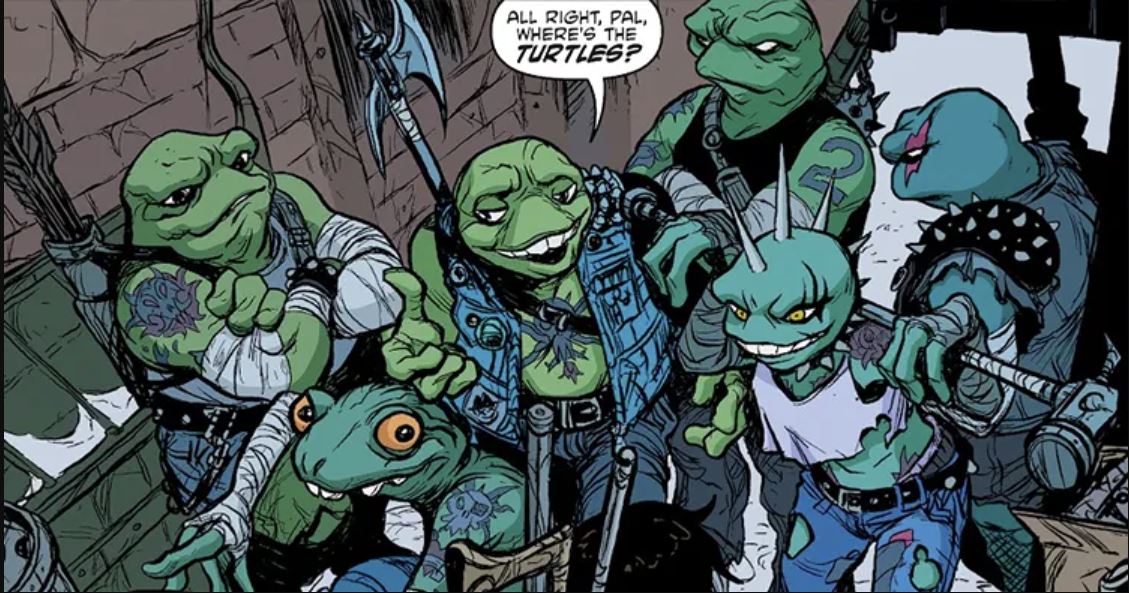 I've stated throughout 2022 that my favorite mutant story since 2020 is IDW's Teenage Mutant Ninja Turtles, spearheaded by the great Sophie Campbell. It's partly contrarianism against all my loyal X-Heads, but it's also how I feel. TMNT #101 kicked off the "Mutant Town" era of Turtles comics, and Sophie Campbell's run during this stretch simply does not miss. While the X-Men are building a mutant nation in the Marvel Universe's Krakoa, the Turtles are helping establish "mutant town," but on the more local level the questions, considerations, and explorations are honestly more succinct and engaging. Plus, whether it's Campbell on art or not, Turtles comics simply look fantastic, with Ronda Pattison's colors ensuring vibrancy and tonal consistency no matter who's drawing.
For more, check out my interview with Sophie Campbell!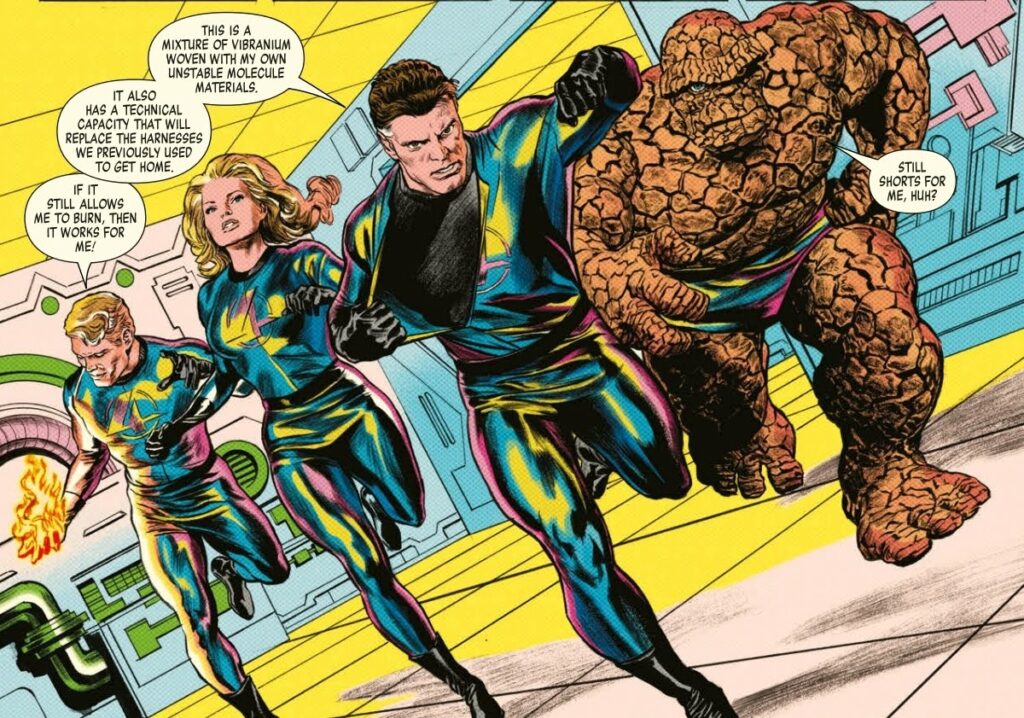 Alex Ross is a living legend in comics, with gorgeous painted art making works like Marvels
 and Kingdom Come
 some of the best of the '90s, and recent cover work elevating the instant classic run from Al Ewing on Immortal Hulk. Given decades of celebrating his iconic style, it's genuinely exciting to turn into Fantastic Four: Full Circle and find Ross experimenting with an infusion of more Kirby-influenced traditional linework among his style photorealistic storytelling gifts. "Full Circle" is an absolute love letter to Jack Kirby and Stan Lee's Fantastic Four, to the point that it's more or less a direct sequel to "This Man, This Monster," the story in Fantastic Four #51. As such, the graphic novel works as both an artistic showcase for Ross and a playful throwback celebration for longtime fans of Marvel's first family.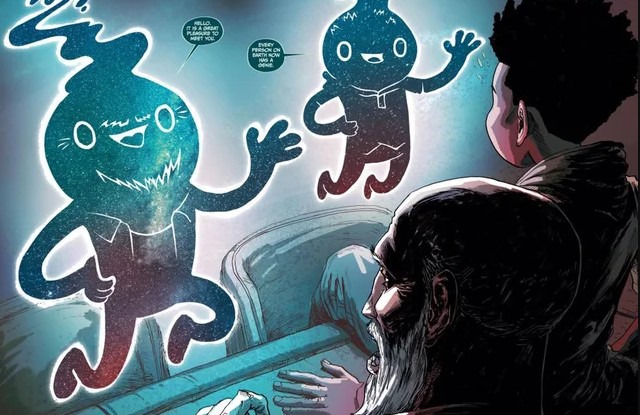 Charles Soule and Ryan Browne's Curse Words currently sits at #675 out of #850 comics I've ranked for CBH's best comics of all time. While that's not as bad as it sounds (the list doesn't really get into "no, this stinks!" territory until around #775), it also means Soule and Browne's previous collaboration didn't blow me away. It's a fun, well-crafted book that's a little too reliant on its concept to carry the narrative momentum.
Ironically, Soule and Browne's return is almost pure high concept, but Eight Billion Genies is so structurally sound it's simply a joy. The 8 issue series asks: What if all 8 billion people on Earth got their own personal genie to grant them one (and only one) wish? The ice-breaker premise leads to fascinating chaos, and then quite brilliantly incorporates a timescale of eights (the first 8 seconds, the first 8 minutes, hours, days, months, years, etc) so the team can really flesh out how this madness would play out over the course of time. It's a book loaded with preposterous action, Browne's unique eye for madcap visual explosions, some tantalizing mystery, and at least one concert where Jim Morrison actually performs with a bass.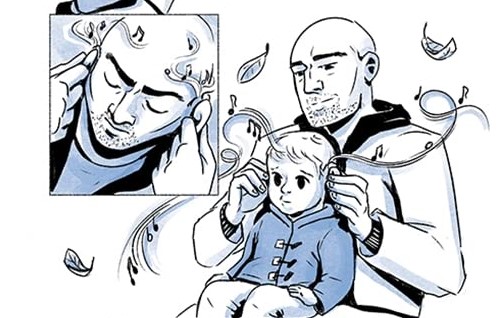 I used to joke that I really only cry when old wizards die (what's up Gandalf falling with the Balrog during my first date!), or when pals sadly touch hands (Ben and Johnny, Kirk and Spock). Well, my Dad era has changed all that. Having kids has opened my tear ducts, as I've learned this year reading the likes of Cormac McCarthy's The Road and now Ronan and the Endless Sea of Stars. There's an intimidation factor to a graphic novel like Ronan, a memoir by writer Rick Louis with art by Lara Antal, because it is very transparent about the kind of heartbreaking story it's going to tell, the story of Louis's son diagnosed with terminal Tay-Sachs before his first birthday. It's so much easier to avert my eyes, and avoid the pain.
I'm so glad I didn't though. Yes, Ronan made me cry, but it also made me hug my kids, and think about what I value in family and in life, and how I relate to those around me. You know, all the things the best art can inspire. Antal captures the delicate balance between tragedy and humor beautifully, in one of the year's best works.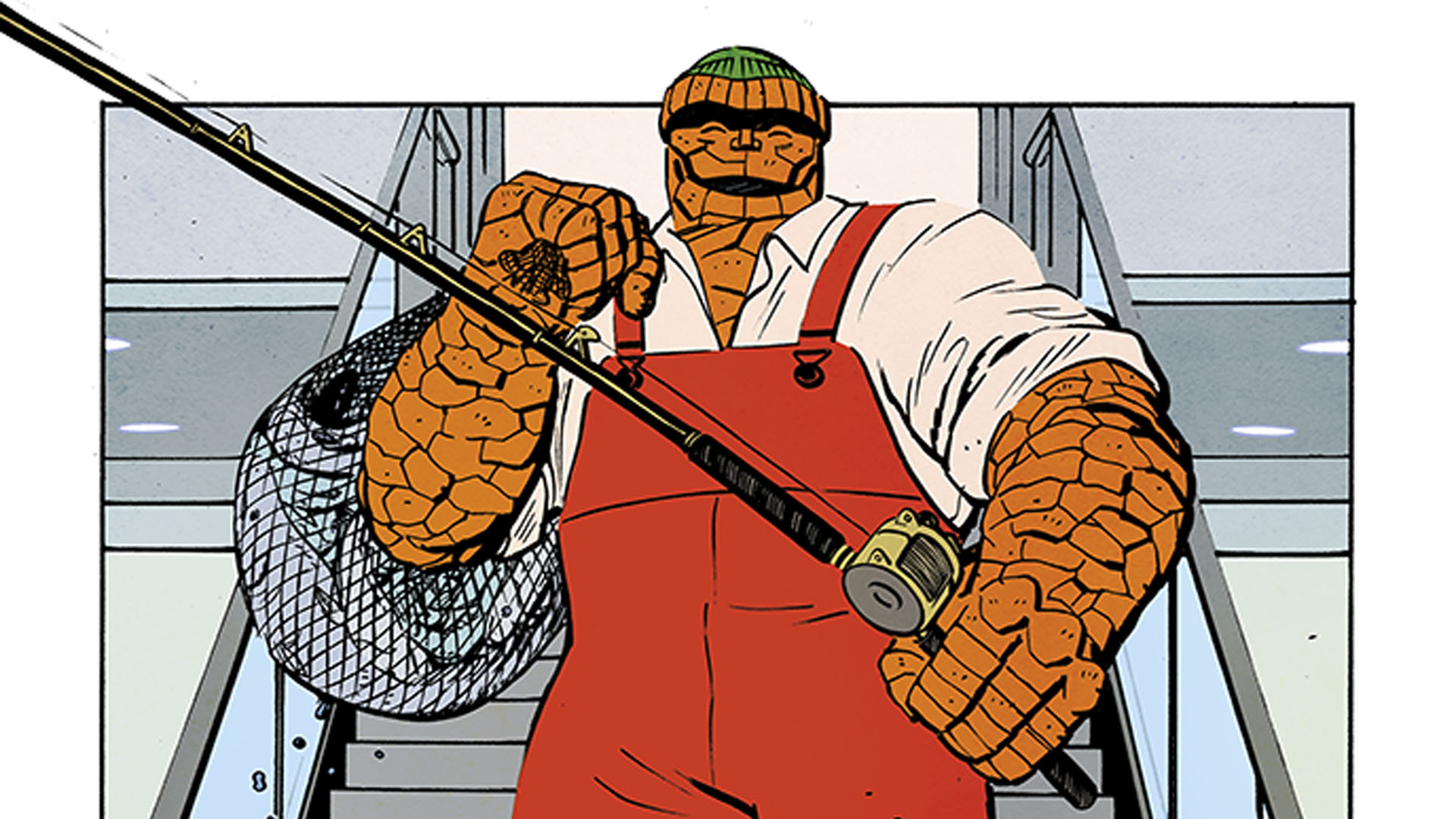 Because of the Fantastic Four's cinematic struggles in the 2000's, there's a whole generation of Marvel fans who may well be missing out on the fact that Benjamin Grimm, aka the everlovin' blue-eyed Thin, is arguably the best Jack Kirby and Stan Lee creation. Yes, Peter Parker's the more successful and my personal favorite, but if you're just reading Silver Age 1960s Marvel Comics, the real standout above anyone else is consistently The Thing.
So much love to Walter Mosley and Tom Reilly for reinstating that sense of admiration for an all-time great character, taking Ben on an evergreen solo journey that could slide neatly into a host of eras in Marvel continuity. Mosley and Reilly understand that Ben is a multifaceted player, a romantic, a brawler, a sensitive soul, and yes, if need be, a clobberer. On top of all that slice-of-thing, the series builds to an unpredictable burst of pure Marvel storytelling.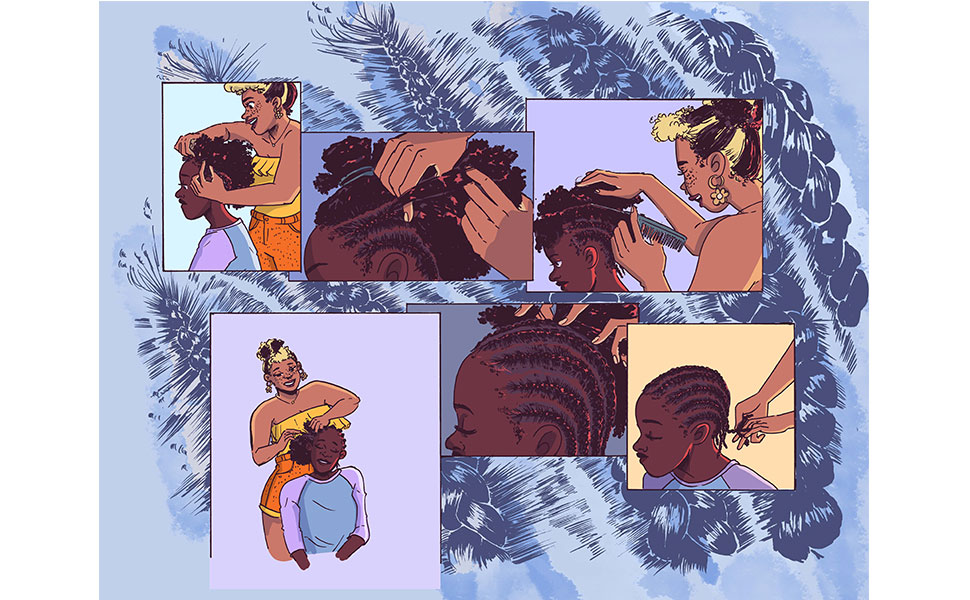 Jamila Rowser and Robyn Smith's gorgeous graphic novel delights in the specificity of black culture, women, and yes, hair. It's an ambitious format, eschewing a central narrative throughline, or rom-com structure, in favor of a series of character vignettes, before bringing four friends together for the triumphant conclusion. I couldn't get over how engaging the creative team makes sequences of hair care, not to mention how effortlessly powerful they equip the weight of microaggressions through an action as seemingly innocuous as not wanting to go to work with your natural hair. Wash Day Diaries is an easy read, which can mask the density of it's wonderfully stylized beauty.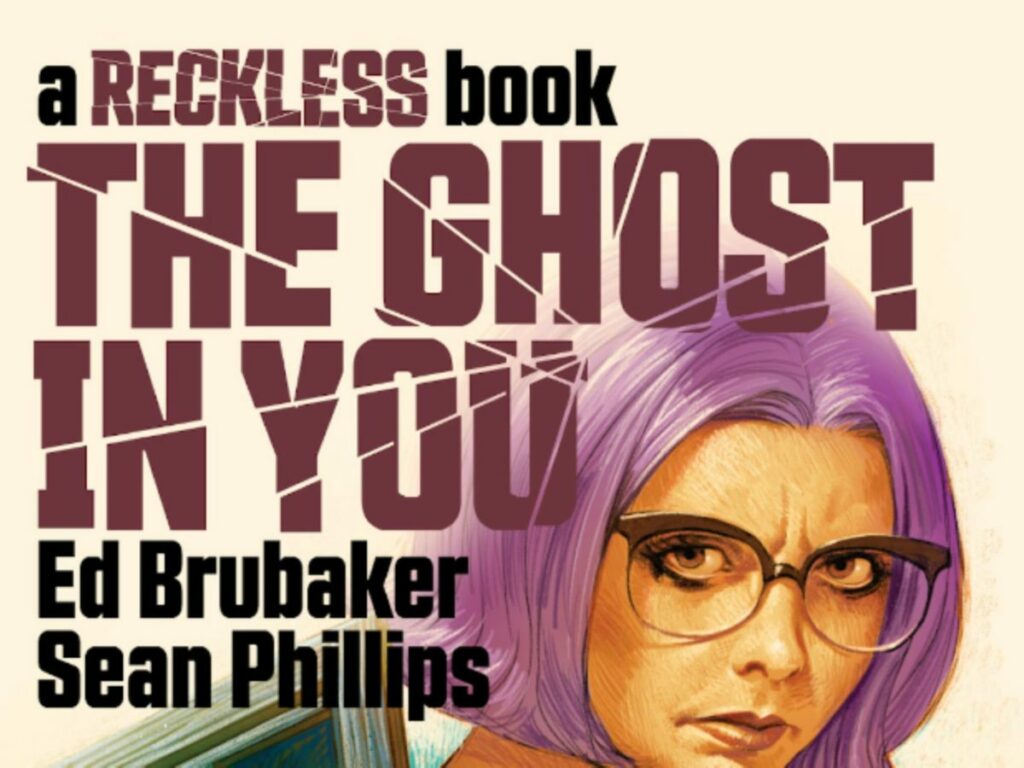 I read the first two "Reckless" graphic novels from Ed Brubaker, Sean Phillips, and Jacob Phillips on a whim, and I was relieved that I didn't love them. I have nothing against the creators; In fact, the opposite is true, I'm worried I like their comics too much. The return of Criminal was my favorite comic of 2019, and if you scan CBH's best comics of all time list, you'll find it full of Brubaker/Phillips work. So yes, I was relieved to find a series that wasn't connecting with me, lest the legions of adoring readers discern my tastes had become too predictable, too isolated, and too aligned with the rest of the comics media that only I consider myself a part of.
And then Steve Baxi had to come along and write a fantastic 2 part series about Reckless, tricking me into catching up on the latest entries in the series, and of course, falling head over heels in love. Yes, noir, yes, pulp, but what makes "The Ghost In You" so exciting is how the creative unit swings off of Ethan Reckless for an entire graphic novel, focusing instead on his assistant/protégé Anna in a mystery that combines Hollywood murder stories, an Elvira, Mistress of the Dark, stand-in, and a whole lot of background on Anna's personal life. It's excellent, and finally won me over on the series. Just like all the rest!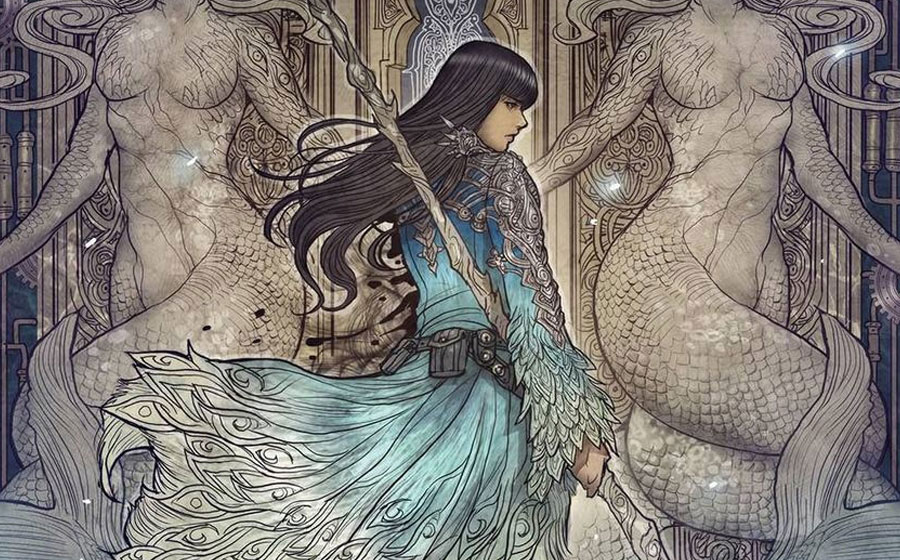 I was endlessly behind on Monstress until I landed the opportunity to interview Marjorie Liu, and now that I'm caught up, I owe Liu, Sana Takeda, and the entire creative team literal years of apologies for any absences on previous CBH best of the year lists! Monstress is simply one of the best fantasy stories in the medium, an incredible blend of drama, emotion, heart and humor, with truly inventive and breathtaking exploration of the often familiar forms. There's a tendency to overlook comic series that have been running for years on best of lists, and that's a mistake I won't be making again with Monstress, already one of my favorite series of all time, and a literal epic we get to watch unfold before our eyes.
For more, check out my interview with Marjorie Liu!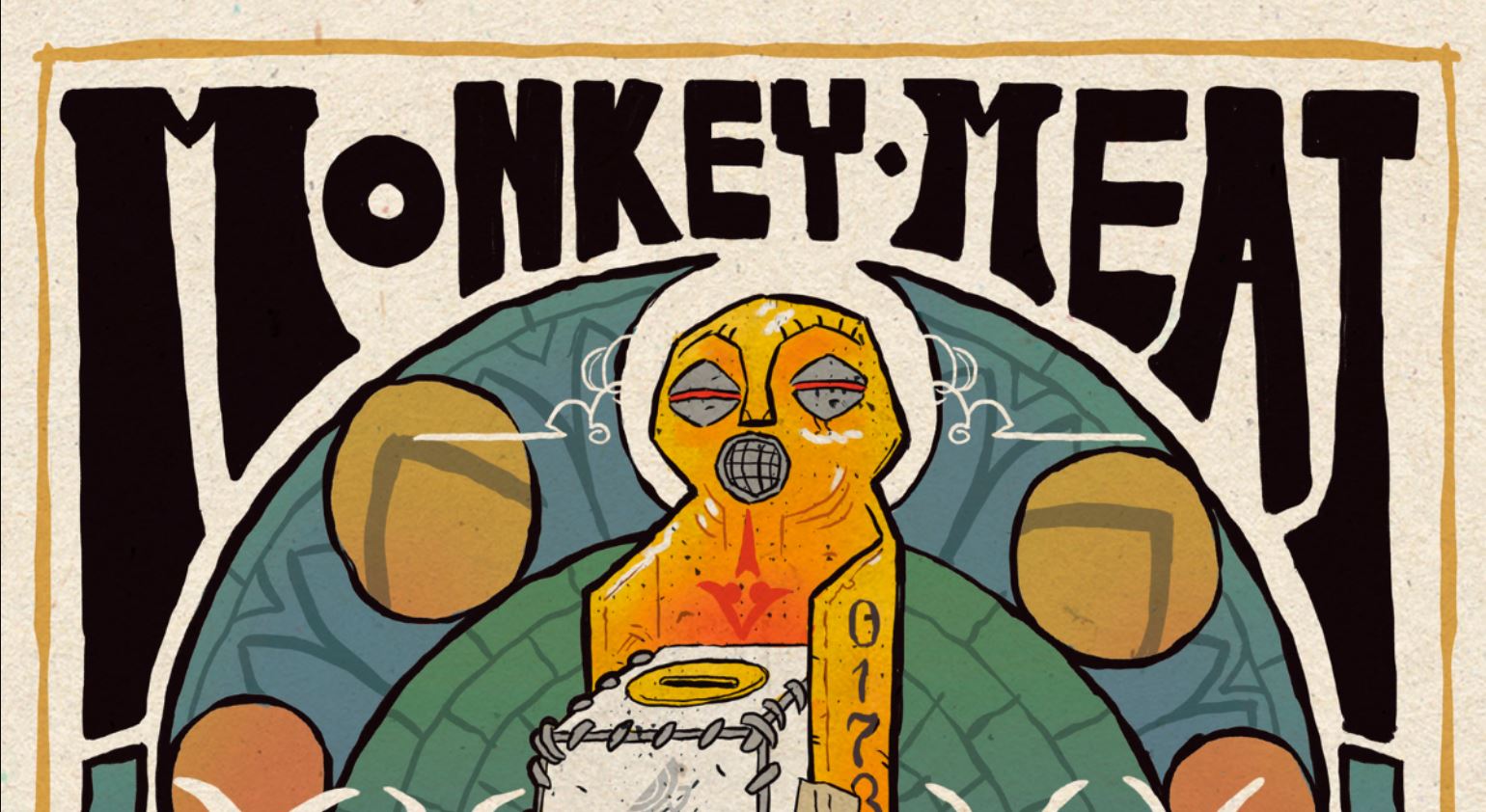 Juni Ba is one of the most exciting young creators making waves right now, something I highlighted on last year's list with his TKO Studios graphic novel Djeliya. Ba's style is Mike Mignola by way of Samurai Jack, and on Monkey Meat, the 5 issue series from Image Comics, Ba gets to fully lean into his developing sense of myth, purpose, and delightful oddity.
For more, check out my interview with Juni Ba!

Coming off 4 Kids Walk Into a Bank
, one of my favorite 100 comics of all time, and combined with Tyler Boss's excellent "Dead Dog's Bite," there was no doubt I'd be excited for the next collaboration between Matthew Rosenberg and Boss.  What's the Furthest Place From Here is one of my most anticipated comics in years. So far, the series has not disappointed, mixing elements of The Warriors, Fallout, Deadly Class, and every straight edge punk show of the 1980s. Early on the book's not as funny as 4 Kids, but there's a broader scope and mystery, and Boss's education at the hands of David Mazzucchelli makes for some of the best storytelling in comics.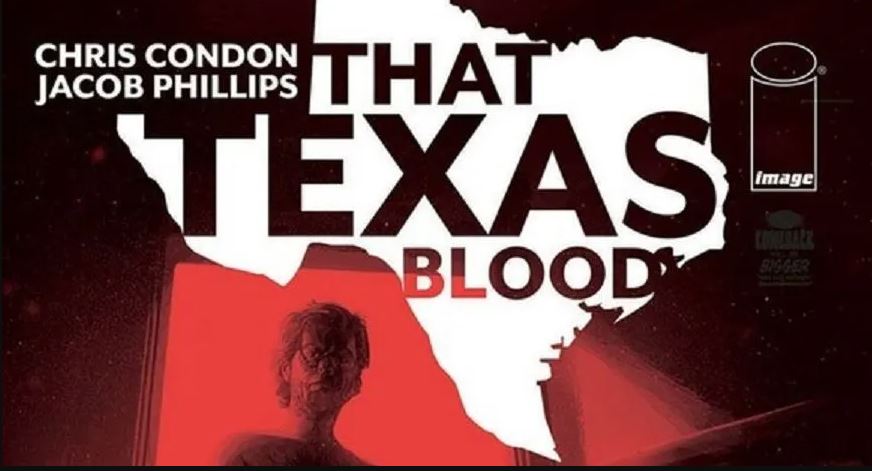 Listen, when you're the son of Sean Phillips, and you're working with a writer deeply versed in the tradition and stylings of noir (and horror!), comparisons to the massive catalog of Brubaker and Phillips are inevitable. What's remarkable is that Jacob Phillips and Chris Condon are able to compete with that legacy on That Texas Blood, while simultaneously carving their own path forward.
After a stunning opening 13 issues, That Texas Blood returned in 2022 with their third arc, a classic slasher-horror riff on a serial killer in a small Texas town. It's haunting, impossible to put down, and achingly memorable. More than anything, though, it's a reminder that That Texas Blood is in position to run for a 50 issue run (or more!) and hold its own on best of lists for years to come.
For more, check out my interview with Chris Condon.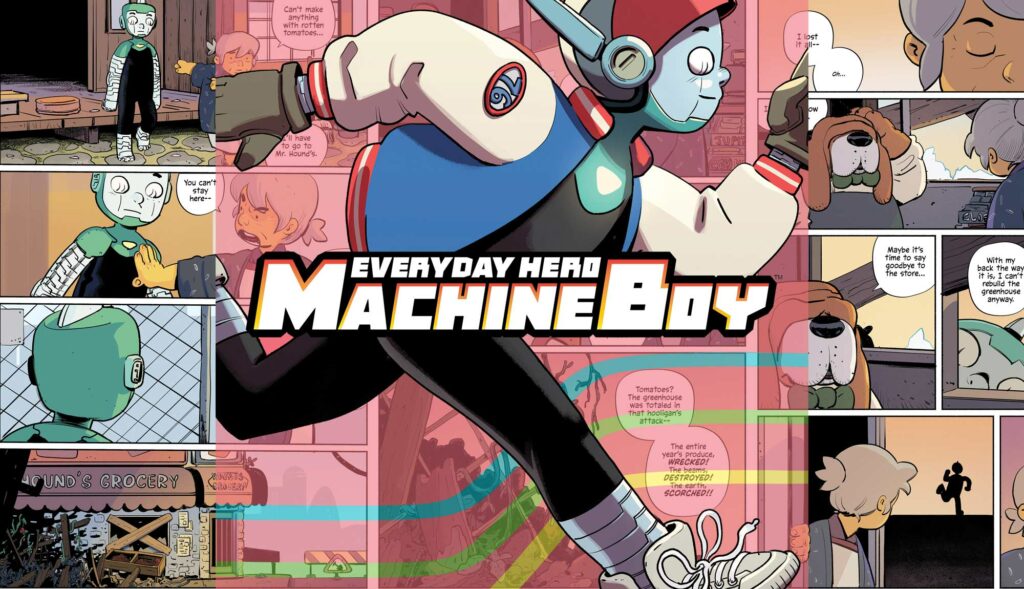 I absolutely adored this young readers graphic novel co-created by Tri Vuong and Irma Kniivila, with letters by Aditya Bidikar and edits from Arielle Basich. "Machine Boy" captures the heart of child-like AI narratives (Astro Boy, The Iron Giant) and the lifelong romance and found family of Pixar's UP. On top of all those emotions, though, Everyday Hero Machine Boy is great fun, with superhero pop bands, robot-kaiju pets, and best of all, Karate Grandpa. A delightful setting of anthropomorphic animals and humans, and the young robot trying to find his way in their world.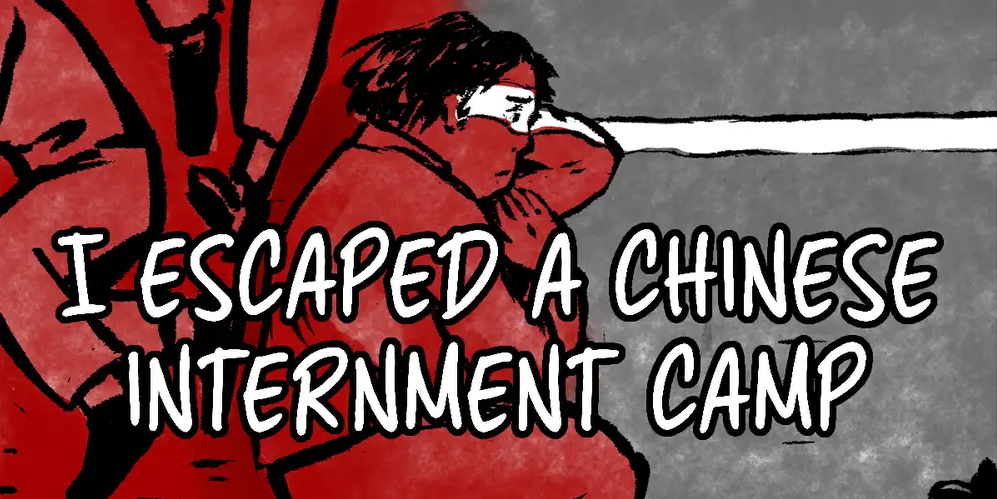 Fahmida Azim, Anthony Del Col, and Josh Adams team up to tell the story of Zumrat Dawut, a Uyghur mother of three from the Xinjiang autonomous region in China. Dawut's story, as translated into this short comic, is the stuff of nightmares, and shines a needed beam of light on China's abuses of the predominantly Muslim Uyghur population.
I've been consistently impressed by Del Col and Adams' work for Insider, equal parts narrative journalism and webcomic, highlighting and clarifying some of the most important (and horrifying) events of recent memory. You can read them all free on Insider (link above), and I'd also highly recommend their work on the story of the domestic terrorism plot to kidnap the Governor of Michigan.
For more, check out my interview with Anthony Del Col.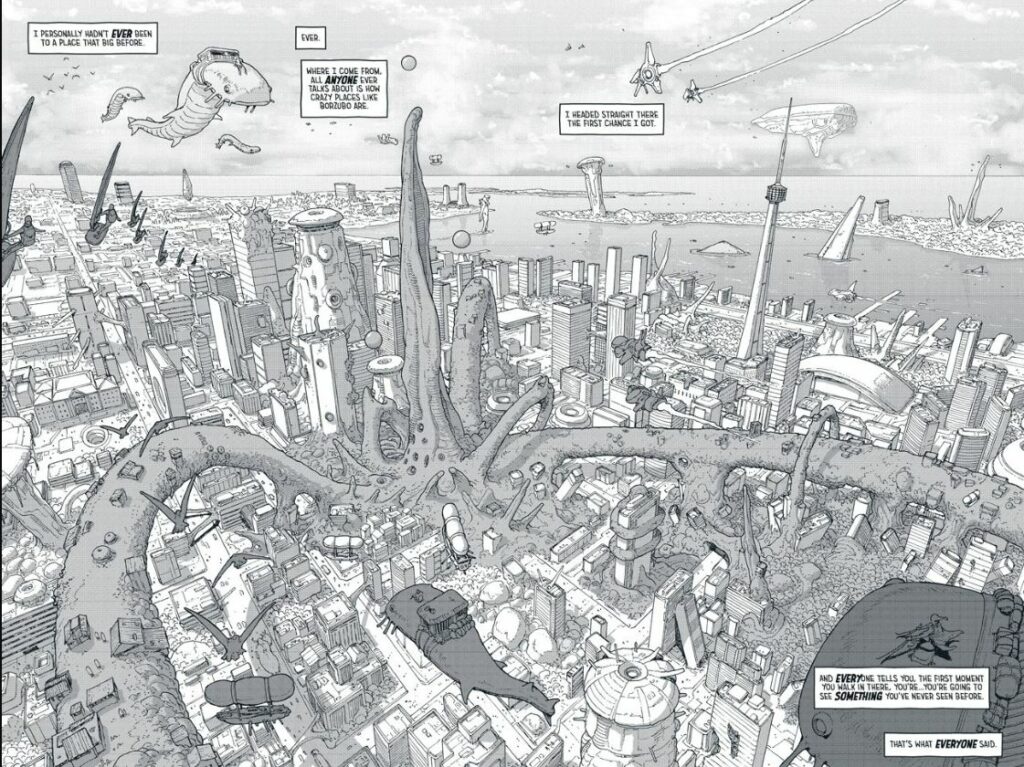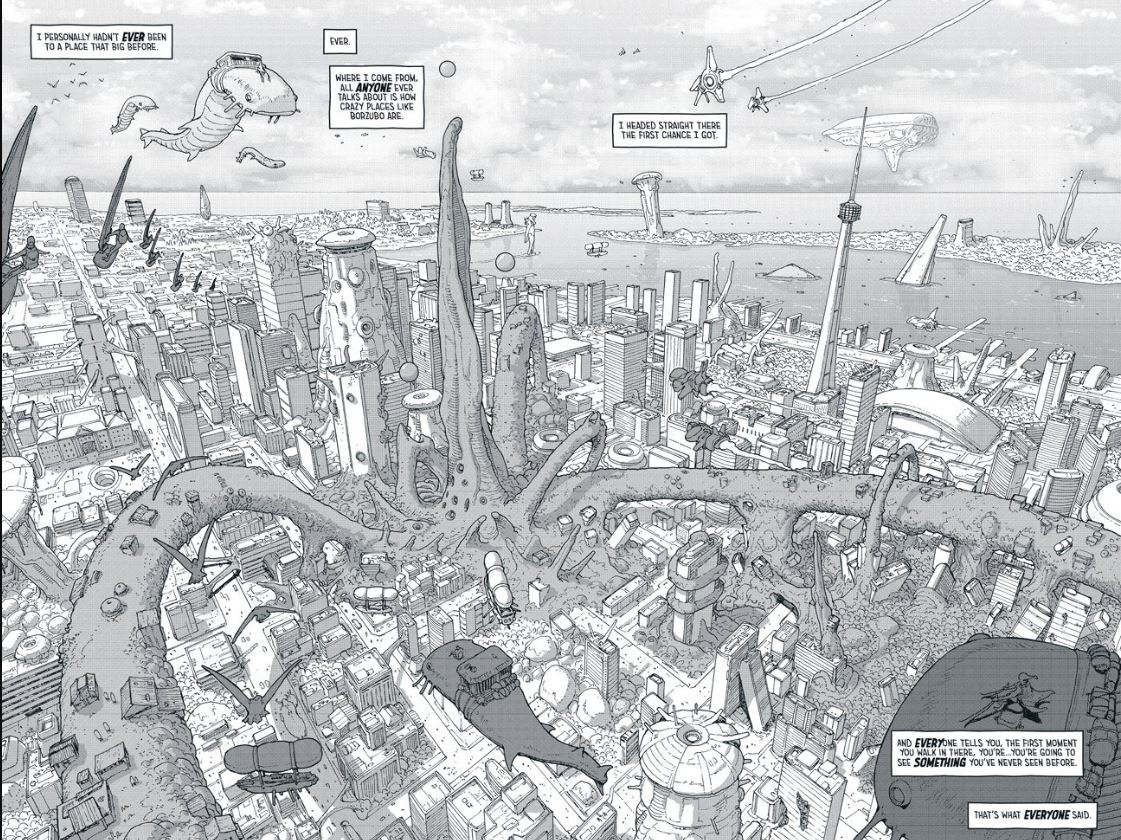 I've read a lot of comics from writer Brian Michael Bendis, and Phenomena, the new all-ages fantasy with Andrew Lima Araujo via Abrams Comics Arts, is not what I expected. Bendisian decompressed dialog has become a major trope in superhero comics, but here that's largely eschewed in favor of in-world slang, non-sequiturs, and full fantasy immersion. Combined with Bendis' keen eye for the best artists in comics, and the storytelling skill to know how and when to elevate their talents, and you have a black-and-white masterclass from Araujo designing a world that's Moebius by way of Dune by way of Otomo. This graphic novel is an absolute thrill. And to think I was talking about Eisners for Araujo before I even read Phenomena!
As far as readership, I do think there's a complexity of style and language here that demands at least the early teens side of "all ages." Either way, I can't wait for book two.
For more, check out my interview with Bendis and Araujo!
ND Stevenson (Nimona, Lumberjanes) is one of the best queer voices in comics, and his webcomics released via Substack emails are always compelling, engaging, funny, heartfelt and memorable. Stevenson is vulnerably sharing the journey of understanding gender and feeling comfortable in your own skin through small yet poignant slice of life comics.
While the wave of comics creators to Substack is still very much in its infancy, Stevenson's style of transparent autobiography is a perfect fit for comics delivered straight e-mail, and easily the highest recommendation of the Substack catalog to date.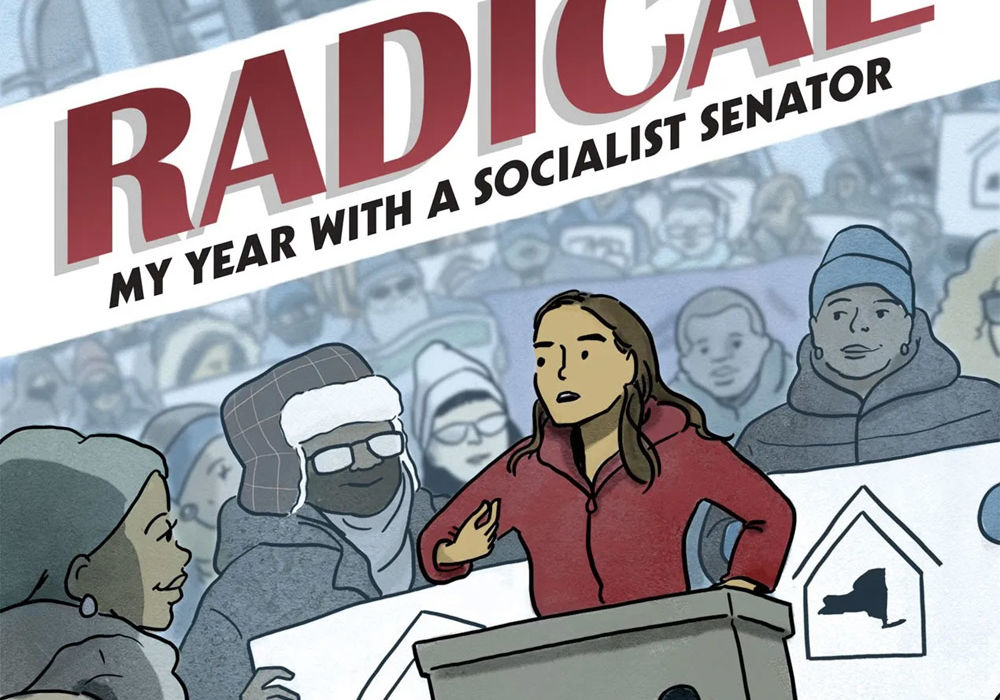 Sophia Warren's debut graphic novel is a deliciously informative display of local politics, as Warren embeds with New York state senator Julia Salazar during her first term in office circa 2018. The work is a thoughtful blend of journalism, memoir and educational text, with compelling characters and familiar yet engaging political landscapes. An inside look at New York state politics could easily feel dry and irrelevant to anyone outside the scene, but Warren is smart enough to center her own relatable struggles with political activism. Likewise, Salazar's socialist democrat credentials and political focus on housing rights are nationwide interests, and tremendously compelling in their own right.
At its core, Radical is inspiring without overextending a call to arms. It's easy to wallow in America's collapsing institutions, and the shadows of power that dictate what will be, and Radical doesn't sugarcoat the realities of corruption. At the same time, through portraying real lived-in legislating, Radical also makes me feel like anybody can contribute in local politics, in small meaningful ways, and it can actually do some good. I'm not sure I really believed that until reading.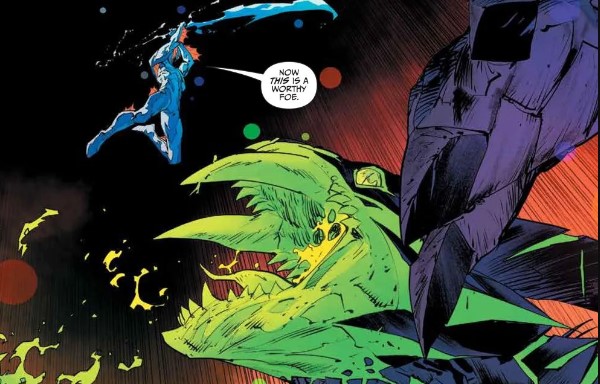 Annual best of lists for comics are all too likely to reward debuts and series launches, while forgetting about books that simply continue to get it right. Let's change that by rewarding Kieron Gillen, Dan Mora, and Tamra Bonvillain's Once and Future for sticking the landing. The BOOM Studios series closed out with 30 issues of British / Arthurian mythology, engaging metacommentary on the nature and power of stories, and the absolute best knight designs in comics (you haven't lived until you've experienced Mora and Bonvillain's Lancelot).
I was skeptical of the book's staying power given my own limited appreciation for the myths of King Arthur, but once you progress past the first arc, Gillen makes it clear that there's an absolute cornucopia of epic characters to draw from, with what feels like a new final page reveal of a legend every issue. I'd list them to entice you, but I honestly worry that would spoil the effect! It's a wonderful 30 issue run, easily the most accessible creator-owned work I've read of Gillen's (Once and Future is born for an adaptation), and a showstopping call to arms for Mora and Bonvillain's arrival as some of the absolute best in heroic action.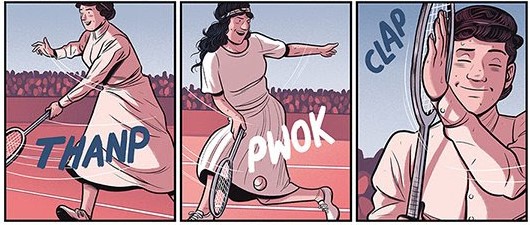 While I enjoyed The Queen's Gambit, I have a terrible secret: I was under the impression I was watching a fictional account of historical events and people until the very last episode. I haven't felt that betrayed since my Dad told me the school principal called to cancel Christmas vacation when I was in third grade (she had not, in fact, phoned). And honestly, those feelings of bamboozlement surfaced again watching the Showtime account of Magic and Kareem's Lakers, as historical accuracy was treated like a very sparse seasoning atop the delectable caricature of drama at the show's center.
All of which is to say, I quite like interpretations of sports history I'm not especially familiar with, but I've been burned before with material playing too fast and loose with events. Tom Humberstone's gorgeous new graphic novel Suzanne: The Jazz Age Goddess of Tennis walks this line remarkably well, telling the story of Suzanne Lenglen on her path the world's greatest tennis champion. In addition to fascinating historical elements that tap into domineering tennis dads, World War I era sexism and prejudices, and the worth of a good bottle of cognac, Suzanne is intensely good at selling the drama and tension of a close match. Tom Humberstone manages the rare challenge of balancing character work with the bated-breath nerves of a drop shot that just nicks a slice of the line. You don't have to be any kind of tennis fan to enjoy this biographical work of art.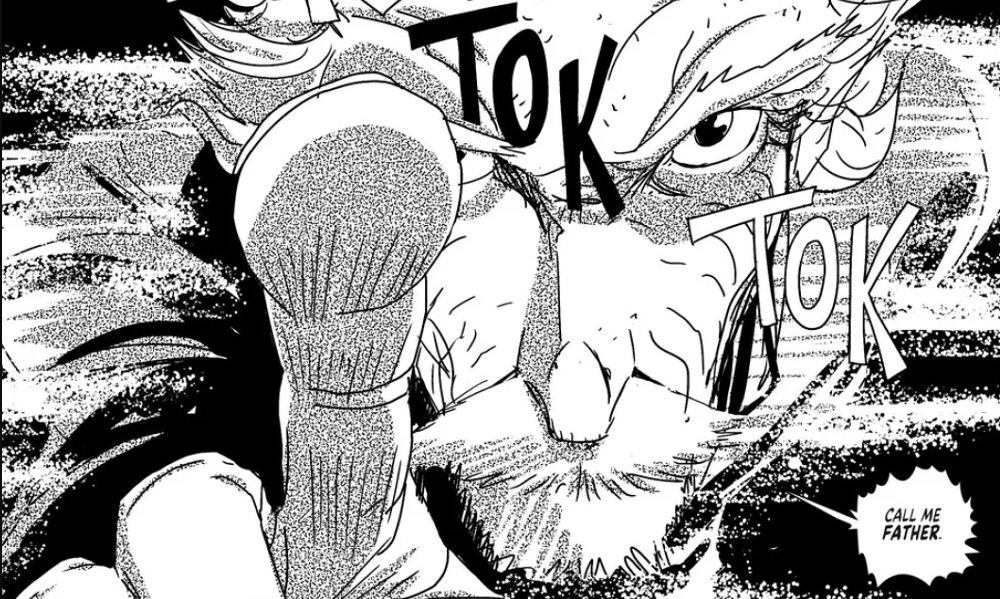 Find me a cooler looking comic than Ghost Cage. I'll wait.
Caleb Goellner and Nick Dragotta team up to deliver "What if East of West was Akira?" and it's one of the most enriching surprises of the year. This book looks you in the eye, tips its cap, and steals your honey like it stole your bike. The literal only knock is that it's intentionally ending with issue three!
For more, check out my interview with Caleb Goellner.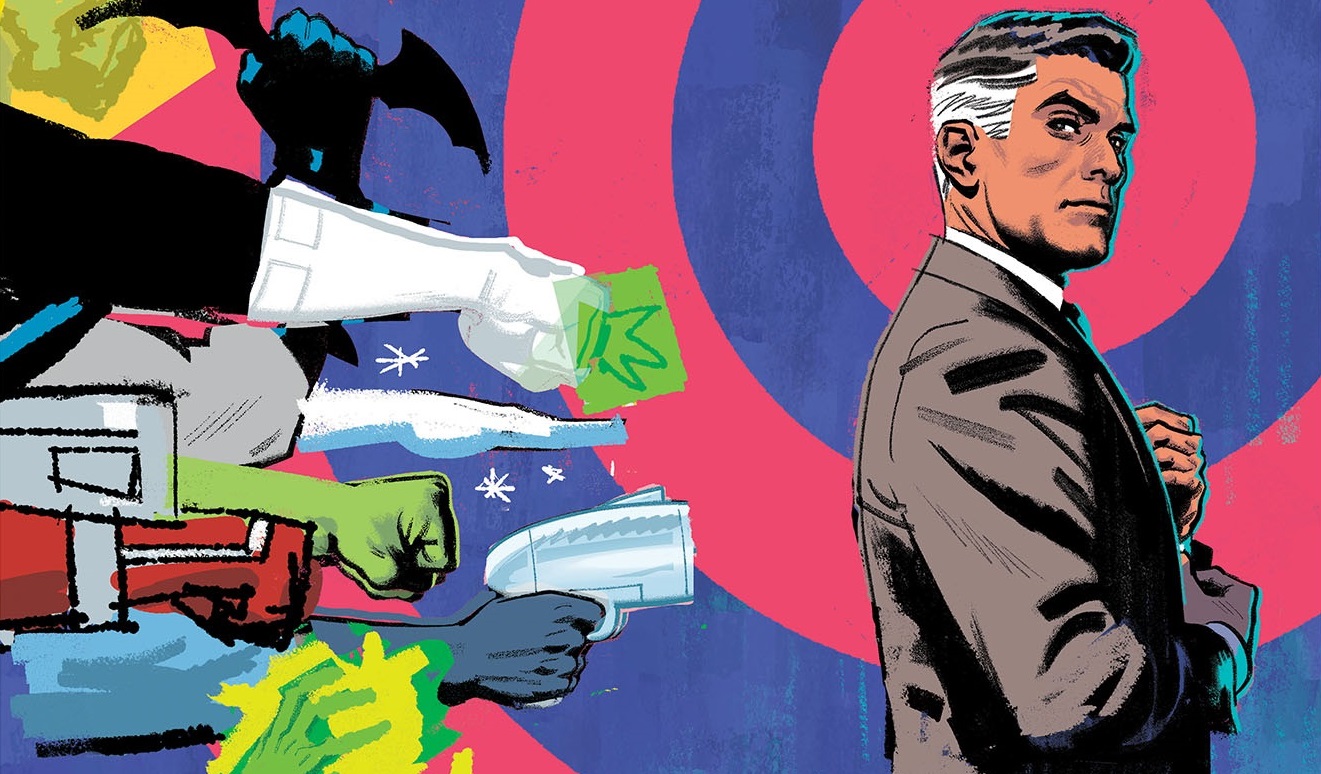 Two things are true: 1) Tom King works with all the most striking artists, and this pop-art noir explosion from Greg Smallwood is inspired 2) The lower the expectations for a character, the more a King-brand DC 12 issue maxiseries is destined for success.
On Human Target, King gets to play with the flexible canvas of Christopher Chance, leaning into a love for JM Dematteis/Keith Giffen/Kevin Maguire's Justice League International and the romantic heart at the center of most of his most well known works. The end result is a substantially more world weary George Clooney's Ocean's 11 lead navigating the superpowered assassination attempts of the DC Universe, and it may well go down as King's best since Mister Miracle, and an incredible post Moon Knight evolution for Smallwood.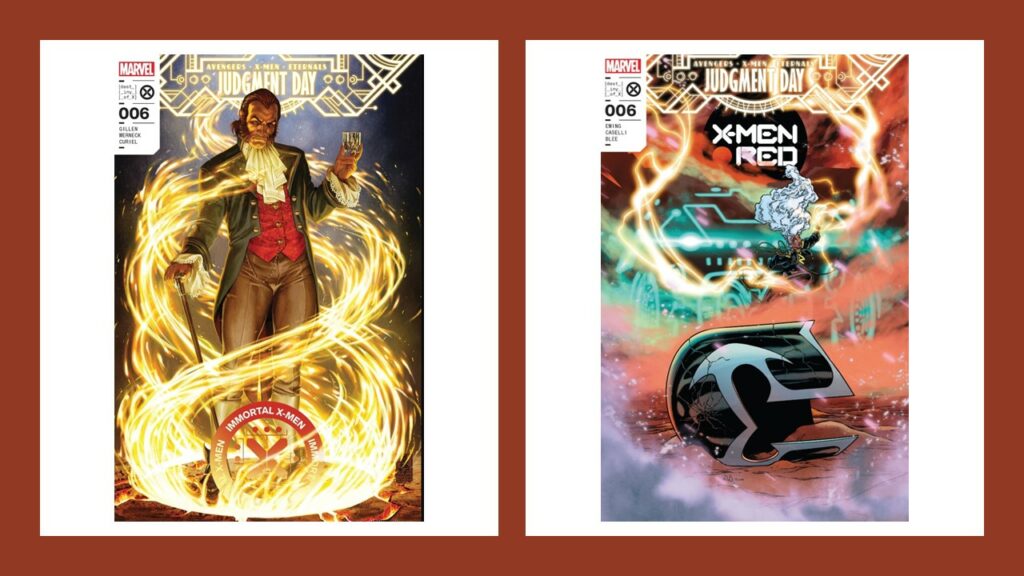 Heading into 2022, X-Men comics were on their heels. The promise of House of X / Powers of X came to a screeching halt when Head of X Jonathan Hickman announced his imminent departure from the line. Despite that, the creative teams of Kieron Gillen and Lucas Werneck, and Al Ewing and Stefano Casseli have spearheaded the Destiny of X with dueling aces at the top of the lineup: Immortal X-Men and X-Men Red. My personal favorite usually comes down to whichever book released most recently, and even tie-ins with the quite good A.X.E. Judgment Day haven't slowed down either creator's momentum.
In Immortal X-Men, Gillen and team are exploring the members of Krakoa's Quiet Council, all set against a backdrop of a war for mutant future fought across centuries between Destiny and Mr. Sinister. And in X-Men Red, Ewing and team get to fully establish Planet Arakko, the mutant terraformed Mars giving rise to a new society of mutants in the Sol System. Whether giving Irene Adler the fully formed character overview she's always deserved, or celebrating the majesty of Ororo Monroe, these two comics have not only maintained the promise of the Krakoa era, but made for an exciting future again as well.
For more, check out my interview with Kieron Gillen!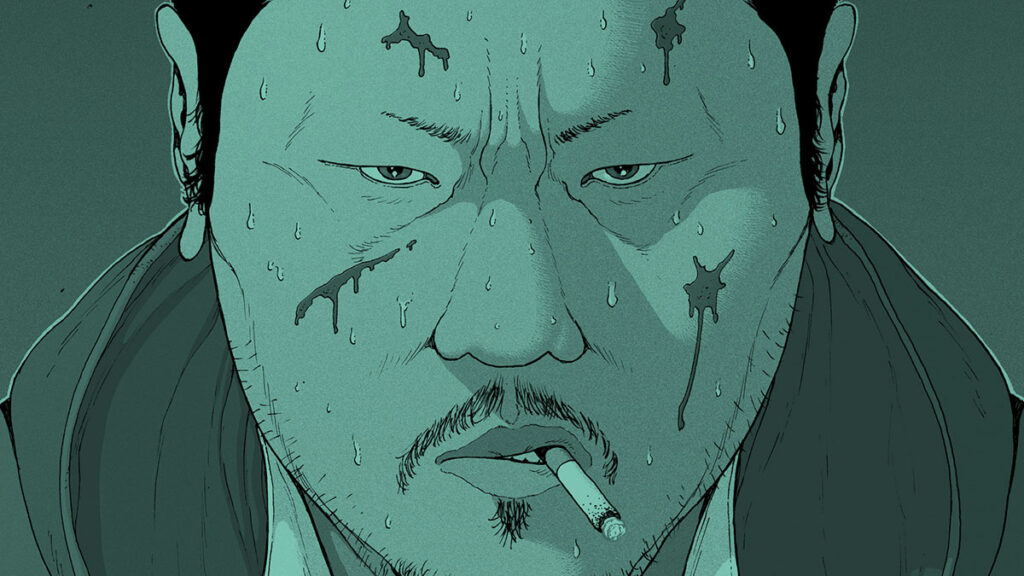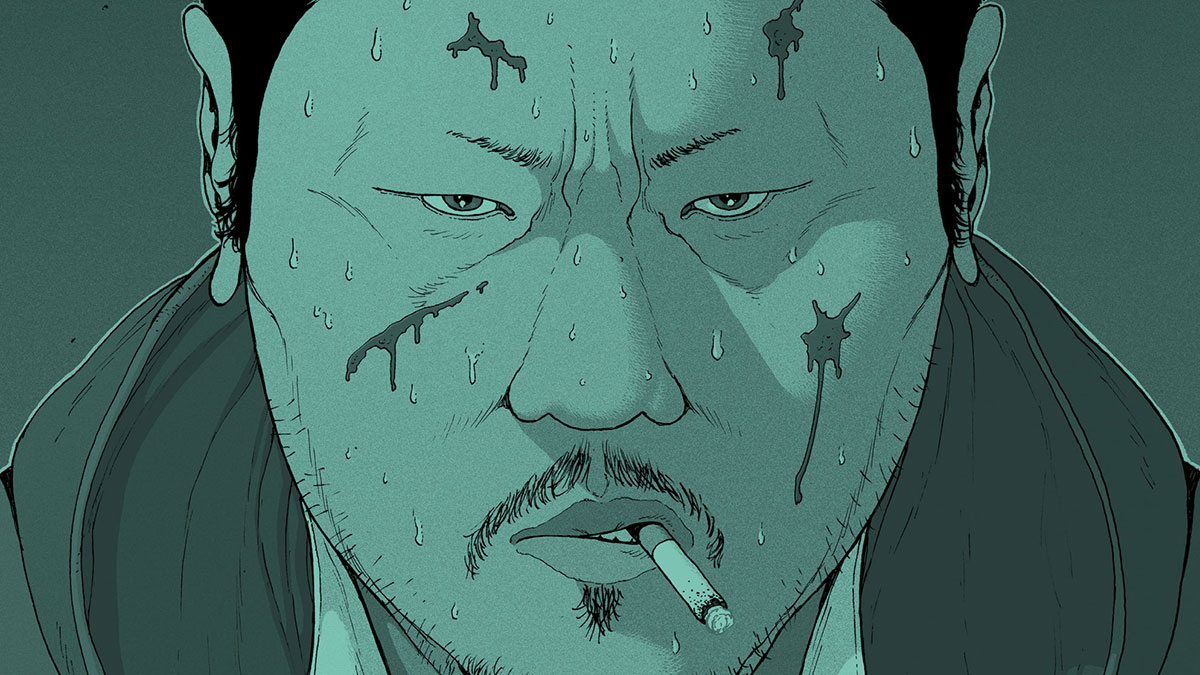 I'm a huge fan of Rick Remender's work through the early 2000's, with books like Uncanny X-Force, Fear Agent, and Deadly Class among some of my favorite comics of all time. But in 2022, I honestly don't know where I stand with the author. I'm much slower to pick up a series he's writing, have books I still haven't looked at (Tokyo Ghost
), and have strongly disliked the ones I have (Scumbag). All of that made A Righteous Thirst For Vengeance the perfect reminder of Remender's capabilities, shown here through a uniquely meditative crime drama that leans so heavily on the artwork of Andre Lima Araujo (with Chris O'Halloran and Rus Wooton).
This series is a genuine "can't put it down" one-sitting burner, absolutely refusing to hold the readers hand, and instead diving headfirst into a naturalistic exploration of an ordinary insurance agent pulled into a web of contract killers. The absolute most striking thing about the book, though, continues to be how much story is told without any caption or dialog. If Andre Lima Araujo isn't in Eisner consideration in the near future, he should be.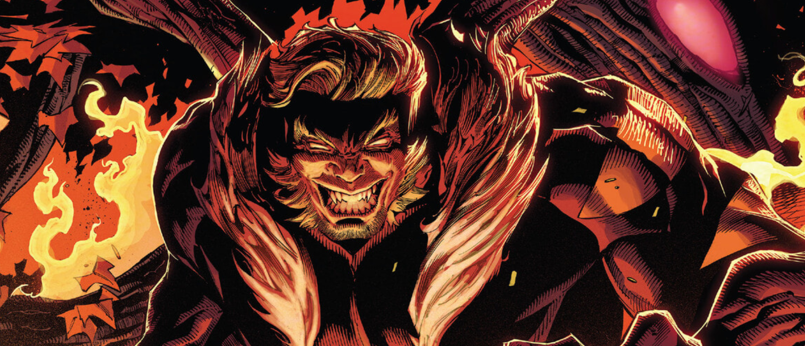 You're going to hear a lot in 2022 how surprised critics and fans are to love a Marvel Sabretooth miniseries, and while that's very understandable, I've been certain since acclaimed horror novelist Victor LaValle was announced as part of the X-Men office (and since I predicted months in advance he'd be joining on a Sabretooth series!) that this comic would rock some socks off. So no, I'm not surprised the LaValle, Leonard Kirk and the creative team are elevating a Sabretooth mini to explore Krakoa literal dark underbelly and the very concept of prisons. I knew it would be smart, incisive, and interesting.
I am surprised that LaValle's first Marvel work is this confident. Sabretooth #1 is one of the most self-assured launches of the Krakoa era (just shy of the Hickman-verse and Al Ewing's SWORD #1), with one of the best final act twists to boot. The post-Hickman era of Krakoan X-Men is ripe for the taking, in need of new visions exploring this rich tapestry. And along comes Victor LaValle with the worst that mutantkind has to offer, so of course, it's one of the year's best.
For more, check out my interview with Victor LaValle!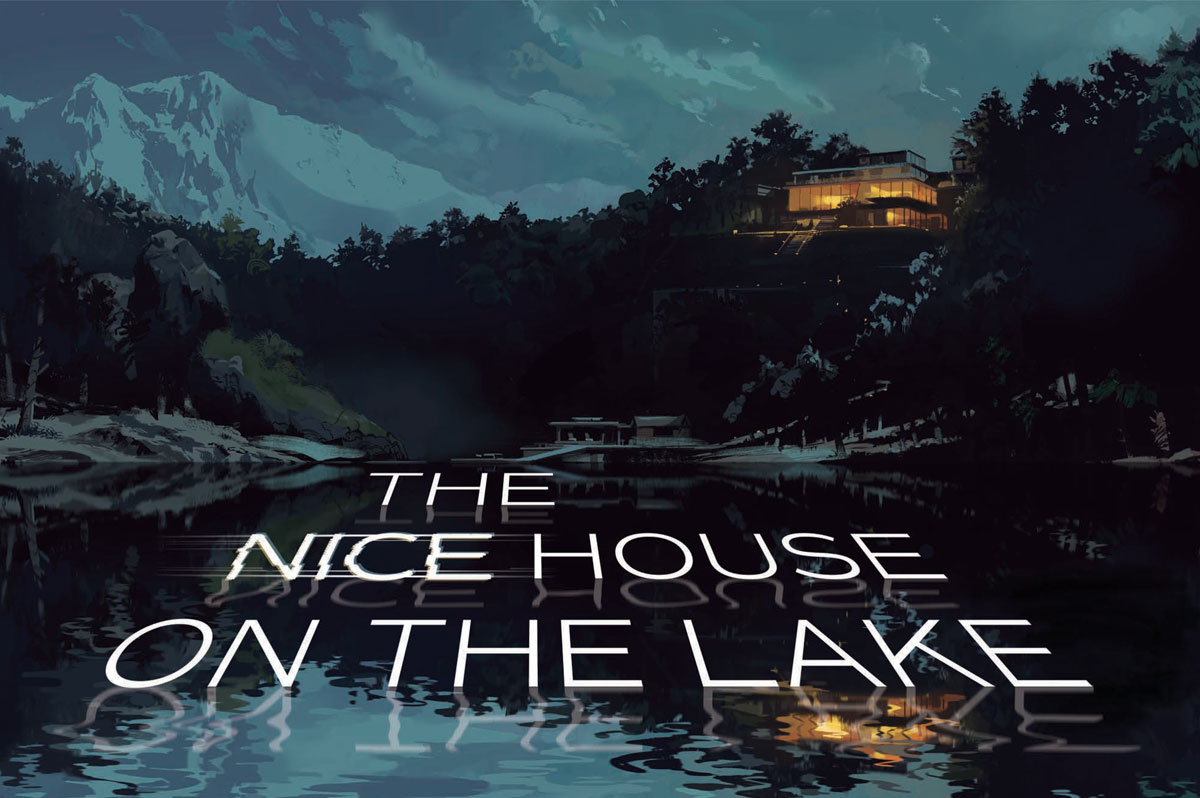 I felt strongly that The Department of Truth was James Tynion IV's strongest comics work of 2021, but reading the collected edition in full, and with the series second half kicking off in 2022, there's little denying that I'm completely hooked with The Nice House on the Lake that isn't really true for any other comic right now. I can miss a week's pull of just about any series (knowing I'll catch up later), but Tynion, Alvaro Martinez, and Jordie Bellaire's alien-mystery (and Judas H. Priest, what an undersell that descriptor is!) is a week-of-release must-read. I have to know what happens next and where the story's going to land, much the same way I felt about Lost, True Detective, or Batman/Elmer Fudd. I'm simultaneously torn between the desire for this series to sprint to its conclusion, and for it to run for an indeterminate long run. Tynion deservedly won the 2021 Eisner for best comics writer, but honestly with a book this air-tight, it'll be astonishing if that isn't only the beginning.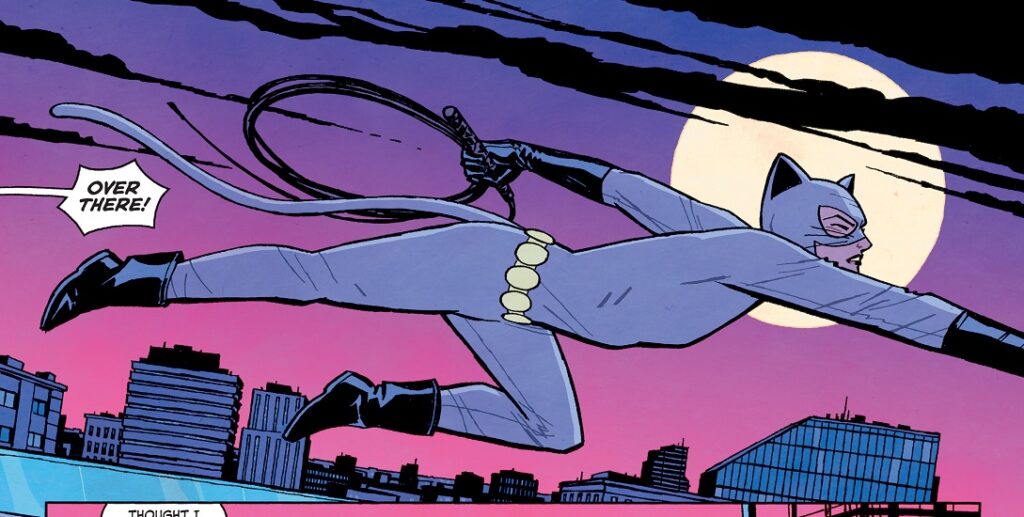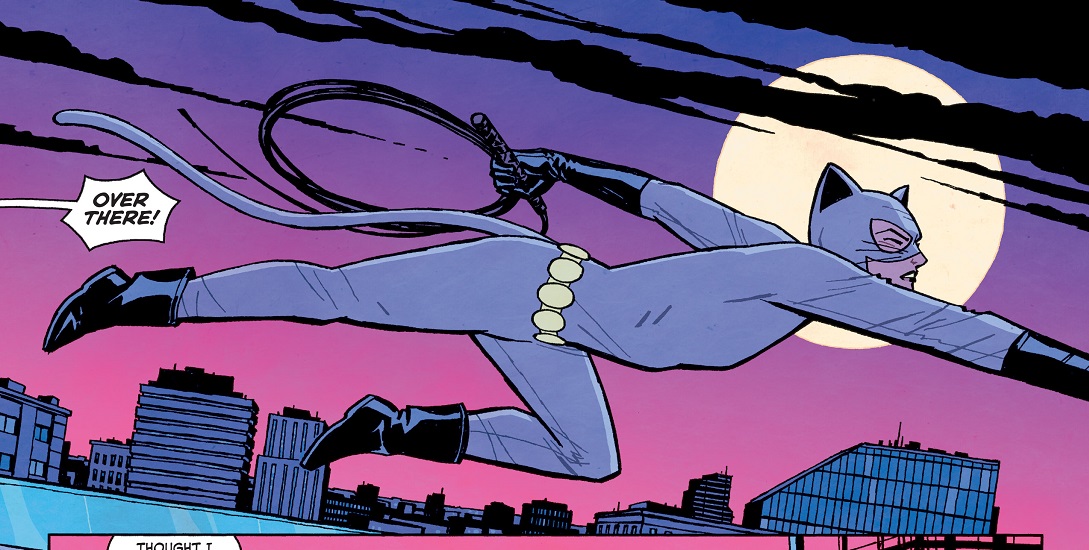 My favorite DC Black Label release to date, and the best Batman universe story since Scott Snyder and Greg Capullo's "Court of Owls." Cliff Chiang's virtuoso comics masterclass (Chiang writes, draws, colors and letters) is deliberately in conversation with Frank Miller's The Dark Knight Returns, and miraculously meeting those standards. Better yet, Chiang's taking pages from Miller's less celebrated Dark Knight Strikes Again, and flavoring his Gotham with a fuller scope of the DC Universe. It's a 10 years after Batman heist with an older Catwoman and collection of rogues trying to break into the Batcave, but it's also the most confident reflection of the entire Batman mythos in ages. This one will be on best of the Bat lists for a long time coming.
For more, check out my interview with Cliff Chiang!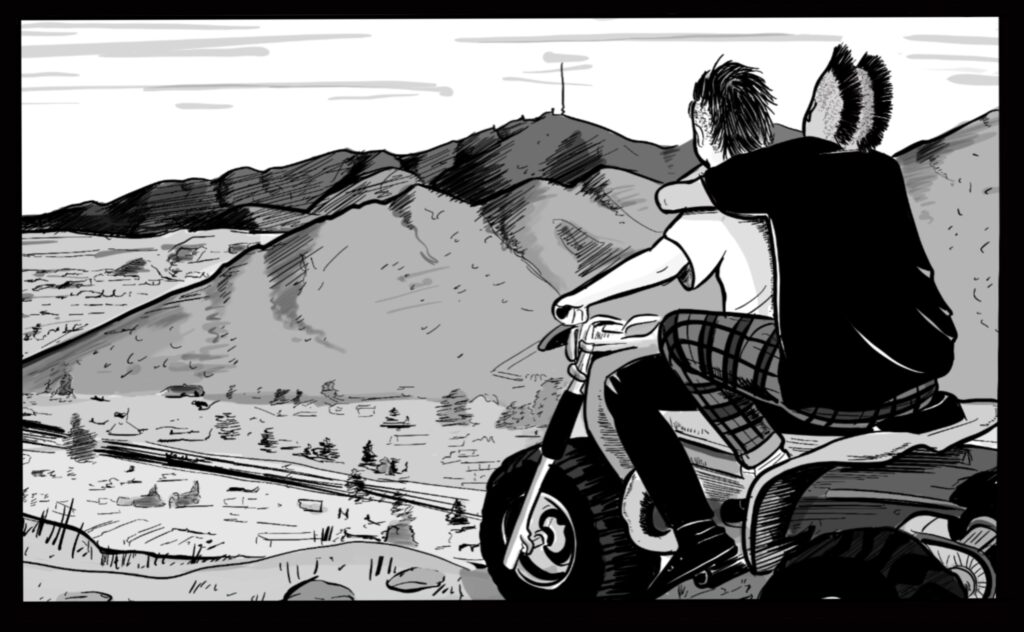 Every so often, I'll take a chance on setting up an interview with a creator of a new graphic novel I haven't even read, purely on the subject matter and how interesting their background sounds. This has tremendous risk/reward potential, as I occasionally set myself up to an hour long conversation with the writer or artist of a comic I don't even like that much!
The opposite is true far more often, though, as is the case with James Spooner's "The High Desert." I knew I'd enjoy the chance to talk punk rock and his documentary Afro-Punk with Spooner, but on top of that, I also got to dive headfirst into one of the most striking and memorable graphic memoirs I've read in years. In "The High Desert," Spooner writes about finding his identity through the punk scene in high school, and how that intersects with race, culture and geography. The recollections are remarkably precise, evocative of neo-Nazi racist extremes, but also the more subtle ways racism can be tolerated for convenience and sometimes just getting through the day. Plus, the work is beautifully rendered, with rare sense of pace and spacing, and enough punk rock recs and annotations to fill up a sick playlist.
For more, check out my interview with James Spooner.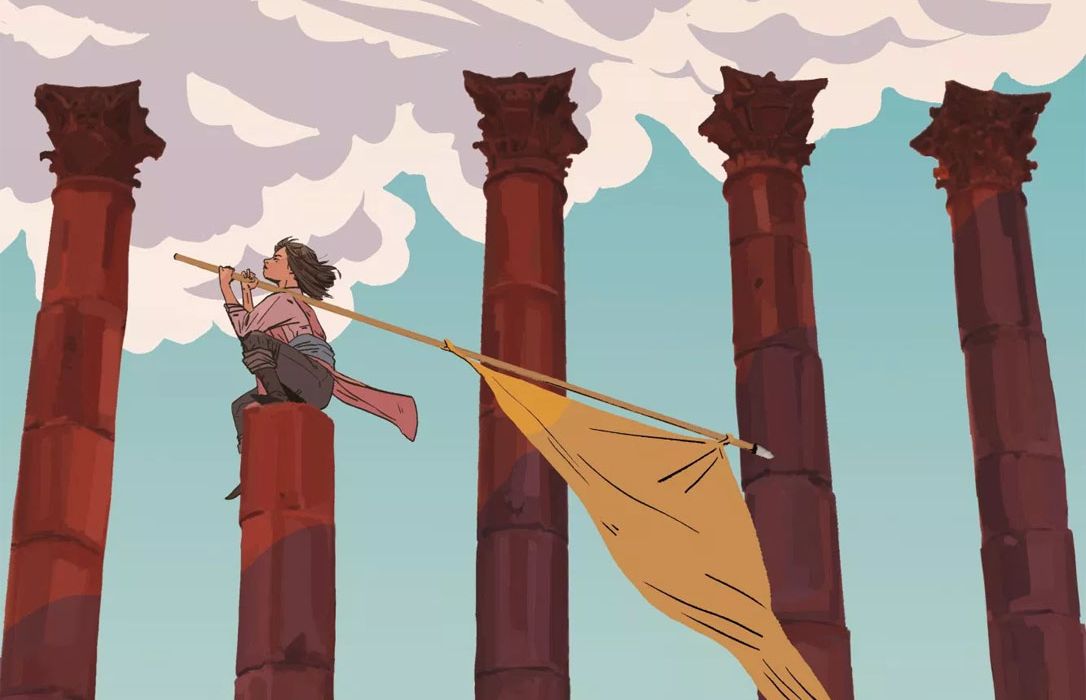 Nadia Shammas and Sara Alfageeh's graphic novel has the fully formed heft of an instant classic, and the possibility of a world that could continue for years if we're lucky. Squire is the adventure of a young immigrant hopeful enlisting and becoming a knight for her country will allow her fulfilling dreams of heroism. The nuanced work has the pragmatism to see through this façade and highlight the grotesqueries of war. While border conflicts over territory, and the blood-soaked cloud of military violence is always hanging over the world, it's certainly more top of mind for a lot of readers in 2022 with Russia's invasion of Ukraine. My reading of Squire highlighted for me the dark sadness of youthful exuberance and patriotism for these conflicts in the face of the ugly reality, as well as the ways slanted history and miscommunication entrench the "rightness" of the violence. On top of all that, characters like Aiva and Husni are charming, childlike and well worth rooting for.
For more, check out my interview with Nadia and Sara!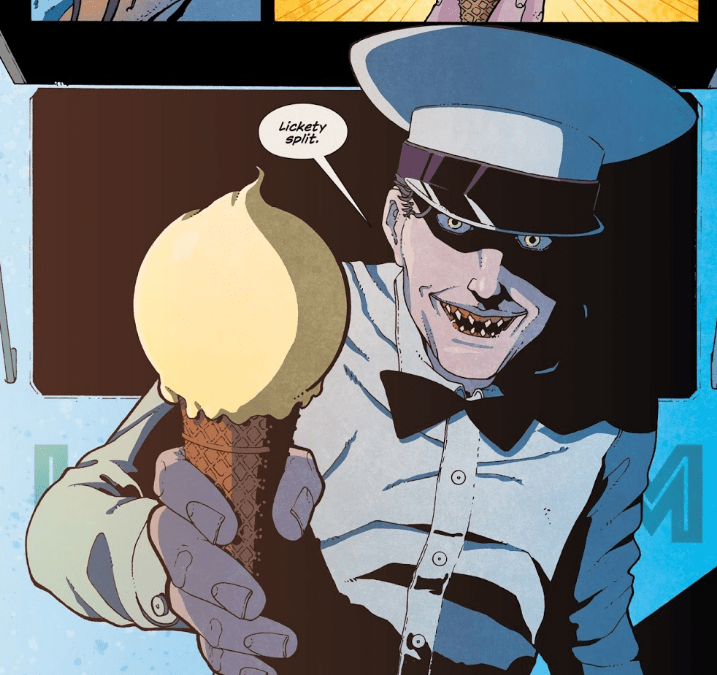 This'll be the third straight year Ice Cream Man is one of my favorite comic books, and until another comic steps up and takes the title of best ongoing, it's Ice Cream Man's to lose. The biggest challenge for this brilliant genre-defying exploration of horror comics craft is finding a next level as W. Maxwell Prince, Martin Morazzo, Chris O'Halloran and team wade into issues 30 and up. What I value about Ice Cream Man above everything else is that if there's a down issue, we're still only one issue away from what may be one of my favorite single comics of any given month. The perpetual formatting reinvention doesn't always work, but it's always ambitious, appreciated and fascinating. Until Ice Cream Man sells the truck for parts, I'll take a double scoop lickety split.
For more, check out my interview with W. Maxwell Prince!

One of the bigger problems with trying to read every good comic of the year is I inevitably wind up cramming in November and December. So naturally, following Thanksgiving, I'm rushing through all the comics I've saved up over the course of 2022, trying to give everything at least 2 issues (or 50 pages) to determine if it's grabbed me and feels special. Invariably, this means I'm impatient and miss stuff that goes on to be regarded as one the year's best. It is absolutely what happened with Zoe Thorogood's The Impending Blindness of Billie Scott
in 2021. And let me tell you, here I was in the same old rut, and I was having a time. Nothing was standing out, until finally, I said, alright let's give Zoe Thorogood another shot.
And holy everlovin' guacamole, It's Lonely At the Centre of the Earth is the best graphic novel I've read this year.
Thorogood's remarkable honesty regarding depression and suicidal thoughts is elevated through wry humor, inventive formatting, and just absolutely unfettered creativity. It's a graphic novel that instantly enters comics' formidable autobiography cannon, and holds its own with the likes of Fun Home, Persepolis, and yes, Maus. Thorogood blows the roof off what is expected of the form, with so many stylistic twists and turns it's like David Bowie's career synthesized into 200 pages. The entire time I was reading I just kept wanting to turn to my neighbor (usually a toddler) and dumbfoundedly remark, "This is utterly incredible."
Simultaneously, all of this also feels like celebrating Thorogood's very serious mental health challenges, on full display no matter how uncomfortable. I think for that reason, I don't want to see another work that's anything like this from Thorogood! But given the reinvention and ability to channel raw hopelessness into something so beautiful, I have no doubt whatever comes next will be a new kind of remarkable.
CBH Writer Picks!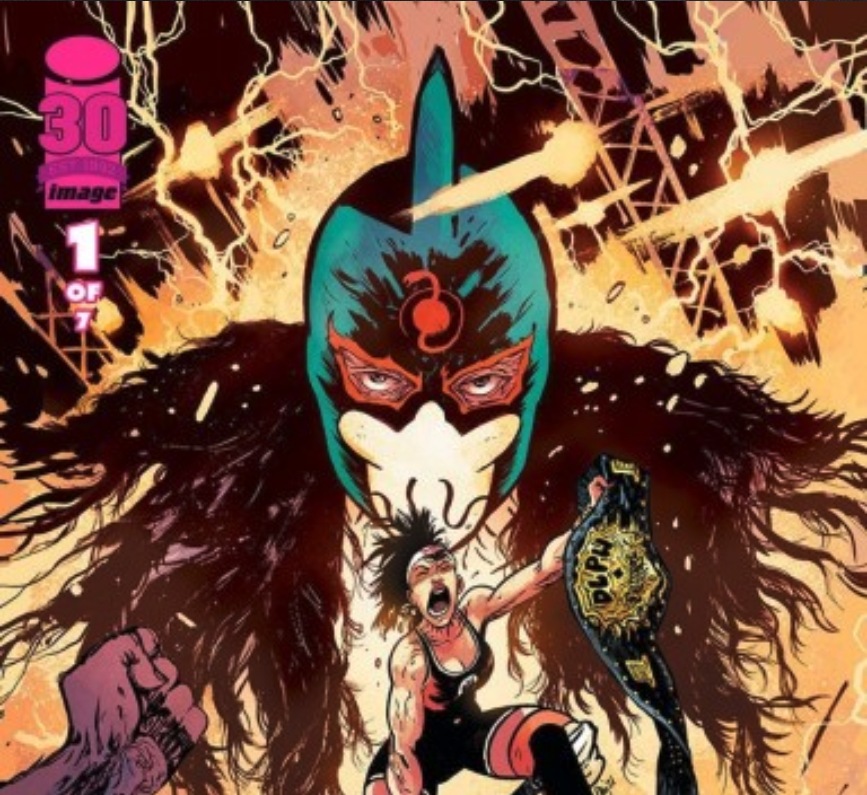 (Amandeep Virdi)
Daniel Warren Johnson's work has always been interested in exploring the catastrophic impact of death and grief, how it can pull apart families, and how the only way to work through that pain is to come together. It is, however, also interested in monster-hunting, epic guitar riffs, and pro wrestling. Johnson's latest, with regular collaborators Mike Spicer and Rus Wooton, was advertised by the publisher as "The Wrestler meets Dragon Ball Z," and it very much does read that way. There are tender moments, where Johnson et al. pull back on the spectacle of pro wrestling to highlight the very real emotions behind the show and the cost of it all, and there are moments which feel straight out of a JRPG. This book reads like the very best of sports manga, in all their outlandish glory.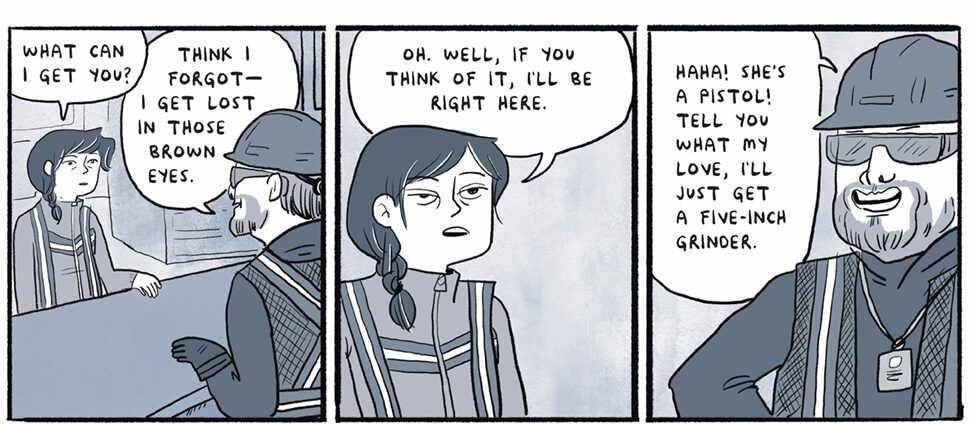 Sean Dillon: Kate Beaton's graphic novel is the saddest book I've read all year. Every page breaks your heart more and more and just when you think you can't be broken any more, the final page splashes you with a dose of reality you forgot existed.
(Amandeep Singh Virdi)
A big chunk of Illuminations, Alan Moore's third prose book – a short story collection, and his first major release since retiring from comics in 2019 – is taken up by a novella that is, in parts, a history of the comic book industry, where Jack Kirby becomes "Joe Gold" and "Thunderman" is Superman, while in others, is a savage critique of nearly every aspect of comics culture, from comic-cons to superhero movies to internet debates. It is sure to put off some fans, many of whom have already brushed Moore off as "a crazy, angry guy" who is mad about seemingly everything. But, it is also laugh-out-loud funny yet bittersweet. It is a story that only Moore – one of the greats of the medium, who was so wronged by the industry that he chose to no longer be associated with his most famous works; works that had rejuvenated the industry and reinvented the medium — could write. His love for comics shines throughout, even during the story's most absurd moments, and you realize that when the King said comics will break your heart, he was talking about everything but the funnybooks.
Sean Dillon: It's a mad puppet show about two trans men in the 70s dealing with various cults, serial killers, and anxiety ridden mailmen. What more could you ask for? How about an extremely stylish art style that oozes nostalgia and terror in the same breath? An eclectic taste in music that doesn't feel like a greatest hits album? A battle between Gods as represented by a queer man's epiphany? Be Kind, My Neighbor has all of this and more. Plus, it's kinda hot.