Maybe it's just where I've been focusing my attention, but 2019 has felt like a lot of good comics, without the introduction of (many) absolute knockouts that feel like potential all-timers (Aug '19 update: This is what I get for writing my introduction before House of X / Powers of X!). As a result, my favorites for the year are a mix of ongoing series continuations and new title launches.
Likewise, publishers Marvel, DC, Image, Dark Horse, Boom, Dynamite, and Vault are represented with at least one selection below (Image leading the charge with just under half of the picks).
All of this is of course acknowledging that there are undoubtedly a plethora of great books that I simply haven't managed to read yet, so if you see some of your favorites missing, I'd love to hear about them! In order to help ensure the list captures a larger sample of the year's best, I've also included John Galati's picks and write-ups for must-reads.
Below you'll find our picks for the best of 2019!
Related Reading Orders:
Support For Comic Book Herald:
Comic Book Herald is reader-supported. When you buy through links on our site, we may earn a qualifying affiliate commission.
Comic Book Herald's reading orders and guides are also made possible by reader support on Patreon, and generous reader donations.
Any size contribution will help keep CBH alive and full of new comics guides and content. Support CBH on Patreon for exclusive rewards, or Donate here! Thank you for reading!
The Best Comic Books of 2019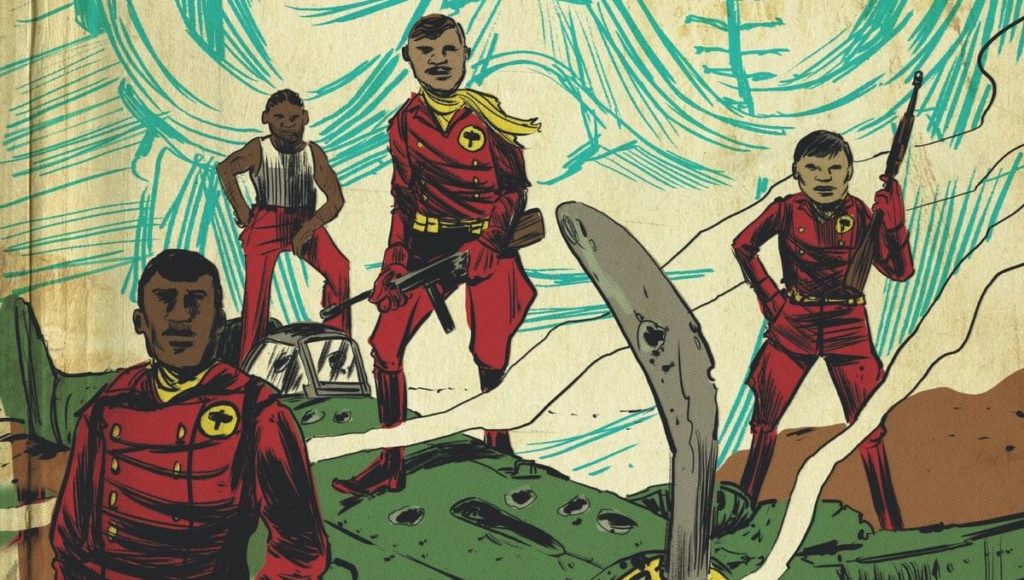 The Black Hammer universe has held a steady place on my year-end best-ofs since debuting in 2017, and although you could anticipate some signs of attrition, the Jeff Lemire written superhero universe remains one of the best comics being published. Since Black Hammer is spread across a variety of interconnected tales, I prefer to rank the shared universe as one cohesive entity. So far in 2019, we've had:
Black Hammer: The Quantum Age #6 (series conclusion)
Black Hammer: Age of Doom #7 to #11 (the series finale in issue 12 will release August 2019)
Black Hammer '45 #1 to #4
Lemire teaming with Matt Kindt on the Golden Age '45 series is the stroke that ensures the Black Hammer universe remains a contender for the best of 2019!

By John Galati:
Venom is a weird character. In the 90s he was a goofball anti-hero. Then he spent a decade as a cannibal edge-lord. After that he was a super soldier mercenary.
And in 2018, Venom became something out of a 1920s cosmic horror story. Thanks to Donny Cates and Ryan Stegman, Venom is back with his first host, back to basics, and building from there. In this way, Cates is doing something similar to what Ewing is up to on Hulk; they're both absolutely ripping down the boundaries on their character's lore.
In this case, Cates is channeling his inner Lovecraft or Leiber to finally take these symbiotes, these tentacled space aliens, and turn them into the Eldritch horrors they should always have been.
Cates then takes that bigger premise and crams it full of gore, terror, action, and fun. And now he has Carnage in the mix, so everything is set to turbo. Honestly, it's a hell of a balancing act he's pulling off on this book and you really need to see it.

By John Galati:
This is a monster story set to burning, shattering beats of the Harlem Renaissance. It's the story of the Sangeryes, a family of once-great monster hunters, and their attempts to save New York from the forces of darkness. A family that's lost so much to the violence of this nation, and its monsters.

The book uses the metaphors at its disposal to ask questions like "how do you save people who hate you?" and "what is the cost of not doing so?" These questions give the characters a lot more depth than you're likely to find in similar books, and gives the gorgeous artwork a lot more to convey.
There's a tendency for best of lists to overlook long running series in favor of the new kids on the block. Considering East of West has been with us for nearly six years, it's understandable the Jonathan Hickman and Nick Dragotta epic could be taken for granted as a bedrock of consistently great storytelling.
In 2019, this feels like a mistake, as East of West gears up for the conclusion of the series with East of West #46. The inventive blend of politics, mythology, and the apocalypse has been one of my top 50 favorite comics of all time since it debuted, and the series hasn't lost a step.
It's tough not to appreciate a comic that can even make you laugh with its tagline. The Vault science-fiction comedy from Sarah Beattie, Tim Seely and Rebekah Isaacs promises the space crew will live by the following mandate:
Their mission: Seek out new worlds. Discover new life. And f&*k it.
So yes, it's about a sexy science crew filming porn with aliens in order to fund their actual scientific research but no that doesn't mean it's porn-by-way-of-comics. Instead, Money Shot is a frequently funny, occasionally heartfelt satirization of our own attention spans and what it takes to generate interest in academics, and frankly, people around us. If you like Sex Criminals and the head-shaking hilarity of lewd jokes, this one's well worth a shot.

Naomi,

Jimmy Olsen,
and
Lois Lane
By John Galati:
Batman: Gotham Central is a Batman book that barely features Batman. In a way, it's the character's absence that tells us the most about him, his world, and what it would mean to live inside of it.
This trio of books — Jimmy Olsen, Lois Lane, and Naomi — work together to pull off a very similar trick. They take all the things you think you know about the Big Blue Boyscout and his city and then show you how little you'd considered.
Naomi is an adopted daughter, living in a world where Superman's origin is cultural knowledge. Something people don't even know how they know. So when Superman and Mongol crash into Naomi's small town, it feels like an origin story. It raises questions about Naomi's past and her future. This is a detective book with the ultimate question being "how do you grow up in a world with Superman?" This title is great and feels at turns like Alias (only sincere) or Ultimate Spider-Man (only with better support.) This is a perfect starting point for a new DC reader.
Jimmy Olsen becomes the brave everyman trying to live in a crazy world. A mixture of Ford Prefect, Twoflower, and Matt Fraction's own Hawkeye. Jimmy shows how Superman can inspire even mortals to adventure.
Lois Lane, on the other hand, is every bit the hardnosed reporter you'd expect from Greg Rucka. She is determined, fearless, and brilliant. But most importantly, Lois Lane exists to show that sometimes, mortals can solve important problems that Supes is either powerless to address or simply doesn't notice.

By John Galati:
Die is, first and foremost, a character-driven horror book. Its premise should be familiar by now: a group of kids plays a tabletop RPG only to be transported into the world, finding real danger there. The kids grow up and are forced to return to face the kid who was left behind in the game realm. It's part Stranger Things, part IT. But it's also a whole lot more.
Gillen fills the book with character moments that tug hard at the reader's emotions. Stephanie Hans' artwork is truly phenomenal. Some of the best I've seen all year.
Also, the comic has spawned its own tabletop RPG. And while I haven't tried it yet, I'm thrilled to see this sort of cross-over action in comics.
If there's any downside, it's this book might not land as well for people 35 and up. Die makes some changes to those decades for the purposes of telling the story, and while that's great… it's also sometimes distracting.
This light-hearted book is the perfect way to get a new reader into the Marvel universe. It's funny and exciting in the way comics should be, and it doesn't require 30 years of knowledge understand.
The Unstoppable Wasp tells the story of Nadia, daughter of Hank Pym (the original Ant-Man). Nadia is on a mission to bring together every girl genius in the Marvel universe. And that's just about all the backstory you need. Every other bit of backstory you might need is provided through clear, efficient context (as opposed to just an editor's box.)
Between this, the clean artwork, and fun tone of the writing, The Unstoppable Wasp provides both an accessible entry point to the universe and a story that's just plain fun for everyone.
Despite affinity for Kyle Starks and Erica Henderson's comics credentials, I was skeptical of Assassin Nation as anything more than a forgettably fun time. Fortunately, the concept (all the best assassins in the world come together for one group hit) and the humor (there's a glorious character named F&*$ Tarkington) is partnered with instantly compelling characters and drama.
There's a ton of chaotic action and extreme violence, but the desire to keep reading comes from the character beats, whether it's quests for revenge, Fingerman's arrogance, or Dave and F&*$'s unlikely friendship. The twists are relatively predictable to date, but even so, the book is too full of contagious energy to keep down.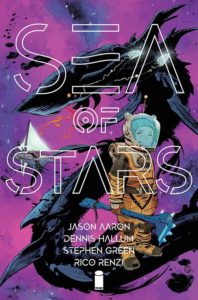 By John Galati:
I'm a sucker for generational stories. Father-son, mother-daughter, siblings, even time-displaced hero and younger self. Familial bonds ad a dynamic to any interaction between two people, mixing love and frustration, conflict and concern. Put this story in space or another setting filled with danger and I'm on board.

Make that story written by Jason Aaron and I will force my money into your hand while making full eye contact.

Because no one does character strife quite like Aaron. He has that way of conveying how characters can love someone even when they shouldn't. How you can want what's best for someone and want to strangle them, all at the same time. And friend, does he know deep character wounds and the way they drive us.

Dennis Hallum and Stephen Green contribute by giving us a universe that feels old, practical, fragile. The space suits are clunky things that could have voted for Carter. Set against mind-bogglingly gorgeous splash pages, those suits look so human and so vulnerable.
It's early days on this series, but if it keeps this up, it might make Book of the Year. Well, if it can beat out Little Bird.
There's effectively a zero percent chance I don't check out a new sci-fi story by Jeff Lemire and Gabriel Walta, although I'll admit the glorious TKO packaging sweetens the pot. A newer publisher to the scene, TKO offers shipping all 6 issues in a story arc at once, in a nice branded slipcase. The end result is a fantastic feeling comic book, oversized and pleasantly tactile as you enjoy Walta's art at a mildly larger scale.
The story itself is in line with much of Lemire's original ideas, a heartfelt tale of an AI that adopts a space shuttle of children as her own out of necessity. Few comics writers are quite as good at making me worry I'm about to start crying at any given moment.
If you're on the fence about this one, TKO offers all first issues of their series for free digital download.
One of my 10 favorite comic books of 2018 has continued its anthology of twisted excellence in 2019, with the most significant world-building and connective tissue we've seen from the series yet. I'm not entirely sure that pulling the curtain back on the monster inside the ice cream truck is a net positive, but I'm absolutely intrigued to see how it develops in this "Twilight Zone" style book.
At the end of the day, Ice Cream Man can be just about *anything* making it one of the clearest monthly must-reads on my pull list. It's one one of the most playfully inventive comics of recent memory. The feeling that every next issue could be an "issue of the year" contender makes Ice Cream Man perpetually exciting.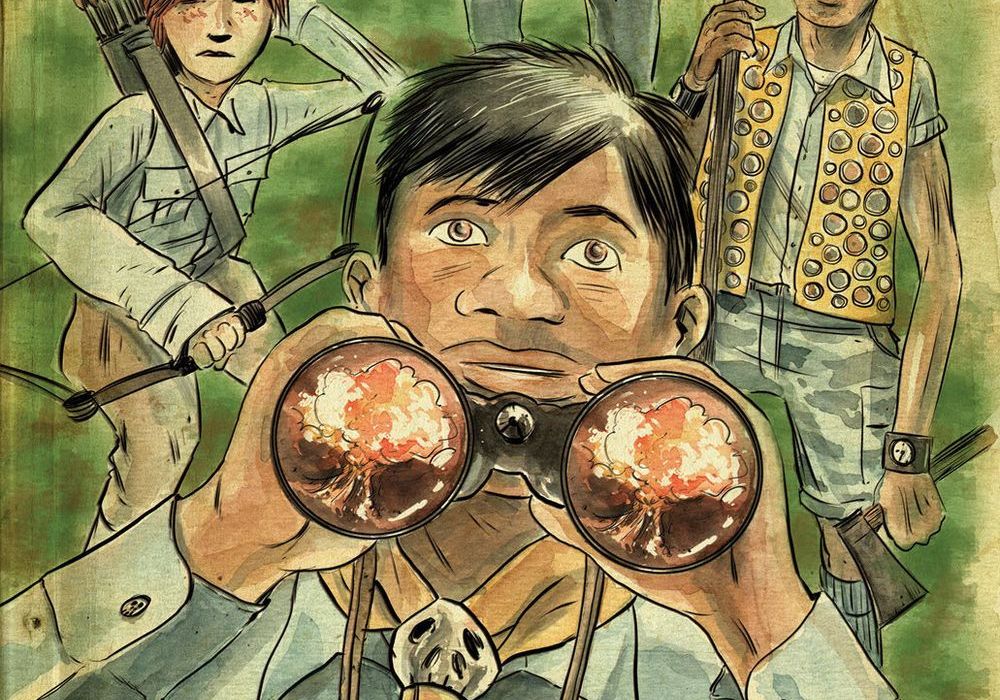 Matt Kindt's one of my favorite storytellers in comics, and his collaborations with Tyler Jenkins have resulted in one of my favorite partnerships (see their work on another Boom release Grass Kings
). Black Badge takes one of Kindt's best skills – finding the almost comically dark underbelly of the seemingly innocent – and turns the boyscouts into covert superspys.
Any comic book with literal back matter depicting the Boy Scounts Handbook, 1911 that includes the diagrammed phrase "Garrote hidden in headband" is basically an automatic entry on any list I make.
By John Galati:
Batman's best villains have a strong psychological component. In fact, there are plenty of Ph.D. driven articles and even a few books that attest to this idea. But for my money, the best Batman writers tap into something older, deeper, and less clinical than the "Diagnostic and Statistical Manual of Mental Disorders."
The Last Knight on Earth digs into that darker territory that's outside the safe confines of classification. Coming after the delightfully mental Dark Nights: Metal event, this stand-alone story pushes Batman to it's wildest conclusion.
Batman is famous for being a solitary figure, so this book puts him at the end of the world. Bats frequently struggles with questions of his sanity and violence, so this book gives him the severed head of the Joker to carry around. He worries that he might not solve a mystery in time to save the world, so let's put this after the worst has happened.
And how can a man who prepares for everything survive the end of the world?
All of these things prey on one common fear (and misconception) that mental health is somehow contagious, unavoidable, maybe even inevitable. That we are as hopeless before it as Armageddon. This book engages those primal fears in a way that's compelling without glorifying it or asserting its truth.
By John Galati:
Somehow, in 2019, Grant Morrison is making a new Silver Age comic. And honestly, we should have expected nothing less.
Hal Jordan is now well and truly a space cop, working a beat that just happens to include alien planets, strange life forms, and every exclamation point available. There's such a sense of wonder to this series. A sense of "daring do" that lovingly embraces an age when comics could still be fun and nothing but.
These elements feel right in line for Morrison, and I can't help but wonder if they're merely the bedrock for something else that he's building. Something grand, brilliant, and more than a little crazy. But for right now, the sheer wonder of this book's existence is keeping me from digging through for clues.
Morrison's Hal feels like a huge breath of fresh air for the character. But also, something more. Out of something very old, there's a hope for something new. In the way Geoff Johns went back through canon to find something new for Hal, something to get him out of his familiar pattern, there's now hope that Morrison will do the same and give readers a new Hal that's outside of Johns' amazing but familiar pattern.
Writer Kieron Gillen and Caspar Wjingaard put their spin on the inspiration for Ozymandias in Watchmen, and guess what, it's great! Gillen's had a strong 2019, with his fantasy series Die (with artist Stephanie Hans) one of the most hyped Image books of the year.
For my money, though, it's Gillen's quote-on-quote return to superheroes that delivers the best experience, although I'll admit, this could have something to do with the fact that superheroes are my life, and I've never played a minute of D&D. Peter Cannon Thunderbolt is equal parts ode to comic book craft, reflection on 30 years of Watchmen's influence, and really damn smart multiverse mash-up action. The 5 issues are so packed with boundary-pushing comics ideas I'm already eager to see this universe return.
I've written extensively in a "Previously On" column why I love "The Wild Storm" by Warren Ellis and Jon Davis-Hunt. I'll add here that 2019 has been especially exciting as it houses the conclusion of this 24 issue narrative, and that the slow-burn is paying off in tremendous ways. Ellis and Davis-Hunt have effectively ramped up to "The Authority
" portion of the proceedings, which means reimagined Jenny Sparks, Midnighter and Apollo (among others).
It's a contemporary masterclass in updating a shared universe and Jon Davis-Hunt is doing some of the best work in superhero comics. Plus, you can read all 24 issues right now, and have a full sense of story completion!
By John Galati:
This series is the biggest change in Hulk's history since Peter David wrote the book. Maybe even bigger than that.
For ages, the Hulk has been a character rooted in science. Even when his adventures turned supernatural (and they often did) the Hulk's nature was always anchored by psychology, biology, or some other grounding element.

Now, Al Ewing has found a good reason to throw all of that aside and fully embrace the strangeness of the creature, making him more myth than monster. And Joe Bennet's gorgeous artwork really sells lore that's so expansive now, it feels genuinely Biblical in nature.
Both creators work together to make a book filled with some John Carpenter level body horror set against what could be Hell itself.
The five issue series from Vault Comics was a leader on my best of 2018 list, and the final two issues released in early 2019 ensure its spot on the best of this year as well. Honestly, the Vault field is impressively crowded this year, as I had to weigh entries for both Friendo and She Said Destroy as well.
Nonetheless, it's been Ryan O' Sullivan and Andrea Mutti's Fearscape that has captured my imagination just like Henry Henry steals (he'd likely prefer borrows) the muse of a more famous author. Explaining Fearscape is perhaps a fool's errand, but among all the madcap mythology and meta-commentary, the pure inventiveness of a faux-literary blowhard like Henry Henry makes for brilliant comic books. Sullivan's narrator is simultaneously the worst, least trustworthy narrator in all of comics, and my favorite single voice in the medium. Do yourself a favor and give this trade a look!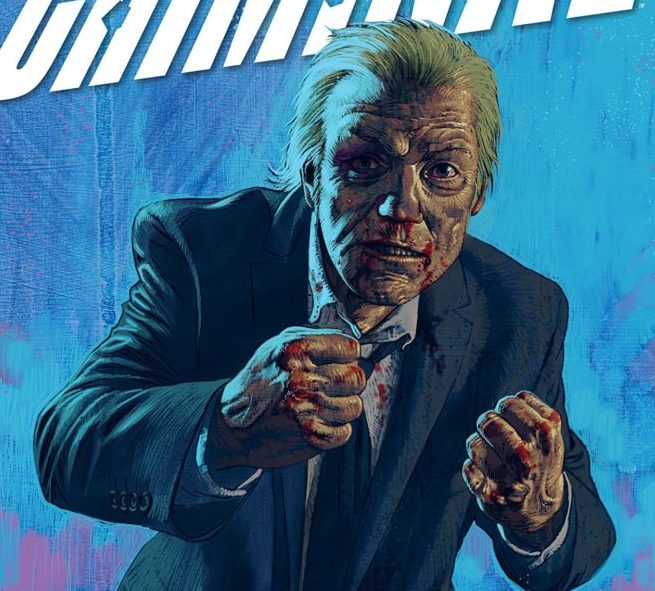 Ed Brubaker and Steve Phillips are the most reliable institution in noir comics, and their return to a rebooted Criminal #1 is one of the most welcome developments in comics this year. Although the series has a long critically acclaimed history, the 2019 return does offer a genuine on-ramp. There are rewards to familiarity with Teeg or Ricky Lawless, but it doesn't feel like a prerequisite the way character familiarity can in superhero continuity.
Most importantly, Criminal is an unstoppable force demanding compulsive reading. I was particularly blown away with issues two and three, "Bad Weekend," a story focused on a bitter and beaten down elder statesmen of the comic book industry. Much like moviemakers know films about Hollywood are easy Oscar-bait, comics about comic book creators (with Brubaker and Phillips covering bits and pieces of the medium's entire history) are basically my equivalent of whatever lines Ricky's hitting on his countertops.
I had no doubt I'd enjoy Jonathan Hickman's dramatic return to Marvel, but his collaboration with Pepe Larraz, RB Silva, Marte Gracia and Tom Muller exceeds even my highest expectations. And they were too high to begin with!
House of X is a mission statement declaring the X-Men are *back* in power both in-universe and in an industry that has seen them fall from grace. It's not just the thrilling concepts and ideas, though, it's the execution, the formal use of in-book data pages that pace out action as they provide an encyclopedic expansion of our knowledge.
For more on the world of Hickman's X-Men, I recommend checking out the CBH reading order, or my weekly Krakin' Krakoa reviews on Youtube!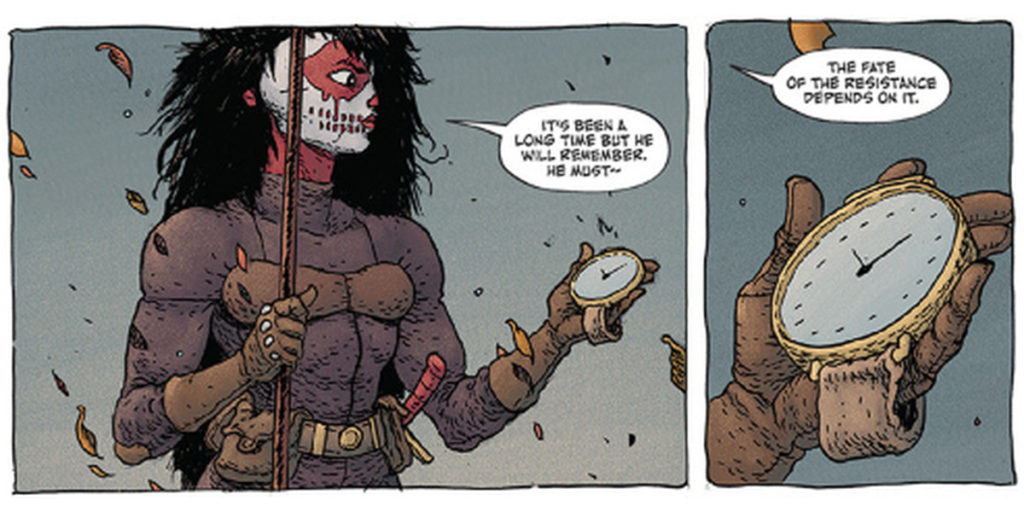 By John Galati:
This book is my MVP for the entire list.

Little Bird tells a story of an America that's expanded to include the entire continent. It is an empire built on a twisted form of TV Preacher Christianity — all scream, all hungering, all fearing force dressed up in robes and a cross.

Little Bird (the character) belongs to a native group, possessing skills that are either wildly advanced in technology or else tribal magic. Skills like resurrection.

The book itself feels like a classic story out of Heavy Metal or Metal Hurlant. It is beautiful even when it's incredibly bloody. Its characters, outfits, and buildings feel like a cross between Moebius and Katsuhiro Otomo, while its story feels wild and unpredictable. 

Every month when I get my pull box, this is the book I read first. It's the one I ride to the store thinking about. It's the one book making me most excited for comics right now.
If you are going to buy only one issue from this list, it should be every single issue of Little Bird.