2019 feels like the first year in the last four when Marvel wasn't still mired in a post-Secret Wars (2015) malaise. While it's far from a slam dunk, 2018's "Fresh Start" helped Marvel feel less aimless and more consistent. Plus, the 2019 event initiatives are genuinely exciting, whether it's War of the Realms, Jonathan Hickmen's X-Men, or Absolute Carnage.
Below you'll find my favorite Marvel Comics of 2019!
Related Reading Orders:
Support For Comic Book Herald:
Comic Book Herald is reader-supported. When you buy through links on our site, we may earn a qualifying affiliate commission.
Comic Book Herald's reading orders and guides are also made possible by reader support on Patreon, and generous reader donations.
Any size contribution will help keep CBH alive and full of new comics guides and content. Support CBH on Patreon for exclusive rewards, or Donate here! Thank you for reading!
It took three issues for me to become a believer, but the moment Nnedi Okorafor and Leanordo Romero strapped Shuri in to pilot Groot I knew the series was willing to tap into the sci-fi oddities that would set it above the rest.
Post MCU Black Panther Shuri is destined for greatness, so here's hoping Marvel Comics can lead the charge rather than follow the MCU's lead again.
I am deeply skeptical of writers and artists touching the character of Thanos unless they're named (creator) Jim Starlin. This irrational stance has become less tenable over the past three years as the likes of Jeff Lemire, Mike Deodato, Donny Cates, Geoff Shaw, and now Tini Howard and Ariel Olivetti all clearly displayed skill and promise with the mad titan.
"Zero Sanctuary" had the potential for a particularly egregious 2019 Avengers: Endgame tie-in, but instead flashes back to Thanos finding Gamora and bringing her aboard his pirate ship of mercenary and Black Order. It's an intriguing look at the early days of these characters that are so well-established in the Marvel Universe today, and connects effortlessly to Starlin's own stories from the cosmic glory days of the mid 1970's.
I'm consistently more into the Ta-Nehisi Coates era of Black Panther than many comics critics, and many of the same critiques can be levied against Coates early run on Captain America. Coates likes to take his time and build not only worlds but philosophies and themes. This can lead to books that feel like they progress too slowly or aren't going anywhere, but more often than not – for me at least – it adds though-provoking layers of conversation between the respite of Captain America v Taskmaster.
Since launch as part of "Fresh Start," Cap by Coates and Leinil Francis Yu feels back, clearly paying tribute to the work of Brubaker and Epting while responding in earnest to the controversial events of Secret Empire. It's this last piece that I particularly respect, as Coates is truly engaged with unpacking the all too pertinent metaphor behind the debasement of the American dream. Blended together with Yu's consistent status as one of the best Marvel artists for over a decade, and Captain America is one of 2019's best.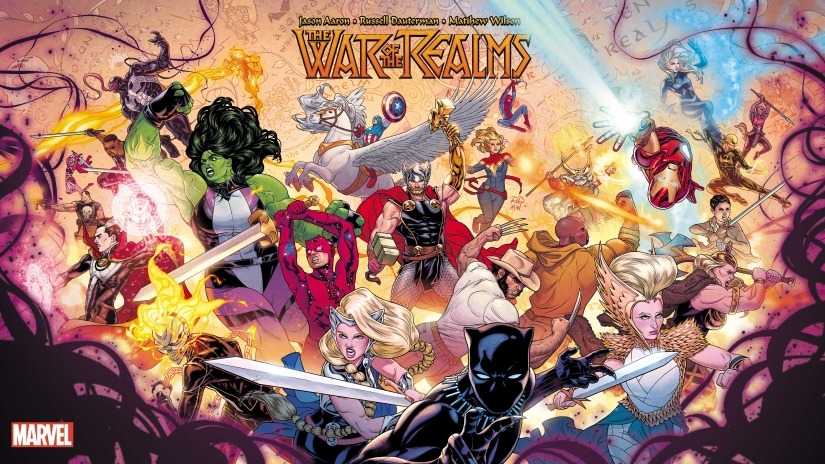 As a huge fan of Jason Aaron's extended Thor run, I've wanted to meet War of the Realms with more rapturous excitement, but instead find it merely "good." Like a lot of The Mighty Thor, the art team of Russell Dautermann and Matt Wilson frequently transform the mundane into the transcendent, and elevate this event to an easy "best since Secret Wars" pedestal.
The Donny Cates written Venom would likely have shot further up my top 10 but for the notable descent into War of the Realms tie-in purgatory. It's like considering Kawhai Leonard for MVP – maybe he'd have gotten votes without the commitment to managing his minutes you know? (And to extend the parallel it follows that Absolute Carnage won the NBA Finals of event opening issues as a result.)
Venom has been building to the events of Absolute Carnage since launch alongside Marvel Fresh Start in May 2018, and the payoff is generally worth it. Ryan Stegman and JP Mayer deliver some of the absolute best work in their careers in the main event issues, particularly the oversized issue one which is seriously one of the best event openers I've read across either of the Big 2.
Absolute Carnage actually helped Venom course correct as well, setting the stage for a big 2020 for everyone in the book, from Eddie Brock to his son Dylan to The Maker!
While it will go down as the weird Marvel event that bridged the gap between X-Men before and after Jonathan Hickman, Age of X-Man has been consistently interesting. The event commits with admirable audacity to really exploring the concepts of Utopia and isolation, with the "Xtremists" five issue miniseries finding the most fertile ground for extended metaphor.
This is my first time reading an extended stretch of comics by writer Leah Williams, and her work developing a forbidden romance between The Blob and Psylocke is genuinely remarkable. If you're going to explore any of the Age of X-Man miniseries, the Xtremists is my favorite by far.
Marvel's Dawn of X is a fascinating new era for the X-Men, and Gerry Duggan and Matteo Lolli's Marauders is my favorite early series in this World of X.
Ask me what happened in Silver Surfer Black and off hand I'll likely mutter something even less intelligible than usual about Knull vs the Silver Surfer and the birth of Galactus. Ask what I think of the 5 issue miniseries, though, and I'll just start screaming "TRADD MOORE" until you politely tell the authorities "No, I don't know him."
Silver Surfer Black is an astonishingly gorgeous work with Moore dreaming up cosmic realms without boundaries, and a liquid streak of Norrin Radd like I haven't enjoyed him since Slott and Allred wrapped up their run. This is a roadmap for the ambition artists should strive towards on any true Marvel Cosmic work.
If you had told me at the start of 2019 that an Invaders comic would be among my favorite Marvel books of the year, I'd have spit on your crocs. Harsh but true, as I've never had much affinity for Marvel's WWII relics (unless told via flashback during the Ed Brubaker and Steve Epting Captain America days).
Chip Zdarsky and Butch Guice change that with an Invaders story centered around the recent heel turn of Namor the Sub-Mariner. This is without question my favorite use of Namor since the Hickman Avengers days, and the book does excellent work blending Marvel history with present day threats without swelling up and rotting on the shore.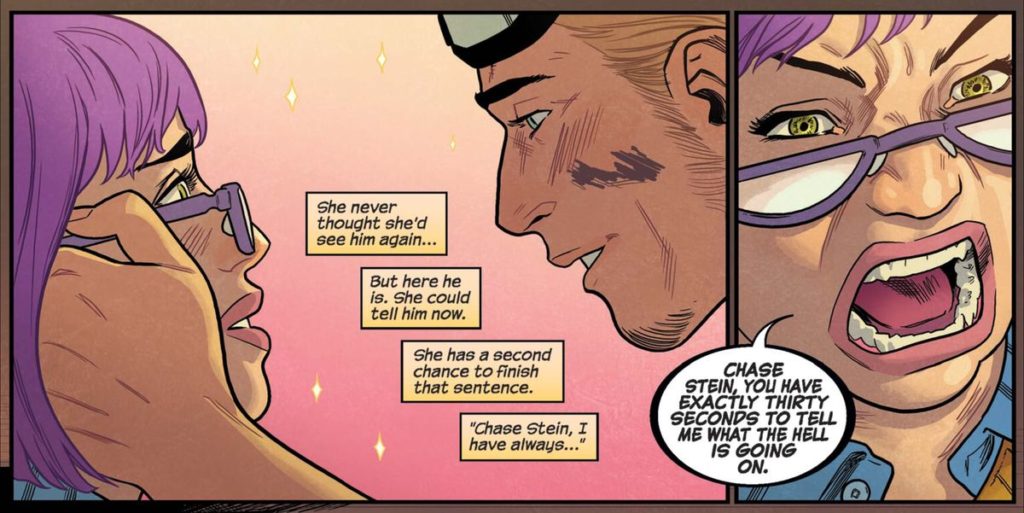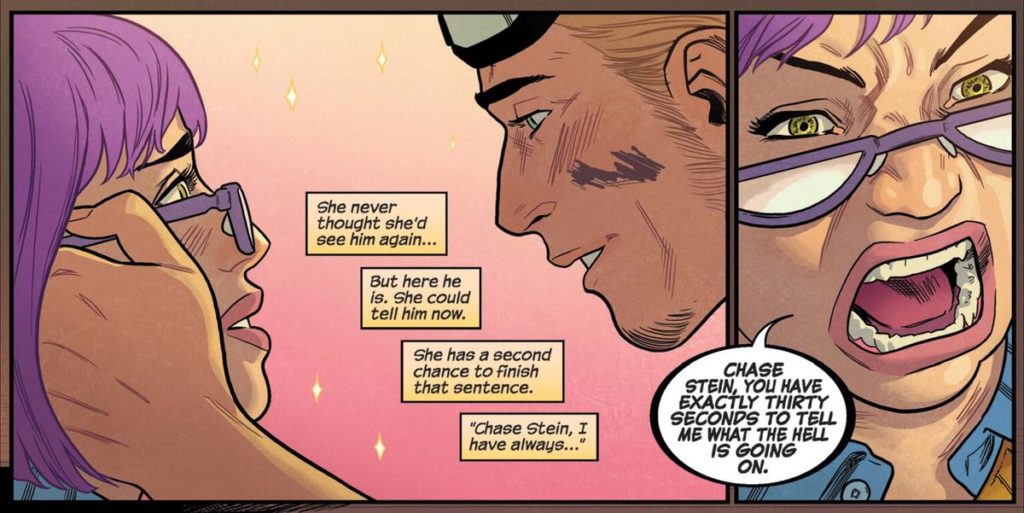 Given how good it's been since launch, I find myself taking Runaways for granted far too often. Rainbow Rowell and Kris Anka have recaptured all the magic of the Brian K. Vaughn and Adrian Alphona creation, really without any missteps along the way.
Amazingly, Runaways is also the longest running series on my favorites of 2019 list, which probably says more about Marvel's constant refreshes than anything, but still, consistency by a creative team!
The premise for Spider-Man Life Story is familiar territory (works like George R.R. Martin's Tom Tudbury stories in Wild Cards
are my favorite example of a "realistically" aging Peter Parker), which makes it all the more important that Chip Zdarsky and company execute near perfectly. Each issue of "Life Story" condenses the history of Spider-Man one decade at a time, but in a universe where Peter's actually in his 50's by the time the 2000's roll around.
"Life Story" is particularly compelling if you're familiar with Spidey's deep comic book history (perhaps through a chronological reading club like My Marvelous Year), but this story will stand on its own for new readers for a good long while.
Meet the Skrulls desperately wants to be Tom King and Gabriel Hernandez Walta's Vision, which can work as either a cruel critique, or a celebration of ambition. I chose to embrace the ambition, and love the sinister spy family tones of the Robbie Williams written five issue miniseries. Meet the Skrulls is particularly impressive given the launch in line with the MCU's Captain Marvel, and the fact that the entire project could have easily fallen into the trappings of movie tie-in mundanity.
The debut of the Skrulls in the MCU has meant a corresponding resurgence in the pages of Marvel Comics, most consistently reflecting Secret Invasion fallout (over a decade after the event concluded!). Meet the Skrulls taps into this idea of leftover agents of the infiltration living out the American dream, like The Americans with funnier chins. Much like Vision, though, Meet the Skrulls is a book about family before it's a book about superheroes and villains, and it's this heart that brings it to higher levels.
I've been a fan of Chip Zdarsky since reading his pitch-perfect plan for Watchmen 2, but it's still been amazing to watch his rise from hilarious Sex Criminals co-creator to top 5 Marvel Universe storyteller.
Daredevil cements the fact that Zdarsky's not a joke writer, he's just a writer. The opening arc connects heavily (and new reader friendly-ery… speaking of writers…) to themes from Netflix's Daredevil season three, and leans into Matt Murdock's struggles with faith. It also features one of the best Daredevil and Punisher moments in memory!
Amazingly, this is only the beginning. Zdarksy and collaborators like the amazing Marco Checchetto are finding new lanes for the Daredevil mythos, playing in the same ballpark as Miller, Nocenti, and Bendis while finding something new to say. This is a classic in the making and a book Marvel fans should not be sleeping on.
Immortal Hulk achieves the rarefied status of a consensus MVP in the Marvel lineup, and somehow feels like new issues are *always* being released. It's prolific efficiency at its finest, in the way that only the best superhero runs ever nail. Al Ewing and Joe Bennett's imaginative distillation of the "horror Hulk" is an instant classic in the history of Marvel, the best the Hulk's been in over a decade, and oh so nearly my favorite Marvel comic book of 2019.
It's important to me to sell two things here: 1) House of X and Powers of X is the most exciting Marvel moment of the year and 2) Immortal Hulk is *still* insanely close to matching the book's excellence!
The House of X experience is arguably my favorite comic of 2019 from any publisher, and also the one that got me Youtubin' weekly like a common media mogul. Nothing in comics matches the thrill of 12 straight weeks of mind-blowing X-Men comics spread across two titles. Take a bow Jonathan Hickman, Pepe Larraz, RB Silva, Marte Gracia, Tom Muller and team!