2019 feels like the first year in the last four when Marvel wasn't still mired in a post-Secret Wars (2015) malaise. While it's far from a slam dunk, 2018's "Fresh Start" helped Marvel feel less aimless and more consistent. Plus, the 2019 event initiatives are genuinely exciting, whether it's War of the Realms, Jonathan Hickmen's X-Men, or Absolute Carnage.
Below you'll find my favorite Marvel Comics of 2019, with the expectation that I'll update the list as the year concludes.
Related Reading Orders:
Support For Comic Book Herald:
Comic Book Herald is reader-supported. When you buy through links on our site, we may earn a qualifying affiliate commission.
Comic Book Herald's reading orders and guides are also made possible by reader support on Patreon, and generous reader donations.
Any size contribution will help keep CBH alive and full of new comics guides and content. Support CBH on Patreon for exclusive rewards, or Donate here! Thank you for reading!
I'm consistently more into the Ta-Nehisi Coates era of Black Panther than many comics critics, and many of the same critiques can be levied against Coates early run on Captain America. Coates likes to take his time and build not only worlds but philosophies and themes. This can lead to books that feel like they progress too slowly or aren't going anywhere, but more often than not – for me at least – it adds though-provoking layers of conversation between the respite of Captain America v Taskmaster.
Since launch as part of "Fresh Start," Cap by Coates and Leinil Francis Yu feels back, clearly paying tribute to the work of Brubaker and Epting while responding in earnest to the controversial events of Secret Empire. It's this last piece that I particularly respect, as Coates is truly engaged with unpacking the all too pertinent metaphor behind the debasement of the American dream. Blended together with Yu's consistent status as one of the best Marvel artists for over a decade, and Captain America is one of 2019's best.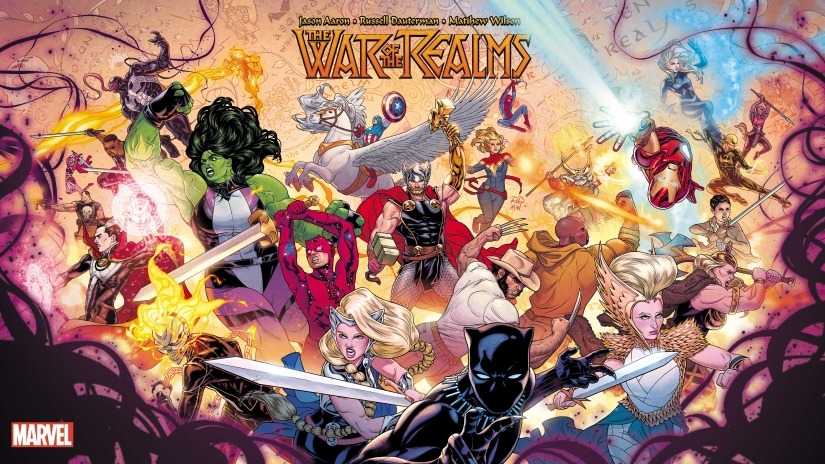 As a huge fan of Jason Aaron's extended Thor run, I've wanted to meet War of the Realms with more rapturous excitement, but instead find it merely "good." Like a lot of The Mighty Thor, the art team of Russell Dautermann and Matt Wilson frequently transform the mundane into the transcendent, and elevate this event to an easy "best since Secret Wars" pedestal.
I've been a fan of Chip Zdarsky since reading his pitch-perfect plan for Watchmen 2, but it's still been amazing to watch his rise from hilarious Sex Criminals co-creator to top 5 Marvel Universe storyteller.
Daredevil cements the fact that Zdarsky's not a joke writer, he's just a writer. The opening arc connects heavily (and new reader friendly-ery… speaking of writers…) to themes from Netflix's Daredevil season three, and leans into Matt Murdock's struggles with faith. It also features one of the best Daredevil and Punisher moments in memory!
The Donny Cates written Venom would likely have made my top 10 but for the notable descent into War of the Realms tie-in purgatory. It's like considering Kawhai Leonard for MVP – maybe he'd have gotten votes without the commitment to managing his minutes you know? (And to extend the parallel it follows that Absolute Carnage will make the NBA Finals as a result.)
Instead, it's the more consistently engaging Guardians of the Galaxy that represents Cates' Marvel work in 2019. Nobody at Marvel is better at tying a new series to a big bold hook, and Guardians proves no exception, launching the team out of the Infinity Wars quagmire and into a hunt for the "new" Thanos.
It took three issues for me to become a believer, but the moment Nnedi Okorafor and Leanordo Romero strapped Shuri in to pilot Groot I knew the series was willing to tap into the sci-fi oddities that would set it above the rest.
While it will go down as the weird Marvel event that bridged the gap between X-Men before and after Jonathan Hickman, Age of X-Man has been consistently interesting. The event commits with admirable audacity to really exploring the concepts of Utopia and isolation, with the "Xtremists" five issue miniseries finding the most fertile ground for extended metaphor.
This is my first time reading an extended stretch of comics by writer Leah Williams, and her work developing a forbidden romance between The Blob and Psylocke is genuinely remarkable. If you're going to explore any of the Age of X-Man miniseries, the Xtremists is my favorite by far.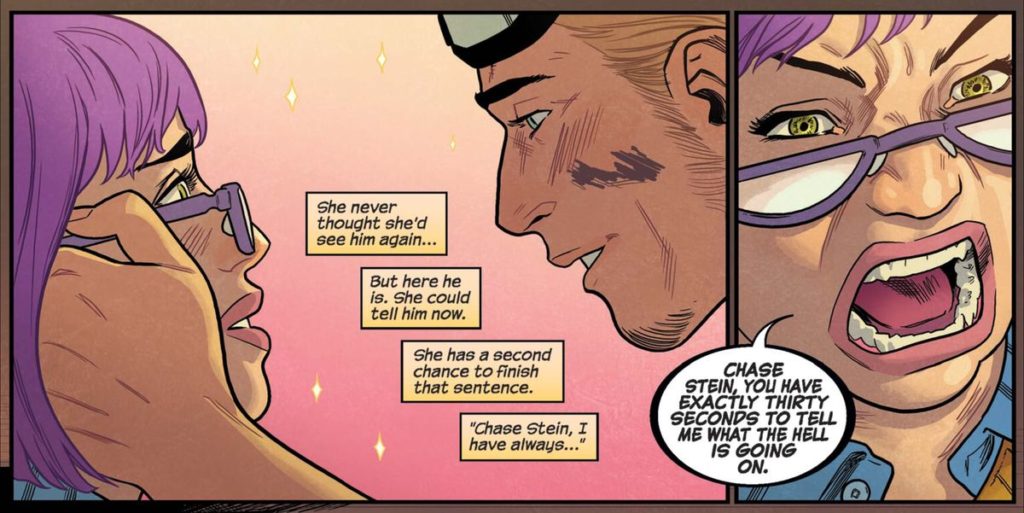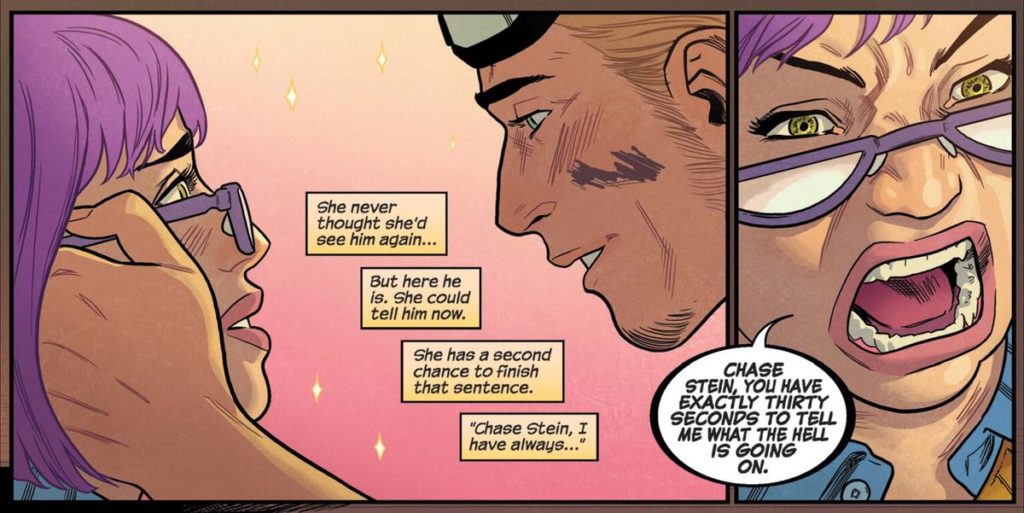 Given how good it's been since launch, I find myself taking Runaways for granted far too often. Rainbow Rowell and Kris Anka have recaptured all the magic of the Brian K. Vaughn and Adrian Alphona creation, really without any missteps along the way.
Amazingly, Runaways is also the longest running series on my favorites of 2019 list, which probably says more about Marvel's constant refreshes than anything, but still, consistency by a creative team!
The premise for Spider-Man Life Story is familiar territory (works like George R.R. Martin's Tom Tudbury stories in Wild Cards
are my favorite example of a "realistically" aging Peter Parker), which makes it all the more important that Chip Zdarsky and company execute near perfectly. Each issue of "Life Story" condenses the history of Spider-Man one decade at a time, but in a universe where Peter's actually in his 50's by the time the 2000's roll around.
"Life Story" is particularly compelling if you're familiar with Spidey's deep comic book history (perhaps through a chronological reading club like My Marvelous Year), but this story will stand on its own for new readers for a good long while.
Meet the Skrulls desperately wants to be Tom King and Gabriel Hernandez Walta's Vision, which can work as either a cruel critique, or a celebration of ambition. I chose to embrace the ambition, and love the sinister spy family tones of the Robbie Williams written five issue miniseries. Meet the Skrulls is particularly impressive given the launch in line with the MCU's Captain Marvel, and the fact that the entire project could have easily fallen into the trappings of movie tie-in mundanity.
The debut of the Skrulls in the MCU has meant a corresponding resurgence in the pages of Marvel Comics, most consistently reflecting Secret Invasion fallout (over a decade after the event concluded!). Meet the Skrulls taps into this idea of leftover agents of the infiltration living out the American dream, like The Americans with funnier chins. Much like Vision, though, Meet the Skrulls is a book about family before it's a book about superheroes and villains, and it's this heart that brings it to higher levels.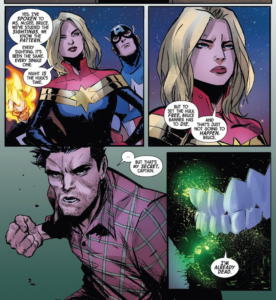 Immortal Hulk achieves the rarefied status of a consensus MVP in the Marvel lineup, and somehow feels like new issues are *always* being released. It's prolific efficiency at its finest, in the way that only the best superhero runs ever nail. Al Ewing and Joe Bennett's imaginative distillation of the "horror Hulk" is an instant classic in the history of Marvel, the best the Hulk's been in over a decade, and my favorite Marvel comic book of 2019.