Update: There is a more recent version of this post for deciding on a tablet for comics in 2023.
More often than not, decisions involving comic books don't create too much financial stress. There are obvious exceptions (Nic Cage's copy of Action Comics #1 comes to mind), but generally speaking a $2.99 (or, gasp!, $3.99) comic won't break the bank.
This all gets thrown out the window when we start considering the device you want to use to read your digital comics. Do you stick to a laptop/desktop? Do you invest in a sleek 10 inch tablet? What about a mini tablet to save a few dollars? And what about the Kindle or Nook e-reader devices? What's the best device for comic book reading?
It's a tough question, and one I've been researching and wrestling with myself until recently. The answer will depend to some degree on your needs and liquidity (meaning both your access to cash and your ability to go full Hydro-Man at a moment's notice). Nonetheless, I believe there's a clear answer here to help you make an informed purchase.
Why Can't I Just Roll With My Laptop For Comics?
For the first year and a half of my digital comic book reading lifespan, I used nothing but my laptop. This was made possible through an early subscription to Marvel Digital Comics Unlimited and an uncanny ability to ignore significant degrees of wasted screen space.
Support For Comic Book Herald:
Comic Book Herald is reader-supported. When you buy through links on our site, we may earn a qualifying affiliate commission.
Comic Book Herald's reading orders and guides are also made possible by reader support on Patreon, and generous reader donations.
Any size contribution will help keep CBH alive and full of new comics guides and content. Support CBH on Patreon for exclusive rewards, or Donate here! Thank you for reading!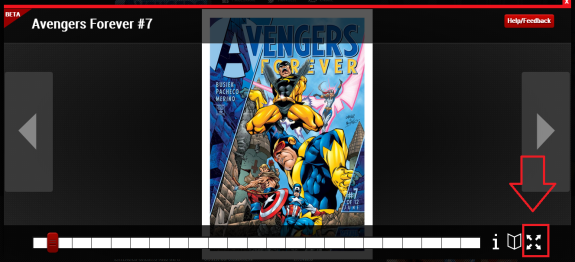 Although this screenshot is Marvel Unlimited specific, the general problem applies across desktop comic readers – they're largely designed for vertical reading, a la an actual comic book. This is true of everything from Comixology to Dark Horse Comics to a .cbr file reader like ComicRack.
Naturally, tablets lend themselves towards these dimensions, where vertical displays trump width. Can you read comic books on your laptop? Of course – but the art and story is going to fill up the screen far more naturally on a tablet, with the added benefit of swiping panels like turning the page.
End of the day, a laptop is expensive enough, and it's understandable if you want to use your nice computer as a one stop shop for all digital endeavors. Just know that your comic book reading is going to be severely limited by small font, tiny panels, and a far from smooth reading experience. Plus, the all-time downside: you can't easily carry the computer with one-hand into the bathroom. Comics are the role tablets were born to play.
Beginning the Tablet Discussion: What Are You Looking For?
Ok, you get it, you get it, tablets are the best thing to happen to comic book reading since Scott Mcloud. What should you look for in one of these new age technological wonders?
Before you dive into any particular tablet for comics, it's important to consider what you're planning to use this device for. Considering you're reading this post, the short answer is probably: a device that lets me enjoy digital comics the absolute most.
But before we get into the nitty gritty of comic book enjoyment, what else do you want from a tablet? Is the tablet for at home use only? Will you be commuting long distances with your new tablet? Are you going to be working on this tablet, or is it purely for entertainment purposes?
Go ahead and answer all these questions in earnest before you move on. And if you're like me, and the answer is simply "I want to read comics, and lots of them at that," our decision is much easier.
10 inch Tablet Vs. The 7 inch Mini Tablet: Does Size Matter?
The biggest debate of all is whether to lay down your money on the full-size or mini tablet.
On average, a full-size 10 inch tablet is going to cost between $150 and $250 more than a 7 inch mini. Given that potential savings, the temptation is to look very closely at the 7 inch tablet and consider if the screen size alone is worth an extra $200.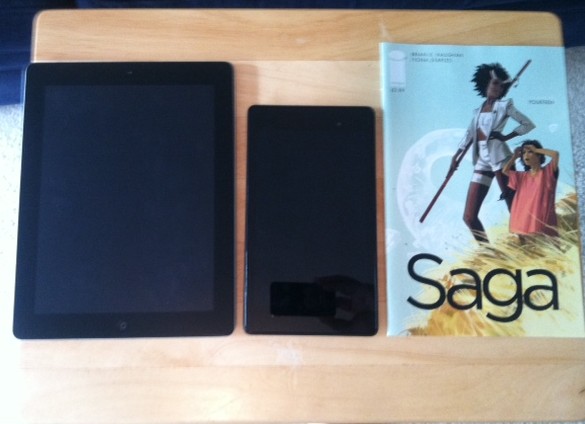 Looking at the above screen shot, you can tell pretty clearly that the full size tablets are going to approach the standard comic book reading experience much more accurately. My copy of Image Comics' Saga is the biggest of the three reading options, but the latest version iPad is very close. The Google Nexus 7 mini tablet on the other hand, is quite a bit smaller.
So is the answer that cut and dry? Suck up the extra expense, roll with the iPad or alternate full size tablet based on the additional size, and enjoy your comics?
This is where I found myself around a month ago. I've had a new iPad through work for some time (yay, work supporting comics unknowingly!) and knew full well that the full-size tablet solved every digital comic book need I had. The resolution was amazing, the comics looked great, and I could leave every issue in single page mode and read no problem.
But… Google's Nexus 7 is only $229! Based on the price I had to at least consider the quality of comic book reading on Google's 7 inch tablet. I got some great feedback on Google+ about comic fans and the experience they've had with different tablet devices.
What you'll take away from the discussion is that nearly all these comic fans who have a Nexus 7 love the device for comic books and everything else. Based on this feedback, I went ahead and got a Google Nexus 7 for myself. Comics on the tablet look great but I won't pretend there isn't a size disadvantage. See for yourself.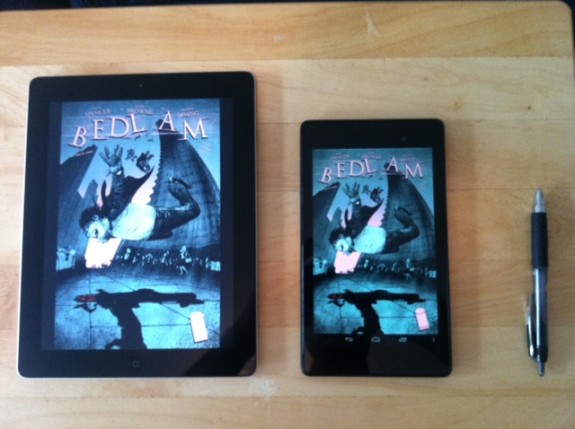 The 7 Inch Tablet Experience
As I mentioned, my verdict on the full-size tablet, a la the iPad, is that it's absolutely perfect for comic book reading. The only question remaining is whether the full-size device is worth the extra expense.
Purely from a comic book reading perspective, I can now verify that that those extra Benjamins are seriously in doubt.
I have thoroughly enjoyed my Google Nexus 7 and have only rarely switched back to the iPad despite the size difference.
What does Google's mini tablet have going for it?
Convenient transportation – The 7 inch tablet offers a degree of transportability that's hard to beat. You can easily hold the device with just one hand while reading comics, the tablet is incredibly light, and you could even conceivably fit the device into a cargo pocket if needed. While this might not be much of a plus if you're just reading at home, if you'd like to bring your comics on your commute, the 7 inch is an easier carry-on.
Resolution – Comics look great on the Nexus 7. Again, I can't sit here and pretend they look better than the new iPad, but I really don't notice a discernible difference. I've now started watching FX's Wilfred on my Nexus 7 while sitting in front of the TV. And I'd do it again.
Savings – A Nexus 7 for $229 compared to a new generation iPad for $499, or even the Nexus 10 for $399 leaves you at least $170. For that price you could take advantage of Comixology's current $.99 The Walking Dead sale and buy the first 100 issues.
The major downside is that single-page reading on the 7 inch tablet is generally not very practical. You will need to zoom some, or if reading in Comixology, use panel-by-panel reading. This is a slightly different experience than just having the page in front of you and may take some getting used to.
The Marvel Unlimited Conundrum – Or, Why I Rule Out the Nook and Kindle
If you're wondering why there's so little talk of Barnes and Noble's Nook HD+ (voted CNET's best tablet value) or Amazon's Kindle Fire HDX (voted CNET's best media consumption tablet), the answer largely comes down to Marvel Unlimited.
I'll explain: as a long-time subscriber to Marvel's digital library service, it's pretty important to me that my e-reader support the Marvel Unlimited app. With the Kindle and Nook, I just have no confidence that this will be the case.
The Marvel Unlimited digital app came to Android several months after it was released for iOS, and it's Android supported form is clearly secondary to iOS. Don't believe me? Just check out the MU reviews in Google Play. It's appalling!
Personally, I don't think the Marvel Unlimited on Android is particularly flawed, with one major exception: the comic fails to utilize the full screen space every single time.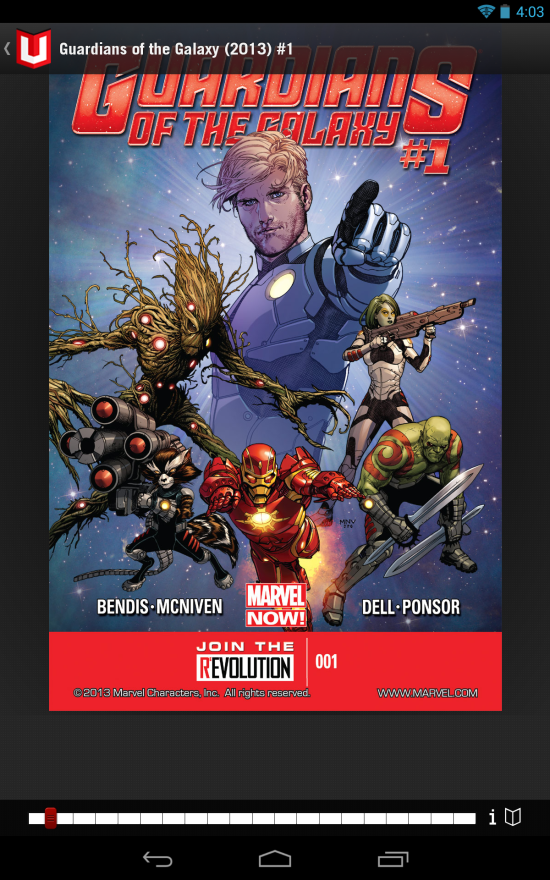 Yes, you can zoom in with a simple pinch of the fingers, but having to do so on every page becomes tedious. It's a weird flaw in the Marvel Unlimited Android app experience, especially on the Nexus 7 where size is already the major concern.
Which brings me to my potentially unfounded concerns with book the Nook HD+ and Kindle Fire: if the Marvel Unlimited Android app has weird technical glitches on Google's Nexus tablets, how glitchy is it going to be on off-brand devices that simply allow access to the Google Play store?
If Marvel Unlimited is not a concern for you, though, then the Kindle Fire and Nook HD+ may become very real considerations. I would point you to this quality post from the Comic Book Reader Guide for more if that fits your need.
The Final Test – Which Device Will I Use?
In about 5 minutes when I complete this post, I'm going to plop down on my couch and continue reading Peter David's excellent early Marvel Knights entry Madrox (a pre-cursor to David's equally exciting X-Factor). 
So far I've read the first two issues on my Nexus 7. But as I sit here, I realize the iPad is sitting right there. And that I wouldn't have to zoom, or pinch, or worry about weird Marvel Unlimited size issues.
I'm going to read my comics on the full-size tablet. It's a no-brainer.
Now, obviously, this is a bit of a luxury to even have this option. But it illustrates my final point, which is that if you have the resources, invest in the 10 inch tablet. You won't have a single complaint about comic book reading ever, aside from the usual Dan Slott did WHAT?!
I'll leave Android vs. iOS up to you, and personally I've come to like both operating systems. If you're a Marvel Unlimited fanatic like myself, I'd drive you towards iOS as that app has cleaner functionality in my opinion.
If you're looking to save upwards of $200, though, and you have a long commute, or travel consistently, I've loved the experience of owning a Nexus 7. It's a fantastic device, and all things considered comic book reading is perfectly viable.
I should probably caveat that all this is coming from a guy so addicted to comics he developed a way to read comics on his tiny little iPhone 4, but you can totally trust me.
So what do you think? What has your experience with digital comic reading been? What devices do you prefer, or which are you considering getting? Do what feels right to you in the comments!