Did you know Android smartphones consist of more than 80% of the mobile phone market? The stat always amazes me.
Attention on the iPhone is always so great that it's easy to forget that as of the most recent quarterly market share reports, iOS only accounts for 12% of the total market. It's not even close to Android.
And yet, back in the olden times we knew as March of 2013, Marvel unexpectedly announced the release of their exciting Marvel Digital Comics Unlimited app for iOS only. It wasn't until a couple months later that the Android version of the Marvel Unlimited app was released, and in many ways it still doesn't feel quite ready.
One major question remains: Just how functional is Marvel Unlimited for Android?
You probably wouldn't be here if'n you don't know by now, but Marvel Unlimited is Marvel's digital comic book library, offering over 10,000 Marvel comic back issues to subscribers for a monthly or annual fee.
Support For Comic Book Herald:
Comic Book Herald is reader-supported. When you buy through links on our site, we may earn a qualifying affiliate commission.
Comic Book Herald's reading orders and guides are also made possible by reader support on Patreon, and generous reader donations.
Any size contribution will help keep CBH alive and full of new comics guides and content. Support CBH on Patreon for exclusive rewards, or Donate here! Thank you for reading!
For years, subscribers like myself were only able to access this abundance of archived comics through a Flash reader on desktop or laptop computer. We'd walk uphill both ways in the freezing snow and rub our sticks together until the comics appeared, and dammit, we liked it.
With the proliferation of tablets and smartphones, though, it became overwhelmingly logical for Marvel to extend their service to portable devices without the need to enact the schemes of some twisted mind. Enter the Marvel Unlimited app.
Marvel Unlimited for Android Overview
When it was first released, I was overwhelmingly excited that the Marvel Unlimited app worked on my iPhone. Bugs be darned, this thing existed and it was free and basically it made comic reading easier. Huzzah! Huzzah, I say!
I'm a little more jaded now. It's been 8 months now since that initial release and half a year since the app has existed for Android.
So why is the app still so buggy?
It doesn't take a whole lot of research to see that Marvel Unlimited subscribers are generally displeased with the app's performance. Check out the Google Play reviews. 2.1 stars with over 1,000 reviews isn't particularly comforting.
And of course, the problem that so many subscribers have is not the content, but the app's struggles to serve up comics on demand, to crash over and over, or to simply cause needless frustration even when a comic loads. For example: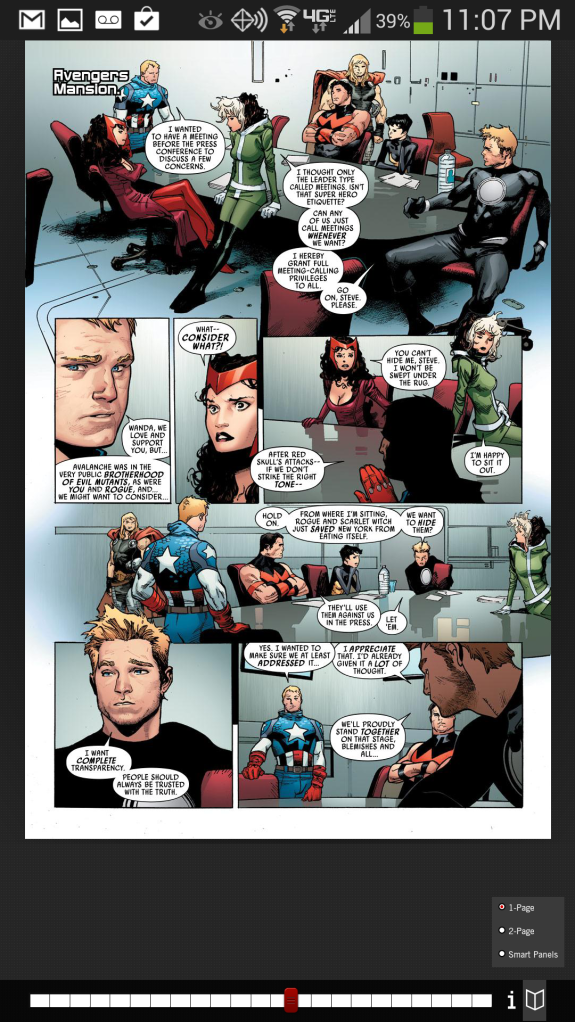 The above is a to-scale screenshot of a page from Uncanny Avengers #5. There are a few immediate concerns. First, the page fails to fill the entirety of the screen leaving a noticeable amount of unnecessary black space. While this might seem like I'm picking at nits, when you're reading on a mobile phone, the amount of screen devoted to the comic is already limited. Zooming just to have the page fit the available space amounts to frustrating repetition.
The other bizarre component of the single page reading experience is that the "reading options" tab is proportionally microscopic. Ant man would have a hard time finding the "Smart Panels" selection on any given page. Again, on a mobile phone, where smart panel reading is particularly applicable (if immensely flawed), this is a frustrating experience.
Are You a Marvel Unlimited Subscriber? JK, Don't Care!
The aforementioned performance quirks are ultimately manageable. You can pinch zoom to get a clearer view of your comic, and you can stab in the general direction of the smart panels selection until you get lucky.
The real problem stems from the Android apps strange inability to confirm whether you are a logged-in Marvel Unlimited subscriber.
Open the app for the first time, and you'll quickly notice the option to sign in. As you'd expect, signing in allows you to access all the content you'd expect along with the opportunity to read select comics offline.
And yet, this functionality is far from simple. Even after logging in, I frequently open comics only to find that I'm in "sample reading mode" and am asked if I'd like to sign up for Marvel Unlimited after 3 pages of my selected comic.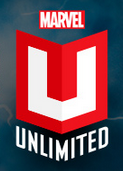 Huh?
Making matters more complicated, selecting comics for offline reading (once of the nicer proposed features of the app) completely baffles this "are you signed in" fiasco. On my new Samsung Galaxy S 4 (which I bought in part because the larger screen would be better for comics), I'm completely unable to read a full comic that I've selected for offline reading.
As you'd imagine, this kind of defeats the purpose.
I'm willing to chalk some of this weirdness up to the relatively recent release of Android's Kit Kat update. And hopefully that's all this is because I haven't previously had the same log-in issues when using my Google Nexus 7. Whatever the cause, I'm hopeful this issues sees resolution too. It's one bug that really offers no sustainable workaround.
Comic Book Readers By Comparison – An Illustrative Story
In a semi-unrelated note, I had a great experience with digital comics distributor Comixology this past week.
I'd heard about problems with the Comixology app for Android. I've heard all the issues about not actually owning your comics. It's my youngest brothers main problem with digital – you don't own a file for something you pay for.
That said, I love Comixology purely a means to consume story – which is why I play the game – but when my Black Friday impulse buy of Fatale volume one wouldn't load, I was concerned. Dammit Android! I was so safe with Apple!
SO, I sent a note to Comixology. This was the Friday evening after Thanksgiving, late. Comixology promptly responded with an automated email that essentially said "It's Thanksgiving weekend, you nut, we'll try really hard to get back to you, but I mean, come on. We have families."
Understanding, I left myself resigned to no Fatale volume one for my grueling 20+ hour drive home. (Don't read comics and drive, kids.)
Lo and behold, come Saturday morning I had a personalized response from Erin at Comixology support. A few quick steps to restore purchases, with easy to follow instructions, and in under 5 minutes I had a resolution and my comics. So awesome!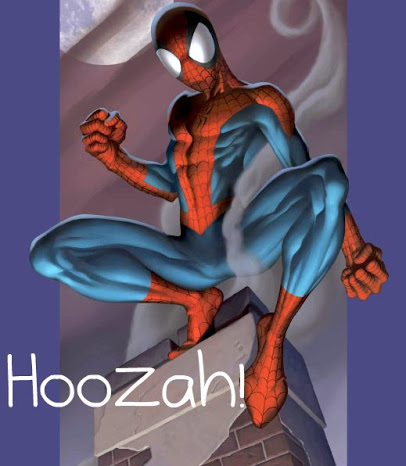 I raise this Comixology story for two reasons.
One: I can't count the number of readers who've commented here saying they tried and tried but couldn't get a hold of Marvel support. Well, I could count them, but I'm not sure how comfortable I am admitting they're all my Dad.
Two: There's a common refrain among unsatisfied Marvel Unlimited app users which goes something like this: "Why can't it just be like the Marvel app? Why can't it just work like Comixology?"
This line of thinking used to bother me, but that was admittedly before I had really used other comic book readers, and especially before I had the opportunity to do much of my reading on mobile devices or tablets.
Now? I'm asking the same question. The Comixology reading experience is so smooth it makes Marvel Unlimited look pitiful by comparison. Even the free version of a .cbr reader like ComicRack has much better functionality and ease of use (I'm looking at you, double-tap zoom feature).
Will Marvel Unlimited Ever Rival Comixology?
Until there's real competitive pressure, I don't think we'll this happen.
During my real life, I spend a lot of time looking at search results. We see the same thing in the search industry – big bad Google is so dominant, and so far ahead of the likes of Bing, that they can essentially do as they please. So despite a small but vocal outcry for Google to improve certain aspects of their search results, it's clear that Google will change things at their own pace. There just isn't the competitive balance to dictate otherwise.
This is exactly where Marvel finds themselves with Marvel Unlimited. DC Comics, once Marvel's Dreaded Competitor, offers no comparative solution. There is no digital library of DC comics available for subscription, meaning there certainly isn't an app for Marvel to measure their product against.
Until this happens, Marvel really only needs bare minimum functionality to look great. As a subscriber there aren't really a lot of better options, aside from pirating all your comics and just straight up stealing for the honor of your feelings.
What are you going to do? Only use Comixology? Great, you still have to purchase all your comics there, meaning you're paying Marvel a LOT more per issue compared to an Unlimited subscription.
I'm still optimistic that Marvel sees how great Marvel Unlimited makes them look, and how brilliant it is as a way to keep new readers up to date on past comics. But let's be realistic: Marvel Unlimited is not a cash cow for the business. They aren't making money on this. In fact, I would guess they're actually losing a lot, at least in the short-term.
End result? They'll fix this app at their own pace. And probably keep hoping DC doesn't realize there's a vast new frontier known as "Internet."
Android Unlimited in Conclusion
End of the day, the Marvel Unlimited app for Android is pretty enjoyable when it works. The percentages aren't fantastic here, though, and far too often I find myself excited to read via Marvel Unlimited only to have something go wrong, spend a few minutes trying to find a fix, and giving up.
An app that frequently results in failure is just disappointing. I still love the potential of this feature and the basic framework Marvel and their developers have created, but it would be wonderful to see these issues corrected.
If you're considering a subscription to Marvel Unlimited and mostly plan to read on an Android operating system, I would caution that you'll need some serious patience at times. Again, you will be able to enjoy your comics over time, but there will be trips to the tablet that end in confusion, horror, and tears.
Finally, if you're considering an Android device and are curious how Marvel Unlimited might work, I took a look at the great tablet reading debate here. 
Have thoughts of your own on the Marvel Unlimited app for Android? Issues, joys, thoughts? Do what feels right to you in the comments.