Ok, fine, I might be overselling the impact of my – now legendary – Marvel Unlimited App review.
Nonetheless, update version 1.1 includes a bunch of the features I thought would improve the overall experience. Here's a look at the notable upgrades and how they should help:
App update version 1.1 became quietly available on Thursday, April 25. I don't know about you, but I tend to let app updates sit for months at a time, largely assuming the changes won't be all that significant. In this case, if you've had problems or issues with the Marvel Unlimited App (and I know a lot of us have), the update is legitimately useful.
Upgrades:
– Boatload of bug fixes
Ultimately, this might be the most important part to version 1.1. I can't sit here and claim that every Marvel Unlimited problem or bug is gone, but so far I haven't had the app crashing every time I tried to open it, and I haven't had the weird search glitch where the keyboard took over the app like the Blob coming off a hunger strike.
Support For Comic Book Herald:
Comic Book Herald is reader-supported. When you buy through links on our site, we may earn a qualifying affiliate commission.
Comic Book Herald's reading orders and guides are also made possible by reader support on Patreon, and generous reader donations.
Any size contribution will help keep CBH alive and full of new comics guides and content. Support CBH on Patreon for exclusive rewards, or Donate here! Thank you for reading!
All things considered, this feels like great work by the Unlimited app team. I know the Marvel Unlimited app crashing was one of the single biggest turn-offs originally, and while you'd like to see that 100% taken care of out of the bag, the app update is a nice reminder that services like this are living materials. They change and improve while we do nothing but read Planet Hulk and work and read Planet Hulk at work (I'm not judging).
That said, I can only speak from my own experience in terms of seeing these bug fixes. If you're still plagued with them and want to throw your Marvel Unlimited subscription at the nearest Skrull, the comments offers some great group therapy.
– Full-screen reading now available
This is a nice one for iPad readers, although honestly I felt pretty alright about the single page view of the iPad reader on launch.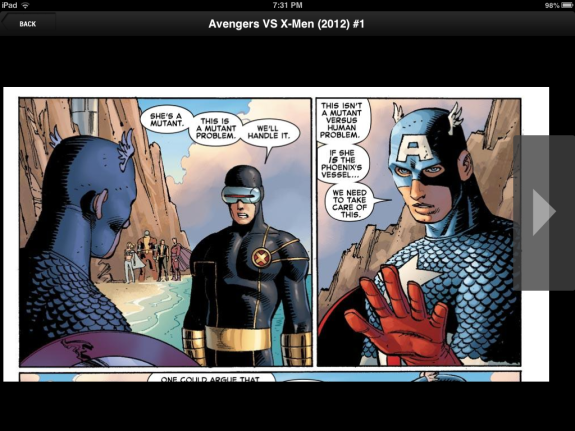 While this one is nice, it kind of highlights a bigger issue.
The smart-panel reading on the app can be a nightmare.
Again, on the iPad this becomes way less relevant because you're reading on a reasonably sized screen. But on an iPhone? Check out this attempt to read the penultimate issue of Iron Man's Armor Wars (hey, I'm catching up before the movie, what can you expect).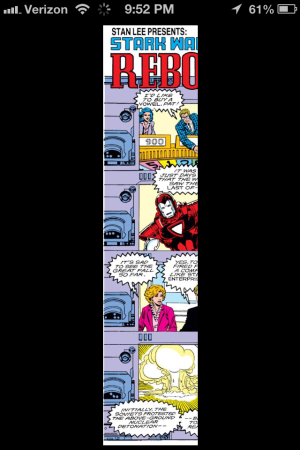 When you see fans complaining about 'unreadable' panels… well, look no further.
So full-screen is a definite positive, but the smart panel mobile experience has room for improvement. Big time.
– Monthly editorial picks –
Those curated comic book suggestions from the desktop site have made it live to the app.
Naturally, I'm a big fan of anything that helps readers find new material, so it's cool to see the Marvel Unlimited app trending this direction.
The recommended reading that's actually supplied could use some improvements (the content mentions Mark Waid's run on Fantastic Four but fails to actually include that material), but all in all I like the direction.
– Ability to purchase digital comics in the Marvel Comics app.
This one's a move I advocated, although in some ways it calls into question the quality of the Marvel Unlimited app. If I could read this for free on the Unlimited app… why would I pay for a digital version to read using Comixology reader tech?
Yes, you technically then 'own' a digital copy, but as we've seen this year, digital comic ownership isn't all it's cracked up to be.
My original recommendation regarding digital purchases was in regards to ongoing series or new comics. One of the biggest issues fans seem to have with Marvel Unlimited is the fact that the reading selection is actually limited by publication date. I'm of the opinion that a digital library of this size is still one of my favorite things, but if you want the latest and greatest… Marvel Unlimited can't quite give you what you crave.
This becomes slightly less problematic if there's at least a clear option to continue reading the newest comics for those who'd rather pay a few bucks then wait a few months for the next issue of a series.
This isn't quite what Marvel Unlimited is offering at the moment, but I can appreciate that they're offering a clear move to purchase from their app. Dollars is dollars after all.
So there you have it, that's the Marvel Unlimited app update in a nutshell.
The reviews of the app have improved significantly since the update. Personally, I like the general direction, I'm really happy to see a legitimately significant update, and I'm still a mostly happy Marvel Unlimited subscriber.
Feel the same, or completely the opposite? Do what feels right to you in the comments.