It's recently occurred to me that although I have my comprehensive reading order guide to the Marvel Universe (often imitated, never duplicated),  I don't really have a fast track guide.
You know, for people that aren't as obsessively inclined to read all of the comics in the history of ever. Wimps, if you will. (Jokes, my little wimpy, jokes!)
So here it is – the fast track guide to the Modern Marvel Universe, giving you all the essential story lines in 25 trade collections. Save money, save time, and get your true believer on all at once!
Two caveats before I dive in:
This is not a "best trades of the decade" list. I actually have a list of the best 100 Marvel Comics from 1998 to 2015. But this is not that list. These are the trades most essential to giving you the major plot lines and story threads that drive the Marvel U.
Since this is the fast track, there are oodles of additional stories and comics that will not be covered here (including Marvel Cosmic!). If you find that you'd prefer a more complete guide, well, look what we have here!

1) New X-Men Omnibus (Issues #114 – #154) – Grant Morrison & Frank Quitely
Nearly everything we know and love about the X-Men today can be traced back to Morrison and Quitely's excellent New X-Men run. The devious presence of Emma Frost, the cat/awesomeness of Beast, Cyclops as something other than a milquetoast boyscout… it's all here.
Support For Comic Book Herald:
Comic Book Herald is reader-supported. When you buy through links on our site, we may earn a qualifying affiliate commission.
Comic Book Herald's reading orders and guides are also made possible by reader support on Patreon, and generous reader donations.
Any size contribution will help keep CBH alive and full of new comics guides and content. Support CBH on Patreon for exclusive rewards, or Donate here! Thank you for reading!
Of course, there's much more than that, and New X-Men sets the stage for all X-events to come. Even universe-wide events like House of M are fairly reliant on details on developments from within this series. It's a must read, both for quality comics and influential storylines.
Buy New X-Men by Morrison & Quitely
Read New X-Men on Marvel Unlimited
2) Fantastic Four (Issues #60 – #70, #500 – #524) – Mark Waid & Mike Wieringo
Much like New X-Men, Waid & Wieringo's run on Fantastic Four finds the intersection of best comics of the decade, and most essential story lines. In many ways, the urge to include this series is because it's the best Fantastic Four comic arc I've ever enjoyed. Until Jonathan Hickman's more recent run on the title, it was the best recent arc by a wide margin. 
So what's essential about these issues of Fantastic Four? For starters, any guide to the Marvel Universe without Marvel's first family is flat out going to feel incomplete. And aside from best-in-class characterization and plotting, Waid & Wieringo also give us major developments for the Fantastic Four family. Most importantly, a certain Doctor you may know and love becomes entangled in a certain kind of Doom that will come into play in later Marvel events.
Read Comics!
Buy Fantastic Four from Waid & Wieringo (4 hardcover Ultimate Collections available)
Read Fantastic Four on Marvel Unlimited
3) Daredevil (Issues #16 – #81) – Brian Michael Bendis & Alex Maleev
Daredevil? Daredevil is essential?
Despite the pedigree Frank Miller brought to the character, I can understand some skepticism surrounding the man without fear's impact on the Marvel Universe as a whole.
Nonetheless, the "Out" story arc, and writer Brian Michael Bendis' proximity to the character make Matt Murdock one of the major Marvel players. These are great, thought-provoking superhero stories, and Alex Maleev's shadowy lens on crime make them some of the most interesting books to look at on this list.
A note here that unlike New X-Men and Fantastic Four, the Daredevil issues in this collection overlap several of the trades and stories to come.
Read Daredevil!
Buy Daredevil from Bendis & Maleev
Read Daredevil on Marvel Unlimited
4) Avengers Disassembled (Avengers Issues #500 – #503 + Finale) – Bendis & David Finch
And the age of events begins. It doesn't take much beyond the story title to make it clear the impact these issues will have on the Marvel Universe as a whole, but the actual story is even more devastating than it sounds. For the curious, here's my detailed guide to tie-ins and issues in Avengers Disassembled.
Comics!
Buy Avengers Disassembled – (the issues in this trade are also included in the New Avengers omnibus below)
Read Avengers Disassembled on Marvel Unlimited (+ Avengers Finale!)
5) Captain America (Issues #1 – #25) – Ed Brubaker & Steve Epting
Brubaker & Epting's Cap transformed the character from an easily dismissed boyscout to the leading hero of the modern Marvel Universe. Aside from revitalizing Steve Rogers, this Captain America omnibus also gives us some of the most monumental character deaths, resurrections, and mysteries of the decade. This isn't the last we'll see of this outstanding creative team on this list. I'd note that the next item on our list (Secret War) can be read before Cap #16. An additional note that issues #23 through #25 and the Winter Soldier one-shot from the omnibus tie into Civil War.
Comics!
Buy Captain America by Brubaker & Epting
Read Captain America on Marvel Unlimited
6) Secret War (#1 – #5) – Bendis & Gabriel Del Otto
5 issue mini-event about Nick Fury's covert dealings with Dr. Doom's Latveria. Secret War often flies under the radar during discussion of major Marvel events, but it has major ramifications for Nick Fury and S.H.I.E.L.D. If that's not enough to convince you it's important, I'll just mention that Wolverine gets mad. Like, really, really mad.
Comics!
Read Secret War on Marvel Unlimited
7) Astonishing X-Men (#1 – #24 + Giant-Size Astonishing X-Men #1) – Joss Whedon & John Cassaday
Aside from being one of the best comic collections of the decade, featuring stories from Avengers director Joss Whedon, Astonishing X-Men goes a long way to explaining the pre-House of M state of the X-Men. Admittedly, Astonishing X-Men is more essential in terms of excellence, and less so in terms of story. Nonetheless, you won't regret reading, and in many ways, Astonishing begins laying the groundwork for themes explored later in Avengers vs. X-Men.
Comics!
Buy Astonishing X-Men from Whedon & Cassaday
Read Astonishing X-Men on Marvel Unlimited
8) New Avengers (#1 – #31 + Annual) – Bendis & David Finch
You didn't really expect that Avengers: Disassembled thing to ruin things forever, did you? New Avengers starts putting the band back together, although in a way Marvel's never seen before. A note that the New Avengers omnibus includes the Avengers Disassembled issues as part of its package. Additionally, you will want to start New Avengers #16: The Collective after reading House of M.
Update: Thanks to Matheus in the comments for the following. New Avengers really runs as a narrative thread running through the Marvel Universe, and is best read in increments: 1-15 – After Avenger Disassembled 15-20 – After House of M 21-25 – During Civil War (tie-ins) 26-37 – After Civil War and then, as it's not on the list, if you want you can read these like this: 38-47 – ties-in to Secret Invasion 48-60 – Part of Dark Reign 61-65 – Ties-in to Siege
Comics!
Buy New Avengers Omnibus
Read New Avengers on Marvel Unlimited
9) House of M (#1 – #8) – Bendis & Oliver Coipel
I'm a sucker for alternate universe stories, and House of M is right in my wheelhouse. Quite possibly my favorite Marvel event from the decade, and one frequently referenced throughout the remainder of the decade.
Comics!
Read House of M on Marvel Unlimited
10) Iron Man: Extremis (Issues #1 – #6) – Warren Ellis & Adi Granov
It took Warren Ellis six issues to completely define and revitalize Iron Man for the 2000's, which is of course why he's Warren Ellis and we are mere unwashed masses. The story here has played a pivotal role in all three Iron Man movies, as well as Marvel's Agents of SHIELD. It also goes on to establish Tony Stark's place in the Marvel Universe to come.
Comics!
Read Iron Man: Extremis on Marvel Unlimited
11) Incredible Hulk: Planet Hulk (Issues #92 – #105) – Greg Pak & Carlo Pagualyan
Hey remember the Hulk? Big, green, tear a city apart in a blink Hulk? Well Marvel's elite minds decided to shoot him off into space. Right, no way that comes back to haunt anybody. Fortunately, it also produces one of the best Incredible Hulk stories in years and sets the stage for the return of a whole new kind of Hulk.
Comics!
Read Planet Hulk on Marvel Unlimited
12) The Road to Civil War (New Avengers: Illuminati, Amazing Spider-Man #529 – #531, Fantastic Four #536 – #537)
Civil War is the most popular Marvel event of all time, so it only makes sense to include some preliminary reading to set the stage. The Road to Civil war trade explains Spider-Man's connection to Tony Stark, and brings back a few old friends in the pages of the Fantastic Four. Even cooler, the trade introduces Marvel's Illuminati, the clandestine meeting of the minds that shapes the Marvel Universe.
Comics!
13) Civil War (#1 – #7) – Mark Millar & Steve McNiven
It's the most popular, best selling, most talked about Marvel event of the decade. It doesn't get much more essential than this.
Comics!
Buy Civil War from Millar & McNiven
Read Civil War on Marvel Unlimited
14) Captain America: The Death of Captain America (#25 – #42) – Brubaker & Epting
Brubaker & Epting are back with more Cap, although the story title here is a clear indication that things might not be going so well for Steve Rogers. An essential follow-up to Civil War and one of the biggest Marvel stories of the decade.
Comics!
Buy the Death of Captain America Omnibus
Read the Death of Cap on Marvel Unlimited
15) Thor (#1 – #12, #600 – #603, Thor Giant-Size Finale #1) – J. Michael Straczynski & Oliver Coipel
There's been a sore lack of Asgardian Gods of Thunder on this list so far, and that's about to change with the return of the Mighty Thor. This is another really fun series with major ramifications on the Marvel Universe as a whole.
Comics!
Buy Thor Omnibus from JMS & Coipel
16) Mighty Avengers, Vol 1: Ultron Initiative (#1 – #6) – Bendis & Frank Cho
Civil War really does a number on the state of all things Marvel. Iron Man is led to create a new Avengers team, giving us the Mighty Avengers in their first ever adventure. Of course, things don't go smoothly, leading to the return of Ultron, and setting the stage for future Ultron related dealings.
Comics!
Buy Mighty Avengers: Ultron Initiative
Read Mighty Avengers on Marvel Unlimited
17) World War Hulk (#1 – #5) – Greg Pak & John Romita Jr
He's not happy you guys. He's just really not happy. One of the most enjoyable action series in the Marvel U.
Comics!
Read World War Hulk on Marvel Unlimited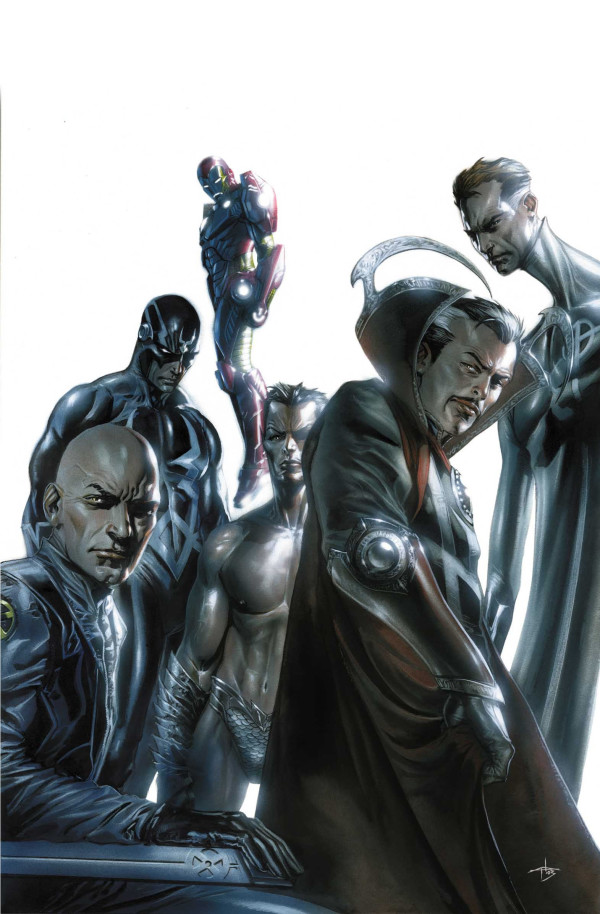 18) New Avengers: Illuminati (#1 – #5) – Bendis, Brian Reed & Jim Cheung
Of all the major stories and creations from Brian Michael Bendis in the 2000's, the Illuminati might be my favorite. Reed Richards, Dr. Charles Xavier, Tony Stark, Dr. Stephen Strange, Black Bolt, and Namor, meeting in secret to decide the fate of the universe. It's the absolute coolest, and of course, it sets the stage for so many major storylines to come.
Comics!
Read New Avengers: Illuminati on Marvel Unlimited
19) Secret Invasion (#1 – #8) – Bendis & Leinil Francis Yu
Although Civil War gets all the accolades for sales, Secret Invasion is actually the climax of the mystery and intrigue set in the pages of New Avengers and the Illuminati. At its weakest point, the Marvel Universe faces a full infiltration from one of its deadliest rivals.
Comics!
Read Secret Invasion on Marvel Unlimited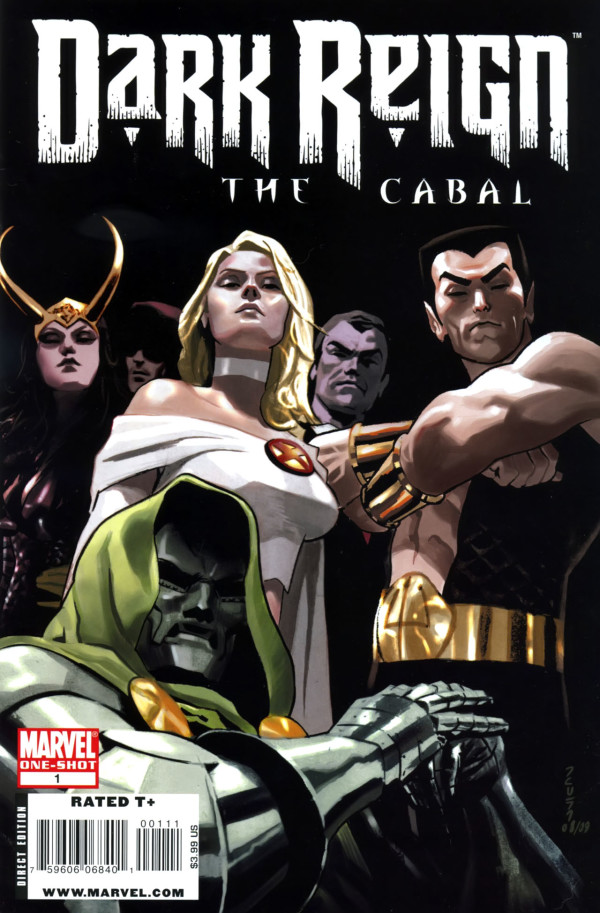 20) Dark Reign Variety Pack / Siege Prelude
The aftermath of Secret Invasion leads to Dark Reign, a Universe-wide change in the status quo of the Marvel Universe. Suddenly, it looks like the bad guys run the world. While you certainly can dive head first into all of Dark Reign, the simpler solution is this variety of issues collected in trade form. The trade includes: Dark Avengers #1, Dark Reign: The Cabal, Thor #600, Dark Reign: The List – Avengers, New Avengers Annual #3, Dark Reign: The Goblin Legacy, and Marvel Spotlight (1971) #30.
Comics!
Buy Dark Reign / Siege Prelude
21) Captain America: Reborn (#49-#50, #600-#601, + Reborn #1-#6) – Brubaker & Bryan Hitch
Three guesses what this one is about. The culmination of the essential Brubaker Cap story arcs.
Comics!
Buy Captain America: Road to Reborn & Captain America: Reborn
Read Captain America: Reborn on Marvel Unlimited (Road to Reborn starts here)
22) Dark Avengers / Uncanny X-Men: Utopia – Matt Fraction & Mike Deodato, Luke Ross
In the midst of Dark Reign, Norman Osborne's Dark Avengers clash with Cyclops and the X-Men. An essential update on the state of mutants and the X-Men, and also a lead-in to the events of Siege. Collects Uncanny X-Men #513-514, Dark Avengers #7-8, Dark Avengers/Uncanny X-Men: Utopia, and Utopia Finale.
Comics!
Buy Dark Avengers / Uncanny X-Men: Utopia
Read Dark Avengers / Uncanny X-Men: Utopia on Marvel Unlimited
23) Siege (#1 – #6) – Bendis & Oliver Coipel
Dark Reign culminates with Siege, Norman Osborne's war on Thor's Asgard. It's an epic, all-out war that will completely shift the state of the Marvel Universe forever.
Comics!
Read Siege on Marvel Unlimited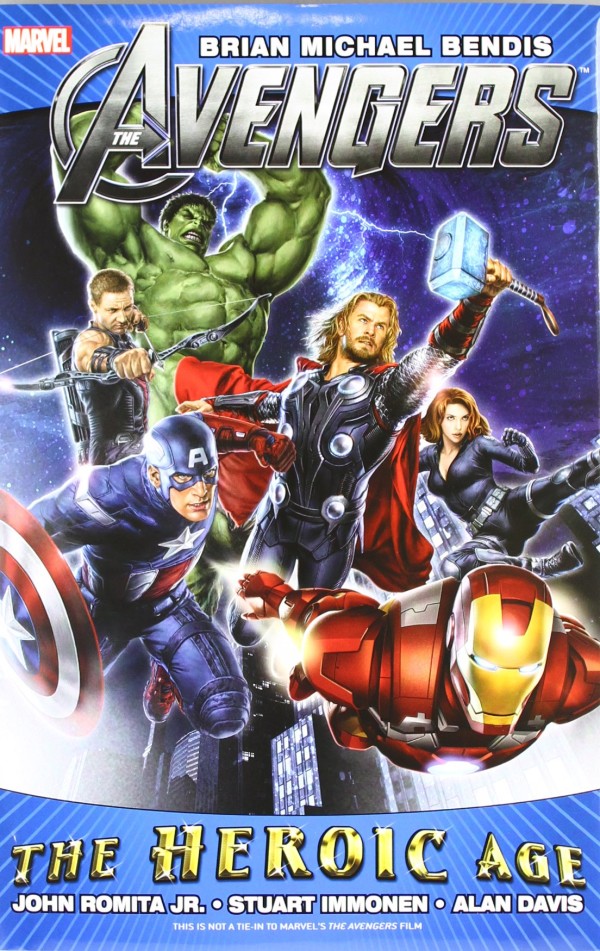 24) Avengers: Heroic Age – Bendis & John Romita Jr, Alan Davis, Stuart Immonen
The Heroic Age follows Dark Reign, and nothing will get you up to speed with the new era like the Avengers titles. Avengers: Prime in particular gives us a Cap, Iron Man, and Thor story in the immediate aftermath of Siege. COLLECTING: Avengers 1-6, Avengers Prime 1-5, New Avengers 1-6
Comics!
Buy Avengers: Heroic Age Omnibus
Read Avengers: Heroic Age on Marvel Unlimited (Avengers Prime + New Avengers)
24a) Young Avengers: Children's Crusade (#1 – #8) – Allan Heinberg & Jim Cheung
Is this totally cheating in order to hit 25 trades? Yeah, pretty much. Nonetheless, Young Avengers: Children's Crusade is notable for concluding the Scarlet With saga that began all the way back in Avengers Disassembled.
Comics!
Buy Young Avengers: Children's Crusade
Read Young Avengers: Children's Crusade on Marvel Unlimited (4th issue is here. No clue why.)
25) Avengers vs. X-Men (#1 – #12) – Various artists
So it's clear, in getting to Avengers vs. X-Men, I bypassed Fear Itself, Chaos War, and Age of Ultron. While all three of these Marvel events occur before Avengers vs. X-Men, I assure you this is intentional, and not just general carelessness or laziness (although there's plenty of that in my life). Even though I'm one of maybe 7 Marvel fans willing to admit I kind of really enjoyed Age of Ultron (stop throwing things!), it just doesn't have much of an impact on the state of the Marvel Universe. Same goes for Chaos War and Fear Itself. They're varying degrees of worthwhile, but they aren't the type of events that change the status quo or get referenced moving forward. Avengers vs. X-Men? It gets referenced constantly moving into Marvel Now! While the event title might seem like little more than the Capcom-ification of comics (everybody fights!), this is a pretty interesting story with all your favorite Marvel Characters. And just like they promise: things will never be the same. In the Marvel Universe, that's always a good thing.
Comics!
Buy Avengers vs. X-Men Omnibus
(+ companion tie-ins)
Read Avengers vs. X-Men on Marvel Unlimited
To continue enjoying Marvel comics, I recommend Comic Book Herald's Marvel NOW! fast track which will take you through the essentials of 2012 to 2015.