In my book, 2018 is a generally good year for comics, with Marvel's Fresh Start actually semi-righting a shaky ship, DC maintaining quality at the top of its lineup, and a whole "new" slew of publishers like Black Mask, Vault, and Aftershock joining non-Big 2 regulars like Image, Dark Horse & Boom Comics among my 20 favorites.
Below you'll find all my favorite comics of 2018 ranked in descending order. In general, my primary criteria was that the series was at least close to one full collected edition or story arc by the end of the year. As a result, I didn't closely consider one-shots like the highly enjoyable DC Nuclear Winter Special or the substantially less enjoyable but comically gory The Weeknd Presents Starboy.
Related Reading Orders:
Support For Comic Book Herald:
Comic Book Herald is reader-supported. When you buy through links on our site, we may earn a qualifying affiliate commission.
Comic Book Herald's reading orders and guides are also made possible by reader support on Patreon, and generous reader donations.
Any size contribution will help keep CBH alive and full of new comics guides and content. Support CBH on Patreon for exclusive rewards, or Donate here! Thank you for reading!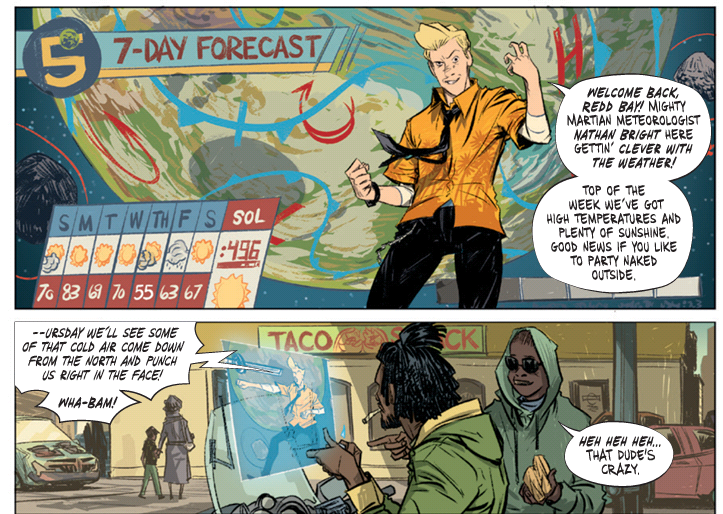 Manic science fiction and unapologetic gore follow this futuristic look into the life of a seemingly harmless weatherman. Jody LeHeup and Nathan Fox have created a gorgeously visceral landscape within the pages of this Image Comics newcomer.
At once funny and compelling, The Weatherman explores complex but not altogether inconceivable dilemmas of identity and forgiveness, Plus, The Weatherman crew even have their very own reading soundtrack, which is now something I want from every creator-owned series!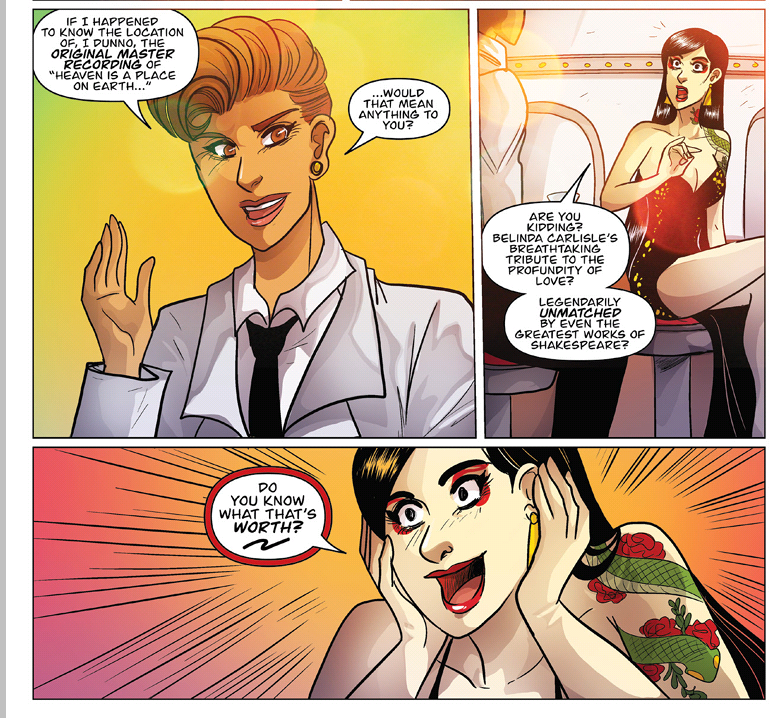 The first thing I fell for in Kim & Kim (now on its third series of 4 issue collections from Black Mask) was the attitude and humor writer Magdalene Visaggio wields like bass guitar turned into an energy weapon. As I dive deeper into this world, though, it's Eva Cabrera's art and Claudia Aguirre's colors that blow my mind. That any comic can look this consistently vibrant is a small miracle.
If you like modern science fiction and kinetic energy in your comics, the entire Kim & Kim suite is a must. The coolest bounty hunters in the galaxy sure as s&*t ain't Bobba Fett.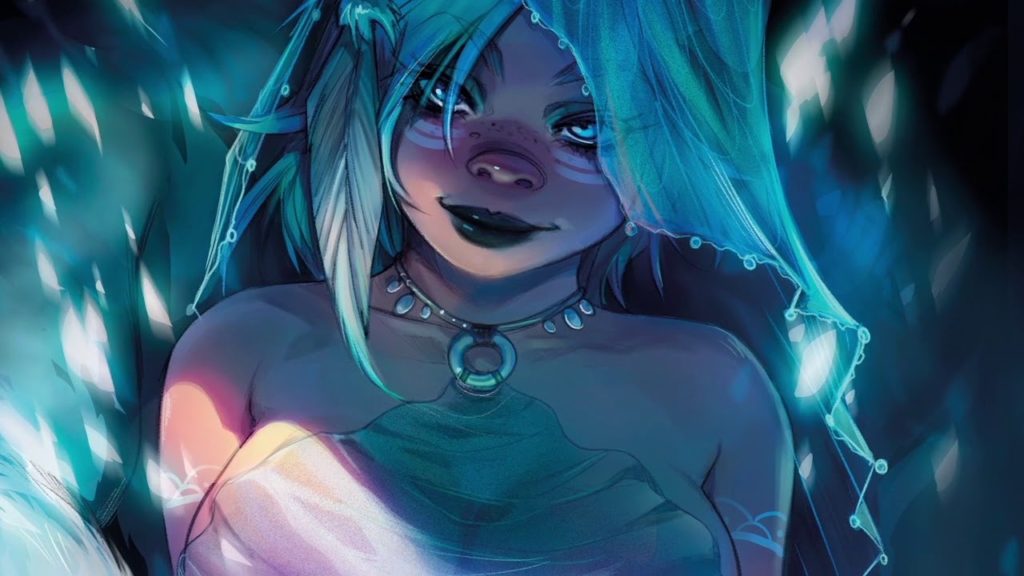 Mirka Andolfo's lush, carefully rendered world carries this social allegory to one of the best books of the year. In a lot of ways, Unnatural is like a horny Zootopia, heavily centered around a society hellbent on ensuring "natural" mating between perfect matching species.
This is an all-time contender for "series I'm least likely to feel comfortable reading on public transportation," but behind the overtly sexual anthropomorphic world are deeply relatable characters and problems. Oh and did I mention Andolfo – fresh off an all-too-brief stint on DC's Wonder Woman – is one of the most exciting creative voices in comics?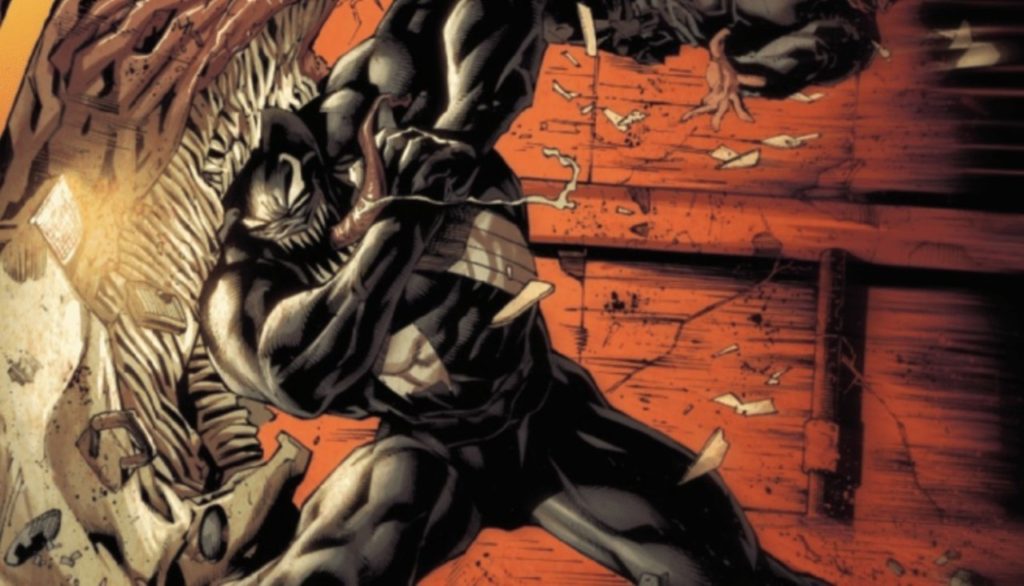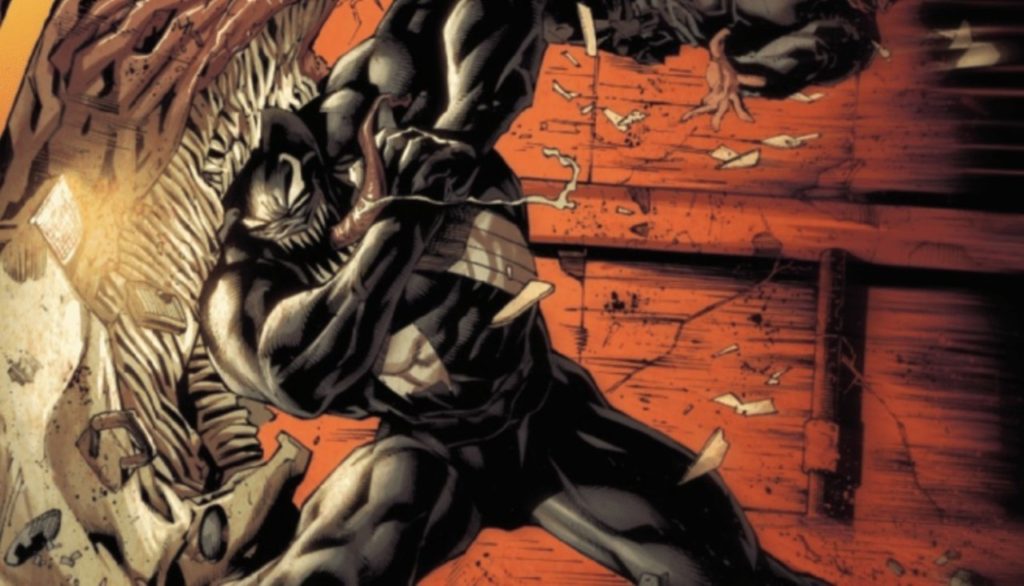 If you'd told me a year ago that one of my favorite comics of the year would be Venom (starring Eddie Brock), I'd have seriously doubted your prediction skills. I was tremendously disappointed in the Marvel Legacy era Venom title, and hadn't really felt the book was pull-list worthy since the halycon days of Agent Venom.
Behind the storytelling of Donny Cates and Ryan Stegman, though, Venom has rightfully become one of my favorite Marvel books month in and month out. With work across Doctor Strange and Thanos, Cates has quickly established himself as a top tier Marvel architect, and his work expanding the mythology of symbiotes is some of his most earnestly ambitious.
16) Sandman Universe: The Dreaming
A relaunched Sandman Universe without the inclusion of Vertigo's Sandman co-creator Neil Gaiman feels like it could easily be summed up derisively as a cash grab. The Sandman Universe one-shot teaser trailer made it clear the creative roster was keen on making this work on their own terms, none more so than Simon Spurrier and Bilquis Evely on The Dreaming.
Through its early stages, The Dreaming tracks the trials and tribulations of the roster of dream-beings living in the endless Sandman's domain. Supporting characters like Lucien the librarian, Merv the groundskeeper, and Cain and Able are at the core of this tale, in some welcome post Sandman: The Wake world-building. And while Spurrier's storytelling is appropriately heady, hyper-literate poetry, Bilquis Evely's dreamscapes put The Dreaming among 2018's best.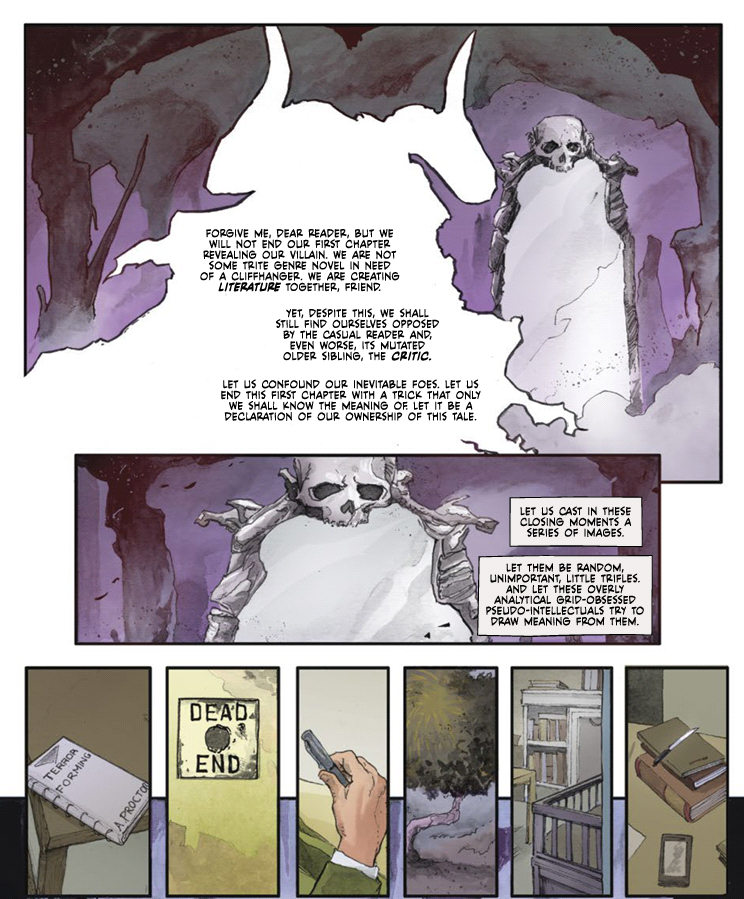 One of the simplest, but most telling signs that I'm loving a comic is whether I'm excited every week a new issue appears on my pull list or in my inbox. It's only three issues in, but Fearscape has generated an instant surge of excitement every time I see a new chapter.
The uber-pretentious narrator is self-critical to the point of comedy – there's nothing you can say about this comic's writing and stylings that the narrator himself hasn't chastised into dust. In broad terms, muses and their mythology tempt well-worn story, but in the hands of such an unreliable source and inventive craft, Fearscape is in no danger of succumbing to familiar tropes. Writer Ryan O'Sullivan and artist Andrea Mutti have my favorite Vault Comics book of the year, which is no small fault in a year featuring the likes of Submerged and These Savage Shores.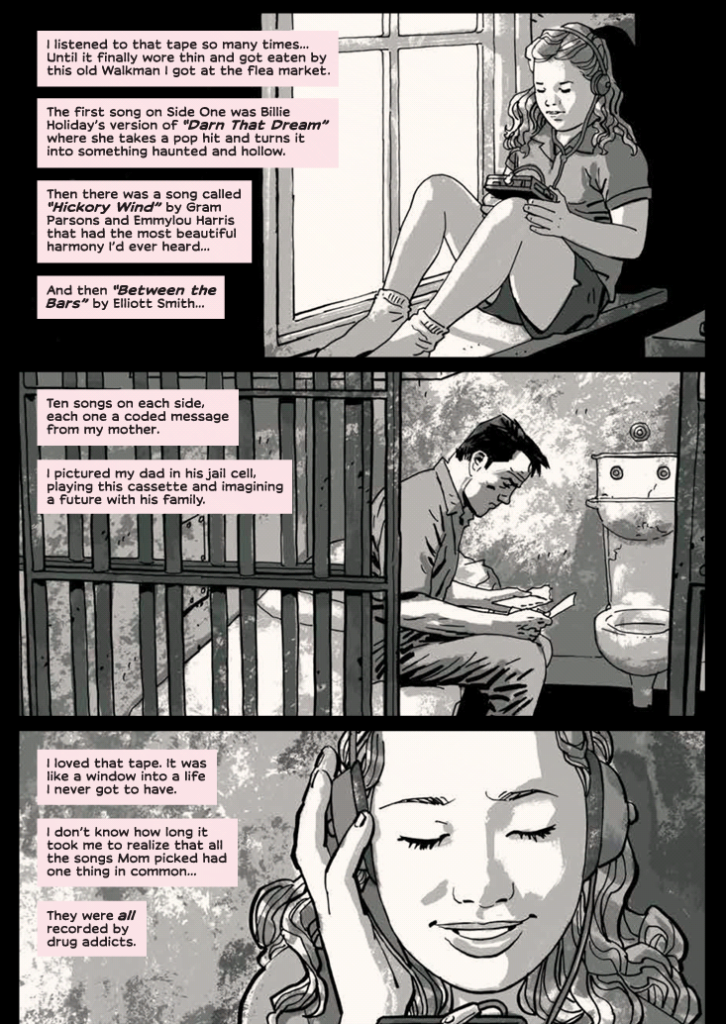 14) My Heroes Have Always Been Junkies
Ed Brubaker and Steve Philips are a comic book institution at this point, with a "Criminal" series that began in 2006. The creative partnership's first original graphic novel is a "Novella" set inside that universe, and while it may feel slight of scale, the overall narrative construction does not disappoint.
Much like the rest of their fruitful partnership, I dare you to try and put down My Heroes Have Always Been Junkies. This is a one-sitting heaping of comfort food, even if there's the creeping edge of a point of view character clearly leading us somewhere dark.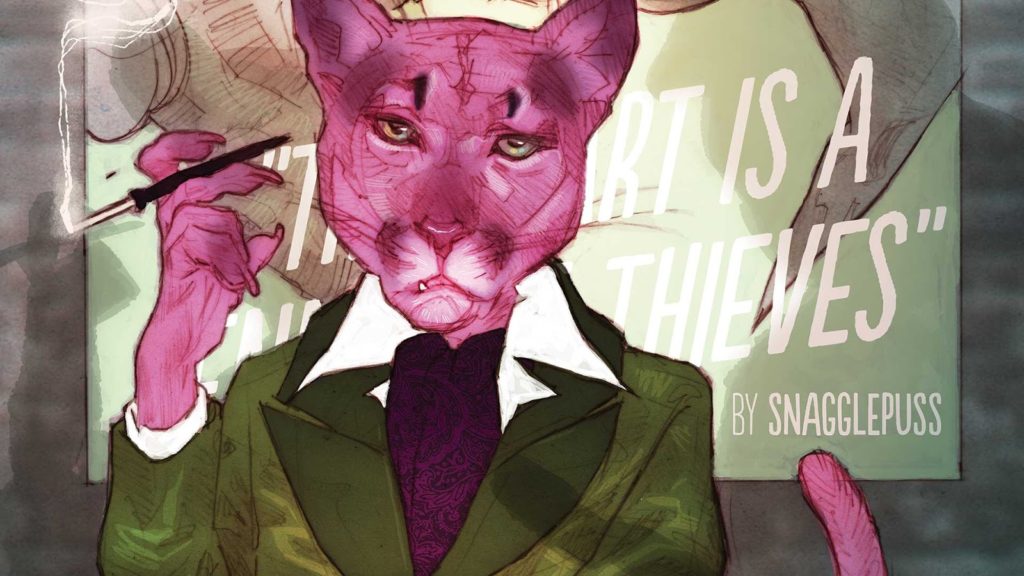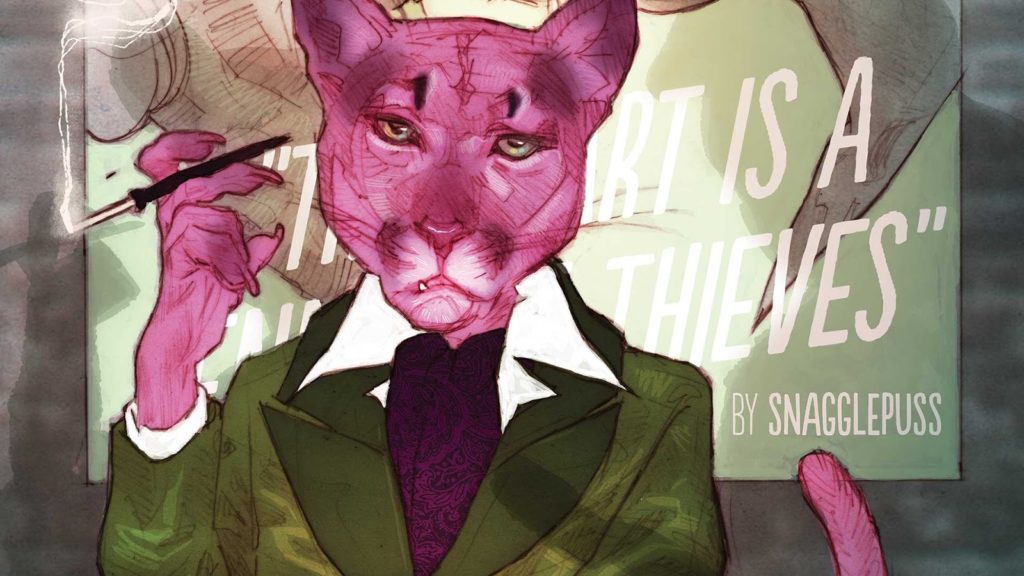 13) Exit Stage Left: The Snagglepuss Chronicles
Mark Russell has quickly become one of my favorite writers in comics, with a completely unexpected reinvention of The Flintstones establishing that his brand of satire and humanity plays on all surfaces. I mean, my goodness, in mere pages his framing sequences helped boost the DC Nuclear Winter Special from good to "must-buy."
Russell's six issue mini with artist Mike Feehan might be his most earnest work yet, reimagining Snagglepuss as a gay playwright in 1950's America. It's a story with an inevitably crushing conclusion – I'll never look at Huckleberry Hound the same way again – but a necessary reflection on some of our society's worst behavior.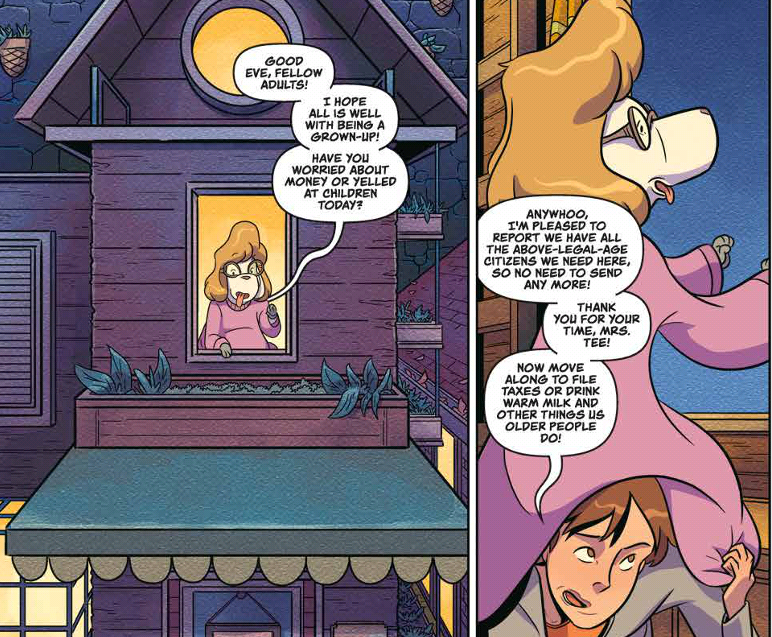 Easily my favorite all ages book of the year, with sturdy world-building you can fall into from creators Joseph Keatinge and Wook Jin Clark. Flavor follows the adventures of a young "unlicensed" aspiring chef, in a culture completely driven by the art of food. It's a world of underground ingredients and celebrity culinary tournaments drawing the attention of our Super Bowl.
At its heart, Flavor is also about class inequality, education, and youthful dreams. Not to mention the foodie haven of Ali Bouzari's post-issue columns. This could be a Pixar feature film tomorrow, but in the meantime, I hope Flavor is published via Image Comics for as long as possible.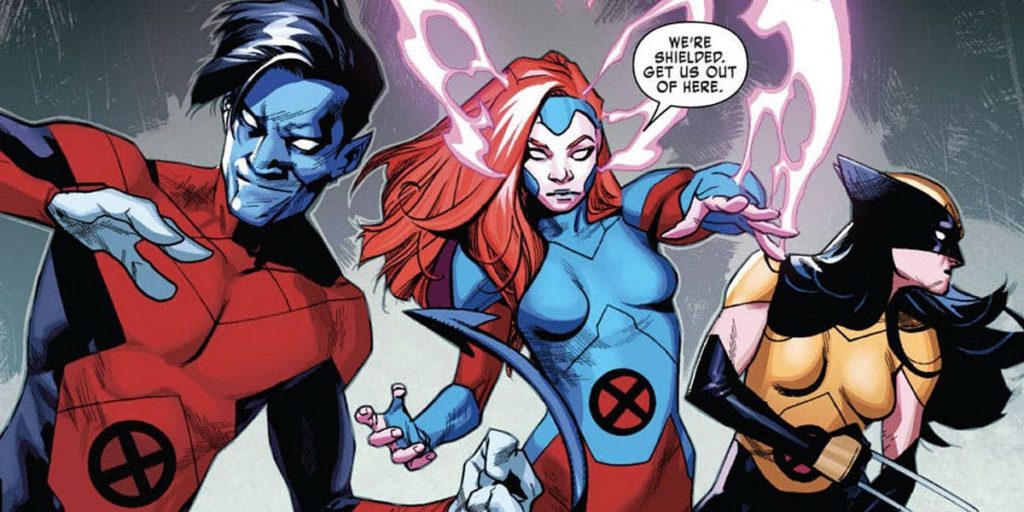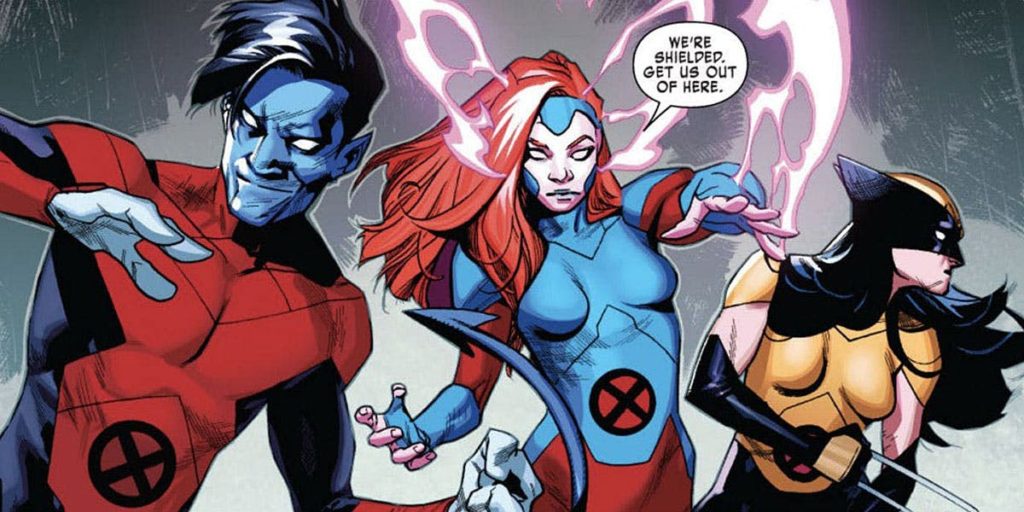 There's been a much needed resurgence of quality X-Men comics at Marvel throughout 2018, including the likes of Generation X, Rogue & Gambit, and Multiple Man. No series rejuvenated the franchise more than X-Men Red, channeling the return of Jean Grey into what may well be the best core X-Men title of the decade (certainly since Secret Wars).
Writer Tom Taylor brings his god-tier skill at blending humor and sincere tragedy (honed in the pages of DC's Injustice) and artists like Mahmud Asrar bring the excellent roster of Nightcrawler, Wolverine, Gabby, and Namor (among others) to life. X-Men Red was sadly slated for a short lifespan (the last issue was released this month), but it will live on as an essential in the X-canon.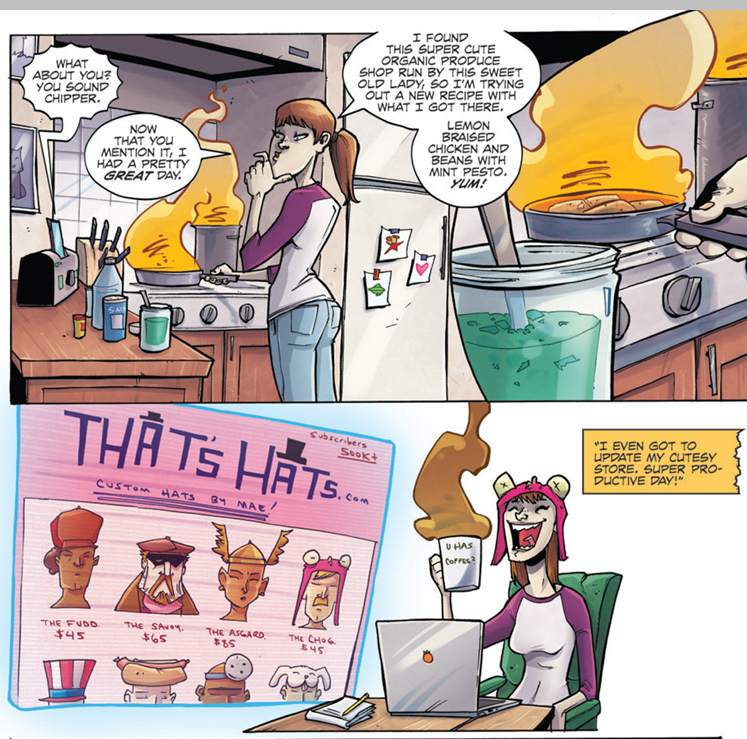 Sometimes when primary artists branch off on their own creator-owned projects, there's a scripting learning curve that takes several issues (or projects) to manifest. Not so, with Rob Guillory, the long-time Chew co-conspirator, and his new Image Comics series Farmhand. All the elements that made Chew so beloved – absurdist gross-out humor, comedic easter eggs, complex family dynamics – carry over into one of the most fully formed new title launches of 2018.
In many ways, Farmhand feels like it's only scratched the surface so far, with a man returning to the farm he grew up on – where his father harvests body parts like corn or soy. I'm very excited to see what this series has in store for 2019.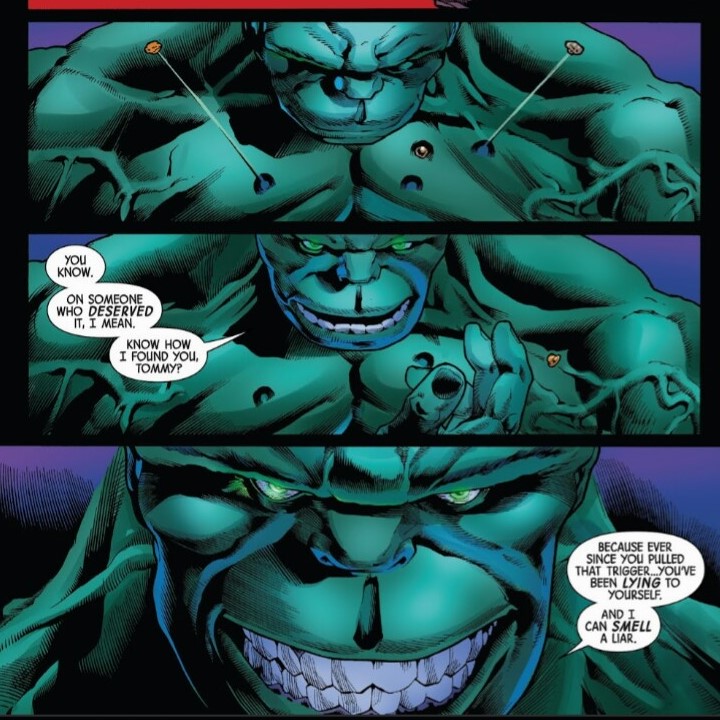 While it's no surprise that Al Ewing is yet again writing one of the best Marvel Comics of the year (especially to anyone who has followed titles like Ultimates), the instant excellence of The Immortal Hulk is something to behold. The Hulk is a particularly challenging title to revamp (just ask the last twenty years of writers not named Greg Pak), but Ewing found the perfect path in: Slice of life horror.
That Immortal Hulk is both a series of one-and-done vignettes and somehow eagerly reflective of modern Hulk continuity (Bruce Banner really gets the works through Civil War 2 and Secret Empire) is a testament to Ewing's meticulous attention to detail. Joe Bennet's ability to transform a smiling Hulk into a goulish walking nightmare is the icing on the cake.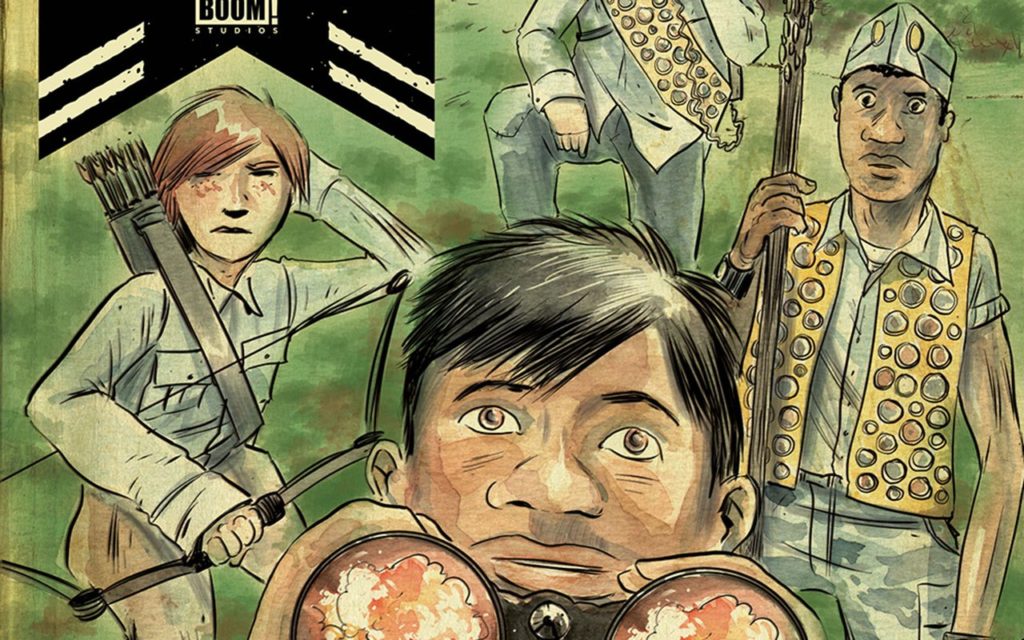 This spot was close to a toss-up between Matt Kindt and Tyler Jenkins closing arc to Grass Kings, but ultimately I'm more enamored with their collaboration on the first part of Black Badge, a new ongoing published by Boom Studios.
In some ways Black Badge is what if Matt Kindt's Mind MGMT and Wes Anderson's Moonrise Kingdom joined the boy scouts. It's a gleefully absurd concept – boy scouts running extremely dangerous covert spy missions – treated with life-or-death seriousness. I trust in Kindt and Jenkins to make this one of the best titles of 2019 as well.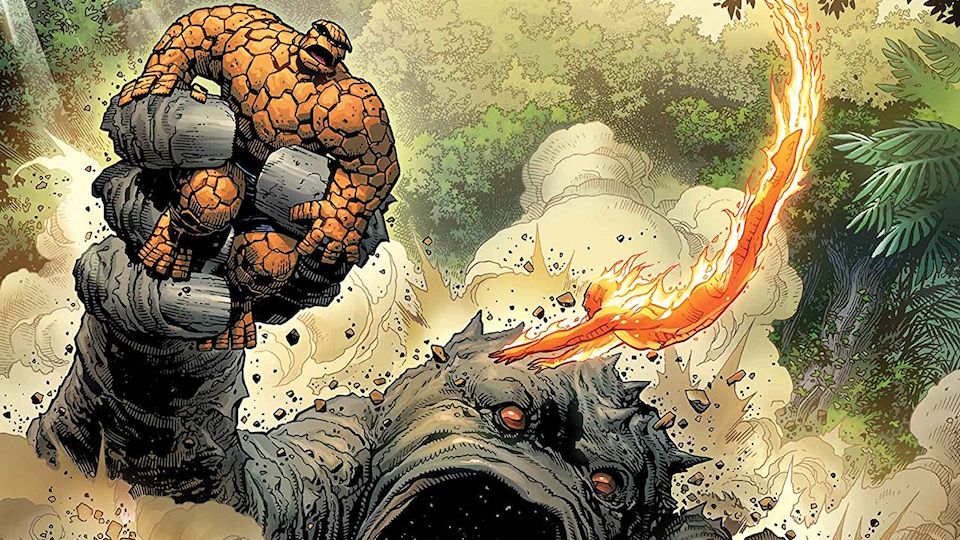 It remains bizarre that in a year which featured the return of Marvel's first family with a new Fantastic Four #1, the best FF comic (and one of the best superhero comics of the year) is a "Marvel Legacy" throwback to the 2-in-One team-up books. Likewise, Marvel 2-In-One has stood out as the best post-Infamous Iron Man use of Victor Von Doom in the post Secret Wars universe.
I wouldn't have predicted how wonderfully suited Sex Criminals designer Chip Zdarsky is writing the heart of the Marvel U (see also: his work on Peter Parker, The Spectacular Spider-Man), but alongside artist Jim Cheung it's clear Marvel 2-In-One just gets what makes the Fantastic Four so beloved.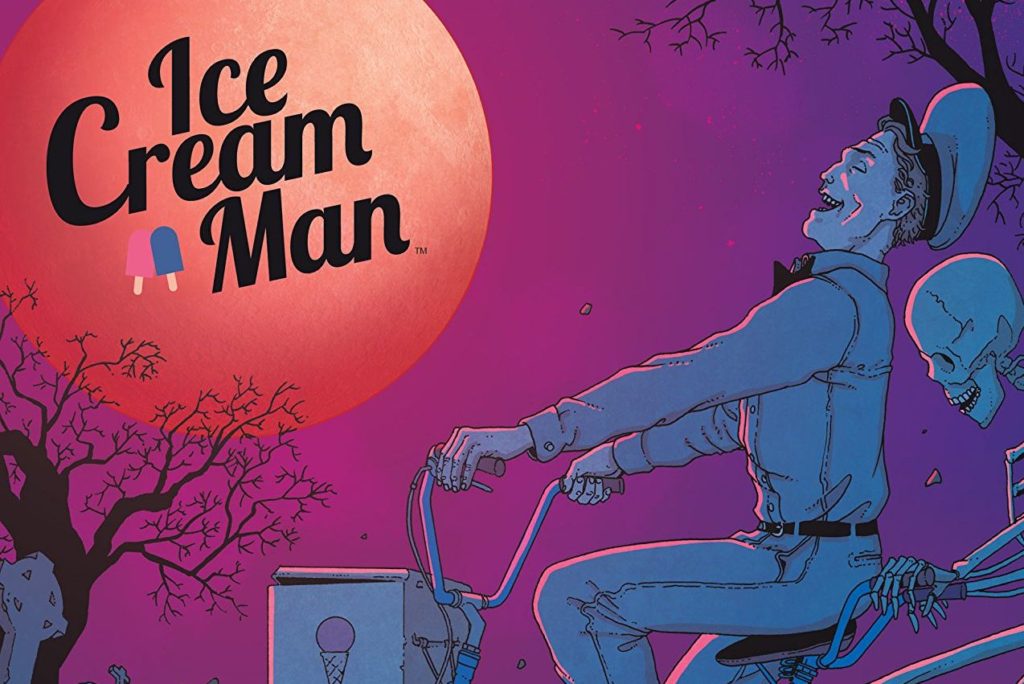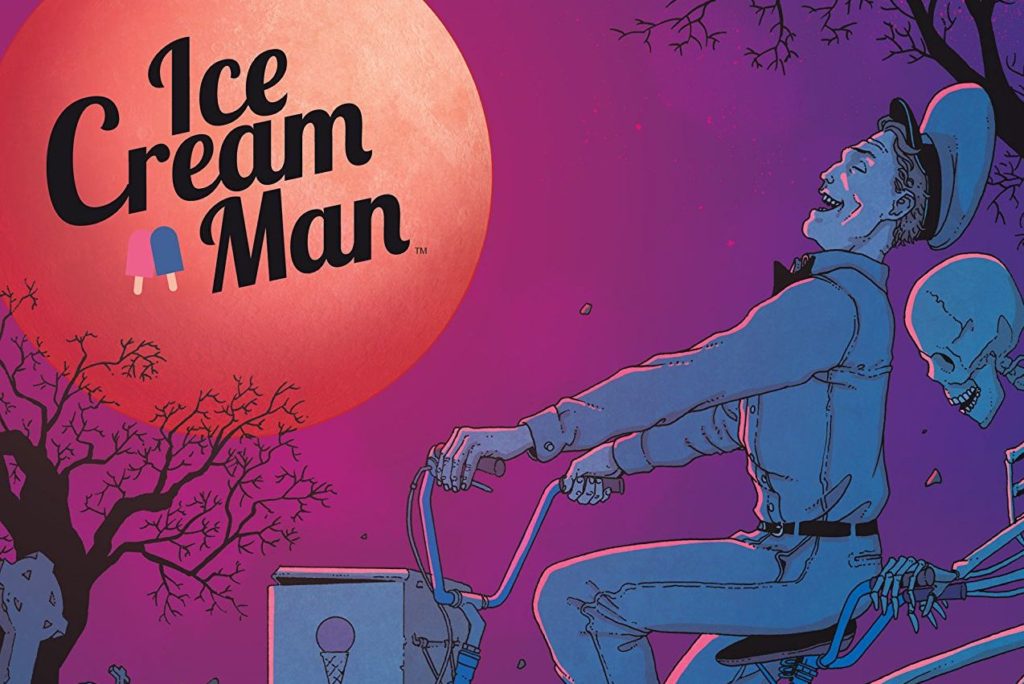 One of the most arresting debuts of the year, created by W. Maxwell Prince and Martin Morazzo. Ice Cream Man is a hallucinogenic horror anthology with some of the most bewildering, disturbing twists in all of comics. The incorporeal terror at the edges of the page are sustained through immensely smart comics craft, with several inventive stories that wouldn't look at all out of place on "Best single issue of the year" lists.
Trying to constrain Ice Cream Man to a single description is like trying to recall your most terrifying nightmares the morning after. You may well be able to recall the love you lost to drug addiction, or the make-believe friend only you could see, but try explaining that to your loved ones and they're liable to lock you up.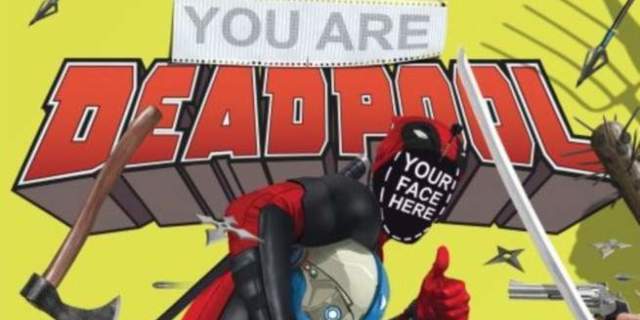 It's been a while since I've felt out and out in love with a Deadpool comic, but You Are Deadpool may well be the most rewarding series experience of 2018. Writer Al Ewing and artist Salva Espin craft a role-playing game comic book like no other, where the panels you read, and the story you consume are determined by your choices and rolls of the die.
So track down these single issues, get out pen, paper, and dice, and take Deadpool on a journey literally no one else has before (I may not know anything about how probabilities work)!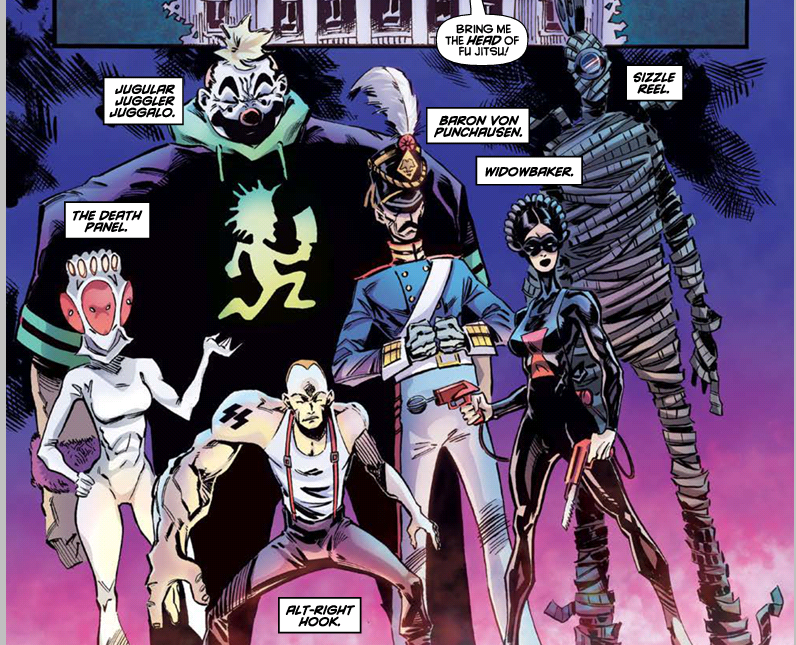 Technically the latter half of this 5 issue Aftershock comics series were released in 2018, so you better believe I'm going to use that as an excuse to talk about one of the most surprisingly wonderful comics I read this year. If Comic Book Herald achieves nothing else this year, let it be shining some light on this brilliantly imaginative short series from Jai Nitz and Wesley St. Claire!
Props to Fu Jitsu for also winning the coveted "Best Comic Book Series Sharing a Name With a Popular Scanner" award!


Few things in comic fandom irritate me the way literally any negative sentiment toward Dark Nights: Metal gets under my skin. Nonetheless, the divide between love and hate for this comic is vast, with plenty of DC Universe fans finding only chaos and confusion where I've found egregiously delightful fantasy.
In some ways, I get it. It only takes one glimpse at my "Road to Metal" recommended reads to get a sense that there's a lot of DCU history and reference points that go into making this manic cosmic trip any shade of lucid. Still, when that connective tissue becomes clear, Metal is simply one of my favorite comic book events of all time. Most importantly main event creators Scott Snyder and Greg Capullo remembered the crucial ingredient for cosmic insanity: heapings of unashamed fun.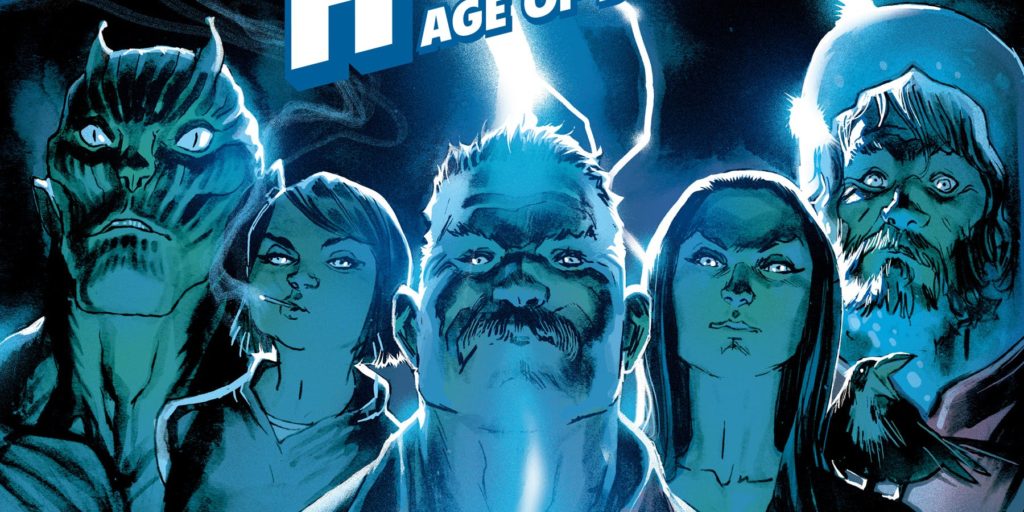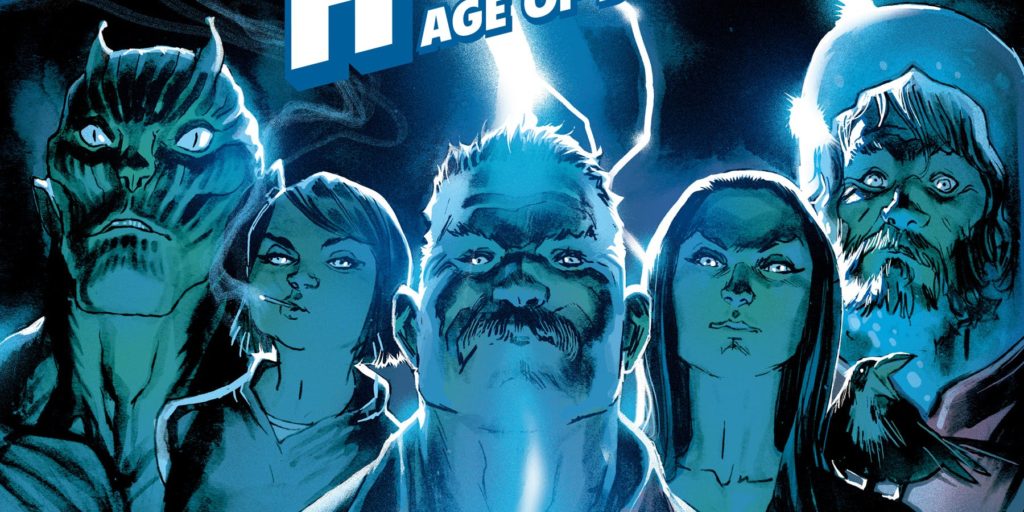 Despite a general affinity for DC Rebirth, and a lifetime of love for Marvel Comics, my favorite shared universe of the past two years is the Dark Horse Comics' series Black Hammer, written by all-purpose auteur Jeff Lemire.
The original 12 issue series was one of my favorites of 2017, and the universe continued this year across a variety of expansion titles like Doctor Star & The Kingdom of Lost Tomorrows, Black Hammer: The Quantum Age, and Black Hammer: Age of Doom. (Not to mention that technically the last issue of the 4 part mini Sherlock Frankenstein and the Legion of Evil also came out in 2018, alongside the Cthu-Louise one-shot I got from my LCS last week!)


I've heaped plenty of superlatives on Mister Miracle since issue #1 was released in late 2017, but the most telling might be my ranking of the series inside my 40 favorite comics of all time. The twelve issue series was worth every accolade, as Tom King and Mitch Gerads crafted an instantly iconic story about parenthood, New Gods, and the uncertainty of existence.
The absence of Mister Miracle from any year-end lists defies credulity, insinuating that the back half of the series perhaps dipped in quality from the launch. Although Mister Miracle has me questioning what truth is, I can say with all the certainty of a God-fearing Descartes that this notion is far from true. The second half of Mister Miracle features gorgeous romance, captures all the highs and lows of new parenthood, and showcases Darkseid's casual enjoyment of veggie trays.
Comics like this just don't come around every year, but when they do it's a welcome reminder why I dive into shared superhero comics so frequently. There's drivel, and there's muddled trash, but Highfather's Beard, when the medium is crafted like Mister Miracle it's the greatest show on earth.