This week on "Previously On," I review the Warren Ellis written The Wild Storm, discuss the closure of Vertigo and how it fits in today's culture, and celebrate the few, the proud, the floppy comic readers on public transit. 

Feature Of the Week – 
The Wild Storm
(Spoilers For This Topic Follow!) 
Title: The Wild Storm #1 to #24 
Writer: Warren Ellis 
Artist: Jon Davis-Hunt 
Support For Comic Book Herald:
Comic Book Herald is reader-supported. When you buy through links on our site, we may earn a qualifying affiliate commission.
Comic Book Herald's reading orders and guides are also made possible by reader support on Patreon, and generous reader donations.
Any size contribution will help keep CBH alive and full of new comics guides and content. Support CBH on Patreon for exclusive rewards, or Donate here! Thank you for reading!
Where to find: The Wild Storm
I am decidedly not a longtime Wildstorm Universe aficionado. Apart from some light Warren Ellis 90's Stormwatch, and a recent jaunt into Ellis and Hitch's The Authority, I could barely tell you a Weatherman from a Zealot. Technically, I own the first thirteen issues of W.I.L.D.C.a.t.s but seeing as I've never read them, that probably says more about my comics collecting binges than it does my fandom. 
All of which felt like something of a barrier for me to begin the rebooted Ellis-driven Wild Storm. Reading the first issue without any background for these characters felt a lot like dropping into a shared universe I just didn't have the history to understand. I actually gave up two issues in with the intent to prepare for the full read with some Wildstorm's historical output. 
I see this completist instinct a lot on Comic Book Herald, where readers frequently feel compelled to read every single Marvel Comic prior to jumping in to designed on ramps into the shared universe. I tend to think of myself as past this particular inclination – and in many ways, I'm substantially more comfortable jumping into stories without a "complete" build-up – but with The Wild Storm I felt it strongly.  
I think a lot of readers would say you don't need much background to jump into The Wild Storm – I'm certain Ellis and Davis-Hunt designed the story as an entrance point – but honestly, basic familiarity with characters and institutions helped me enjoy the full story immensely. The rewards of The Wild Storm are simply more fully realized when you know who and how the story is being adapted.  
A big part of this is Ellis' particular sense of pacing, where exposition is sparse and Davis-Hunt's art is allowed to visually communicate entire action sequences unburdened by word balloons. Whereas the vast majority of comic book storytellers would use the occasion to tell you what's happening, or provide a character's internal POV (it's amazing how many superheroes keep diaries), Ellis is confident enough to say, no, *just look*. 
Taken as a whole the effect is a brilliantly paced and engaging 24 issues of a distinct superhero world.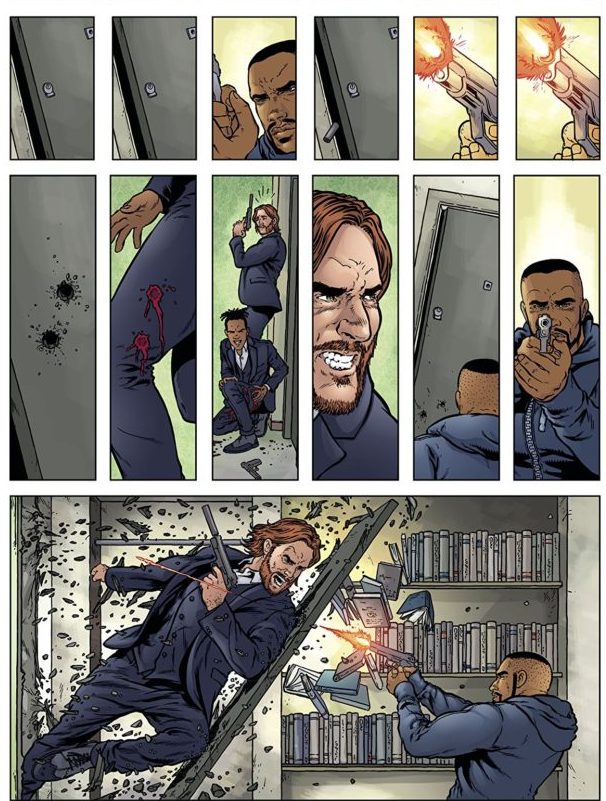 Issue six opens with a brilliant example of Ellis' confidence in Davis-Hunt, with Michael Cray taking on a team of covert assassins in his apartment. The entire display contains almost no dialogue, innovative use of panel sequencing to create tension, and kinetic violent action that builds out the story.  
Speaking of, the story opens with the discovery of Angela Spica, a new alien/machine/woman hybrid,  catching the eye of all the major organizations and SHIELD like entities in the Wildstorm U. The appearance of something supernatural and new gets the attention of IO, Skywatch, and even a wild C.A.T.  From there the story builds carefully and unrushed to developing more familiar characters, and unveiling a vast alien conspiracy by Act 3.
Some of my infatuation and willingness to jump onboard likely ties to Ellis' pedigree as one of my favorite comic book writers, but some of the storytelling decisions in this book are honestly remarkable. First, I can't say enough about the patience Ellis and the team display in revealing more popular characters. Authority regular Jenny Mei Sparks and The Doctor don't appear until issue #8, and Midnighter and Apollo aren't even in the first three quarters of the series!
Conceptually, part of the reason The Wild Storm is so engaging is it's one creative team's vision for an entire universe of established characters. When I was theorizing ideas for an improved Marvel #1000, this is why I settled so enthusiastically on the idea of a Marvel Universe #1. It's extremely exciting to see the same creative minds applied across the entire universe, bringing everything together in a single interconnected story. 
I enjoyed The Wild Storm even more than anticipated, and added Ellis and Ramon Villalobos' upcoming WildCATs without question. If you're not on board for some of the reasons I was hesitant, I recommend throwing those concerns out the window and diving into one of the more fascinating "superhero" comics on the shelves!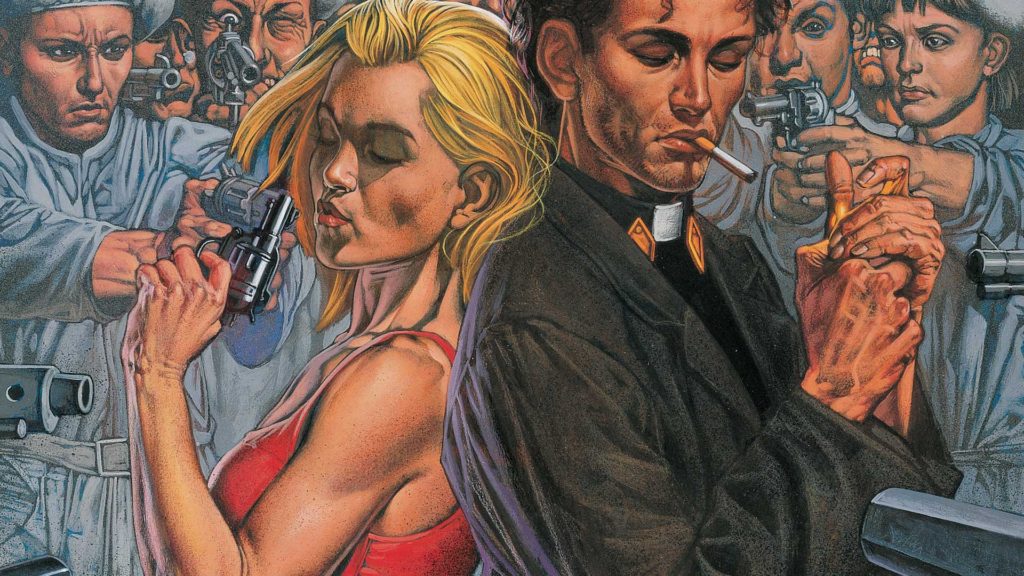 DC
 COMICS
TREND: 
You've Got to Vertigo
The recent reports/rumors that Vertigo Comics would be closed after 26 years of genre-defining comics were met with a mix of disappointment but understanding. Despite its celebrated status as *the* curated home for classics of the medium (Sandman, Preacher, Y The Last Man, the list is long and deep), it's been a long time since Vertigo held the clout it once did.  
Combine that with the fact that the most recent Vertigo "relaunch" almost immediately ran into a wall – Border Town, its most critically acclaimed series, was cancelled after 4 issues following harassment accusations about the writer – and it's not really that hard to see where DC Comics is coming from.  
I disagree with the idea that there's no place in the comics market for a Vertigo, though. Curated branding is an extremely valuable commodity in comics. The problem with Vertigo is that it stagnated for so long its brand equity is completely lost on an entire generation of readers. The audience and appetite isn't gone, it's just moved on. 
I'll admit I was surprised to find just how thoroughly Vertigo seems to have lost popular attention. One question I have is whether shelving Vertigo for something new like Black Label actually makes sense, especially given the legacy of the Vertigo brand. Why would you throw that away for a freshly launched label most closely associated with Batman's Lil Wayne? 
My limited analysis shows the brand isn't as much of a value as I thought it would be, though. 
I can prove this with science!   
I pulled the past 5 years of Google search history for four publishers: Image, Dark Horse, Vertigo, and Vault. The chart tells us the relative frequency with which those terms were searched over this time period (props to Dark Horse's "Umbrella Academy" surge earlier this year).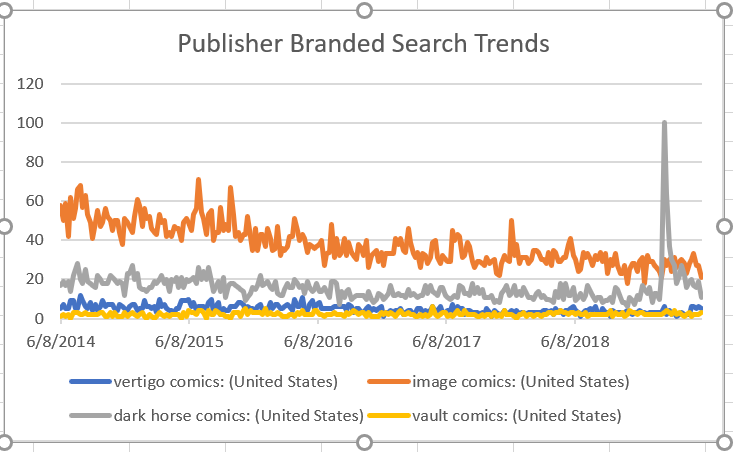 Not only is Vertigo not even close to approaching Image or Dark Horse over the past 5 years, but we actually see the 2016 entrance of Vault Comics quickly rivaling Vertigo Comics as a search term. (Note: The existence of *any* trends for "Vault Comics" prior to 2016 had me mildly confused, until I remembered Marvel has a prison called "The Vault," and this could conceivably be driving some very specific search traffic.) 
That's one data point, and an admittedly imperfect reflection of searcher interest. After all, how many searchers simply look for "Vertigo" or "Dark Horse"? There's no great way to separate out the comic-based intent on those searches from the words broader meaning (or, in this case, shared pop culture ties).  
Given this, I've also pulled some Comic Book Herald specific data to gauge interest levels. I have publisher "best ofs" for Image, Dark Horse, and Vertigo and can pretty easily compare how often searchers seek those pages on my own site. (This comes with its own collection of caveats (average position, average click-through-rate, average amount of hilarious jokes written by a man of great virtue, etc) but it's another directional data source.) 
Through this lens, Vertigo is not quite so drastically outperformed.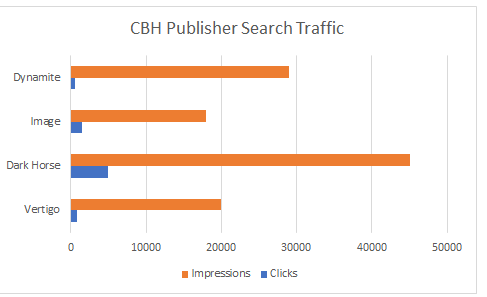 Notably, the most frequent Vertigo related search (and my content) is targeted to "best Vertigo comics," which implies the historical merit of the publisher, rather than any contemporary relevance. That, said, this data is all 2019 to date, and "Vertigo" is 2x more frequently visited than "Dynamite," but half as much as "Image." (Seriously, that Dark Horse "Umbrella Academy" boost is not to be trifled with.) 
I'd argue this is a truer representation of interest in Vertigo comics, since the searcher intent here is pretty targeted to comic books. Again, under this lens, Vertigo is under performing their historical place in the market, but consistently of interest.  
I'll be curious to see how DC manages brands with close ties to Vertigo, particularly as the Sandman Universe (presumably) continues or as Vertigo staples like Y: The Last Man make their way to TV.  They've already in essence migrated "Vertigo" staples like Doom Patrol to new imprints like Young Animal, so I could see the same happening. That said, given the legacy brand recognition, I'm not sure I'd agree with the approach.
LOVE OF THE WEEK
As anyone obsessed with collecting comics can attest, finding time to actually read all your floppies is strangely difficult!  
Given that, this week's love goes out to all the comic fans who bring honest to god comic books on their public transportation. I'll pack 6 to 10 issues (bagged and boarded) into a backpack like a common savage, and pull them out one by glorious one.  
I swear, if I ever sit next to someone doing the same thing, I'll have to fight the urge to propose right then and there. 
I haven't tried this on an airplane yet (storage seems even more insane), but if you see someone reading issues of The Green Lantern around Chicago on a train, bus, or el, come say hey!