This week on "Previously On," I review the G. Willow Wilson era of Wonder Woman, share my idea for what Marvel #1000 should have been, and share one of my favorite moments in comic books. 

Feature Of the Week – 
G.Willow Wilson on Wonder Woman 
(Spoilers For This Topic Follow!) 
Title: Wonder Woman #58 to #68 
Writer: G. Willow Wilson 
Support For Comic Book Herald:
Comic Book Herald is reader-supported. When you buy through links on our site, we may earn a qualifying affiliate commission.
Comic Book Herald's reading orders and guides are also made possible by reader support on Patreon, and generous reader donations.
Any size contribution will help keep CBH alive and full of new comics guides and content. Support CBH on Patreon for exclusive rewards, or Donate here! Thank you for reading!
Artist: Cary Nord 
Where to find: Wonder Woman by G. Willow Wilson
I've finally been catching up on the G. Willow Wilson written era of Wonder Woman, after I realized I'm 11 issues deep without reading a single copy. Through reasons that are in no way surprising, I've once again put myself in a reading hole where I'm backlogged on basically every DC title I'm collecting. As a result, I'm putting some more rigorous testing to the series I'm collecting, and asking: If I'm not even reading this regularly, do I need it in a longbox? 
DC Comics has taken an impressive creator-first approach to titles (or at least writer-first) of late, leading me to add titles I typically wouldn't collect (Wonder Woman, Aquaman, Wonder Twins) on creator support alone. This is exciting as I add the books to my pull list, but intimidating as my "To Read" longbox starts to swell and gain financial-shame evoking sentience. 
Couple this with DC's announcement that DC Universe will begin adding comics 12 months after their release, and the already easy to use Hoopla Digital trade collections, and I'm back to wondering about the rigor I put into adding a new comic book to my pull list. It's a similar internal debate I wrote about with the Scott Snyder era of Justice League, but for books I'm buying and not even really reading! 
All of which is to say, I bought into G. Willow Wilson's Wonder Woman (not to mention Invisible Kingdom
) on the incredible strength of her time writing Marvel's Ms. Marvel, and am finally ready to put the work to the test. 
Wilson starts small, taking on war, gods, and the concept of justice. You know, the little stuff. Which is of course to say, there's a thematic ambition to Wilson's Wonder Woman that instantly connects, even as the story appears to tread familiar George Perez era ground like Wonder Woman v. Ares, round 198. 
The opening arc, "The Just War," is ostensibly about holding the impossible notion of a righteous war up to the light, but it's also a lot of Diana and Ares hitting each other in the face. From there the comic leans into the "homeless" status of the gods and inhabitants of Olympus, and finds fertile thematic relevance Wilson's more adept at mining, with a sudden influx of refugee Pegasus, Minotaurs, and Wonder Women.
Unexpectedly, it's these side stories starring the mythical menagerie of Olympus that I'm most drawn to, with a strong sense of humor even as Wilson crafts clear parallels between America's treatment of immigrants and these creatures. This leads to a problem I've frequently had with Wonder Woman comics, where the all-time great icon feels like a supporting character in her own story.
At the end of the day, Wilson's start on Wonder Woman is absolutely enjoyable, but I found myself increasingly checked out by the time the second arc, "The Grudge," rolled around. With a creative talent like Wilson, I'm looking for spectacular, and this isn't there, at least not yet. Again, though, don't mistake my own excessive expectations (and increasingly sharp chopping block) for dismissal. This is my favorite ten plus issue stretch of Wonder Woman since Rebirth started – I'll just keep up via DC Universe or Hoopla from here.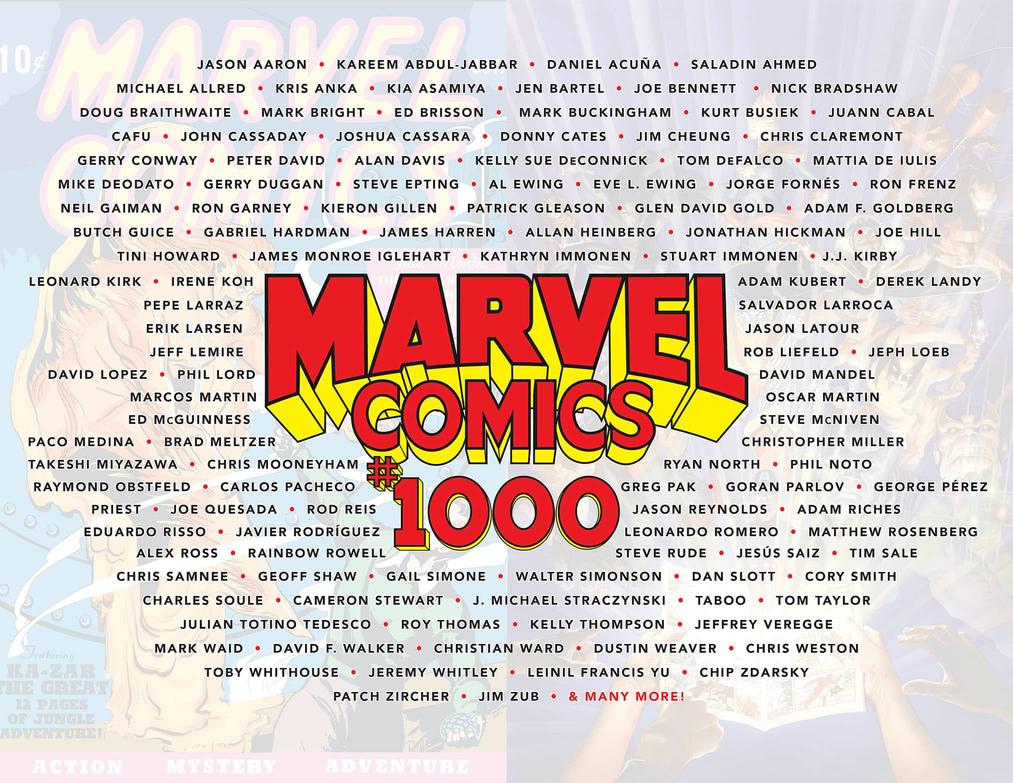 MARVEL COMICS
TREND: 
Marvel Comics #1000
After much fanfare and build-up, Marvel announced their plans recently to release Marvel Comics #1000 with a star-studded roster of creative talent. Ostensibly, the giant-sized special is meant to commemorate the 80th anniversary of Marvel Comics #1 released back in 1939. 
There's a lot of well-earned cynicism that accompanies such an announcement (there's no version of legacy numbering that actually gets this title to an issue one thousand… so they're just copying the sales success DC has had with Action Comics and Detective Comics). The piece that grates on me the most is not that Marvel is shamelessly chasing dollars (of course they are), but rather that they're so regressive in their approach. 
The build to this announcement started when Editor-in-Chief CB Yoshida declared he had an idea for a Marvel Comic that would sell a million copies (the last "Marvel" book to do so was Star Wars #1). This got me thinking about interesting approaches to this challenge, and led me to the following preferred approach: 
Comic Title: 

Marvel Universe (2019) #1

 

Creative Team: 

Marvel's hottest writer, Marvel's hottest artist

 

Length: 

10 issues, 1 annual (conclusion)

 

Price: 

$1.99

 
One single series, telling one giant standalone story, in an entry-level package that gets renewed every year. Instead of giving 8 billion creators a few pages, give the best and brightest one year to tell whatever Marvel story they want to tell.  
The best thing about this approach is it's a perpetual "Where do I start?" machine. Every year Marvel Comics readers ask this question, and this gives you a yearly answer.  
Asking Marvel to provide an honest-to-goodness new-reader friendly price point is probably the least realistic part of the proposal, but otherwise I see no reason this couldn't work (and generate significantly more interest!). 
LOVE OF THE WEEK
I was delighted to see the debut of Flex Mentallo on DC Universe's Doom Patrol recently (I'll be reviewing the eternally delightful Doom Patrol in its entirety in two weeks), which reminded me of one of my favorite single moments in all of comics. 
Flex is introduced in Grant Morrison's time writing Doom Patrol
 (believe it's issue #36), and his origins and story all build to an incredible moment where the "Hero of the Beach" needs to flex the Pentagon into a circle. 
And he does it.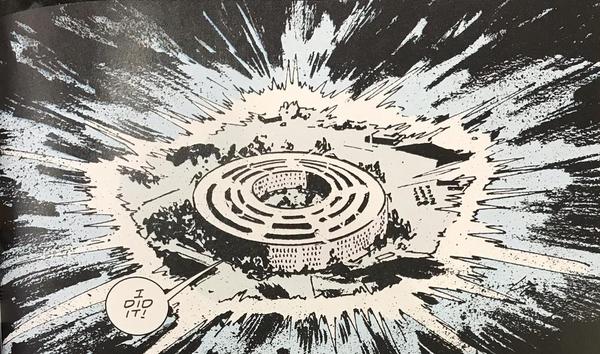 The entire concept of mystery muscle memory is hilariously perfect, but this particular moment resonates with me as one of my favorites from a run that stands the test of time as one of my favorites of all time!