2019 has been a challenging year for DC Comics, with operational changes leading to layoffs throughout the publishing arm, and high profile series like Heroes in Crisis suffering from extensively negative reviews. Many of the publisher's most memorable 2019 events are exercises in crisis control, from Batman: Damned's "Bat-Penis" controversy (see also: sentences I've always dreamed of writing) to the early removal of Tom King from Batman.
Even with this, DC has published plenty of great stories, and continues to build an impressive network of top tier creative talent. Since acquiring Brian Michael Bendis from Marvel in 2018 (it wasn't actually a sports style trade, but I prefer to phrase it that way), DC has also added the following list of heavy hitters:
G. Willow Wilson
Kelly Sue Deconnick
Alex Maleev
Grant Morrison (again)
Matt Fraction
Steve Lieber
Frank Miller (again)
Greg Rucka (again)
This is on top of pre-existing universe architects like King, Geoff Johns, and Scott Snyder (among many others!).
The end result is a seemingly endless stream of ongoings and miniseries on my pull list of comics I collect week in and week out. We're entering year 4 of the DC Rebirth era, and that's an admittedly difficult spot to be – the thrill of the "new" has worn off, and now DC faces a lot of questions about what they want their universe to look like for the long haul.
These are the comics that are doing it best in 2019.
Support For Comic Book Herald:
Comic Book Herald is reader-supported. When you buy through links on our site, we may earn a qualifying affiliate commission.
Comic Book Herald's reading orders and guides are also made possible by reader support on Patreon, and generous reader donations.
Any size contribution will help keep CBH alive and full of new comics guides and content. Support CBH on Patreon for exclusive rewards, or Donate here! Thank you for reading!
This is a borderline best-of for me because in many ways Aquaman still feels more like a draft prospect than a fully fleshed out player – even with complete arcs published, the creative vision of Deconnick and Robson Rocha feels like a lot of untapped potential.
But oh that potential! There's plenty of interesting world-building occurring in the early parts of Deconnick's time writing an amnesiac Arthur Curry, and Rocha's approach to storytelling makes for a visually compelling comic. I definitely think the best is yet to come on Aquaman, but even so, it remains one of the more interesting DC Comics of the year.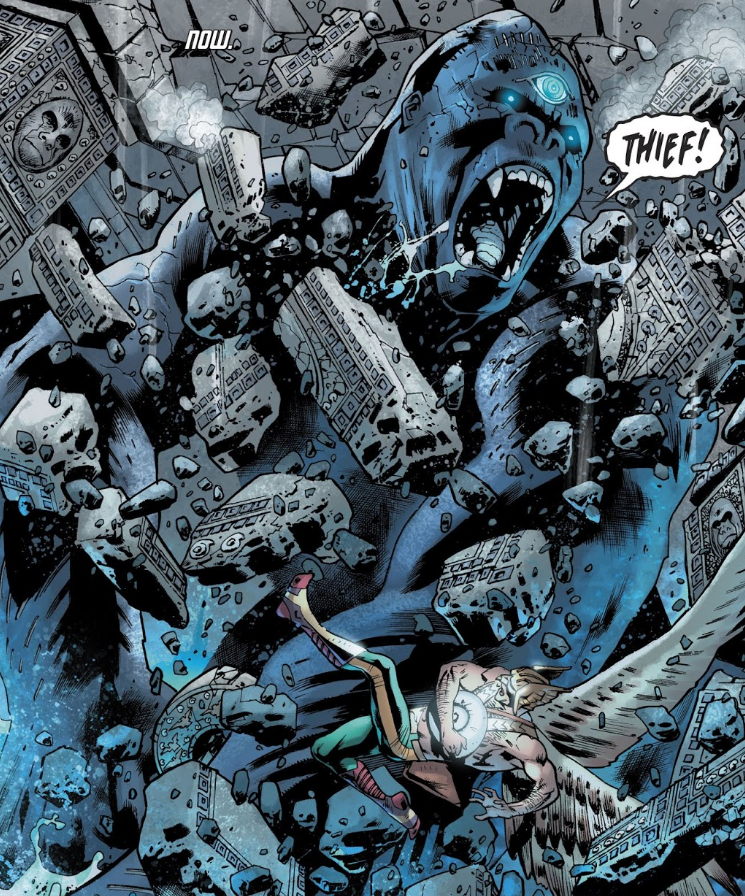 If you're surprised to find Hawkman among DC's best of 2019, well, so was I. Nonetheless, Robert Vendetti and Bryan Hitch have been hard at work on (arguably) DC's most underrated title, spinning the return of Carter Hall (via DC Metal) into an extremely fresh take on the complicated character.
After an inconsistent run on Justice League to kick off DC Rebirth, Hitch is back to conveying incredibly cinematic visuals on the page, as he and Vendetti lean into Hawkman's roots as an archaeologist. I don't exaggerate when saying this is the most I've ever liked Carter Hall.
It hasn't received even a fraction of the hype, but Female Furies is a worthy companion piece to Tom King and Mitch Gerad's Mister Miracle
. Making Granny Goodness a sympathetic figure, and a clear target of an inherent patriarchy at the center of Apokolips is no easy chore, and Female Furies not only succeeds, but entertains while doing so.
Through the six issue miniseries, Cecil Castelluci and Adriana Melo dig into the harsh realities of the Furies fighting force, and the characters of Big Barda, Aurelie, Mad Harriet, Lashina, Bernadeth and Stompa. It's an untapped corner of Apokoliptin myth, with a whip-smart layer of contemporary commentary.
Following work on The Flintstones, Snagglepuss, and DC's Nuclear Winter Special, writer Mark Russell is an "auto pull" in my comics rotation. Russell's brand of satire and humanism resonates deeply, and although I have absolutely zero nostalgic connection to The Wonder Twins, the prospect of Russell on such an odd piece of DC history was instantly tantalizing.
Stephen Byrne's art is perfectly suited for this high school setting, and Wonder Twins manages to wrangle Super Friends nostalgia into an extremely relevant story for 2019.
Ever since Captain America 3: Civil War hit theaters, I've said it's a fool's errand to question the Marvel Cinematic Universe. Pulling off a movie of that scale, with that many moving pieces proved to me once and for all that the creative players involved were a near lock on a quality offering (and that was before we saw the true scale in Infinity War).
That's also how I've come to feel about comics written by Tom Taylor. No matter how outlandish the premise (a videogame were Superman goes Tyrant-mode or a Wolverine series featuring a *gasps* real live girl!) Taylor delivers some of the best superhero comics available.
DCeased pulls that trick off yet again, this time with a "Marvel Zombies
" style exploration of the DC Universe. While I still wish this was an in continuity event (let Taylor get wild, you cowards!), the freedom to explore free from continuity opens a lot of storytelling doors.
The thing about this comic is that Matt Fraction (Sex Criminals, Hawkeye) and Steve Lieber (Superior Foes of Spider-Man) are responsible, and every indication is that it *should*  be one for the ages. Even with a limited sample available, I can say I unequivocally love "Superman's Pal, Jimmy Olsen." It's hilarious, and inventive, and explores way more of the DC Universe than I expected.
Above all else, Jimmy Olsen is challenging, zigzagging between eras and plotlines with reckless abandon, leaving only your faith in a guiding hand to keep the story from unraveling. Fraction and Lieber seem intent on ensuring all twelve issues of the series are in your hands before any accurate assessment can be levied, which certainly has both pros and cons. As a result, I've softened mildly on my assumptions that this would be my favorite DC Comic of 2019, and now find it merely quite good, with the possibility that I'll have a spot for the completed work here again in 2020!
A Green Lantern comic by the creative team of Grant Morrison and Liam Sharp is one of those sure bets that I could feel comfortable including on a best-of list sight unseen.
I'm pulling and reading issue every issue the moment they're released, but I'm just saying, my confidence in Morrison and Sharp is that high.
Since Morrison has a history with the DC Universe dating back to the late 80's, The Green Lantern is also held to the standard of his past work, which increases the complexity of evaluation. Ultimately I know this take on Hal Jordan, space cop is compared to some of the greatest runs in DC history. The looming shadow of reports that this is Morrison's final superhero comic (we'll see) also offer some legacy gravitas to a series that stands out regardless.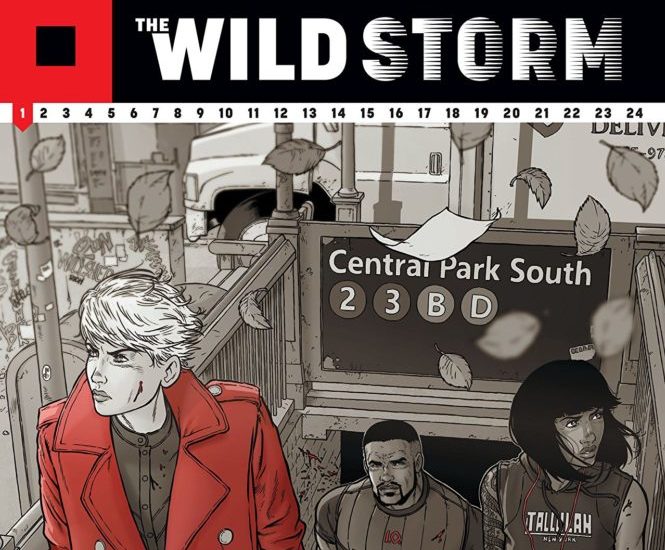 I've written extensively in a "Previously On" column why I love "The Wild Storm" by Warren Ellis and Jon Davis-Hunt. I'll add here that 2019 has been especially exciting as it houses the conclusion of this 24 issue narrative, and that the slow-burn is paying off in tremendous ways. Ellis and Davis-Hunt have effectively ramped up to "The Authority
" portion of the proceedings, which means reimagined Jenny Sparks, Midnighter and Apollo (among others).
It's a contemporary masterclass in updating a shared universe and Jon Davis-Hunt is doing some of the best work in superhero comics. Plus, you can read all 24 issues right now, and have a full sense of story completion!
Gene Luen Yang is one of the surest creative bets in comics, and his all ages work with artist Gurihiru is an instant classic, both an homage to Superman's deep history and much-needed socio-political reflection of the Superman myth's place in 2019.
The oversized three issue book has quickly become one of my most eagerly anticipated releases, and even with the final third yet to be released in 2020, there's no doubt that Superman Smashes The Klan is a remarkable testament to how effective true all ages works from the Big 2 can be in the right creative hands.
The world of Batman is an unsurprisingly crowded realm this year, with all sorts of creative powerhouses taking their turn at the caped crusader. In Batman, Tom King is unveiling his years in the making love-story, in "Detective Comics" writer Peter Tomasi is taking the iconic title in a new direction, in "Batman Who Laughs" Scott Snyder and Jock reunite for a Dark Nights Metal spinoff, and in "Batman Universe" Brian Michael Bendis and Nick Derington are giving the Walmart faithful gorgeous Bat-adventures.
And that's before we get to "Black Label," which is apparently going to be nothing but a Batman U showcase!
Above all, though, I'm most excited for Batman: Last Knight on Earth which reunites New 52 Batman and Dark Nights Metal creative combo Scott Snyder and Greg Capullo. Snyder and Capullo have described the oversized three issue collection as their Dark Knight Returns
, and they're not overselling the goods. "Last Knight on Earth" is a post-apocalyptic / Mad Max style narrative in which Bruce Wayne awakens in a surreal DC Universe gone wrong and sets to make things right.
Rather than lean in to the grim situation, Snyder and Capullo have fun with the premise, giving Batman a Joker-head to carry around on his newfound, perhaps final quest. It's a gorgeous looking comic with all the absolute comic book conceptual joy of Metal.
If you only read one comic book series in the DC Universe in 2019, make it Batman: Last Knight on Earth!