Today's the day. You're done with work. You don't have any appointments or plans. The evening belongs to you. And how do you use this opportunity, this oh-so-rare freedom from responsibility? Cracking open a vintage pulp paperback! Maybe you're finally reading Richard Stark's Parker. Or you bought an eBay lot of Travis McGee books and you're at the good part of Darker than Amber. The new Reacher TV series is good, perhaps you wanna check out Killing Floor and see what all the fuss is about? Or maybe you're like me, and this uninterrupted evening belongs not to an old favorite, but rather a new comfort. Today's the day you open Reckless
by Ed Brubaker, Sean Phillips and Jacob Phillips.
One thing is clear as you burn through the adventures of Ethan Reckless, a troublemaker-for-hire: he satisfies a craving for the simple efficiency of the pulp fiction hero. He lives in a world that no longer exists: Everyone smokes, secrets are currency, and his quiet, pointed sentences paint a bleak picture of humanity. Reckless is at once the successor to an entire industry of detective novels of the last century and firmly grounded in where we are today. As we struggle through our third year of COVID-19, and process the same struggles day in and day out, we're all seeking the escapist moral duplicity of a Parker or a Travis McGee character. Someone that takes all the complexity and distills it down into a soothing, almost Zen acceptance as we solve one problem at a time.
It's hard to believe it's been three years of lockdowns, and I don't entirely remember how I filled most of that time. With the exception of how many hours I devoted to reading and thinking about Reckless. The series would not exist without the pandemic and it's easily the perfect company through our tumultuous times.
COVID Collecting
The comics direct market, as well as other hobby shops across the county, have experienced a surprising boom over the course of the pandemic. Retailers have seen an influx in customers, mail-order sales, returning collectors, and more intense buying from pre-pandemic regulars. In January 2022, David Harper wrote that more than half the comic store owners he spoke to had record sales in 2020 and 2021. Locations like Casablanca Comics in Portland have seen their sales go up by "double digits." Even businesses like the CGC which professionally grades comics and trading cards have become overwhelmed by the demand of COVID era collectors. Speaking to NPR, CGC President Max Spiegel shared that employment at the company has gone from around 300 people pre-pandemic to a projected 700 by the end of the year in order to keep up with demand. And even this is proving to be insufficient: "So now, what before the pandemic was a two-month turnaround for comic books, is more than five months. A Pokémon card takes a year to get graded."
At the same time, the pandemic has put a chokehold on numerous supply chains for businesses across the world. Paper shortages, bag-and-board shortages, printing delays, and massive overhauls to the comics distribution model have created a perfect storm alongside the influx of new collectors. Stores continue to see higher volumes of sales, while publishers like Image Comics have put a hold on all second printings in order to save paper. I regularly talk to my local shop owner about shipping delays, increased damages, harder and harder to process re-orders and the ever-evolving demographic of shoppers coming into the store. In essence, COVID collecting has become a paradox. Living in a pandemic makes us want to dive deeper into our hobbies, as evidenced by booming sales, but hobbies are harder to sustain due to the material reality of living in a pandemic.
Support For Comic Book Herald:
Comic Book Herald is reader-supported. When you buy through links on our site, we may earn a qualifying affiliate commission.
Comic Book Herald's reading orders and guides are also made possible by reader support on Patreon, and generous reader donations.
Any size contribution will help keep CBH alive and full of new comics guides and content. Support CBH on Patreon for exclusive rewards, or Donate here! Thank you for reading!
In 2020 prior to full-scale lockdowns, I decided to collect comics again after previously losing my original collection. At first, the idea was as simple as going to the store on my day off to find some one-off trades or add a mini-series to my pull list. However, as the pandemic started to take hold, I noticed I was drawn more and more to finding the older books I missed reading, nicer copies of classic stories like Batman: Year One or reprints of old comic strips like Peanuts. I even dived into classic film and played the Yu-Gi-Oh! TCG more intensely than ever before. Instantly, the supply shortages and booming prices became apparent, but what surprised me most is that I didn't see myself or most people I spoke to trying to keep up new hobbies, something that proved to be physically impossible in certain cases. Rather, nostalgia had taken hold, an intense desire to go back to what brought us comfort as kids.
I never truly stopped reading comics, or watching old movies, or playing Yu-Gi-Oh!. But something about the pandemic made me want to intensify my engagement with these hobbies in order to feel like I'm returning to more comfortable times. I didn't want to read James Tynion IV trying new things on Batman, I wanted Steve Englehart Batman from the 70s. While nostalgia culture is not a new phenomenon, I think there is a difference between that particular sociological issue, and the current pandemic era nostalgia driving the collectors of the world to dig up their old books and toys.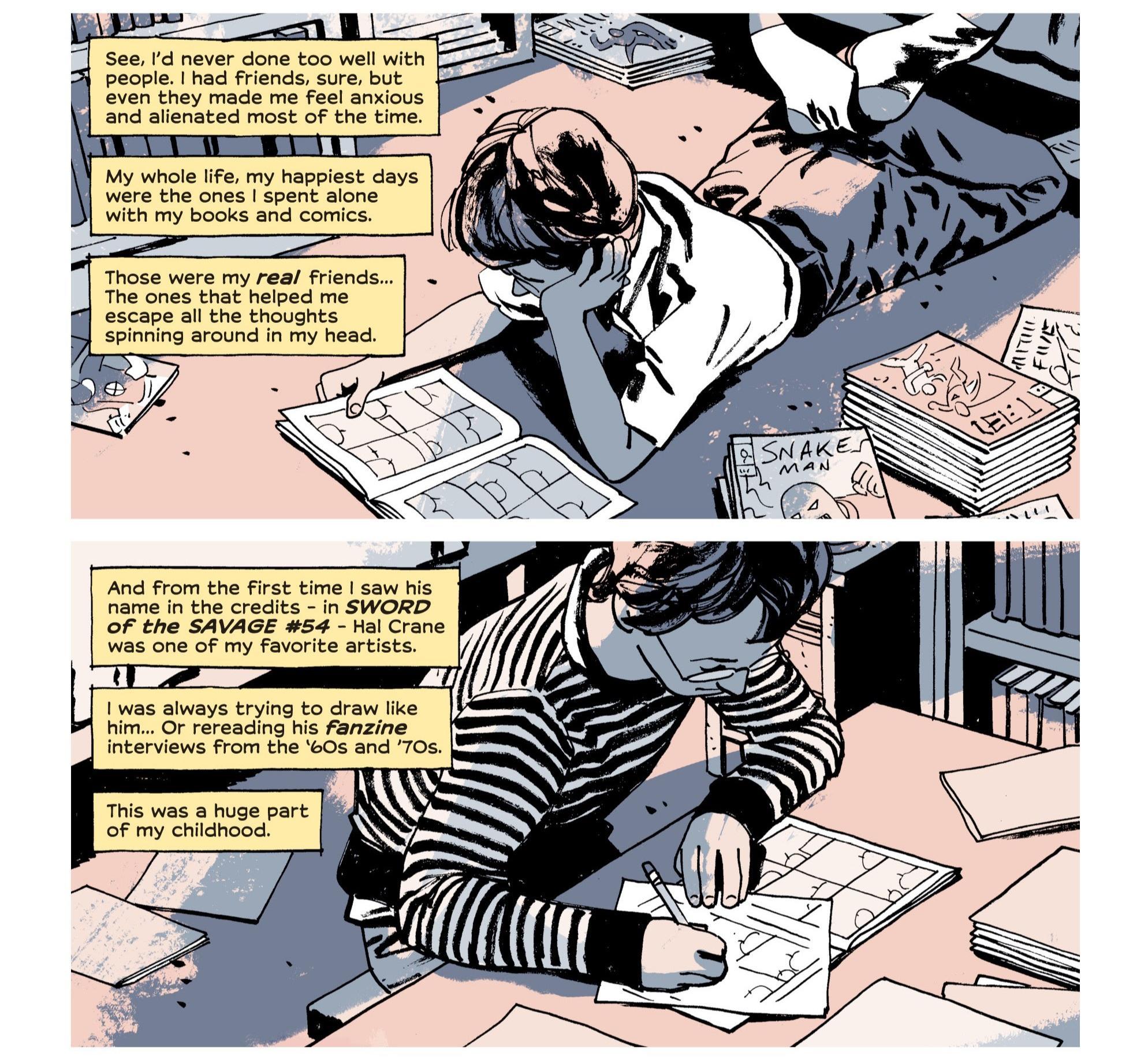 Living through a global pandemic is, unmistakably, a traumatic thing. Recently, the New York Times reported a study done by the World Health Organization that confirms far more COVID deaths across the world than previously tallied. India, for instance, was originally reporting a number of around 520,000 but the real death toll is over 4 million, with the global total hitting 15 million in 2021. Many of us have faced COVID scares, deaths in the family, or simply the ongoing anxiety of trying to navigate the outside world without putting others in danger. And despite any individual precautions we take, people are dying across the world at unprecedented rates. That's a lot to carry on your mind for a few months, let alone three years. On top of that, early COVID lockdowns, the shift to Zoom calls, work-from-home normalization, and restricted travel across the country has meant that time moves differently. We feel, and in certain cases are, perpetually stuck in a zone that's traumatizing to think too much about and feels nebulous as the days, weeks, months and years go by without any significant shift in our personal spaces, or in the very thing traumatizing us.
Thus, it makes sense to view pandemic nostalgia as a different beast. Basic nostalgia can be characterized as a refusal to go forward in time. COVID nostalgia largely leaves us without a "forward" in the first place. Everything is eternally stuck. If we can't feel like we're going forward, if we can't even identify the present moment as any different than yesterday or the day before, then of course our only recourse is to jump back to the things we loved as kids, to things that brought us comfort in our youth. As difficult as the pandemic has been, my fondest memories of living through it are entirely through the lens of recaptured youthful nostalgia. Whether that meant playing Yu-Gi-Oh! with my friends, or watching old movies, or reading a lot of comic books.
In the midst of this traumatic, nostalgia-fueled collecting frenzy that has put pressure on an already struggling supply chain: Enter Ed Brubaker and Sean Phillips.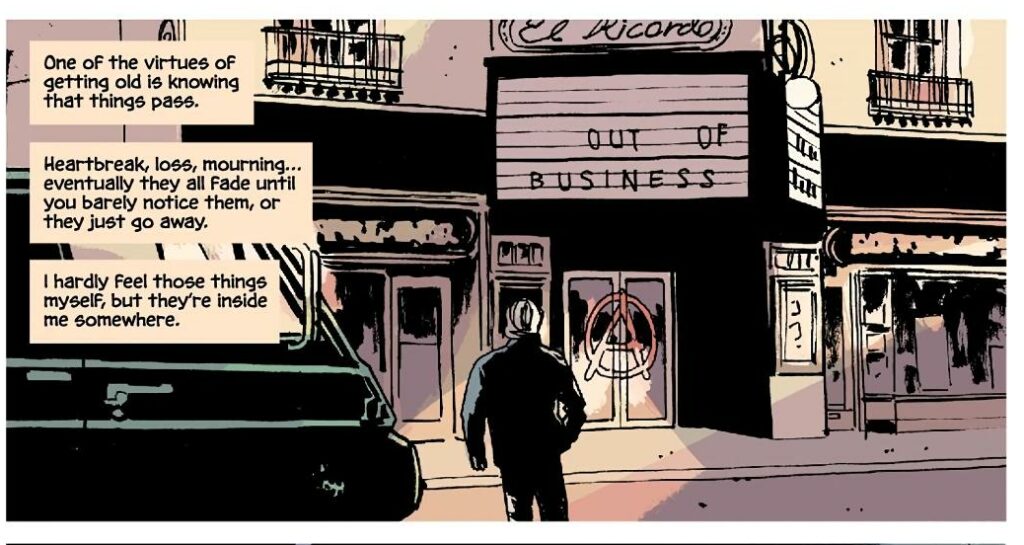 Reckless for the Restless
In December 2020, Ed Brubaker, Sean Phillips, and Jacob Phillips launched Reckless: an original graphic novel take on hard boiled, pulp adventure novels made famous by writers like Raymond Chandler (Phillip Marlowe), Donald Westlake (Parker), John D. MacDonald (Travis McGee), and Don Pendleton (Mack Bolan). Reckless is set in 1980s LA and follows Ethan Reckless, a "troublemaker-for-hire," and his punk rock sidekick, Anna, as they solve mysteries and work odd jobs for any client Ethan feels like taking on. The first book was an instant classic, setting a comforting tone that let us follow a twist-filled adventure alongside a lonely, existential character who knows the world around him is ending and feels perpetually numb.
Then in April 2021, the same team released Friend of the Devil: A Reckless Book
, followed by Destroy All Monsters: A Reckless Book
(Oct. 2021), The Ghost in You: A Reckless Book
(April 2022), and Follow Me Down: A Reckless Book
is planned for this October.
In 17 months, from December 2020 to April 2022, Ed Brubaker, Sean Phillips, and Jacob Phillips have released four, 144-page original graphic novels, in beautiful hardcover with thick, matte pages chronicling the one-off adventures of a well-intentioned, but morally gray, protagonist as he solves problems and muses on what life is about. Something about these books has lived rent free in my mind for 17 months straight. Maybe that's because I get a new book every few months, or maybe it's because Reckless is the perfect pandemic book, taking full advantage of our ongoing trauma, nostalgia, and supply chain induced collecting troubles to produce something new and comforting.
Brubaker himself has talked about the motivations for this new project in terms of the pandemic compelling us to look towards nostalgia:
"I was reading all the Travis McGee books in the early days of the pandemic. I got obsessed with going back to these pulp-era characters. It's the reason we all loved Ted Lasso. We all wanted something that was just comfort food but engaging. When they were first published, I think they published them every two months for six months. That's how it became the biggest series of the '60s and '70s. I just thought, 'Sean and I are pretty fast. We've been working together for almost 20 years where we pretty consistently put out 10 or 12 comics a year. If we just do these graphic novels, we might be able to get three of these out in nine or ten months. That would be kind of insane.' And we did it."

Ed Brubaker, The Hollywood Report, 2021
I think Brubaker is completely right here, but he's forgetting one thing about Ted Lasso that makes the series worth watching in pandemic times: it's completely sincere. The beauty of Reckless is that it's a series of books with fun characters, fun mysteries, from a fun genre of pulp novels that's easy to read in one sitting, but it also packs an emotional punch in quiet, pointed moments that stay with you. Brubaker and Phillips are among comics' greatest teams, but that consistent ability to end every story with a gut punch of emotion is why I think we remember everything they do so fondly, even beyond the technical craft.
Every Reckless book is tight, engaging, fun but above all, completely aware of the doomsday scenario in front of us. It's one of the most consistently published series of the pandemic, and unmistakably the most well presented in beautiful hardcovers. The result is something new, yet old and comforting all in one package, something no one else has been able to accomplish during the pandemic in quite the same way. But of course, this is exactly why we love Brubaker and Phillips in the first place. This is exactly what we expect of them by this point.
Next: Part 2, how Reckless, Brubaker and Phillips contemplate mortality.