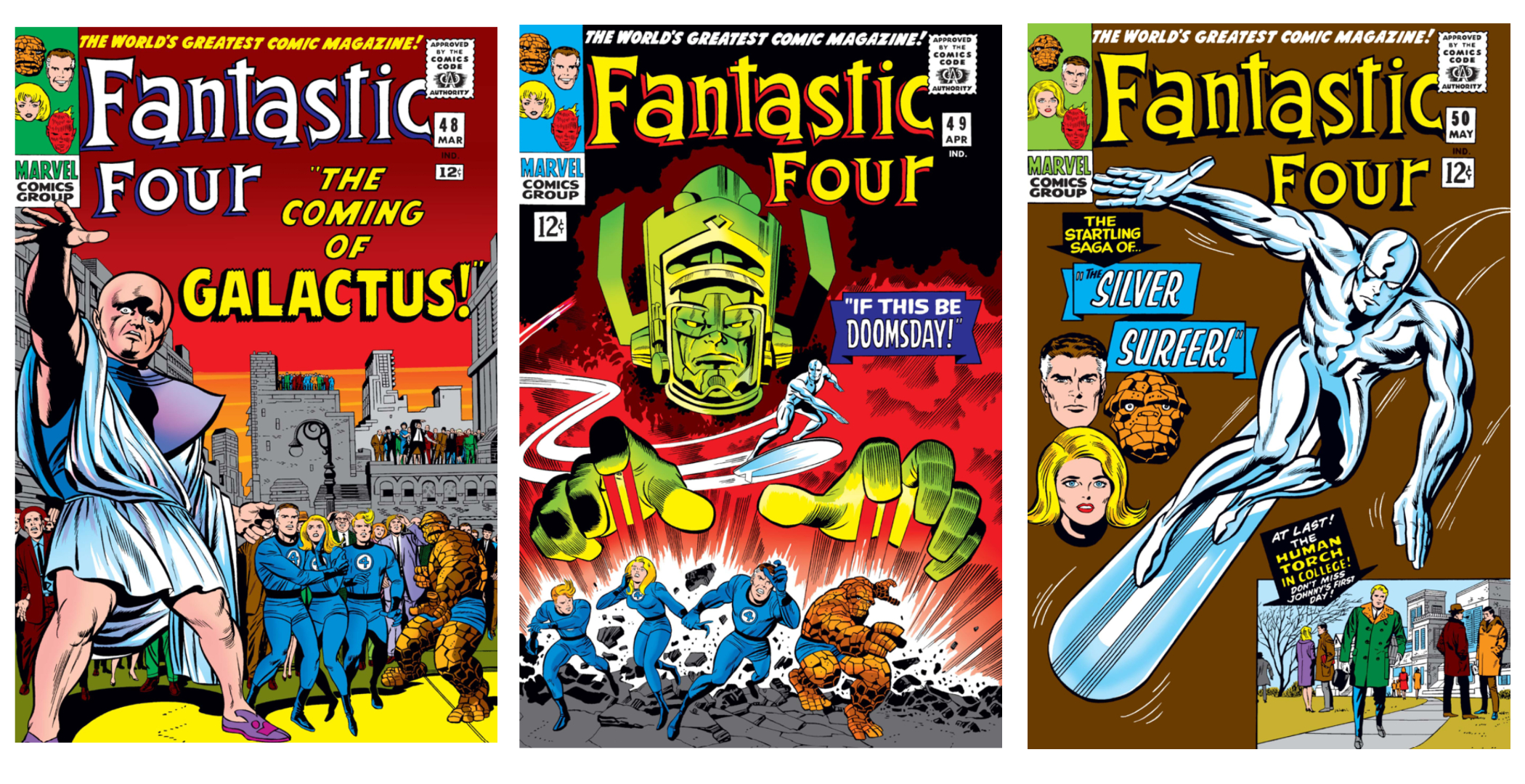 [FF covers/interiors by Jack Kirby (p), Joe Sinnott (i), Stan Goldberg (c), Artie Simek & Sam Rosen (l)]
Part 2 of our Evolution of Marvel Cosmic series can be found here (along with a link to the first piece).
Yes, yes, these tales of moody pulp adventure likely never terrified anyone, not even the rugrats of 1966, but they did and still do offer visual wonders galore, from cosmic grandeur to those little melodramatic glimpses of a character's essence (Ben Grimm's deep sadness; Reed's Jekyll/Hyde-like smooth arrogance breaking into cruel hysterics; Sue's put-upon fury—these are, of course, their Silver Age iterations); now, admittedly these character moments are of types, sculpted, often grotesquely, in the bold manner of peak Jack Kirby. He and Stan had a knack for taking unsettling bizarro ideas from the surreal pulp magazines of their youth, but where Stan's talent was for rather simplifying the interesting concepts behind these stories, for the sake of broader or perhaps just more juvenile consumption—Kirby's pencils kept the weirdness alive and thrilling in demonstration of how deeply attuned he was to the art of mid-century, pop fantastika.
Jack Kirby's dynamic, groundbreaking visuals really do make this little project a breeze—although often I just want to keep looking at Kirby art all day rather than writing to convince others to indulge themselves likewise!
But we will briefly look at just one comic here not drawn by Kirby (still written by Stan)—Avengers #28, inauspicious debut of the first Elder of the Universe, the Collector, he of the Benecio del Toro makeover; while Don Heck was sort of the first almost aggressively house style penciler at Marvel, his figurework initially striking me as flat and wooden, actually displays a modest dynamism, as well, and a confidence that many modern comic artists lack. A far cry from being among my faves, Heck's work is still pleasing enough, often worth a good chuckle too, intentional or no (but seriously, how else were these workhorses allowed to have fun on the job?).
Support For Comic Book Herald:
Comic Book Herald is reader-supported. When you buy through links on our site, we may earn a qualifying affiliate commission.
Comic Book Herald's reading orders and guides are also made possible by reader support on Patreon, and generous reader donations.
Any size contribution will help keep CBH alive and full of new comics guides and content. Support CBH on Patreon for exclusive rewards, or Donate here! Thank you for reading!
What we're mostly here for this time is, you guessed it, big daddy G—Devourer of Worlds!!! But really it's the Silver Surfer's early appearances that are most compelling; the Surfer is almost as alien as Galactus but still very human. The exiled wanderer, trapped on Earth with us fractious, irrational and violent humans, would in fact soon become Stan's quietly earnest (and melodramatic) mouthpiece critiquing the world's ills. Seeing the very early stages of that development at the height of his Fantastic Four run is fascinating.
We'll also look in on the debut of a bizarre "pocket universe*" rendered to Kirby's own avant-pop specs, the as-yet unnamed Negative Zone, in what I think is the most successful Weird Science-inspired story from Stan and Jack, in Fantastic Four #51. This "anti-matter" dimension's vicious, outer-dark/edgelord ruler, Annihilus, won't show up for another two years, but for now, we'll trace Stan and Jack's early development of this reality in its first handful of appearances; the Zone's nature, the speculative "science" of it, changes drastically between stories—likewise, its visual design. Lastly, we'll briefly note the debuts of Wakanda and the Cosmic Cube, which aren't thematically relevant in the Silver Age, though they will be, one day.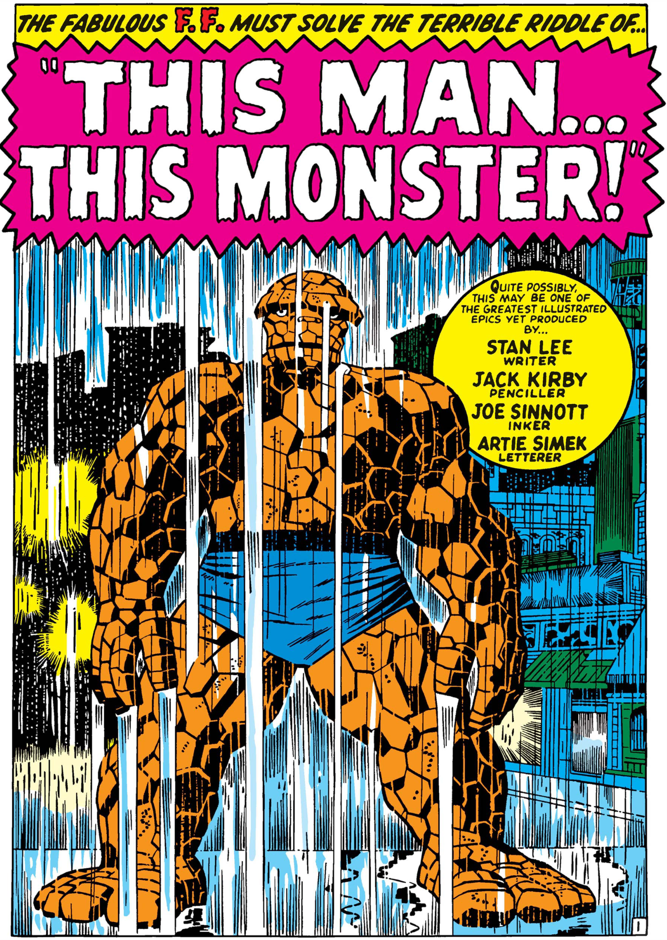 [Fantastic Four #51]
*Jonathan Hickman may have first identified the Zone on the page as a pocket universe (Avengers #21, 2013).
However, before we get lost in the fevered pulp funhouse—a public service announcement:
Unsurprisingly, the vast majority of these Silver Age comics we're going through, even many of those drawn by Jack Kirby, might be big and bold on wild, colorful ideas—which I love—but they're lacking as stories that endure—they're mostly just fun and make for some interesting if quite narrow cultural history. As a story, though, Fantastic Four #51 is a mid-century classic in the medium. Even then, that's not outsized praise; maybe it's partly nostalgia for the first affecting comic-book experience I had as a wee tyke given this issue by a much older cousin (who would've been just as young when it came out as I was then), so most readers nowadays aren't going to have the same attachment. It's not particularly original; it really does read as if lifted from Weird Science, an early 1950s comic series that was among Kirby's own favorites, and really, many of those non-superhero sf stories were rather more impressive. Adapted for a one-off episode that brings the FF's status as "imaginauts" to the fore in a way that was more reminiscent than ever before of those formative modes of sf storytelling, this story is driven by mood above else (and certainly not ratiocination à la "hard" sf, which didn't actually emerge as ideology and subgenre until the '70s) was perfect for evoking the all-consuming sadness and estrangement essential to Ben Grimm's personality—even though the central character in this low-key, science fantasy melodrama is a nameless schlub (impersonating Ben) who yet proves capable of a last-moment act of redemption, at the cost of his own life. Fantastic Four #51's artful melding of despairing melancholy and wondrous, uncanny visuals is unmatched within the collaborative Stan/Jack oeuvre.
Granted, nearly 60 years on, your mileage may vary—but give it a try if you've never treated yourself before! At the very least, dear reader, you'll know it's only 20 pages, one and done.
I. The Coming of Galactus—and his Herald, the Silver Surfer (Fantastic Four #48-50, 3-5.1966)
You won't take a silver guy surfing the Kirby cosmos on an actual surfboard seriously? Then we'll show you how the wicked Skrulls react to him passing through their sector of space.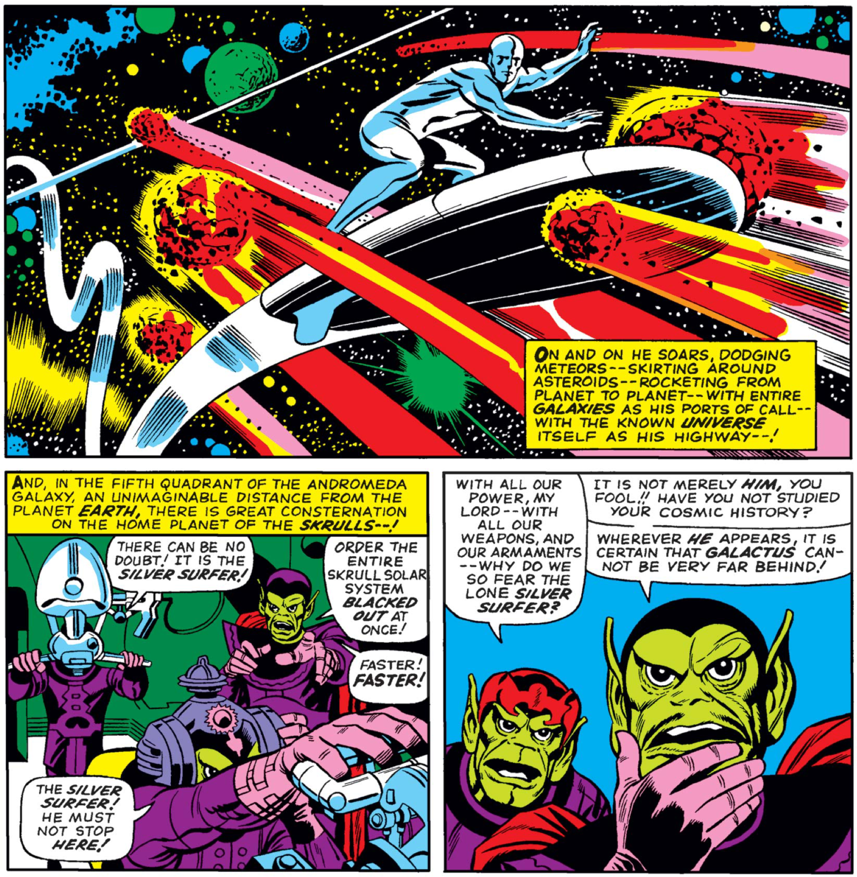 Now, maybe Stan and Jack forgot that these are the same people who fled from Earth because they believed some cartoon monsters from a Jack Kirby comic were the real deal (FF #2). Fans reading this back in 1966 probably had only one thought themselves upon seeing the sleek silver figure surfing the stars: Cool! (Or whatever the day's geeky lingo would've been).
So, really, how bad can this Galactus fella be? Bad enough that he can set fire to the whole sky!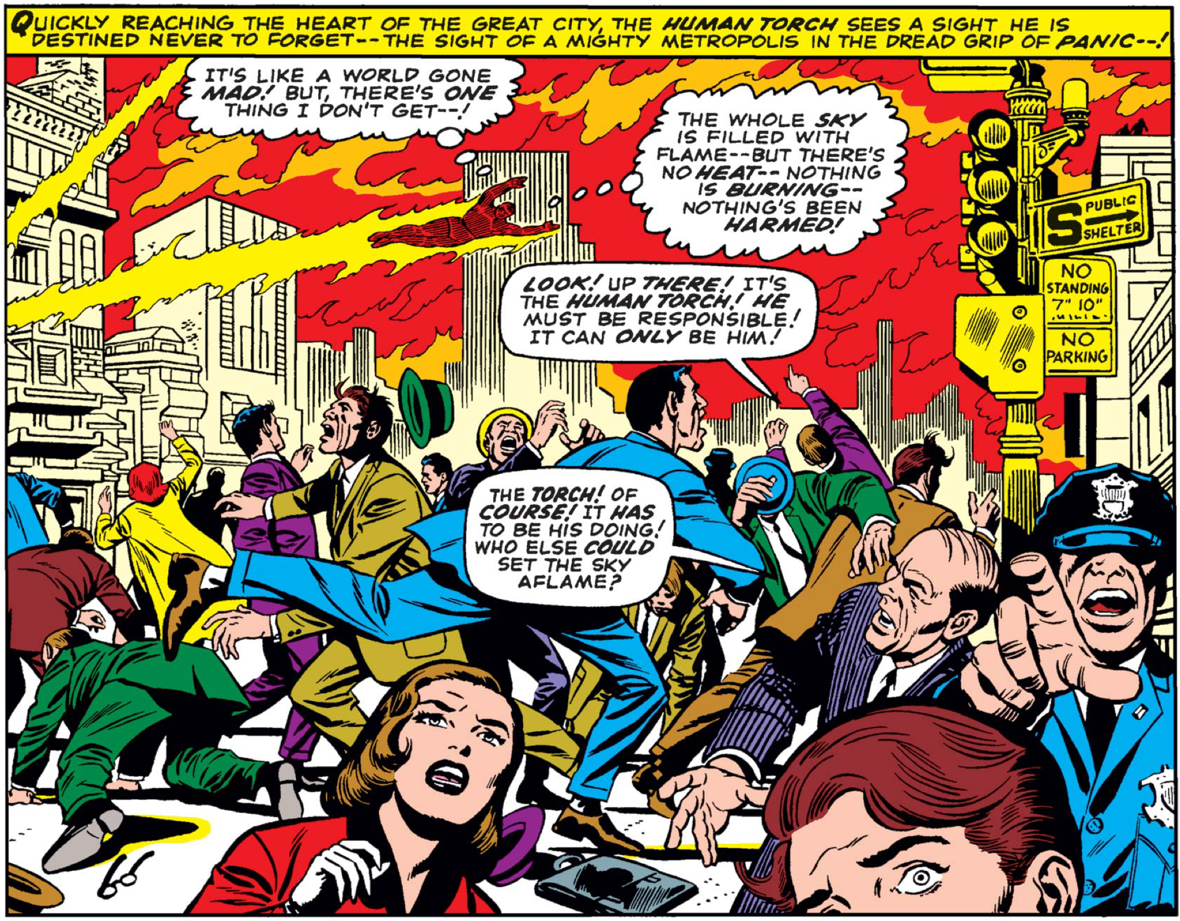 No, silly, that's the Watcher, hanging out with the Watcher's only human friend—quite a feat, Reed, and what made you so worthy? He's been holed up in Reed's lab, where he's working his "matter mobilizer" to either create actual mysteriously suspended, fuelless fire (and then, following "panic among the humans," just good old "inorganic space debris")—or maybe they're little more than illusions (after all, you'd think those flames crowding every square inch of sky across the entire world would heat the surface up a bit. And of course, we see only the skies over New York City—but that was the mid-century American metropolis that stood in for the whole human race, unless Uatu was really only trying to make Mr. Fantastic feel better?
But neither the towering Uatu's handheld whirligig nor Reed's frantic wife (who's a little shocked to discover the big, bald and be-togaed ancient in her husband's lab) can salve Mr. Fantastic in this time of crisis.
Sue frantic? No, that's just Reed all over here; the invisible wife is only being sensible. Hell, she's got grit, dealing with a creepy husband holed up in his mancave, sneering at her over the vidlink not to disturb him.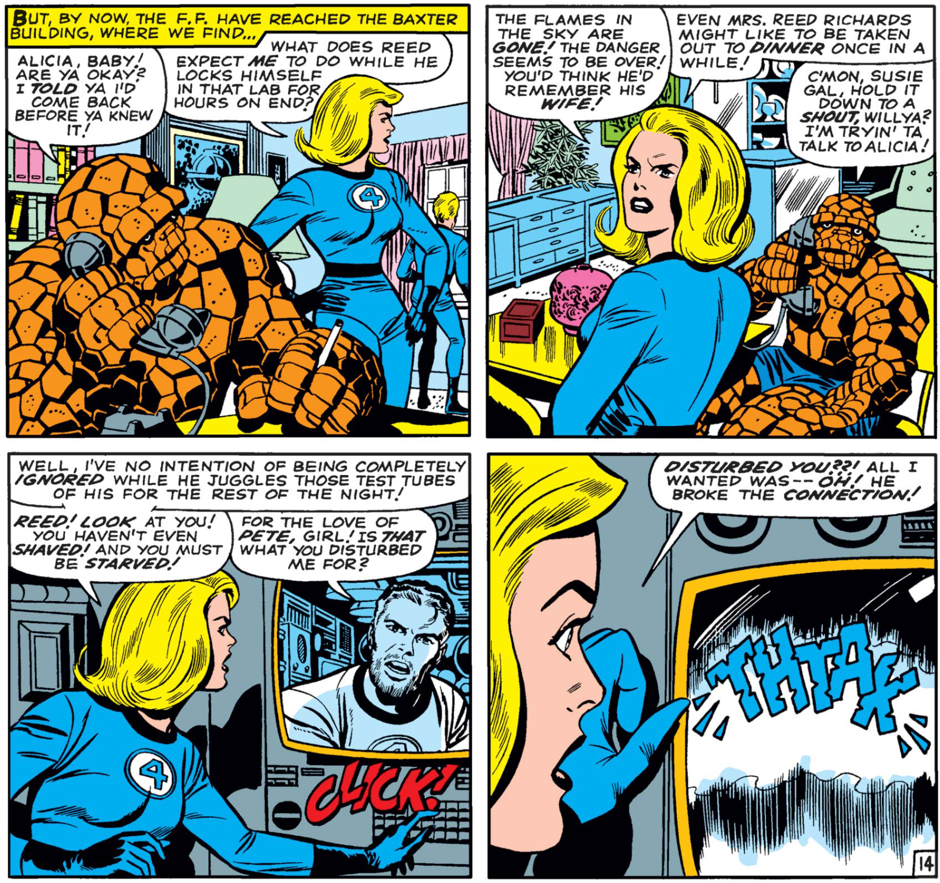 To be fair, Reed has always had a brittle ego that used to split and crack at every little threat, totally unaware that he was part of the best super-team in the world, at the time. Well, he won't solve this one himself either.
The Watcher has told him of Earth's doom—before the extravagant gustation of Galactus!
The Watcher's special effects are totally ineffective as chaff—the Silver Surfer detects Earth with ease and surfs right on down, smoothly avoiding the floating debris as he zips through.
On the far side, though, the silver-streaking Herald encounters the Thing's mighty rock fist, sending him hurtling away, into the apartment of none other than Alicia Masters—it's a small world in the Big Apple! But how ham-fistedly poetic that the Surfer and Alicia's meet-cute is all Ben's fault, however well-meaning, acting in defense of the planet.
The first chapter ends with a sublime cliffhanger—the arrival of Galactus! In green t-shirt and purple shorts! And a big old "G" on his red fetish harness thingy. But all that really matters here is that Kirby hat porn!!! (It'll take a couple issues to settle on his bold fashion choices.)
Famously, Galactus' very next appearance on the opening splash page of the following issue has him wearing a slightly different outfit; hey, maybe he has conscious control of a huge unstable molecule suit. It would be an insult to his ancient intelligence to assume otherwise. He was just trying to get the color scheme right when disembarking into Earth's atmosphere. He'll shortly get some leggings; blink, and you'll miss it!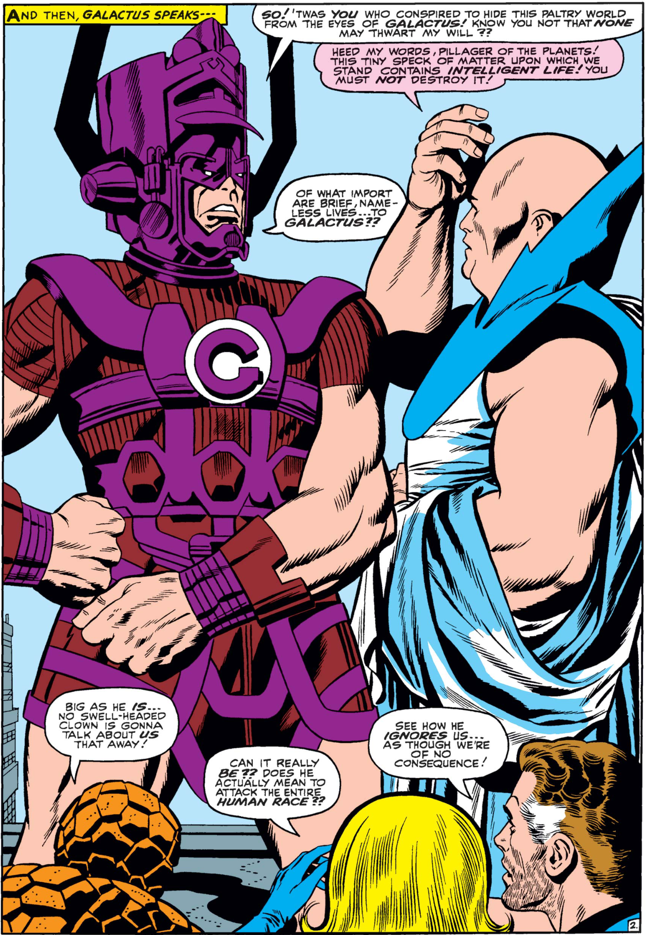 In the trilogy's middle chapter, a paralyzing sense of futility has overtaken the Fab Four; meanwhile, Alicia is serving up the Surfer some homecooked victuals—which is played for very slight comedy with the Surfer's alien reaction to food. This early version bears no relation to the man he used to be (Norrin Radd)—which past isn't even revealed until Stan Lee's 1968 Silver Surfer #1.
Whatever the potential threat of Galactus, though, the FF find themselves facing off with his "Punisher," which I guess was supposed to be look like a scary berserker too—but despite a strong showing, briefly, it's hard to credit much interest here, knowing that this character will never appear ever again. Mostly, it looks like an armored super-frog, Kirby-style.
The Watcher whisks Johnny away to another dimension, exhorting him to retrieve what's almost as much macguffin as deus ex machina here, resulting in perhaps the greatest anticlimax of the Silver Age. But mixing up two such different categories of plot device was par for the course for most Silver Age comics; it's just surprising for modern readers coming to this storyline for the landmark debuts and the enduring hype that this is where Marvel Cosmic really kicks off—which is true, but don't expect Keith Giffen's Annihilation (2007) much less Jim Starlin's "Thanos War" (1973).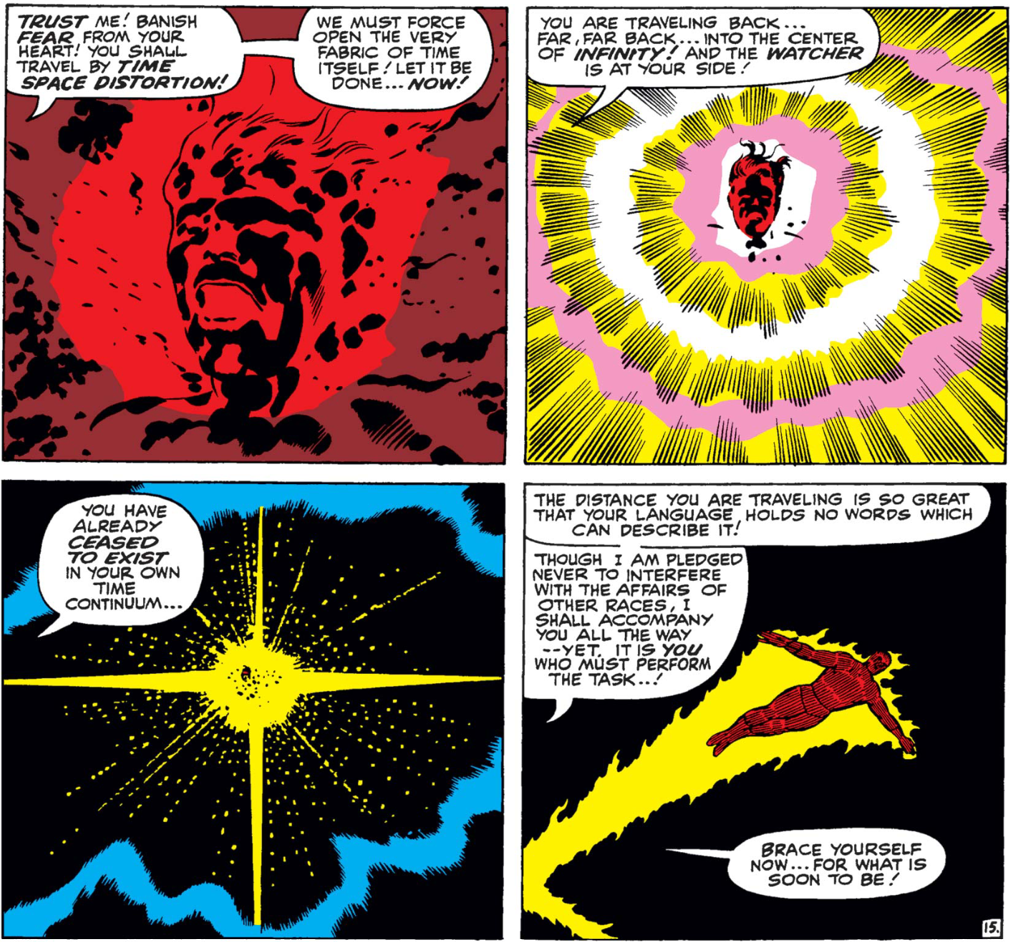 While the Ultimate Nullifier, looking anachronistically like an inscrutable little PDA from Apple, appears ridiculously trite in relation to the threat of Galactus, once Johnny retrieves it, Reed will use it threateningly, apparently holding the entire universe hostage, in order to negotiate Galactus' capitulation and retreat from our itsy bitsy third rock from a sun on the edge of literal nowhere. Hubris much, Mr. Fantastic?! 😉
Galactus' reaction to the Nullifier is so cartoonish that it immediately deflates whatever sense of dreadfulness from the outer dark he might've evoked until then. Still, it's also pretty fun, which was probably intentional (We're not in the Roy Thomas era yet, where the MU is made to start taking itself super geekily seriously).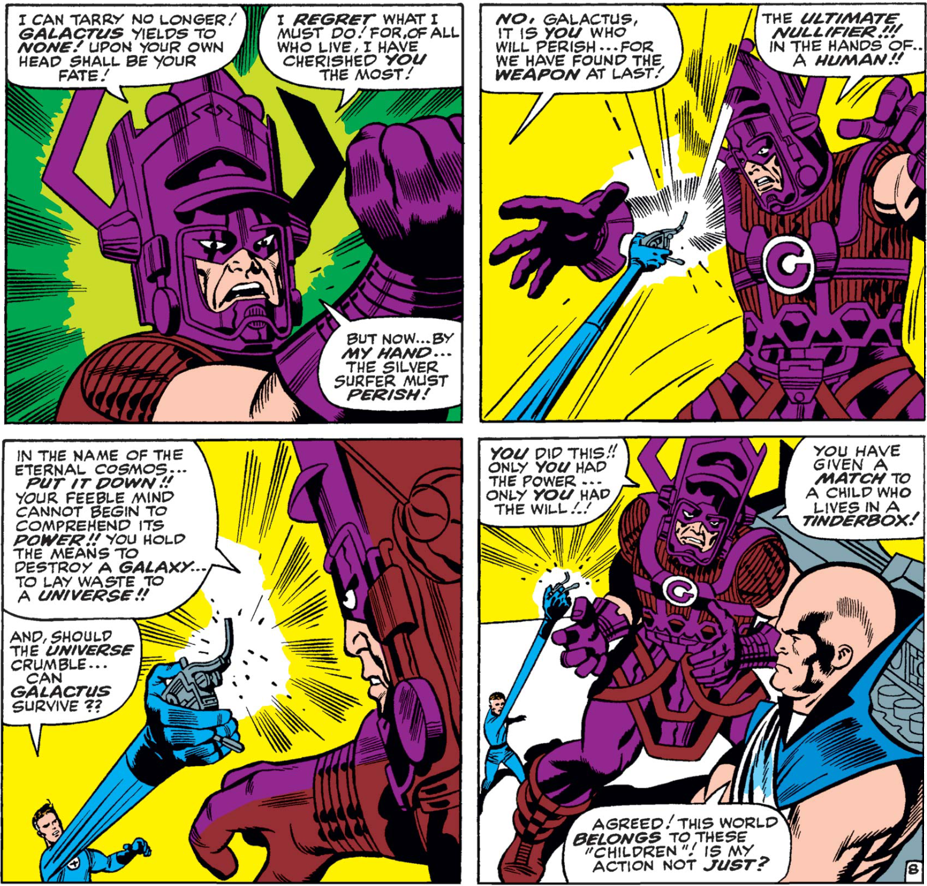 In fact, though, it's the Watcher who's really been the deus ex machina here, from beginning to end—wholly in violation of the Watcher code of ethics (which he violated in almost exactly the same way as what he did previously to resolve the much sillier, indeed really bad, cartoon brawl that took up most of Sue and Reed's wedding story in Fantastic Four Annual #3 (1965), allowing Reed to have his pick of the Watcher's armory/laboratory of exotic technology (a "Time Displacer" in that issue).
Even so, Jack Kirby has really begun to hit his mature peak here in 1966, the inscrutable designs expressive of his almost mystical techno-fetishist futurism are more excitingly embodied in Galactus' "world ship,*" Taa II.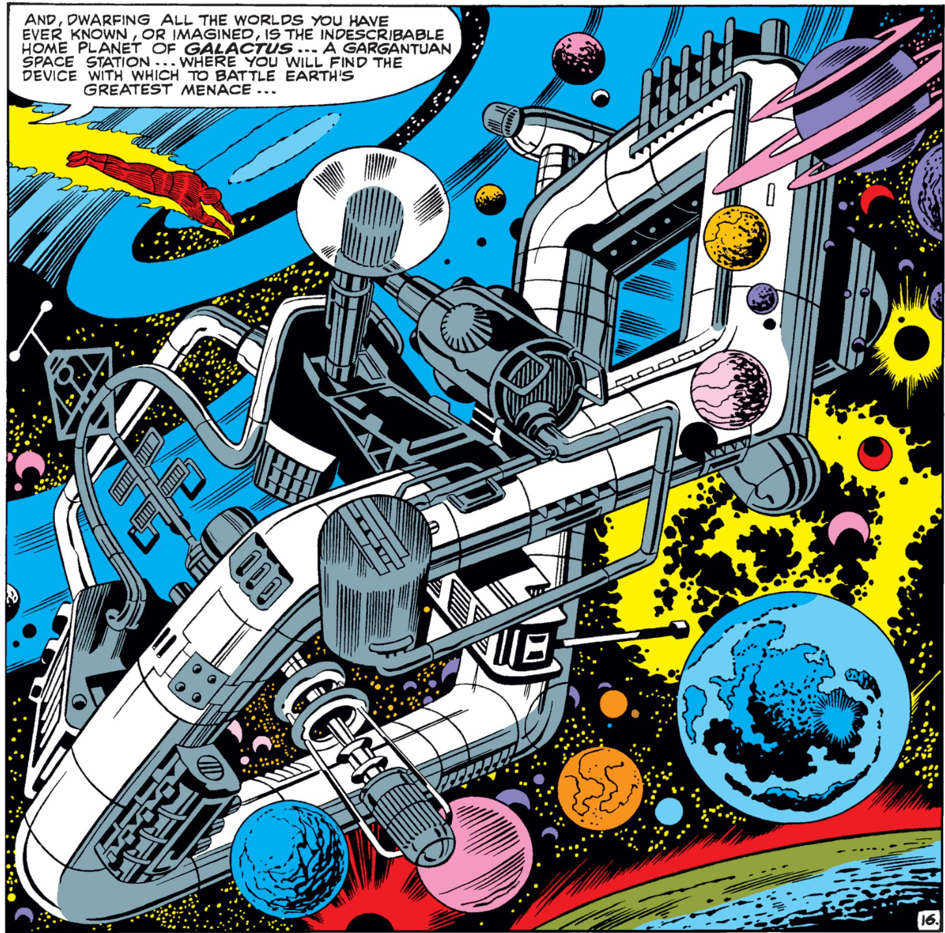 *There's a venerable SF concept! Sometimes an actual planet navigating the stars via cryptic world engines, sometimes a living world (not unlike Ego but usually without the human face!)—in one case a Discworld carried atop a vast star-swimming tortoise—and sometimes just a really, really, really big ship, like Galactus'—or, much more fascinating, Robert Reed's Greatship stories (still going strong after 20 years). The worldship has been in play since the pulp magazines of the 1930s, which surely fired the imaginations of Lee and Kirby in their youth.
In one last act, however, Galactus punishes the Surfer for betraying his duties as Galactus' Herald. Siphoning away the Surfer's "space-time powers" (different from the Power Cosmic!), he confines the alien, who is now otherwise a free agent, to Earth. And this exile from the stars lasts surprisingly long in the MU—20 years!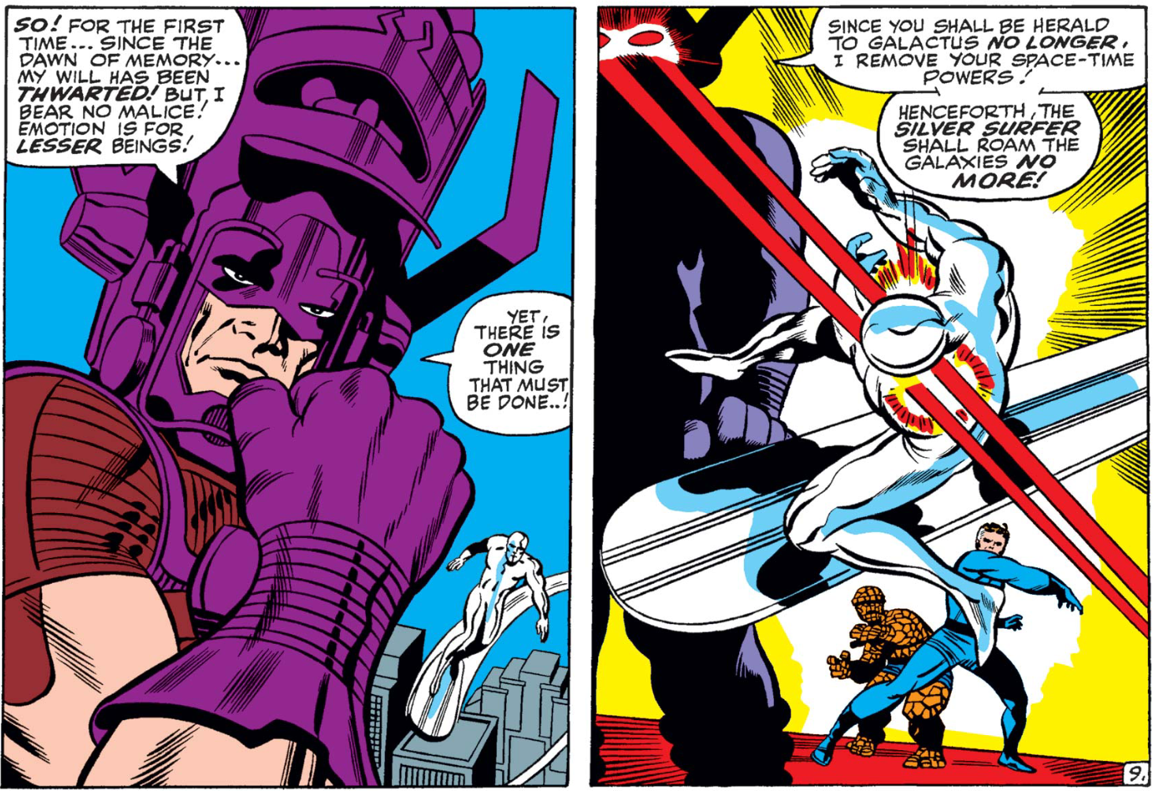 Of course, by the time Steve Englehart's 1988 Silver Surfer vol3 #1 rolls around, Marvel was just starting to pile on the steam for revisiting its Cosmic players and venues, which post-Kirby had really languished outside of the work of Jim Starlin—whose projects, however milestone, had been few and far between. Claremont's Star Wars-ified space opera homages with his development of the Shi'ar worked in this space, as well, but it was much less ambitious (though it certainly still counts in the evolution of Marvel Cosmic!).
The Surfer's brief fight sequence against Galactus is a classic highlight of the cracklin' Kirby dynamo: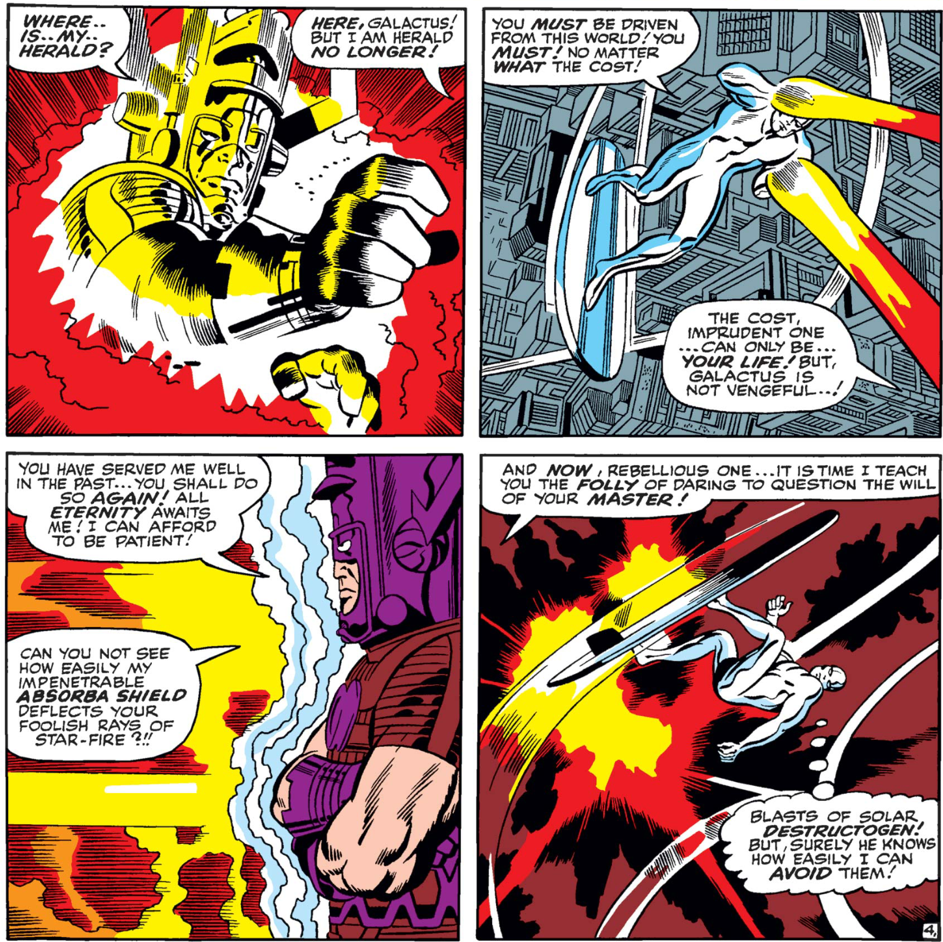 Just as groundbreaking and yet a fairly rare occurrence is Kirby's consciously pop-art photo collages: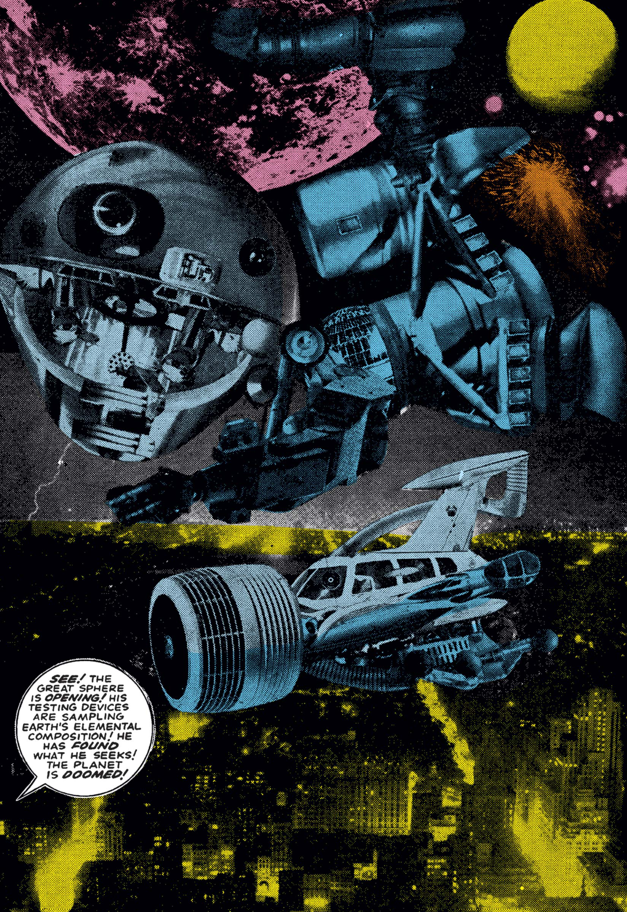 Pretty silly by today's standards, but this would have been an avant-garde delight for the kiddies of 1966. Would they have felt the doom? Probably not; just the wonder.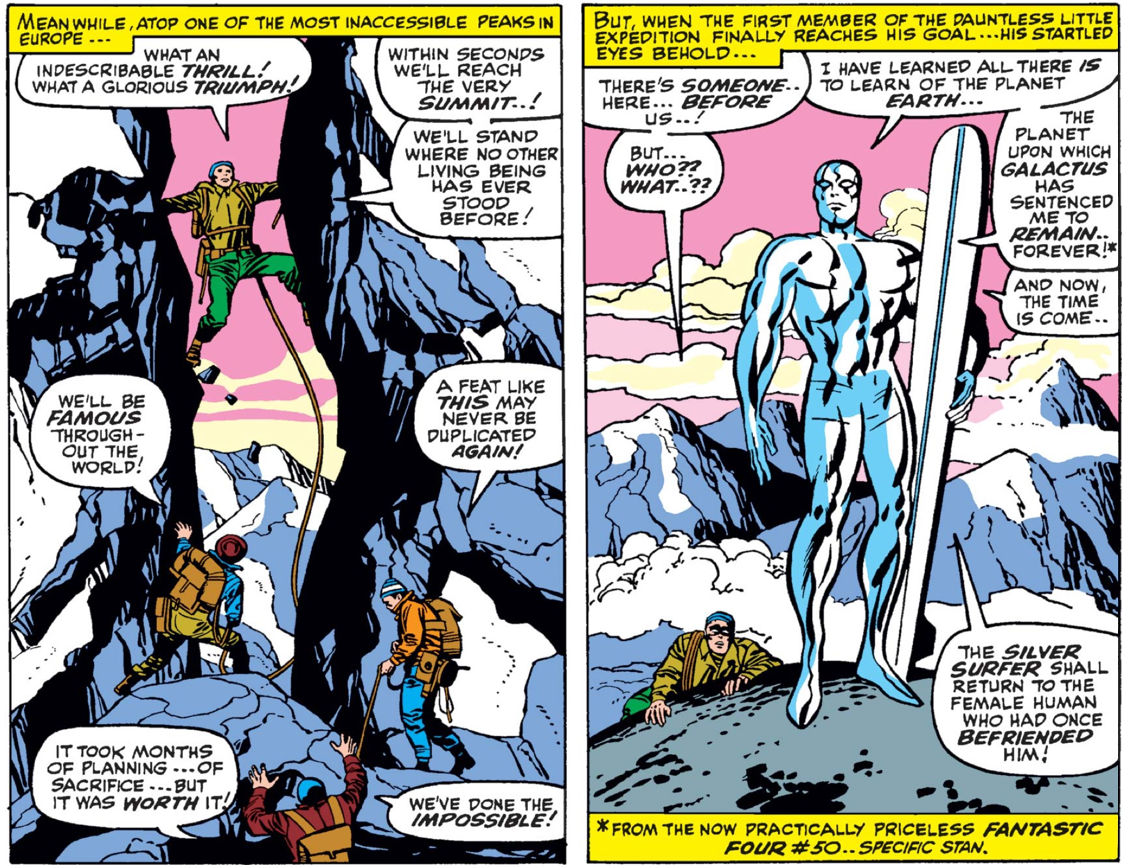 The Silver Surfer would prove the most popular non-FF character from the pages of Stan and Jack's FF (until the Black Panther finally started getting his due in the late '90s, which isn't to discount Jungle Action, his fabulous but terribly named '70s title). Just a handful of issues after the Surfer's debut, he returns in FF #55—picking up on what was clearly unfinished business at the all-too-human end of the Galactus Trilogy, with Ben's jealousy and Alicia's empathy (a quality crucial not just to her relationship with these two men but with the awakening of Adam Warlock, which we'll get to soon).
Just home from their first visit to Wakanda (see below), the FF (sans Johnny) are in for a startling surprise—especially Ben, who impatiently goes to check in on his girlfriend Alicia Masters at her apartment, unaware that the blind sculptress has been vacationing too (which, yeah, of course, absentee boyfriend!) but, shockingly, with the eerily alien Silver Surfer at her summerhouse.
Ben finally arrives, enraged with jealousy and extremely aggressive, and though of course his violence isn't directed at Alicia, his attack on the Surfer and consequent partial destruction of her summerhouse must be terrifying to behold.
The next major Surfer story arrives soon after, in Fantastic Four #57-60, in which Doctor Doom, in classic science fantasy fashion, steals the Surfer's Power Cosmic for himself! This is the first of Doom's many attempts to achieve the absolute power of a god.
II. The Negative Zone (Fantastic Four #51, 6.1966)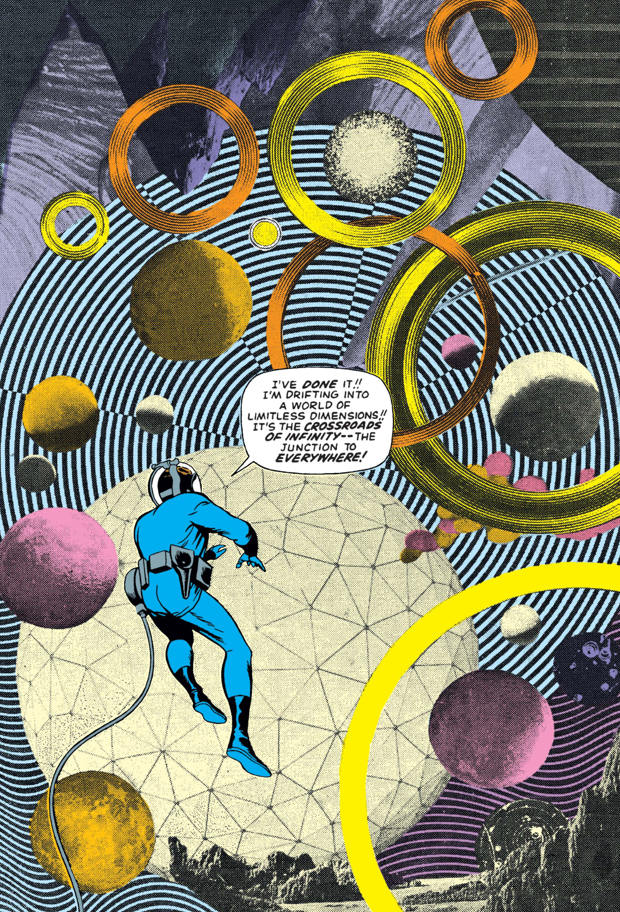 Again, this issue seems like the purest Silver Age homage to Golden Age 1950s sf and adventure comics (specifically from EC). Individual issues of titles like Weird Science were often anthologies; these tales of strange adventure and mystery each introduced a nominally novel speculative (fantasy or sf) idea or situation twists into a mood of dread or horror. Typically, they would end, rather like Fantastic Four #51, right when or after the simple plot's single twist occurs. If you've seen The Twilight Zone (initially 1959-1964) or even Tales from the Crypt (originally an EC comic), you know this format.
So, this Fantastic Four issue is well-known as the debut of the Negative Zone, but this other dimension doesn't bear any resemblance here to its subsequent appearances and development as another reality where sentients, humanoid and otherwise, live and thrive (or mostly just war and survive). At the time, this story was beloved for its modestly poignant simplicity (Stan Lee at his best) and continued visual breakthroughs from Jack Kirby (really beginning the phase that would crown him "the King" of the medium).
The story is very simple: A lone but mild-mannered mad scientist manages, through random circumstance, to lure the Thing into his apartment on a rainy night, knock him out on his sofa with a drugged coffee and then, via an inexplicable Kirby apparatus, transform himself into the orange rock-skinned behemoth. But why? Well, simply because wants to prove to the world that he is in fact Reed Richards' "mental superior," which I guess includes the ability to take out the rest of the team with the Thing's strength.
However, when he arrives at the Baxter Building HQ, he's immediately caught up in Reed's latest scheme: Richards has created a fantastic, almost Escher-esque device that will open a portal to subspace allowing him to circumvent attacks by hostile aliens who can travel faster than light (like Galactus, apparently)—basically, it's something like a wormhole, but also totally unlike.
It's a "Radical Cube," man.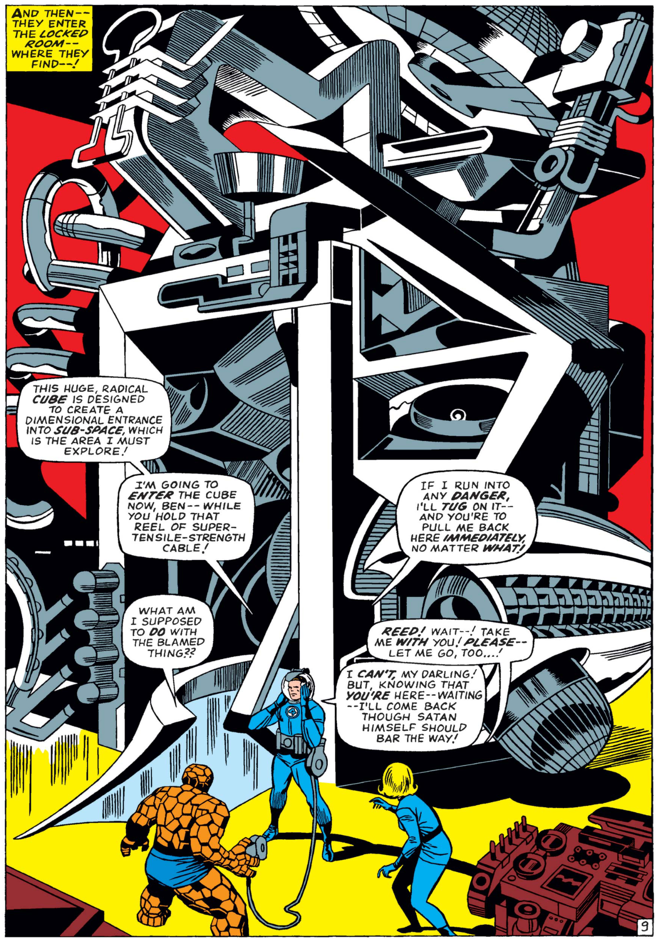 After falling through incomprehensible kaleidoscopic imagery, Reed finds himself on a small space rock, merely one of the "elements of subspace," and thus a chunk of antimatter, speeding toward Earth—presumably undetected by anyone on the planet, because this is a negative dimension overlaying our own positive-matter universe … If you know anything about astrophysics or theoretical physics, you know nothing here makes any sense!
And that's okay, because hereafter the Negative Zone will portrayed in a completely different manner. However, with Reed's tether back to the Baxter Building broken as his rock speeds onward, there's only one thing that can save him—the Thing's impostor. And surprisingly, the mad scientist does save the day, perhaps forgetting himself in his role as the Thing, whose voice and style he had already fully inhabited (probably the most impressive aspect of his unrecognized "genius" 😉); he grabs the line's ragged end and hurtles out into subspace, and after Reed reels him aboard the chunk of debris, he takes his secret nemesis by surprise, hurling Mr. Fantastic back through the portal, sacrificing himself in the process.
As soon as he dies, Ben Grimm, who had been transformed into a regular looking man, now flees from Alicia's doorstep as he reverts to the Thing.
In itself, this story in classic pulp mode is utterly inconsequential—except for the way in which Stan and Jack introduced a new concept to the MU that they could continue to develop from humble beginnings.
III. Cosmic Someday
This last section briefly covers 1966 debuts of characters, venues and artifacts that will eventually become integral to the Marvel Cosmic tapestry—although I'm going to leave out the all but forgotten Prester John, for now at least.
Prester who? Take a look at Fantastic Four #54 if you're curious! You'd never think a medieval Crusader kept in suspended animation would develop into a cosmic being—but in Matt Fraction's 2012 Defenders he's revealed as an Omega, a sentient being from the multiverse's second iteration. But it turned out that this maxi series was actually set in a parallel timeline, and since then it's had no bearing on Earth-616.
But who knows—Al Ewing's own 2021 Defenders mini did reference the Omegas of the Second Cosmos, following on from his Ultimates 2 vol2 #6 (2017), both cosmological narratives incorporating this obscurity in a very oblique wink and nod from Marvel's modern maestro of all things cosmic. The possibility for further story is at least seeded, the prime directive of all Marvel storytellers.
Note on the Collector (Avengers #28, 5.1966)
Unlike the pulpy, cosmic fun of Lee and Kirby's mid-60s Fantastic Four, Avengers was rather abysmal, especially after Kirby departed the title with issue #8. Here, we're in the midst of the Don Heck era, which is hard going after spoiling oneself on Kirby, and Stan Lee is clearly nearing exhaustion with the team that wouldn't really find its footing for years to come (Roy Thomas takes over in 1967 for a very long stretch). Heck's wooden style and the sheer silliness of the plot make the preeminent Elder of the Universe's debut one of the worst Marvel Cosmic debuts of the Silver Age (the Lee/Kirby, one-and-done X-Men #10, introducing the Stranger, is a masterpiece by comparison 😉).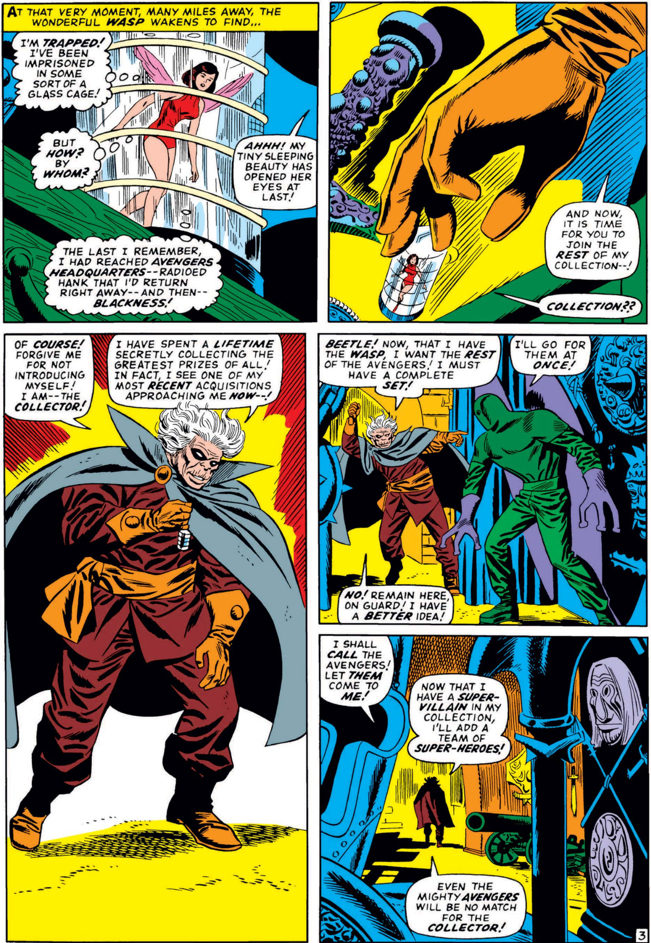 [art by Don Heck and Frank Giacoia]
The Collector here appears as dry and withered as Heck's competent but very dry house style. In fact, while later artists would decompress his curmudgeonly face a bit, he'd retain his wizened look until everyone knew Benecio del Toro would be playing the character, starting with Thor: The Dark World (2013). But the Collector's cosmic player status wouldn't be fully established until "The Korvac Saga" (Avengers #167-168, 170-177 by Jim Shooter and George Pérez, 1977-1978).
In Avengers #28, though, his highest ambition is to partner with C-list crook the Beetle to kidnap the Wasp, for his collection; foiled, this undynamic duo flee Earth's Mightiest via time travel. Trying again in issue #51, the Collector aims to collect the whole team, after tricking Thor into imbibing an obedience potion. And so he's recycled, always with the same scheme, for one-off issues in sundry titles—a far less interesting version of Brainiac!
Note on the Cosmic Cube (first appearing in Tales of Suspense #79, 4.1966):
Despite its name, there was nothing cosmic about the Cosmic Cube until years later in its publication history, with Jim Starlin's classic "Thanos War" (1973), a watershed moment in the evolution of Marvel Cosmic.
So, we'll cover it more at that point, but for now, let's briefly look at the nature of the Cube before Starlin: Here in 1966, the first such artifact by that name was a creation of the mad scientists at A.I.M., apparently made to be given to the Red Skull. There, it was "simply" a device that allowed its wielder's wishes to become reality, instantaneously—pretty awful in the Skull's hands, though he seemingly gets himself killed before he can satisfy his vengefulness upon Captain America.
[Tales of Suspense #79 b story, by Stan Lee, Jack Kirby, Frank Giacoia, Artie Simek]
Much later, it will be discovered that from the moment of its creation, the Cube was in fact a living sentience in potentia (I don't know if the standard "in embryonic form" is the clearest phrasing here). All such Cubes are like this; this one will be revealed as Kubik, who debuts as such in 1983's Captain America Annual #7. Although the MCU has a prominent Cube analogue—the Tesseract—it doesn't appear to contain anything other than an Infinity Gem—a big deal in its own right, of course, but very different from the comics!
Also not revealed until decades after its 1966 debut, each Cube is created by siphoning off cosmic energies from the Beyonders' dimension. We'll pick up on these various threads in the Cube's development as we move along—or maybe it'll get an article on its own, as this is probably the most complexly storied (i.e., headache-inducing) artifact in the MU.
Note on Wakanda (debuting in Fantastic Four #52, 7.1966):
The Intergalactic Empire of Wakanda is, of course, a very recent innovation, but the African techno-utopia familiar to fans of the past 25 years of Black Panther comics will find a strong precedent for much of that here in Wakanda's 1966 debut. However, the African-ness of this venue, while not bigoted and in fact rather against the grain of many contemporary American ideas about Africa, is still coming from a place of profound ignorance or, worse, a willful decision to have the first society of Africans in the Marvel Universe appear as one-part exoticizing Nat Geo photo shoot. This would be a likely choice on Stan and Jack's part for striking a greater contrast with the extravagant chic or fetishization of Kirby's technological designs—which here are all about sleek jet transport and defensive gauntlets securing the land and the royal palace.
In Black Panther comics of the past generation, we see Wakandans actually working to keep society running; there are scientists, engineers, politicians—and while of course, there should be even more variety (though that's often a tall order for most mainstream superhero titles), back in 1966, there are just people milling about and/or wearing ceremonial dress, either for the arrival of the Fab Four or simply because that's how they always comport themselves around T'Challa. In other words, this early view of Wakanda is still one of stasis, despite the technological wonders Kirby's pen brings to it. It's all far more chic '60s design than provocative portrayal of a nonwestern venue. That said, it would've been exciting to readers of the day, with the wonderful visuals and just as important, the drama of Ulysses Klaw and his imperialist violence; however Stan and Jack's irreverence at the time has aged, it would have been a heady experience for kids (including those at college, Marvel's core readership then) reading this as it came out: being excited about this African setting depicted in an enticing, positive light (however unmoored from any real notion of Africa) that they likely weren't getting elsewhere.
The Fab Four getting a mysterious invite from an African king by way of an elegantly attired emissary flying to them in the high-tech whiz-bang hovercraft-like jet-thingy that's also just a gift on the side would've been a marvel to behold, as if the young reader herself was getting an invitation to far-off adventure to a place that maybe could exist in our world…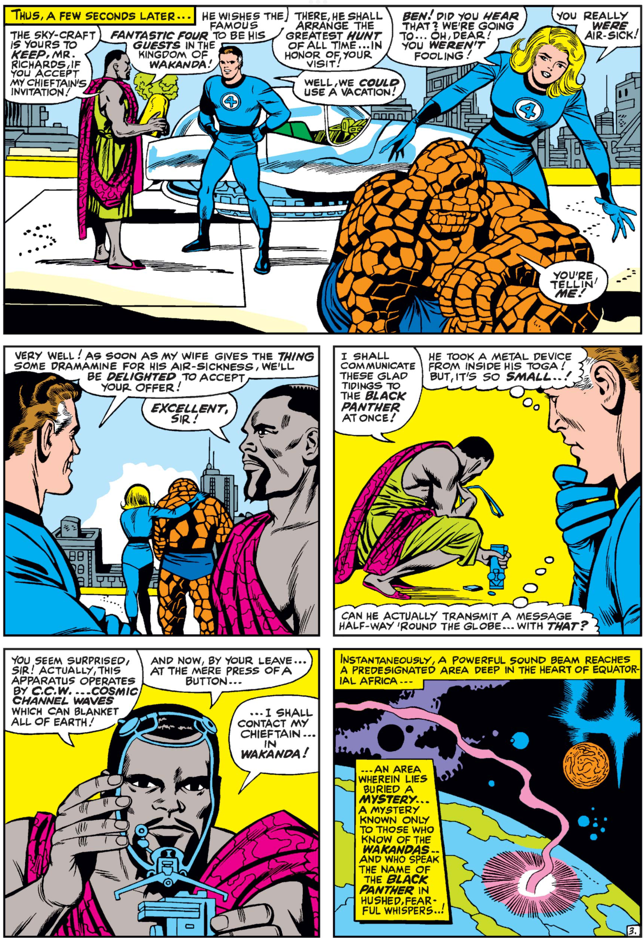 To be clear, though, Wakanda as originally conceived was not Afrofuturist, but rather exoticist—even if mildly so relative to pop culture of the time. Whatever the case, Wakanda's origins and the mixed feelings they evoke are beyond the purview of this essay, but there is and will continue to be much fascinating material to mine there, both in the comics and our broader comics culture.
If you have Marvel Unlimited and haven't at least looked at the original designs for Wakanda here—do so now! Wakanda's high-tech aspect has rarely been evoked with greater zany wonder than; indeed, after Kirby (and his 1975 Black Panther solo series, which was sadly pretty bad), most storytellers for the next 25 years made the kingdom a venue for a grittier style of storytelling, focused much more on the political conflicts than the technological marvels of this African utopia. And of course this gritty "realism" was part and parcel of larger trends in the medium, which have only started to recede in the last decade.
NEXT: Kirby and Thor's Mission to Space, 1966