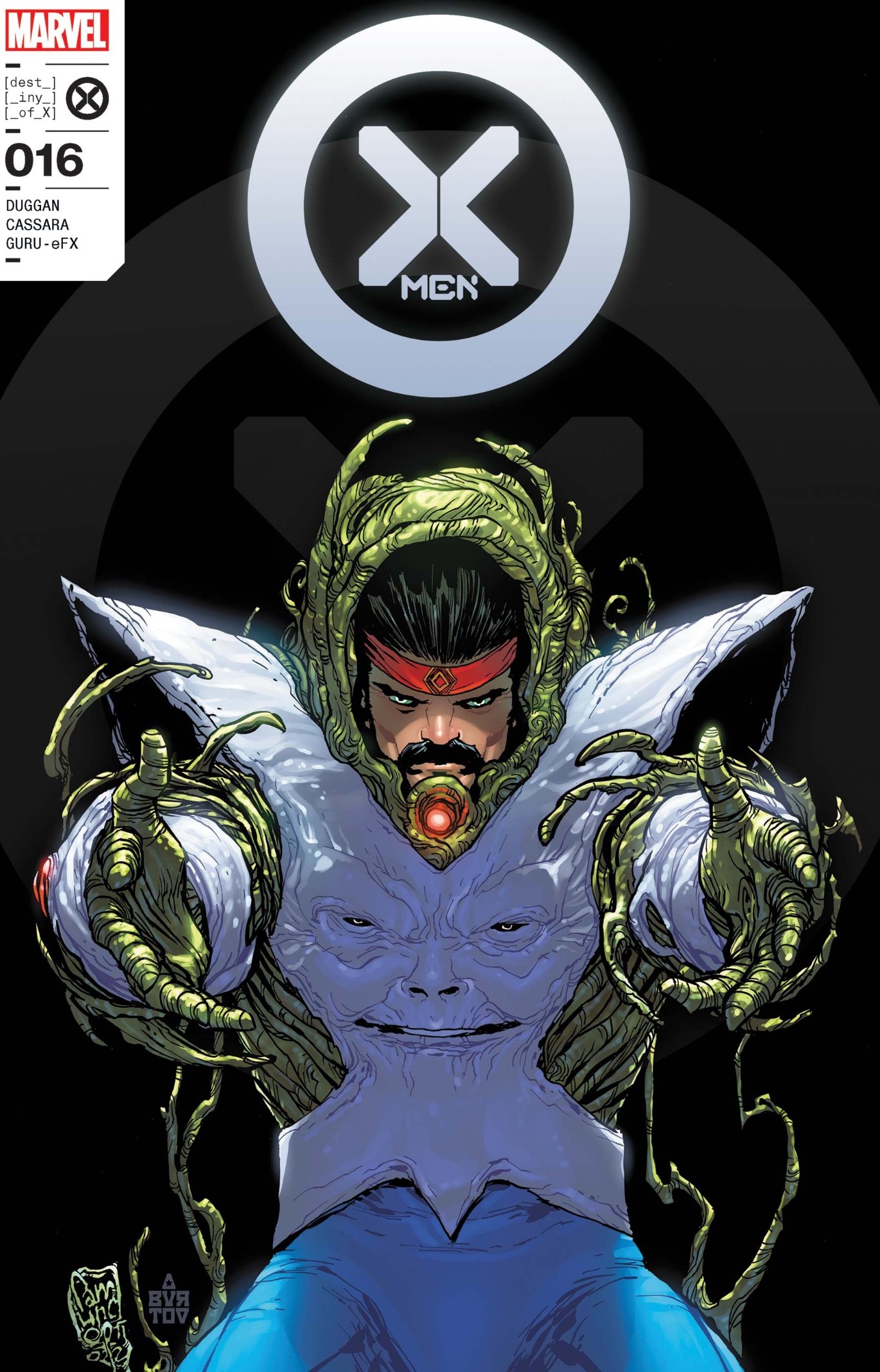 Credits: Gerry Duggan writes; Joshua Cassara arts; Guru-eFX colors; Clayton Cowles letters; covers by Martin Coccolo (#15, #17), Giuseppe Camuncoli (#16) with colors by Jesus Aburtov (#15-16) an Neeraj Menon (#17)
"Collapse Theory" / "The Mutant We Left Behind" / "Size Matters"
This three-issue Children of the Vault arc is the first Forge-centric story we've had in many years, and it's three issues! Granted, it's not entirely focused on Forge, but this was a major spotlight for the character, albeit not exactly the most flattering one!
For 21st-century readers who know that Forge (birth name unknown) is a Cheyenne Native American but don't understand why he's never depicted as connecting with his heritage, Claremont's foundational work with the character will show you his fraught relationship with his cultural upbringing. Forge's limelight is pretty much restricted to the Claremont run, especially in the years after his 1984 debut in Uncanny X-Men #184, (also Rachel Summers' fourth ever appearance and Selene's fifth—foundational indeed!). There was also Howard Mackie's late-stage X-Factor run of the late '90s, really the last gasp for Forge fans.
If you're pressed for time and want some wonderful audio entertainment instead, I highly recommend checking out Connor Goldsmith's recent Cerebro episode on Forge with guest Josh Trujillo, comics writer for Adventure Time, Captain America, Rick and Morty and most recently Blue Beetle, as well, and also part Cheyenne himself.
Here we can say, long story cut much too short, Forge sees himself as a man of science and technology who wants nothing to do with the very real mysticism that was part of his upbringing as a shaman in training. And the devastating trauma behind this aversion at least seems mostly unrelated from more fraught territory that white writers like Claremont and after were not prepared to deal with, that is, those all-too common stories of white society nearly wholesale destruction of indigenous culture and the tortured process of assimilation, which has frequently involved much self-shame and even hatred while white people look on oblivious (speaking as someone whose family encompasses both perspectives in the long history of Southern poverty, and I certainly don't feel equipped to this story from a Native (Choctaw and Cherokee) perspective, either).
Forge's personal story treads more lightly over the history of white genocide against Native Americans, although Claremont certainly acknowledged the reality as far as comics of the time would allow (which was far more than most creators back then), and instead focuses on his experiences in the Vietnam War—something many Americans of all colors would have identified with less than a decade after the US defeat and withdrawal there (much more disastrous even than the tragic chaos of our pullout from Afghanistan*).
After losing a hand and leg in a "friendly fire" B-52 attack, Forge called on his abilities as a mystic and, utilizing the souls of his dead comrades all around him, summoned the Adversary to kill enemy soldiers as they closed in on the bomb-devastated area. The cost of summoning a chaos demon? His fallen friends tormented eternally in a hell dimension, apparently. To be clear, though, this was a decision he made during an unimaginably horrifying trauma—in excruciating pain, rage and fear in a foreign jungle at night. Add to that, Forge's subsequent horror and desolation at his own knee-jerk reaction.
He had so much power on call, and the first time he really used it, it did not go well for anyone—except that he lived, albeit with horrific survivor's guilt. So, yeah, he swore off the magic after that. And as a mutant techno-genius, he built himself some gloriously chrome prostheses, proud of his (lightly) cyborg nature now.
So, when you look at Forge and think, Oh, there's that techy quad squad jock, there is a lot of pain that went in to making this Tony Stark of Krakoa.
[Read more…] about X-Men #15-17 in Review—Return to the Vault!