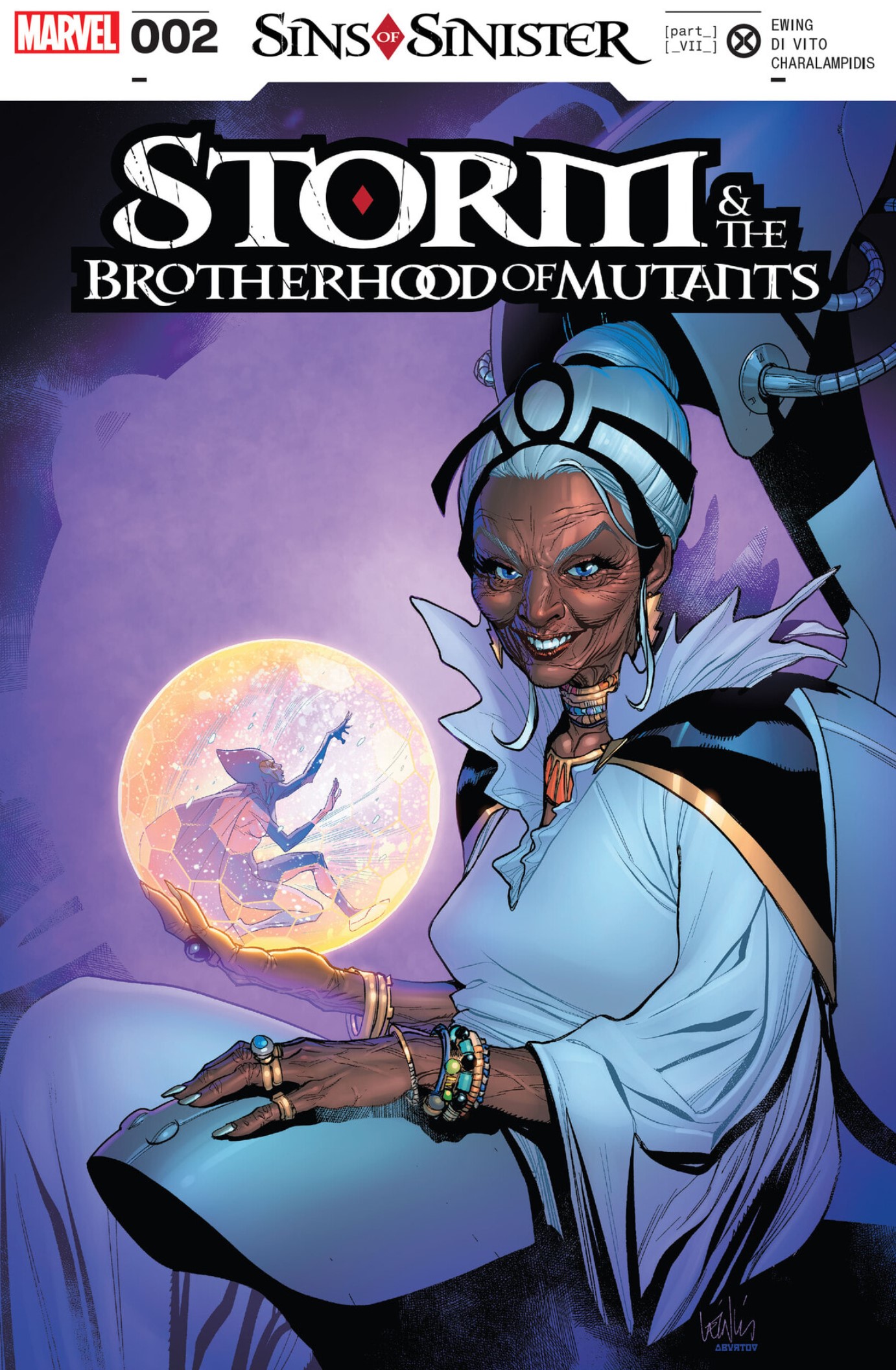 "No Hope"
Credits: Al Ewing writes; Andrea Di Vito draws; Jim Charalampidis and Rachelle Rosenberg color; Ariana Maher letters; cover by Leinil Francis Yu and Jesus Aburtov
SPOILERS AHOY!
Mystique certainly comes off far better this issue than Destiny—finally! And Irene's death by Khora here is quite a relief; she's played her bit at this point. Mystique's last words to her—"If you love something, set it free, Irene"—are the best we've got from her at least since Hickman's early Krakoa days.
Raven's break with Destiny, free from being an eternal "keepsake in her vault," and her heroic last stand against Sinister's forces are crushing blows to Destiny's fragile ego—at which point, she really is done.
Support For Comic Book Herald:
Comic Book Herald is reader-supported. When you buy through links on our site, we may earn a qualifying affiliate commission.
Comic Book Herald's reading orders and guides are also made possible by reader support on Patreon, and generous reader donations.
Any size contribution will help keep CBH alive and full of new comics guides and content. Support CBH on Patreon for exclusive rewards, or Donate here! Thank you for reading!
We heard mention of Mystique's Freedom Force in Immoral X-Men #2, where Hope reported her death off-panel—quite the bomb-drop considering this entire alt future exists not simply because of Sinister but Destiny's fear that any other future timeline would've had her losing Mystique. Well, in this time, she did get to be with her for 100 years! That's better than anyone else gets, right?
(Mystique's Freedom Force here is a true rebel outfit, but her original team of the same name, which had Destiny as a member as well, was anything but; it was a tool of the NSA and Val Cooper. Debuting in 1985's Uncanny X-Men #199, it also included Blob, Pyro, Avalanche and, best of all, Spiral. The inclusion of Hercules and (a female) Nova in this alt future version is an homage to Ewing's Guardians work, but including the Arakkii Sevyr Blackmore is a nice rando pick from Percy's Wolverine.)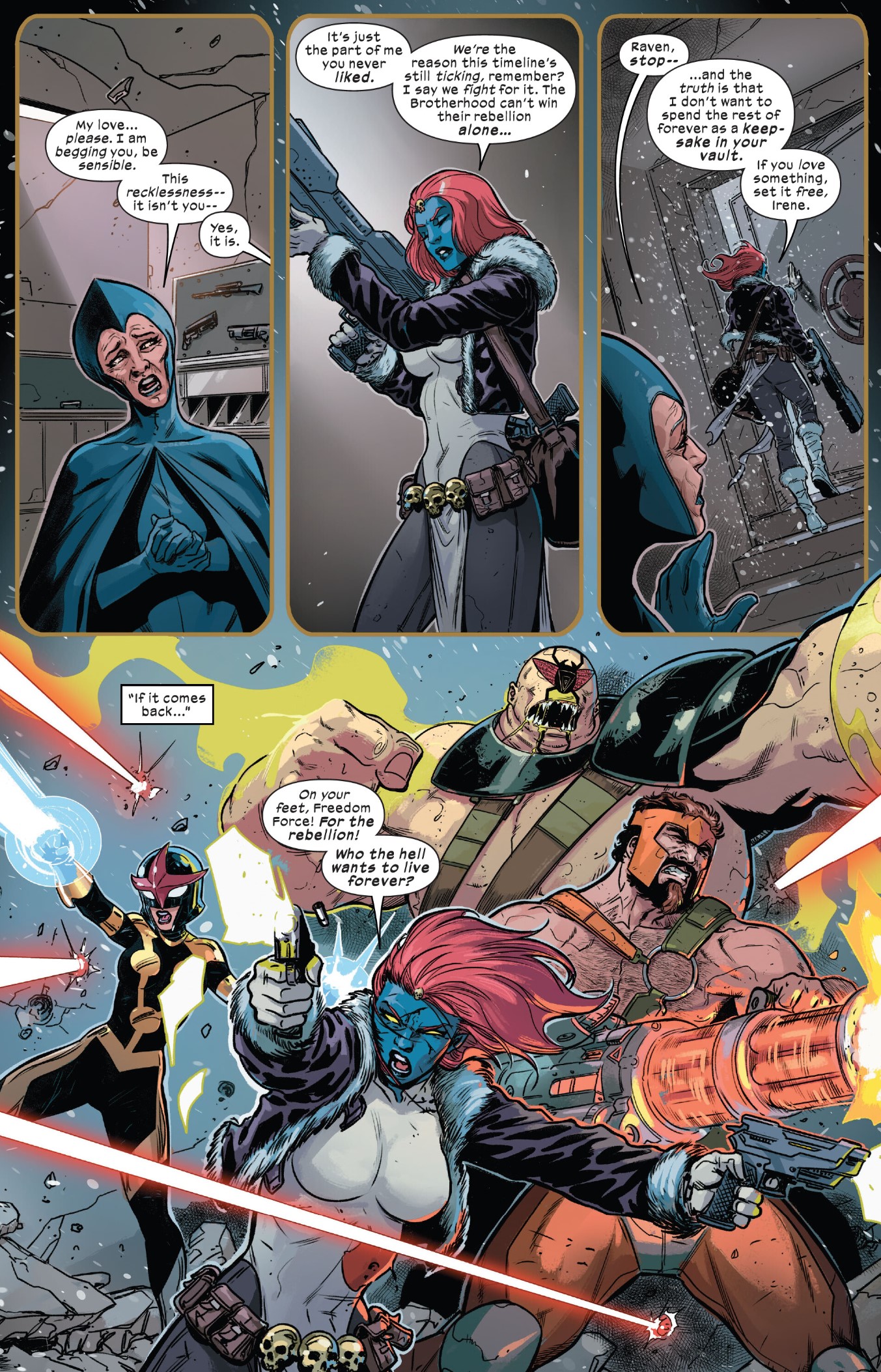 But of course, now Destiny wants out—bawling that she's lost "everything," directly comparing this loss with the destruction of Earth and Arakko and the near-total Sinisterization of her own species. At this point, I hope we can say we've all had enough of her nonsense. Goodbye, Destiny of X! Seriously, she's little better than Moira.
So, when will we get Storm of X???
Well, it won't be in the "Sins of Sinister," clearly (although, who knows what Year 1000 will bring in April), so it'll have to be after "Fall of X"—but I sure hope Al Ewing writes it. We need some more cosmic storms!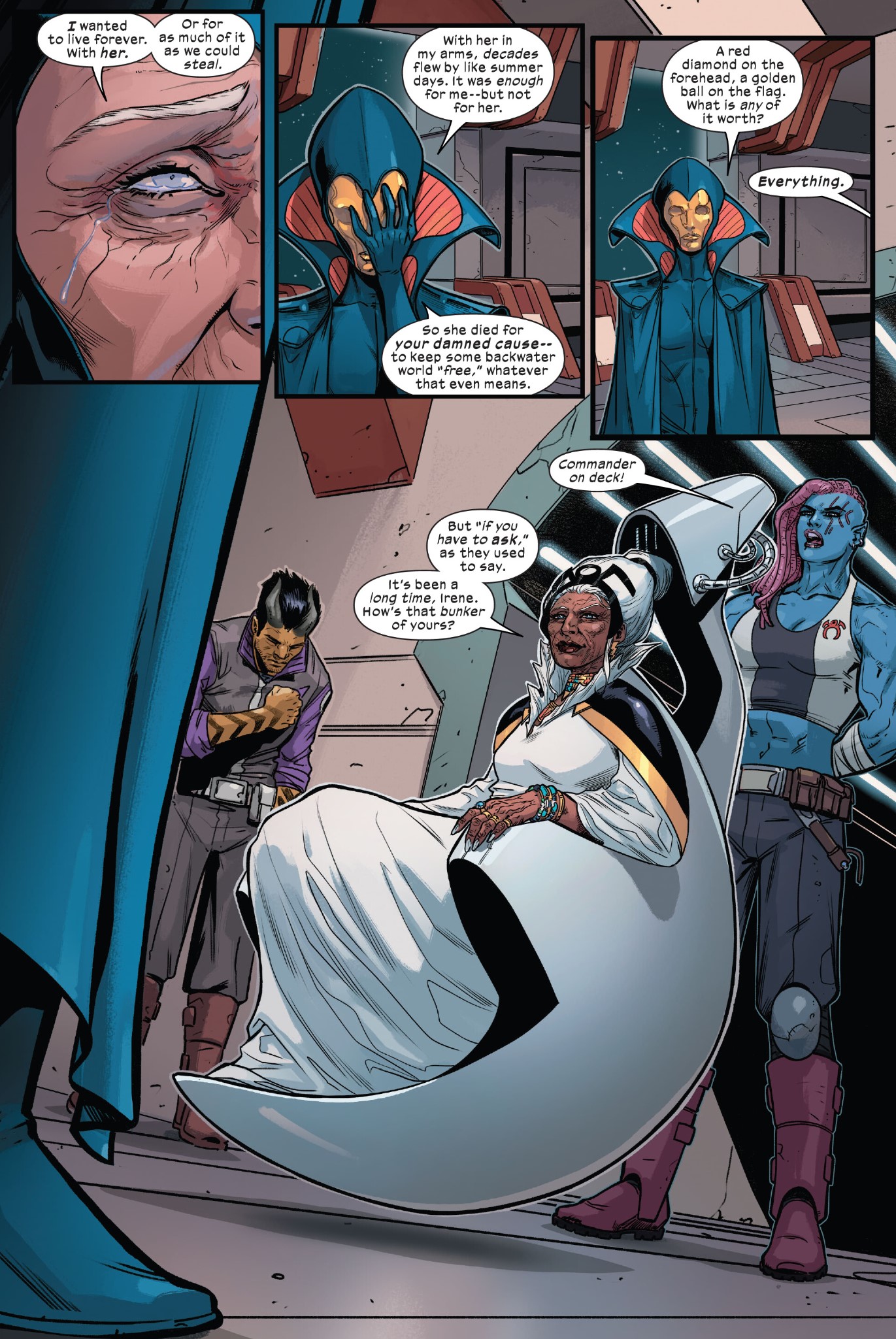 In Immoral X-Men #2, we heard about the Interstellar Compact of Marvel's major cosmic empires allying against the Red Diamond forces, but here we get the first mention that Orbis Stellaris is behind the alliance, which we can expect to be well and truly done when we jump to Year 1000. Orbis' powerbase is effectively neutered by issue's end with Storm's sublime heist of not just Sinister's lab but the entire World Farm (and its Progenitors); cutting all life support, he kills his minions, but will he himself survive? Regardless, he seems to be out of the game for good. His plans for "Dominion" are shattered.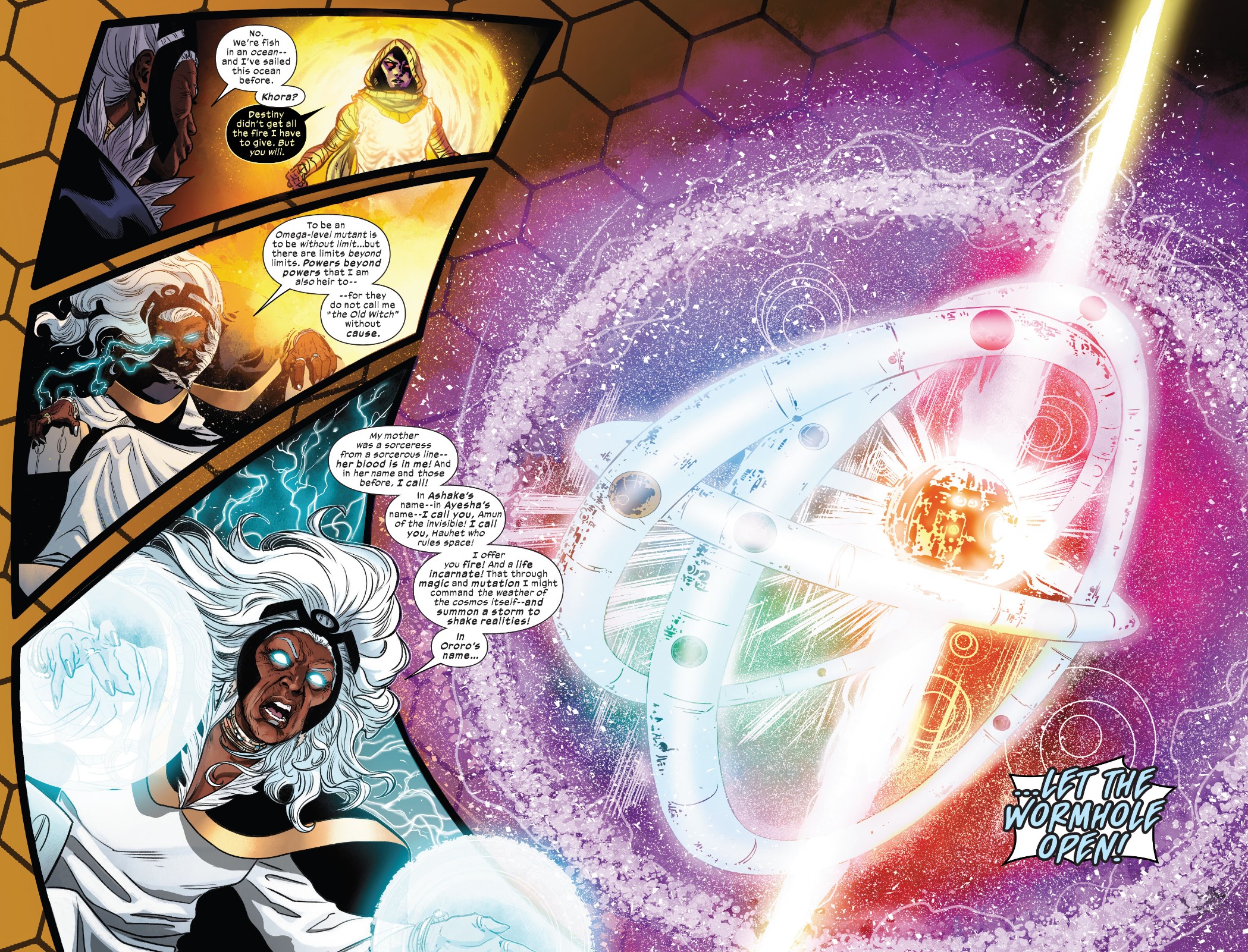 Why "No Hope," then? Because Storm's dead, of course, burned out from opening the wormhole that swallowed a star-system-sized construct. And how the heck did she manage that? I wonder if her sorcery was boosted at all by her omega mutant power, or whether it was "just" Khora's own power amplification. Regardless, Storm does have an established "sorcerous line," going back to 1985's New Mutants #32, wherein Magik and Dani Moonstar time travel to ancient Egypt and meet Ashake, ancestral sorceress of Ororo. Also mentioned here is Ayesha—not the onrece latively well-known cosmic female counterpart of Adam Warlock, but the Rain Queen of Balobedu of the Hyborian Age, 10,000 BCE, i.e., Conan's age. She's only ever been mentioned once in the comics, 2007's Marvel Tarot #1, which reported that she served as Earth's Sorcerer Supreme for 4000 years, following a great mage battle for the honor. So, yeah, that's no mean lineage (Amun and Hauhet, however, are two of the eight primordial Egyptian gods)!
Of course, it was 1983's Magik miniseries written by Claremont that established Storm as a powerful sorceress in old age, in the alternate future in Limbo in which she was trapped with Illyana and lived out the rest of her life.
By the way, in the climax of Old Woman Storm's electric speech, she does grand homage to her lost friend Jean Grey: "I offer you fire! And a life incarnate!" echoes Jean's debut as Phoenix in Claremont's X-Men #101.
What other goodies do we get this issue? Another Ewing favorite, Noh Varr (the erstwhile Marvel Boy) is still alive, another Old Man. He appears to be one of Storm's top commanders, and he has always known his way about a space opera venue, so that makes sense. He's now adopted the title of Accuser, which is funny (Ronan's the most well-known Kree to have taken up this role of judge and executioner or whatever). Destiny's own starship is the Ananke, named for the Greek serpent goddess of Fate, or Necessity; that's apt enough. It's amazing how long-lived everyone is here—Jon Ironfire, Khora of the Burning Heart, although Cable/Xilo (now "X-Man," lol) is no surprise (AoA Nate Grey had a long-running late '90s solo title as X-Man, despite never really going by that name).
Ganna, aka Shockjock, is new; seems like she could be a powerhouse. Will she be more than a one-off?
Destiny's last stand shows us how her power might be weaponized in the field: She envisions a victory against Orbis in his giant starship Dyson sphere, and this vision is boosted by Khora, which Cable reads telepathically, as he broadcasts it to the other X-Fighters, essentially mapping out their tactics for them—basically a self-fulfilling prophecy in the heat of battle. (The Star Wars homage is heavy here, as the rebellion's fighter pilots go up against the Death Star of Orbis' great orb.)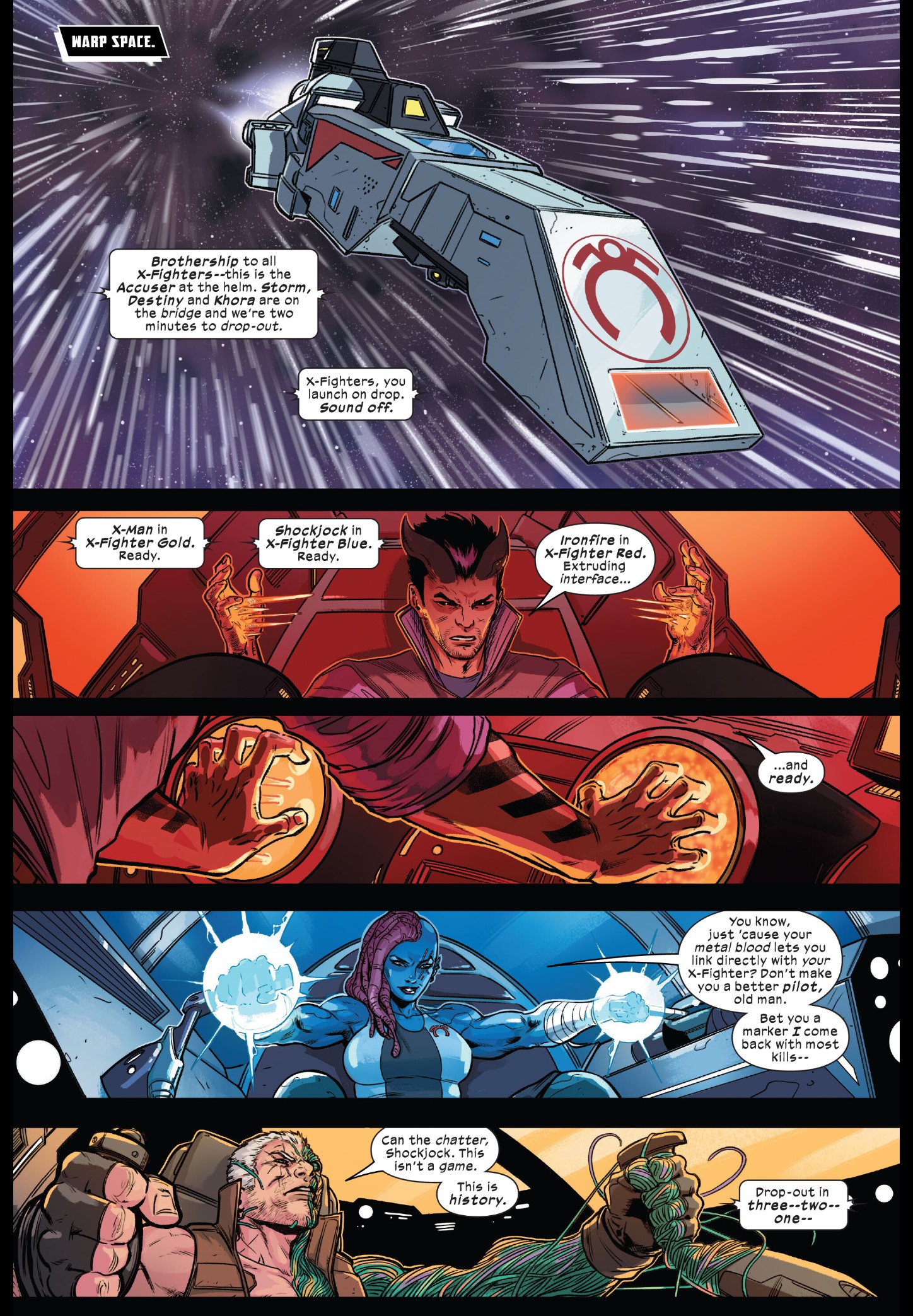 [Love how Storm's classic tiara has been recast as an Omega-style symbol on that starship.]
Of course, there's an inconsistency here with Destiny's powers, right? Fundamental to Moira's narrative and the Destiny Diaries, and many other stories besides, is that Irene can see past her own death—but here, Storm is fooling everyone that she intends to reboot the timeline (and it's questionable her explosives, however powerful, could have breached the Unus barrier around the Moira lab with absolute certainty). Destiny should've been able to see through Storm's ruse. So, how do we no-prize this? Ororo's sorcery!!! And hey, that aspect of her powers is in play here, so… hell yeah, let's go with that.
Now, why doesn't Storm want to destroy this timeline? The unwillingness to destroy a universe, no matter how broken from our perception, or Destiny's, or Earth's, is perfectly in line with Storm's character historically. And it's the same with her swearing off resurrection, which she did much readily than Magneto (remember, she's never died until now).
Mother Righteous shows up for a page, trying to glom onto Ironfire's faith in Storm. More interesting is Ironfire mentioning his backstory with Storm in the mysterious Genesis War (sometime before Year 10). But she's actually there, astrally, to "watch the show," this stage of the war that she claims "proves her right." I think we can take this to mean Storm's use of magic in taking out the cosmically science-minded Orbis. She'll be hoping (perhaps quite literally) for the same in her final push to crack the Moira lab and/or achieve her own version of "dominion."
In the meantime, the World Farm will become the next Arakko… Can't wait for Year 1000!
Re: the pop sci-fi homages, I've seen fan comps mapping Star Trek homages onto Gillen's Immoral X-Men and Star Wars homages onto Ewing's Storm & the Brotherhood—but that is much too programmatic for these great storytellers. Sure, the nods to these properties are there, but so are other ones, mixed in throughout! In a CBR interview last December, Gillen said each time period would comp with different well-known venues or styles: cyberpunk for Year 10, "evil Star Trek" for Year 100, and (most titillating of all)"the operatic, gothic vibe of Warhammer 40,000" for Year 1000 (Gillen has written some comics for this franchise, as well). But that was Gillen speaking.
Shortly after, Ewing had his own CBR interview, where he said "instead of cyberpunk, my +10 is a near-future 'squad of outsiders take on the dystopia' story. Instead of Star Trek, my +100 is Star Wars or maybe Buck Rogers. And +1000 is taking that Warhammer feel […] and telling a kind of far-future-Camelot story about a heroic last stand against impossible odds and the importance of hope. So I guess it's like Transformers: The Movie." So, basically, as good storytellers, they have their influences and inspirations, but there is nothing so programmatic as any kind of one-to-one correspondence going on.
In January, Spurrier had his CBR interview, and it's his response to the comp question I like best by far: Nope. No, thank you. That is all much too reductive to be of any interest to me. Spurrier's interest is in overarching themes, one for each era. Still, he says, "If it's references you want, there's a lot of A Canticle of Leibowitz here." Seriously, check out the link; what he has to say should have anyone on the fence appreciate his work more.
That said, we are clearly building up a surprising hagiography in each mini: Gillen has Exodus kill off Hope in establishing his own kind of Sinisterized imperial mutant church; Spurrier has Mother creating her own kind of cynical religion, with Wagnerine as the "apostate," which in turn could take on greater religious significance here; and Ewing has made an unintentional martyr of Storm. If I were pressed to subscribe to faith in anything here, it would obviously be to Storm Messiah—so let's get it rolling on already! Bring on what is…
NEXT: Year 1000, part 1—Immoral X-Men #3