The Phoenix is one of the coolest cosmic entities in Marvel Comics, with inextricable codename ties to the X-Men's original Marvel Girl, aka Jean Grey.
Despite Jean's associations as Phoenix, the fiery bird of retribution has played a role across the Marvel Cosmos, and has a history dating all the way back to the era of Avengers B.C.
!
Below you'll find a guide to the best Marvel stories starring the Phoenix, and no, I didn't just write "The Dark Phoenix Saga" ten times in a row. From Jean to Cyclops to Wolverine to Thanos, here's your guide to Phoenix comics.
Related Reading Orders:
Support For Comic Book Herald:
Comic Book Herald is reader-supported. When you buy through links on our site, we may earn a qualifying affiliate commission.
Comic Book Herald's reading orders and guides are also made possible by reader support on Patreon, and generous reader donations.
Any size contribution will help keep CBH alive and full of new comics guides and content. Support CBH on Patreon for exclusive rewards, or Donate here! Thank you for reading!
The work Chris Claremont and John Byrne did together on Uncanny X-Men receives tremendous accolades, but perhaps nothing more so than "The Dark Phoenix Saga" (maybe "Days of Future Past" comes close). While the issues of Uncanny that deliver the actual "Dark Phoenix" part of the story are fantastic, one of the coolest things about the saga is that it begins building dozens of issues earlier in work by Claremont and artist Dave Cockrum.
This entire era of X-Men is a must-read for any Marvel fan, but it's the story of Jean Grey and the Phoenix, her resurrections, atrocities, and sacrifices that stands up as the best the X-Men have ever seen.
In one of my favorite cover blurbs of all time, Excalibur #25 proclaims "Galactus is coming to dinner… and Phoenix is the catch of the day!" I'm not sure why a fishing metaphor was the approach for a Phoenix-as-dinner gag, but I'm reading that comic entirely based on the set-up either way.
Rachel's time as Phoenix is an interesting one, including moments in Uncanny X-Men such as the Secret Wars II crossover where she fights the Beyonder. This power level and status extends into her lengthy run with Exaclibur. It's worth noting this particular showdown comes packaged along with Exaclibur's "Cross Time Caper," a lengthy timey-wimey affair for the unit of Phoenix, Kitty Pryde, Nightcrawler, Captain Britain, and Meggan
Despite the focus on the aspects of a cosmic force, I do think it's valuable to enjoy some of Jean's 90's adventures as the codenamed Phoenix. Her love story with Scott Summers, aka Cyclops, is frequently at the heart of Phoenix stories, and few moments get closer to some actual "good" times than the wedding of Jean and Scott.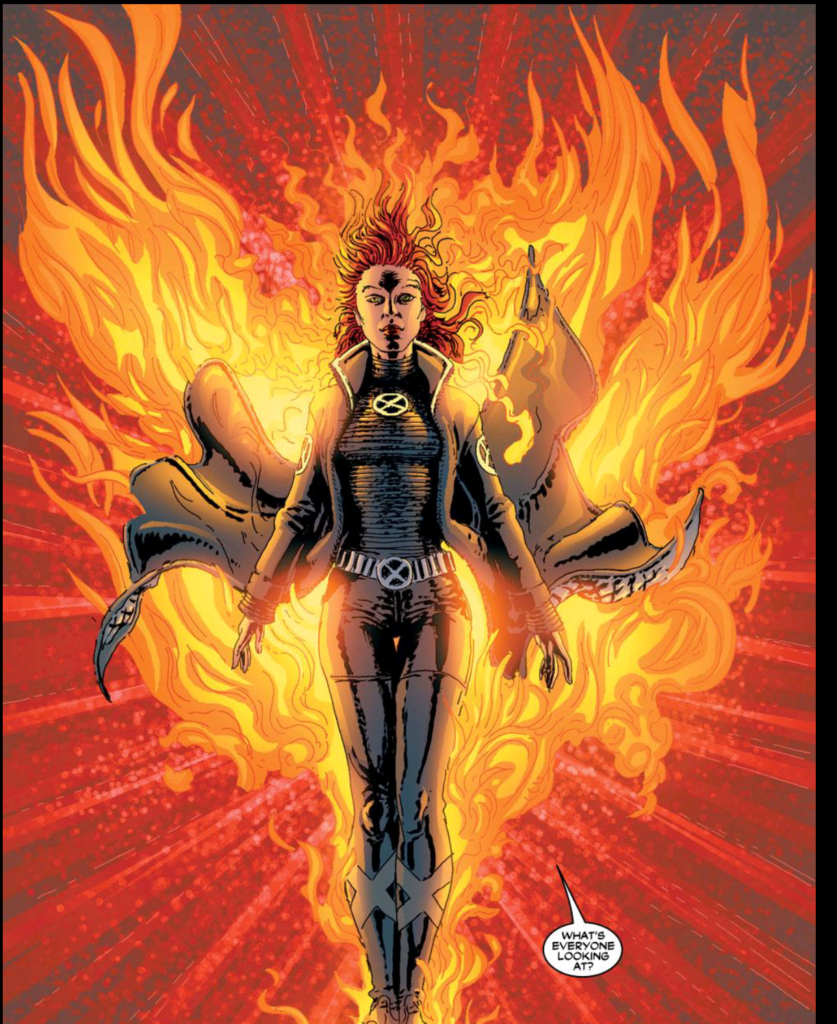 Grant Morrison's most famous Marvel work, the 2001 to 2004 run on New X-Men culminates in a series of stories that find Jean and the Phoenix reconnected (in a matter of speaking). It's a must-read for a lot of reasons, but Morrison's take on Phoenix defines Jean Grey for all of the 2000's.
Technically you could jump straight to the New X-Men: Phoenix in Darkness
 portion of the run (issues #146 to #154), but you should be warned that you'd essentially be jumping in to the third act of a movie. The concluding arc is a jump into a future timeline ("Here Comes Tomorrow") that casually teases the development of the phoenix egg – an idea that would resurface in Secret Wars (2015).
Greg Pak and Greg Land follow up on the apparent demise of Jean Grey, addressing the seemingly endless cycle of death and rebirth that comes as part of a bond to the Phoenix force. Fans of this chapter would do well to following the narrative into Phoenix: Warsong
, another five issue miniseries written by Pak.
Chris Claremont returns to Uncanny X-Men (issues #466 to #471 here) with art partially by Chris Bachalo, as the Shi'ar decide to wipe out the Grey line and solve the problem of the Phoenix.
It's all out "friendly" fire when word spreads that the Phoenix force may be seeking a new host: Hope Summers!
The Avengers are able to avoid this predicted fate, but accidentally create "The Phoenix Five" instead, with the powers distributed across Cyclops, Emma Frost, Colossus, Namor, and Magik. It's one of the more approachable events of the 2010's, with a genuinely compelling look at the power of the Phoenix wielded for worldwide utopia.
For the complete event, check out Comic Book Herald's Avengers vs. X-Men reading order.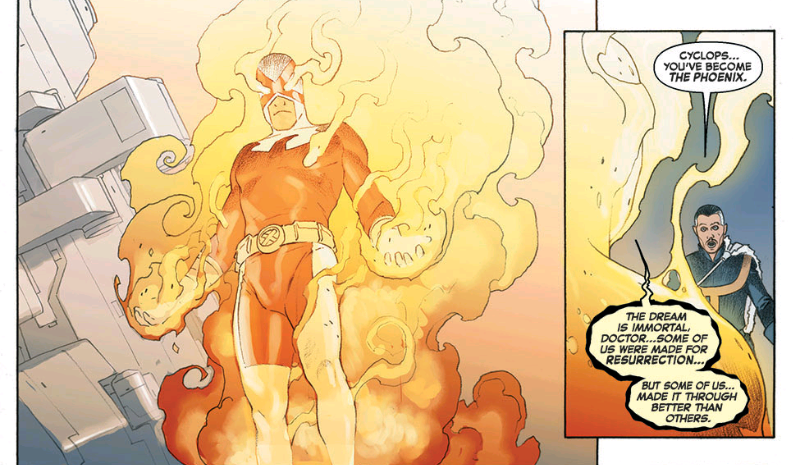 While Secret Wars is far from a Phoenix story at heart, writer Jonathan Hickman does weave in a lot of interesting Phoenix ideas. I've written extensively about what this may tell us about Hickman's plans for the X-Men, but in the meantime revel in the cosmic oddity that is Cyclops-Phoenix reborn!
Unexpectedly, the Thanos solo series by Jeff Lemire and Mike Deodato led to one of the biggest Phoenix appearances in all of Marvel since 2015. In addition to featuring a long awaited Thanos vs. Phoenix showdown in Thanos #6, the big purple puss' son, Thane, became the next (temporary) host of the Phoenix force.
The twelve issues of Thanos by Lemire and Deodato were quickly overshadowed by the very fun "Thanos Wins
" story arc that followed, but in my book, this is some seriously underrated Thanos and Phoenix action.
During Wolverine & The X-Men #42, we're treated to a future timeline in which Quentin Quire – the once and future Kid Omega – possesses the power of a "Dark Phoenix in Training."
This connection actually began for Quire back in Phoenix Endsong, and would continue into additional works by writer Jason Aaron, notably The Mighty Thor. During Thor's (Jane Foster) encounters with the Sh'ar, the Goddess of Thunder enlists the aid of noted Phoenix supporter, Quentin Quire.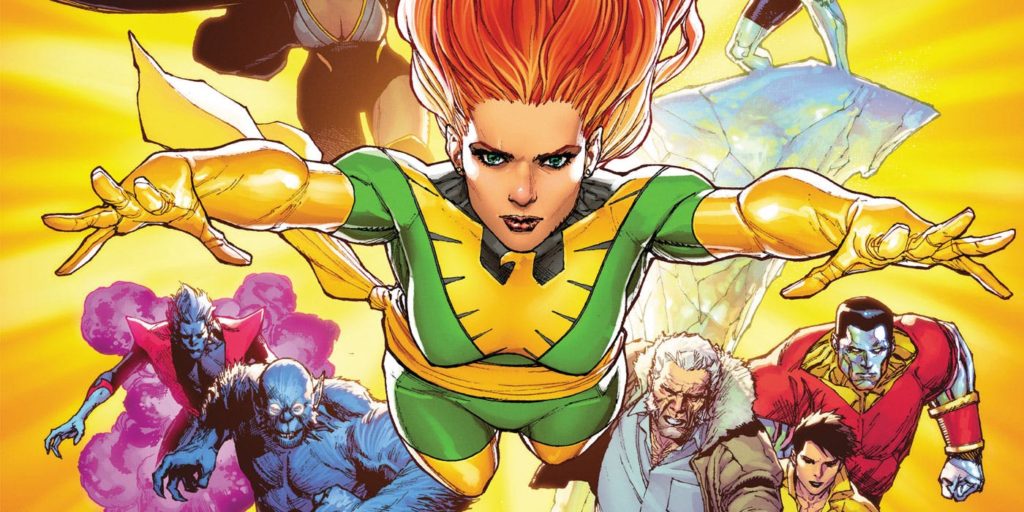 In comics years, Jean Grey stayed dead for an impossibly long time. While you'll have a hard time finding an X-character who hasn't died and returned at this point, any modern Marvel character staying off panel for more than a decade is remarkable.
Sure, technically the best thing about Phoenix Resurrection is that it sets the stage for Jean Grey's role in the excellent X-Men Red
, but it's a solid mini on its own. Current Uncanny X-Men writer Matthew Rosenberg has proven a quality voice across the X-Men universe, and Phoenix Resurrection shows some of the clearest signs of that promise.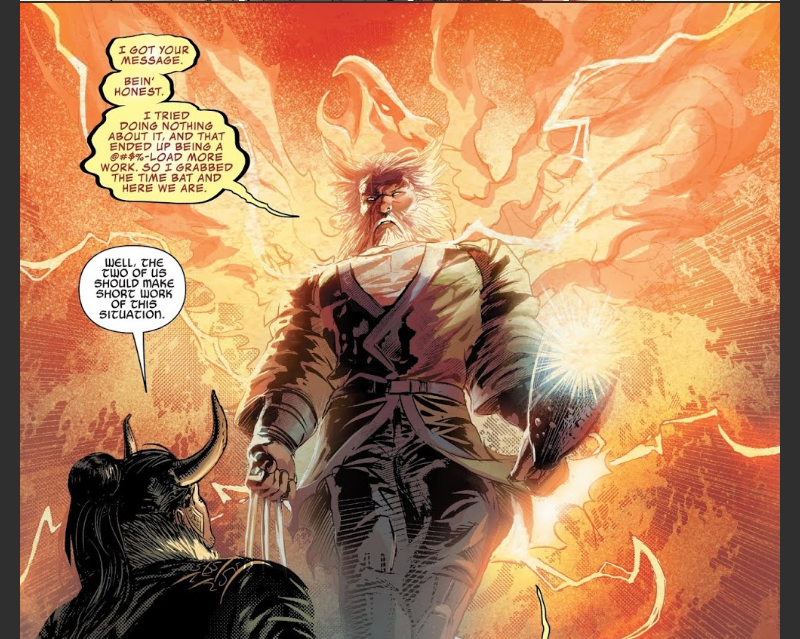 In addition to his cross-title machinations tying Quentin Quire to the Phoenix, writer Jason Aaron has developed both pre-history and "future at the end of the universe" versions of the Phoenix force.
Aaron's Avengers run (and its opening salvo in Marvel Legacy #1) develop a B.C. Avengers unit, including an Odin and Phoenix romance. We haven't seen this version of the Phoenix developed as thoroughly to date, but no doubt it's part of the plan.
In the future timeline developed in the pages of Thor (and referenced in Infinity Wars), Aaron sets the stage for the one and only Wolverine operating as the universe's Phoenix. The Wolverine-as-Phoenix turn is shockingly not as out of left field as it seems, with roots in Aaron's very fun miniseries Astonishing Spider-Man & Wolverine
.
Recently, this bizarre combination has fought alongside the King Thor of the future against a near omnipotent Doctor Doom, and with art by Christian Ward, it's about as *insert metal riff* as it sounds.