Excitement over the potential of a Jonathan Hickman written run on X-Men swelled to a crescendo this month, and with good reason. Ever since the superstar comics writer's approximately eight year stint at Marvel came to a triumphant close with 2015's Secret Wars, fans have clamoring for a return.
The most persistent rumors I've heard came for Legion of Superheroes with DC Comics, and yes, X-Men with Marvel. Given the strength and success of his creator-owned Image Comics work – series like East of West
and Black Monday Murders
are some of my favorites of the decade – I'll admit I haven't been holding my breath for a return to the Big 2.
Nonetheless, Marvel's books fed the hype with back-to-back ad "teases," but when one tease is a relatively ambiguous ode to the creator's style, and the other is just his name all up in your face:
While I maintain this would be a pretty sensible way to revive the Eternals prior to their MCU launch (and seriously, a Hickman run on the title would do wonders for that movie's comics synergy), the hype cycle got me thinking about Hickman's take on the world of mutants to date.
There are consistent themes across a variety of titles, such as the next step in evolution for mankind or what building a utopia isolated from society at large would look like.
Support For Comic Book Herald:
Comic Book Herald is reader-supported. When you buy through links on our site, we may earn a qualifying affiliate commission.
Comic Book Herald's reading orders and guides are also made possible by reader support on Patreon, and generous reader donations.
Any size contribution will help keep CBH alive and full of new comics guides and content. Support CBH on Patreon for exclusive rewards, or Donate here! Thank you for reading!
Here's how the X-Men have fared under the pen of Jonathan Hickman: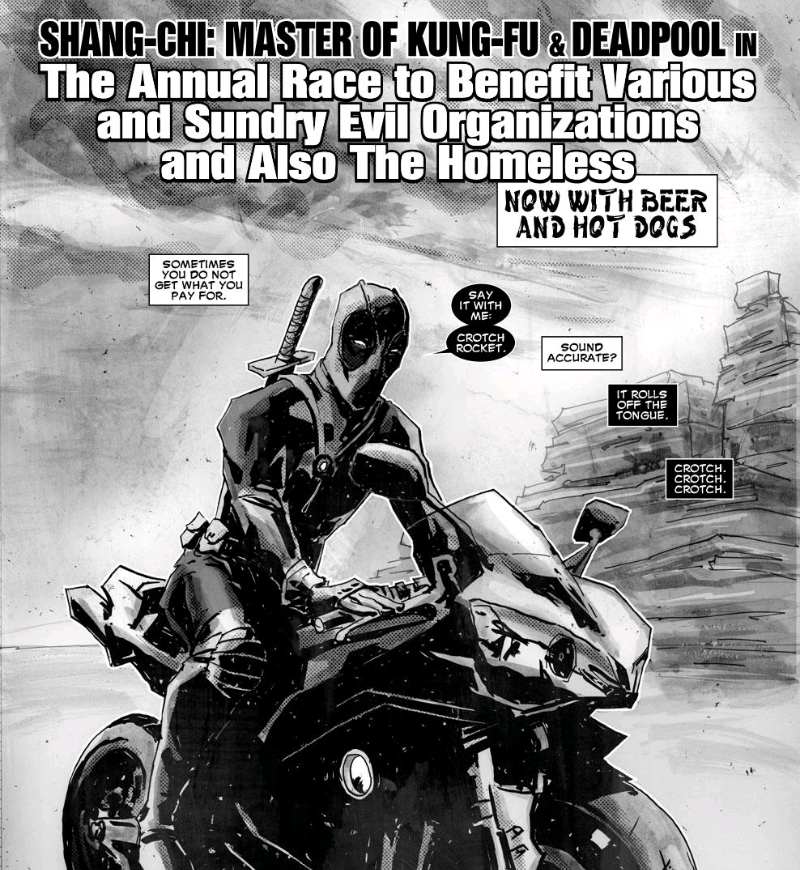 Early Days: Deadpool / Shang-Chi & AvX
Before his Avengers epic wove in various elements of Marvel's merry mutants, Jonathan Hickman wrote an extremely fun short story in Shang-Chi: Master of Kung Fu, in which Deadpool and Shang-Chi compete in a Mad Max style motorcycle race.
While die-hard X-Men fans may not consider Deadpool a part of the franchise, I highlight this early mutant writing simply to illustrate the humor and style that Hickman can bring to a project. FF readers know this perfectly well, but because of the ambition and world-ending seriousness that his most well known comics tackle, it's often lost that Hickman can write some very funny, charming moments as well.
Just ask Secret Wars (2015) Mister Sinister: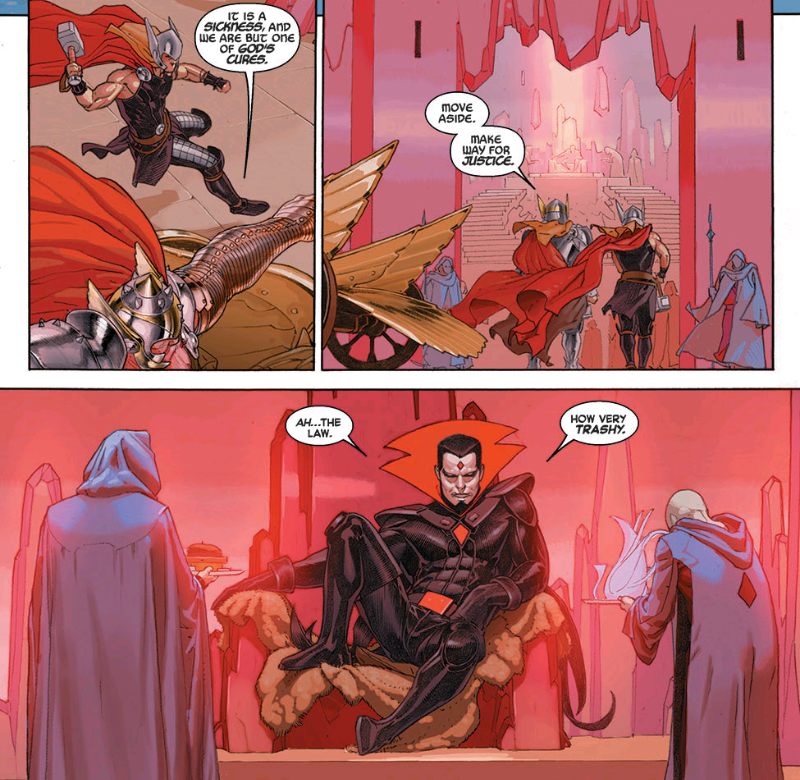 Prior to the below inclusion of various mutants in his Avengers and Ultimates runs, Hickman also scripted issues #4 and #6 of the Avengers vs. X-Men event in 2012.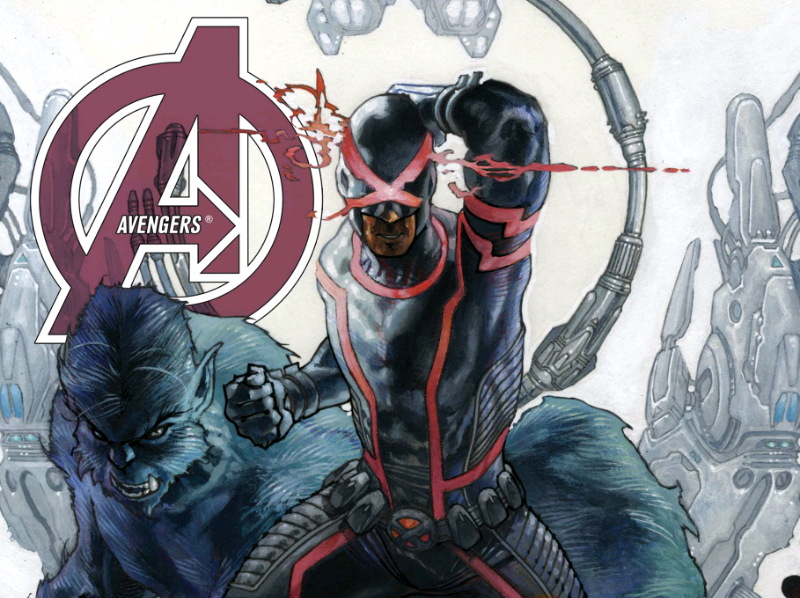 Beast Mode
It's almost easy to forget, but Beast is a formative member of Hickman's New Avengers
 Illuminati, filling the mutant slot formerly held by the then deceased Professor X.
Of the entire Illuminati lineup – Doctor Strange, Reed Richards, Black Bolt, Iron Man, Captain America (kinda), Namor, T'Challa, Doc Green (eventually), and Beast – I'd argue Hank McCoy gets the least attention. Beast is generally just around. Whereas every other player has an easily definable arc or role to play, Beast is left to tech support and teaching prisoners Latin.
It's tough to say for sure why this is the case. Is Hickman less interested in Beast, or did he simply want to avoid wading in to the murky waters of the timey-wimey absurdity All-New X-Men writer Brian Michael Bendis had cooked up?
You could also make a case that the Illuminati's treatment of Beast – the lone mutant – is a reflection of the Marvel Universe's general dismissal of mutant rights. This is a theme we've seen a lot this decade (Uncanny Avengers was deliberately tackling this idea on the heels of Avengers vs. X-Men as Hickman's Avengers writing launched), and while it's probably a reach, the overall effect nonetheless conveys a subconscious dismissal of the character.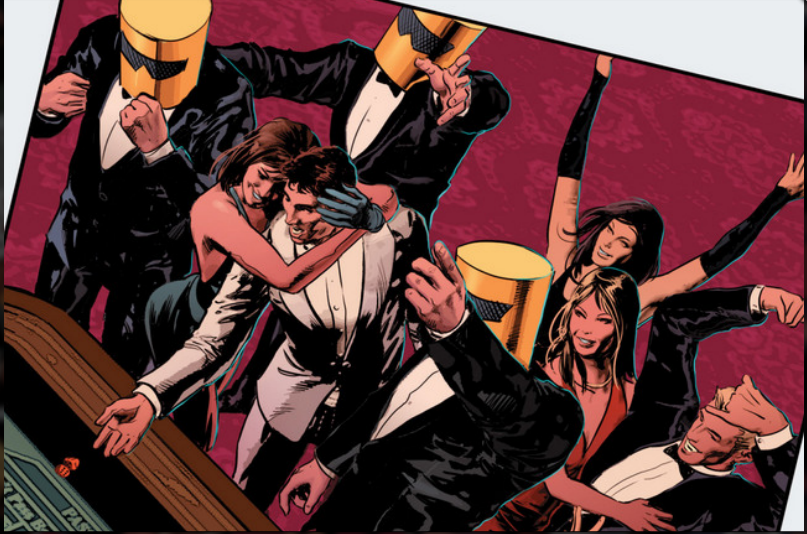 Sam & Bobby 4Eva
Following a truly bizarre Astonishing Tales: Mojoworld
mini with artist Nick Pitarra, once and future new mutants Sam Guthrie and Roberto De La Costa – aka Cannonball and Sunspot – are conceivably the least likely members of Hickman's Avengers. Since they don't have the weighty baggage of lifelong Avenger-ship, Sam and Bobby are the much-needed beating heart of comedy and youthful optimism in the story, as elder statesmen Tony Stark and Steve Rogers butt heads for the umpteenth time.
If Beast is disappointingly forgettable, the inclusion of original New Mutants as Avengers feels like a clearer-eyed reflection of what Hickman might find exciting in the X-Men. Whereas we'll see the likes of Beast, Wolverine, Cyclops, and Professor X all brought low in the comics below, Sam and Bobby actually create something new.
Perhaps evolution can occur within team structures as well.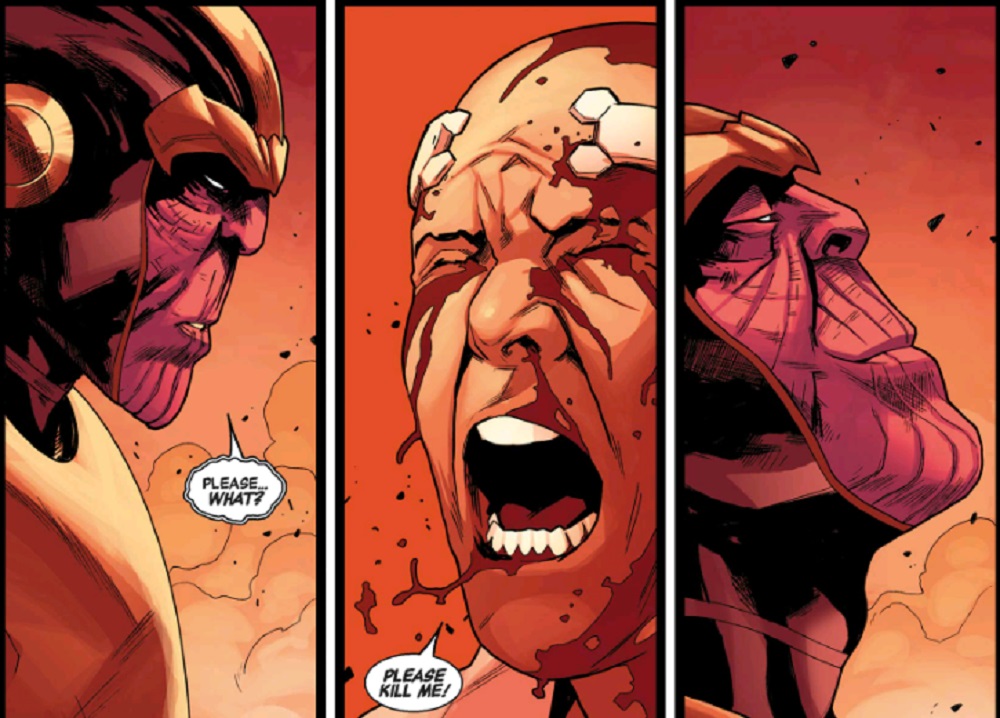 Alternate Reality X-Men & Ultimate Universe Xorn / Zorn
As the Illuminati fend off incursions prior to Secret Wars, the group gets a glimpse into a wide variety of alternate realities dealing with the same collapse of the multiverse. While some of these include mutants, the most X-Men centric alternate reality is visited by Namor, Thanos, and the Cabal as they crush worlds in order to save their own.
Simply put, this goes quite badly for the X-Men, as we enter a scene in which the X-Men have been massacred and Professor Xavier is left to suffer through a gloating Thanos and his Black Order. It's hard to read too much in to Hickman's decision to massacre the X-Men on panel (we see the likes of Havoc, Cyclops, Storm, and Rogue all lifeless at the hands of the Cabal) considering that's what happens to all the alternate realities prior to Secret Wars.
Nonetheless, there are fleeting glimpses of ideas as Corvus Glaive asks Professor X the following:
Where is Xorn, Brother Order, who hid the morning sun behind a mask? Where is Zorn, Brother Chaos, who hid a black hole behind his? Where are your champions, Charles? Where are your children?
However brief, this line of questioning connects to Hickman's time writing comics in the Marvel Ultimate Universe, in the series Ultimate Comics Hawkeye
 and Ultimate Comics Ultimates
. The threads of Tian, Xorn, and Zorn are a fascinating glimpse into Hickman's X-Men source material, pulling from the Grant Morrison written run on New X-Men
 and more obtusely, the first Warren Ellis written arc of Astonishing X-Men "Ghost Box."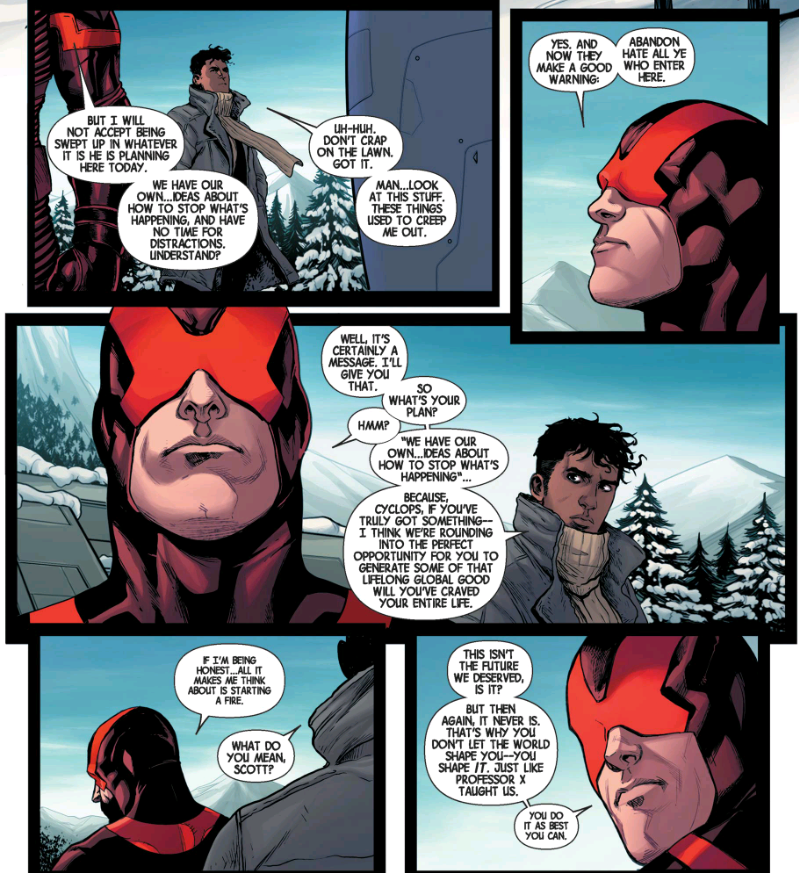 Cyclops & The Saga of the Phoenix Egg
For me, the most memorable X-insertion (see also: phrases I wish I could take back) into the Avengers and Secret Wars saga comes from the late game development of Cyclops. As the then mutant rebel leader, and Avengers vs. X-Men wanted criminal, Cyclops seems destined for potential game-changing greatness, only to have the rug pulled out from under him like a Scooby Doo villain.
While the Illuminati make their plans for preventing multiversal destruction, Cyclops begins formulating mutant-first plans of his own. And by plans, he's mostly talking about a "phoenix egg" that he'll use to burn down the world and recreate it in his image.
Cyclops doesn't actually pull out the Phoenix Egg until collapse is imminent, and in Secret Wars #1 he's one of the few Earth-616 survivors as he re-ascends to the power of Phoenix.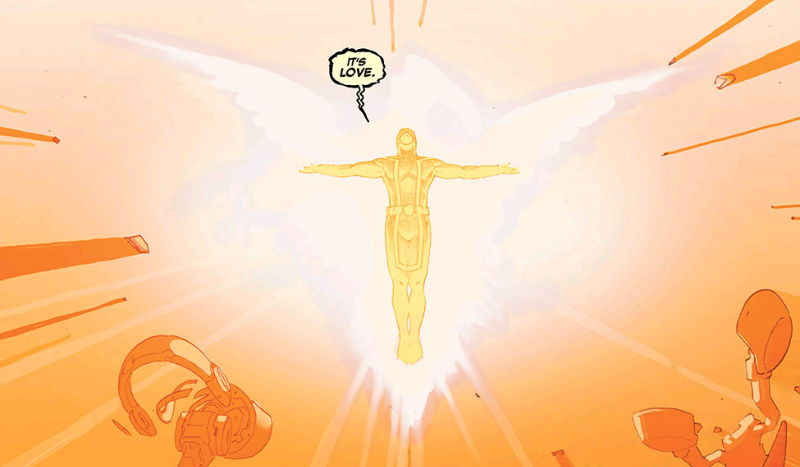 From here, Cyclops starts walking around like a philosophy major reciting his thesis, making it fairly clear he has no use or time for the plans of mere mortals like Reed Richards. His condescenion is wonderfully pointed, telling Doctor Strange:
The dream is immortal, Doctor… Some of us were made for resurrection… But some of us… Made it through better than others.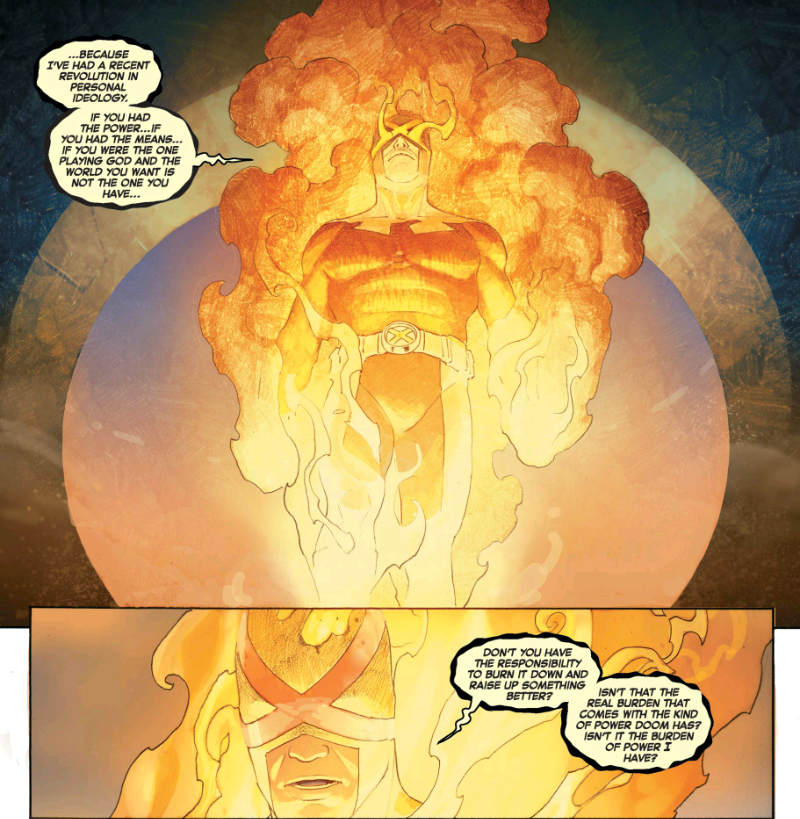 In his new white and red Phoenix costume, Cyclops even dares to take on Emperor God Doom, the ruler of Battleworld. Astonishingly, Cyclops new powers even have Doom on the ropes, regaling a burning Doom with the beliefs that the time of the mutants is at hand:
In the end, you're just like every other man. For a time, playing at something greater than what you are… And I? I am mutant — More than man… I am the future here in the present. And all worlds — even yours — belong to Us.
Again, this appears to actually be a turning point in the comic, prior to the revelation that Doom is God, and All Hail Doom!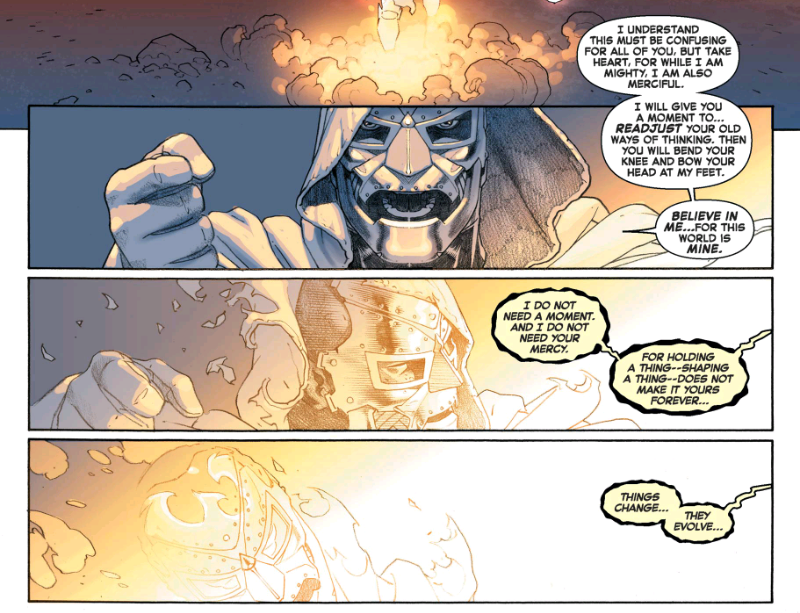 What's Past is Prologue
There's a recurring trend in all of these stories where outcomes for Marvel's X-Men are decidedly negative (at least that's one way of describing tortured, beaten, and murdered). Even the likes of Wolverine is stabbed through the gut during the Infinity event, almost as a throwaway image. No member of the team is safe in the hands of this writer! One could begin to get the perception that Hickman simply doesn't like the mutants.
I don't really buy this line of thinking. For starters, hardly anybody skates through the run to Secret Wars unscathed. A run through Hickman's work on the Inhumans, Celestials, or Wakanda could feature just as much wanton nihilism. After all, everything dies.
Of course, absolutely all of that writing came with the X-Men as a true periphery to Hickman's primary narrative. It will be fascinating to see what the creator has in store the Marvel Universe next!