I love Jim Starlin cosmic comics, although I'll admit more often than not I think of Thanos and the dark side of Marvel cosmic. If you're going to enjoy Starlin's 70's, 90's and 2000's space opera, though, inevitably that means an affection and respect for the cosmic embodiment of good to Thanos' evil: Adam Warlock.
Warlock (not to be confused with the later New Mutants alien, Warlock) is heady 70's philosophy and expanding consciousness come to life on the page. Within his first years Warlock comics deliver a clear Jesus allegory and have him tackle organized religion and the nature of the soul. Conceptually, Adam Warlock wants it all.
Below you'll find a proper reading order for Adam Warlock comics, including his Jim Starlin stories, as well as the comics that come before and after.
Related Reading Orders:
Support For Comic Book Herald:
Comic Book Herald is reader-supported. When you buy through links on our site, we may earn a qualifying affiliate commission.
Comic Book Herald's reading orders and guides are also made possible by reader support on Patreon, and generous reader donations.
Any size contribution will help keep CBH alive and full of new comics guides and content. Support CBH on Patreon for exclusive rewards, or Donate here! Thank you for reading!
Adam Warlock Comics Reading Order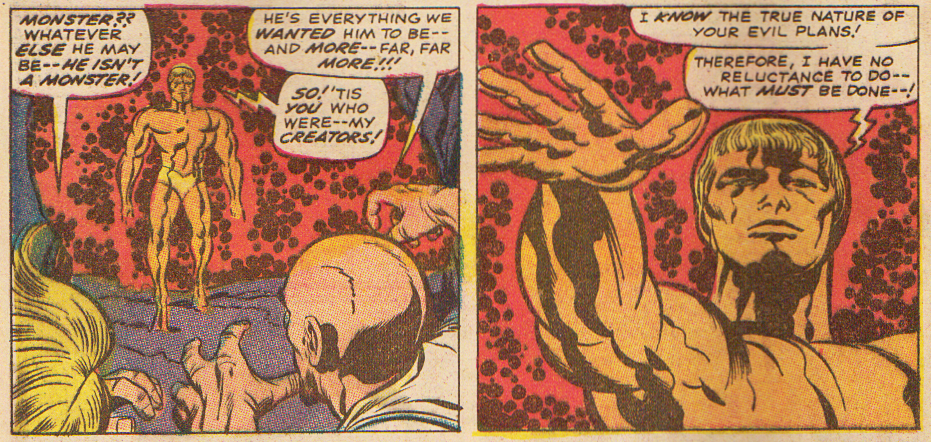 Adam Warlock Origins
Warlock: Him
Collects: Fantastic Four #66 to #67, Thor #165
In one of the absolute weirdest Marvel historical oddities, Adam Warlock technically debuts in the pages of the Fantastic Four as the entitty "Him." No really: "Him." Jack and Stan's "The Coming of Galactus" this ain't," but for true Adam Warlock heads it all begins here. Honestly, "Him," doesn't represent the shape Adam Warlock would take really at all, so you could easily skip ahead.
Marvel Masterworks: Warlock Volume 1
Collects: Marvel Premiere (1972) 1-2, Warlock (1972) 1-8, Incredible Hulk (1968) 176-178
Although most frequently tied to Marvel Cosmic new god Jim Starlin, Warlock's official 1972 debut comes from the pen of Marvel's Roy Thomas. If you're most intested in the Starlin era and Warlock's connection to Thanos, you could skip these issues, although they will be referenced repeatedly in the coming stories.
Jim Starlin's 70's Marvel Cosmic to 90's Infinity Trilogy
Warlock by Jim Starlin: The Complete Collection
Collects: Strange Tales 178-181, Warlock 9-15, Avengers Annual 7, Marvel Two-In-One Annual 2
This is where the most well known Adam Warlock elements begin, with Jim Starlin introducin Pip the Troll, Gamora, the Magus, and the very special connection between Adam Warlock and Thanos. Some of the best 70's Marvel Cosmic comics this side of Captain Marvel.
Infinity Gauntlet Omnibus
Collects: Silver Surfer (1987) 34-38, 40, 44-60; Thanos Quest 1-2; Infinity Gauntlet 1-6; Cloak & Dagger (1988) 18; Spider-Man (1990) 17; Incredible Hulk 383-385; Dr. Strange, Sorceror Supreme 31-36; Quasar 26-27; Sleepwalker 7
The 1990's return of Thanos in Infinity Gauntlet is one of my favorite Marvel events, and in many ways it's Adam Warlock's strongest showing. Warlock unites the Marvel Universe in a way no other hero can, and comes away with all-new purpose in Warlock and the Infinity Watch.
Infinity Gauntlet Aftermath
Collects: Silver Surfer (1987) 60-66, Dr. Strange : Sorcerer Supreme 36, Warlock & The Infinity Watch 1-6, Material From Silver Surfer Annual 5
Adam Warlock forms the Infinity Watch, comprising a core unit of Drax the Destroyer, Gamora, Pip the Troll, Moondragon, and of course a mysterious sixth person.
Infinity War
Collects: Collects Infinity War #1-6, Warlock And The Infinity Watch #7-10 & Marvel Comics Presents #108-111
Infinity War somehow gets even more Warlock heavy featuring Warlock's evil alter-ego The Magus as the main Marvel Universe villain. Infinity War gets overshadowed by the admittedly superior Gauntlet, but is still well worth your time.
Infinity War Aftermath
Collects: Warlock & The Infinity Watch 11-17, Silver Surfer/Warlock: Resurrection 1-4, Quasar 41-43; Material From Marvel Comics Presents (1988) 112, Marvel Holiday Special 2, Marvel Swimsuit Special 2
Infinity Crusade, Vol. 1
Collects: Infinity Crusade #1-3, Warlock Chronicles #1-3 & Warlock And The Infinity Watch #18-19
If the Magus is the manifestation of Adam Warlock's "evil," what does his "good" side look like? That's the question asked by Infinity Crusade, the conclusion to Starlin's 90's Infinity trilogy.
Infinity Crusade – Volume 2
Collects:  Infinity Crusade #4-6, Warlock Chronicles #4-5 & Warlock And The Infinity Watch #20-22
Infinity Watch Vol. 1
Collects: Infinity Watch #1 To #22
Note that all twenty-two issues of Infinity Watch are included in various Infinity Gauntlt through Infinity Crusade trades listed above. Nonetheless, if you want the pure Watch, you can start here.
Thor: Blood & Thunder
Collects: Thor #468–471, Silver Surfer #86–88, Warlock Chronicles #6–8, Warlock And The Infinity Watch #23–25
Infinity Watch Vol. 2
Collects: Warlock Chronicles 6, Warlock And The Infinity Watch 26-42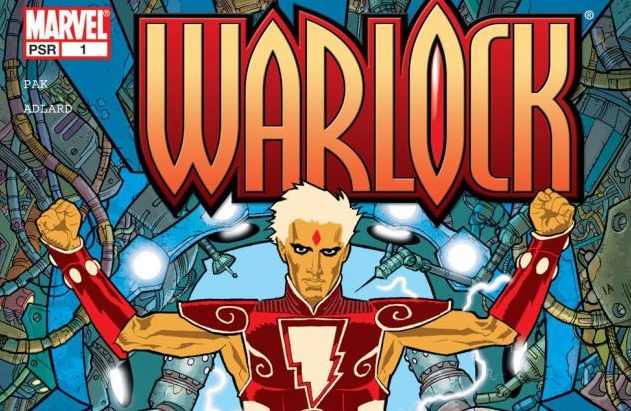 2000's Return of Thanos and Warlock
Thanos: Infinity Abyss
Collects: Infinity Abyss #1-6
The next three stories consist of Starlin's 2000's return to Thanos, and as you might expect, concentrate more directly on ol' purple puss. Nonetheless, Warlock cameos throughout.
Marvel Universe: The End
Collects: Marvel Universe : The End 1-6
Thanos: Redemption
Collects: Thanos 1-12
Warlock by Greg Pak and Charlie Adlard
Collects: Warlock #1 To #4
The rarest of birds in the Marvel Universe to date: An Adam Warlock series from a writer other than Jim Starlin!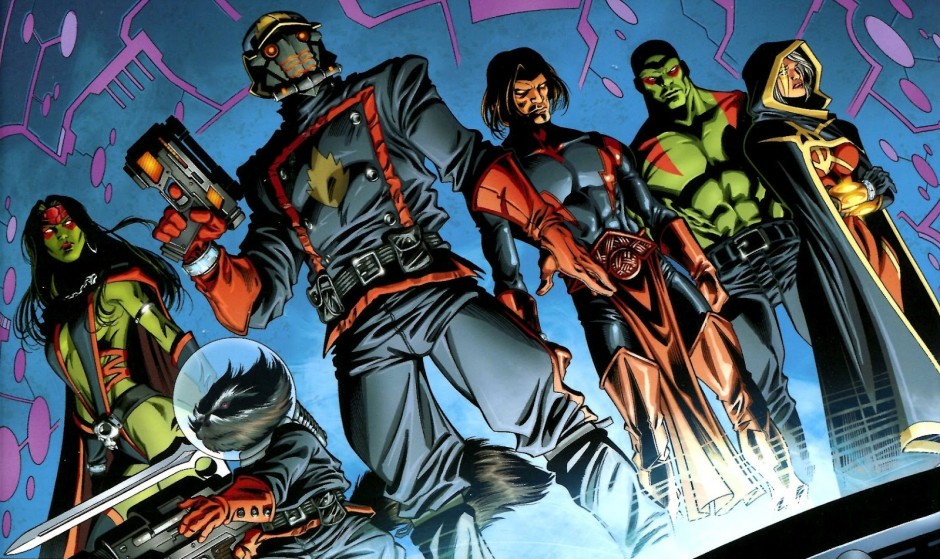 Annihilation to the New Infinity Saga
Annihilation: Conquest Book 1
Collects: Annihilation: Conquest – Quasar #1 To #4
Honestly, if you're going to read these Annihilation Conquest tie-ins, I highly recommend you read the full Comic Book Herald guide to Marvel Cosmic. Annihilation through The Thanos Imperative include varying degrees of Adam Warlock, as the character becomes more and more essential through the excellent 2000's cosmic narrative.
Guardians of the Galaxy by Abnett & Lanning: The Complete Collection Volume 1 
Collects: Guardians Of The Galaxy (2008) 1-12
The fast track approach through Adam Warlock's Marvel Cosmic appearances would be to simply read the Dan Abnett and Andy Lanning run through Guardians of the Galaxy, concluding with Thanos Imperative.
Guardians of the Galaxy by Abnett & Lanning: The Complete Collection Volume 2
Collects: Guardians Of The Galaxy (2008) 13-25
The Thanos Imperative
Collects: Thanos Imperative #1 To #6
Thanos Annual #1
Collects: Thanos Annual #1
Thanos: The Infinity Revelation
Collects: Original Graphic Novel
Although Starlin's mid-2000's return to Thanos graphic novels is titled as a Mad Titan feature, Adam Warlock is as central to these stories as he was to the 90's Infinity trilogy. Must reads for Warlock fans who may have missed the first time around.
Thanos: The Infinity Relativity
Collects: Original Graphic Novel
The Infinity Entity
Collects: Original Graphic Novel
While It's My Least Favorite Of The Jim Starlin Thanos And Warlock Graphic Novels, Infinity Entity Results In The Greatest Major Developments For Adam Warlock'S Place In The Marvel Universe.
Thanos: The Infinity Finale
Collects: Original Graphic Novel