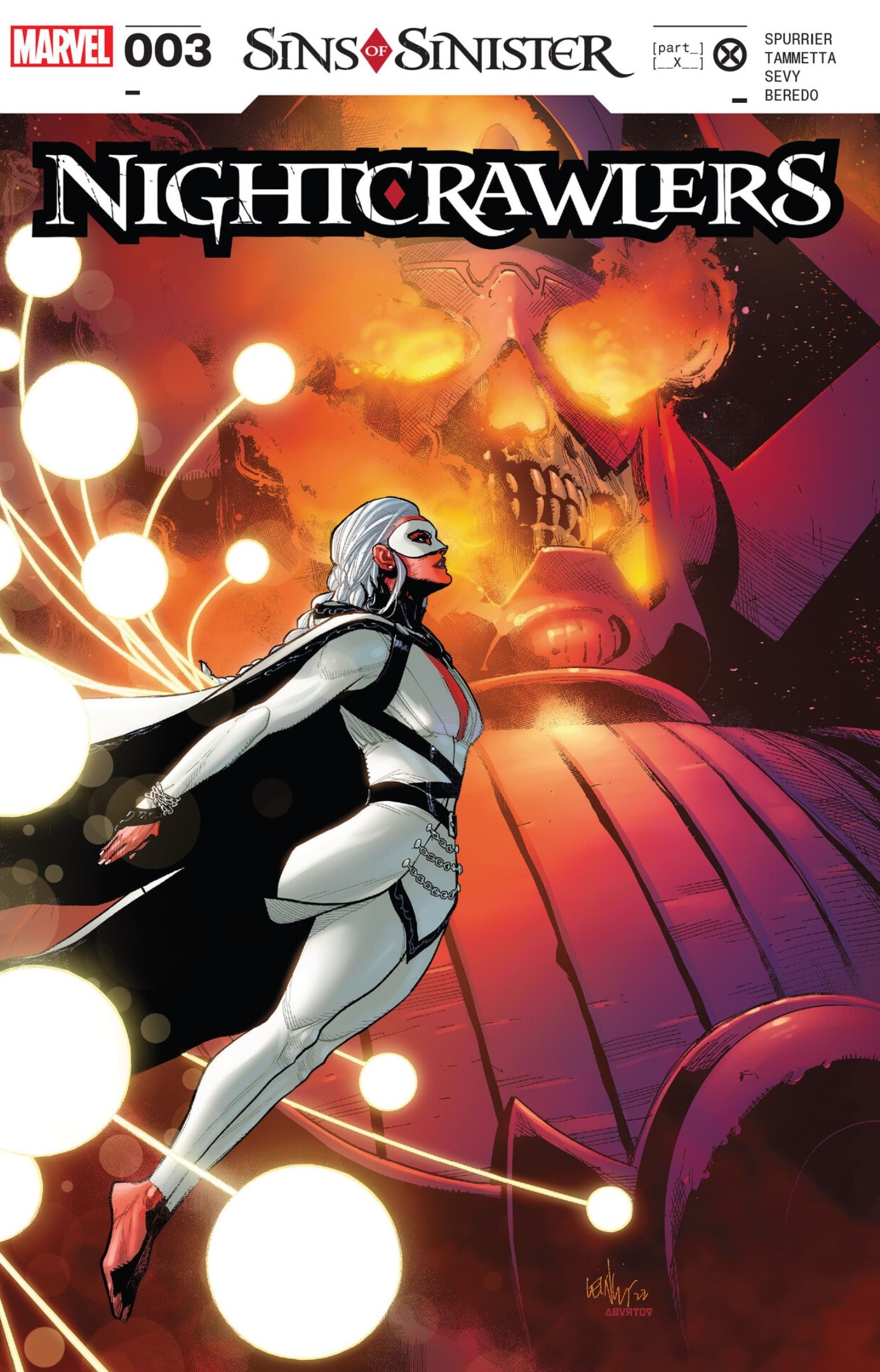 "The Sacred Heart"
Credits: Si Spurrier writes; Lorenzo Tammetta and Phillip Sevy draw; Rain Beredo colors; Clayton Cowles letters; cover by Leinil Francis Yu and Sunny Gho
I'm very pleased Si Spurrier's Nightcrawlers mini ended up being the most event-essential in its final entry, and it's the one that had the most detailed world-building—with its contributions on the mystic side of things baffling some readers who couldn't see how any of it could ever fit into the main thrust of the narrative. Whoops!
Not only is this issue one of the most event-critical—we get some fun surprises along the way! Right away, fans will be mystified by what appears to be Galactus possessed by a Spirit of Vengeance. The last entry from Spurrier for this event goes down swinging, and it's a sight more impressive than the other entries for Year 1000. That's no small thing when the friendly competition is Kieron Gillen and Al Ewing.
SPOILERS AHOY
Support For Comic Book Herald:
Comic Book Herald is reader-supported. When you buy through links on our site, we may earn a qualifying affiliate commission.
Comic Book Herald's reading orders and guides are also made possible by reader support on Patreon, and generous reader donations.
Any size contribution will help keep CBH alive and full of new comics guides and content. Support CBH on Patreon for exclusive rewards, or Donate here! Thank you for reading!
At the start, Spurrier still has enough page real estate to throw off speculative alt-universe notions such as the Silver Mercator (Mr. M meets and Silver Surfer) and the Low Key Corps (perhaps a nod to the Loki of Neil Gaiman's American Gods, maybe a riff on the Council of Cross-Time Kangs or the recent TV series). The Spineless Gamers of the Casino Entropic seem to nod to Mojo and Duggan's Gameworld (X-Men). The bizarre Peregrine Child is actually a Jed MacKay creation from 2021's Death of Doctor Strange. Historically parasitic and exploitative, the Mojos and the Brood aren't put out by the ruinous Sinisterization of known space.
What's really wild is the Phoenix Egg, introduced toward the end of Grant Morrison's New X-Men run. But here in the far future, Mother Righteous treats it like just another artifact for her centuries-old collection. And this is in line with all the other artifacts that have gone into the making of her Reliquary Perilous.
But most striking are this bleak future's few recognizable survivors. First off, Nemesis' final form is a hoot!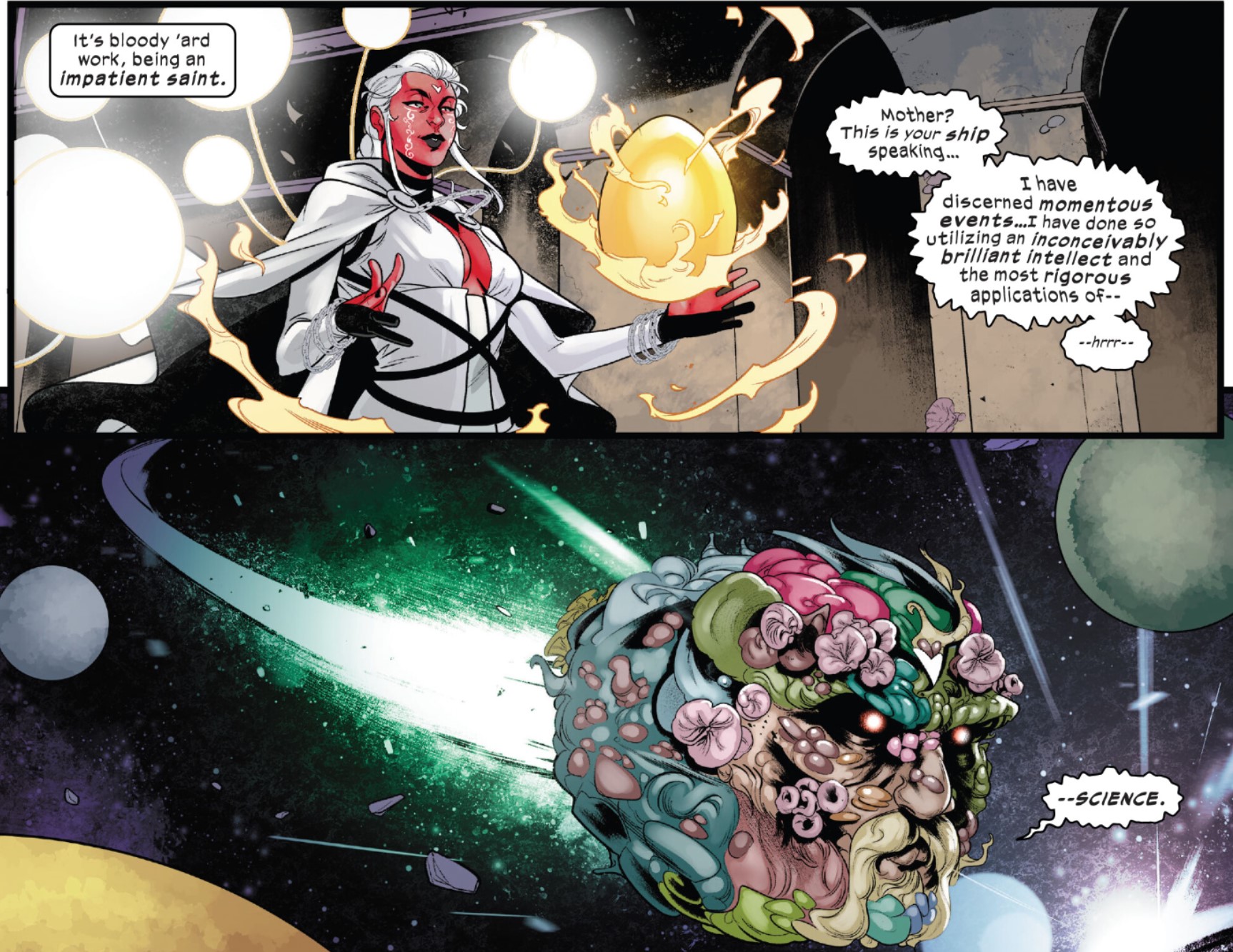 However, he's not just a starship; he's also been cloning the Nightkin for almost a millennium—but with increasingly diminishing returns. Of course, Mother doesn't need them smart or even particularly effective; all she needs is easily duped followers. And their willing and credulous suicidal sacrifices, which as revealed here, has allowed Nemesis' spores to get up close to the forcefield around Sinister's stolen lab. Still, though, it's Nightkin's unquestioned beliefs that have been slowly weakening the field's imperviousness. Apparently, Mother's patience is one of her superpowers.
And somehow, while Auntie Fortune (the Domino Nightkin chimera) died long ago, she's persisted for centuries as an undead specter—only to be the last of the Nightkin to sacrifice herself at Mother's command. Auntie Fortune's demise is unquestionably the most poignant moment this issue; the callous waste of 50 generations of life is felt. Presumably, the longest-serving Nightkin's sacrifice packed enough abject faith to break the Unus field, although it was already weakened by the Juggernaut bullet's impact(!).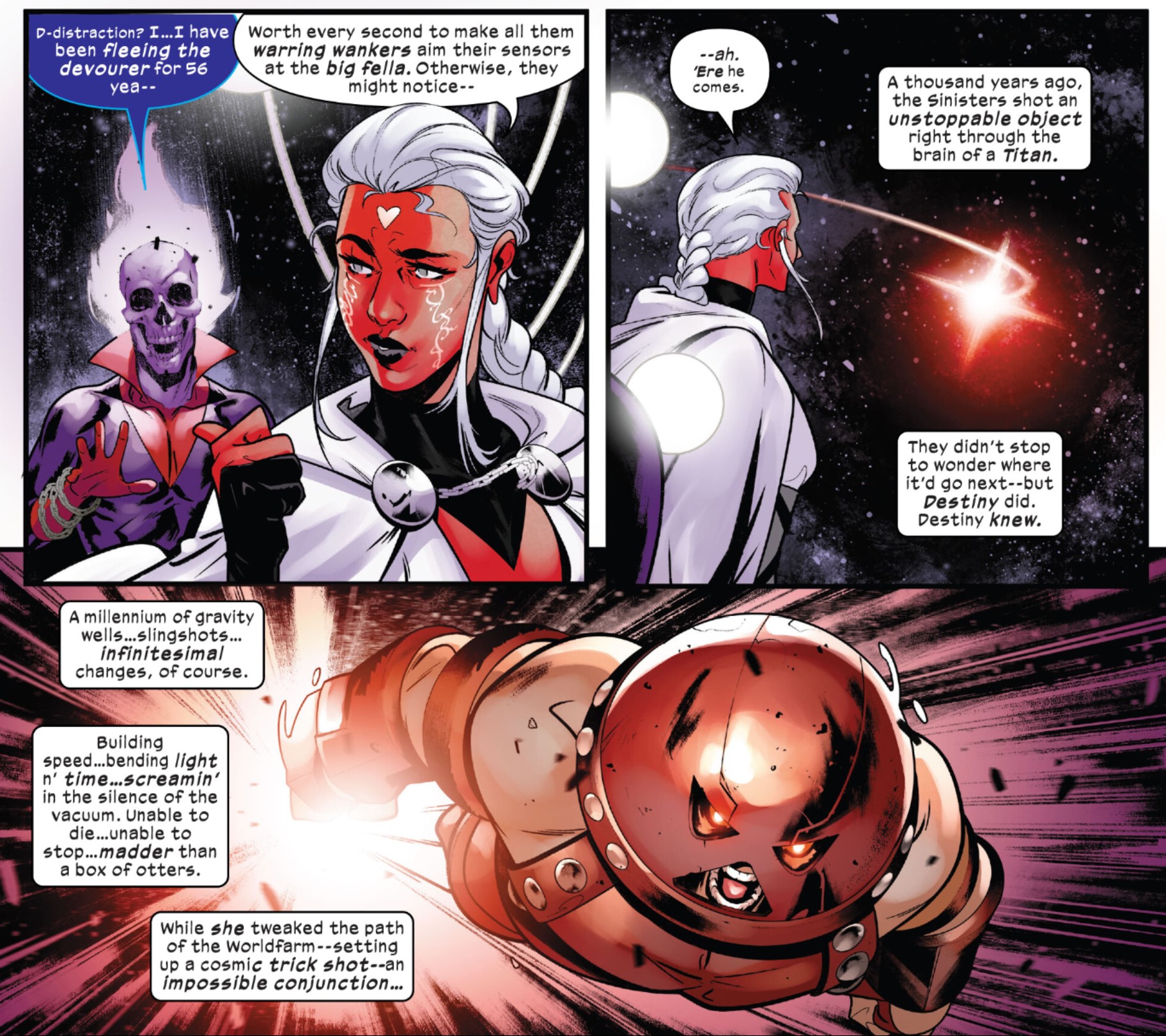 Now recall that Storm in Sins of Sinister #1 mentioned that the Spirits of Vengeance left Earth by Year 10; well, apparently, they went full cosmic by finding their new home in Galactus—a cosmic principle of reality who was quite put out by the universal Sinisterization. But just like the event's audience Mother isn't invested in this reality's survival, unlike her hangers-on. So, she enjoys Galactus' assassination via Juggernaut-as-relativistic-space-rocket just as much as we do! Recall that the Quiet Council used Cain, egregiously and hilariously, to assassinate Thanos in the long ago, so Mother is just watching shots line up, while it was Destiny who placed the prize in the line of fire 900 years ago.
That's right—Destiny did in fact see beyond her own death! Not only did she know Storm would kill her (via Khora), but she knew that the cosmic wormhole transfer of the Worldfarm would place it in the path, eventually, of the speeding Juggernaut. So, apparently, mutantdom's preeminent precog was never duped, after all.
One wonders if she also foresaw the actions of the last players on the board—Mother, Moira, Sinister…
Certainly, Mother didn't foresee Moira foiling her centuries-long masterplan at the last moment. However, will Moira's own plan simply echo Mother's? After all, whichever of these mad geniuses resets the timeline could do so in her favor, with all the knowledge gained from the past thousand years.
Actually, it's the righteous return of Wagnerine, seeking to rescue her golden babe from Mother's clutches, that kicks off her comeuppance—and then Moira finishes off Wagnerine's vengeance.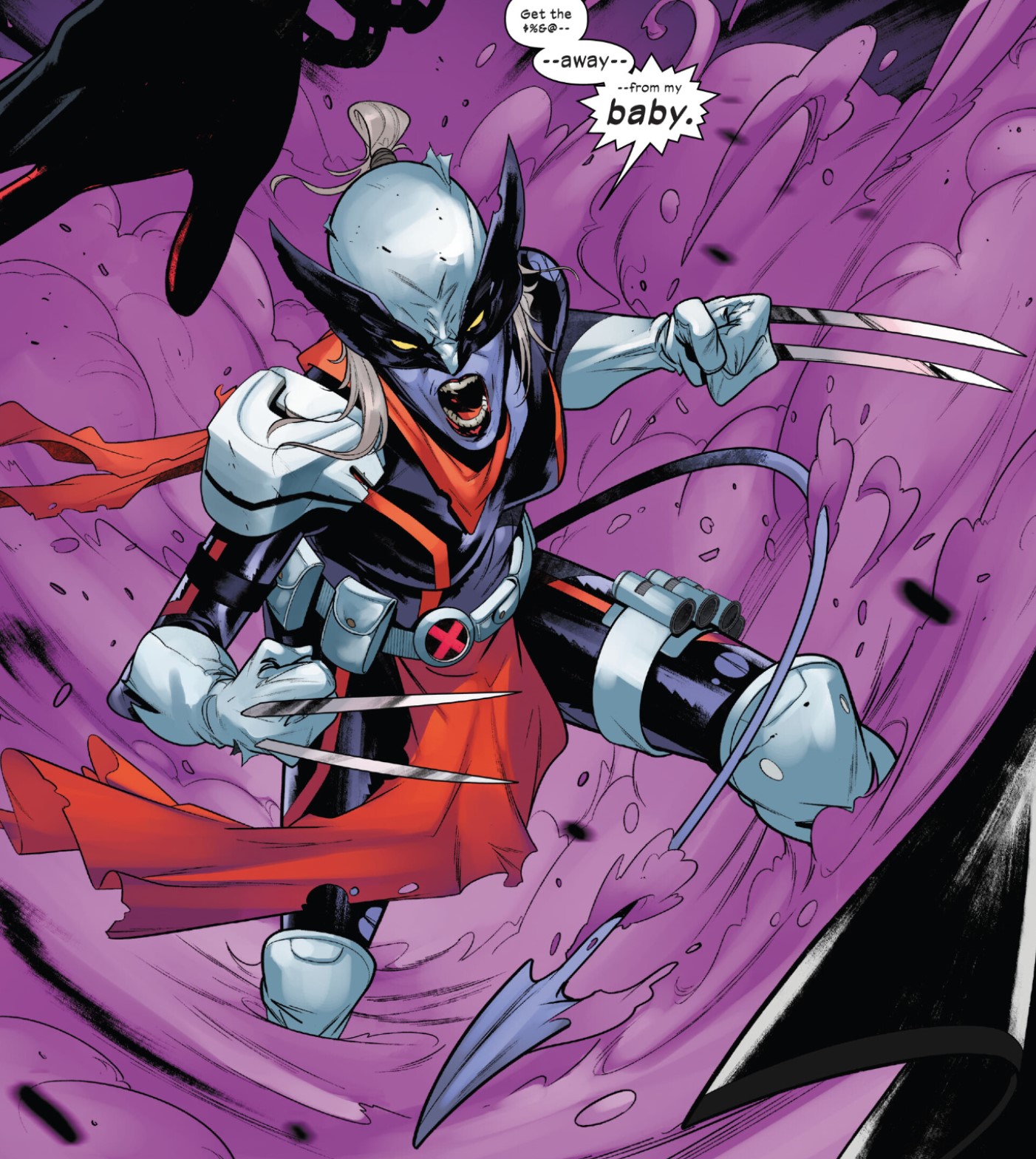 Now, for the event's final chapter, will we see Wagnerine, perhaps teaming up somehow with Rasputin, foil Moira's plans? She'd probably need to be a lot more clued in than she is currently for her to be effective as her reality ends. Still, as Banshee tells her, it does matter that they've regained what they lost (his freedom, her child) before the final curtain falls. Life's meaning is no different in such a doomed reality than it is for us or anyone anywhere in the multiversal simulation doohickey.
Even so, as long as Wagnerine gets to keep her baby, both they and Rasputin IV will hopefully make it to the present-day Earth-616—because they're interesting new characters with potential, and it doesn't seem like they would be leaving anything behind in Year 1000 even if it weren't going to be erased. But it will be, so… they certainly seem to be of more interest than, say, Nate Grey and Sugar Man. Can't ya just see them relaxing with a drink in the company of AoA Blink in the Green Lagoon?
Nightcrawlers #3 is new Marvel artist Lorenzo Tammetta's second issue for Marvel (after the recent Murderworld: Game Over one-shot)—although he hasn't yet had the chance to do full interior art. Still, I do vastly prefer what we see her after Vitti's scratchy, grungy work on Year 1000. Tammetta seems to bring more versatility and expressiveness, and I look forward to seeing what he does next (Scarlet Witch #6, actually). If you enjoy the crisp, classic stylings of Terry Dodson, Stuart Immonen and the like, you'll be looking out too!
Also new to Marvel, Phillip Sevy recently drew a Marrow-centered arc for X-Men Unlimited Infinity Comic (#75-79) with ace writer Zac Thompson.
NEXT: The Sins of Sinister finale – Sins of Sinister: Dominion #1