I've been thinking about it for a hot ten minutes now, and you'd be hardpressed to find a more famous hungry character than Galactus. The cosmic planet eater created by Jack Kirby and Stan Lee is right up there with Scooby and Shaggy, Kobayashi, and Garfield for famous personas revolving around eating.
Of course, Galactus has plenty more going for him, starring in arguably the first Marvel Comics event, and functioning as the center of the entire Marvel Cosmic universe for decades since the Silver Age. Galactus inevitably brings a presence – and yes, a hunger – to any story, enhancing the stakes and consistently taking traditional "beat 'em up!" solutions off the table.
So if you're hungering for all the Galactus comics you can stomach, below you'll find the Comic Book Herald Galactus reading order!
Related Reading Orders:
Support For Comic Book Herald:
Comic Book Herald is reader-supported. When you buy through links on our site, we may earn a qualifying affiliate commission.
Comic Book Herald's reading orders and guides are also made possible by reader support on Patreon, and generous reader donations.
Any size contribution will help keep CBH alive and full of new comics guides and content. Support CBH on Patreon for exclusive rewards, or Donate here! Thank you for reading!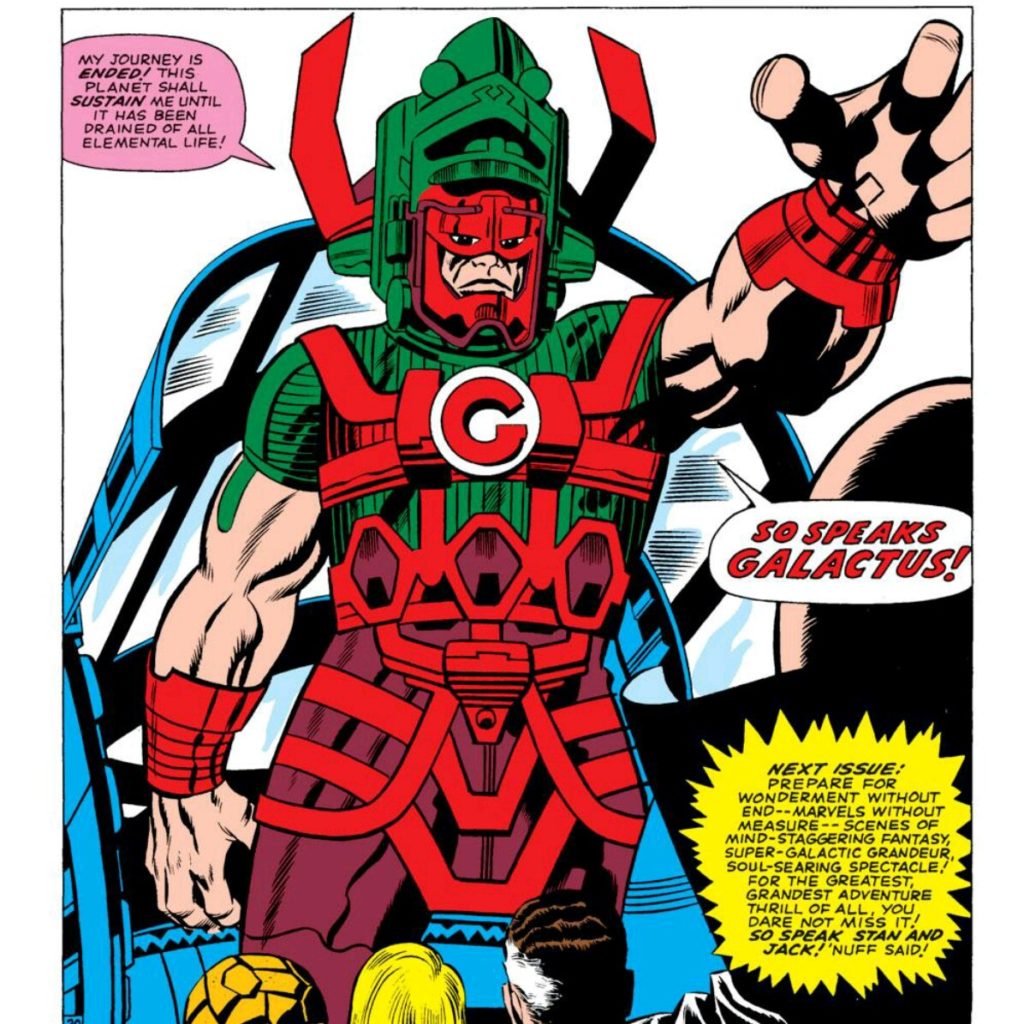 Galactus Reading Order
Fantastic Four Epic Collection: The Coming of Galactus 
Collects: Fantastic Four (1961) #33-51 & Annual (1963) #3
The original debut of Galactus comes in Fantastic Four #48 to #50 by Stan Lee and Jack Kirby.
Fantastic Four: Behold Galactus!
Collects: Fantastic Four (1961) #48-50, #74-77, #120-123 And #242-244
In addition to the debut of the Big G, this "Behold… Galactus!" collection includes three other stories starring Galactus from 1966 through the early 80's. A good primer on Fantastic Four Galactus stories if that's what you're after. I don't include it separately in the list here, but the Stan Lee and John Buscema Silver Age Silver Surfer series is inherently connected to the devourer as well.
Note that issues #242 and #244 in this collection are better placed below in the John Byrne era of Fantastic Four.
Thor Epic Collection: To Wake The Mangog
Collects: Thor (1966) #154-174
Includes both the Thor vs. Ego the Living Planet vs. Galactus throwdown and the origins of Galactus! The Galactus centric arcs occur in Thor #160 to #162, and #168 to #169 (for the origins!).
Fantastic Four: In Search of Galactus
Collects: Fantastic Four #204-214
Collects: #257 to #262
Big JB's on Fantastic Four for plenty of the 80s, but I'd check out the above as an absolutely crucial sample.
Hercules: Prince of Power (1982) #4
Collects: Hercules: Prince Of Power (1982) #1-4
Dazzler
Collects: Dazzler #10 to #11
There's a variety of oddball Heralds throughout Galactus' time soaring the spaceways, but good ol' Alison Blaire definitely holds a special place on the list!
Collects: Secret Wars #1 To #12
Galactus plays a pretty critical role in the mega Marvel Universe event from Jim Shooter and Mike Zeck.
Collects: Silver Surfer (1988) 1-2
Really without question my favorite non Silver Age work of Stan Lee, writing an out of continuity Silver Surfer "Parable" alongside the incredible Jean Giraud, aka Moebius.
Collects: Rom #25 To #27
Collects: Ogn
By Stan Lee and John Buscema
Galactus in the 1990s
Collects: Marvels #1 To #4
Kurt Busiek and Alex Ross' incredible Marvel's opens with a ground zero view of Galactus' first visit to Earth.
Collects: Infinity Gauntlet #1 To #6
In addition to his role in the original six issue Infinity Gauntlet event by Jim Starlin and Ron Lim, Galactus is a recurring player on the cosmic stage in the continuing Infinity saga, including a team-up with the Sorcerer Supreme, Doctor Strange!
I'd also recommend checking out Silver Surfer #48 for a strong prelude to Infinity Gauntlet.
Guardians of the Galaxy 24 to 25
Collects: Guardians Of The Galaxy #24 To #25
Superman/Fantastic Four: The Infinite Destruction
Collects: Ogn
Darkseid vs Galactus: The Hunger
Collects: Ogn
By John Byrne. As you'd expect, this Marvel/DC crossover is out of continuity, but it's clearly a pretty fun concept!
Collects: Galactus The Devourer 1-6
Written by Louise Simonson with art by Jon Muth and John Buscema
Fantastic Four: Resurrection of Galactus
Collects: Fantastic Four (1998) #46-50, Fantastic Four Annual 2001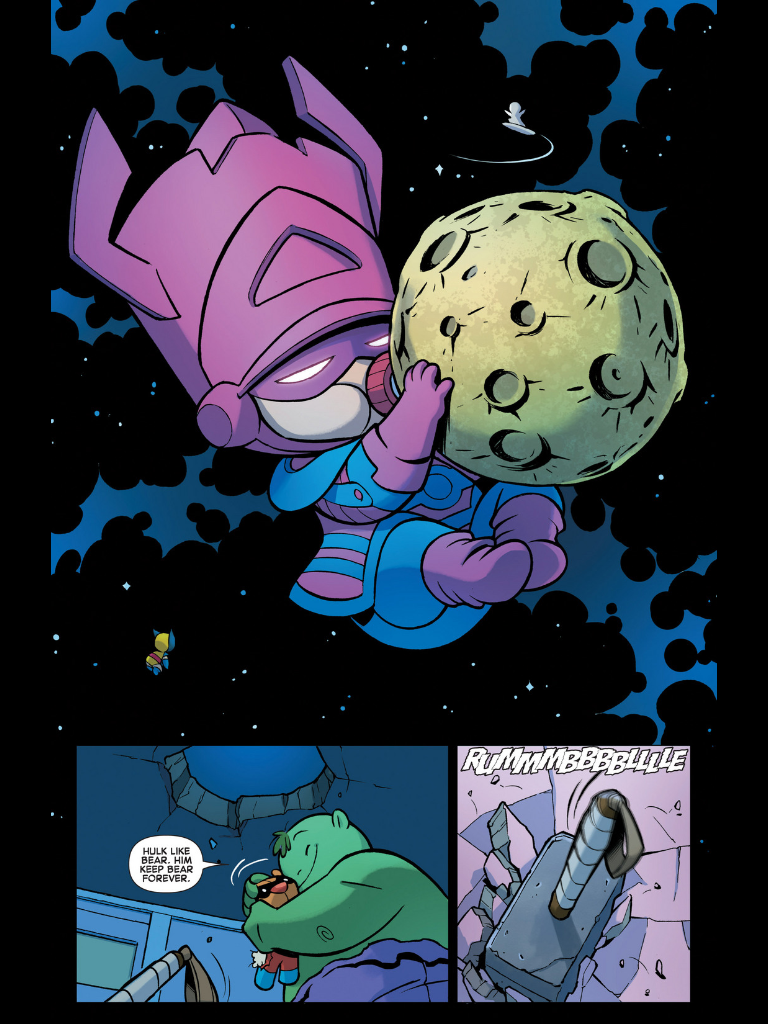 Galactus in the 2000's Modern Marvel Cosmic
Waid & Wieringo Fantastic Four
Collects: Fantastic Four (1998) 60-70, 500-524
Great run in general, but Mark Waid also has some fun with the origins of Galactus, and bringing him temporarily down to a more human level.
Collects: Check Out The CBH Reading Order!
There's ample reason to celebrate Annihilation as the explosion of modern Marvel cosmic, but the brilliance of the way the book incorporates Galactus is certainly near the top for my memorable moments.
Nova by Abnett & Lanning: The Complete Collection Vol. 1
Collects: Annihilation: Nova 1-4, Nova (2007) 1-15, Nova Annual (2008) 1, Material From Nova: The Origin Of Richard Rider 1
Nova issues 13 to 15 are the ones to pay attention to here (in another overall great run!).
Collects: Beta Ray Bill: Godhunter #1-3 And Secret Invasion Aftermath: Beta Ray Bill – The Green Of Eden
Beta Ray Bill solidifies his status as an awesome character by going Galactus hunting.
Collects: The Mighty Thor 1-6
Collects: Ff 6-23; Fantastic Four 600-611, 605.1
If the words "To me, My Galactus!" don't mean anything to you yet, you need to read this run!
Silver Surfer Vol. 2: Worlds Apart
Collects: Silver Surfer 6-10
Collects: Cataclysm: The Ulimates' Last St And 1-5, Cataclysm: Ultimate Spider-Man 1-3, Cataclysm: Ultimate X-Men 1-3, Cataclysm: Ultimate S 1-3, Hunger 1-4, Cataclysm 0.1, Ultimate Prologue 1
Spiraling out of the weirdness of Age of Ultron, Galactus makes his way to Marvel's Ultimate Universe!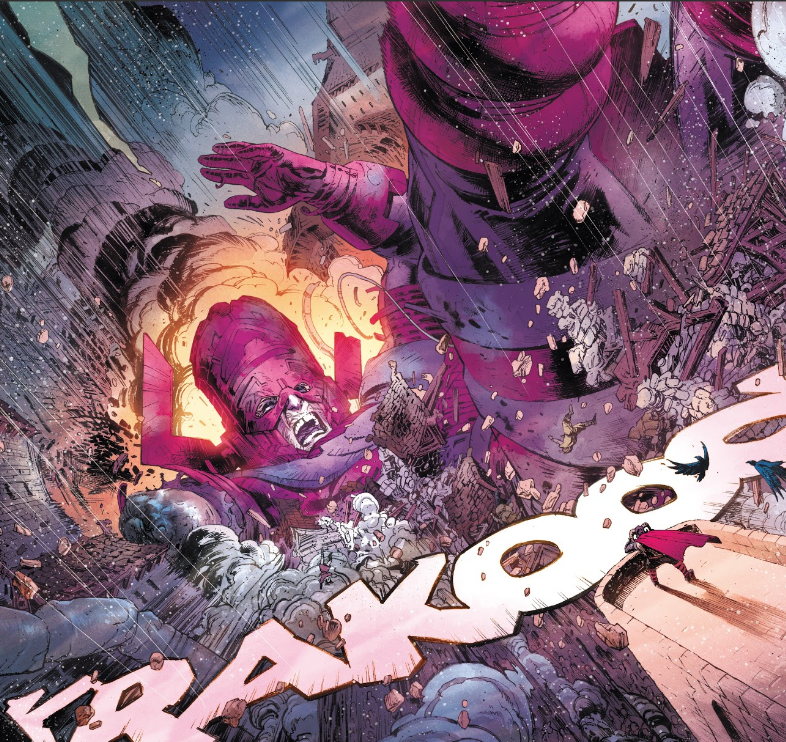 After Secret Wars (2015) – Galactus & Back Again
Ultimates: Omniversal Vol. 1: Start With the Impossible
Collects: Ultimates 1-5, Avengers 0
Ultimates: Omniversal Vol. 2: Civil War II
Collects: Ultimates 7-12
Ultimates 2 Vol. 1: Troubleshooters
Collects: Ultimates 2 (2016) 1-6
Ultimates 2 Vol. 2: Eternity War
Collects: Ultimates 2 (2016) 7-12
Get to know the absolutely awesome "Lifebringer" across the Al Ewing written Galactus saga!
Thor God Of Thunder: Last Days of Midguard
Collects: Thor God Of Thunder #19 To #24
Days of Future Galactus!
Collects: Thanos 13-18, Thanos Annual 1
Galactus and the Cosmic Ghost Rider ride again!
Infinity Countdown + Infinity Wars
Collects: CBH reading order
Not really required reading, but this explains how we get from Ewing's Ultimates to "old classic" Galactus.
Doctor Strange by Mark Waid Vol. 3: Herald
Collects: Doctor Strange 12-17
Mark Waid and Barry Kitson make Stephen Strange a herald of Galactus for a short time.
Thor by Donny Cates Vol. 1: The Devourer King
Collects: Thor #1 To #6
The start of writer Donny Cates run on Thor with artist Nick Klein brings the all-new All-Father into direct conflict with Galactus.
History of the Marvel Universe
Collects: History Of The Marvel Universe 1-6