In this week's QoW, we learn that bribes will get you everywhere, and that Silver Surfer has a surprisingly manageable Marvel Unlimited read experience:

I was wondering would it be possible for you to create a reading guide for the one and only Silver Surfer? ~ DJ Nik
My man Nik then went on to offer some baller bribes. It worked! Here's a Silver Surfer reading order to get you through the vast majority of the Sentinel of the Spaceways!
Before you begin, I should note that Silver Surfer is substantially more limited in Marvel Unlimited than many other Marvel mainstays. His early material is very available, but once we progress to the 1980's the library dwindles big time. Fortunately, you'll still be able to enjoy Surfer classics like the Rebirth of Thanos (setting up his involvement in Infinity Gauntlet).
Silver Surfer Reading Order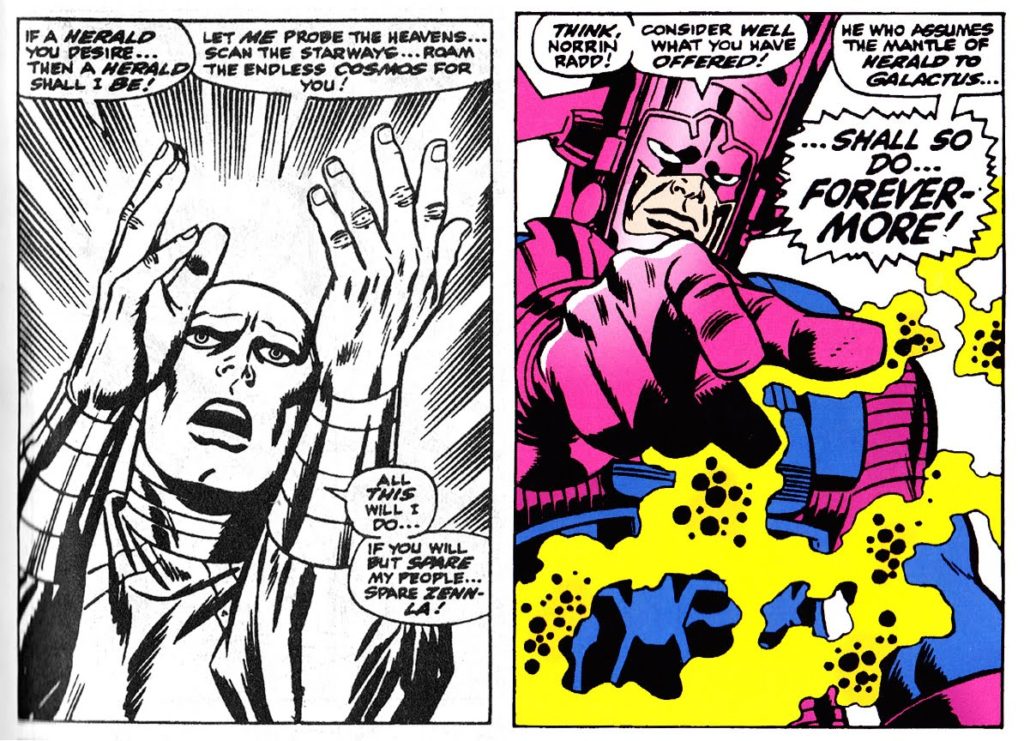 I) Surfer's Origins – March 1966 to Late 1970
Fantastic Four – The Coming of Galactus
Issues: #48 to #50, #55 to #61
Support For Comic Book Herald:
Comic Book Herald is reader-supported. When you buy through links on our site, we may earn a qualifying affiliate commission.
Comic Book Herald's reading orders and guides are also made possible by reader support on Patreon, and generous reader donations.
Any size contribution will help keep CBH alive and full of new comics guides and content. Support CBH on Patreon for exclusive rewards, or Donate here! Thank you for reading!
Issues: #92 to #93
Silver Surfer duels the Hulk. For the record, these are totally in Marvel Unlimited.
Issues: #5
Issues: #72 to #77
Issues: #1 to #18
Silver Surfer gets his own, relatively short lived solo series from Stan Lee and John Buscema. He is Shakespearean and mopey as heck.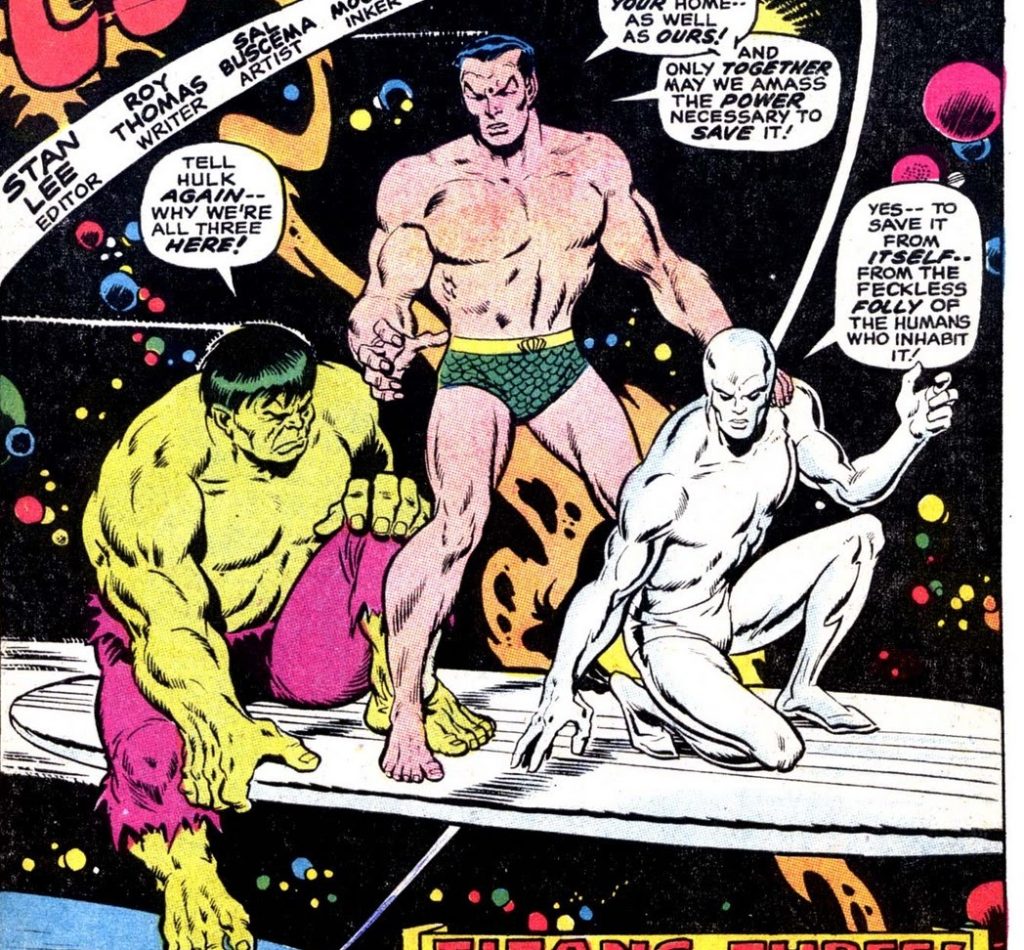 II) Norrin Radd Does the 70's – Defenders Origins
Issues: #34 to #35
To my surprise, also totally in Marvel Unlimited.
Issues: #122 to #123
FF and Silver Surfer vs. Galatcus!
Issues: #1 to #7
The first eleven issues, are fortunately in Marvel Unlimited. After that, it's one of the single most regrettable Marvel Unlimited misses! Note for trade collector's, that the Marvel Masterworks Defenders collects those previous 2 Sub-mariner issues as well.
Issues: Avengers #115 to #118, Defenders #8 to #11
Avengers vs. Defenders crossover from the early 70's. It's a pretty great early Marvel event involving the likes of Loki and Dormammu! Reading order is: Avengers #115, Defenders #8, Avengers #116, Defenders #9, Avengers #117, Defenders #10, Avengers #118, Defenders #11
Issues: #155 to #157
Issues: #50
Dracula fights the Silver Surfer. I'll be here when you get back.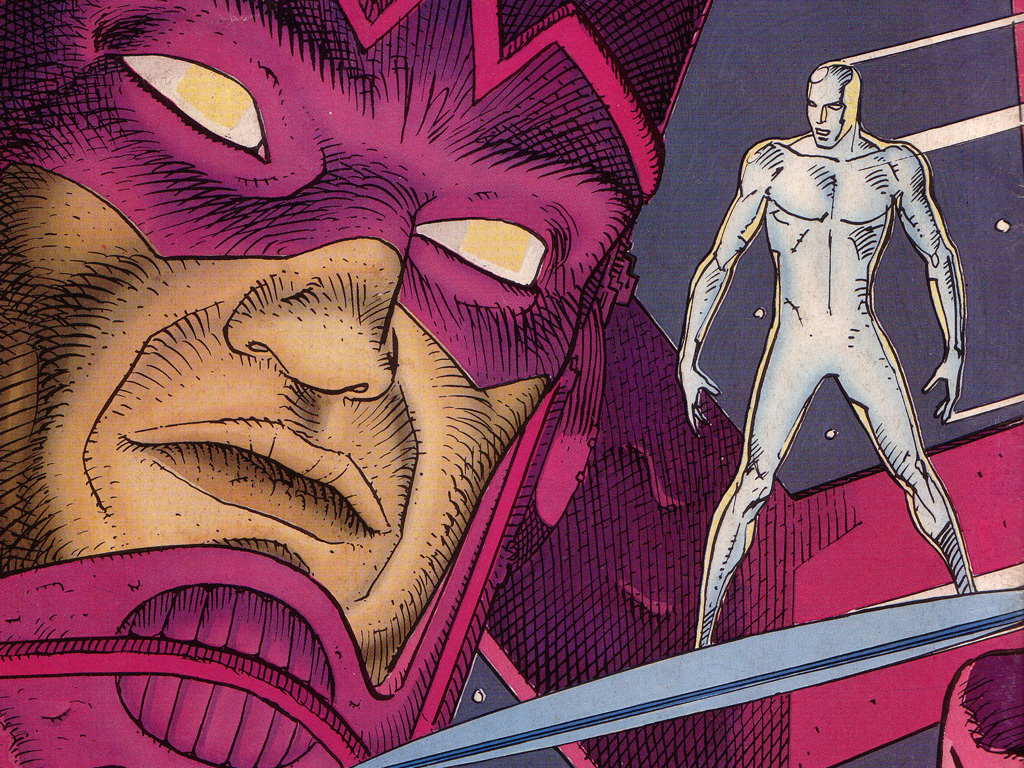 III) 1980's Silver Surfer Relaunch + Original Graphic Novels
Issues: #98 to #101
VS. Mephisto.
Issues: #1 to #32
Steve Englehardt solo Surfer series.
Issues: OGN
Graphic novel from Stan Lee and John Buscema, in which each page is a splash panel.
Issues: #1 to #2
There are a lot of good looking Silver Surfer stories out there, but it's darn near impossible to top Moebius here on this ambitious and thematic graphic novel penned by Stan Lee.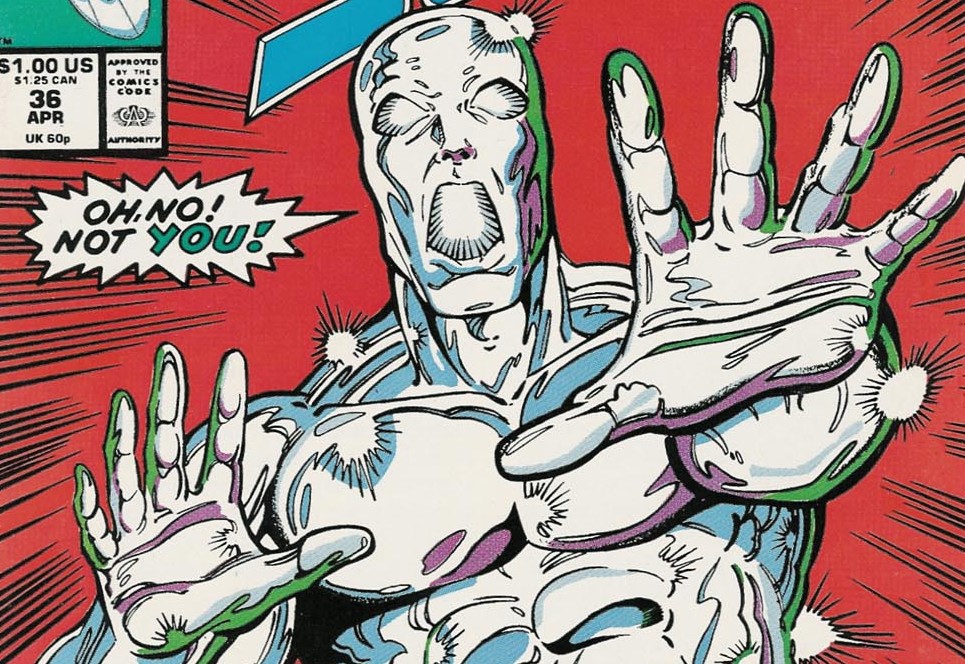 IV) Jim Starlin's Marvel Cosmic Takes Over!
Silver Surfer – Rebirth of Thanos
Issues: #34 to #38
Rebirth of Thanos – Jim Starlin's first arc on Silver Surfer. You may want to also check out my Thanos reading order for the best of both worlds.
Issues: #42 to #51
Leads up to Infinity Gauntlet. Sadly not on Marvel Unlimited!
Issues: OGN
Another unheralded (teehee) Marvel OGN from Jim Starlin.
Issues: #1 to #6
Issues: #52 to #60
Published during Infinity Gauntlet. Note that Silver Surfer essentially runs for the remainder of the 90's, up over 100 issues, but sadly none of those are on MU.
Issues:
Issues: #1 to #4
Resurrection of Shalla Bal.
Issues:
Issues: #1 to #5
Louise Simonson miniseries. Another notable gap in the MU library.

V) Silver Surfer Enters the 2000's
Issues: #46
As a part of Jeph Loeb's "Resurrection of Galactus" storyline.
Issues: #35
I'm going to rep for Christopher Priest's Black Panther any chance I get.
Issues: #1 to #14
New ongoing Silver Surfer series is launched.
Issues: #10
I'd just like to point out that Cable breaks the Silver Surfer's surf board.
Issues: #1 to #5
Issues:
The Comic Book Herald Marvel Cosmic guide is your best bet for all involved comics here!

Issues: #92 to #95
Planet Hulk!
Issues: #1 to #6
The "last" Fantastic Four story (out of continuity!)
Issues: #1 to #4
To my knowledge, this is an out of continuity "Final" Surfer story from JMS and Esad Ribic. It's a really solid miniseries, I'd highly recommend. This doesn't get anywhere near the accolades of "The Death of Captain Marvel" but it's not an unreasonable comparison.
Issues: #546 to #550
Issues: #1 to #4
Issues: #6 to #12
Issues: #583 to #586
This is a harsh solo read if you're not up to speed on Hickman's Fantastic Four (note to everyone: Hickman's Fantastic Four is worth every page!)
Issues:
Issues: #1 to #5
Greg Pak short-lived solo Surfer series.
Issues: #1 to #4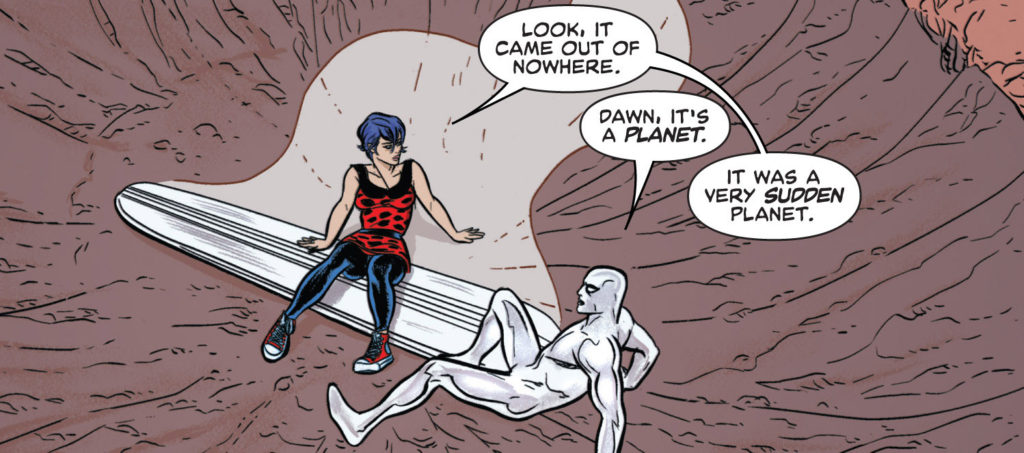 VI) Marvel NOW! Silver Surfer
Issues: #1 to #12
Matt Fraction and Terry Dodson.
Issues: #30
Issues: #1 to #4
Issues: #1
One of Marvel's digital only Infinite comics, this issue launches the new Slott and Allred Surfer, and has one of my favorite Norrin Radd jokes of all time.
Issues:
No really, Silver Surfer shows up at a Moon barbecue.
Issues: #1 to #14
Dan Slott and Mike Allred, with a pretty great Surfer meets Doctor Who cosmic joyride. This series will take you right up to the Last Days during Secret Wars.