[covers drawn by Jack Kirby; respectively inked by George Roussos, Joe Sinnott and Chic Stone]
Find part of our Evolution of Marvel Cosmic series here!
There's no doubt that with the arrival of Galactus eager to feast upon our Earthly life energies or whatever in Fantastic Four #48-50, Stan Lee and, in particular, Jack Kirby finally opened up a whole new vista of storytelling within the nascent Marvel Universe. The invigorating potential for Kirby's genius particularly unlocked not just the best Fantastic Four stories to come but also the King's streak of cosmic epics in Thor, which maybe wouldn't be surprising to Thor readers of the past decade. These two early titles are really where, post-FF #48, virtually everything about what we think of as Marvel Cosmic was first conceived.
The only major cosmic players to appear almost fully realized before Galactus were the Watcher and Super-Skrull. The Skrulls themselves, however, Stan and Jack weren't quite sure how to depict, although their subsequent appearances over the first few years after their debut in FF #2 were far in advance of their original almost embarrassingly goofy conception. If not for their useful native shape-shifting abilities, they would've certainly gone the way of the vast majority of Marvel's early one-off alien species.
Instead of the typical ignominious fate of many an early Marvel alien species, the Skrulls returned with increasingly sophisticated visual embellishment courtesy of Jack Kirby as he was really coming into his own as the King of this fledgling medium.
Support For Comic Book Herald:
Comic Book Herald is reader-supported. When you buy through links on our site, we may earn a qualifying affiliate commission.
Comic Book Herald's reading orders and guides are also made possible by reader support on Patreon, and generous reader donations.
Any size contribution will help keep CBH alive and full of new comics guides and content. Support CBH on Patreon for exclusive rewards, or Donate here! Thank you for reading!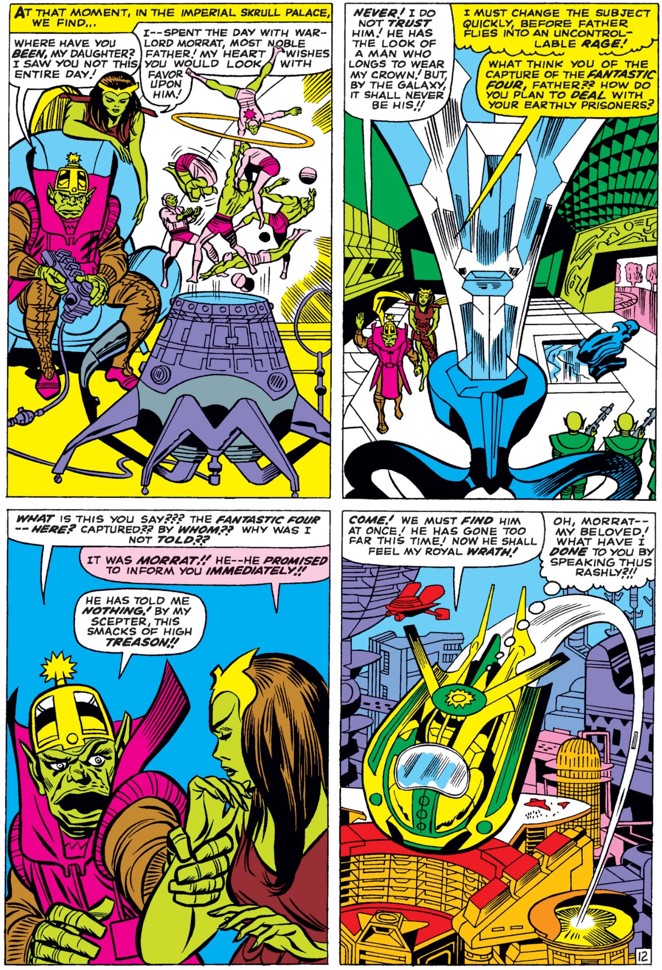 [Pencils for this issue, FF #37, and all images throughout this piece by Jack Kirby; inks here by Chic Stone]
While, on the other hand, the debut of the Inhumans was far more sophisticated than the Skrulls', they wouldn't be revealed as integral to the early growing tapestry of Marvel Cosmic until two years later. Prior, they were simply, but innovatively, Marvel's answer to the sci-fi- trope of the lost race, albeit hyper-advanced rather after the fashion of the medieval futurism mode of sf—as if Jack had stumbled upon a manuscript that prolific genre writer Jack Vance somehow forgot to submit for publication. (Or maybe the two Jacks' genius were just born out of not entirely dissimilar imaginations and circumstances.)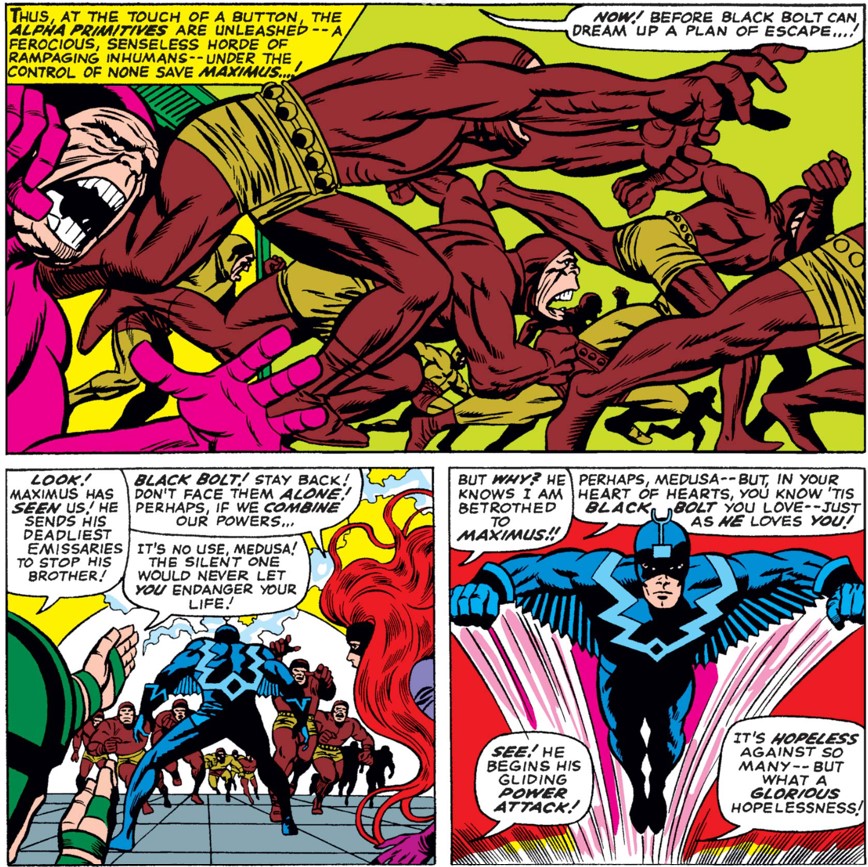 [FF #47; FF #44-48 inks by Joe Sinnott]
Clearly, the conception of the Inhumans occurred to Jack at the start of his peak imaginative period, but he and Stan were also obviously figuring things out on the fly. The Inhumans' initial story had gone far enough, reframing itself with each issue, that it needed to be quickly jettisoned to make way for a mighty spectacle that would be more immediately satisfying—"The Coming of Galactus!" (This is why the "Galactus Trilogy," as it became known, started in the middle of the concluding installment of the meandering Inhumans saga.)
Basically, it understandably took a few years of constant creative work for Jack to find the secure footing that would allow him to let his cosmic imagination fully come into its own.
Following our initial piece in this series of articles, this entry is our second and last look at Marvel Cosmic before Galactus—so it's relatively quiet, but for serious Marvel Cosmic heads, we do have the introduction of the Molecule Man, the Skrull Princess Anelle and, of course, the Inhumans. (Oh, and the Stranger; yeah, that rando.)
I. Molecule Man (Fantastic Four #20, 11.1963)
Besides being an important debut issue for someone who will eventually be a very relevant cosmic player, FF #20 also sees the Watcher dropping in to warn the Fab Four of the Marvel's latest godlike metahuman, indeed the greatest danger yet to reality itself—lowly Owen Reece turned Molecule Man!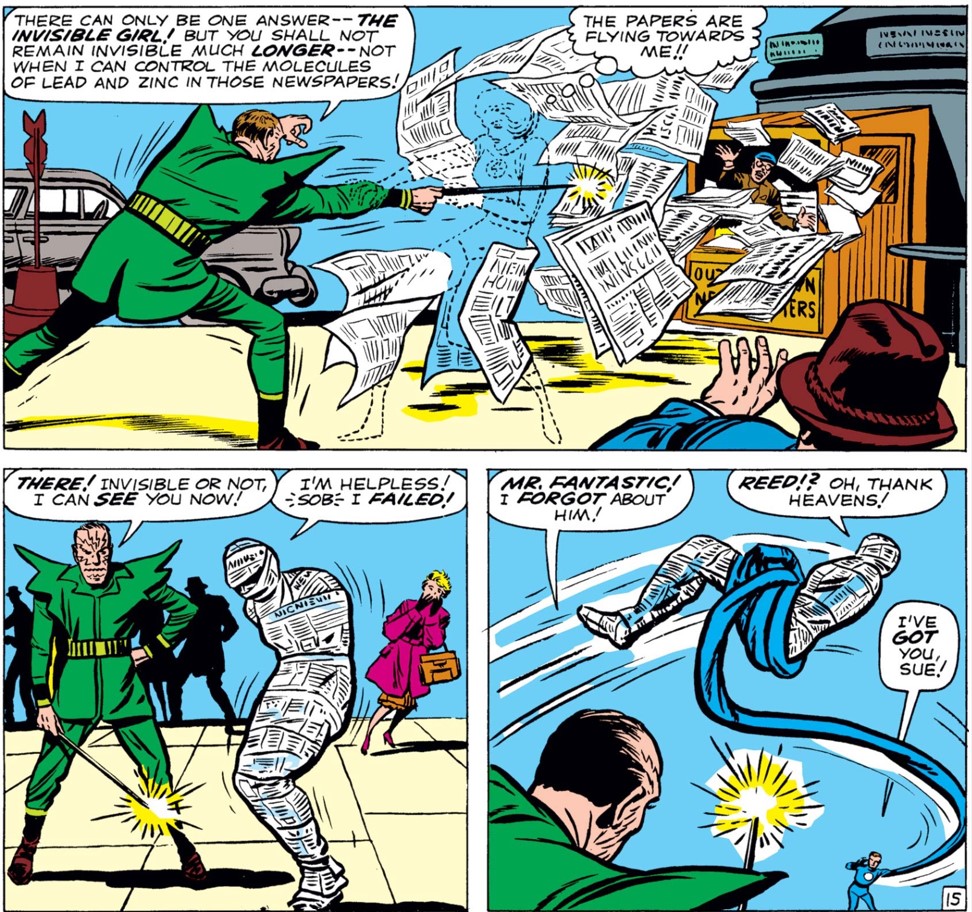 [Not the most creative use of any of the characters here – but good for a chuckle? Inks by Dick Ayers]
FF #20 opens with Mr. Fantastic discovering something like "a dehydrated acorn" inside a meteorite, and he argues that "this proves that some form of life must exist in outer space!" I suppose this could've been fan service, exciting readers who had missed out on alien-centric issues #2, 7, 11, 13 and 18 (So, yeah, remember—these are the very early days when Stan couldn't even keep Peter Parker's name straight; everyone at Marvel was working their tail off with nary a backward glance).
Several pages later, an alien they've already met, representative of their fourth alien race encountered, suddenly whisks them away to his futuristic villa on the Moon—and the Watcher's manse is located inside the ruins of yet another extraterrestrial people, long vanished into deep time (though in a few years, it will be revealed that their descendants live on in rigidly martial imperial might). Actually, no wait! It turns out that the Watcher has sequestered them in "some other dimension!" In other words, we're being told that Uatu is a master at securing prime real estate that we hapless readers didn't even know existed.
(For the goofy yet relatively lackluster origin of Uatu and his fellow Watchers, see the short story from Stan's brother Larry Lieber in Tales of Suspense #53, 1964. But we've already touched on what matters: These bald white dudes have been around since the dawn of time, not interfering (mostly), and they look funny; that's about it.)
He's a strange one, but he has his own style—unless standing next to his fellow Watchers; the difference, then, is that he's a bumptious interloper into the affairs of lesser beings.
Oddly, in a greater bit of inconsistency, the Watcher's method of capturing the FF (instead of inviting them) is to ambush the foursome with a moving, whirling portal on the streets of Manhattan, which would clearly lead to unpredictable collateral damage. This is not the level of noninterference we expect of the Watcher, but I think by "The Coming of Galactus," we'll have something much closer to Uatu's definitive portrayal (though he does massively interfere there, in Galactus' plan to consume Earth).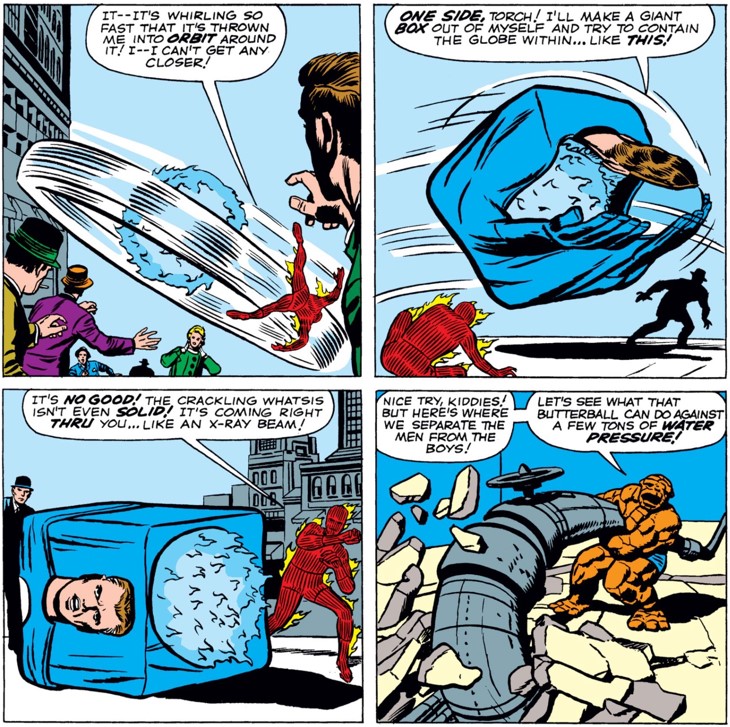 [Reed wrastles geometrically with the alien ball of energy that certainly doesn't look like a typical portal]
While the Watcher is busy warning the FF, where they can't see what's happening on Earth currently, Molecule Man, the very threat he'd sought to warn them of, is already causing mass panic and chaos, moving their Baxter Building across Manhattan to Times Square, apparently with no more effort than waving his wand. So clearly, Uatu was just showing off his gimmicks rather than making an actual contribution, until the last moment!
We won't see Owen Reece again for another decade—in Marvel Two-in-One #1, a bizarre story that seems out of step with the Molecule Man canon, such as it is. In fact, our modern interpretation of Molecule Man, both his delightful personality (peevish, nerdy and solipsistic) and the scope of his reality-wrecking powers, we owe entirely to Jim Shooter, first in a short, fun arc in Avengers (#215-216, 1982)—where Owen's wand is said to have been a mere crutch all along—and then more fully and famously in Secret Wars two years later. Indeed, before Shooter's take, this character may have been one of the most inconsistently and confusingly portrayed in Marvel comics, never mind Kirby's consistent inconsistency in his debut appearance!
The best thing about his powers, though, is that for all their potentially apocalyptic might, they are entirely simple in concept and origin: There was a lab accident; a lowly tech was in the way. Bam—Molecule Man. They just don't do it like that anymore, y'all.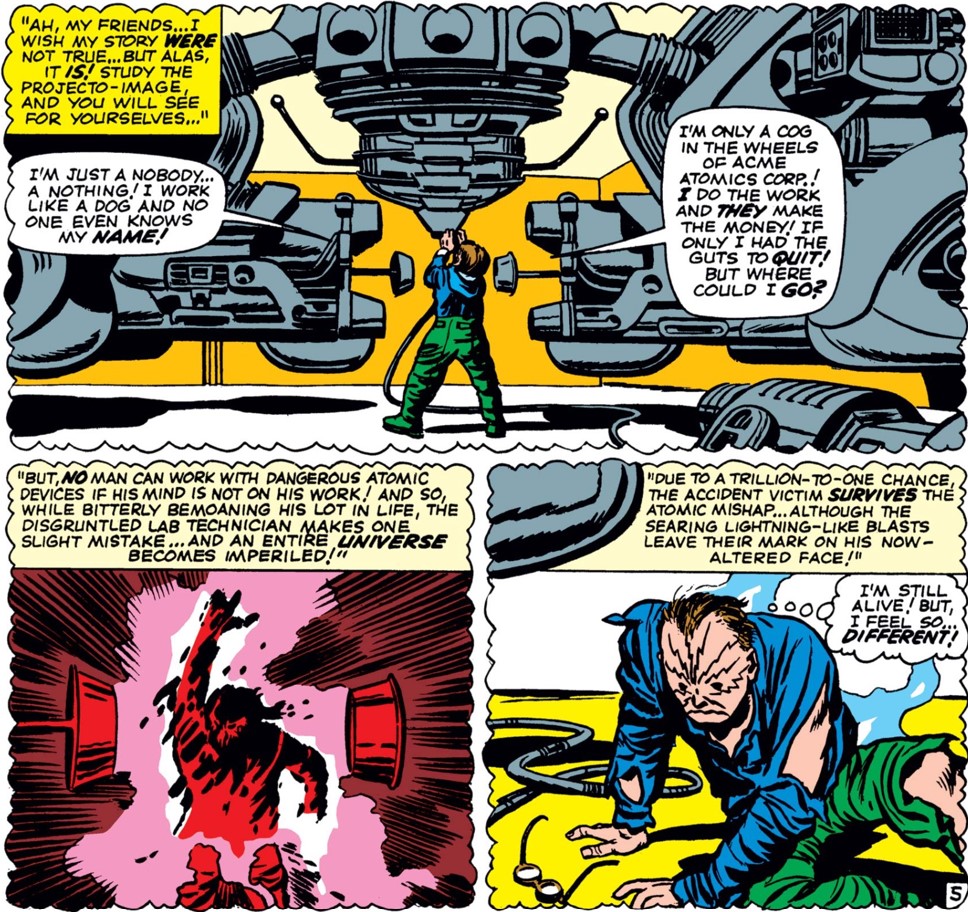 After fleeing in panic, Reed realizes Molecule Man's molecule powers affect only inorganic molecules, and the trap he lays for Owen, with Alicia's help, is complete nonsense, akin to Spidey using a shop vac to vacuum up Sandman in their first brawl. But anyway, in a necessary deus ex machina, Uatu then steps in and whisks Molecule Man off to yet another dimension. We'll catch up with him in 20 years, once he's back to being comfortably, grumpily middle age.
The Watcher, however, returns with issue #29, in a very silly rematch between the FF and the Red Ghost and his Super-Apes, who at the end remain on the Moon while their foolish master is transported elsewhere only to return to whisk his reluctant primates off to the future, in a fun, sly retcon by Matt Fraction and Mike Allred, in their FF vol 2 #13 (the title that stands not for "Future Foundation," not "Fantastic Four").
While this is as far out as his hapless henchmen ever get, the Red Ghost himself would occasionally dabble in small-time cosmic schemes, but they invariably fail before going anywhere, amounting to little more than irritating the Watcher, being a pawn in the Contest of Champions and the failure of yearslong scheming with his fellow Intelligencia.
Ultimately, the Red Ghost was killed by the evil Steve Rogers in the build to the lame Secret Empire event.
Even Reed couldn't handle the mid-century techno-chic goodies in Uatu's Moon villa. A lesser man could only rue the day he thought himself worthy of an impossible bauble pilfered from the enigmatic Watcher.
[FF #29 inks by Chic Stone]
II. Developing Imperial Skrull Intrigue (Fantastic Four #32, 11.1964—and #37, 8.1965)
The Skrulls' third appearance, in FF #32, debuts no new characters but does see the return of Super-Skrull and Emperor Dorrek in a pretty weird tale involving Susan and Johnny's father Franklin Storm falsely imprisoned for murdering a loan shark. This is only relevant because Super-Skrull will return, gunning for the FF again, by approaching them as the jailed Storm senior, whom he must have somehow known about before the FF even knew about his current circumstances! Or something? Super-Skrull replaces the man in his jail cell, somehow sending him as a beam of energy, or something, back to the Skrull home world (not yet named Tarnax, though it's said here the planet's "name we of Earth could never even learn to pronounce"; eventually it will just be called Throneworld). Somehow—okay, never mind. Let's just say Reed uses science to finally defeat the FF-themed super-soldier.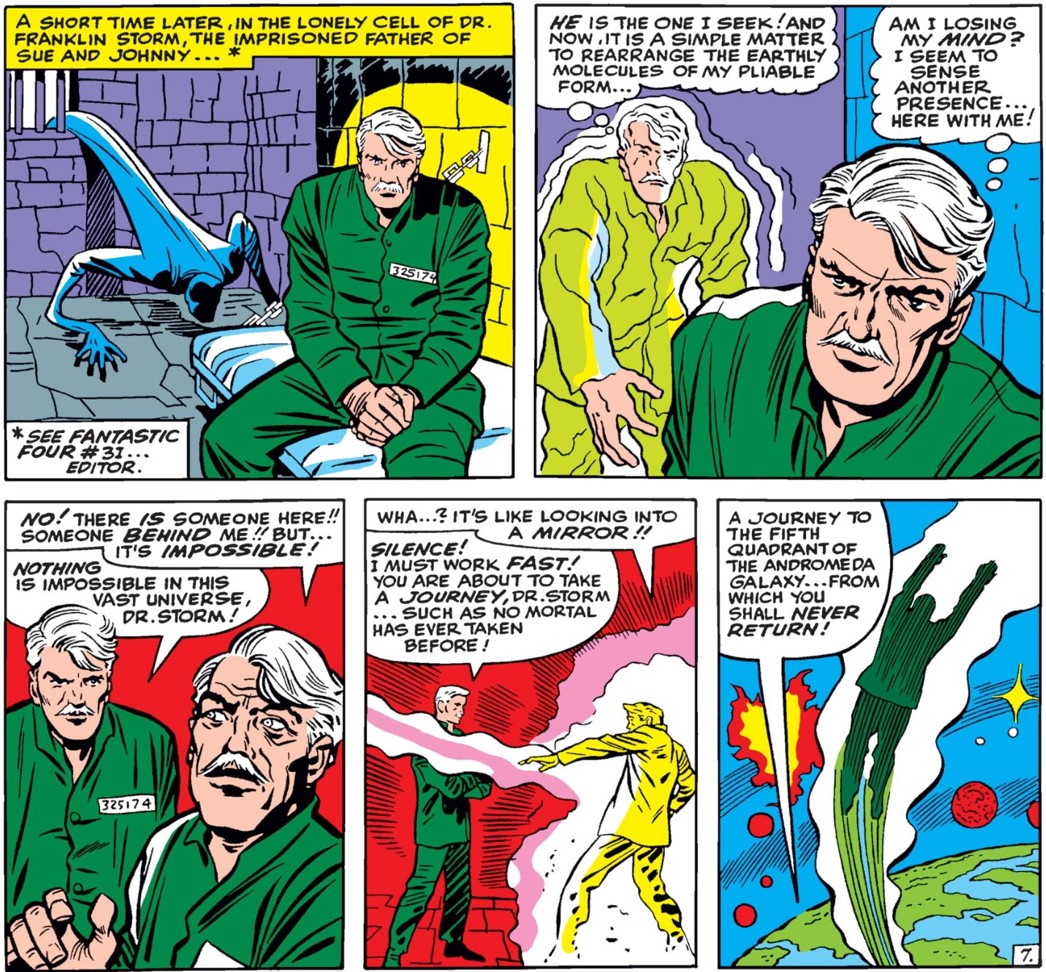 [Beam me away, Skrully! FF #32 inks by Chic Stone – also for FF #36 and 37]
At the opening, the Skrulls on Throneworld had sent out "a strange shimmering ray cutting through space faster than a trillion laser beams" to liberate Super-Skrull from the dead volcano that he'd been trapped in back in issue #18, by triggering a volcanic eruption, somehow, sort of. At the end, Reed scares him off, and he returns home via "the same incredible Skrull transport ray" they had used to kidnap Franklin Storm, who would now be returned by his captors, because they know Reed's impromptu WMD is aimed at them (Johnny: "You mean, you could bombard them with nuclear power if they double cross us, Reed?"). Tragically, Dad dies upon returning, throwing himself to the floor to save the FF from the hidden device strapped to his chest, "some sort of high impact explosive beam" according to Reed—so we have to wonder, Mr. Fantastic, why didn't you put paid to those double dealers and use your fancy "atomic space-displacer right on their home planet" like ya promised?
This lurid tragedy, really begun the previous issue, was Franklin Storm Sr.'s first mention. Dear sir, we hardly knew ye—at least you know who Sue and Reed's Franklin Richards will be named for, several years from now!
FF #37, however, is a bit more significant—introducing Princess Anelle (and Warlord Morrat). Note that this first issue depicting more than a few Skrulls depicts the alien race as much less intentionally ugly, but the waxed mustache as villain signifier, the yellow skin coloring and the lack of ribbed chins are inconsistencies here that we won't see again. (Marvel was already fulfilling its Cold War racist caricatures elsewhere, in Journey into Mystery and Tales of Suspense.)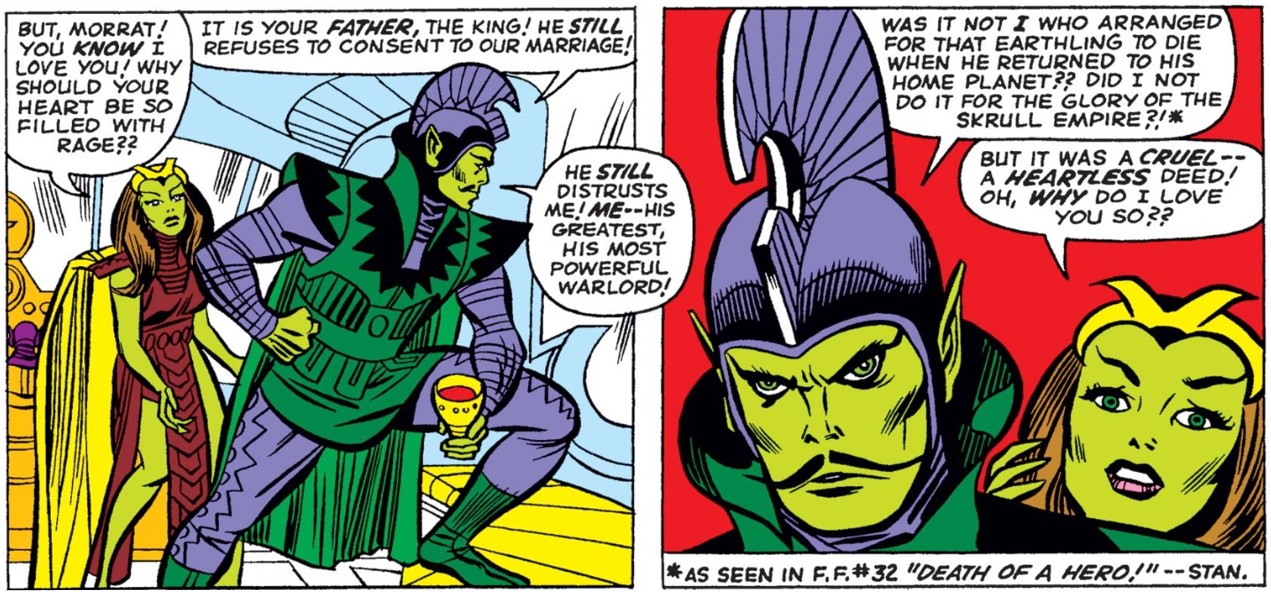 [FF #37 – Why do I love you so???]
Princess Anelle is Hulkling's mother! "Behold, a Distant Star"—indeed. However, it will be over 40 years before that reveal occurs. In Anelle's early days, her taste in men was … odd, given her temperament, but it's not as if we don't have ample evidence of Stan and Jack's low opinion of women's decision-making process.
This issue's story is more coherent—not as the debut of the Druffs (or "tribbles"), timid alien humanoids who seem less intelligent than rabbits and whose home world was colonized by the Skrulls millennia ago (none of which history will be revealed for decades). Most famously, they return in "The Kree-Skrull War," where their ridiculously swift reproductive cycle threatens to literally smother prisoners Captain Marvel, Quicksilver and the Scarlet Witch, unless Mar-Vell will build for the emperor an Omni-Wave Projector as the war's decisive WMD. That's always been the Druffs' finest Marvel moment.
The story begins with NASA helping Reed build a groundbreaking variety of spacecraft—one that travels via sub-space. Why does the world's smartest man who apparently created everything in the Baxter Building from scratch need NASA's help? The world may never know, but this isn't just gratuitous super-science; their need was real: The FF intended to put the Skrulls in their place for good and on the Skrulls' own turf, no less.
[The Fab Four take their wildest ride since FF #1, and somehow Ben is looking fresher than his mates here]
But after the Skrull responsible for her father's death is executed at Emperor Dorrek's orders, Susan decides that she's not the vengeful sort, after all.
And that's okay! Because not only was the conniving Warlord Morrat responsible for Storm Sr.'s murder; he kidnapped the FF upon their arrival and didn't tell Emperor Dorrek, who of course finds out from Princess Anelle, a standard Stan-Jack female in distress and foolishly in love with the worst sort of villain. After Dorrek's surprise execution of the treasonous upstart, Reed demands justice be meted out against whoever killed Sue and Johnny's father. The emperor of course points out that the man is now dead—voila. Earth will never have anything to worry about ever again from the Skrulls; he's a man of his word. The end.
Oh—but here's a nice touch that I'm not sure was well recognized then or now: As the still smitten Anelle rushed to embrace her lover, presumably to shield him, as her father's men fired on the unrepentant traitor, Sue used her powers to shield the Skrull princess in a force-bubble.
III. The Stranger (X-Men #11, 5.1965—and #18, 3.1966)
The Stranger is a cosmic being who is not infrequently mistaken for an Elder of the Universe; even writers have made this mistake*, further confusing readers! The first of the Elders, however, doesn't appear until Avengers #28 in 1966—the Collector, famously played by Benicio del Toro in Guardians of the Galaxy (Thor: Ragnarok saw the even more entertaining introduction of Jeff Goldblum as the Grandmaster, another early Elder foe of the Avengers.)
*I say "mistake" rather than retcon because there's been no intentional reframing or revelation; these are just oversights (until 1990's Quasar #16 by Mark Gruenwald—sort of, maybe, not quite, see below).
So, alas, the Elders will have to wait, and unfortunately, the Stranger would perhaps be more interesting were he among their number.
In the Stranger's debut, his aging but ultra-hip landlady believes him to be a mutant; in fact, everyone does. It's as if Xavier, Magneto and anyone else in this book wasn't living in the same Marvel Universe as Spidey, the FF and so on, even though there had already been plenty of cross-pollination in the pages of X-Men. While they're wrong about his true nature, the Stranger and his kind "are greatly interested in mutations!!" And X-Men #11 ends with him abducting Magneto and the Toad off-planet, making theirs the first such alien abduction of a superhuman in Marvel's Silver Age (But we should never forget Franklin Storm Sr.'s sacrifice).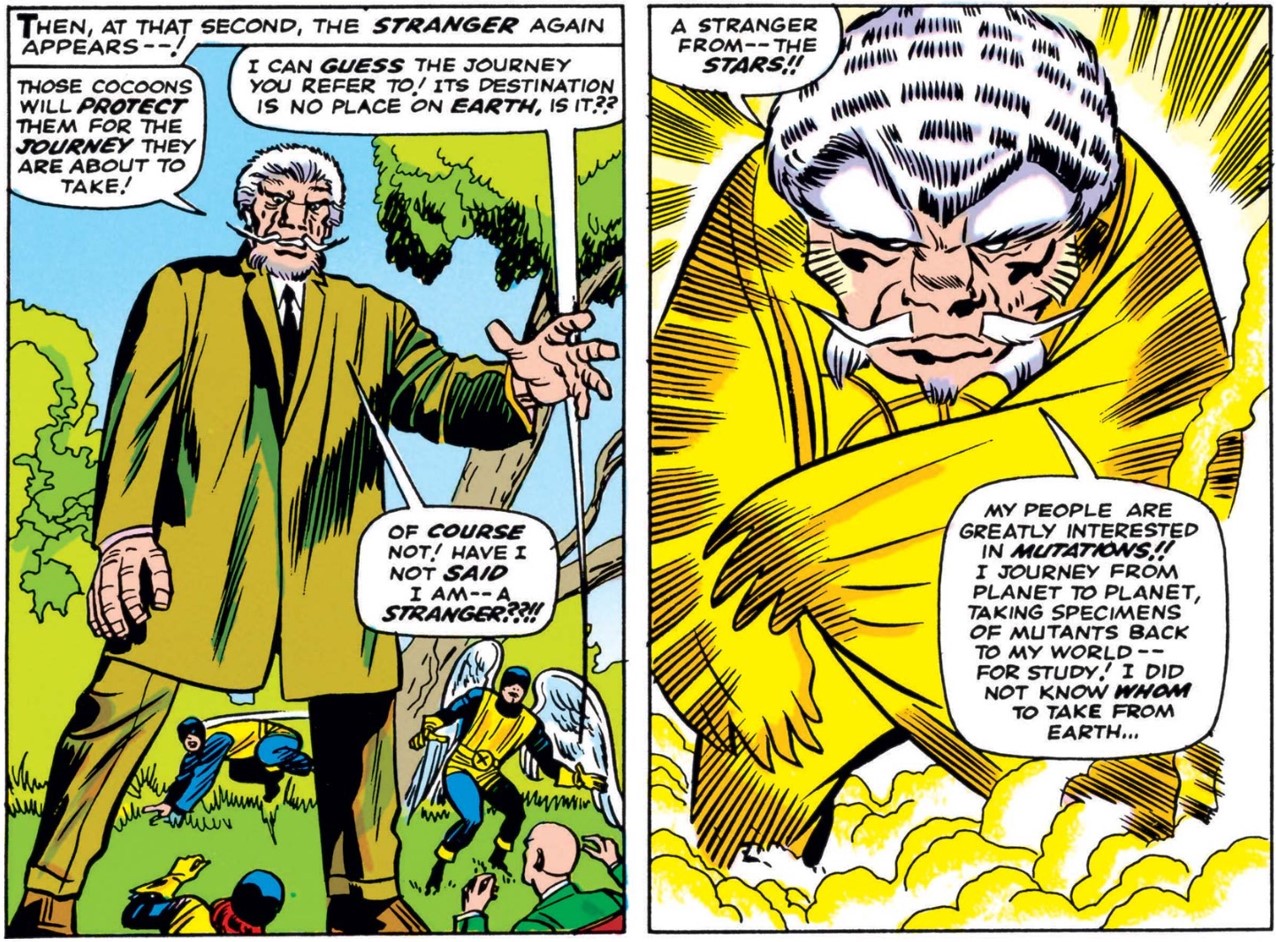 [X-Men #11 inks by Chic Stone]
Most significantly, though, the Stranger is responsible for breaking up the OG Brotherhood of Evil Mutants. Not only are Magneto and Toad abducted, but the alien turned Mastermind into stone, and here we see Quicksilver and Scarlet Witch come to their senses and prepared to make their own way in the world now. They reappear next month in the classic Avengers #16, wherein the mutant terrorist siblings and Hawkeye, another outlaw, and join Earth's Mightiest Heroes, or what quickly came to be known as Cap's Kooky Quartet.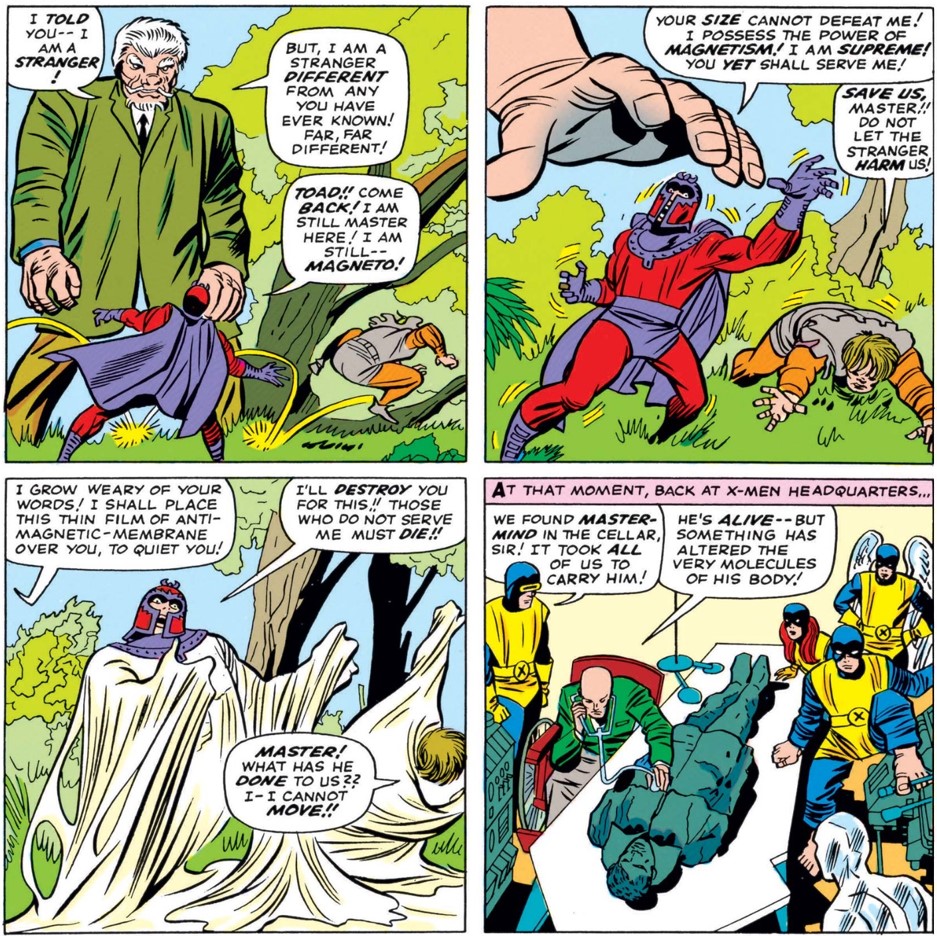 But after the Stranger's debut here, it turns out that not only does no one know where he's really from—even he only suspects what species he might belong to: the Celestial-made Eternals of Gigantus, who first appear in FF #115; the Stranger makes this connection in Quasar #16.
Beginning in FF #113, Stan Lee's last several issues on the title reveal at least two alien races who were also visited by the Celestials deep in their past, engineering Eternals, Deviants and even so-called Latents (analogous to Earth's mutants).
Kieron Gillen—imagine the possibilities! (No doubt, he already has.)
However, Gigantus no longer exists, and the Stranger's "home world" is the artificial worldlet "Labworld" (introduced in X-Men #18). Its primary design function is as a vast exploitative prison hospital/hospice, imprisoning all the kidnapped alien subjects the Stranger has already or will soon experiment on. Now, I'm framing this in a way that could be really interesting as a story generator, but Marvel instead has always managed to make so much of their cosmic material dull and confusing rather than drilling into a concept, sticking with it for more than a few pages, to make it vivid and exciting.
As an aside, Magneto would escape from the Stranger's Labworld twice. After the first time, in X-Men #18, Xavier would somehow summon the Stranger back to Earth to re-abduct his villainous foe—which is, yikes, a pretty dreadful way to treat your enemy, especially when they're from your own (sub)species, knowing that this frightful alien being would be subjecting a fellow mutant to experimentation simply for being a mutant. But hey, I guess Xavier's misdeeds even this early in his career were so many that this particular one is usually overlooked. (Poor Erik, or Max or whatever; he's put up with so much from his abusive beloved over the decades. The Krakoan nest didn't work out—but we can move on from this, buddy. Chuck Chuck 2022!) Magneto's second Labworld breakout wouldn't occur till Avengers #47—two years later.
And where was Charles, then, with his vaunted ability to summon the Stranger? Not even a phone call! Truly, Erik (or Magnus or whatever) has suffered so much for his love.
IV. The Inhumans (Fantastic Four #44-48, 11.1965-3.1966)
While Medusa was the first Inhuman to appear in print, in FF #36 as part of the Wizard's Frightful Four, readers didn't really know anything about who she was, where she came from, how she got her powers… and neither did she! After all, as revealed almost a year later with the debut of the Inhumans, she was an amnesiac. Before then, though, she was simply something of a mysterious femme fatale. That is obviously a predictable side effect of crashing one's sky sled and having to survive in the wilderness.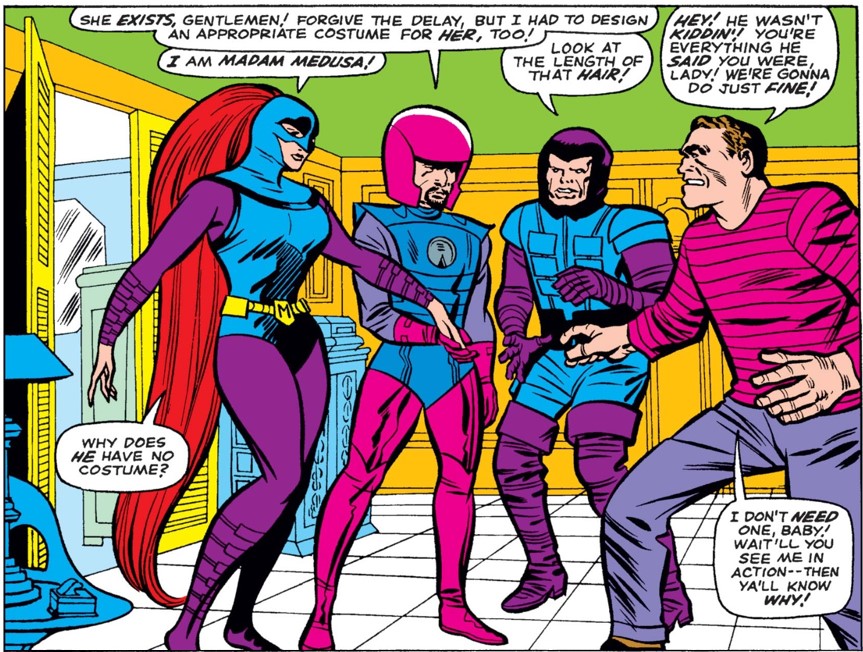 [FF #36]
I've seen some talk online that Roy Thomas claimed that in creating Medusa either Stan or Jack or both were inspired by classic pulp sf story "Shambleau" by C. L. Moore (1933), who also wrote a series of stories starring my favorite early sword-and-sorcery woman warrior, Jirel of Joiry—an even fiercer redhead.
Her criminal activities with the Frightful Four brought her sufficiently into the open that her worried family were finally able to track her down—but not before Medusa forces Johnny Storm to help make her escape, from the frightful Gorgon, as seen in issue #44.
In creating this new race of superhumans, Stan and Jack were clearly going for the Greek mythic feel, with Medusa's name as precedence. Of course, they could've tried renaming her with the justification that she'd been amnesiac, but that would've been awkward for branding. The point, though, is that Gorgon in no way resembles a gorgon of antiquity, one of whom was named Medusa! And obviously, Marvel's Medusa lacks the gorgon death stare. Triton will at least prove a bit closer to the mark.
Though Gorgon catches up with Medusa, Medusa remains more amnesiac than not, and his capture of her indeed seems like an abduction rather than a sort of rescue. A twist on the classic misunderstanding fight—or Stan and Jack are just winging it still, no definite narrative end in sight.
Later that night (issue #45), Johnny is walking about aimlessly in teen boy despair over comely Dorrie Evans jilting him, but when he finds himself wandering through a neglected slum full of abandoned and decaying tenements, he sees a beautiful young woman—she says her name is Crystal.
Johnny stares in wonder: This woman "makes Dorrie Evans look like a boy!" But to the readers, she appears as little more than a stick figure, although we're looking over Johnny's shoulder. Going in for a closer look, however, he's blown back by a sudden gale seemingly from nowhere. Giving playful chase, she leads him through the warren of concrete ruins, where he runs into a girl's best friend—big puppy Lockjaw! Crystal then leads the hapless Torch underground, where the rest of her family awaits, giving him enough hints that they aren't human (nor does he think they're mutants, "or else the X-Men would have found them!").
For all that Crystal genuinely wants to get to know Johnny, as a friend at least, her family has other ideas and treat with him pretty harshly. Escaping, the boy calls on his own fam but before the two groups trade blows, Black Bolt appears, crashing through the decaying masonry overhead, and we're promised that issue #46 will reveal his "shocking, mind-staggering secret." But in that next installment, the Inhuman king is felled by Ben.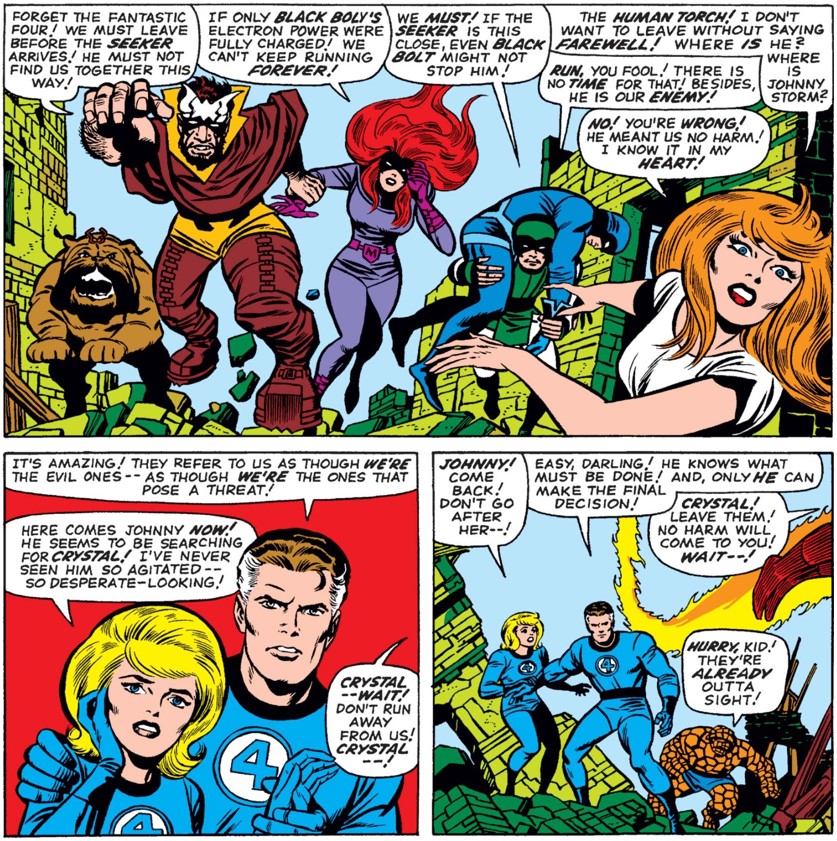 [FF #46; the first Inhuman Royals group portrait!]
But it would be two years before the really staggering revelation, as seen in the Inhuman backup stories found in Thor, starting with issue #146, that the Inhumans were a Kree superhuman experiment (this is also where the Terrigen Mist is introduced)—all just a few months after the Kree alien race debuted in FF #65.
The Inhumans' status as weaponized super-soldiers for the Kree Empire wasn't introduced until 1975 with the first Inhumans series, but the explanation that their divergent post-Terrigen appearances are suited for infiltrating a vast range of alien races is made canon in the much later Inhumans vol 3 miniseries of 2000 from Rafael Marin and Jose Ladronn. Which is some unfortunate logic—because that means there would be only one "infiltrator" per race considering how unique each Inhuman appears after ritual transformation. Oh well! Who cares about verisimilitude anyway?
So, technically, this cram-packed arc focused on where the Inhumans have stayed hidden all these millennia (the Great Refuge in the remote Himalayas—presumably unseen by any local humans, ever) isn't a chapter of Marvel Cosmic, except as an introduction of the Royal Family any Marvel Cosmic fan is already acquainted with. The second one to appear is Gorgon, followed in issue #45 by Crystal, Black Bolt, Karnak, Triton, Lockjaw and—in the final chapter—Maximus the Mad (The Royals' designation as the House of Agon is introduced in Marvel Two-in-One #71 by Mark Gruenwald and Ralph Macchio, 1981).
The reason for Black Bolt's muteness, that his voice is a WMD, isn't revealed until Fantastic Four #59. (Also, if you read issues #44-48 and find yourself wondering who that Inhuman Seeker guy is—well, don't. This initial awkward Inhumans saga is his first and last appearance.
Again, the Inhumans are tidied away when Black Bolt's brother Maximus the Mad triggers a device that surrounds their Great Refuge in the Himalayas with an impervious and opaque dome. Johnny, of course, is heartbroken that his swoony babe Crystal is stuck inside—though, as seen in subsequent issues, he gets over it with surprising speed. Ah, teen love in 1960s media.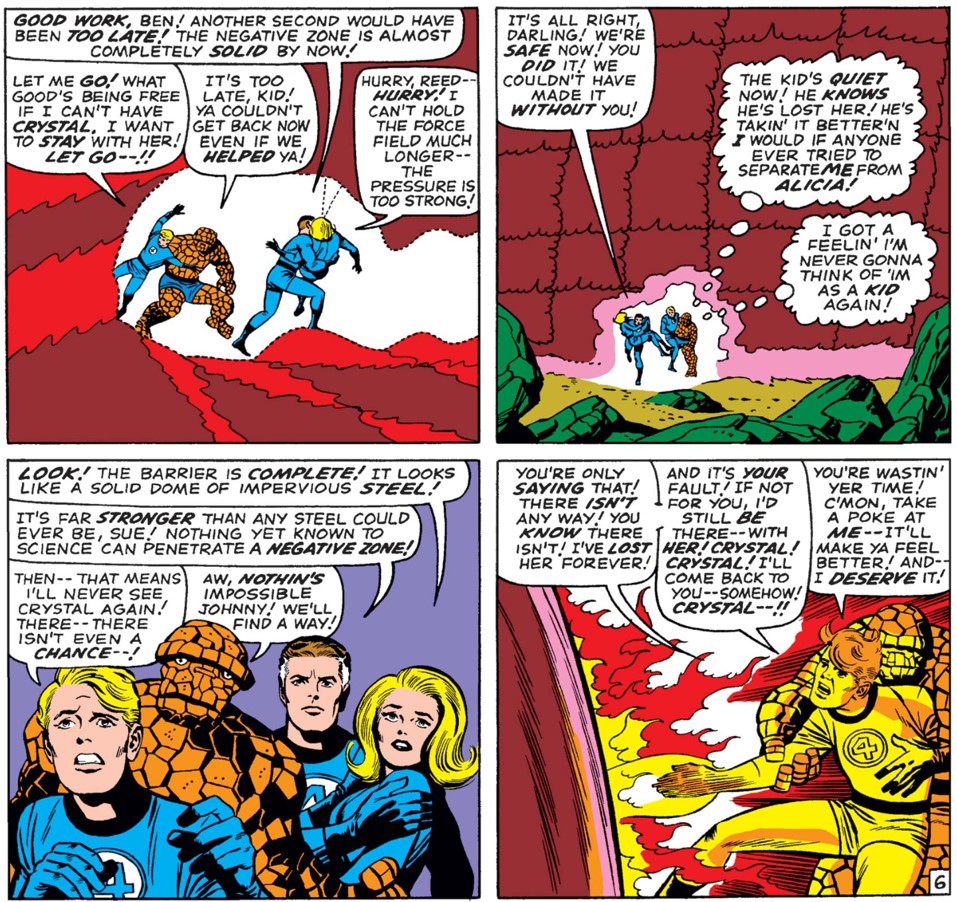 [FF #48]
NEXT TIME: 1966 is the Year of the Kirby's Cosmic Crackle; in the words of Sun Ra—Space Is the Place