In May 1984, Marvel released what can only be described as a classic series – one that they're now revisiting.  Marvel Super Heroes Secret Wars – commonly referred to just as 'Secret Wars' – was easily the first major 'event comic', a 12-issue epic that had unusual origins.  Next year, Jonathan Hickman is going to helm a new iteration of this event, and so it seems appropriate to help catch readers up on the original!
Ed Note: You can now also check out the Comic Book Herald Secret Wars reading order, from the original event to present day!
INTRODUCTION TO SECRET WARS
Curiously enough, it all started with Mattel, who were interested in producing a range of Marvel action figures.  They wanted an event comic to tie in with their range, and so Jim Shooter – then Editor-in-Chief of Marvel – proposed an event where all of the world's key heroes and villains collided in an epic battle.  Marketing found that the words 'Secret' and 'Wars' tested well, and so that was to be the title.  Although not the first event – that honour goes to 1982's 'Contest of Champions' – 'Secret Wars' was to have the most impact.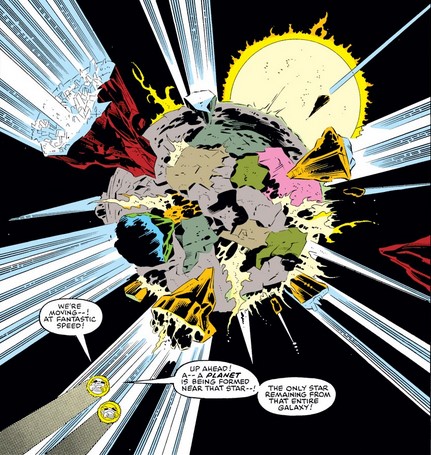 Today, the approach seems extremely odd; and yet, back in the 1980s, it wasn't unusual to publish comics based on toy lines.  Check out 'Masters of the Universe', 'G.I. Joe', 'Micronauts' (an old favourite of mine in comic-book terms), or 'ROM: Spaceknight'.  You can still find a semblance of this approach today, but the modern version is usually tied to films or console games – think the 'Halo' comics and novelisations, or 'The Force Unleashed' novelisations.
Critically assessing the comic book industry at the time, Shooter realised that he couldn't ask any of the conventional writers to be in charge of this event comic.  The egos were too great, and the writers were too emotionally tied to their favourite characters.  Each creator would add an inherent bias that would damage a storyline intended to encompass the whole Marvel Universe.  Instead, Shooter decided to run the project himself.  He reportedly micromanaged it, using the opportunity to push through key changes to all of the runs.  Of one thing he was convinced: for this story to work, it had to change the shape of every comic book series it touched.
Support For Comic Book Herald:
Comic Book Herald is reader-supported. When you buy through links on our site, we may earn a qualifying affiliate commission.
Comic Book Herald's reading orders and guides are also made possible by reader support on Patreon, and generous reader donations.
Any size contribution will help keep CBH alive and full of new comics guides and content. Support CBH on Patreon for exclusive rewards, or Donate here! Thank you for reading!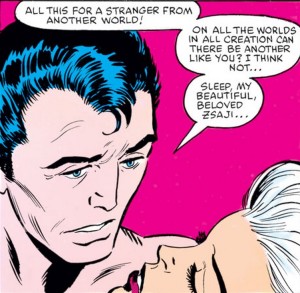 Shooter's plotline drew key heroes on to Battleworld, pitting them against one another at the request of the monstrously powerful Beyonder.  The character is a fascinating one, and acts almost as a stand-in for the readers – the heroes and villains battle at the readers' behest.  Interestingly, Shooter divided the cast into three, not into two: heroes, villains, and X-Men.  This division, with the mutant race isolated from the rest of the broader Marvel Universe, was a subtle one that would shape perceptions of the X-Men for decades to come.
IMPACT Of SECRET WARS
In order to ensure the series was important, Shooter insisted that it make changes – sometimes dramatic ones – to the status quo of all the Marvel books.  Some of these were particularly potent:
Ben Grimm was depowered, forcing the Fantastic Four to recruit a new member – She-Hulk!
The relationship between Colossus and Kitty Pryde was ended, with Colossus falling in love while on Battleworld.
Spider-Man gained a new costume, a sinister black outfit that would be revealed as a symbiote and become fan-favourite Venom.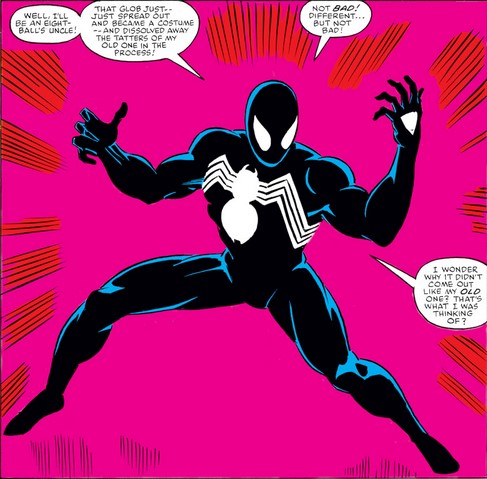 Just these three examples illustrate how important 'Secret Wars' was to the different books.  And yet, in a sense the series' impact runs beyond any mere list of events.  Shooter started a new type of comic: an 'event comic', a miniseries dedicated to a single event, with spin-offs and impacts covered in other books in the range.  DC Comics copied this, and it soon became deeply ingrained in the comics industry.
Sales were excellent, and so a better-selling (but worse-plotted) sequel, 'Secret Wars ii', followed.  Meanwhile, it seems that Marvel are revisiting their concepts – 2015 will see Jonathan Hickman launch a new 12-issue miniseries, a new Battleworld, and a return of the Beyonder…
Over on MahMuseComics I've been charting The Road to the Secret Wars – a path the whole Marvel Universe look to be walking…
Secret Wars Watch – The Sections of Marvel's 2015 Battleworld!