The Battleworld map holds many secrets, and one is more unusual than most.  There is a realm on there bearing the unusual name of 'The Eye of Agamotto' – traditionally a mystic amulet associated with Doctor Strange!
What is the Eye of Agamotto?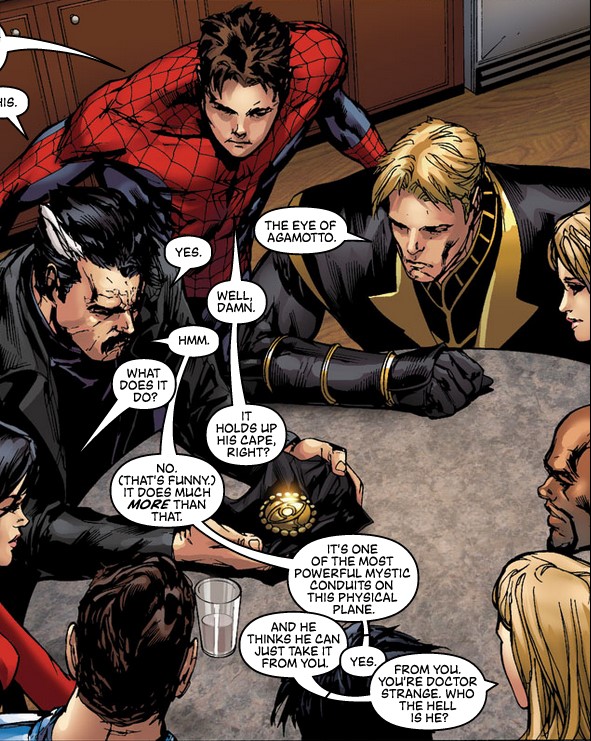 The Eye is a mystic amulet associated with the Sorcerer Supreme.  In some legends, Agamotto was the first Sorcerer Supreme of our reality, and he left behind a lot of trinkets to help his successors.  In 'The Search for the Sorcerer Supreme' ('New Avengers #51-54'), Brian Bendis began an arc in which he revealed that the Eye actually chooses the Sorcerer Supreme.
The Eye, then, is not a place – it is an object.  So why is there a place on Battleworld called the Eye of Agamotto?
The answer lies in the recent history of Doctor Strange.
The Doctor is in
Briefly dethroned as Sorcerer Supreme, Strange regained his mantle in 'End Times', specifically 'New Avengers #34'.  With the rank came the Eye, as well as a promise that he could now expand his powers – he would no longer lose his position if he were forced to embrace dark magic.  That was just in time for Hickman's run, and the beginning of the Incursion plotline.
In 'New Avengers #14', Strange sacrificed his morality itself in order to gain the power to undo incursions.  It was power that he wielded, but that almost went out of control; the rest of the Illuminati were appalled at what he had done.  In a key moment, though, in 'New Avengers #20' Strange encountered a sorcerer from another reality – one who had mastered the words of the Black Priests.
The Black Priests are a cosmic group introduced in Hickman's 'New Avengers' run.  In 'New Avengers #13' they spoke of a coming 'convergence' that would ultimately result from the incursions – without a doubt the first in-universe hint of Battleworld's formation.  Their magic is based in words of power, with which they shape and destroy reality itself.  They're seriously dangerous.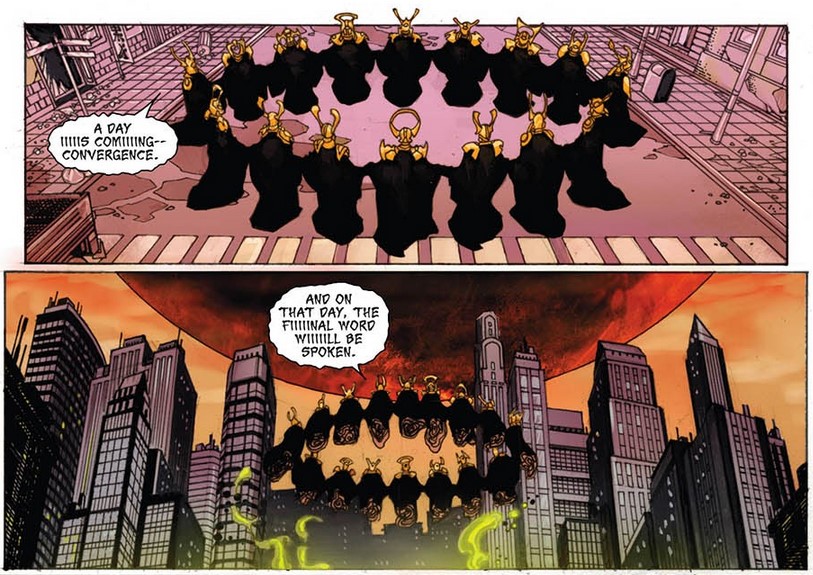 Strange pretty much disappears from the picture for quite some time.  Magic seemed to have failed; science ruled the day, and more scientists – such as Doc Green – joined the Illuminati.  And then, in the most recent issue of 'New Avengers', we learned a lot.  MAJOR SPOILERS FOLLOW FOR 'NEW AVENGERS' #27.
The Avengers travelled to 'the nothing spaces of destroyed universes', where they confronted the Black Priests.  And they met the one who had become leader of the Black Priests, who they called the Eye – and who we call Doctor Strange.  As the Sorcerer Supreme, Strange had embraced the magic of the Black Priests, becoming more powerful than them all.
Support For Comic Book Herald:
Comic Book Herald's reading orders and guides are made possible by reader support on Patreon, and generous reader donations.
If you like Comic Book Herald reading orders and want exclusive reader rewards, your support on Patreon would be tremendously appreciated! Rewards include:
Custom monthly reading playlists
Priority reading order requests + Q&A
Weekly continuity updates
Reading order update logs
A direct hand in growing CBH!
Any size contribution will help keep CBH alive and full of new comics guides and content. Support CBH on Patreon for exclusive rewards, or Donate here! Thank you for reading!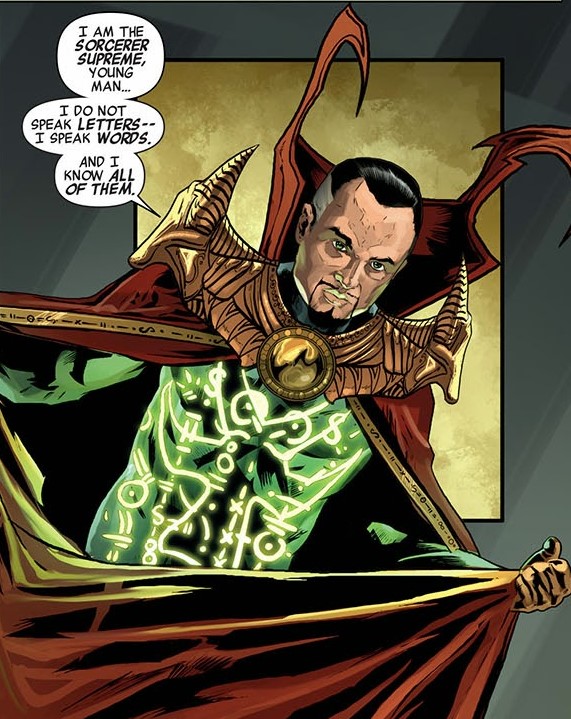 And this, I think, is what the Eye of Agamotto refers to on Battleworld.  This is the realm of Doctor Strange, where he rules an army of tremendously powerful Black Priests.  They've been conducting universal triage – destroying Earths so as to prevent incursions.  But when convergence comes, what part will they play?
What does this add to 'Secret Wars'?
Given the synergies between the Marvel Cinematic Universe and the comics, it's logical that Strange has to see a change in scope over the next couple of years.  This could quite easily be the start of it, establishing the Sorcerer Supreme as a key figure on Battleworld.  The Black Priests alone are tremendously powerful, their words recoding the nature of reality itself; but in mastering their magic, Strange's power levels have gone off the charts.
I don't know what his goals will be when Battleworld is formed, but I'm convinced that he'll play a key role in the resolution.