When the trailers for 'Secret Wars' first began to come out, one major event caught every X-fan's eye: 'Age of Apocalypse' is coming back…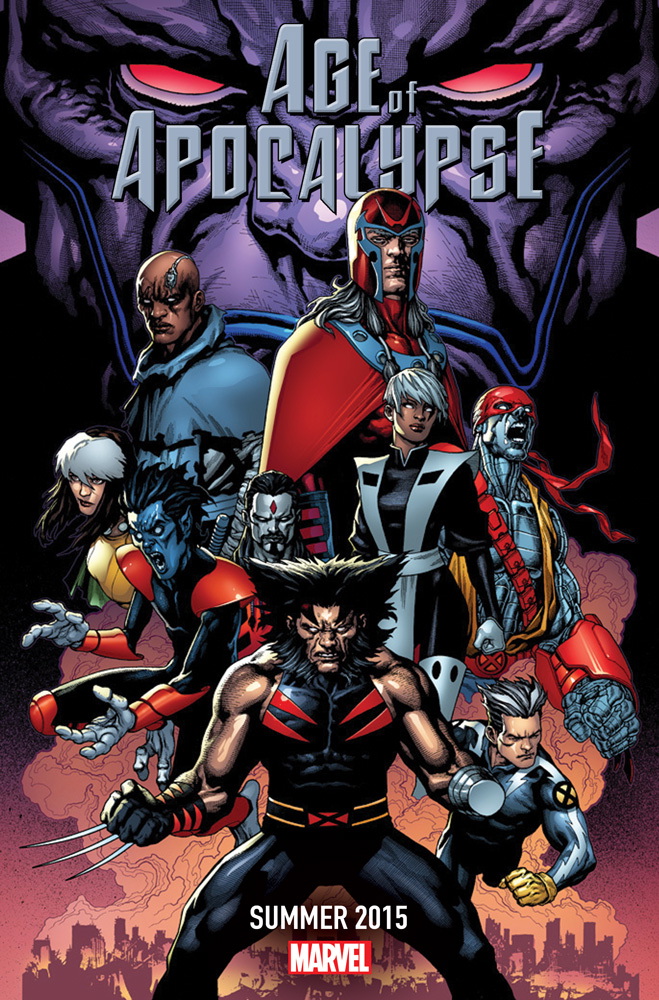 Background to the Age of Apocalypse
According to X-writer Scott Lobdell, it all started with a message on his answering machine from then-Editor-in-Chief Bob Harras: "What if Jubilee goes to the mansion and everyone she finds there are claiming to be X-Men, but they aren't really the X-Men?"  From there, Lobdell and Harras began batting around ideas – what if time had been changed, and one person remembered the previous reality?
More of the X-office got involved, and the ideas spun around; the centrepoint seemed to be, what if Charles Xavier died before he ever got the chance to found the X-Men?  Running out of this, the X-office decided the best way was to effectively cancel the whole line, and replace it with four months of totally new books, exploring this dangerous new timeline.  Each of these replaced an existing X-book of the time, and told a segment of the overarching story; an 'Alpha' and an 'Omega' issue launched it and closed it (a formula 'Age of Apocalypse' invented, and pretty much a mainstay of all X-Men crossovers since).
So what was the Age of Apocalypse?
In this twisted timeline, Charles Xavier had died in Israel, years before founding the X-Men.  His death – an accidental killing courtesy of his time-travelling son Legion, occurring in spite of the best efforts of the X-Men who pursued Legion into the past – was a major catalyst for change.  The ancient Apocalypse saw the flares of mutant power as the hint that now was the moment for his ascension; Magneto, struck by his old friend's heroism, pursued a very different ideology.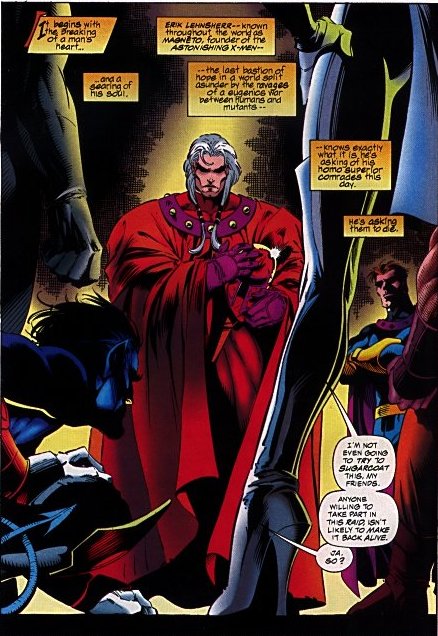 It wasn't to be enough.  Years before the X-Men were founded; years before the Fantastic Four were empowered by cosmic rays; years before any chance of hope… Apocalypse rose to power.  The North American continent became a grim reality; the 'Alpha' image opens with a tower of human bodies, and the horrific nature of this reality percolates every page.  Humanity struggled to survive in a world in which Apocalypse ruled.
Support For Comic Book Herald:
Comic Book Herald is reader-supported. When you buy through links on our site, we may earn a qualifying affiliate commission.
Comic Book Herald's reading orders and guides are also made possible by reader support on Patreon, and generous reader donations.
Any size contribution will help keep CBH alive and full of new comics guides and content. Support CBH on Patreon for exclusive rewards, or Donate here! Thank you for reading!
Of course, this reality had heroes; darker heroes, shaped by their own circumstances (such as the murderous Nightcrawler, antithesis of the Kurt Wagner we know and love).  The X-Men of this reality were led by Magneto, now married to Rogue and with a son, Charles.  And even Apocalypse's own Prelates – such as Prelate Scott Summers – began to doubt and rebel as the series went on.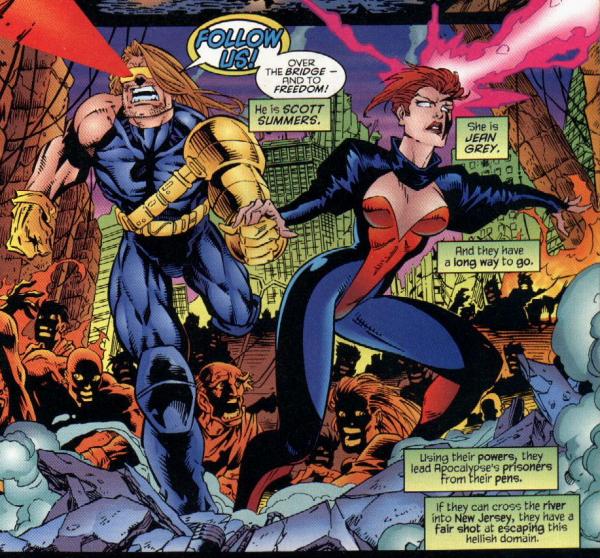 But the whole series was informed by the X-Men discovering the sole survivor of the original timeline; Bishop, too much of a temporal anomaly to be rewritten, who they at first thought a madman but whose actions ultimately led to the X-Men changing the past back again.  A good job they did so; as the 'Omega' issue came to an end, Apocalypse was dead, and nuclear war raged across the ashes of the Earth.
What kind of impact did this have?
This was massive.  It was easily the biggest thing to ever happen in X-Men comics, and was perhaps one of Marvel's boldest marketing moves since the original 'Secret Wars'.  It set the precedent for future X-Men-event structures, and the reality was revisited many times (most notably in the 2012-2013 'Age of Apocalypse' series, which, in the 'X-Termination' arc, finally destroyed the entire timeline).
Various characters made the transition from the 'Age of Apocalypse' timeline to the regular one:
Dark Beast, a twisted version of Hank McCoy who was retconned as creator of the Morlocks.
Holocaust, son of Apocalypse, who soon fell into dim memory but made a tremendous entry, destroying the Acolytes' orbital satellite.
Nate Grey, the 'Age of Apocalypse' version of Cable, a youth created by Sinister from the genetic templates of Cyclops and Jean Grey. His 'X-Man' series lasted until #75 in 2001.
The Sugar Man, a ruthless geneticist tied to experiments on mutants on Genosha.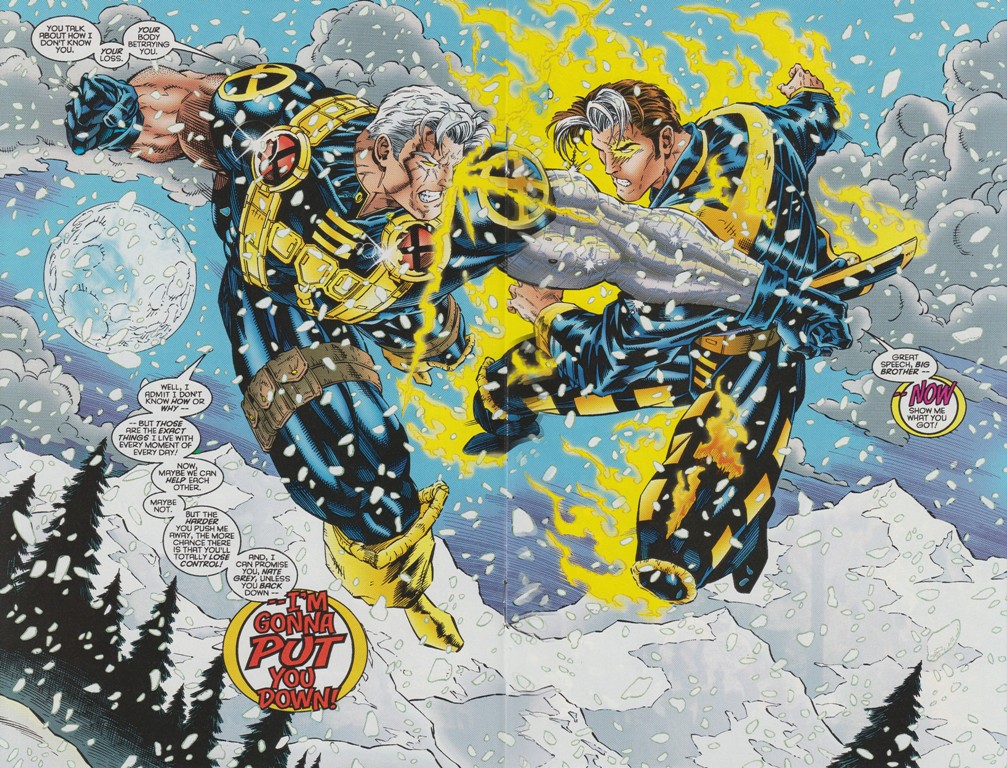 What does this add to 'Secret Wars'?
'Age of Apocalypse' was a classic of the 1990s, a dystopian reality steeped in grim darkness.  It was a world in which the villains ruled, and in which the heroes were more on their back foot than in any other series.  The solicits – and the Battleworld map – imply that 'Secret Wars' revisits the time of Apocalypse's rule, a time when the mutants ruled in all their horror.  It is certain that Apocalypse will be one of the key villains in 'Secret Wars'.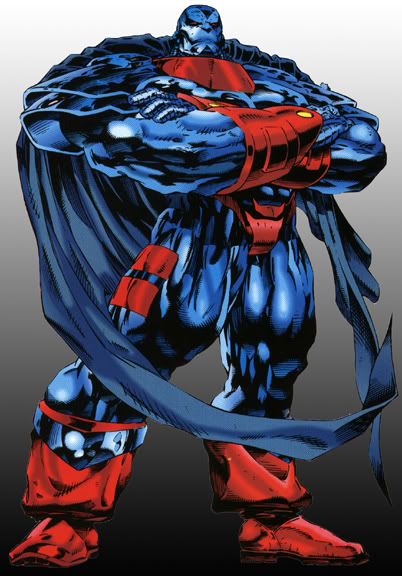 It's also possible that this will reintroduce some of the classic heroes of 'Age of Apocalypse' – that we'll be able to explore once again the subtle treachery of Prelate Scott Summers, that we'll see Magneto leading his X-Men into the fray, and perhaps even that we'll see once again the classic Nate Grey, whose character was redirected so badly in the 2000 'Revolution' event.
If anything gives a reason to be excited for 'Secret Wars', this is it!