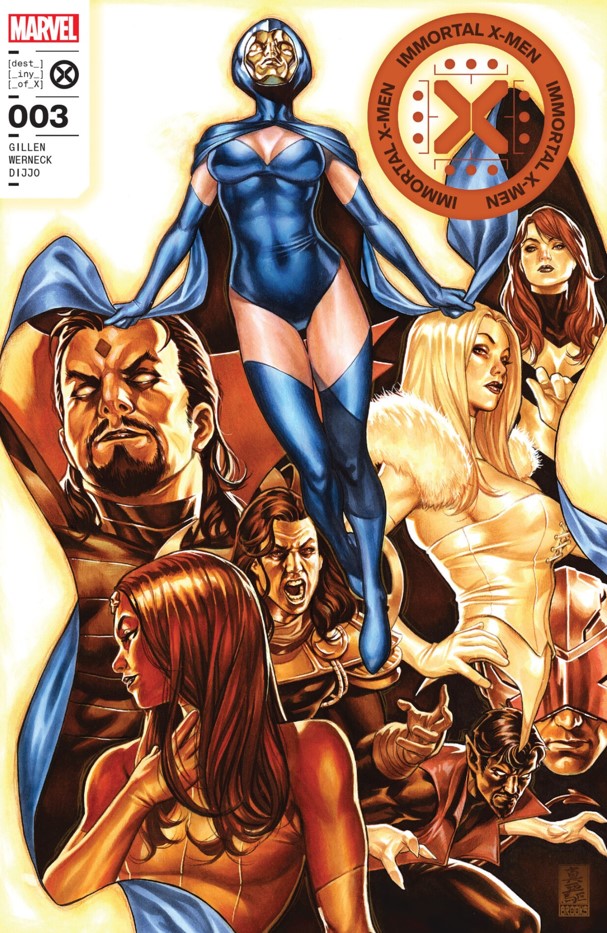 [another gorgeous Mark Brooks cover]
It's the Destiny issue, at last! We've had the Sinister and Hope issues (next is Emma)—but this one, I think, is what longtime fans have really been waiting for, and it delivers. Indeed this is the first time we've had such a focus on Destiny since her recent resurrection, which ended her, um, afterlife (unlife?) of 30+ years following her murder by a Shadow King-possessed Legion in Claremont and Silvestri's Uncanny X-Men #255, 1989.
This issue is an impressive, seamless mix of life-story, romance, a fierce reaffirmation of that love, intrigue, vision or prophecy and a heartrending intimation of certain tragedy—for this marriage of star-crossed lovers.
Lucas Werneck's art, which continues to advance with each issue, and Dijjo Lima's colors are perfect for writer Kieron Gillen's character studies, and that really comes home with the story of Destiny's life, which likely required more historical research for the artists—but even just the layouts, the expressions and figurework are classically elegant and intimate. Immortal X-Men may be the most artful X-book currently, though with the three other close contenders, there's never been more competition for that accolade (and it's extremely rare for a flagship title).
Appropriately enough, though, we also get the strongest portents yet out of an X-book for "Judgment Day," the Gillen-helmed summer event that will bring down a band of bellicose Eternals to lay waste to Krakoa—that seems to be the plan, with the Avengers caught in the middle (but hopefully being a bit less feckless than usual).
Support For Comic Book Herald:
Comic Book Herald is reader-supported. When you buy through links on our site, we may earn a qualifying affiliate commission.
Comic Book Herald's reading orders and guides are also made possible by reader support on Patreon, and generous reader donations.
Any size contribution will help keep CBH alive and full of new comics guides and content. Support CBH on Patreon for exclusive rewards, or Donate here! Thank you for reading!
The New Testament of Irene Adler
The opening splash page, depicting a young Irene Adler's first lightning-bolt premonition of her future, made me more excited than any other recent Krakoa comic to revisit classic X lore, even though there's nothing new here. The flash of Nimrod may be from our near future but also see "Days of Future Past" and Mystique's Brotherhood (Uncanny #141-142), later Freedom Force (Uncanny #199), and Legion possessed by the Shadow King (at the start of the "Muir Island X-Men" era, Uncanny #254-280).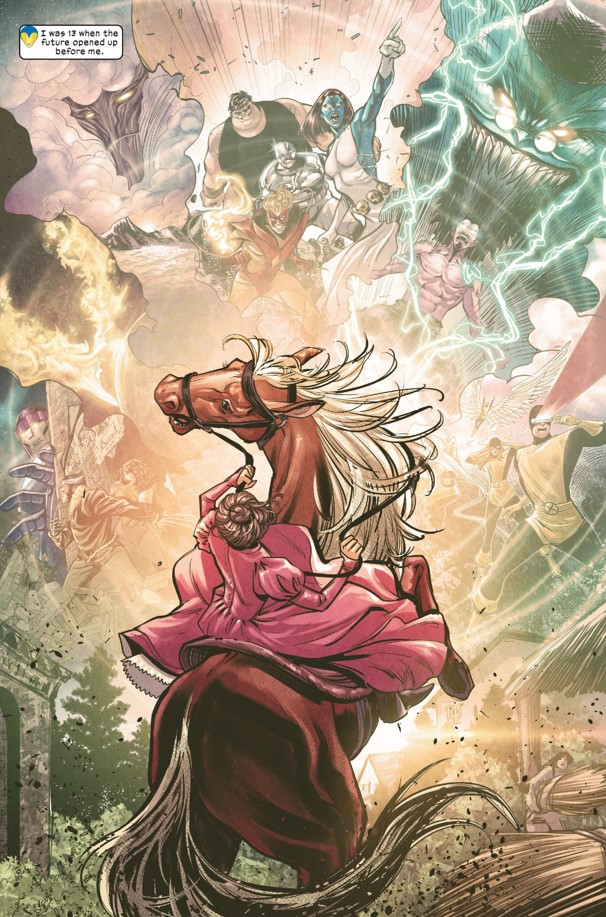 What follows for the 13-year-old Irene Adler is 13 months of writing down her prophecies, "in a mix of truth and lie," one book for each month—until Destiny's diaries were complete, and she went completely blind, a condition that she had indeed foreseen when her power first manifested a year before. This is all from Claremont's 2001 X-Treme X-Men #1 but far more elegantly realized here, uncluttered by other plots or characters just talking about her. The only difference now is that Gillen is making sure we understand that much of what's been said about these books of prophecies might have no basis in truth, or perhaps there's so much indirection involved that the author is the only key to really understanding what she wrote.
In the middle of the issue, though, Destiny awakes in the present, depicted in another splash page that clearly echoes the moment of her power awakening. But here, she's awakened from unconsciousness, following the mysterious fit she suffered in last issue's cliffhanger—and the explosion of new, grim visions she experiences upon her waking has me more excited for Krakoa's near future than any other recent story.
Raven has just told Emma that Irene had only been this overwhelmed by a flood of visions once before: when her X gene activated at age 13. So yes, we're to understand that momentous events are on the horizon although maybe Destiny being ambushed by her own power was inevitable following her resurrection, echoing her power's awakening in childhood. Or maybe the vivid intimations of looming disaster are indeed unlike anything she's known since the unwilling seer's first experience of myriad possible futures all at once.
And what do these new visions tell us? We have a Sinister-themed X-Men team, which is effectively freaky, Exodus being a popular cult leader, Illyana as the fully demonic Darkchylde and standing over dead friends, some kind of complex or citadel built in honor of Magneto, Apocalypse* and a third figure whose monumental bust is hidden from view and what's just around the corner—Krakoa versus the Eternals.
*This is somewhat reminiscent of the sublime memorial Polaris created out of the ruins of Genosha following Cassandra Nova's destruction of the populous island ruled over by a Magneto turned benevolent. And we've seen like monumental imagery associated with Apocalypse, so they are both leaders for whom monuments and popular cults of personality are appropriate (For some reason, we're meant to find a cult based around Exodus much more troubling 😉).
We also have a full page, again so beautifully realized by Werneck and Lima, of Irene first meeting Raven, in a saloon; a silent scene, we get Irene's voiceover not only telling it straightforward but romantic, seductive. And she references the ignorant label for queer folk in use a century ago and more: "sexual inverts." Of course, she follows this up with how she would never deny the truth of herself—because she had seen in visions "futures where I was dutiful and depressed, chained by society to a variety of men who held scant interest to me. The best were velvet cages. The worst were scourges."
In other words, Irene would deny herself, and thus boldly walking into that dusty saloon, she encountered her own destiny. A wonderful gay moment! Which we should get every month, not just for Pride; seriously, stop dragging your feet, corporate.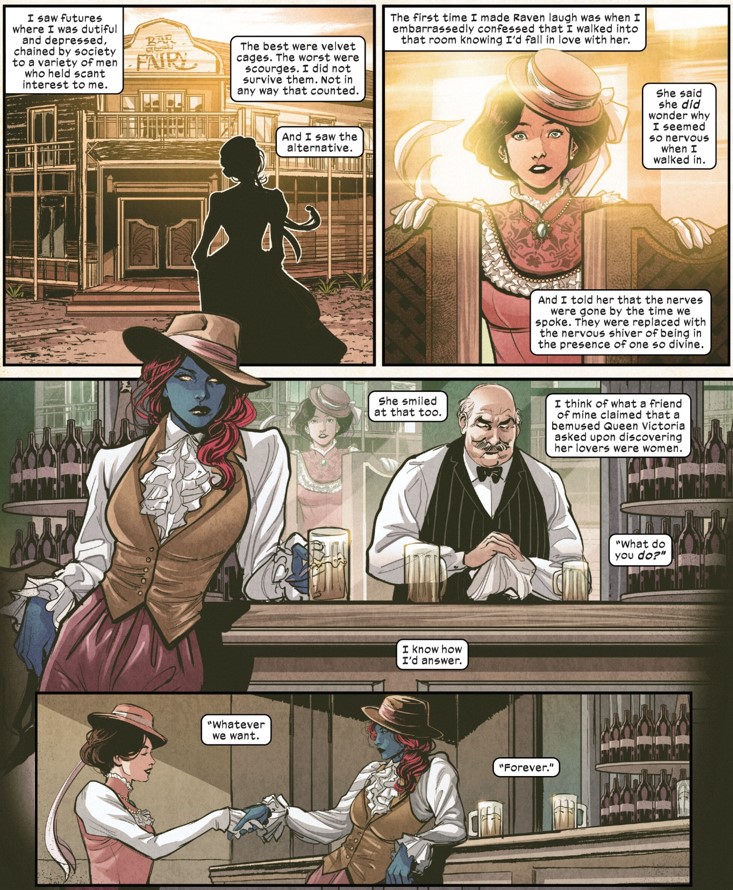 But what I really want to know is what kind of saloon this is, who the cool old guy is behind the bar, since Raven appears totally relaxed about being herself here in the 19th century, no disguise, and it seems like whatever follows would have been pretty openly gay. Also, the sign over the building reads: "Bar FAIRY"—which must surely have been the only of its kind. X-Treme X-Men #1 has the vaguest hint of this meeting, in one panel, but it's so schematic, it's just somewhere old-timey with horses and streetcars, a lady in pink and a blue woman in men's clothing chatting, no affect on display, maybe boredom.
When you compare what's on the page here with 99.999999% of Marvel history, this is a big achievement, which is also kind of sad to say; after all, it amounts to little more than a brief montage. But in the present, we do have an issue full of beautiful lesbian moments, from Raven fiercely defending her wife to the couple passionately embracing: "We are entwined. A rope through time."
Then we skip through the modern decades, starting with her Brotherhood busting onto the terror scene in "Days of Future Past" (Uncanny #141-142). What's new here is that we learn Mystique was Destiny's first "nexus," so indeed, her destiny—"an event which pulls timelines toward it. Meaning things after it, are more predictable, for better or worse." And that made navigating future possibilities easier during the time that comics readers knew this temporal "chess player": The possible had been corralled into a legibility that was only as broad as Claremont could make it 😉.
The much bigger revelation, however, is that Destiny at some point during the Claremont years foresaw that she and Raven would have to be apart "for the future to happen"—indeed, for Krakoa. Only now has Irene discovered why she couldn't live if the Krakoan nation was to become a reality: Moira.
"Krakoa was the limit of my vision."
Destiny would have killed Moira had she lived, and Krakoa would never be. Yet, foreseeing that her return would be made possible then, she gambled her first life away, while knowing that she could tell no one—including her own wife. And she makes clear the anguish this secrecy caused her, the years of sorrow and loneliness that her murder would bring.
Disturbances on the Quiet Council
Elsewhere, a Destiny-less QC session brings newest member Hope up to speed on all the state secrets—which she thinks is fine, as long as all Krakoans are informed, as well. Which does not endear her to Xavier. Frankly, it would be awesome to see the mutant messiah get to take down Mr. Doofus Helmet à la her assassination of Selene. Just my opinion!
But here confusion arises over how Hope was first roped into QC machinations—it was Mystique disguised as Xavier in last year's Inferno, which Sinister easily goads his fellow shapeshifter into furiously admitting. She even tells them that her other option was to burn down Krakoa; she was only doing the far lesser evil.
As she and Xavier get into it (and hoo-wee, how nice it'd be to see Hope and Mystique take equal part in forcibly removing that slippery old eel in the lame fetish gear; I'm so sick of that helmet), Destiny awakes.
Just before Destiny gets back to the Council, Kate gets in one of her best "Professor X is a jerk" moments since Uncanny #168 (the first time she really told old Chuck what's what).
Void of Futurity
We then see a very schematic version of what Destiny sees, a nebulous and bewildering array of possibilities that mostly appear to end in a variety of apocalypses, including "the Reign of A [Apocalypse]" but also "Krakoan Dissolution," and three end in a "Nimrod Extinction Event." But Destiny's narration informs us that unlike her visions heretofore, something has suddenly changed: "There is less future."
In other words, this onslaught of new visions isn't overwhelming her because there are so many possibilities; rather, it's that the futures she sees all end so suddenly—and in the relatively near future (very much unlike her initial vision showing her a century of future history).
Let's look at the two nearest-term events that still allow for multiple future possibilities. "Canticle for Talia" is inscrutable, at first glance, whereas "Judgment Day" would appear to indicate this summer's event. Probably, the latter will not lead to the robopocalypse because then there would be no more X-Men comics. "The Broken Sword" possibility reminds me of the famous fantasy novel of that name (by Poul Anderson), and maybe it has to do with Magik or any one of the Krakoan sword wielders, but who knows. Most likely, though, is "A New Krakoa." That seems like a no-brainer given the medium. But maybe a combination of these two and "The Empire of the Red Diamond" and the consequent "Storm System" will occur together in some form. Maybe these are hints of what's already in the offing and they'll each remain part of a whole that doesn't terminate in one totalizing catastrophe (like maybe Sinister will get some kind of dominion somewhere but it won't be over everything; likewise with Storm as Regent of Sol).
I like that there are at least three references to classic genre novels: The Broken Sword; A Canticle for Leibowitz; The Expanse (okay, yes, that's a very contemporary classic). Also, "Legion-XII" would seem to suggest a reality where Legion goes full stormtrooper, inspired by the historical Legio XII Fulminata employed in Caesar's brutal conquest of Gaul.
"Canticle for Talia" must be inspired by Nocturne, the daughter of Wanda Maximoff and Kurt Wagner only in two alternate timelines and thus the grandchild of both Mystique and Magneto (this was well before the Maximoff twins' mutant identity was retconned away). As Talia Wagner, she was a founding member of the Exiles, from a reality where Xavier had been assassinated; she's been a mainstay of the Exiles title, whenever we're lucky enough to have one on the shelves. As the much less well-known Talia Darkhölme, she was from the foreclosed "House of M" timeline. In both realities, she looks a lot like her father, but instead of teleportation, she had the power to possess others, fire brimstone hex bolts and could perform the basics of telepathy—mindreading and thought projection. She appeared only in the Claremont tie-ins, Uncanny #463-465.
In the famous 1959 sf novel A Canticle for Leibowitz by Walter M. Miller, Jr., humanity has been surviving for six centuries in post-apocalyptic medieval ignorance, following a WWIII nuclear holocaust. The Order of Saint Leibowitz is named for the 20th century physicist who founded this particular Catholic institution to preserve humanity's knowledge. Halfway through its narrative, the book skips ahead 500 years when scientific rationality begins to reemerge in the West. Skipping across time once more, readers find the Order preparing emigrate from Earth via spaceflight in order to escape the inevitable apocalypse that industrial capitalism always bring with it. This is a great, complex read but severely limited when it comes to imagining a different outcome for humanity than an ultimately simplistic cyclic dichotomy of religion (especially antimodern Christian dogma) versus science and industrialism; it has nothing to say about or to non-Western societies, but that's no different from other American novels of its time, and the vast majority today as well. It's a very effective cautionary tale, and Miller's experiences in WWII understandably engendered deep anxiety about the likelihood of the Western civilization's world-ending self-destruction. And yet its vision of cyclicality is ultimately predictable, too much so to credit. But then again, this franchise has likewise most often been trapped in similar, imaginatively enervating patterns of boom and bust.
What's Gillen suggesting here? We may never know if it's radically different from our JD timeline. But maybe it's still a hint that we should expect alternate timeline shenanigans sometime down the line, hopefully with the Exiles! Also, this particular vision begins with a reference to a classic sf novel and ends with another to one much more recent, a series of nine novels, The Expanse (also the name of its TV adaptation), written by James S.A. Corey (really two authors, Daniel Abraham, an excellent fantasy novelist also, and Ty Franck, a games designer). I haven't caught up with The Expanse's last two installments yet, but if we're comparing the two narratives, the difference is stark. The older one is ideologically convinced of the cyclicality of human history and humanity's severe limitations as rational beings attempting to operate without a religion that reminds us, constantly, that humans cannot save themselves, at least if they're outside the patriarchy of a church. Corey's epic appears to suggest otherwise, as humans in their fictional future continue to, well, expand and settle throughout the stars—while still remaining recognizably human with all the banal evils and dilemmas of everyday life in any era anywhere. Some have a bolder (or more foolish) sort of integrity, a few are coldblooded sociopaths and most are simply making do. It is certainly the more humanistic vision. Significantly, the allusions to mythology throughout this epic story helps to shape meaning, but this is a use of past meaning-making traditions that is suggestive, not prescriptive (as with religiously minded writers like Miller, no matter how artful or nuanced).
In other words, this last timeline ultimately suggests mutantkind's dispersal throughout the galaxy. Awesome! However, the next page suggests a less stellar possibility—that a mutant "church-empire" has reached deep into space, a territory called the "eXpanse," which I gotta say, nope, not interested. This is surely a goofy take on the untold terminal state of Miller's novel, an interstellar church.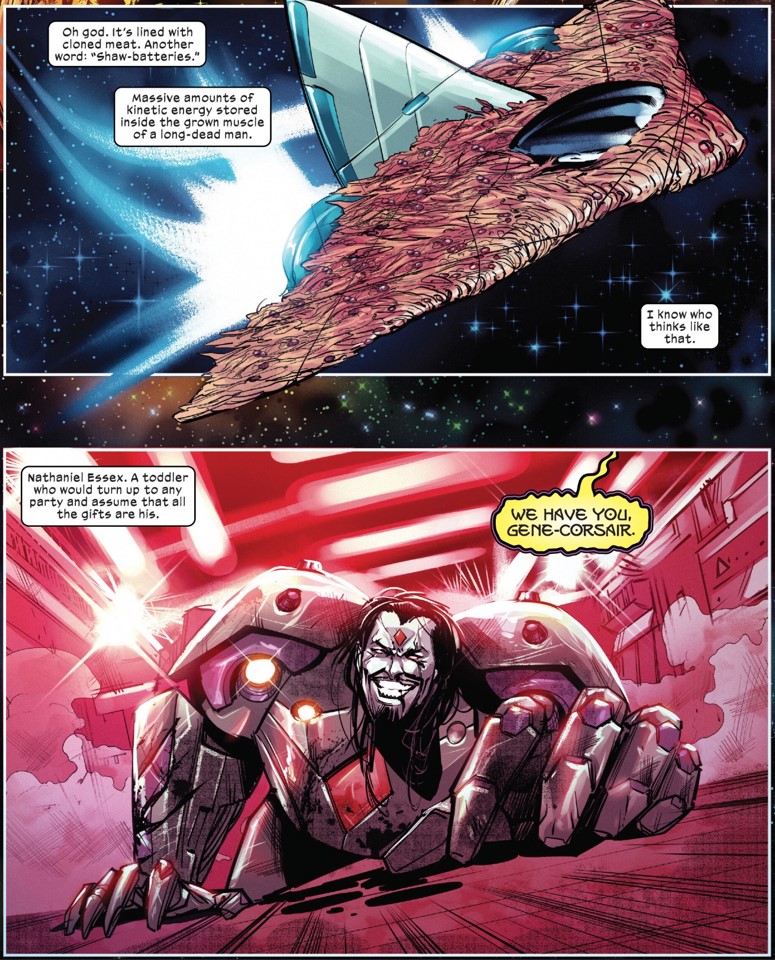 ["Gene-Corsair" Sinister's spacecraft is covered in "Shaw batteries" – awesome; Sinister is really thinking about sustainability]
And yes, I know this is all forgettable speculation—but an opportunity to plug classic sci-fi should never go to waste. After all, these timelines are shown to us as examples of those that Sinister is destroying, as we see with the next scene.
It's only this "Canticle" timeline that we get an actual glimpse of this issue, in the next three pages, introducing us briefly to a Sinister "Gene-Corsair" and a Phoenix-possessed Exodus(!) in the process of "immolating Judases" (like this version of Sinister whom he says "burned paradise"). But apparently, we're already at "Expanse" here, presumably having passed the opportunity for "Unity?"
It doesn't really matter because Sinister, having appropriated Moira's mutant power, destroys this timeline when he dies there.
Still, think about that dichotomy as such: Does "unity" mean geographical concentration and isolation while "expanse" implies interstellar dispersal and diaspora? Certainly, a dispersed culture experiences drift, which if it survives with thriving numbers is a good thing, right? Is that why "unity's" timeline is much shorter, because it's a static dead end?
Of course, what we see of the "eXpanse" is a nightmare if it's Exodus' empire. Is that a kind of unity too? We can probably assume that there would be plenty of mutants not finding or wanting a place in such an order, and so mutantkind would be divided; we're just not seeing the outsiders here, except this "Gene-Corsair" with Moira's power.
Really this is just a fun future that readers can sketch in if they like, and nothing of what's actually to come stands revealed. The same goes for the provocative suggestion of a "Spark Inquisition" and consequent "Limbic Infernality"; maybe it's just a friendly jab at Legion of X and New Mutants.
The Wolf in the Manger
And so Destiny wakes, enlightened now. Having seen Sinister destroy a timeline with his death, she realizes, "Nathaniel has cloned Moira."
Destiny enters, one uncannily masked seeress confronting a real stick in the mud with a helmet so big that it's got to be hiding a massive ego's ridiculously outsized insecurities. She warns them in so many words of Judgment Day. That's the one the timeline that's coming. And screw you, Xavier, for trying to keep me from the people of Krakoa.
Not only is this a righteous rebuttal to Xavier's sniping at Mystique earlier in the issue (his judgment that Mystique's disobedient willfulness in bringing back her wife was mere petty self-interest), we also have here the pithiest condemnation yet of dear old Chuck: Xavier was so afraid his little cabal would be found out, that he would be found lying, once again, and even more deeply this time around, that he was ultimately guilty of giving secret safe harbor to mutantkind's certain extinction (Moira) while preventing its salvation (Destiny with her visions) from returning.
Above all, though, we come out of this issue with the core conflict of Immortal X-Men firmly established. We're going to see play out a subtle cat-and-mouse game between Destiny and Sinister. And I am absolutely delighted for this.
And now it's time for Destiny to begin writing again—this time, with her heart ripped it, for there is something missing from all the futures she now sees, a common thread of absence, in the shape of Mystique. For a certainty her wife will die.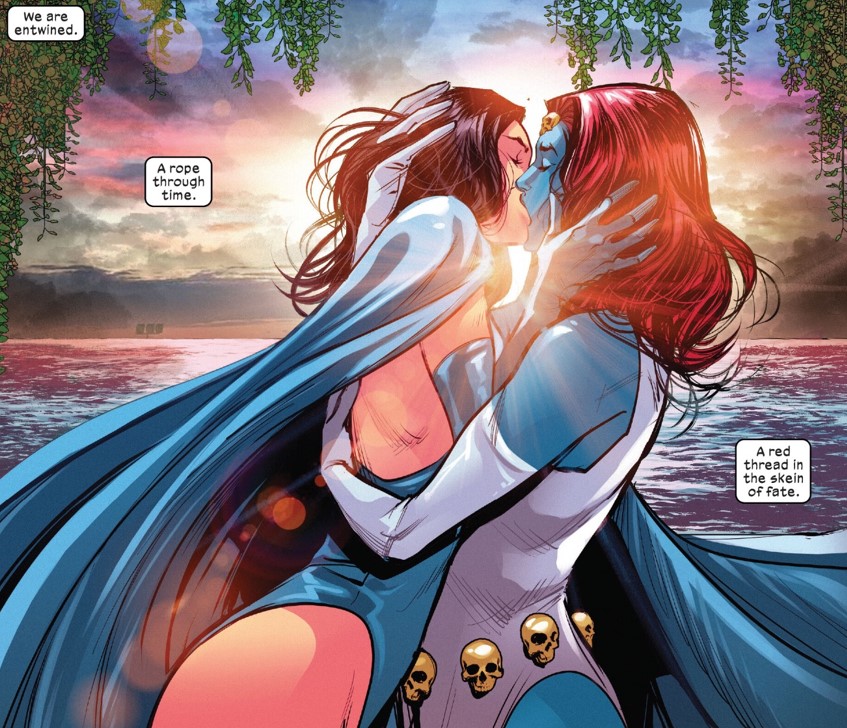 NEXT: Emma!