In late 1988 and 1989, Marvel's X-Men line built to a decade in the making universe-wide crossover event, Inferno! The world outside your window became infested with a demonic takeover, literalizing Hell on Earth, and arguably the first and largest all-hands-on-deck Marvel Comics invasion, in what has now become an event staple, from Secret Invasion to Empyre to King in Black.
While conceptually this may sound simple, Inferno is anything but, with years of X-Men storylines and continuity woven into the saga that in so many ways marks the end of both the Chris Claremont and Louis Simonson corners of the X-Men Universe that dominate Marvel's 1980s.
Previously: Fall of the Mutants
There are effectively two primary threads that drive Inferno, Illyana Rasputin, aka Magik's, full transformation into the Darkchylde and ruler of Limbo, and the revelations of Madeylne Pryor's true origins, and the ramifications that knowledge has turning her into the Goblin Queen. In either case, women of the X-Universe turn to demonic allies for a full-on takeover of Earth, and desire to see the world burn in Hellfire.
Both threads were impressively set in motion years earlier. Modern readers like to talk a lot about Jonathan Hickman's ability to seed plots and storylines years in advance, and to effectively tackle them and give each seed its due much later in a grand tapestry of interlocking story. I actually think the 1980's X-Office's ability to do this same thing, but often without necessarily planning to, goes extremely underrated.
Support For Comic Book Herald:
Comic Book Herald is reader-supported. When you buy through links on our site, we may earn a qualifying affiliate commission.
Comic Book Herald's reading orders and guides are also made possible by reader support on Patreon, and generous reader donations.
Any size contribution will help keep CBH alive and full of new comics guides and content. Support CBH on Patreon for exclusive rewards, or Donate here! Thank you for reading!
Uncanny X-Men #160 by Chris Claremont and Brent Anderson plants the seeds for everything to do with Illyana Rasputin, Limbo, and Sy'm and the demons of that realm, and that was was released in August 1982, more than 8 years before Inferno. Over that time, Illyana's journey continues across her own miniseries, and New Mutants written by both Claremont, and especially in the build to Inferno by Louis Simonson and Bret Blevins. Whether it's something that was known right from the jump, Illyana's story was always building to an event like Inferno.
The saga of Madelyne Pryor is a bit different, although again, years in the making, just more adaptively so. Scott Summers first meets Maddy – the Alaskan redhead who looks a startling amount like the recently deceased Jean Grey – in Uncanny X-Men #168, the famous "Professor X is a Jerk!" issue, released in April 1983. Originally, Claremont has said in interviews that he intended this as a mysterious similarity, but ultimately just a bonkers coincidence that set the stage for Cyclops truly "graduating" from life with the X-Men, and starting a family with wife Madelyne and little baby Christopher.
These plans were interrupted when the Jean Grey remains dead edict that followed "The Dark Phoenix Saga" was overturned – against Claremont's wishes – in the 1986 Fantastic Four / Avengers two-part story that established Jean and the Phoenix Force as two distinct entities (effectively absolving Jean for the Phoenix's genocide of the D'bari). All reports are that Claremont was furious, but ultimately he did one of his most underrated traits as the Head of X in the 80's: he adapted.
I've talked about this before, but when you look at situations where writers are sort of forced to connect their stories to some editorial linewide edict – Secret Wars II probably the most notorious – nobody is better at turning dung into gold like Claremont. Secret Wars II is literally one of my least favorite comics of all time, yet Claremont's tie-in issues across Uncanny X-Men and New Mutants (especially New Mutants) are quite good, and utilized to great affect across each series. So when faced with the return of Jean Grey, and Scott's world's worst combination husband-dad-dude decision to flee back to her for X-Factor, Claremont spent the following two plus years reinventing Madelyne Pryor's storyline and potential on the fly. And the end result is Inferno.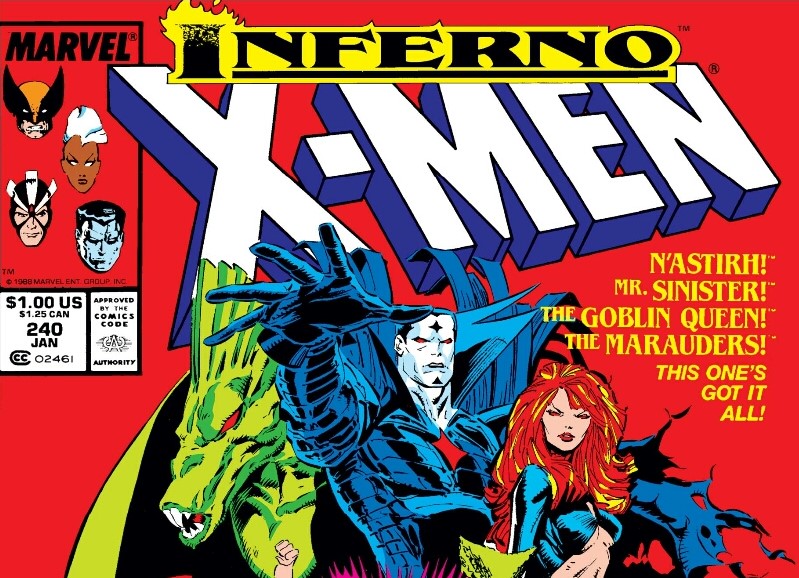 Collected X-Men Inferno Comics
X-Men: Inferno Prologue
Collects: X-Factor (1986) #27-32 And Annual #3, Uncanny X-Men (1981) #228-238, New Mutants (1983) #62-70 And Annual #4, X-Men Annual (1970) #12, and material from Marvel Age Annual #4 And Marvel Fanfare (1982) #40
The "Inferno" prologue essentially packages all the X-books between "Fall of the Mutants" and this event. Since "Inferno" is very continuity heavy, it's not a bad idea to start here and get a feel for what's going on across the Australian Outback X-Men, X-Factor in Apocalypse's "Ship," and Headmaster Magneto's time with the Hellfire Club.
X-Men: Inferno Omnibus
Collects: X-Factor (1986) 33-40; X-Terminators (1988) 1-4; Uncanny X-Men (1981) 239-243; New Mutants (1983) 71-73; Power Pack (1984) 40, 42-44; Avengers (1963) 298-300; Fantastic Four (1961) 322-324; Amazing Spider-Man (1963) 311-313; Spectacular Spider-Man (1976) 146-148; Web of Spider-Man (1985) 47-48; Daredevil (1964) 262-263, 265; Excalibur (1988) 6-7; Mutant Misadventures of Cloak and Dagger (1988) 4, material from X-Factor Annual (1986) 4
The all-new 2021 "Inferno" omnibus collects the full X-Men portion of the event, including set-up and fallout, and all the tie-in comics in one hefty package. If you want absolutely everything "Inferno," this is the one!
X-Men Milestones: Inferno
Collects: X-Terminators 1-4, Uncanny X-Men (1981) 239-243, X-Factor (1986) 35-39, New Mutants (1983) 71-73
Marvel's most recent "Milestones" collection delivers the most direct X-Men related issues in the "Inferno" event. If you just want the mutant core, this is your pick. There is also the X-Men: Inferno Crossovers
collection, which would give you the most affordable approach to pair with "Milestones."
Inferno Issue by Issue Reading Order
Uncanny X-Men #239
X-Factor #33 to #35
X-Terminators #1 to 2
Avengers #298
Amazing Spider-Man #311
Daredevil #262
Spectacular Spider-Man #146
Fantastic Four #322
Web of Spider-Man #47
X-Terminators #3
New Mutants #71
Avengers #299
Amazing Spider-Man #312
X-Factor #36
Uncanny X-Men #240
Power Pack #42, #43
Daredevil #263
Avengers #300
X-Terminators #4
New Mutants #72
Spectacular Spider-Man #147
Web of Spider-Man #48
Amazing Spider-Man #313
Fantastic Four #323
Uncanny X-Men #241
New Mutants #73
Excalibur #6 to #7
Daredevil #265
X-Factor #37
Uncanny X-Men #242
X-Factor #38
Spectacular Spider-Man #148
Uncanny X-Men #243
X-Factor #39
Damage Control #4
Power Pack #44
The Mutant Misadventures of Cloak and Dagger #4
X-Factor #40
X-Factor Annual #4
Heroically Support Comic Book Herald!
If you like Comic Book Herald, and are able to donate, any small contribution will help keep CBH alive and full of new comics guides and content. Donate here! Or, support CBH on Patreon for exclusive rewards! Or you can even check out the CBH Merch store and get something nice with a small portion benefiting the site! Thank you for reading!