Marvel's 2022 Summer comic event is Judgment Day, by ongoing Eternals/Immortal X-Men writer Kieron Gillen and Valerio Schiti (fresh off art on event books like Empyre and Inferno).
In Judgment Day, the Avengers try to prevent war between the Eternals and X-Men of Krakoa, as the Eternals discover secrets about the origins of mutantkind that could change everything. Gillen's revamp of Eternals with Esad Ribic has been phenomenal to date, and Immortal X-Men is a hotly anticipated new direction for mutantkind in the post Jonathan Hickman era, so I have high confidence this event will – at an absolute minimum – be interesting!
Previously: Inferno
Below you'll find a complete guide to Judgment Day including reading order for individual comics, and the comic book stories that you should read beforehand to better understand the event's context.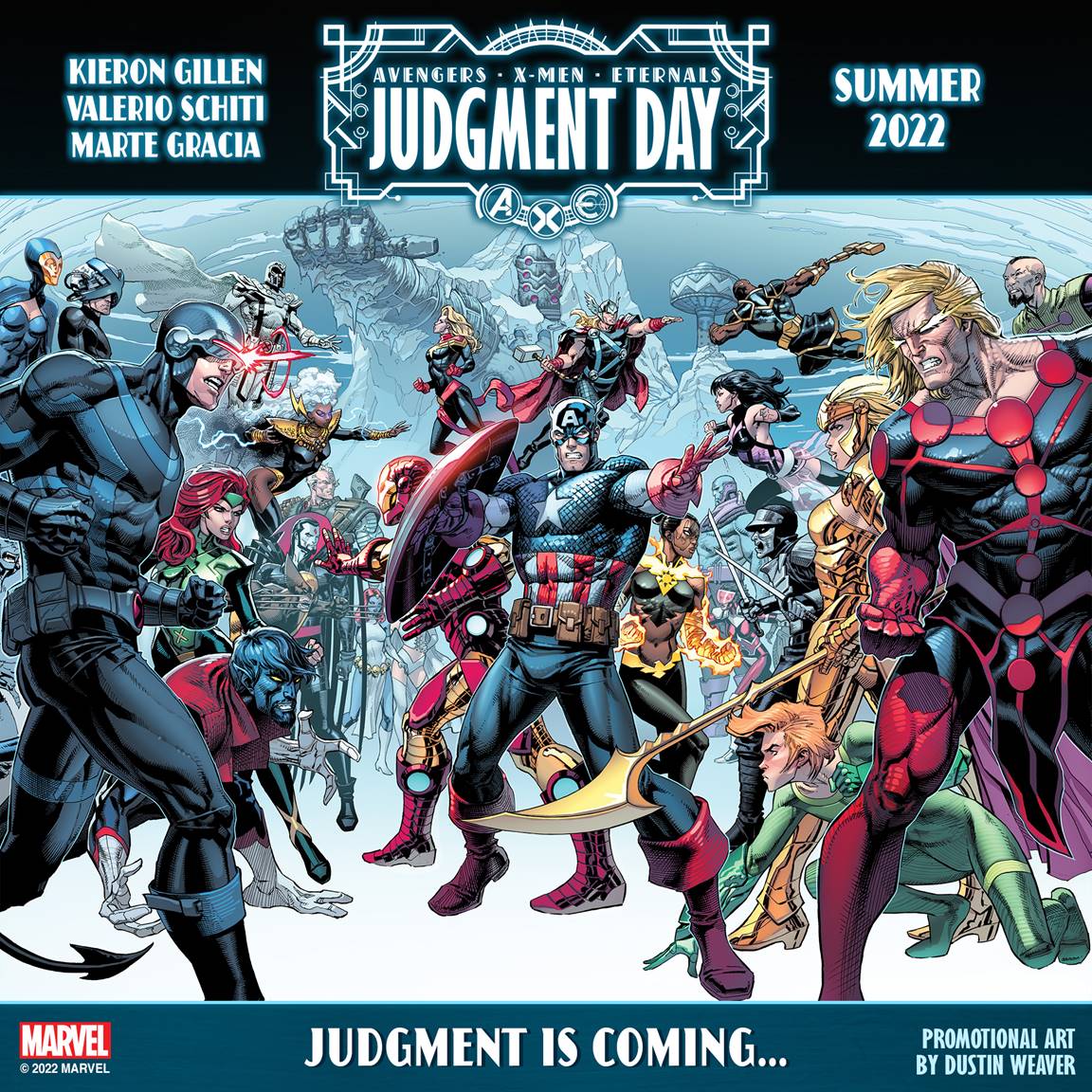 Road to Judgment Day
Support For Comic Book Herald:
Comic Book Herald is reader-supported. When you buy through links on our site, we may earn a qualifying affiliate commission.
Comic Book Herald's reading orders and guides are also made possible by reader support on Patreon, and generous reader donations.
Any size contribution will help keep CBH alive and full of new comics guides and content. Support CBH on Patreon for exclusive rewards, or Donate here! Thank you for reading!
The best way to understand who the Eternals are, and who the Celestials are and what they represent, is to go to the source, Jack Kirby's 1977 Eternals. The book's very much of its era, and for my money some lesser King Kirby, but this is the true start for those interested.
Most importantly, you'll learn here that the Celestial Host returns once in a great while to judge Earth, and determine whether they're worth keeping around. If memory serves, the Celestials promise to return to Earth in 2026 for their final judgement, so while a 2022 event may be a bit early 1) This is Marvel time so who knows and 2) maybe this is setting the stage for that 2026 return!
Kieron Gillen & Esad Ribic's Eternals
Most readers will likely want to start with the modernization and reinvention of the Eternals, taking place in Gillen and Ribic's excellent ongoing series. This is simply good reading (it's one of the best Marvel Comics of the last year, and the best place to find Thanos these days!), but given Gillen's spearheading the event, it's definitely going to be the most relevant pre-reading you can do.
Technically, you may also get some valuable context from the first arc of the Jason Aaron written Avengers
 run, but I'd personally recommend you just pick up the context clues from Eternals when they reference these details. For example, if you haven't been reading Avengers, you may think "Wait, there's a Phoenix on the Avengers?" There is! It's Echo. That's all you need!
Krakoa's "Destiny of X" kicks off in March 2022, and Kieron Gillen will return to the world of mutants with his Quiet Council focused book, Immortal X-Men. I have extremely high hopes, and anticipate it will factor heavily into the events of Judgment Day.
I doubt this will be super essential, but good old Mister Sinister (ok, should never be described as "good" in any context) actually messes about with California's Golden Celestial in Kieron Gillen's first Uncanny X-Men story, "Everything Is Sinister."
Again, I don't know that this will matter a ton but 1) It's a great read and I recommend it and 2) With Mister Sinister on Krakoa's Quiet Council, it would be weirder if it didn't come up!
Collected A.X.E. Judgment Day Comics!
A.X.E.: Judgment Day Companion
Collects: A.X.E.: Eve of Judgment (2022) 1, A.X.E.: Death to the Mutants (2022) 1-3, A.X.E.: Starfox (2022) 1
Judgment Day Issue by Issue Comics Checklist
Judgment Day Is Coming
Free Comic Book Day (2022): Avengers / X-Men
Immortal X-Men #3
Eve of Judgment #1
Judgment Day Arrives
Judgment Day #1
Judgment Day #2
A.X.E.: Death to the Mutants #1
Immortal X-Men #5
X-Force #30
X-Men #13
X-Men Red #5
The Progenitor
Judgment Day #3
Wolverine #24
X-Force #31
X-Men #14
A.X.E.: Death to the Mutants #2
Fantastic Four #47
Marauders #6
X-Men Red #6
Judgment Day #4
Immortal X-Men #6
Avengers #60
Amazing Spider-Man #10
Heroically Support Comic Book Herald!
If you like Comic Book Herald, and are able to donate, any small contribution will help keep CBH alive and full of new comics guides and content. Donate here! Or, support CBH on Patreon for exclusive rewards! Or you can even check out the CBH Merch store and get something nice with a small portion benefiting the site! Thank you for reading!