You know, I certainly didn't expect to stand before you with a carefully curated guide through the biggest moments in the history of Moira MacTaggert comics, but I'm proud to say that's what you'll find in this guide.
This guide was requested by several readers, including a few with priority request privileges on Comic Book Herald's patreon page! I should note that this sudden surge of interest is prompted by readings of 2019's House of X by Jonathan Hickman and Pepe Larraz. I'll try to avoid talking about why that is in this portion of the guide for those who'd like to come to the story completely fresh!
Related Reading Orders:
Hickman's House of X / Powers of X
Support For Comic Book Herald:
Comic Book Herald is reader-supported. When you buy through links on our site, we may earn a qualifying affiliate commission.
Comic Book Herald's reading orders and guides are also made possible by reader support on Patreon, and generous reader donations.
Any size contribution will help keep CBH alive and full of new comics guides and content. Support CBH on Patreon for exclusive rewards, or Donate here! Thank you for reading!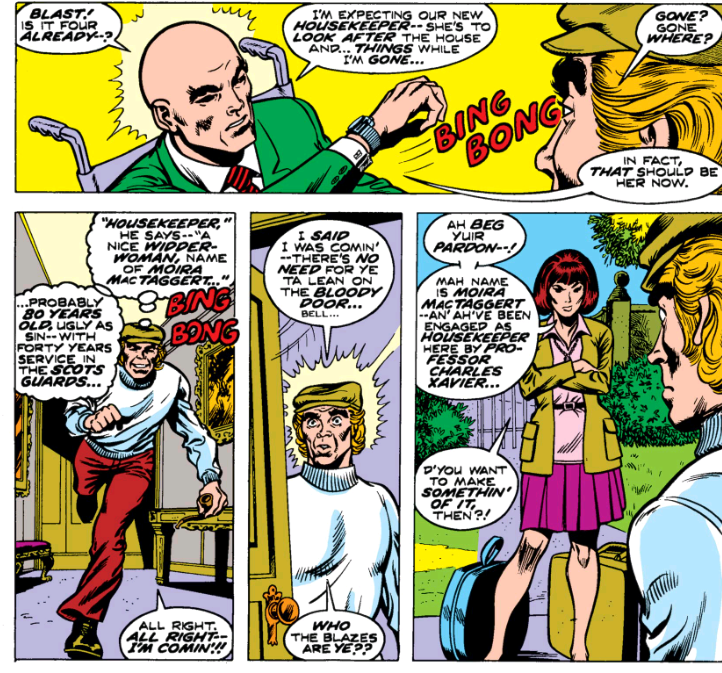 The Essential Comics of Moira MacTaggert
Debut — Uncanny X-Men #96
—
Moira MacTaggert is introduced as the new X-Men's housekeeper, and Banshee instantly falls for her. Within a few hours, a Demon smashes into the X-Mansion, and Moira comes running at him with a machine gun. It's amazing.
It's clear pretty quickly that Moira and Professor X have a shared history, although it's shrouded in mystery until UXM #116.
Uncanny X-Men #104
We're introduced to the Mutant Research Center on Muir Island. Cyclops is not happy he's just finding out about it!
In this issue, we learn about one of the more fascinating early X-Men continuity capers, in which Moira manipulates Magneto's genetic code when he's turned into a baby (this happened in an issue of Defenders #16) and kept on Muir Island, trying to turn him "good." It's all captured in exposition in a single page of wrangling, but the events also tie into "The Phoenix Saga" and future X-Men stories!
Uncanny X-Men #117
When Moira met Charles. We get a one page recap of their romance, and Moira calling off their engagement (seemingly without much explanation).
Uncanny X-Men 125 to Uncanny X-Men #128, Classic X-Men #36: The Proteus Saga
UXM #125 is a story called "There's something awful on Muir Island" by Claremont and John Byrne, and it opens with a great visual of Jean going Phoenix and exploring her new powerset. Moira's running tests on Jean and trying to understand the Phoenix. Ultimately, though, all of that will take a backseat to the story of "Mutant X," Moira's son.
The issue of Classic X-Men wasn't released until 1989, but it offers a nice epilogue from Moira's perspective on the events of the Proteus saga.
New Mutants OGN
Moira takes on a very relevant role with the New Mutants throughout the 1980s, including the following major moments:
She adopts Rahne (Wolfsbane)
Moira helps talk Charlie into a New Mutants school (in part to look after Rahne)
She tries to help with Legion on Muir Island (more on this in a moment)
Uncanny X-Men #167
Moira clones Professor X a new body (with working legs!) with a little help from the Shi'ar after the Professor had been inhabited by a Brood queen.
A recurring theme: Moira's pretty good at clones!
New Mutants 26 to 28 (Legion)
Moira welcomes New Mutants and the Professor to Muir Island, and the gang meets Legion. Here we see she's taken in Rahne Sinclair as her ward.
NM #27 confirms it was 10 years between the time Moira called off engagement with Professor X and they reunited as friends and colleagues. This is only relevant if you're obsessed with factors of 10 for… reasons.
Fallen Angels
Moira takes on a consultative role to help Magneto understand teenagers lol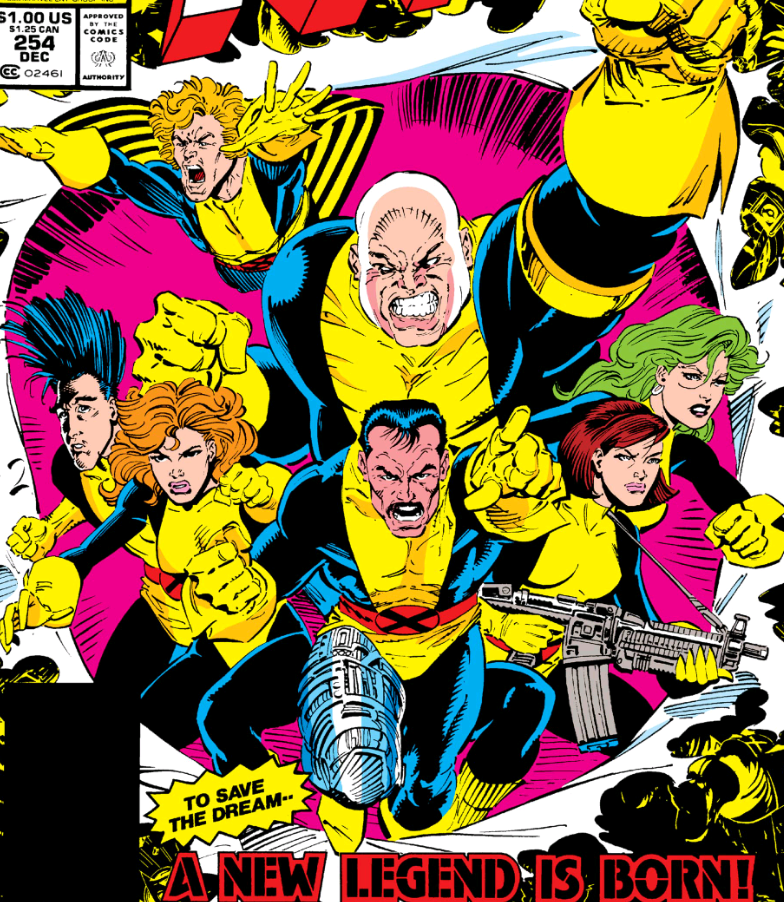 Moira MacTaggert in the 1990's
Uncanny X-Men #253, #254, #255 – Muir Island X-Men
Magneto's journey to Muir Island!
Really good quote from Mags to Moira here "If everyone is after me – the arch-villain who has reverted to type – no one will be after you!"
Throughout these issues Moira attempts to put some version of X-Men roster together to defend Muir Island, and begins rocking her most audacious outfit yet in Uncanny X-Men #254.
Uncanny X-Men #278 – #280, X-Factor #70: The Muir Island Saga
Moira's the team doctor on Muir Island, and she gets Wolverine to eat a cigarette, so it's almost worth reading just for that moment (in X-Factor #70).
X-Men #2
Magneto returns to full-fledged villainy and lashes out at Moira for her role in manipulating his DNA matrix when he'd been turned into a baby (Defenders #16!).
Moira admits to everything, and makes the case that she only did it to both help Proteus, and give Magneto a chance at an innocent 2nd life.
Excalibur #71
Post Fatal Attractions
the team moves into Muir Island.
Moira becomes the only "human" infected by Legacy Virus, and is a player in Excalibur more or less until "Dream's End
." This includes Warren Ellis' time on the title and the "Soul Sword Trilogy" in which Kitty Pryde raids Moira's room for clothes and cigs. All of this of course builds to Onslaught!
Excalibur #115
(Moira and Legacy Virus)
Moira locks herself in with the Legacy Virus in order to find a cure!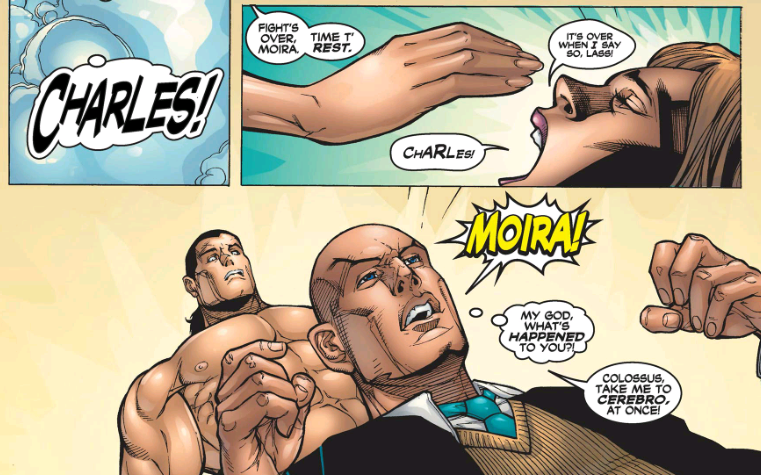 Moira in the 2000's
X-Men: Dream's End
Reading order: Uncanny X-Men #388, Bishop Last X-Men #16, X-Men #108, UXM #389
In many ways this is the apparent end of Moira's story, as Muir Island is destroyed and we experience the end of Moira MacTaggert!
X-Statix Presents: Dead Girl
Dead Moira forms a book club with Mockingbird. Also, she makes a strained play at innuendo towards Doctor Strange.
X-Men: Deadly Genesis
Moira and Prof's history. Charlie pulls Moira's students into Krakoan suicide mission.
Chaos War X-Men #1 to #2
More dead Moira back from the grave. Happens during the 2011 Chaos War event.
The Uncanny Life of Moira X
House of X
You can find the ongoing reading order for the Jonathan Hickman era of X-Men via Comic Book Herald's guide to House of X!