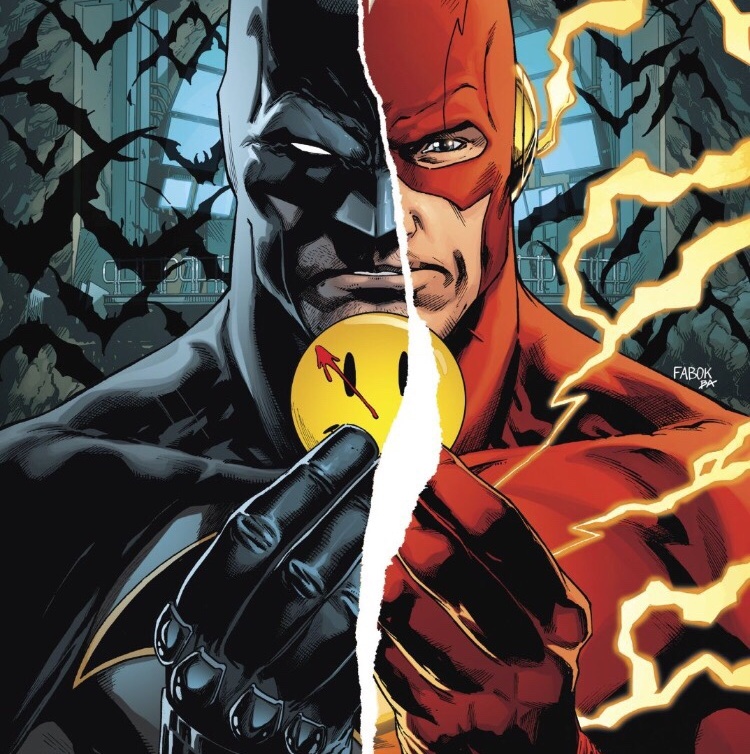 It is often said that Watchmen is the most influential comic ever to be released. That comics wouldn't be where they are without it, for good and for ill. But how did we get here, exactly? More to the point, just what influence did Watchmen provide to the larger world of comics? What, ultimately, is the legacy of Watchmen? Who watched the Watchmen?
Rebirth had succeeded. It had proved to be a juggernaut that everybody seemed to want more of. DC's hopes and dreams of winning hearts and minds whilst exploiting the Watchmen IP had never risen higher. While nobody cared for Before Watchmen, they seemed to care about Watchmen crossing over with the DC Universe and its characters. They paid attention to that in which they did not with other attempts to cash in on Watchmen. If DC couldn't make money off stories about what happened before the events of Watchmen, they were sure as hell going to make it off what happened after the events of Watchmen.
And so the enterprise of Watchmen exploitation had to keep going…for this was what DC had been waiting for. This was the culmination of years of trying. Their predatory impulses had finally borne fruit. The milk they were selling from their cash-cow was a hit. All they had to do was just keep milking it.
Enter: The Button by Joshua Williamson, Jason Fabok, and Tom King.

After the success of Rebirth, DC leaned into Watchmen teases and 'hints' of how reality had been changed. Across everything from Superman books to Green Lantern comics, you had suggestions of a reality manipulator whose trail gleams in glaring blue.
Support For Comic Book Herald:
Comic Book Herald is reader-supported. When you buy through links on our site, we may earn a qualifying affiliate commission.
Comic Book Herald's reading orders and guides are also made possible by reader support on Patreon, and generous reader donations.
Any size contribution will help keep CBH alive and full of new comics guides and content. Support CBH on Patreon for exclusive rewards, or Donate here! Thank you for reading!
Nobody knew where this was going. The question of 'Wait, is this actually Manhattan or is this just a red herring and a fakeout?' was answered by Johns immediately in interviews around Rebirth's publication. So that wasn't in doubt. What was in doubt was what that would tangibly mean. Would we get a special one-shot again, like a DC Universe Rebirth #2? Would we get a special event book? Or would it be some special maxi-series or a weekly thing? Or a crossover? What shape would this whole affair end up in? People would debate it a great deal after Rebirth hit. Few seemed to be concerned about the shameless and bankrupt decision to milk and exploit Watchmen again, and those that were seemed to be viewed as killjoys at the time.
But still, there was uncertainty in the air. Nobody quite knew what was to follow Rebirth, beyond vague teasing and hinting gesturing towards something happening. People figured whatever came next would be eventful, but nobody was quite sure.
And then the news came.
All questions would be answered and addressed in the big, seminal crossover of The Flash and Batman books in a 4-part story titled The Button. Overseen by Geoff Johns himself, it would be written by Joshua Williamson and Tom King, the Flash and Batman writers respectively. And it would be drawn by regular Geoff Johns collaborator and DC star artist Jason Fabok. Teasers were unveiled depicting both Batman and The Flash holding onto the Watchmen 'button,' and excitement was being drummed up by marketing.
This is it, folks. If you want to know where this is all going, this is your must buy!
Bruce Wayne and Barry Allen were framed as two detectives on a case, solving a mystery. They were presented as kin, which perhaps made all the sense in a Post-Rebirth world. Johns had, after all, reworked Barry Allen significantly for the modern era. The classic selfless Silver Age Science-Hero and romantic figure of John Broome and Carmine Infantino stories had been retconned to have a new marketable Tragic Backstory evocative of Batman's very own. Eobard Thawne, The Reverse Flash, had taken away Barry's parents and childhood, with one dead and another in prison.
And now Barry Allen was a man driven to purpose and action by his own tragic childhood and loss of family and parents, which made him a very commercially saleable character in an age where Batman sold like hotcakes and was DC's premier character. It was a calculated and obvious move to 'modernize' the character along the lines of that which would sell and go over well, modeled off the success of figures like Batman. So to put those two together? It was inevitable.
Even more so given the last and final step in that Barry Allen-reworking process is what rebooted all of DC and led to The New 52, as that was being re-litigated. Flashpoint's conclusion and impact was not Barry Allen's fault, the Rebirth special had loudly tried to announce. No, no, it was Doctor Manhattan and Watchmen's fault.
So Batman and The Flash being central in the Johnsian continuation of these shenanigans? It was inevitable.
But perhaps so was the creative team on-board.
You had Tom King- an Alan Moore devotee. He was a man obsessed with the 9-panel grid and Watchmen, and more broadly the work of Alan Moore. Moore's influence was all over his work, and he frequently talked about his love of Moore's work and use of form. Certainly, if you didn't see it or hear it in his interviews, you saw it on page.
His first solo series The Omega Men with artist Barnaby Bagenda was a book very overtly in the Watchmen school of comics. It was blatant in what tradition it was drawing upon and it marked the loudest depiction of King's obsession with both Watchmen and Moore's work in general. And it would only get louder from there, as 9-panel grid book after book took off, gaining praise and prestige. His work made the 9-panel grid and its usage quite fashionable and in-vogue again all of a sudden. The grid's inherent prestige, due to what it was evoking (Watchmen), was brought to the fore once again by the rising popularity and discussion of his work. And it's why it's no surprise that he would end up taking the Rorschach gig to do a Watchmen sequel book.
You had Jason Fabok, who Johns had worked with for a good few years now on Justice League, and had made many plans to work with in the future. Starting off as a David Finch apprentice, Fabok came to embody a sort of 'clean' DC house style and aesthetic look that felt like it was the sweet spot between David Finch, Ivan Reis, and Jim Lee. His figures looked like action figures brought to life, and there was a tinged realism to his work that fit with Johns' preference in artists. He was, like Gary Frank, a 'definitive' DC artist to Johns' mind.
It's why Johns would end up eventually getting him for his Killing Joke sequel- Three Jokers, to follow in the footsteps of Brian Bolland. He was an artist keen to work on big, important stories, and this was as good a stage as any for him.
But perhaps most notable figure is the last and third key member of the creative team here.
Joshua Williamson is a writer influenced by writers like Mark Waid, James Robinson, and Bendis, amongst others. But above and beyond all of those? Geoff Johns was the biggest and greatest influence on him and his work. Williamson was a massive Johns fanboy. Having had a poor and brief stint at DC during 2009-2012, he'd been away from the company until 2016's Rebirth relaunch marked him as the new writer of The Flash. He was working with Geoff Johns himself whilst doing the book, as Johns oversaw the whole initiative and discussed and went over each book and its plans with the writers.
It was a dream for him. He'd long been a diehard Flash fan, and he'd been a diehard Geoff Johns fan, and this was the perfect cross-section of both, as Flash was now firmly and fundamentally defined by Johns in the modern era.
And the influence of Johns and his work was obvious and evident on the page. Williamson's first Flash story was blatantly a cheap cover and lesser version of Johns' most iconic Wally West Flash story. Johns had woven a tale about Hunter Zolomon, Wally's friend, who shatters and becomes the monstrous and murderous speedster Zoom. It had been all about Hunter arguing that 'tragedy makes heroes better' and that tragedy was necessary, and trying to define The Flash by tragedy. And Wally would be the counter-perspective to that. Of course, Johns would, ironically, cement that Zoom idea with his Barry Allen tragedy origin, recreating all of The Flash mythology and redefining it via tragedy.
That's the story that Williamson would effectively try to remix, and hell, he wasn't even the first. Similar attempts at 'Barry's Best Friend You Never Heard About…Until Now!' had been done even in The New 52's very first Flash storyline by Brian Buccellato and Francis Manapul with the character Mob Rule. Mob Rule would be an antagonist, but at least in doing the Best Friend Who Becomes A Bad Guy, Manapul and Buccellato tried to tweak it a little bit by not having him be just another speedster. Williamson doesn't even attempt such a thing. So in returning to doing this, Williamson was doubling down on recreation and recycling even more, committing to repetition even harder, with the whole endeavor being framed as fresh and all new.
But he did it, and so we got Godspeed, the murderous speedster bad guy who was Also Barry's Best Friend. It was an attempt to manufacture a Johnsian Bastard, a rival and antagonistic figure to challenge the hero, like Johns' Zoom with Wally or Johns' Sinestro with Hal, so on and so forth. But it lacked both the conviction and commitment of the original it was trying to ape. Williamson was not half the writer Johns was in his prime. The copy lacked the sincerity, emotion, and character writing of the original. It was akin to eating someone preparing a dish off a recipe, except it lacked all the spice, richness or flavor it's supposed to have. The food wasn't even cooked right. It's just a bland mess, as the cook sheepishly says 'Well, I followed the recipe!'
It was a Geoff Johns Fanboy trying to write Johns cover comics and doing it poorly. It lacked flavor and personality, feeling like the dime store version of an official product you'd find somewhere. And the whole Flash run that would follow after that initial story-arc would only be more of that, with Williamson's entire run blatantly trying to reproduce and mimic the structure and sensibilities of Geoff Johns' other big touchstone- the Johns Green Lantern Saga.
Johns had given Hal Jordan, the Silver Age Green Lantern, the Emotional Spectrum to deal with. And so Williamson made up 'The Forces' for Barry Allen, Hal's best pal and Silver Age peer, to deal with. Johns' GL run had centered strongly on the relationship and dynamic of Hal and Sinestro, his dark opposite, and Williamson tried to echo that sensibility. If Johns had Nekron for GL, then Williamson would make up Paradox. If Johns had done Secret Origin to redo the origin of Hal in his run, then Williamson would do it too, but use the even more evocative iconic name of Year One. So on and so forth, on and on, ad nauseum.
Johns was the model and 'how to' and Williamson would follow it to a T, whilst arcs like Year One would also attempt cheap Frank Miller mimicry with no real understanding of why Miller's comics worked.
Here you had a fanboy creator who was obsessed with recreation, but had no real sense of why what he was trying to recreate even really worked or clicked. It was empty mimicry by a creator who was simply thrilled to be able to get to do what Geoff Johns, one of his inspirations, had done.
It shows even more clearly perhaps in Justice League vs Suicide Squad, the first 'event' of the DC Rebirth era. It was one Johns came up with and mandated, given Justice League and Suicide Squad were both cinematic priorities in the 2016-2017 era. Johns merely needed a writer who could do the premise of 'Justice League vs Suicide Squad.' Williamson volunteered and got the task, happy to do the job.
It would be here that Williamson would first work with Jason Fabok, before even The Button. And it would here that Williamson would unveil a story centered around the mid 2000's Geoff Johns reworking of Maxwell Lord from the Infinite Crisis era. Williamson would be the writer to bring that back, under Johns' supervision, alongside a Johns collaborator, and he'd even throw in another Johns staple in the character of Johnny Sorrow from Johns' JSA run as a key figure of the whole thing.
The whole affair would, of course, be utterly forgettable rubbish comics that nobody even really remembers now. Even the mention of it evokes 'Oh? Oh! Right, yeah, that exists. They did that, sure'. But it would establish and be consistent with the pattern of Williamson firmly as The Johns Fanboy all too happy to do Johnsian cover-style comics.
And all of that is important to The Button because that is precisely what it is.
It's Johnsian Cover Comics.
The Nature Of The Button
Tom King was supposed to write 2 issues. Joshua Williamson was supposed to write 2 issues. That's how it was supposed to work.
Instead, Tom King ended up departing the whole project after his 1 opening issue, and Williamson wrote the rest, with a special thanks being given to both King and Geoff Johns in the credits for their contributions.
Tom King's single issue is a very classically King piece of work in that it's mostly a formal exercise with the 9-panel grid. King sets a timer and paces the comic like a countdown across that 9 panel grid, and it's very much him trying to do a big superhero comics Action Set-Piece in a stylish, formally smart way. One wherein you feel the time and each 'beat' has weight and there's a tension as time truly is 'slowed down' with each panel representing a respective 'second'. It's done against the backdrop of a televised Hockey match, of violent entertainment, invoking horror and discomfort.
The emphasis on the hockey match is meant to both foreshadow and parallel the inevitable Eobard vs Batman fight, and the tension established there is mined through the slowed countdown, as the issue seems to want to make you ask 'How will it go down? Will it go down like what we just saw? What's the fate here?' King wants to use the natural way the grid slows down its reader to his advantage here, and there's a purpose to what he's doing. It's nothing mind-blowing, but there's a level of 'I've thought this through' and understanding of craft and form that helps.
It's almost self-contained and could easily be a one-shot that stands alone. It works as just a slick 'Batman vs Reverse Flash' action comic that's paced well and tightly, that's trying to be more than just generic fluff, and thus works.
But then King leaves and bails on writing any more of this.
And it becomes the Joshua Williamson scripting show.
Immediately any attempt at even a pretense of formal engagement with the works being invoked is gone and shattered. All hints and traces of even mild ambition are gone and replaced with Johnsian school of superhero comics. King is a flawed writer, but his issue seemed to at least make some kind of effort. Here, the only effort seemed to have gone into lore considerations than the use of form. So instead of tightly composed comics that flow well, you have copious amounts of utterly lazy and poor narrative captions and exposition dumping that are a drag. You have a comic with absolutely no sense of meaningful pacing or rhythm at all. It devolves into a generic mess of bland superhero comics with little consideration or thought put in when it comes to the craft.
And as for the contents themselves, it becomes pure Johnsian Fanboy nonsense involving Flashpoint Batman and sequelizing that rings hollow. And once it's past that, it becomes Eobard Thawne, The Reverse Flash, encountering Doctor Manhattan. And we're treated to great pieces of writing such as this:
When you've gotten to Eobard Thawne talking about power levels and lore importance and how he has enough powers that he can take on Doctor Manhattan, with dialogue this poor, you know things have gone wrong. When this is what Alan Moore, Dave Gibbons, and John Higgins' masterpiece has been reduced down to being used for, you know things are dire.
Watchmen in the hands of Geoff Johns feels like a terrifying proposition already. But Watchmen in the hands of Geoff Johns' lesser fanboy clones? It's bleak. You had Eobard Thawne, the ultimate Fanboy figure of comics as molded by Geoff Johns, penned by a Geoff Johns fanboy dealing with Doctor Manhattan and his power, to establish to DC comics nerds just how powerful Manhattan was. And how nothing, and no one, could stop him or his plans, even this last guy who was involved in the big Flashpoint that rebooted DC to create The New 52.
And alongside all of that, you also had the Johns fanboy getting to pen the official sequel moment of Flashpoint, wherein Thomas Wayne Batman and Bruce Wayne Batman would meet and fight together. Father and son get to exchange words, as the comic attempts for cheap sentimentality that reminds you of superior Greg Rucka/Klaus Janson comics about Bruce and his relationship to his father that you'd rather be reading instead. It's just hollow and vapid fanservice comics that closes out on another 'Thomas Wayne Batman is so awesome!' redemptive hero moment for the character that feels like an unintentional parody of Johns' own comics writing. And so what you're left with is lots of yammering about Continuity/Timelines and other Geoff Johns insular nonsense that means nothing and is about nothing.
But as all of that happens, you're hit with another key beat to follow all of that up. A moment that is pure Geoff Johns and yet also pure Joshua Williamson.

Jay Garrick is back, in a move evoking Johns' Wally West return in DC Universe: Rebirth #1. He's having trouble finding a 'lightning rod' much like Wally in the special but he's back.
It was a move teased and spoiled outright on numerous covers of the issue themselves, so it was known. Hype was built around it. People cheered and flocked to the store to buy it, going 'Jay is back!!'.
But what happens in the issue is perhaps the most brutally accurate depiction of not only Johns and Williamson, but modern DC and its approach in general.
This is the very ethos of DC storytelling:
Make a big deal about an Old Thing That People Like being back. Dangle in front of them like bait and tease them. Then take it away, to do it all over again the next time.
That's how you sell comics.
Pull out a toy from a box, show it off for a hot second, put it back in the box. And each time, promise something really big, meaningful or special is gonna be done with that toy, but it's not. It's just bait to sell and market and get more eyes and sales and buzz for whatever new crossover or big event series that needs a boost. It's a gimmick. Instead of meaningful storytelling, you're granted these little morsels of bait, with a 'Hey, we might do it! This time! We promise! We swear! Buy Infinite Button Crisis Omega #1 today and it might just happen!'
There is no joke or satire one could make that would skewer them as hard as they themselves do themselves here.
And Williamson, the Johns fan, penning a beat evoking a beat Johns did to great success and fanfare, and doing it much worse and poorer, feels like a fitting encapsulation of the whole endeavor. Given that's essentially the the entire story of Watchmen and Watchmen-sequel enterprises, and certainly the story of modern Geoff Johns in relation to Alan Moore, who Johns keeps trying to evoke and mimic and 'succeed' by sequelizing, whilst completely failing. Perhaps it's fitting that Johns would inspire his own version of that.
But if all of this seems foolish, then what follows after is likely even dumber.
Many asked themselves, over and over, for months and months, ever since the announcement:
Where was this all going? What was going to happen next? Where's all this Watchmen stuff going?
The Button was promised to be the thing to address that.
And so as things wrap up, the book ends like so, with The Button in the hands of Doctor Manhattan, as Dave Gibbons' iconic letters, and Moore's dialogue are echoed like voice-over in a film trying to beat you over the head with callbacks. The 'Remember, guys?' was strong here.
But for all the teasing, what was really going on wasn't clear yet. What was to be the future and fate of all this? More of that Tom King single-issue, or more of that disastrous Williamson show? What was in store for us all here? What was the purpose of this whole damn 'Button' thing, really? Because it still hadn't been clear. Why did it exist? What's this story about even?
Then the epilogue hits.
And you suddenly, slowly understand.
As you look at the big bold yellow letters on all black, and flip over to this:
You begin to get a real sense of the answer. You understand why The Button exists and what it is.
You begin to have a firm grasp on the whole damn thing as you get through these final epilogue pages, to get to:
So, what is The Button?
It's not a story.
It's a glorified commercial and ad for a Geoff Johns Watchmen comic.
It's a goddamn ad and a cheap Previews Magazine with sequential art.
It's the worst kind of hollow, empty crossover story that exists purely to advertise for another big event story. It's a comics commercial for poor Johnsian Watchmen comics by a Johns fanboy.
So what is the legacy of The Button?
It's nothing, because there is nothing here beyond a hollow commercial.
Tom King's work makes an effort to engage with the formal echoes of Watchmen, but then immediately dips, while Williamson's work is all that's left and makes no effort whatsoever. It does nothing of worth or value with a text like Watchmen that it's so loudly evoking and in dialogue with. It's just knock off Johns school of comics, which perhaps makes sense and is fittingly inevitable when you're dealing with ventures that are rooted in a desire to be knock off Moore school of comics, with Johns aiming to be its new Principal.
So, what is The Button?
In the end, it's a writer who facing the prospect of having to script Geoff Johns fanfiction bails, while a Johns fanboy takes on the job and is all too happy to create an advert for a Geoff Johns Watchmen book.
It's just sad.