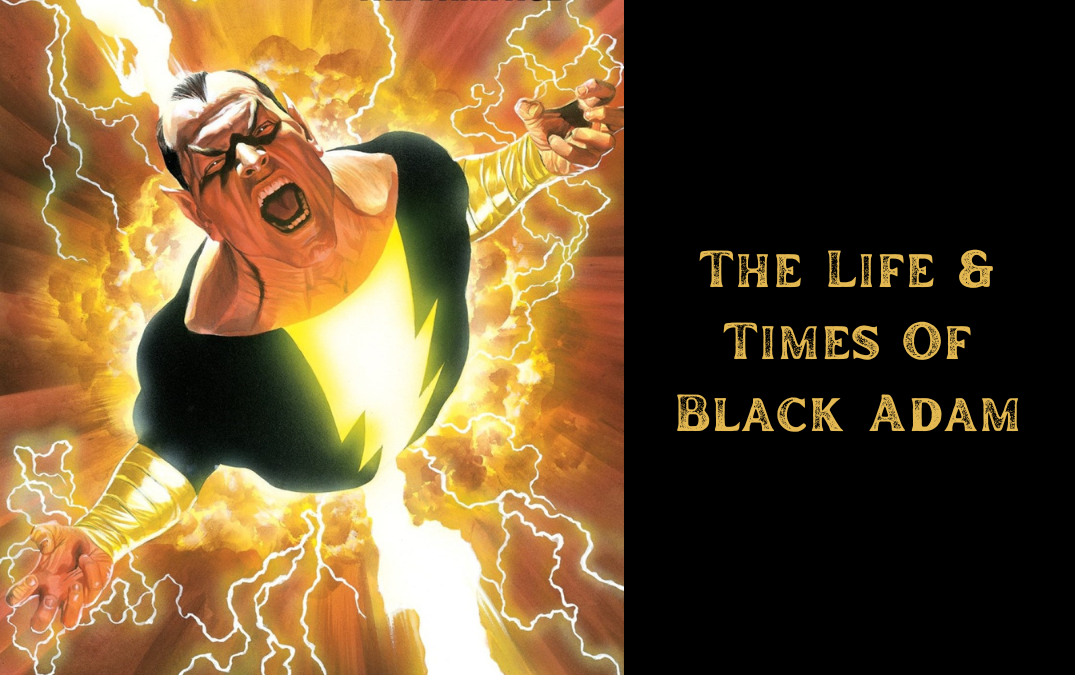 Often, Geoff Johns is associated with Silver Age figures. Classic heroes of the 1960s revivals like Hal Jordan and Barry Allen. He's often identified with triggering the revival or 'rebirths' of such figures and re-centering them in mythologies and re-positioning them as pivotal leads of the modern era. Johns is often framed as the figure who loves Classic Heroes, whose work embodies the 'heart, hope, and humor' people attribute with such figures. It's what people point to with his work on titles such as JSA
.
But that's merely one aspect, one side of Geoff Johns. It's a part of the portrait, but it's not the complete picture. The complete picture requires the other side of Johns. Which is that, simply put, Geoff Johns is The Villain Guy of the DCU. He is The Rogues Gallery Guy, above all else. He writes Superman, yes, but he also devotes entire interwoven epic sagas to his Superboy Prime. He does The Flash, yes, but he does Captain Cold and The Rogues, he does Rogue War, he does Hunter Zolomon, and he does Eobard Thawne. He does Hal Jordan as Green Lantern, yes, but really it's all a story about Thaal Sinestro as a complicated figure and his relationship to Hal, much like his Flash runs were about Hunter Zolomon/Wally West or Eobard Thawne/Barry Allen. He does Aquaman, sure, but he's doing Black Manta and centering his dynamic with Arthur. He's doing Oceanmaster and revamping him as a morally ambiguous figure doing the wrong things for the right reasons.
Geoff Johns is the guy that writes JSA and Justice League, sure. But Geoff Johns is also the guy that writes Forever Evil
.
More than anything, more than his heroes, Geoff Johns is a writer remembered for his villains. And while he's done well with many villains, he excels with a certain type of villain:
Support For Comic Book Herald:
Comic Book Herald is reader-supported. When you buy through links on our site, we may earn a qualifying affiliate commission.
Comic Book Herald's reading orders and guides are also made possible by reader support on Patreon, and generous reader donations.
Any size contribution will help keep CBH alive and full of new comics guides and content. Support CBH on Patreon for exclusive rewards, or Donate here! Thank you for reading!
The Bastard. Geoff Johns loves bastards. He's immensely taken with them. He has great fun writing them, whether it be the ludicrous Superboy Prime or Kryptonite coke-snorting Ultraman. He loves writing these amoral assholes who are bound to nothing and are comedically horrible. It's why and how you get his Eobard Thawne, going 'It was me, Barry!'. It's why he invents a character like Grail as an Anti-Wonder Woman during his Justice League. He's made quite a name for himself writing such petty, monstrous psychopaths.
But beyond that, Johns loves another kind of bastard even more so, and it's The Bastard With An Honorable Code. It's a figure with far more restraint. A figure with a set of internal rules that dictate their cruelty and monstrosity. A morally messy and ambiguous figure who while capable of terrible, horrible things, isn't just 'crazy' or unhinged. There's a method and reasoning that shapes them. They have a strange nobility to them. In fact, they might even believe they're the actual heroic ones, doing what needs doing, rather than being a sniveling coward like their heroic counterparts.
They're less 'super-heroes' and more 'super-people', as they're allowed a wider range of responses or a gamut of experiences that may normally be considered 'wrong' or beyond consideration for the 'classical heroes'. They can be messy and broken and make certain choices or have certain ideas or arcs that can be more freeing to writers.
It's visible in the likes of Sinestro, it's visible in the likes of Oceanmaster, it's visible in Johns' Lex Luthor. Johns is really taken with this kind of figure and antagonist. And it shows in even in his grand, big villain event, which is perhaps the most Geoff Johns thing there is. The slogan of the event – EVIL IS RELATIVE – might as well be a subtitle on a great number of Johns' books, as well as his favored characters. He thrives whilst writing such characters. And an event solely dedicated to that? It's perfectly calibrated for him.
If Forever Evil is anything, it is Geoff Johns' two flavors of bastards going head to head, just absolutely at it to decide the fate of the universe. The Unrestrained Bastards of The Crime Syndicate and The Bastards With An Honorable Code, led on by Luthor. It is a perfectly fitting illustration of Geoff Johns' sensibilities as a superhero writer and storyteller.
But before he ever got there, before he ever became the writer renowned for rogue revamps full of bastards, before he became CCO and President of DC Entertainment and President Of DC Films, before he was in-charge of major Hollywood blockbusters and their sets wherein he was allegedly actively enabling abuse and racism, Geoff Johns was just some guy. He was an assistant in Hollywood hired on as another freelance writer. He was small-time, but he was writing another bastard, the prototypical bastard that preceded all the rest that he would go onto write. But to get into that, we have to look at him when he was once a minor young writer doing a book called Stars and S.T.R.I.P.E
.
Where It All Began

Geoff Johns began as an assistant of Richard Donner, a guy who used to work with and for the Donners for years, until eventually he ended up working on their sets– films like Conspiracy Theory and Lethal Weapon 4.  Kevin Fiege, back when he was just small-time, was his close friend and peer at the Donners' offices. Whilst working on one of these sets, he invited over the DC comics staff to the set given they were filming nearby, back when the DC offices were still in New York. And from thereon emerged conversations on comics, which led to ideas and pitches, and before long, Geoff Johns had a book based around Stargirl (then called Star-Spangled Kid), inspired by his late sister, who'd passed away in a plane crash. It was a book rooted in things Johns evidently loved about the DCU- its past, its history, the JSA and the legacy of heroics, the generational quality of it. It was keyed into James Robinson's work and Starman
and other ignored aspects that tied into the history of JSA and DC's older heroes. This was his big Classic Heroes book, about a young person trying to carve her path in their likeness and aspiring to those ideals. Johns clearly loved this about the DCU.
But Stars and S.T.R.I.P.E was not long for this world. It would not last, and would get cancelled. And with James Robinson leaving JSA after just 5 issues, there was a spot opening up that was ideal for Johns. David Goyer, Robinson's co-writer on JSA didn't want to do the book by himself, and wanted a co-writer, and a meet had already been set-up between the two to discuss Johns' Stargirl. And voila, just like that, Johns was the new writer of JSA.
And would you like to guess what the very first issue of his JSA was? What its cover might've been?
Yes, folks. The very first DC comic Johns ever wrote beyond his personal pitch book with Stargirl? It began with Black Adam. As the cover indicates, the story is essentially a JSA vs Black Adam story.
Because here's the thing:
Before he was ever known for his morally ambiguous honorable bastard Sinestro, or his blue-collar Captain Cold, before he tried to hard-revamp Oceanmaster and rework Lex Luthor, Geoff Johns was already on it with Black Adam.
If Stargirl was the prototype of one kind of Johnsian character and approach to superhero comics, Black Adam was the other. Black Adam was the archetypal Geoff Johns character of DC. He was the original Johnsian Bastard, before all the others came along.
Prior to this, Black Adam had largely been a one-off antagonist created by Otto Binder and C.C Beck in 1945's The Marvel Family #1. He had one Golden Age appearance and that was it. He was the definition of a 'throwaway idea'. He does not at all configure into the classic Golden Age era and period of Fawcett comics and Captain Marvel mythology. He was a one-off idea to be used and discarded by Binder, who was a man constantly bursting with ideas. Black Adam was not terribly important or significant. Instead, it was villains like Doctor Sivana or Mr. Mind and his Monster Society Of Evil were far more vital and consistent threats. Which makes his modern importance and vitality subsuming all the others that much more amusing and fascinating.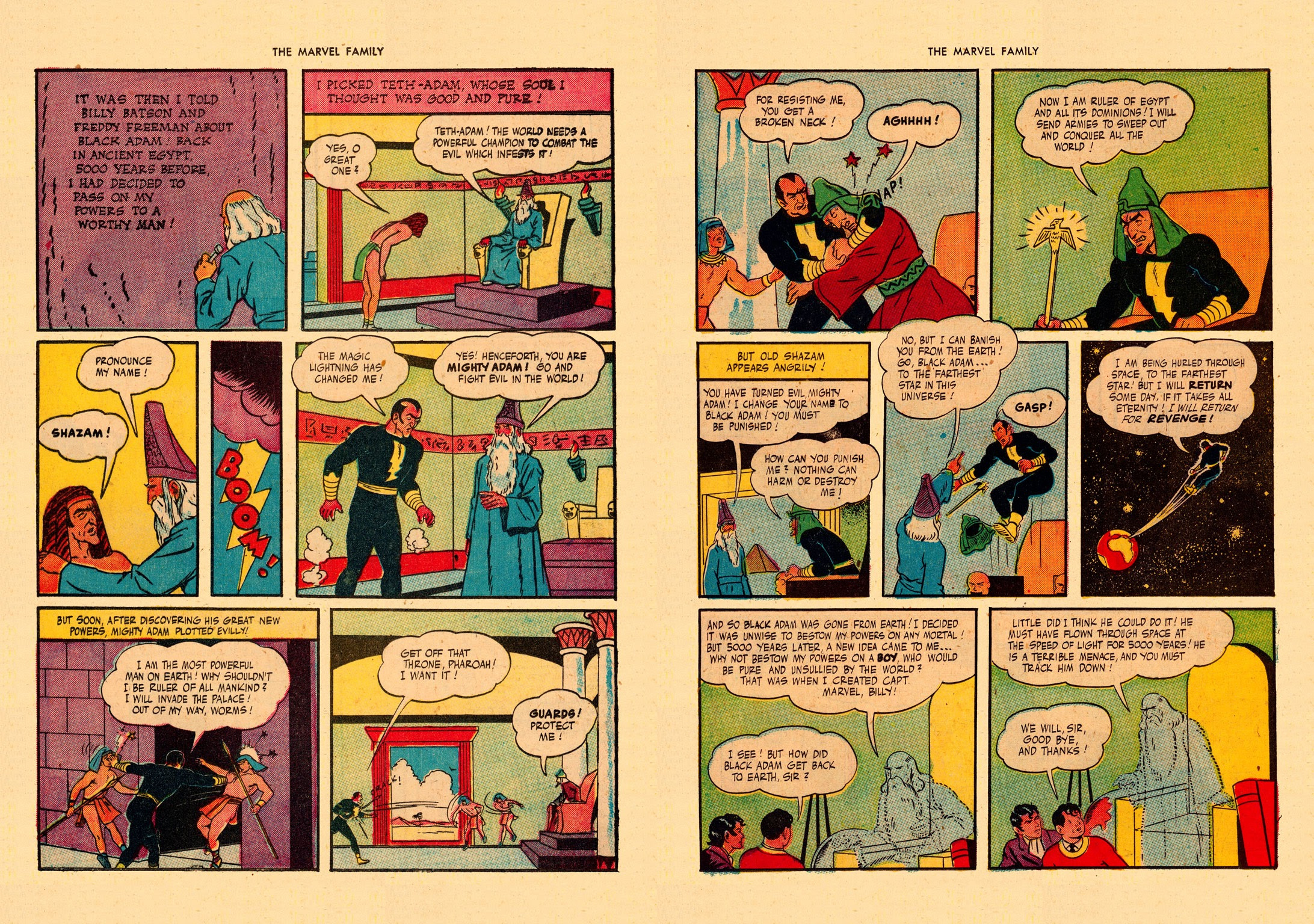 Black Adam began as Teth-Adam of Ancient Egypt, chosen by the wizard Shazam, and dubbed Mighty Adam. Designed with full-on exoticized elf-ears meant to convey the character's 'Otherness', Adam fit into a long line of poor caricatures in the Fawcett library. He was very much a product of a white-lens and white-wash placed upon an 'exotic' Egypt and its mythology. As for his actual character, Adam was a good and pure soul who became a hero that fought evil after being chosen as champion. But eventually he transformed into an evil tyrant corrupted by all his power. At the end of the story, he'd be tricked by Uncle Marvel into saying 'Shazam!' and be transformed back into his old self, after which he'd wither and die, because he was 5000 years old and time had caught up with him. And that was that.
But decades later when Shazam was owned and revamped by DC, Black Adam was resurrected and made to be a more prominent figure. His origins and motives were expanded, and the period of him as the heroic 'Mighty Adam' was spotlighted a bit more, if only to highlight his fall from grace and corruption and heel-turn to evil. Here he was as a man seduced by the demonic figure of Blaze, a once-hero now corrupted by the dark side of evil. He was still, very much, an all out supervillain.
Then came Geoff Johns. And what Geoff Johns would go onto do here with Black Adam is what he would go onto do with many other characters, but it's worth noting that it was Adam that Johns first gave this treatment to.
Black Adam would appear as a villainous figure, taking on the JSA and showing what an impossible force he was, barely stopped by the collective efforts of the entire team. Then he'd be out of the book. But ten issues after the events of #6, wherein he'd dueled the JSA, he'd re-emerge again, with the story suggesting that he was more complicated. Johns and Goyer would attempt to say that the original heroic Mighty Adam of history and the 'corrupted' villainous figure were two different personas entirely. This was an attempt to separate and filter out Black Adam and his agency in some of the more unsavory things he'd done as a villain, a move Johns would later utilize to a greater extent with Hal Jordan as Parallax. But the stage was set- Black Adam had once been a legendary mythic hero of the past known as Mighty Adam, and he wanted to be that again. Black Adam could be heroic, already having been.
And thus, slowly but surely, Black Adam became a part of the JSA, alongside Johns' Stargirl. JSA was the book where both of Johns' two visions and loves of the DCU came together and seemed to feed each other. But you could always tell that the real spark, the real fire and bolt of energy in the title really belonged to one figure- Black Adam. He was clearly the most fun to write for Johns and Goyer.
Johns and Goyer provided a whole new retroactive back-story here, with Mighty Adam serving Prince Khufu, a past life of Hawkman as a Prince Of Egypt, alongside Nabu, the Lord Of Order who would eventually inhabit the Helmet of Doctor Fate. And as the story went on, you learned more about who Adam was, and how he 'fell' from grace.
Black Adam was a man from the kingdom of Kahndaq, not Egypt as past stories had indicated. He merely served in Egypt under the reign of the Prince Khufu, away from his homeland of Kahndaq, a nation bordering Egypt, away from his dear family, his wife Shiruta and his sons Gon and Hurut, as he'd gone off to fight for and alongside Khufu in a conflict. Adam had gone to be a hero in another land. And then tragedy strikes when he learns that his own kingdom was struck by horror and his own family, his wife and children, were killed by invading monsters. And when Adam unleashes his rage and fury at this prospect to punish, the wizard Shazam intervenes, horrified, and seals him away for 5000 years.
Immediately, the more traditional corrupted by power villainous narrative is exorcised and in its place is the story of a man whose sole reason for living is to help and protect his own people, to serve his family, which he's failed to do in his pursuit of helping others. He becomes a tragic, melancholic figure with an aching loss.
His hard exterior masking an impossible void and depth of pain. His fury righteous, his rage understandable. Johns was trying to push the character into a more Magneto-esque space than the typical shallow dark mirror villain figure. Adam was an antagonist you felt bad for, you understood, and you had sympathy for. He was meant to be an awe-inspiring figure, one who even if you didn't agree with, you found compelling to read. There was a strange sort of nobility to this broken soul who was willing to drench his hand in blood, and dirty his boots.
This would prove all the more true when Goyer would depart the book after 50+ issues, leaving Johns the sole writer of the title. And almost immediately, Johns would launch into a big eventful story that would cross-over with his own Hawkman title that had emerged out of JSA as a spin-off.
The Authority Of Adam
What kicked off was Black Reign
, an arc that felt like the long culmination of all the strands of story across the entire run of JSA up to that point. Black Adam and Atom Smasher could no longer stand the JSA's reactive policies and idea of heroics, which didn't involve changing the world more pro-actively.
Atom Smasher, who initially started off as a rough and hostile figure for Adam, had grown to become like a Younger Brother for Adam. And with his new li'l bro in tow, Adam would go about recruiting a whole bunch of folks to form his own elite crew. A new team to not just react to the world, but to change it.
And they would begin by seizing control of Kahndaq from its existing dictatorial regime, to enforce a new one. The old reign of terror was over. Welcome a new reign. A Black Reign.
It was very evidently Post-Authority comics, the kind of comic that would come out in a zeitgeist of The Ultimates and What's So Funny About Truth, Justice, and The American Way? wherein Superman takes on Manchester Black and The Elite. It was a comic of the 'realist' tradition, playing superheroes as geopolitical figures and weapons, musing on the extents of interventionism. Black Adam and his crew enforcing the Black Reign were very much cut from that Authority/Elite cloth of 'Be good, or else!'. They were a team of powerful people that would descend from the sky to lay down divine punishment if you stepped out of line. It's a telling, revealing story given how much of Geoff Johns' work exists in the shadow of Post-9/11 politics, and Johns' own proximity to the sensibilities and work of Mark Millar, his fellow compatriot in cinematic comics that veer between pleas to the 'heroic' classics to juvenile spreads and splashes of arms and entrails being ripped off in superhuman wars. They're both children of Alan Moore's Miracleman
and its legacy, one way or another, and Black Reign reminds you of exactly that.
Much like that perspective was met by Superman in What's So Funny, as Clark takes on Manchester Black and The Elite, Black Reign had to be met by Hawkman and his gang of JSA members. Hawkman, who'd previously been the man Adam had served under in a past life, an ancient hero, had become almost a rival figure for Adam. The kind of Shonen rival you'd expect in Japanese Battle Manga. They were men who understood each other, and there was respect and recognition, but there was also opposition and hostility, as they were on different ends, and pursued different things.
Johns would firmly be the one to establish the fictional nation of Kahndaq, including its capital city of Shiruta, named after Black Adam's long-deceased wife. The three triangles of the Kahndaqi flag even represented the 3 souls of the family Black Adam once lost. For in this country, he was myth, he was legend. The very fabric, its very iconography, its very names, were devoted to him. This nation was not only his home, it was his monument. It was his domain.
And when all was said and done, when the battle of blood and bones between Adam's assembled squad and Hawkman's JSA gang ended, an agreement was reached. Black Adam's people loved him, they considered him a hero, he'd come back to them from the grave, from the tall tales of their storybooks and oral traditions, and he'd saved them. They felt he'd liberated them. And so it was agreed that Adam would stay in Kahndaq and remain within its borders. He was under house-arrest of sorts, but locked and sealed to his own country. And that set the status quo of him as King Of Kahndaq, which now forever remains. And it is this story that the Black Adam film seems to be adapting and doing its own iteration of.
The Orientalism Of It All
What's wild and curious is Johns was working with a character who was rooted in a long history of white-washed perspectives on Egypt and western obsession with Egypt as codified in old pulpy Golden Age comics. Black Adam, with his 'exotic' ears and features plays rather like a white-washed figure of orientalist ideas. And that trend only continued on as the character returned, passed along the hands of a plethora of white writers.
Geoffrey Marieb Johns is the first and probably the only writer of the MENA community, and specifically a writer of Arab descent, to touch and handle the character in any many capacity, being half-Lebanese from his father's side. Marieb being his family's original name when they first moved to America, but in the process of assimilation was changed to Johns.
It's a fact and a reality that gets lost and forgotten a lot, but remains true. It shows most clearly in the likes of creations like Simon Baz, a Lebanese-American from Dearborn, where Johns grew up (in a Lebanese Christian household however, rather than a Muslim one like Baz), or Tariq Geiger, his first big creator-owned creation at Image Comics, who is Half-Lebanese like Johns.
My family is Lebanese, and there's a huge Arabic and Lebanese population in Detroit. I 'm half Lebanese, but a lot of my family, on my dad's side, is full Arabic and they've had to deal with a lot of things, in the way of 9/11.  Just getting on a plane is a pain in the ass. – Geoff Johns

If one were to ask 'Why Black Adam? Why not someone else? What that guy?' when observing Johns' work and seeing his passion for him, the answer seems obvious and evident seeing his career. It is because Black Adam is one of, if not THE first MENA character in superhero comics, and one of a prominent mythology, with vital ties and powerful iconography. Johns wanting to take that figure and wanting to make him more than just a simple 'bad guy' makes sense, from that perspective. But the way he broaches that is curious. Johns doesn't really tear down or critique the Orientalism the character is mired in, and if anything, kind of leans into it and plays with it a little more. The set up of a fictional middle-eastern nation mixed with re-framing Black Adam as, essentially, closer to the stereotype of 'Middle-Eastern dictator' associated with MENA characters feels like a pointed choice, particularly given the work never lets go of the 'exotic' oriental aesthetics either.
Consider for a moment the fictional country and set-up of, say, Wakanda. Under the careful hand of creators like Ryan Coogler, Ta-Nehisi Coates or Evan Narcisse, it works because it speaks to a clear fantasy- 'What if there was an African nation that had never been colonized at all?'. An uncolonized collective and historic nation of African people who'd never lost or been wrecked by the horrors of colonialism, and had endured. It is a hidden, secret nation that colonialism could never touch. And there's great power to that idea. Especially so given it plays against type- it actively rejects and subverts the usual upheld ideas and flattening assumptions about Africa the continent being akin to some kind of amorphous singular country, instead underlining its rich multitudes and diversity, and even more vitally- it totally destroys the 'backwards' view and Western idea of Africa. What you're getting is not some poor, starving nation of huts and malnutrition, which is how the West often likes to represent Africa and its people, but rather a nation that is even more advanced and way ahead of the West. It is so advanced and ahead of these colonial super-powers like America or Britain that it is a marvel in itself. It is a safe-haven, it is a possibility, it is a dream and there is beauty to it. It works wonderfully. There's a subversiveness, a radicalness, to the whole idea and its presentation.
Kahndaq on the other-hand? It's none of that. It doesn't subvert anything and nor does it play against any type or Western assumption. If anything, it plays into those Western ideas and assumptions of the Middle-East. It exists to basically be a fictionalized version of Egypt and other adjacent nations, an abstracted away rough idea of the Middle-East that can be utilized by DC comics without literally using a Middle-Eastern nation to directly offend any nationality. But that's just it, it's the idea of the Middle-East and very specifically the Western idea of the Middle-East as a real concrete place in the DCU.
Given it fictionalizes the landscape it operates in, it feels a license to 'be able to do anything' that might be considered in poor taste or offensive, as creators/company can just say 'Well, it's not real! It's fake!'. It's why it's such a generic and vaguely Islamic Middle-Eastern nation. It's why it's draped in so much orientalist iconography and imagery and many of the characters we see from Kahndaq are, again, often stereotypes or caricatures bound to Western conceptions of the Middle-East. It's an Orientalist playground. The setting and its people are not granted much specificity or complexity free of stereotyping and Orientalism and that flattening Western gaze. It's all rough broad-strokes painting and gesturing, lacking the weight or consideration to be anything more, as its people range from The Blind Masses (cultists with religious fervor, devout devotees/worshippers of a cause), The Terrorists (gun-runners, human traffickers, dictatorial figures, etc), and The Victimized (the slaves, rioters, the suffering activists), and so on. There hasn't been the necessary work done to really give Kahndaq true interiority beyond these broad stereotypes being trotted out like a game of bingo.
The other struggle of all this is that in fictionalizing and abstracting Black Adam and his people from the original Egyptian set-up, the ethnicity and background and culture of Kahndaq and thus Black Adam himself people vague abstracts. They are deracinated, in a sense. For instance, is Black Adam as written by Arab-American writer Geoff Johns an Arab character? Is Kahndaq a nation that considers itself an Arab nation? Is it part of the Arab League? How do Kahndaqis view themselves and their place in the Middle-East and its history? How do they culturally identify as? And what of ethnicity and other background contexts? These are not questions that have clear answers, because the actual work and thought has not been put in to it. All we really know is that Arabic is spoken there and is an official language.
So what you effectively have is a character and nation that exist in this weird ambiguous flux of interpretation, deracinated. Black Adam and Kahndaq become a sort of Schrodinger's Arab/Middle-Eastern setting of Oriental vagueries. It's whatever you want it to be, as the saying goes. So an Arab reader could reasonably identify or view and see Kahndaq and thus Adam as Arab or Arab-coded at the very least, even if the work has never much given time or weight to questions that it probably should. And another reader could totally have the opposite interpretation. Given there's no real critical consideration given to political context in a meaningful way by Johns, it's a tricky mess. And that places the whole enterprise in a really weird place.
But what Johns does try to do with that set-up and framework is suggest an interiority and complexity to the character of Black Adam himself. A complexity that he never had, thus attempting to 'complicate' such a character and give him layers. Johns sees him as once as a hero, a villain, and something in-between. A man capable of immense, tremendous range, a wide range of emotions and experiences. He's a complex figure to Johns, and emblematic of all that he loves about his messy, honorable bastards.
Now, how that conceit fares and plays is something for MENA writers and critics to be the authority on when Johns' ideas reach a wider audience, particularly given Johns' most recent involvement and reliance upon Orientalist stereotypes in WW84 did not go over well at all, and many MENA critics were disappointed that a MENA writer such as Johns was involved and let it happen. Though, of course, there's already been some open criticism levied against the construct of Kahndaq and what it serves by Egyptian filmmaker and writer Mohamed Diab, who worked on Marvel's Moon Knight.
Then there's also the absolutely crucial fact that Dwayne 'The Rock' Johnson, charming and charismatic as he is, is not of MENA descent at all and is playing what is ostensibly the biggest, most popular MENA character in superhero fiction.
The Rock may be brown, and 'brown' can be a useful umbrella under which many once-colonized people can unite and stand in solidarity with each-other in the face of a historic colonial White supremacy. We can be one, yes, but also, we are all not the same. 'Brown' can also be a reductive flattening as well, as we're not all interchangeable, and we come from a multitude of many varying, rich cultures and contexts, which should and deserve to be respected. And Black Adam has long been steeped in a MENA context, which is very much not The Rock's context.
But at the very same time, the film will also be the first time the character will be handled by a MENA writer who isn't Geoff Johns in a significant capacity. The Black Adam movie is co-written by Sohrab Noshirvani, a first generation Iranian-American and Muslim writer, part of a writing duo with Rory Haines. And Noshirvani and Haines' body of work includes a great deal of focused, researched work built around men of color set against the backdrop of the Western 'War On Terror' and how it impacts and affects people. So getting them on-board to re-write the script and material? It's a step in the right direction, and could very well mean they could refine and rework the source material to make something much better. They could certainly humanize and improve things.
Only time will tell if that proves to be case. But regardless, there's just a lot going on here.
The Lone King Of Kahndaq
Returning to the Johnsian progression however, what occurs in "Black Reign" is revealing, as Johns takes the bond and character journey of Atom Smasher and Black Adam to its natural end-point. Black Adam's story, to Johns, began with his loss of family, and of course, in the sequel arc to Black Reign, a story titled Black Vengeance, things must loop back.
The consequences of Black Reign and Black Adam's actions come due in this story, and by the end? Atom Smasher lies fallen, as Black Adam falls to his knees, devastated. He's lost everything, his wife, his children, and now even his little brother.
And yet he finds that last impossible spark, and with his magic word, manages to pull Atom Smasher back from death to life. The only condition? He must now let go of him. The JSA will take him away. Enough is enough. His actions almost led to his little brother figure's death. And it all concludes in a page mirroring Atom Smasher from the end of Black Reign, as Adam now walks sadly into the desert, as the sun sets.
Johns now presents a Black Adam completely alienated, alone, aligned neither with the JSA nor his brother Atom Smasher. Instead he finds himself in cahoots with the likes of Lex Luthor and his cabal of plotting super-villains, to ensure whatever happens leaves Kahndaq out of it. While Johns tries to push the character into a sort of Magneto-esque figure of sympathy, here's where you also see the evident Doctor Doom sensibility kick in. Black  Adam is very much a tragic, lonely mess of a man you sympathize with, he can have nuance, but at the same time he can also be put in a shot of The Secret Society Of Supervillains and work, much like Doctor Doom. Johns is a long-time fan of The Thing and Fantastic Four, and so the awareness and influence of Doom, who alongside Namor is the defining archetype of superhero comics' Tragic Anti-Hero King, definitely bleeds through.
Not long after having done all this, Johns departs the JSA title, leaving others to close out the volume.
But the story of Black Adam? That goes right with him. It doesn't stop there, oh no. Which brings us to the seminal 52 weekly series.