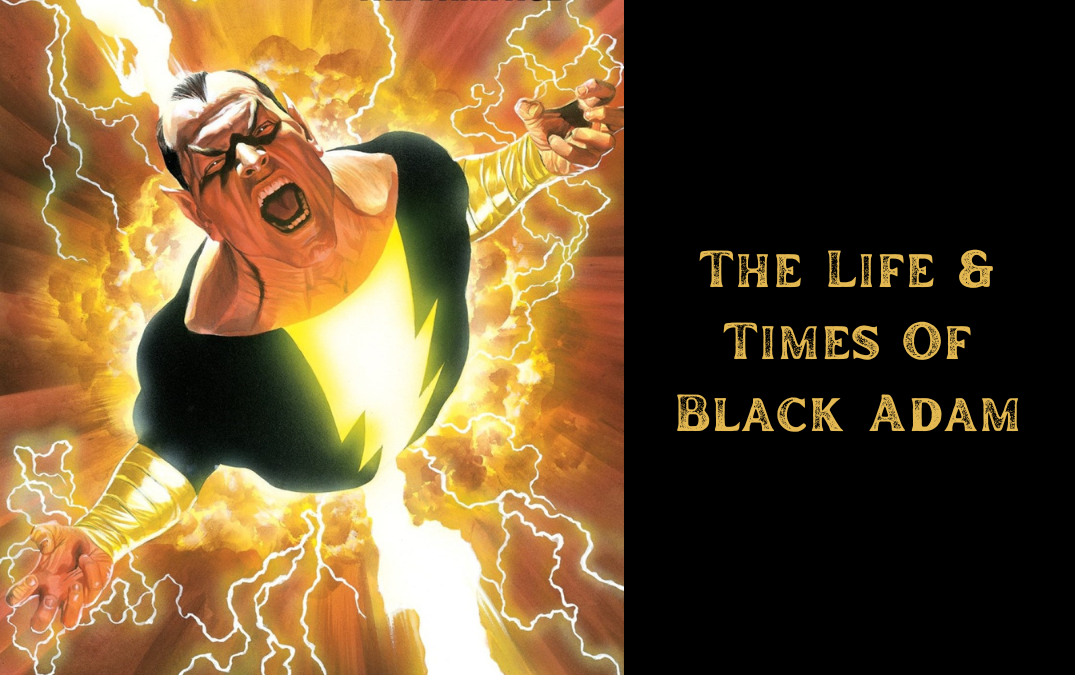 Picking up where we left off, we now come to one of the most important books of modern DC comics, and the book that would reshape Black Adam for good.
The book that continues to inform and define much of the identity of DC even now. We come, of course, to 52
.
[Content/Trigger Warning: Sexual Assault]
The Rise and Fall Of Adam

Black Adam's path and life are radically altered over the course of 52, the massive weekly series that saw the assembly of the 2000s 'Big Four' writers of DC Comics- Grant Morrison, Greg Rucka, and Mark Waid. Joined by Keith Giffen, who would do the layouts, and a multitude of artists, a journey to chart a whole 'missing year' of DC Comics would begin. And Black Adam? He was central to that, with Johns handling his story.
Geoff Johns would push Adam's journey forward, and give back Black Adam what he'd lost:
Support For Comic Book Herald:
Comic Book Herald is reader-supported. When you buy through links on our site, we may earn a qualifying affiliate commission.
Comic Book Herald's reading orders and guides are also made possible by reader support on Patreon, and generous reader donations.
Any size contribution will help keep CBH alive and full of new comics guides and content. Support CBH on Patreon for exclusive rewards, or Donate here! Thank you for reading!
Family.
It was a choice that made sense. The character had literally been created for the debut issue of The Marvel Family, which was his first and only Golden Age appearance. He was defined in contrast to the idea of family, a man who unlike Billy Batson hadn't ever shared his power and had no one. A man who in his lone godhood and power grew cruel, and took it out on the world. He was invariably bound to the idea of family, which is why Johns' newly revamped origin was deeply reflective of that idea.
In the absence of family or friendship, any real relationships, 52 showcased what Adam would be like- a man far more more concerned with war and violence than actually improving or bettering people's lives. It was a path of doom, a path he'd already been on since the day 'Mighty Adam' fell and he was dubbed Black Adam. He'd lost touch with humanity and regular human life, caught up in a life of impossible violence and power that numbed him to far too much. Adam knew how to fight, how to war, but he didn't know how to live. He'd forgotten that entirely.
Johns and his 52 peers asked the question:
What if someone could show him how? What if there were someone to remind him?
And so Adam would meet Adrianna Tomaz, an enslaved Egyptian refugee brought to him by evil men as a 'gift'. Adam, not taking kindly to such monstrosity, would kill her captors and free her, and discover Adrianna had much to say on Kahndaq and how Adam ruled it. She had spirit, she had a vision. She believed in a better world, a better tomorrow, wherein Black Adam's people prospered and were happier. A tomorrow where the world was a kinder, more decent place.
And it is in Adrianna that another long-held possibility manifests:
What if, Black Adam, like Billy Batson, was also willing to share power?
Impressed by her, Adam would grant her the ancient Amulet Of Isis, another object of power gifted to the champions of the wizard Shazam. The promise is this- Adrianna will never again kneel, she will never again be at others' mercy. She will have power, more power than even Adam has, to protect herself and what she cares about. Adrianna accepts, and speaks her magic words. And thus a new superhuman was born- Isis, with Adrianna transforming into her super-self upon uttering 'I am Isis!'.
This was, of course, Johns and the 52 ensemble creating a character inspired by real history. Way back in the 1970's, before even Linda Carter's Wonder Woman, the first American weekly superhero show with a female lead was The Secrets Of Isis, who shared air-time with Shazam in the Shazam/Isis Hour programming block. And the character would feature in some '70's comics as well, but was largely not a real presence or anyone of note in the larger DC landscpae. And so when the time arose to expand the world of Shazam characters- Isis was an obvious idea to revamp to add to the mythology.
Isis would quickly become beloved by the people, becoming a hero and a protector who steered Black Adam onto a better path. And together, Adam and Isis would do a great deal, including rescuing her poor brother Amon, and conferring upon him their shared power. And as they went on, Adam and Isis would fall in love, getting married in a grand ceremony. And suddenly Adam, who'd been all alone all this time…no longer was. Black Adam had found true love once more in Adrianna Tomaz. He'd found companionship in Amon. And so The Black Adam family was (re)born. It was the inevitable progression of the character from the newly minted origins Johns had given him.
Black Adam's tale begins with the horrific loss of his family and his absolute inability to prevent that loss, being unable to protect them. It's his fundamental trauma and motive, much like Batman's loss of family is his eternal drive. And much like giving Batman a Bat-Family completes a sort of narrative arc and journey, so does giving Black Adam a family.
What happens when Black Adam finally has everything he's ever wanted?
He's got his people, his kingdom, the love of his life, and a little brother figure who reminds him of the sons he long lost.
It's a good question to pose, and one that pushes and progresses the character forward. He now every reason to be his absolute best self. He has no excuse. And to his credit, that's what he tries to be.
But the answer to that prior question, is in a sense inevitable. What happens when Black Adam has everything he's ever wanted? Tragedy. For Black Adam is no Batman, and his life isn't an uplifting heroic tale. This is not the tale of a man destined for happy endings.
At first, it's all just right. Isis guides Black Adam to be less brutal, to deal with matters with a softer, gentler hand, to reconsider and reassess and evolve. The Black Adam Family even gets a sort of classical Super-Animal ally of sorts in the form of Sobek, the super-crocodile.
But of course, it turns out Sobek is secretly a monstrous traitor. He is no innocent super-pet. He is one of the Four Horsemen Of The Apocalypse, and it is apocalypse that is headed Kahndaq's way. And what ensues is the horrific, tragic loss and death of Adam's great love Isis, and her brother Osiris.
This wasn't supposed to happen. His prior family had just been mere mortals. His new one was a super-family, of superhumans with divine strength. They had the protection of the gods, quite literally. They were meant to be invincible. He'd shared his power, he'd done everything to ensure nothing could ever harm them. He'd given them everything he could to protect them. He'd thought he'd finally found a family that the world could not take away from him. He'd assumed he had finally ensured he'd never again feel what he once did, when he lost his first family.
He assumed wrong.
Once again, he has failed. Once again, despite all his power, for all his might, for all that he boasts the divine powers of the gods, he was unable to save his family.
Once again, he is all alone, with nothing and no one.
Once again, he returns to that aching pain and terrifying rage that defined his fall centuries ago. And he unleashes bloodshed across the fictional neighboring Middle-Eastern nation of Bialya, taking the lives of millions, women and children included, as his fury knows no bounds. In the end, in what would become World War III
, it would take the collective strength of the entire superheroic community to halt Adam's rage, and to strip him of his power. The magical masters of the world would render him mortal, whilst Billy Batson would change the magical word of transformation to a secret only he knew, thus preventing Adam from ever harnessing his power.
Black Adam would become Public Enemy #1, hated by the world, held in doubt by his own people, as Kahndaq was now a kingdom covered in US troops. He'd failed. He'd failed his family, he'd failed his own people, and above all, he'd even failed himself.
He had it all. He had the perfect life he'd hoped and longed for all this time. He had it in his grasp. And he just lost it all. And now here he stood, with no family, no love, no friends, and not even his power, which he'd always had all this time. He had nothing left at all.
It's classic Johns, and it works. It's as good of a tale of a tragic well-intentioned bastard and his fall as he's ever penned, and working alongside his 52 crewmates of Grant Morrison, Greg Rucka, Mark Waid, and Keith Giffen, Johns is a stronger, more emotionally impactful writer than he's ever been. It's an absolute high of his decades of work, without a doubt. And where it leaves Black Adam is a very memorable place, one marked by impossible grief and loss and how people deal with that– a hallmark of Johns' many characters.
The Finale Of Black Adam
This is where his very first solo outing, The Dark Age
mini-series, would find him, penned by Peter J. Tomasi and Doug Mahnke, spinning out of the fallout of 52, much like Keith Champagne's World War III, which explored the brutal fall-out of Adam's actions. Champagne had been the long-time inker of JSA and Tomasi had been its long-time editor, working with Johns for years now. And so they picked up the baton and expanded Adam's story from their JSA peer. But while Champagne's book had been an expansion of the story in 52, Tomasi's work here in the 6-issue series was different. It was to go beyond and push the character onward, to progress the story, much in the way Johns had done.
Johns had brought the character full circle, in a lot of ways. Making him a man aching with loss of family, only to restore family in his life, and then take it away again. He was back to square one, and it was the kind of choice that laid bare the character and revealed a great deal about the person with all that power. Tomasi's job was to build on that, to provide new insight.
And so we saw the story pick up on a mortal Black Adam, beaten bloody and senseless, until his face was unrecognizable. He has no reason left to live, having been reduced to a man with nothing. And so he's going to find it, he's going to grab that reason right from the hands of existence. His new purpose is singular and clear:
Resurrect Isis, the love of his life.
Nothing else matters. Nothing else is of importance.
He will not be alone again. Never again. He will do anything and everything it takes and requires. And so he does. Even as the entire DC Universe and its figures are hunting him, he goes about the world collecting the shattered remnants of Isis' amulet of power. He's made a devilish deal with the sorcerer Felix Faust, in which if Adam can bring back the amulet, Faust will successfully resurrect Adrianna Tomaz. Isis will live again. And through this bargaining and a pinch of luck, Adam restores his powers, and despite great difficulty, he succeeds in his quest. He does it. He's done all he needs to. He'll finally have his dear wife back.
But Faust tricks him, leading him to believe that the whole resurrection attempt failed, and it failed because of Black Adam's own actions.
He convinces Adam that the spirit of Adrianna loathes him and curses him from beyond the grave. Adam believes that even the person he loved most, and who loved him back, now despised him. Driven to heartbreak and rage, Black Adam flies off screaming, devastated beyond anything he's ever experienced, having hit his absolute lowest point.
The truth, of course, was that it had worked. Isis had been brought back to life. But Faust places a spell on her to control her, and escapes with her. And Black Adam just broods in his pain, whilst all this occurs. This is where the Tomasi/Mahnke book ends, and the story here would not be picked up until much later by Geoff Johns himself in the newly relaunched Justice Society Of America book. It was a slow-burn, and it was only in #23 that things would continue from where the Tomasi book left off.
Black Adam would see signs that pointed to the impossibility that was Isis still being alive, and he'd pursue them, as Isis herself was leading Adam to her, despite being a prisoner of Faust and his magical spells. What is deeply tiresome and utterly needless, however, is both Tomasi and Johns putting in a whole sexual assault storyline with Isis and Faust.
It is implied at the end of Tomasi's book, and by the time Johns gets to it, he doubles down on it in pages like this:
It feels crass, cheap, and juvenile, particularly given the actual story being told. Isis virtually has no agency or will or character. She is largely a tool and an object of desire pursued by Black Adam, to fuel his pain and brooding tragedy. She doesn't actually have story here. She is not centered nor is her perspective. And even past that, it's the cheapest and most empty manner by which to try to add to the 'tragedy' and 'seriousness' of the situation. It's a hacky way to express 'Guys, this is a real bad guy!' at the expense of a character who deserves better writing and greater consideration than this.
When Black Adam finally finds Faust and Isis, and frees Isis from Faust's spell, Adam proclaims he'll have Faust's head for what he's done. Isis on the other hand says 'No' and declares it is not his head she wants, and she rips apart Faust's groin area. This brief attempted catharsis is the only beat that exists to deal with the whole dreadful rape situation. And the problem of its inclusion only grows bigger as the story gets bigger.
Isis proclaims that Adam was initially right in his vengeful ways, she was wrong, and that brutality is the way. And she now wants to raze the entire damn Earth and end the world itself, leaving only her and Adam as the new Adam and Eve of a new world order. That the world as it is was too broken and corrupt and horrible. And then, she begins to murder innocents, people who love her and care for her. And when the JSA show up, it's revealed that this is all the consequence of Black Adam sharing his power with Isis, that his own poisonous power and his corruption and evil have now corrupted Isis and any who might share in his strength.
And you understand once again what a horrible choice the inclusion of the sexual assault here was. Because while there could've been a story about Isis herself, her own loss of faith and disillusionment from this, all told from Isis' own perspective, her experience centered, about her rage and trauma– something that deals with her own feelings about what she's been through and what's been done to her? That is just not a story Tomasi or Johns and their peers seemed to have had any interest in telling. She exists as a mere object and a distant figure, a plot device, by which to fuel Black Adam's story. She's there to serve the story of the man, no matter what that requires. Her turn into a sort of 'hysterical' cartoonish supervillain 'corrupted' by Adam to serve his own story and journey, and granted no interiority, is just the apex of horrible, thoughtless shock value-driven writing. That what happens to her is just a precursor to her 'And then she goes crazy!' turn is just utterly ill-considered and poor writing. The whole affair is tasteless and deeply, deeply careless. It feels like all the worst aspects of Johns' 52 work dialed up to a million, taken to an extremity, with none of the good parts. In it, you see once again the proximity of Geoff Johns to his other 2000s superstar Mark Millar.
And what makes it all the more irksome is that the actual beat this whole terrible mess of writing is meant to be leading to is pretty solid. And that beat is, of course, the one and only beat Johns hasn't done with Adam:
Black Adam, having restored his powers, watching his wife poisoned by his own horrible power and ideology of brutality, must make a choice. Black Adam must choose to give up his powers, willingly.
That is the only way to free the woman he loves more than the world itself from the curse that now afflicts her. The choice between power and love, between strength and sacrifice. It's a reasonable beat that culminates and concludes Adam's entire story and journey, wherein he's not a great man, and his hands aren't clean, but he is a much more aware person. He's a man tired of everything and everyone, and he no longer cares about anything, not his throne, not his power, not anything, except his love, and his family. He just no longer wishes to be alone. He does not wish for this lone godhood, an eternity of pain. Black Adam must choose mortality over his immortal power, he must unbecome that which he once became eons ago when the great wizard first bestowed him with power.
It's as good of a narrative arc and closure as you could hope for, especially given Adam makes the choice of mortality, of love, of sacrifice. He gives up his power, reeling from the horror of what all's occurred. But the actual journey to getting to that beat from the conclusion of 52 through The Dark Age and JSA is truly terrible, and full of absolutely horrible choices, packed into a lot of poor comics.
And what comes after Adam makes his choice also makes sense:
Adrianna is free, and so is Adam. They can be together again. Free of power, free of everything but themselves. And it's all they want. They just want to be together at this point. But the wizard, who Adam returns his powers to, isn't having it.
And so Black Adam's story reaches the only conclusion it really can in the Johnsian era:
Forever held in stone, the two lovers eternally reaching for one another, yearning, and yet never able to be together. So close, and yet so far. Forever immortal, but unable to live. A tragedy- a tale of love and loss meant to break hearts and bring tears.
There is no happy ending, there can't be, for the price has come due for all of Black Adam's many sins.
And despite some minor happenings with The Black Adam Family characters after that, such as Osiris' resurrection and some Teen Titans comics shenanigans, and Isis being restored, this was the real noteworthy ending of Black Adam and The Black Marvel Family as defined by Geoff Johns. And fittingly, it would also be the story that would conclude his time with the Justice Society Of America for good, as he would depart the title properly. He was done.
Johns' time with the JSA began with Black Adam, and it also concluded with Black Adam, because boy did Geoff Johns love Black Adam.
And he wasn't finished with him. Not yet. Not by a long shot.
52 may have been long over. But there was something called The New 52 on the way.
And Johns would once again have his shot.