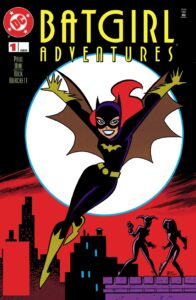 If you've watched, read, or listened to pretty much any media featuring Batman in which a holiday is even mentioned, it's likely that you've heard his tragic origin story. If not, here's a quick recap: his very rich parents were killed in a dark alleyway they had no business being in after an opera, play, or movie. After that, every holiday was ruined. Every single one. Yes, including St. Patrick's Day. Forever.
Oh, to be an orphan on Christmas! As you know, this tragedy messed the young Bruce Wayne up in all kinds of ways, and to this day, he's still out here, dressing like a bat just in case someone does a crime. It might not come as a great surprise that Batman is a real Scrooge when it comes to celebrating the winter solstice, but to be fair, a lot of people try to kill him in highly inventive holiday-themed ways on a fairly regular basis. Somewhat paradoxically, despite Batman being a real bummer during this time of year, Batman Christmas Specials are a delight across all mediums. That goes double for most of the myriad Batman Adventures
comics based on Batman: The Animated Series.
Covering The Batman & Robin Adventures #3, The Batman Adventures Holiday Special #1, Batgirl Adventures #1, and Batman: The Adventures Continue #15-17 [Read more…] about 'Tis the Season to be Harley (Quinn) in the Batman Adventures Christmas Specials