I have to admit it was not so long ago that I was at the nadir of my ability to enjoy superhero comics. Between COVID-19 and the stresses of graduate school, it was tough to enjoy things. That only got worse after seeing my favorite character who epitomized my love of superhero comics, one Damian Wayne, Robin the Boy Wonder, walking away from the role. Damian is a character who's meant a lot to me ever since I started reading comics as a kid in 2007. But he became my favorite after he became the Robin to Dick Grayson's Batman in Batman and Robin
.
It's also worth recognizing the context Damian was created in. In 2006, when Batman and Son
first debuted, we were five years into the War on Terror with the USA having moved from Afghanistan to Iraq as a primary focus. While the peak of the post-9/11 racism and Islamophobia had cooled, there was still a suspicion beneath the surface. Damian's family, the Al Ghuls, were part of the long tradition of orientalist villains in Western fiction which wasn't exactly that different from how the West perceives people from the Near-East. Having a multiracial character with definitive MENA ancestry who carried that Orientalist iconography and then putting him in a Robin suit was a statement of purpose by Grant Morrison.
Damian was the sort of normalization we more overtly see today of aggrieved groups in comics, and while the execution was probably not made with that in mind, there was a sensitivity in Morrison's treatment of Damian. All of this was during a time when being a MENA kid was the worst thing in the world to be, and it was hard not to attach to that, given how the suspicion attached to people like myself was mirrored by the hostility and suspicion characters like Tim Drake threw at him regardless of circumstances.
This was a character I could relate to as a teenager. Even though I didn't have all the words at the time to describe it, there was a commonality. Here was a MENA kid with divorced parents, who couldn't quite fit in, who tried so hard and actually got to bond with others. He was also Robin the Boy Wonder, the ultimate cool kid who gets to hang out with a Batman who's the original Robin. How could you not love it? Granted, that wasn't a popular take at the time given that people would (and still do) harp on Damian fighting with Tim Drake or cutting off the Spook's head and stuffing it with a grenade. However, getting to read these comics as they came out meant you got to see firsthand how Damian went from that killer brat to someone who grew enough to reject his mother's abuse and indoctrination and became a superhero in his own right.
Support For Comic Book Herald:
Comic Book Herald is reader-supported. When you buy through links on our site, we may earn a qualifying affiliate commission.
Comic Book Herald's reading orders and guides are also made possible by reader support on Patreon, and generous reader donations.
Any size contribution will help keep CBH alive and full of new comics guides and content. Support CBH on Patreon for exclusive rewards, or Donate here! Thank you for reading!
While my own relationship with my parents is healthy, I could relate to the idea of wanting to be your own person. The idea that where you came from doesn't necessarily have to be the crux of who you are for good or for ill, that you have choices. Damian chose to be Robin. He chose to be a hero. That's the simplicity that makes his journey from such rough shores so powerful. He was a character whose journey I empathized with so much that I really did feel the sting (along with my mother who adored Damian), when Grant Morrison decided to end Damian's journey with his death in Batman Incorporated
.
It was an ending that at least honored Damian: someone who did the right thing at the right time and place. Eventually he came back as all superheroes do, but it didn't change that he was a Robin for a kid and latera man like me: someone who traditionally wasn't represented, someone who didn't really fit in, and someone that could really become a hero.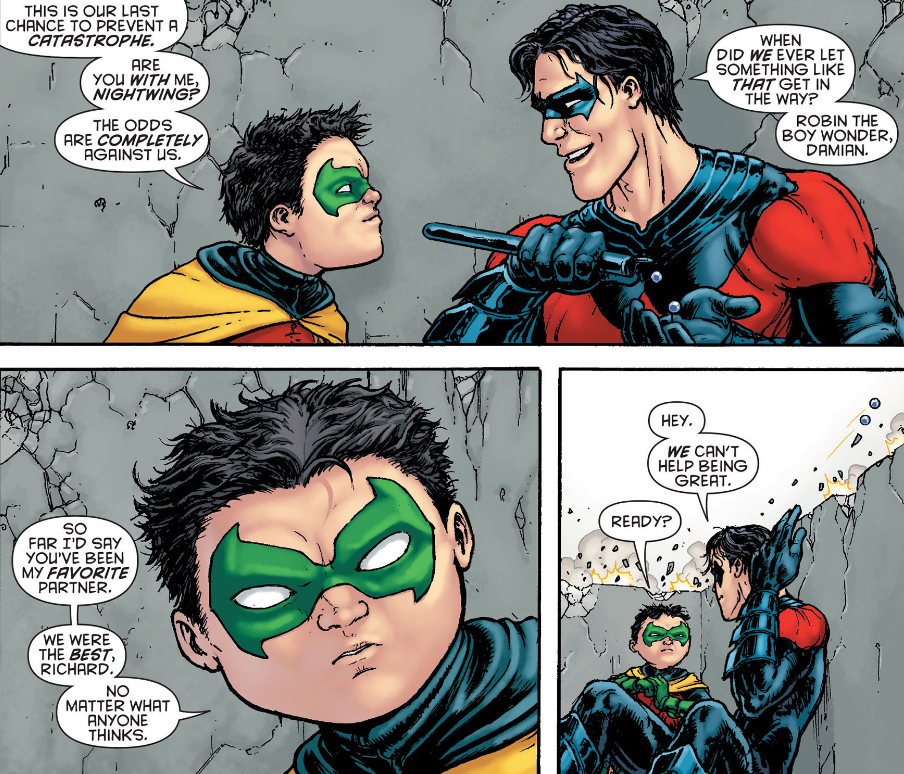 However, after all of that went down, Damian became the victim of the worst villain a comic character can have: complacency. After Morrison, there was Peter Tomasi and Patrick Gleason who had a long and definitive run with Damian in Batman and Robin
and then solely by Patrick Gleason in Robin: Son of Batman
. After they concluded their runs with him, they continued writing him in Super-Sons
, but their time controlling his arc was over, and Damian shuffled through various books. First Teen Titans by Ben Percy which ran with the more familiar characterization of the past, and then Deathstroke– which while actually having a lot to say about Damian (most of it good), also tried to pull a Maury by flirting with making him Deathstroke's son in Deathstroke vs Batman
.
After that though, Damian became the victim of the death by a thousand cuts that can happen to a POC character in comics when the people at the wheel start to fall asleep. It started with the revamped Teen Titans run by Adam Glass and later Robbi Thompson that went in a harder edged direction, with Damian locking criminals in squalor beneath his superhero headquarters, and flirted with racist imagery like having a MENA kid strap himself to a bomb and then ended with him being villainized outright. It definitely didn't help when DC brought back Damian's friendlier white predecessor to don the Robin costume again, despite the fact Damian was still around.
This was the biggest insult to all of the things that made Damian special. When he was Robin, he was the Robin. No ifs or substitutes. Having a marginalized character who's one of your own be the real deal and not just one of many is what made it so special. And to add insult to injury, Tim and Damian were framed as the "good" Robin and the "bad" Robin. Slowly watching one of your favorite characters get marginalized can wear down your ability to enjoy comics. I wrote an entire article we will never see outlining why I was okay with saying goodbye to DC Comics when it was ready and willing to flush POC characters down the toilet for a brief rush. Now that we know that the plans for DC's scrapped 5G initiative included making Damian the new Ra's Al Ghul figure and the primary villain for the DC Universe, I'm actually pretty okay with how things turned out.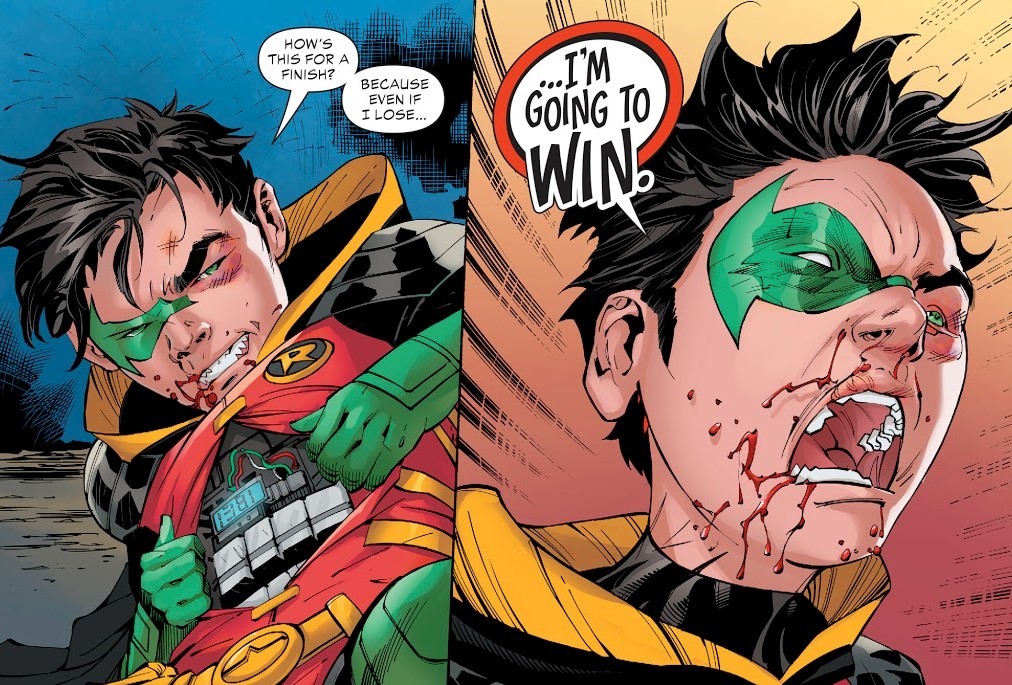 Thankfully that never had to happen, and I owe it largely in part to the current Robin series. The groundwork was of course laid in last year's final arc of Detective Comics written by Peter Tomasi, who had shepherded Damian's growth as a character, long after his co-creator Grant Morrison had left the Batman books. Tomasi helped bring Damian back from the brink, after Teen Titans had him dump the Robin role, and treated his trauma from the events of the City of Bane story by Tom King as the genesis of his villainy.
In City of Bane
, Damian was forced to watch Alfred's gruesome death at the hands of Bane and his evil alternate grandfather (it's a long story), something that was treated as the start of his darker path that 5G had planned for. Tomasi recontextualized his actions as a bout of teenage defiance and a bad reaction to grief, something a teenager is ready to do at the drop of a hat rather than something sinister. When that came out, I figured that would be it, given the push for Tim Drake as Robin in content like Future State: Robin
. While it seemed like Damian was being spared the humiliation of being a villain, I thought I would have to walk away regardless, since for me: Tim being Robin and Damian not being Robin was still an insult. Yet again, I was proven wrong.
Josh Williamson and Gleb Melinkov take the groundwork laid by Tomasi and incorporate his suffering from grief and loss, as well as attempt to recontextualize the other stories that attached so much baggage to Damian. The result is… honestly one of my favorite superhero comics in ages
. The premise is fairly simple: Robin goes to an island where all of DC's greatest fighters duke it out over a mysterious prize on an island where you can come back from death. It's basically just a shonen tournament arc in a nutshell right? Turns out that's the secret ingredient a Robin book has been missing (and really a lot of superhero books have too): being fun.
Robin (2021) actually takes Damian's evolution seriously instead of reverting him to a brat, while also introducing us to the idea Damian is still struggling from Alfred's death, showing Damian's hallucinations (poor kid needs a vacation), all while allowing him to be a teenager. He's stylish, he makes mistakes, he gets into fights, he reads shoujo manga, he learns things. Damian is allowed to be more dynamic than he has in years under Williamson's pen and under the shonen aesthetic set by Gleb Melinkov. He's a youthful character and sharp dresser.
It's a comic anyone can enjoy, instead of narrowing the audience to the same five fans obsessing over panels from 2006 with Tim Drake, which tends to be the core of the approach writers and fans have had over Damian constantly litigating his tainted blood or how Tim Drake deserves the mantle. It gives us something new. New friendships. A new rival in Connor Hawke (whose entire origin is basically Damian's but way more depressing), who's the Sasuke to Damian's Naruto. Robin accounts for our lack of MENA characters, or really of POC characters, and gives us a character that's decidedly different from the other Robins. The manga nerd in all of us. The outcast. The people who struggle to fit in. The people who have made mistakes and want to be better.
Is that a lot to attach to a comic series with punchy fights? Sure. But considering how long it took to get a Damian series that actually respected his character? I'll take it.