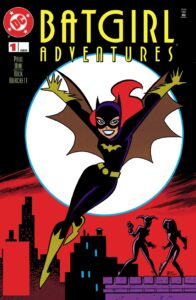 If you've watched, read, or listened to pretty much any media featuring Batman in which a holiday is even mentioned, it's likely that you've heard his tragic origin story. If not, here's a quick recap: his very rich parents were killed in a dark alleyway they had no business being in after an opera, play, or movie. After that, every holiday was ruined. Every single one. Yes, including St. Patrick's Day. Forever.
Oh, to be an orphan on Christmas! As you know, this tragedy messed the young Bruce Wayne up in all kinds of ways, and to this day, he's still out here, dressing like a bat just in case someone does a crime. It might not come as a great surprise that Batman is a real Scrooge when it comes to celebrating the winter solstice, but to be fair, a lot of people try to kill him in highly inventive holiday-themed ways on a fairly regular basis. Somewhat paradoxically, despite Batman being a real bummer during this time of year, Batman Christmas Specials are a delight across all mediums. That goes double for most of the myriad Batman Adventures
comics based on Batman: The Animated Series.
Covering The Batman & Robin Adventures #3, The Batman Adventures Holiday Special #1, Batgirl Adventures #1, and Batman: The Adventures Continue #15-17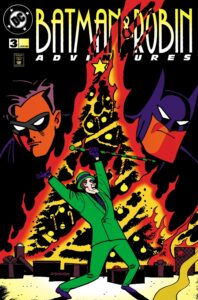 You're A Mean One, Mr. Batman
The Riddler is one of those characters where you just wish someone that actually loved riddles wrote out a hundred different plans for him, and the writers who don't love riddles as much could just use them as needed. Because you know that sometimes these riddles aren't so good. Batman and Robin Adventures #3 is one of those times where the riddle is quite a stretch. I'm not even sure if there is a riddle.
The Riddler takes over a rich people Christmas party and threatens to kill everyone, which is ostensibly because he wants to steal a couple of statues, but reads kind of like a cry for help. Either way, what we're here for is the moment when Riddler just decides to cut his losses by letting lose with the firebombs he's planted in various Christmas trees, which is a sweet visual even if it doesn't make a ton of sense. This ends with Bruce Wayne making a big donation to his fellow rich people because he is absolutely obsessed with doing it. Merry Christmas.
Support For Comic Book Herald:
Comic Book Herald is reader-supported. When you buy through links on our site, we may earn a qualifying affiliate commission.
Comic Book Herald's reading orders and guides are also made possible by reader support on Patreon, and generous reader donations.
Any size contribution will help keep CBH alive and full of new comics guides and content. Support CBH on Patreon for exclusive rewards, or Donate here! Thank you for reading!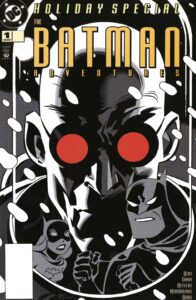 Do You Want Schwarzenegger as Freeze? Because This Is How You Get Schwarzenegger as Freeze.
The crew behind Batman: The Animated Series (many of the same people that worked on these comics) are the ones that gave the previously one-note villain Mister Freeze his tragic backstory, introducing his wife Nora and showing that he continues to mourn her. This story shows him breaking out of Arkham just to use one of his old inventions to create snow around her grave. She loved the snow, and Freeze was unable to bear the thought of her having even one Christmas without it. Batman shows mercy and allows Freeze to surrender. This is all fine and good, but, let's face it, sympathizing with Mister Freeze is what raised his profile and led to him becoming one of the major villains of Batman & Robin a few years down the line. This is not a victimless crime, Batman.
Meanwhile, Barbara, the Cop, gets into a huge fight with Clayface at a mall while a grumpy Harvey Bullock plays Santa with some kids and Renee Montoya walks around in an elf outfit, and frankly, it works for her. The Joker shows up to threaten to kill a bunch of people on New Year's Eve (yawn) but there is a cool visual gag when he convinces a crowd of people to don Joker masks, allowing him to move through the revelers unnoticed. This guy!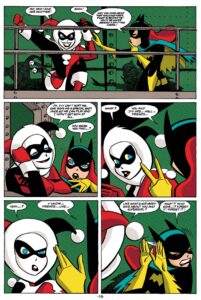 That's Quite An Adventure, Batgirl
Sometimes it's hard to tell if I love Batman Adventures Holiday Specials or if I just love Harley Quinn because she is all over these books. In a story that would eventually become the Holiday Knights episode of Batman: The Animated Series titled here The Harley and the Ivy, Harley expresses a feeling of restlessness with the drab studio they're hiding out in, wishing for a Christmas tree to brighten things up. Ivy asks, "Aren't you Jewish?" and Harley notes that she can still celebrate Christmas if she feels like it. Yes, you can, Harley! You can do whatever you want to do!
I will note that there is but one bed in this room. Very sad to hear that Gotham has such a serious bed shortage, and on Christmas, no less! At least these two will be able to huddle under the blankets with one another, where their platonic friendship will keep them warm.
Before they are forced to figure out how to make this one-bed situation work, however, they decide to go kidnap Bruce Wayne (it's a date). They break up another rich people party and kidnap Bruce Wayne so they can use his credit cards to rob a department store (it's a date!) They accidentally drop Bruce down an elevator shaft (it IS a DATE). Of course, Batman arrives and knocks a tree over on them, but Harley is still thrilled because she just spent a beautiful night with the best gal pal she's ever had.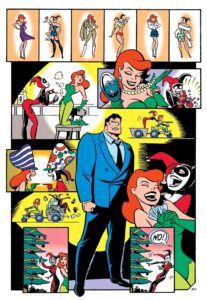 Meanwhile, Batgirl Adventures
is one of the most delightful comics ever created, and it simply must be read to be fully appreciated. The first many pages show Harley Quinn pranking Batgirl by attacking her in inventive ways only to run off, forcing Batgirl to give chase. It turns out this was just to get her attention as Ivy has been kidnapped and she needs help saving her. Batgirl is very ready to shrug it off as not her problem, but Harley begs and she gives in. Barbara Gordon is very much a cop, Harley is a crook, and Ivy is just tied to a chair the whole time wishing she could go home and hang out with her plants. Which is, quite literally, all she ever wants to do. This comic is just holiday perfection and has more subtext than any comic I've ever read since the last or next comic on this list, as all have quite a bit of subtext.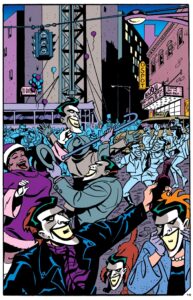 Bat Bless Us, Every One
There is a shorter, more recent story called Secret Santa in the digital-first Batman: The Adventures Continue
. This story wanders around the Ventriloquist's relationship with Scarface in a way that doesn't particularly break new ground as Scarface and The Joker team-up. That's it, they just team up, not that much happens; though Scarface is supposedly destroyed for about the eightieth time in the end. Meanwhile, Harley convinces Ivy to help her host a Christmas party for their fellow supervillains, which Ivy resists at first. The party is kind of sweet even if it doesn't get nearly enough pages, and Ivy ultimately thanks Harley for talking her into it. Still, Harley and Ivy sharing Christmas is a tradition, even if this round isn't particularly memorable.
Well, whatever you're doing for the holidays, here's hoping that you have a better Christmas than Batman usually does. As I can almost promise you that a murder clown in a Santa hat won't attempt to kill your adopted son Dick Grayson just to get your attention, one can only assume you'll be having a comparatively merry one.