"There is no 'The' future. There is no Destiny." – Destiny
It's an age of reckoning for mutantkind. Krakoa has grown from an isolated island nation into an empire that spans the cosmos, but even the strongest empires can fall to the weaknesses inside their walls. The heads of this prosperous new society have endured an inferno…but the sparks of something greater have just been lit.
In 2019, writer Jonathan Hickman launched the X-Men into a bold new status quo through House of X/Powers of X, following the mutants as they forged a new nation and fought to change a seemingly immutable future. Working with countless collaborators, Hickman would continue this master narrative across the Dawn of X and the Reign of X, with each new writer adding their own voice to the story of Krakoa. However, the office would suffer a major shakeup in 2022, with Hickman announcing his departure in the wake of the upcoming Inferno event, leaving his plans for the line seemingly unfinished. But what some saw as an ending, Hickman's collaborators saw as a beginning. Building on the foundation the writer had helped create, this team would work to forge their own ambitious new chapter, shaped through countless ideas for "the Mutant Metaphor," and the heroes who embody it.
For the first time, the X-Men have the power to choose their destiny, leaving the question…what comes next?
(Spoilers for each title and the line-wide story to follow)
Support For Comic Book Herald:
Comic Book Herald is reader-supported. When you buy through links on our site, we may earn a qualifying affiliate commission.
Comic Book Herald's reading orders and guides are also made possible by reader support on Patreon, and generous reader donations.
Any size contribution will help keep CBH alive and full of new comics guides and content. Support CBH on Patreon for exclusive rewards, or Donate here! Thank you for reading!
The Death of Futures Past
Superhero comics have always been cyclical by nature, built around revolving teams of writers, artists, and editors building on decades of existing stories. Jonathan Hickman's departure from the X-Office was far from sudden, in fact, the writer had helped lay the groundwork for the line's next chapter through the development of his Inferno miniseries, with many of the line's updated plots reflected within the event itself. That said, the transition still had its share of growing pains after Hickman's departure, with many coming to a head in the line's immediate follow-up event: The X Lives/X Deaths of Wolverine.
Picking up in the immediate aftermath of Inferno, X Lives is both a coda and pastiche of Hickman's time on the line, even using HoX/PoX's dual narrative structure to track the journeys of Wolverine and Moira X, each on their own mission to save their versions of the future. Unfortunately, X Lives/X Deaths doesn't have HoX/PoX's deftness for continuity, with so many timelines crossing over each other that it becomes hard to decipher what anyone's doing here. Omega Red's mad, I guess? Plot-wise, it's a big continuity-jumble that raises as many questions as it answers, but read in the larger context of the line it becomes something incredibly sincere: an event-long send-off to the creator who laid the foundation for what was to come.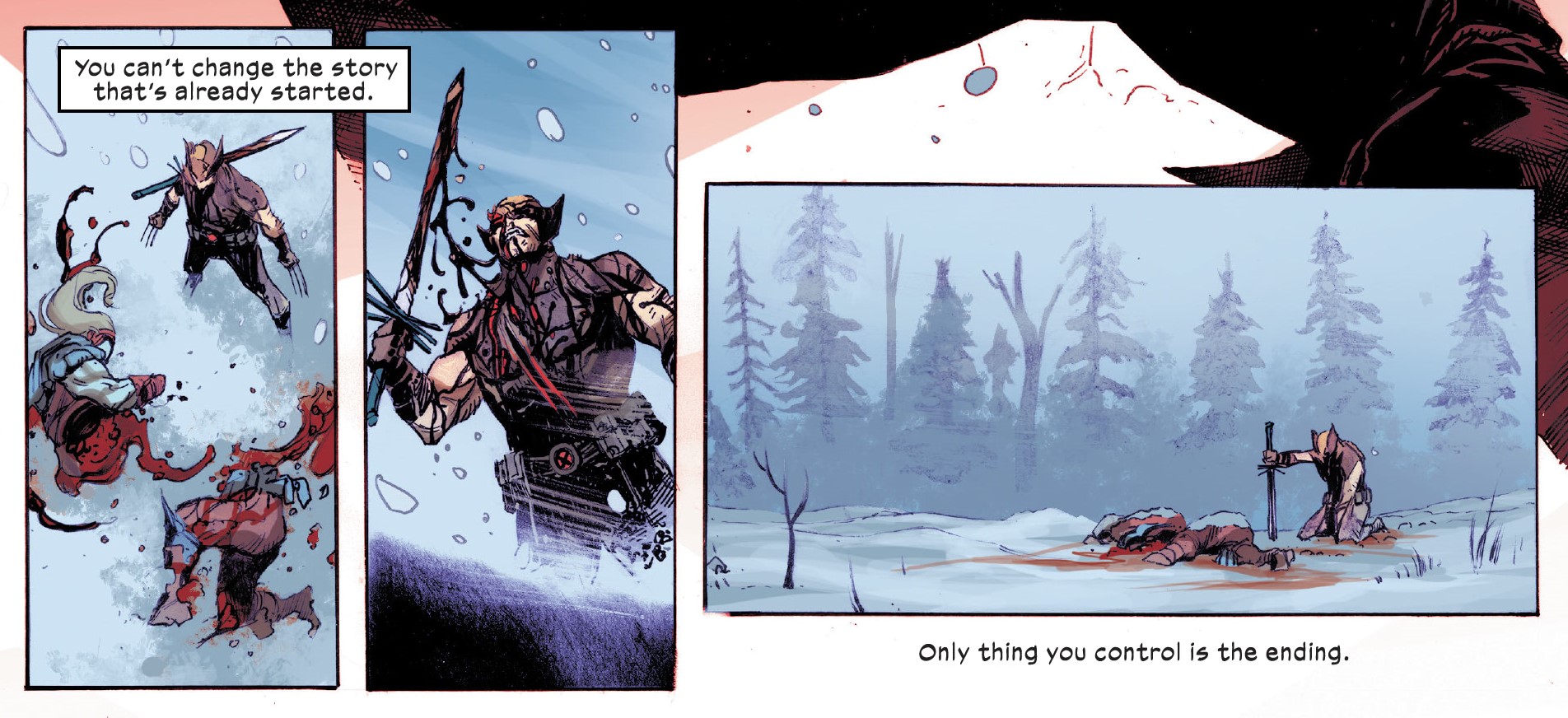 While the aftermath of X Lives/X Deaths is pretty messy, just kinda dropping the long-running Phalanx plot and rendering Moira into a cackling supervillain, what's done has been done. Much like under Hickman, the X-Office have kick-started an all-new status quo of their own. In place of HoX/PoX's singular mission of survival, mutantkind's future has become a series of branching possibilities, shown through the eyes of Destiny, a former outsider to Krakoa. These nebulous visions are still a far cry from the eternal paradise Krakoa is supposed to be, but the underlying theme of this change is clear: confronting the failings that led to Hickman's Inferno has fundamentally changed the nation, and as a result, the mutant identity has evolved on its own.
In place of the larger war with Orchis, which blurred the lines between Krakoa and its enemies, we see a bigger focus on the "Mutant Metaphor" than ever before, with titles throughout the line showing mutants finally transcend the norms that held them back. While Vita Ayala and Rod Reis's New Mutants has explored themes of identity and trauma since the Dawn of X, their final few issues see mutants evolving beyond that trauma, as Illyana Rasputin uses her community to give old villains and young mutants closure and peace. These themes of reclamation and transformation continue across the rest of the line, with mutants working to redefine themselves as individuals and parts of the larger Krakoan nation. Steve Orlando and Eleonara Carlini's relaunched Marauders sees Kate Pryde and crew jumping into the past to reclaim the species' history. Other titles have been transformed entirely. Following Nightcrawler's attempt to found a mutant church, Si Spurrier and Jan Bazaldua's Legion of X sees the Mutants working to build an entirely new approach to justice, transforming Krakoa's 3 laws into something less rigid and more interpretive:
"I've wanted to do a precinct-style ensemble story since I first read HOUSE OF X," states Spurrier. "For the first time, the Marvel Universe has this densely packed, beautifully volatile population of super-humans, all in one place. It needs peacekeepers, sure…but you don't get far in Krakoa if the limit of your imagination is beating people up or reaching for a gun. Mutant civilization needs those who think differently."
If the X-Line under Hickman was the story of a great society undone by the evils done in its name, Destiny of X acts as a complete transformation, with countless creators celebrating Krakoa's impact while working to shape it into something less morally gray.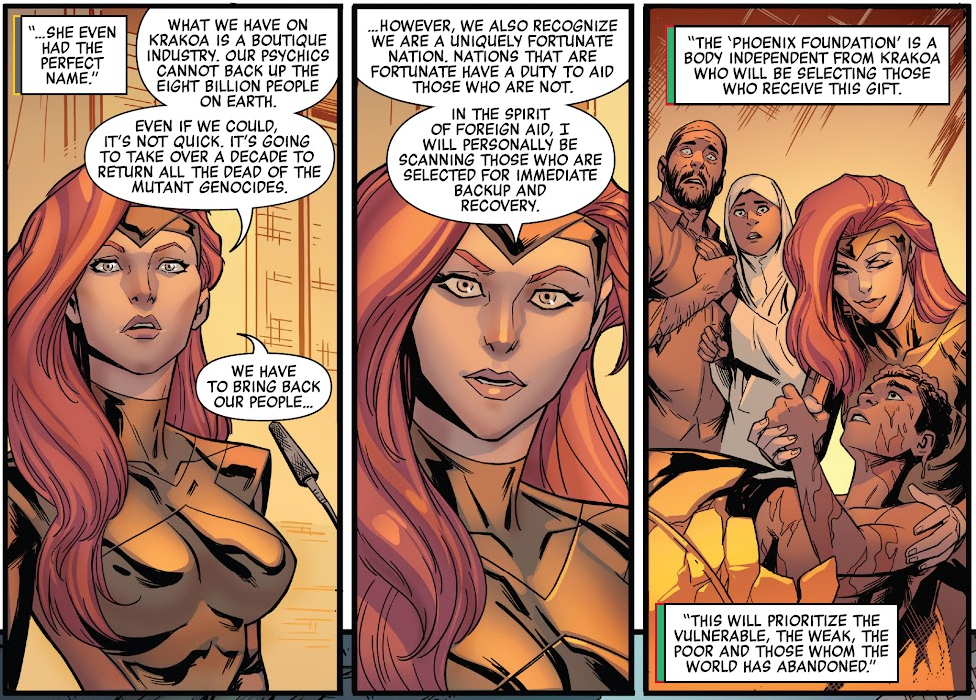 Mutantkind's public image undergoes a major evolution in this chapter, depicted in all its glory through Kieron Gillen's Judgment Day crossover, with the X-Men taking their place alongside the Avengers and Eternals in a grand 3-pillar event, and, for the first time, sharing their nation's gifts with the outside world.
It's hard to understate the meaning of this moment, especially within an event built around critiquing morality. Orchis and its allies still remain, and as a whole, Krakoa is still an imperfect system. But for the first time, the mutant nation has opened itself up to the rest of the world, and forged a connection they had thought impossible. This focus on connection has become the X-Line's driving force post-Inferno, allowing the many voices of the X-Office to transform the nation of Krakoa beyond its original scope. But even still, Hickman's influence looms large, as the mutant nation's many secrets start to poison its people.
Paradise Lost
Since its beginnings, the "Krakoan Era" of X-Men has largely been seen as Hickman's vision, mostly through the tone, themes, and overarching story the author oversaw through Inferno. While this dynamic would change leading into the writer's departure, Destiny feels wholly defined by Hickman's absence. Instead of lone plots carried across the entire line, Destiny's story feels more thematic in nature, as each title delves into the lives of people chafing against Krakoa's supposedly perfect society. Debuting directly after X Lives/X Deaths, Victor LaValle and Leonard Kirk's Sabretooth is a complete inversion of the more heroic elements of the line, using the evolution of the pit to show how Krakoa's leadership has only grown closer to their human enemies, creating an expansive prison to hold anyone who they believe threatens the nation:
"I've enjoyed the Krakoa era, in part, because it's never been hidden that the villains remain villains. They haven't had a change of heart, if anything it's the heroes who have to do the most changing," states LaValle. "It was easy…to understand or accept why Sabretooth went down…but I wanted the other mutants to be people who readers wished would receive mercy or understanding…and then they don't. The point wasn't to say that Xavier or Magneto are evil, but to say that if "justice" is capricious then it isn't true justice. The history of X-Men comics…is one of wrestling with serious political and cultural issues so this seemed like the perfect lane for me to be in if I wanted to bring these issues up."
This division between Krakoa's leadership and its people has been a mainstay of the X-Line since its relaunch. However, through Destiny's increased focus on individual stories instead of an overarching narrative, this schism feels more pronounced than ever before. Nyla Rose, Steve Orlando, and David Cutler's Thunderbird one-shot gives an especially deep look into the struggles of Krakoa's outsiders, with a recently-resurrected John Proudstar fighting to reconcile his place in a community that feels completely alien to him.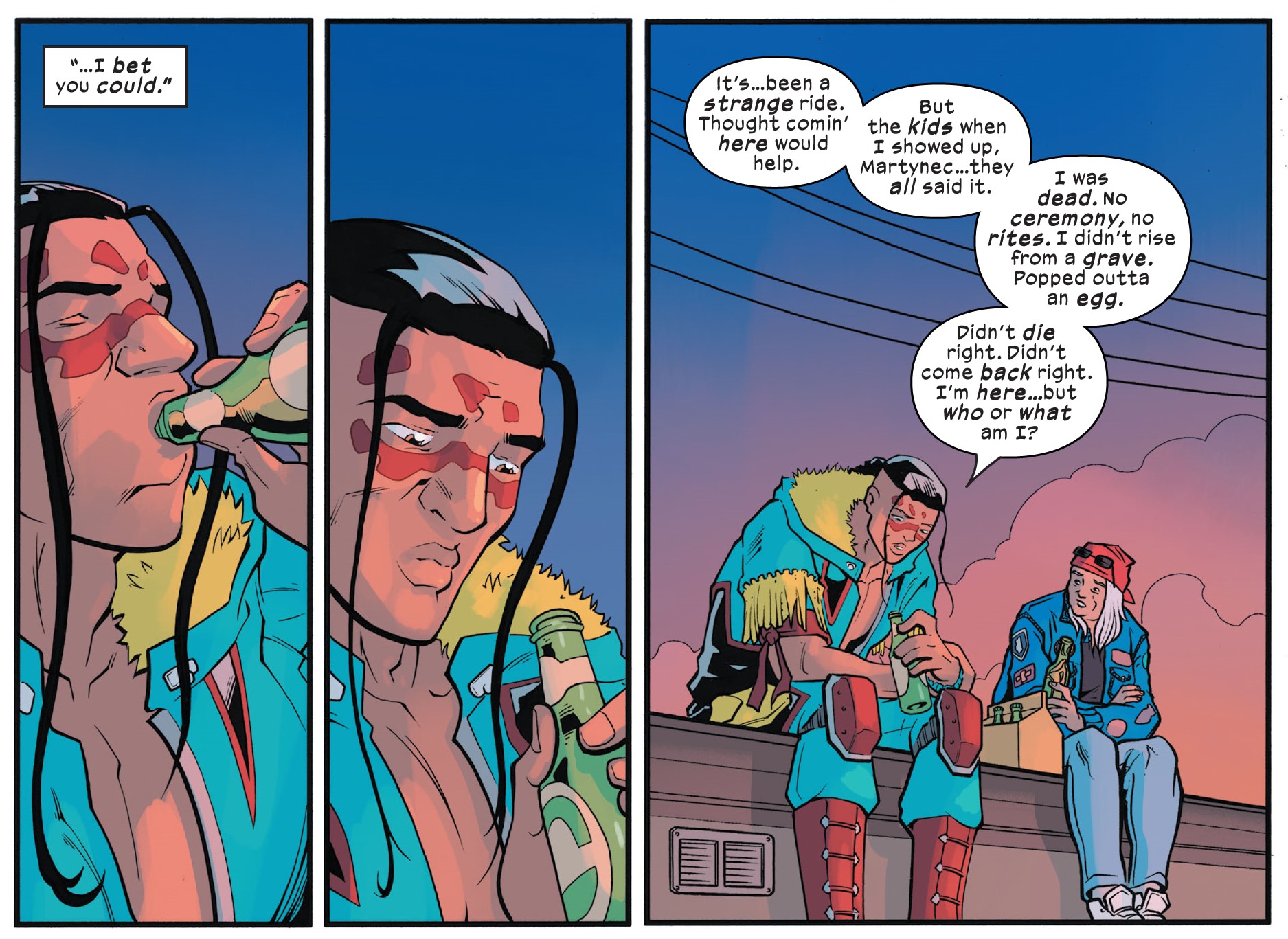 This theme of individual heroes fighting their own system only grows more apparent with each title, as more and more of Krakoa's institutions begin to exploit the very people they were made to protect. Alongside Adam Kubert, Federico Vicentini, Robert Gill, Christopher Allen, and Edgar Salazar, Benjamin Percy uses the dueling stories of Wolverine and X-Force to show the progression of Krakoan special ops from necessary evil to fascistic puppeteering, as Hank McCoy's oversight of X-Force grows crueler and colder, even regressing Wolverine to a state similar to his days in Weapon X. Tini Howard and Bob Quinn's relaunched Knights of X expands on this theme even further, as Betsy Braddock's party of heroes finally break their ties with the self-interested Majestrix Saturnyne, becoming a roving band sworn to protect the Mutants of Otherworld. However, the deepest look into the nation's failings comes through Al Ewing and Stefano Caselli's X-Men Red, which turns the mutant world of Arakko into an interrogation of colonialism and exploitation, pitting Storm's more heroic Brotherhood of Mutants against Abigail Brand and the imperialism of S.W.O.R.D.:
"The X-Office is unique in that at the macro level, we're all telling one story, with more…cohesion than I think you'd find anywhere else…" muses Ewing. "We'll see (this) in X-Men Red. Storm's someone who always…questions authority, even her own if necessary. Crowns and thrones represent a kind of unquestioned, unrepresentative power that I just can't see her being tempted by at all. But she's not shying away from her responsibilities, either — to the planet or to the people. It's hopefully obvious…that there are two different ideological approaches at work here. Are they going to be part of Arakko society, or are they another team coming in from outside?"
As Krakoa's heroes continue to evolve beyond the constraints of their nation, these critiques become another defining factor for the X-Line, kicking off a series of revelations that recolor everything we've experienced so far. With more and more of Krakoa's enemies stepping into the light, the line's grandest revelation finally comes into focus: the nation's worst enemies have come from within.
A Snake In The Garden
While much of Destiny of X's stories are focused on moving beyond the framework Hickman put in place with HoX/PoX, its third act reveal takes it all back to Krakoa's foundation, and a question that's hung in the air since the formation of the quiet council: can mutantkind put aside its old divisions to serve a greater good?
To many, the nation is a troubled but worthwhile paradise, allowing mutants young and old to find peace and meaning through a community of their own. Krakoa's Quiet Council, however, tells a different story. The effects of Moira's betrayal have only worsened post-Inferno, with the shaky unity of earlier chapters giving way to countless conflicting agendas. The splintering of Krakoa's leadership is charted further through Kieron Gillen, Lucas Werneck and Michele Bandini's Immortal X-Men, which follows each member of the Quiet Council as they try to hold on to their own plans while their nation continues to change around them. It's clear that some members are more dedicated to the idea of Krakoa than others, but Gillen uses Immortal to go even deeper, hopping across time to explore a plot point that had been seeded in the beginnings of Hickman's run: a betrayal literal centuries in the making.

Through a series of revelations, Gillen takes a number of concepts from Hickman's tenure and inverts them, retracing Mister Sinister's path as he slowly shapes Krakoa's history to his own terrifying ends:
"In some ways, Sinister is a wonderful dark mirror to Krakoa," muses Gillen. "The mutant circuits are some of the best stuff…in this era, the idea that there are ritualized ways that mutants help each other, and that's what Sinister does with the chimera, but it's utterly unethical. Sinister literally objectifies people. (He) is a colonialist and an exploiter, and…having someone as bad as (him) on the Quiet Council is a reminder of the deal they made to have all of this. What I think the mutant story is about, or superhero stories generally, is a way to dramatize things that feel like something. Sinister is implicit for the original sin of any form of nation-building. There is always something nasty in the room you've got to deal with, and in this case, it's that guy."
Through Sinister's corruption of Krakoa, the X-Office are able to definitively move beyond their predecessor's vision, taking the subtext of previous chapters and elevating it into a battle for the soul of the Mutant Nation. Through connection and collaboration, the species has transcended the systems of hate and fear that kept them down. But does all the good Krakoa gives to its people outweigh the evils its founders have committed? And do the nation's imperfections render it unfit to continue?
While a common critique of the era was that the "X-Men are bad guys now," the creators behind the line have a more balanced answer in mind. Just like in the real world, no nation arrives perfect. Progress isn't something that's seized all at once, but built up over time, with different generations adding great works of their own.
Jonathan Hickman and his grand plans for Krakoa are gone, but his successors have set a promising new foundation through Destiny of X, highlighting the many stories of the nation's people and setting the stage for a conflict where they'll all have a part to play. For a moment the Krakoan empire is thriving, but it's only a matter of time before its founders' many sins finally catch up with them.
Sources:
https://comicbook.com/marvel/news/x-men-red-al-ewing-interview-marvel-destiny-of-x/
https://www.cbr.com/marvel-gillen-immortal-x-men-interview/
https://ew.com/books/kieron-gillen-teases-the-krakoan-politics-of-immortal-x-men/
https://bleedingcool.com/comics/destiny-of-x-news-drops-today-break-the-internet-si-spurrier/
https://comicbook.com/marvel/news/x-men-red-al-ewing-interview-marvel-destiny-of-x/
https://aiptcomics.com/2022/04/18/x-men-monday-152-al-ewing-x-men-red-1/
https://aiptcomics.com/2022/07/18/x-men-monday-victor-lavalle-sabretooth-2/
https://comicbook.com/marvel/news/x-men-sins-of-sinister-kieron-gillen-interview-marvel/