The tale of Illyana "Magik" Rasputina is a tragic one, full of torture, dashed hopes, and betrayal. Born and raised to early childhood behind the Iron Curtain, Illyana's young life was saved from a tractor accident when the mutant powers of her brother Piotr manifested. Piotr went on to become the X-Man Colossus, and Illyana eventually joined him in the United States under the supervision of Charles Xavier. That's the happy part of the story. 
Illyana spent 7 years in the Limbo dimension as the captive of an evil sorcerer named Belasco, during which time her own mutant abilities of teleportation presented themselves. Illyana also learned to use magic under the tutelage of another reality's version of Storm. When Illyana finally emerged from Limbo, almost no time had passed in the real world. Illyana was never quite the same after this. Joining the New Mutants and becoming friends with her teammates helped, but the dark aspect of Illyana's soul never healed, even after a death and rebirth. 
Illyana spent a couple years as a central figure in the X-Men's little corner of the Marvel Universe, and continues to be involved in the "Dawn of X" era of storytelling. Anya Taylor-Joy is set to portray Illyana in The New Mutants, the long-delayed film originally scheduled for release in 2018. Taylor-Joy's work in movies like The Witch, Split, and Thoroughbreds shows she is capable of reaching into the emotional depths Illyana has experienced. Read on for your own primer on the lives and times of Magik.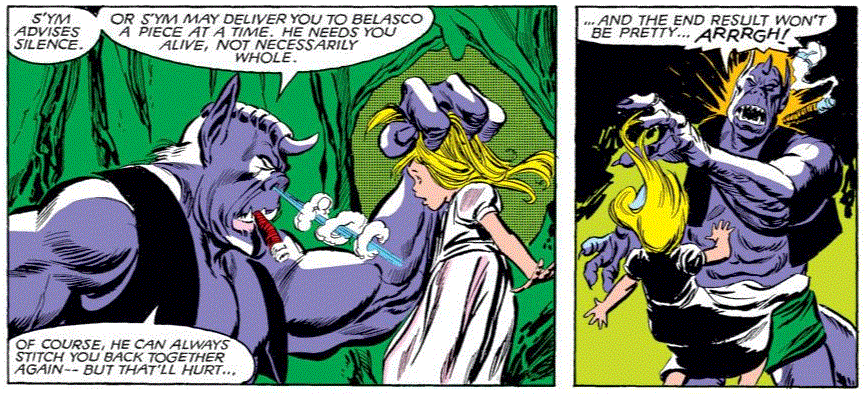 Little Girl Lost: Magik in the 80's and 90's
Illyana appeared for the first time as Colossus's unnamed little sister during his origin story in Giant Size X-Men #1 (May 1975), by Len Wein and Dave Cockrum. Legendary X-scribe Chris Claremont brought her back (and gave her a name) in the 80's with Uncanny X-Men #146. Illyana became a supporting character in the background of all the mutant drama for the next couple years.
X-Men: Magik – Storm & Illyana
Support For Comic Book Herald:
Comic Book Herald is reader-supported. When you buy through links on our site, we may earn a qualifying affiliate commission.
Comic Book Herald's reading orders and guides are also made possible by reader support on Patreon, and generous reader donations.
Any size contribution will help keep CBH alive and full of new comics guides and content. Support CBH on Patreon for exclusive rewards, or Donate here! Thank you for reading!
Collects: Uncanny X-Men #160, Magik #1-4
Illyana began taking on a more prominent role when Belasco appeared in 1982's Uncanny X-Men #160. After learning of a great and terrible destiny awaiting her, seven years passed for Illyana in the blink of an eye for the X-Men. Claremont and penciler John Buscema would not reveal what happened to Illyana during those years until late 1983, when the four-issue Magik mini-series was released, detailing how Illyana survived in Limbo for all that time. All of those issues are collected in this volume, which serves as a great introduction to the little Russian girl and her otherworldly gifts.
New Mutants Epic Collection: The Demon Bear Saga
Collects: New Mutants #13-31, Annual #1
The now-teenaged Illyana continued to drift around the X-books after her mysterious aging, but once her backstory was revealed, Magik joined the cast of New Mutants, a team of young heroes whose youth and power evoked the earliest days of the original team of X-Men. Magik officially became a member of the team in Claremont and Sal Buscema's issue #15, and she would remain on the roster for the next five years.
Collects: New Mutants #26-34
The next few years with the New Mutants were spent battling the Hellfire Club, a Demon Bear, Professor X's son Legion, the Shadow King, the Beyonder (crossing over with Secret Wars II), and more. Through it all, Illyana's use of her mutant powers and her magical ability continued to fracture her heart and her mind. By using the Soulsword, a weapon made of her very life force, Illyana sent enemies to Limbo, increasing her power on Earth. Eventually Illyana's dark half was given life in the form of the demonic Darkchylde and she found herself tempted more and more by the power inherent to Limbo. All of Claremont's run on New Mutants is collected in these "Classic" volumes, though Volume 4 does share some overlap with The Demon Bear Saga.
Collects: New Mutants Special Edition, Uncanny X-Men Annual #9, New Mutants #35-40
Collects: New Mutants #41-47, Annual #2, X-Men Annual #10
Collects: New Mutants #48-54, Annual #3
Claremont's run on New Mutants concluded with issue #54, at which point Louise Simonson took over writing the book. Simonson's run saw Illyana expressing evil tendencies and clashing with characters like Magneto (the current leader of the New Mutants) and Forge, and often grappling with the seduction of the Darkchylde form. Unfortunately, much of Simonson's run (issue #55 to issue #70) is uncollected, though these issues are available on the Marvel Unlimited app.
New Mutants Epic Collection: Curse of the Valkyries
Collects: X-Terminators #1-4, New Mutants #71-85
Magik's story came to a sad conclusion as part of the "Inferno" event, found in the first half of this collection. In an attempt to save her friends in Limbo, Magik gave into her dark urges and fully became the Darkchilde. In this form, Magik's heroic instincts still prevailed and Illyana continued to fight demons both in Limbo and on Earth. Magik ultimately sacrificed herself as she existed up to that point, becoming the Lightchilde to stop the hordes, and then reverting to the six-year-old girl who existed before being kidnapped by Belasco those many years ago. 
Young Illyana briefly returned to her family in Russia, before tragedy struck once again. Her parents were murdered as part of an attempt to re-age Illyana, and soon after she contracted the deadly Legacy Virus, which took her life in Uncanny X-Men #303. And so, Illyana Rasputina's life of suffering finally came to a close.
Life Between Lives: Amanda Sefton a.k.a Magik
Illyana's Soulsword and the armor that came with it passed onto Kitty Pryde upon Magik's de-aging. Illyana made a few appearances in Marvel Comics after her death, mostly through time travel or spiritual dimensions (most notably in the mini-series New Mutants: Truth or Death
), but the Soulsword eventually made its way into the possession of Amanda Sefton, a sorceress, Nightcrawler paramour, and long-time supporting cast member in X-books like Uncanny X-Men and Excalibur. 
Amanda took on the mantle of "Magik" in tribute to Illyana and became the ruler of Limbo, appearing in this capacity most prominently in two mini-series: 2000's X-Men: Black Sun by Chris Claremont and Magik
by Dan Abnett and Andy Lanning (the latter of which is unfortunately very hard to find).
[Ed Note: Amanda also plays a role in the 2004 solo Nightcrawler series
!]
It would not be too long, though, before the true Queen of Limbo returned.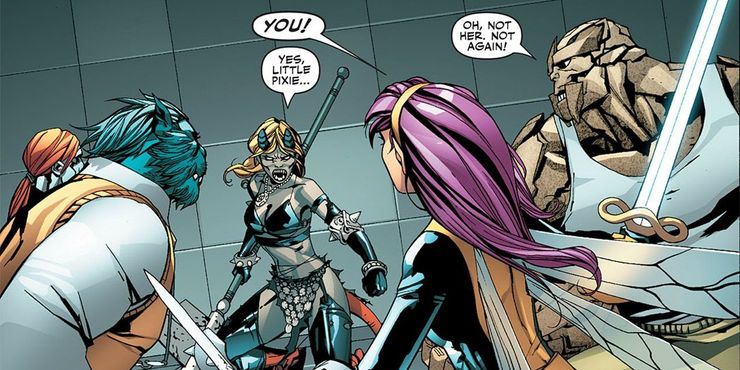 Big Demon Found: Magik in the 2000's and 2010's
Using his dark magic, Belasco attempted to bring Illyana back to life in her Darkchilde form, but rejected her when he found she lacked the soul from which he could mine bloodstones. Illyana lashed out at a young team of mutants in the pages of New X-Men, hoping to reclaim her Soulsword. Reclaiming her memories in this confrontation, Illyana, Pixie, and the rest of the New X-Men took the fight to Belasco. The Darkchilde continued to search for her soul and Soulsword, eventually finding the latter in Nightcrawler, where Amanda Sefton left it in an effort to thwart Belasco. Another battle for Limbo occurred in the pages of X-Infernus, and in the end Magik, now back in her human form but still without her soul, re-joined her fellow mutants on the human plane.
New X-Men: The Quest for Magik
Collects: New X-Men #33-39, 40-43, X-Infernus #1-4, Saga, X-Men Unlimited #14, X-Men: Divided We Stand #2
This collection, featuring issues written by Craig Kyle, Christopher Yost, and C.B. Cebulski, includes Magik's return in New X-Men and the hunt for her soul in X-Infernus.
Collects: New Mutants #1-11, 15-21, X-Necrosha #1, Marvel Spotlight: New Mutants
A new era of New Mutants began with the return of Illyana, as she reunited with old teammates including Cannonball, Dani Moonstar, Karma, Sunspot, and Magma. Under the pen of Zeb Wells, the team contended with Legion, undead versions of both friends and foes, and the hordes of Limbo yet again. Magik continued to distance herself from the rest of the team and her humanity, eventually risking the safety of her fellow heroes to satisfy her own personal grievances.
New Mutants by Abnett & Lanning Vol. 1
Collects: New Mutants #25-37, Journey Into Mystery #632
By the time Dan Abnett and Andy Lanning took over New Mutants, Illyana was not long for the team. She was imprisoned by Cyclops for choices he viewed as irresponsible.
Uncanny X-Men by Kieron Gillen Vol. 1
Collects: S.W.O.R.D. #1-5, Uncanny X-Men #534.1, 535-544, X-Men: Regenesis, Uncanny X-Men #1-3
As the X-Men split into two separate entities, one led by Cyclops and the other by Wolverine, Magik became part of Cyclops's team, though she remained a prisoner, as collected in these volumes of Kieron Gillen's run on the title.
Uncanny X-Men by Kieron Gillen Vol. 2
Collects: Uncanny X-Men #4-20, AVX: Consequences #1-5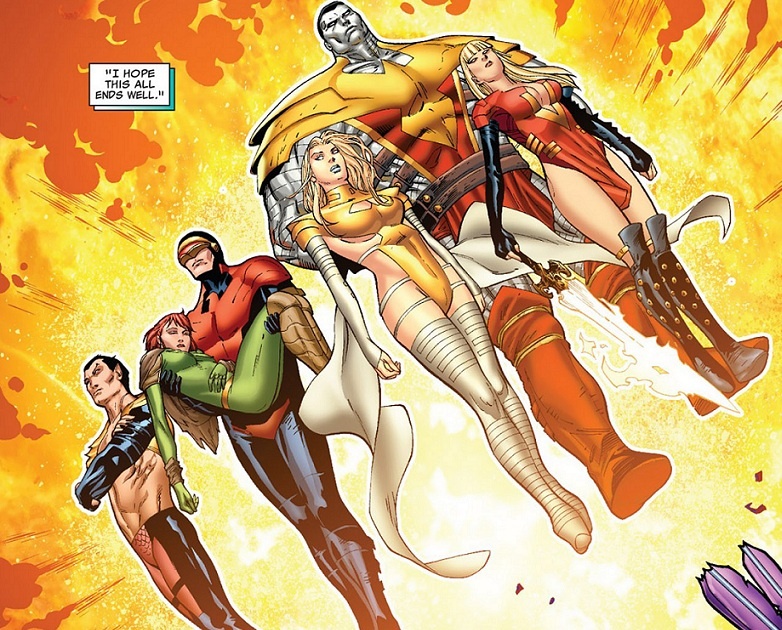 Collects: Avengers Vs. X-Men #0-12, Point One #1
In this knock-down, drag-out confrontation between the Avengers and the X-Men for the fate of Mutant freedom in the Marvel Universe, Magik was selected as a vessel for a fragment of the immensely powerful Phoenix Force alongside Cyclops, Emma Frost, Namor, and Colossus.
All-New X-Men Vol. 1: Yesterday's X-Men
Collects: All-New X-Men #1-5
In the wake of Avengers vs. X-Men, Brian Michael Bendis became the primary steward of Mutant interests, launching two titles that ran concurrently. All-New X-Men followed the original five Mutant heroes, brought to the present day to see what becomes of them, while Uncanny X-Men mostly dealt with Cyclops and his team – now fugitives – dealing with the fallout of their choices. Magik was aligned with Cyclops during this period, but the books were so intertwined that she often makes appearances in All-New X-Men as well.
All-New X-Men Vol. 2: Here to Stay
Collects: All-New X-Men #6-10
Uncanny X-Men Vol. 1: Revolution
Collects: Uncanny X-Men #1-5
All-New X-Men Vol. 3: Out of Their Depth
Collects: All-New X-Men #11-15
Collects: Uncanny X-Men #6-11
Collects: X-Men: Battle Of The Atom #1-2, All-New X-Men #16-17, X-Men #5-6, Uncanny X-Men 12-13, Wolverine & The X-Men #36-37
All-New X-Men Vol. 4: All-Different
Collects: All-New X-Men #18-21, X-Men: Gold
Uncanny X-Men Vol. 3: The Good, the Bad, the Inhuman
Collects: Uncanny X-men #14, 15.INH, 16-18
Guardians of the Galaxy/All-New X-Men: The Trial of Jean Grey
Collects: Guardians Of The Galaxy #11-13, All-New X-Men #22-24
All-New X-Men Vol. 5: One Down
Collects: All-New X-Men #25-30
Uncanny X-Men Vol. 4: vs. S.H.I.E.L.D.
Collects: Uncanny X-Men #19-25
All-New X-Men Vol. 6: The Ultimate Adventure
Collects: All-New X-Men #31-36
Uncanny X-Men Vol. 5: The Omega Mutant
Collects: Uncanny X-Men #26-31
All-New X-Men Vol. 7: The Utopians
Collects: All-New X-Men #37-41
Uncanny X-Men Vol. 6: Storyville
Collects: Uncanny X-Men #32-35, 600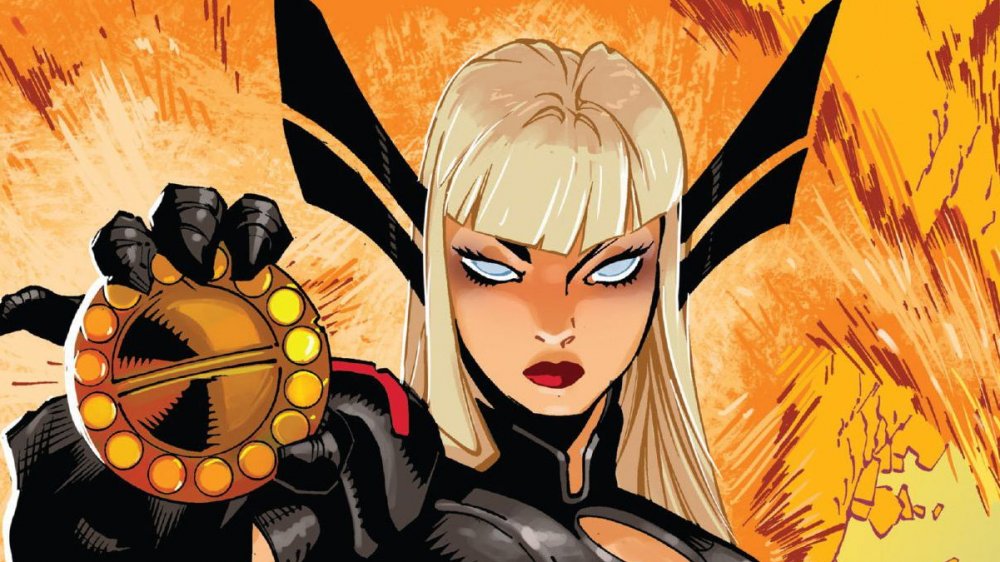 Extraordinary X-Men Vol. 1: X-Haven
Collects: Extraordinary X-Men #1-5
Upon the conclusion of Bendis's run on Uncanny and All-New, Jeff Lemire launched a new ongoing book. Extraordinary X-Men presented an X-Men team led by Storm and including Illyana faced with a new extinction. The spread of Terrigen Mists across the globe had sterilized mutantkind. Storm and her team took it upon themselves to create a safe place in Limbo for those that remained.
Extraordinary X-Men Vol. 2: Apocalypse Wars
Collects: Extraordinary X-Men #6-12
Extraordinary X-Men Vol. 3: Kingdoms Fall
Collects: Extraordinary X-Men #13-16, Annual #1
Collects: Death Of X #1-4
Death of X served as a prequel to Extraordinary X-Men, showing how the M-Pox plague took hold on the community and its earliest casualties.
Extraordinary X-Men Vol. 4: IvX
Collects: Extraordinary X-Men #17-20, X-Men Prime #1
Collects: New Mutants: Dead Souls #1-6
Ultimately, the conflict between the X-Men and the Inhumans came to an end, and Earth itself was no longer a threat to Mutants. Illyana teamed up with her old teammate Wolfsbane and a few others to form a new group of New Mutants. Written by Matthew Rosenberg with art by Adam Gorham, this mini-series took Illyana's team on a wild supernatural ride.
Uncanny X-Men: Wolverine and Cyclops Vol. 1
Collects: Uncanny X-Men #11-16
Rosenberg moved over to writing the then-current volume of Uncanny X-Men, which saw Cyclops and Wolverine returning not only to life but also to being teammates in a world that hates and fears mutants more than ever. Together they lead Magik and what's left behind of their kind after the mass migration to another reality as part of "Age of X-Man."
Uncanny X-Men: Wolverine and Cyclops Vol. 2
Collects: Uncanny X-Men #17-22 
New Mutants by Jonathan Hickman Vol. 1
Collects: New Mutants #1-2, 5, 7
To that end, a new utopia was created for the X-Men on Krakoa. Jonathan Hickman's "Dawn of X" initiative saw the return of mutants from the "Age of X-Man" reality and their collection under a sovereign banner. Hickman and Ed Brisson alternate issues in the new volume of New Mutants, with Hickman's first storyline following the original team – including Magik – into outer space. 
It's a brave new world for the X-titles, and what that means for Magik remains to be seen. Despite the near-constant upheaval of the Mutant status quo, Illyana seems to have found some inner peace. But for those who prefer their Magik full of angst, that New Mutants movie should be just around the corner. One of these days.