Marvel's big event of 2020 (or at least their first big event of 2020), promises to bring the Avengers and Fantastic Four together for the latest cosmic affair with the Kree and Skrull turning Earth into a battleground. Except this time, it looks like the Kree and Skrull are working together!
If you're thinking "I've seen this one before," that's intentional! Marvel's leaning heavily into their own history with promotions for Empyre, meaning there's a good deal of background reading from as far back as 1971 to help set the stage for 2020's comics. The overarching connections are all about the warring Kree and Skrull, and how their various conflicts over the years – and perhaps their lesser discussed agreements – have built to this moment in Marvel.
The main event story will be told by Al Ewing, Dan Slott, and Valerio Schiti beginning in April 2020. Ewing has written a variety of Avengers titles for Marvel including Avengers: No Surrender, and Slott is the current writer on Fantastic Four, so expect their work across those teams to set the stage for Empyre as well. Likewise, it's a blast seeing a whole slew of Marvel stories we just covered in the My Marvelous Year reading club getting referenced so enthusiastically by Marvel's latest hype machine.
Below you'll find a complete guide to Empyre, with both background reading and comic book checklists updates as issues are announced and released.
Previously: Absolute Carnage
Support For Comic Book Herald:
Comic Book Herald is reader-supported. When you buy through links on our site, we may earn a qualifying affiliate commission.
Comic Book Herald's reading orders and guides are also made possible by reader support on Patreon, and generous reader donations.
Any size contribution will help keep CBH alive and full of new comics guides and content. Support CBH on Patreon for exclusive rewards, or Donate here! Thank you for reading!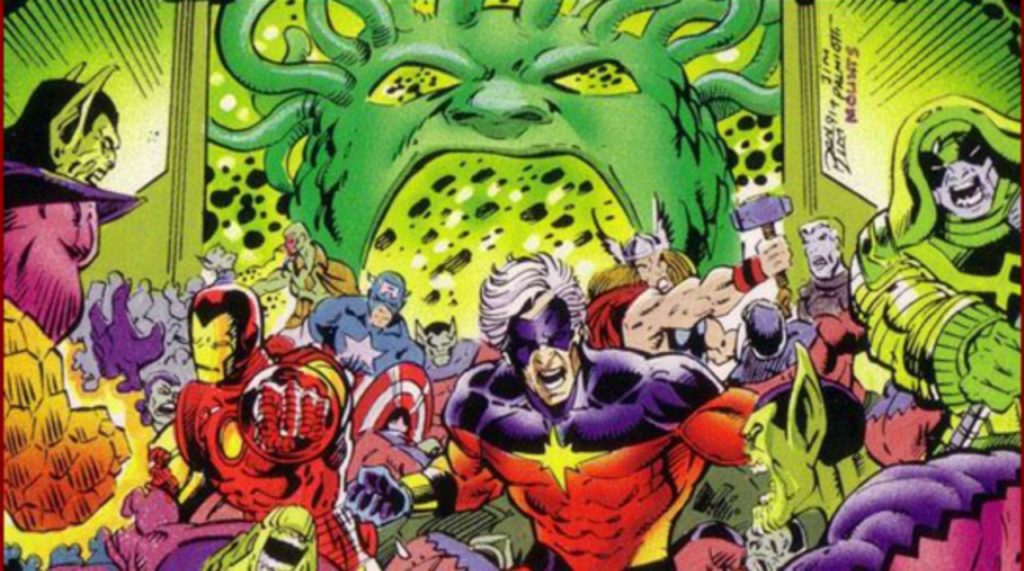 The Road to Empyre
Avengers: Kree Skrull War
Collects: Avengers #89 to #97
It ain't neat, but Roy Thomas, Neal Adams, and Sal Buscema's work across early 1970's Avengers comics stands out as one of the most ambitious multi-part epics from the tail-end of Marvel's Silver Age. The details are too numerous to encapsulate without just reading the thing (memorable moments off the top of my head… Hank Pym gets turned into an Ape by Ronan the Accuser, Neal Adams explores Vision's insides, and Hawkeye runs around calling himself Goliath and wearing nothing but thin metal plates over his nips).
Nonetheless, as you'd expect, the Kree and Skrull are warring, and don't much care whether Earth gets in their way. Put on your almost-Bronze-age reading lenses, and dig into the story that sets the stage for so much of Marvel cosmic to come, including modern events like Secret Invasion.
Avengers: The Complete Celestial Madonna Saga
Collects: Avengers (1963) 124-125, 129-135; Captain Marvel (1968) 33; Giant-Size Avengers 2-4; Avengers: Celestial Quest 1-8
While I'd describe the Kree Skrull War as overstuffed and often muddled, its confusion engines pale in comparison to the cosmic grandeur of the Celestial Madonna Saga. I like to joke that no one has or will ever understand what it actually means to be Celestial Madonna, and it would seem Ewing and Slott will put that to the test in Empyre!
Either way, the sweeping Celestial Madonna saga by Steve Englehardt and all the Buscemas is a 70's Bronze Age classic, and offers encyclopedic updates to the likes of Mantis (this is not your Obama-era's Mantis), Vision, and of course, the Kree and Skrull races. If you can't tell a Cotati from Scotty 2 Hotty, this background is important.
Oh also, lest the story remain linear: Kang the Conquerer's involved!
Fantastic Four Annual #18
This 1984 annual from the midst of John Byrne's acclaimed run on Fantastic Four is notable for a handful of reasons: The wedding of Black Bolt and Medussa, follow-up to the X-Men's Dark Phoenix Saga, and the expansion of Kree Bel-Dann and Skrull Raksor!
In a personal favorite "Wait, those guys?" lineage, the Kree and Skrull emissaries from "Dark Phoenix" get expanded roles both in this issue and now all these years later in Empyre set-up.
Young Avengers
Collects: Young Avengers #1 to #12
Following the events of Avengers Disassembled, Marvel capitalized on a newfound opening with the Allen Heinberg and Jim Cheung created Young Avengers. While this could have been a throwaway attempt to mimic DC's Teen Titans, the Young Avengers very quickly became a beloved unit in their own right, with strong regular members like Patriot, Wiccan, Hulkling, Kate Bishop, and Stature.
Hulkling is particularly important for Empyre, as the character is actually the son of royal Kree and Skrull heritage. If you dig this opening arc, I'd actually encourage you to check out Comic Book Herald's Young Avengers reading order for more of Hulkling, and particularly his relationship with Wiccan, one of Marvel's few openly same-sex relationships.
Meet the Skrulls
(Thanks for @dano_cosmic for the idea to include!)
One of my 2019 favorites will get picked up again in the road to Empyre. Even if it wasn't going to play a role, I'd say the 5 issue miniseries is worth it for Marvel fans, but certainly inclusion in "Road to Empyre" is the icing on the cake.
In short, "Meet the Skrulls" follows a family unit of sleeper Skrull agents living on Earth. It's reminiscent of 2016's Vision, but with elements of The Americans. Well worth your time, and will provide some nice context for the event.
I had a lot of good things to say about Marvel's (still overpriced) 2020 teaser comic, but above everything, I love that Incoming #1 is a murder mystery tied deep into the fabric of Marvel's history that also sets the stage for this upcoming event. If you read only one thing on the background list, make it Incoming #1. Then go back and read the other recs, because there's no way Incoming makes sense without them!
Bonus Round:
Dan Slott's Fantastic Four
With Slott co-writing the event, it stands to reason his work on Fantastic Four to date may shape the event to come. At a minimum, Fantastic Four is going to be heavily tied in to Empyre, and it always pays to know what's going on in the main tie-in series for an event comic.
That said, I've been generally disappointed with Slott's work on Fantastic Four to date. My favorite arc is issues #5 to #8, and the Fantastic Four: Wedding Special, which has some very nice moments for longtime fans of the ever-lovin' blue-eyed Thing and Alicia Masters.
Al Ewing's Avengers
Issues of Note: New Avengers (2016) #3 to #4
Ewing's Marvel work effectively falls into two tiers. The first category is simply titled "Stone Cold Classics," and includes amazing work like Ultimates
 and Immortal Hulk
.
And then there's his Avengers universe. Across New Avengers, No Surrender, and Avengers: No Road Home, Ewing has written or co-written an uneven split of fun ideas mixed in with very passable superhero team comics. There are especially relevant details for Hulkling in the pages of New Avengers issues #3 and #4.
Honestly, because these comics don't wow me the way Ewing's writing can, I'd really recommend you just check out Immortal Hulk instead, and see what all the hype is about. If Empyre launches and No Road Home is crucial, I'll update accordingly!
In the meantime, the ongoing 2020 launch of Ewing and Juann Cabal's Guardians of the Galaxy
 is already teasing some cosmic ideas that are likely to play into Empyre!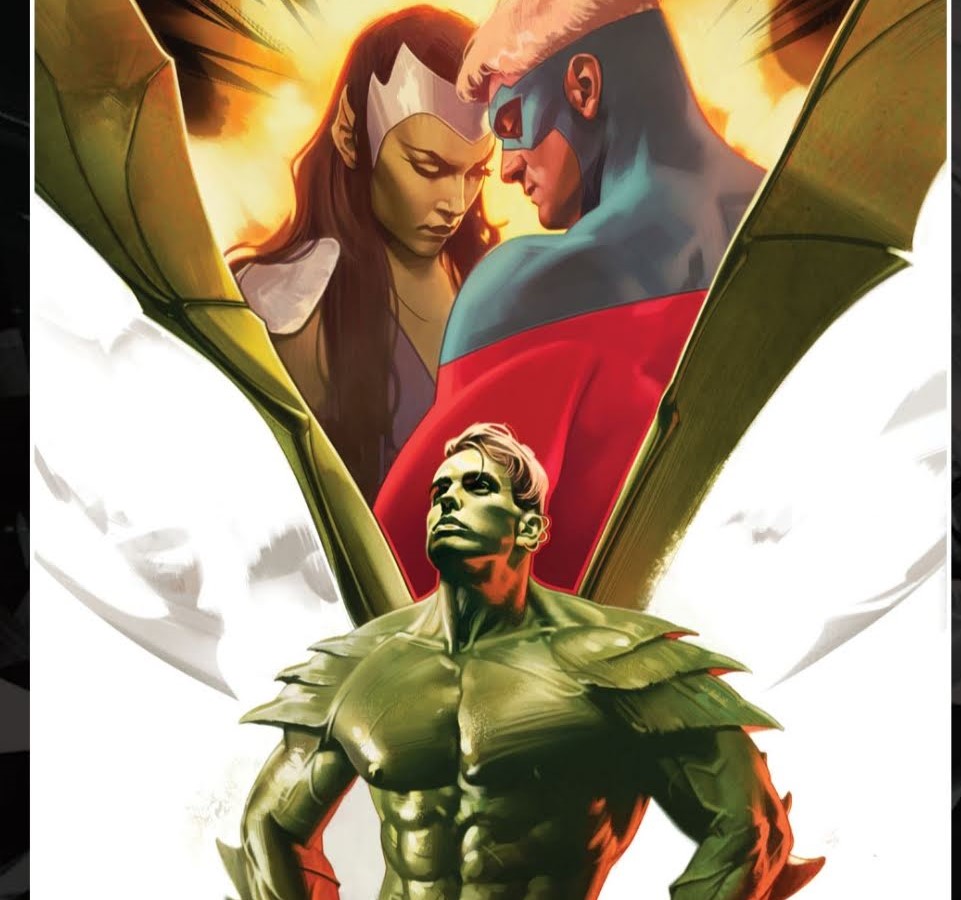 Empyre Comic Book Checklist
Prelude to Empyre
Road to Empyre: The Kree/Skrull War #1
Recommended Tie-In? If you skipped all the Road-To recommendations above!
Empyre #0: Avengers
Recommended Tie-In? Yes.
Written by event co-writer Al Ewing with art by House of X powerhouse team Pepe Larraz and Marte Gracia, this Avengers "Zero" issue from the perspective of Tony Stark fast tracks the history of the Kree, Skrull, and Cotati, while reintroducing some of the major players. It's more scene setting (what you should expect from a zero issue) but it's useful, especially if you're new to all this Celestial Saga drama.
Recommended Tie-In? Yes.
Written by event co-writer Dan Slott with art by Powers of X powerhouse team RB Silva and Marte Gracia! I had a helluva fun time reading this FF zero issue, from Johnny Storm posing as Big Ben Grimm's wrestling manager, to Susie Richards grifting a casino for Valeria and Franklin. Good story on its own terms, and provides some nice background for those less familiar with the Kree and Skrulls.
Lords of Empyre: Emperor Hulkling #1
Recommended Tie-In? Yes.
Very strong entry from Chip Zdarsky, Anthony Oliveira and Manuel Garcia, filling in the story of how Teddy Altman goes from Incoming #1 to Empyre #1. 
————————————————————-
Empyre Begins!
Empyre #1
Fantastic Four #21
Recommended Tie-In? FF readers only!
If you like the Dan Slott era of Fantastic Four, then carry on. Otherwise, the issue follows Franklin and Valeria Richard's journey out of the pages of Empyre #1, and doesn't seem to add a ton to the main event. As always, given Slott's status as event co-chair, this could prove more important as more story is revealed!
Recommended Tie-In? If you want to understand Swordsman and Quoi, the Celestial Messiah!
Does a nice job explaining where Quoi and Cotati Swordsman are coming from. The events of the issue all take place prior to Empyre, but it's best read with Empyre #1 in your mind.
Empyre #2
Empyre X-Men #1
Recommended Tie-In? Yes!
I loved this series, but keep in mind I am all in on the Hickman era of X-Men. It's way more essential to X-Men than it is to Empyre.
Recommended Tie-In? For Avengers fans!
First, I thought Carlos Magno's art in this issue was phenomenal. Otherwise, if you're a fan of what Jason Aaron's been doing in Avengers, and what Jim Zub did on "Agents of Wakanda," this is a good continuation of that. If not, you can probably consider skipping.
Lords of Empyre: Celestial Messiah #1
Recommended Tie-In? Yes.
Well told history of Mantis and Quoi!
Recommended Tie-In? Yes.
I really like the direction for Carol Danvers started in Empyre #2, and continued here in Captain Marvel #18. Despite the fact that this is the eighteenth issue in writer Kelly Thompson's run on the character, the story flows organically out of Empyre #2, and is very easy to pick up even if you haven't been reading.
Empyre #3
Fantastic Four #22
Recommended Tie-In? FF readers only!
This could be read directly after Fantastic Four #21, but upon first read, I like better after some time has passed.
X-Men #10
Recommended Tie-In? For X-Men fans only!
This isn't going to make a lick of sense if you're not all in on the Hickman era of X-Men.
Empyre Savage Avengers #1
Recommended Tie-In? Inessential, but solid.
Gerry Duggan and Greg Smallwood craft a great looking one-shot about Conan the Barbarian and Venom teaming up against the Cotati invasion in Mexico.
Recommended Tie-In? Not really.
Cap and a ragtag group of US Soldiers take on the Cotati.
Recommended Tie-In? If you read the first 2 and liked 'em!
Empyre #5
Fantastic Four #23
Empyre Aftermath
Guardians of the Galaxy #6
Not a direct tie-in, but the Al Ewing written issue of Guardians does reference the events of Empyre and sets up Marvel's new space age spiraling out of the event.
Captain Marvel #21
The majority of the issue takes place prior to Empyre #4, but the ending is after the event has concluded.
Awesome, well worth reading if you dug the event.
Empyre Fallout: Fantastic Four #1
Web of Venom: Empyre's End
As you'd expect, this is very much set-up for the King in Black event.
Heroically Support Comic Book Herald!
If you like Comic Book Herald, and are able to donate, any small contribution will help keep CBH alive and full of new comics guides and content. Donate here! Or, support CBH on Patreon for exclusive rewards! Or you can even check out the CBH Merch store and get something nice with a small portion benefiting the site! Thank you for reading!