Incoming is Marvel's 2019 year-end spectacular, simultaneously summarizing much of the publisher's 2019 while building suspense for storylines and comics to come in 2020. 
Podcast: Play in new window | Download
Spoilers for Incoming #1 Follow!
Today I'll answer:
Support For Comic Book Herald:
Comic Book Herald is reader-supported. When you buy through links on our site, we may earn a qualifying affiliate commission.
Comic Book Herald's reading orders and guides are also made possible by reader support on Patreon, and generous reader donations.
Any size contribution will help keep CBH alive and full of new comics guides and content. Support CBH on Patreon for exclusive rewards, or Donate here! Thank you for reading!
What comics are the most important to have read prior to Incoming #1

What Incoming #1 teases for Marvel's 2020, across everything from Hickman's X-Men to a linewide event called Empyre to "perhaps" the death of teen heroes

How Incoming #1 is the best idea Marvel's had in years and fulfills the missed promise of Marvel #1000
Big picture, Incoming #1 could just as easily be called Marvel Universe (2019) #1 (and I'd argue that's exactly what it should be called and that there should be one of these every year to onboard new readers!). The issue bounces between Marvels top creators contributing short stories for the characters or teams they write at Marvel. So you have Kelly Thompson writing Jessica Jones and Captain Marvel, Chip Zdarsky writing Daredevil, Jonathan Hickman reuniting with RB Silva and Marte Gracia for a Powers of X style Mister Sinister story, and so on.
Impressively these short stories all intertwine, ultimately connecting to tell one murder mystery. Now there was some hand wringing, myself included, over a teaser promo Marvel released for this issue which suggested the murder mystery might be an Identity Crisis
or Heroes in Crisis style death of a known character. Any comic book event that is strongly centered around "which character that you love will die!" in this day and age sends off a LOT of warning bells.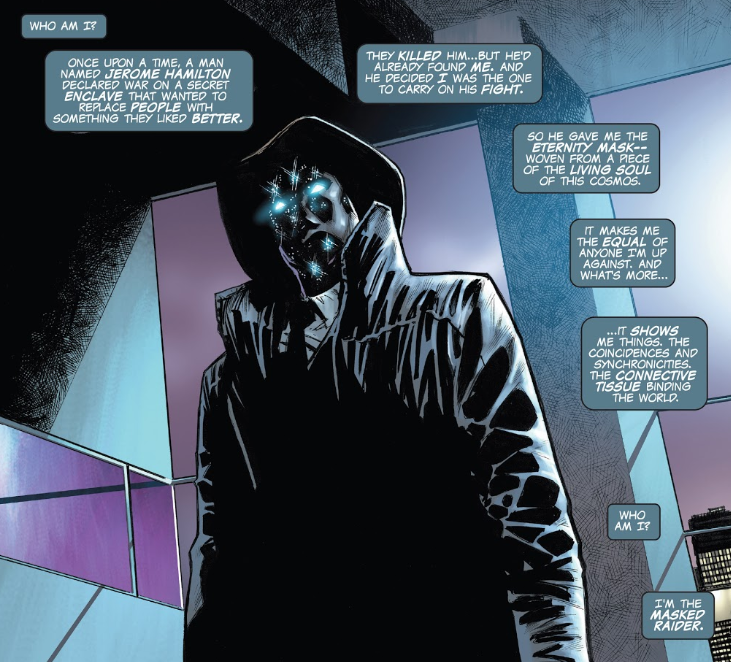 Fortunately, the brilliant Al Ewing is in charge of the mystery's framing, and he continues his work from Marvel Comics #1000 developing the Masked Rider into a centerpiece of the Marvel Universe fabric. The murder the Rider uncovers is a locked room mystery of an unknown player, and without the usual untimely death of a beloved figure, it's easier to just enjoy the suspense of the hunt. 
The truly impressive trick to Incoming #1 is that the murder mystery is used as pretense to bounce around every corner of the Marvel Universe and it actually makes sense. We get a feel for what's been happening in a wide variety of titles this year in both ways large (the Sampson and Joe Fixit interview very broadly summarizing Immortal Hulk
) and small (Tini Howard continuing her story of Billy and Teddy's romance from Death's Head four issue mini). 
It's a remarkably smart way to deliver a sampler platter issue, something Marvel has struggled with over the course of this decade. It's no secret that genuine on-ramps into Marvel Comics are one of the publisher's biggest struggles (there's a reason Comic Book Herald's guides on where to start reading Marvel books are perpetually among my site's most popular). This is the closest I've seen Marvel come to an approach I've been recommending for years, though, with an authentic "state of the universe" address that functions on its own as a story.
For my money, the two biggest criticisms against Incoming #1 are as follows. First, $9.99 is a terrible price point for your "new-reader" catch-up initiative. I get why Marvel prices this comic 60% higher than their standard release (there's a ton of story and creative talent on display!), but just once I'd like to see Marvel bet on themselves with an excessively affordable on-ramp. The immediate comparison that comes to mind is DC's .25 cents Free Comic Book Day teaser where the publisher teased out upcoming initiatives like the (now ill-fated) Batman and Catwoman wedding. I love the "we'll give this one away" approach, but at most even saying "it's 3.99 just like our other books but with way more in it!" is a win.
The other criticism to me is that Incoming #1 is quite effective at building towards what's coming in 2020, but doesn't do a ton to really build your knowledge of what's come before (or even where you can find that information). Sure, Elektra training Daredevil in his Netflix season one duds, or Nova referencing Annihilation Scourge makes sense to me, but I've read all those comics throughout 2019. For those who have not, there's a real "here's the situation, let's roll!" vibe that can be extremely challenging for a lot of new readers.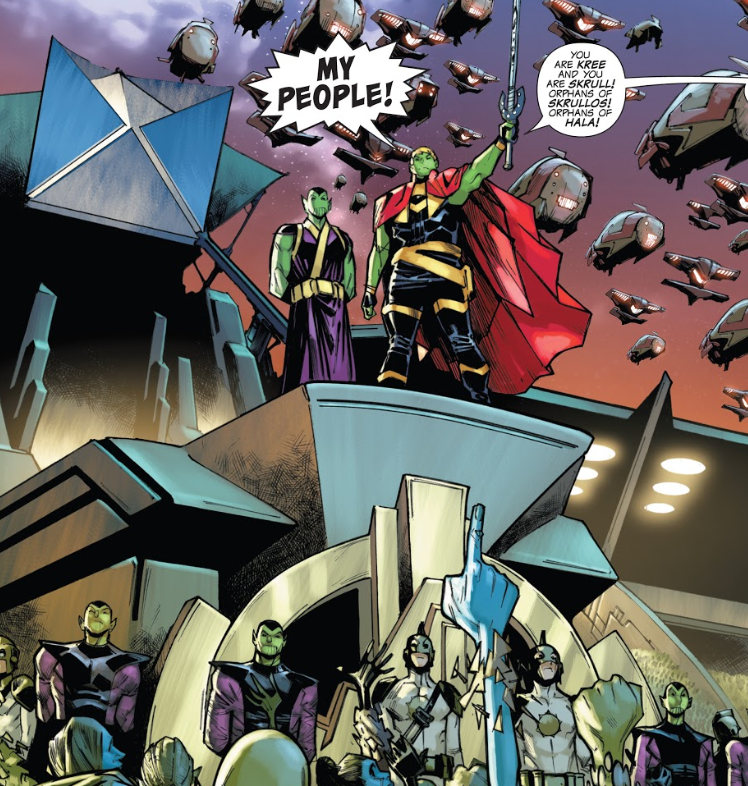 Apart from Ewing's work reaching back to Marvel's relatively untouched Golden Age, the most fascinating callback is the murder mystery leading our Marvel heroes to Raksor and Bel-Dann, Skrull and Kree warriors previously seen as interplanetary monitors during the X-Men's "Dark Phoenix Saga
" (Uncanny #137 to be specific) and later during another John Byrne story in Fantastic Four Annual #18.
This builds to the issue's biggest tease for next year, the April 2020 Empyre, with Teddy of Young Avengers fame apparently take Emperor Teddy status among an allied Kree and Skrull armada. For those less familiar with Teddy Altman and his time with the Young Avengers his given name is Dorrek VIII, son of both Kree and Skrull royal heritage. Historically he's been resistent to this calling, and his romance with Earth-bound Billy/Wiccan has typically kept him "pro-human," but we'll see what may have changed in Empyre.
All in all Incoming is a fascinating idea, and shockingly well executed. I can understand if the price tag is off putting, but the content is something I'd love to see Marvel continue annually.