Marvel's SWORD, the Sentient World Observation and Response Department, is the intelligence equivalent of SHIELD, dealing with the extraterrestrial threats of the Marvel Cosmic scene. Whereas SHIELD has been with the Marvel Universe since the Jack and Stan Silver Age, SWORD debuted in 2004's Astonishing X-Men by Joss Whedon and John Cassaday. Since that time, SWORD, and most specifically the unit's delightfully no-nonsense commander, Abigail Brand, have been an integrated, yet sporadic part of the Marvel Universe fabric, although most commonly tied to the pages of X-Men.
Despite the memorable debut, clear purpose, and compelling role in Marvel Cosmic, SWORD only has one solo five issue miniseries prior to the launch of Al Ewing and Valerio Schiti's hotly anticipated entrance into the X-Men's Dawn of X. There are good stories involving SWORD and Agent Brand – as a matter of fact I have a list of 10 essentials – but I'd also argue there's a definite sense of untapped potential. 
Related Reading Orders:
Support For Comic Book Herald:
Comic Book Herald is reader-supported. When you buy through links on our site, we may earn a qualifying affiliate commission.
Comic Book Herald's reading orders and guides are also made possible by reader support on Patreon, and generous reader donations.
Any size contribution will help keep CBH alive and full of new comics guides and content. Support CBH on Patreon for exclusive rewards, or Donate here! Thank you for reading!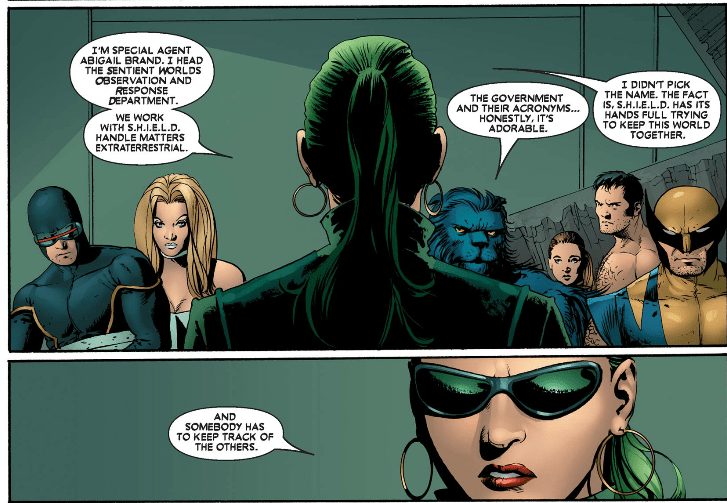 Astonishing X-Men is one of the comics that really renewed my passion for X-Men as a quote-on-quote adult, a standout evergreen work that also just so happens to double as the origins of SWORD.
Abigail Brand and SWORD's debut is particularly interesting to me as she becomes a key player in the Dawn of X because in "Gifted," the first story arc of Whedon and Cassaday's Astonishing X-Men, Brand's compromise with Ord of Breakworld is that in order to prevent Breakdworld's destruction of Earth, Ord is allowed to create and disseminate a "cure" for mutants. So for as long as Brand's been an uneasy ally to mutants, and as half-human half-alien can empathize with some degree of their "otherness" from homo sapiens, she begins as a borderline antagonist. She does not have an anti-mutant agenda persay, but she was willing to knowingly allow the eradication of homo superior if it meant protecting Earth.
Secret Invasion is a real low point for Agent Brand, as her core purpose of preventing an all out alien invasion of Earth is shattered. Brand plays a role in the core event series, but my favorite entry is a short story in the Who Do You Trust one-shot written by Mike Carey with Timothy Green III, Guru EFX, Cory Petit (letters) (the story is the second chapter). We get a little more insight into Brand's rise to head of SWORD, alongside some details about mistakes she makes in overlooking the hunch of Agent Deems suspicious of Skrull communications.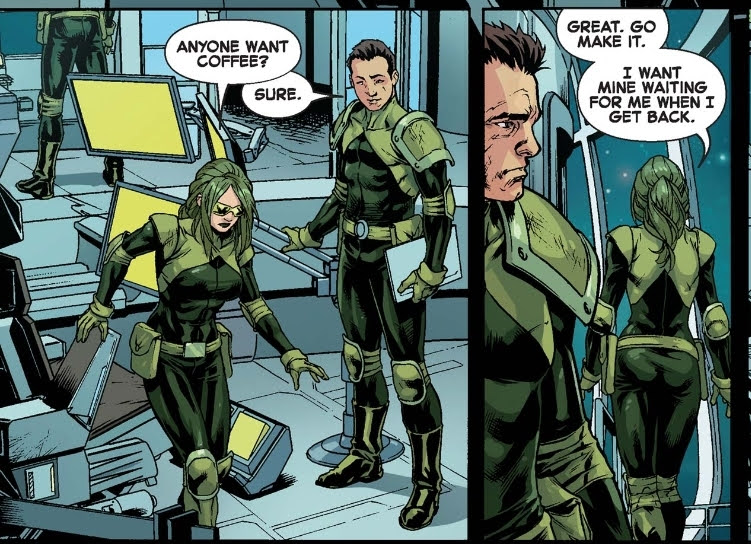 The short-lived descent leads to the most interesting period of SWORD, and the first solo miniseries, set in the invasion's aftermath during Norman Osborn's Dark Reign of the Marvel Universe and institutions.
S.W.O.R.D. is five issues that ran from November 2009 to March 2010, more or less directly spinning out of the work built in the pages of Astonishing X-Men. The first issue of the SWORD mini is stellar, fast paced exploration of a day in the life of Agent Brand. Set following Secret Invasion, during Dark Reign, with Norman Osborn comanding HAMMER and Agent Henry Peter Gyrich joining as the undesired co-commander of SWORD.
Writer: Kieron Gillen
Artist: Steven Sanders
Inks: Craig Yeung
Colors: Matt Wilson
Letters: Dave Lanphear
Covers: John Cassaday / Laura Martin, #4 Mike Del Mundo
Abigail Brand hires post Secret Invasion Jessica Drew to hunt Skrulls
Abigail and SWORD play a role in this women-driven saga by Kathryn Immonen and Tonci Zonjic, with Nathan Fairbarn colors.
Prior to Gillen's X-Men run, Brand does also notably get infested by Brood, and help the X-Men make contact with good ol' Broo, everyone's favorite compassionate Broodling. As with most Brood infestations, "it got betta."
Brand primarily plays a role in the pages of Astonishing X-Men and Uncanny X-Men, particularly as a favorite of creator Kieron Gillen. Gillen brings back Brand and SWORD, and Brand brings the X-Men back to Breakworld for a sequel to the Whedon/Cassaday era.
Abigail Brand and SWORD find Deathbird, hunted by Sidri.
From about 2011 to 2015, my favorite use of Agent Brand and SWORD comes in the pages of X-Men Legacy, written by Si Spurrier, with a focus on Professor X's son, Legion. In issues #19 to #22, Agent Brand captures Legion and tries him for space crimes. Space justice!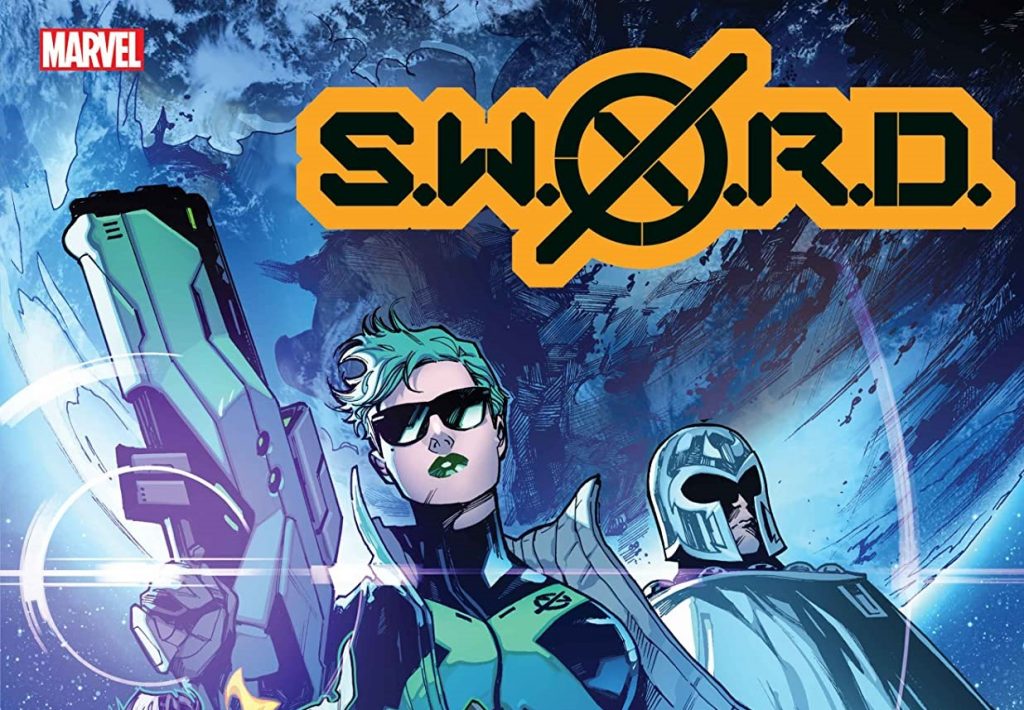 It's a part of the Secret Wars Battleworld fabric, but Gillen would again hone in on Brand in the pages of the Siege four issue event tie-in, one of the best of the all-time great event.
Following the events of Marvel's 2015 Secret Wars, SWORD was disbanded in favor of the Alpha Flight space program, primarily headed up by Carol Danvers, Captain Marvel, with Agent Brand in a supporting advisory role. This revamped space program gets utilized primarily in the pages of Captain Marvel's nigh infinitely relaunched solo series, and the Al Ewing written Ultimates, which remains one of the best Marvel Cosmic books of the 2000's.
Most recently, in the pages of the Kelly Thompson written Captain Marvel, Carol returned leadership of the operation to Agent Brand. Following the events of Empyre, during the wedding reception of Billy Kaplan and Teddy Altman, Brand made it known that not looping her in on the deeply cosmic events of Empyre made it impossible to do her job, that Carol of all people should know better, and that effectively she was out. The issue ends with an epic tease setting up the upcoming Ewing and Schiti SWORD. 
The road to this series starts in the ongoing X of Swords event, where Saturnyne teases the relevance of SWORD's Peak headquarters, and Cable, Cyclops and Jean Grey investigate, only to find the headquarters have been overrun and conquered by the alien Vespora. We'll likely see more details about SWORD's relevance as X of Swords concludes – again, it would be very strange to me if Saturnyne teased the station to Cable without a hidden purpose – but either way we know heading into Ewing and Schiti's run that the crew of the Peak has been completely destroyed, leaving it open for a new mutant-driven operation. All of which will be unveiled in the undoubtedly essential…