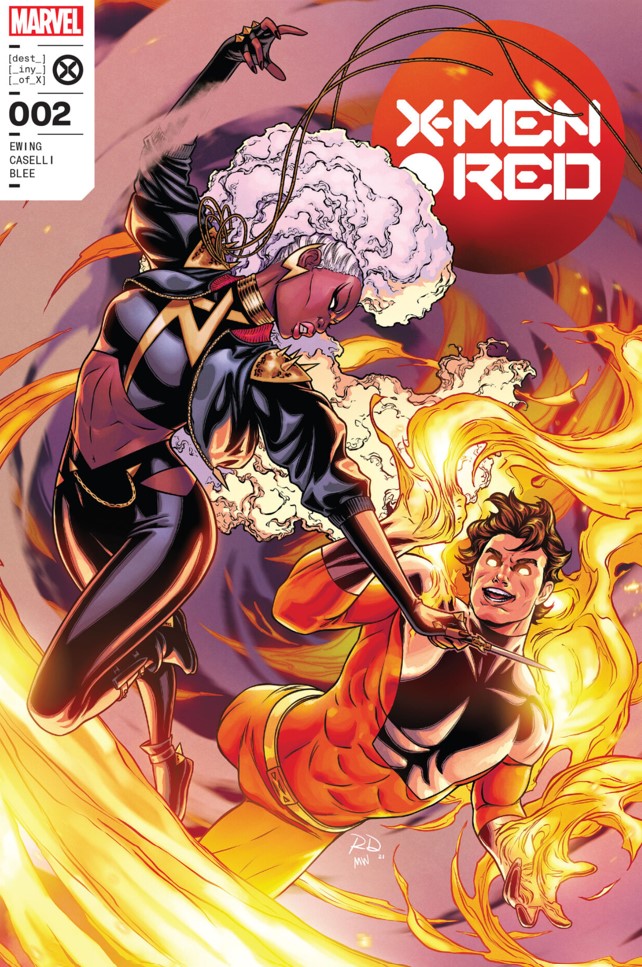 The dream team of writer Al Ewing and penciler Stefano Caselli, previously working together on S.W.O.R.D., continues to make ­X-Men: Red the Destiny of X title I'm most excited about (alongside Immortal X-Men, of course). Issue #2 is a killer follow-up, building Brand's new "X-Men" threat and overall nefarious schemes, as well as underlining Vulcan's explosive instability, with clues as to how this happened being revealed a little at a time in what feels like an inevitable build toward this omega timebomb going into full meltdown on Arakko—just what the bigoted and secretly anti-Arakkii extremist Abigail Brand wants, as she burrows deeper into her role as director of Orchis' "Infrastructure and Influence."
What hasn't been stated outright yet in this new series is that as all her experience with interstellar threats and Machiavellian politicking, she's bringing her own far-reaching network of mercenary contacts and alliances to the otherwise astronomically provincial Orchis. In other words, Abigail Brand is just about Orchis' single most important asset (and anyway, Nimrod and Omega Sentinel don't really count as assets any longer😉).
Ewing also continues a story that fans have been wanting, in some form, for many years now: not just something where Storm is the central protagonist but a narrative that delves into her character, advancing her into 21st-century superstar status among mutantkind. This is the promise of X-Men: Red at its core.
The thematic tension between (just two of) Storm's identities (perhaps the most ambiguous ones), being queen of both Wakanda (starting with Black Panther vol. 4 #18, 2006) and, much earlier, the Morlocks (from Uncanny #170, 1983)—has clearly been one of Ewing's central interests in Storm since he recast her as Regent of Sol in S.W.O.R.D. #6 (the "Hellfire Gala" issue). I believe that was the first time he really had, as a storyteller, to write her character, but right off, he seemed to have clear direction for her trajectory.
No doubt, Ewing is revitalizing Storm with an energy and clarity that we haven't seen since Claremont, and who knows—but I'm hopeful he takes the evolution of Claremont's most cherished character even further.