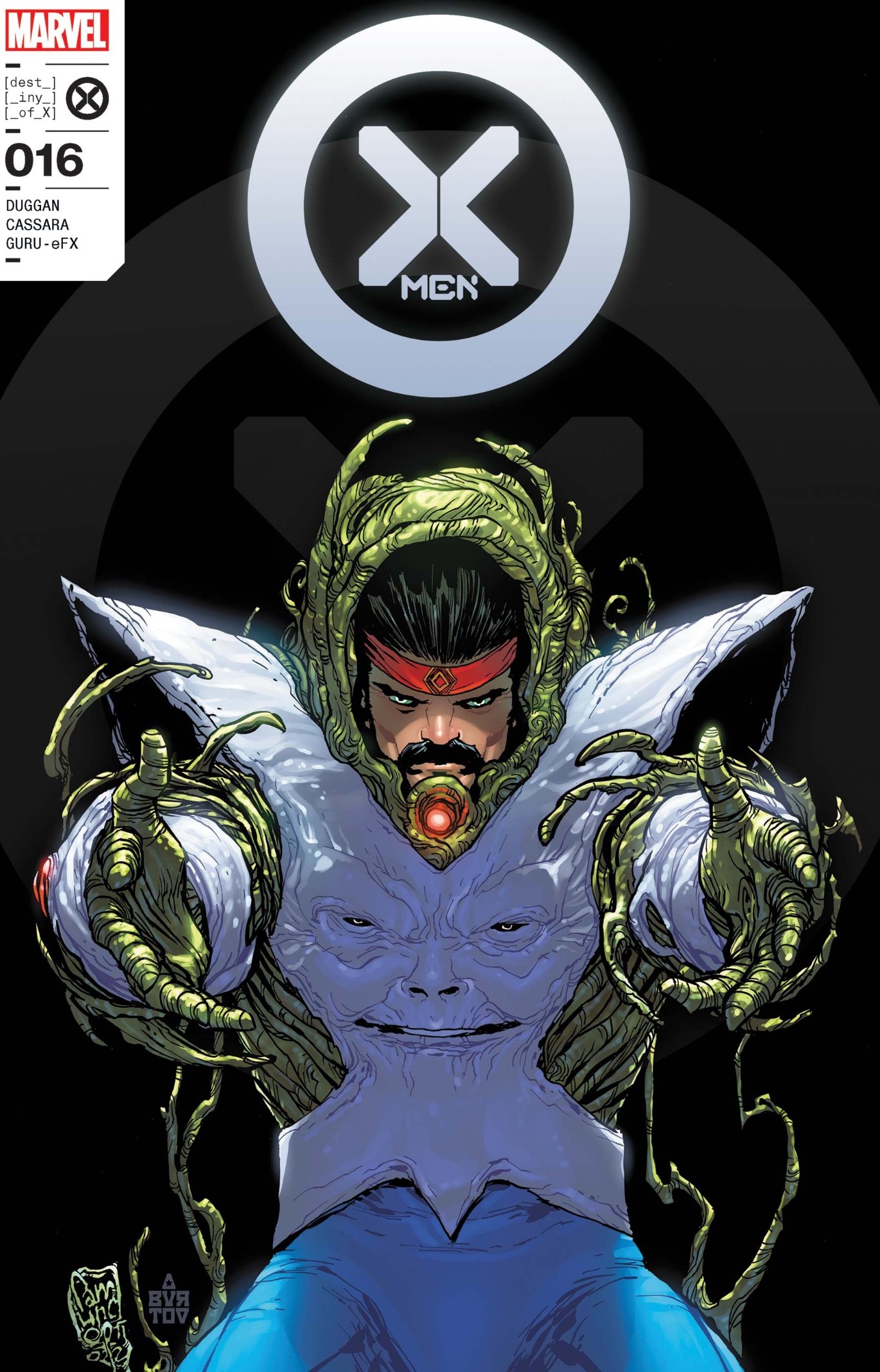 Credits: Gerry Duggan writes; Joshua Cassara arts; Guru-eFX colors; Clayton Cowles letters; covers by Martin Coccolo (#15, #17), Giuseppe Camuncoli (#16) with colors by Jesus Aburtov (#15-16) an Neeraj Menon (#17)
"Collapse Theory" / "The Mutant We Left Behind" / "Size Matters"
This three-issue Children of the Vault arc is the first Forge-centric story we've had in many years, and it's three issues! Granted, it's not entirely focused on Forge, but this was a major spotlight for the character, albeit not exactly the most flattering one!
For 21st-century readers who know that Forge (birth name unknown) is a Cheyenne Native American but don't understand why he's never depicted as connecting with his heritage, Claremont's foundational work with the character will show you his fraught relationship with his cultural upbringing. Forge's limelight is pretty much restricted to the Claremont run, especially in the years after his 1984 debut in Uncanny X-Men #184, (also Rachel Summers' fourth ever appearance and Selene's fifth—foundational indeed!). There was also Howard Mackie's late-stage X-Factor run of the late '90s, really the last gasp for Forge fans.
If you're pressed for time and want some wonderful audio entertainment instead, I highly recommend checking out Connor Goldsmith's recent Cerebro episode on Forge with guest Josh Trujillo, comics writer for Adventure Time, Captain America, Rick and Morty and most recently Blue Beetle, as well, and also part Cheyenne himself.
Here we can say, long story cut much too short, Forge sees himself as a man of science and technology who wants nothing to do with the very real mysticism that was part of his upbringing as a shaman in training. And the devastating trauma behind this aversion at least seems mostly unrelated from more fraught territory that white writers like Claremont and after were not prepared to deal with, that is, those all-too common stories of white society nearly wholesale destruction of indigenous culture and the tortured process of assimilation, which has frequently involved much self-shame and even hatred while white people look on oblivious (speaking as someone whose family encompasses both perspectives in the long history of Southern poverty, and I certainly don't feel equipped to this story from a Native (Choctaw and Cherokee) perspective, either).
Support For Comic Book Herald:
Comic Book Herald is reader-supported. When you buy through links on our site, we may earn a qualifying affiliate commission.
Comic Book Herald's reading orders and guides are also made possible by reader support on Patreon, and generous reader donations.
Any size contribution will help keep CBH alive and full of new comics guides and content. Support CBH on Patreon for exclusive rewards, or Donate here! Thank you for reading!
Forge's personal story treads more lightly over the history of white genocide against Native Americans, although Claremont certainly acknowledged the reality as far as comics of the time would allow (which was far more than most creators back then), and instead focuses on his experiences in the Vietnam War—something many Americans of all colors would have identified with less than a decade after the US defeat and withdrawal there (much more disastrous even than the tragic chaos of our pullout from Afghanistan*).
After losing a hand and leg in a "friendly fire" B-52 attack, Forge called on his abilities as a mystic and, utilizing the souls of his dead comrades all around him, summoned the Adversary to kill enemy soldiers as they closed in on the bomb-devastated area. The cost of summoning a chaos demon? His fallen friends tormented eternally in a hell dimension, apparently. To be clear, though, this was a decision he made during an unimaginably horrifying trauma—in excruciating pain, rage and fear in a foreign jungle at night. Add to that, Forge's subsequent horror and desolation at his own knee-jerk reaction.
He had so much power on call, and the first time he really used it, it did not go well for anyone—except that he lived, albeit with horrific survivor's guilt. So, yeah, he swore off the magic after that. And as a mutant techno-genius, he built himself some gloriously chrome prostheses, proud of his (lightly) cyborg nature now.
So, when you look at Forge and think, Oh, there's that techy quad squad jock, there is a lot of pain that went in to making this Tony Stark of Krakoa.
That brings us to his morally muddy and murky decision-making regarding Caliban in Duggan's X-Men. But Duggan knows what he's doing with Forge like no one since Claremont. Forge's opening epigraph, where we see him framing Krakoa as of a kind with the modern militarized nation-state, i.e., his employers in the US national security apparatus during the 1980s, answering to the likes of the NSA's Valerie Cooper and the NSC's Henry Peter Gyrich. In his 1984 debut, he had recently created a superpower neutralizer for the DOD, which many fans since have found suspect if not simply an act of extreme naivete. However, partly because Marvel no longer has the rights to concurrent ROM titles, readers forget or aren't aware that he created this weapon to be used against the inimical space threat of the Dire Wraiths, a major story that bled into many ongoing titles of the day. In 1985's ROM #65, Forge and ROM use the Neo-Neutralizer, massively scaled up from the handgun, to banish the evilly mystical Wraithworld (already in Earth's orbit) to Limbo; that was indeed the whole point of the invention—to halt an alien invasion. But Gyrich's intention was to turn it on Earth itself, to wipe out superhumans in one blast; of course, the heroes stop him.
All this isn't to say that Claremont's Forge stories don't deal in the unforeseen consequences of innovation weaponized—this is so much of what they're about. But the point is that Forge is not a self-hating mutant nor stupidly gullible; Earth was facing annihilation, and he made a hard decision to create a devastating weapon, which, yes, pretty quickly backfired. Yet Earth's survival was guaranteed; it just didn't happen in an X title!
Duggan's story is something of an homage, then, to Claremont's foundational Forge narrative, albeit with probably lighter consequences; it's unlikely Caliban as a piece of technology* will have the tortured history that Forge's Neutralizer has had. But his instrumentalization of another human being (potato potahto), whatever Caliban's alleged, i.e., uninformed, willingness to sacrifice himself for the greater good, offers up an undeniably unsavory side to his extremely utilitarian perspective.
*Caliban's mutant power is tracking other mutants, and apparently his sentience is required to make this work, unlike the other mutants' DNA in this strange chimera-harness: Mystique's and presumably Tempo's (Although, I have to say, the shape-changing is way underutilized in the actual story).
Love it or hate it, Duggan has done something new and different with a once central X-Man who's been neglected for far too long. This story (unlike whatever Forge was doing in Percy's X-Force—i.e., nothing substantive) will give subsequent creators a lot to work with. I definitely do not see it as character assassination, but it is very troubling, rather in line with his characterization historically, when anyone has cared to develop it.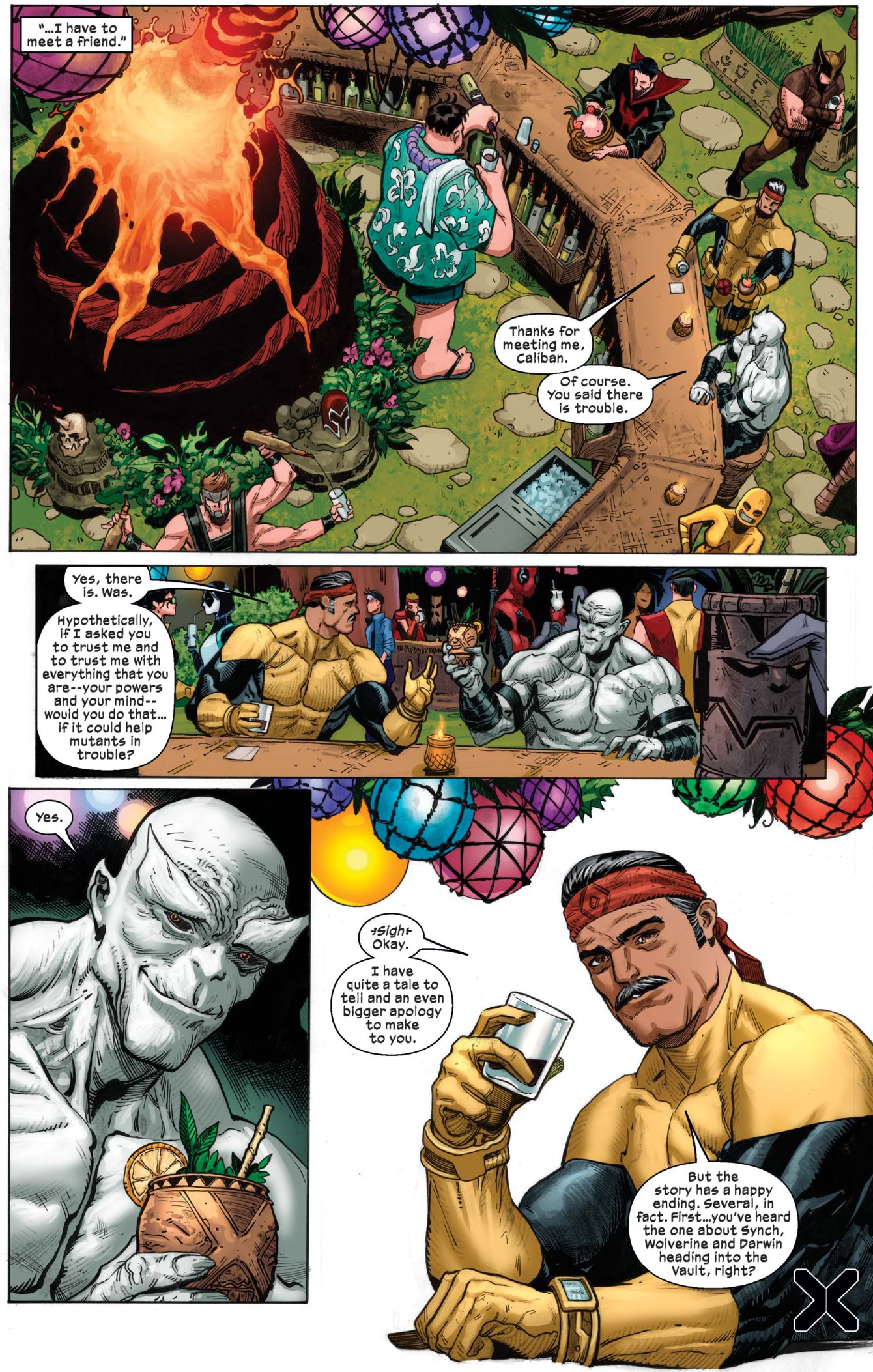 But you can bet there's more to come from Duggan's Forge! The biggest thing, at least with consequences beyond any one character, is Project Blackbox (as Xavier mysteriously called it in conference with Forge back in the 2022 Hellfire Gala issue, also by Duggan). If any outside party discovered this invention, what government or other adversarial agency wouldn't want a Matrix-style simulation trap outside an enemy's front door? Well, it's far from the first time we've seen a simulated reality in a comic book, let alone pop culture generally, but while it'll contain the Children of the Vault for the time being, what happens when they themselves hack it? After all, isn't that an inevitability? Hope Forge thought of some fail-safes!
I mean, if the Children have access to any mutant DNA, and they would, they should manage to figure out a way out of Forge's "vault" (which allows only mutants to pass through), once they get past the simulation trap. And Serafina now knows that the world outside is not what it seems. In fact, Serafina's whereabouts after this arc may be closer to Krakoa than anyone suspects…
Issue #16's last page is Forge's field notes, where he "humbly suggests" Tony Stark and Reed Richards be clued into to Project Blackbox's existence at the Vault site in South America. That's a good start! After all, the Children are a serious global threat.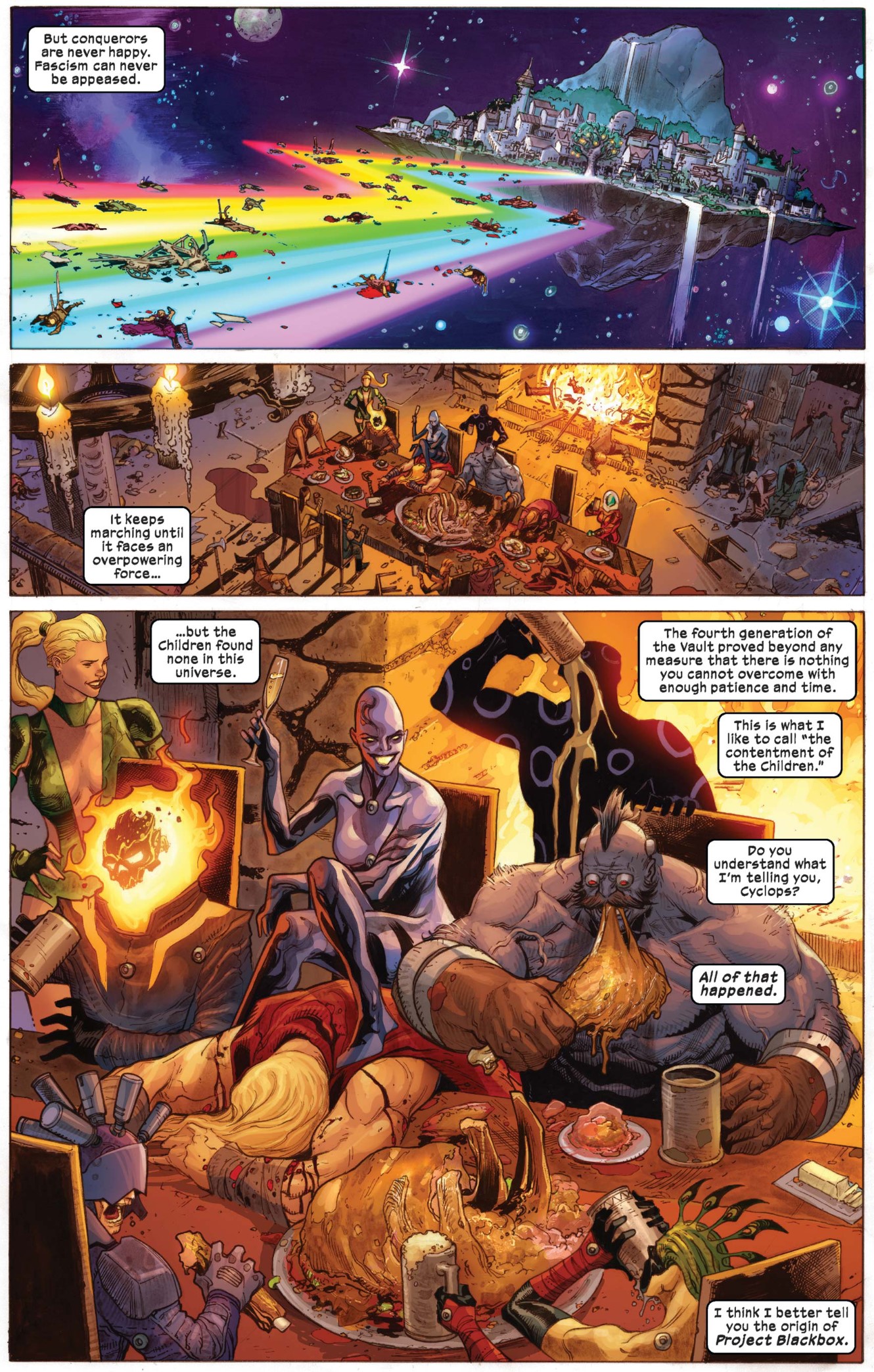 Obviously, there are many other things happening in these issues! All of them are beautifully drawn by Cassara, whose work on this title I largely prefer over what he did with Percy on X-Force and X Lives; we get to see what he can do outside of Percy's relentless grimdark.
This arc is a follow-up to my favorite part of Hickman's X-Men run—issues #18-19, in which Synch and Wolverine (Laura) escape the Vault, centuries after they'd entered it with Darwin in issue #5. Darwin's fate remained a mystery, except for Synch's knowledge that the Children had captured him and were running some sort of ghastly experiment on him to benefit their own evolutionary adaptations; and we're talking comic-book style evolution here, meaning they can now evolve even faster (and considering the acceleration of time inside the Vault, that's really fast). Laura's apparent death occurred off-panel, as she fought back and allowed Everett to make for the exit, but we do see him killed, albeit just outside the Vault, where he's able to shoot off a telepathic message to Xavier, allowing for his full backup at the moment of his demise.
Everett saw what was happening to Darwin, which was extreme torture, but he couldn't say he was dying, however much he'd like to have him back (as through resurrection). But he was certain that Laura had died, and so she was resurrected. Of course, she doesn't have any memory of what happened in the Vault, like her and Darwin's centuries-long love for one another.
Or, at least many of us assumed Darwin wasn't resurrected, since we haven't seen him since. However, Forge, when finding Laura, says, "I thought the Five only accidentally resurrected one mutant, not two." Three mutants were, in fact, resurrected in Hickman's X-Men #19, we just didn't see the third, who remained unnamed—meaning, we couldn't verify Darwin's resurrection.
At the end of Duggan's X-Men #16, however, Forge finds that now millennia-old Laura in the Vault, albeit in an induced coma. The team assumed that, using his mutant-tracking Caliban vest, he'd find Darwin, but alas, we still don't know what happened to him. So, now we have two Lauras!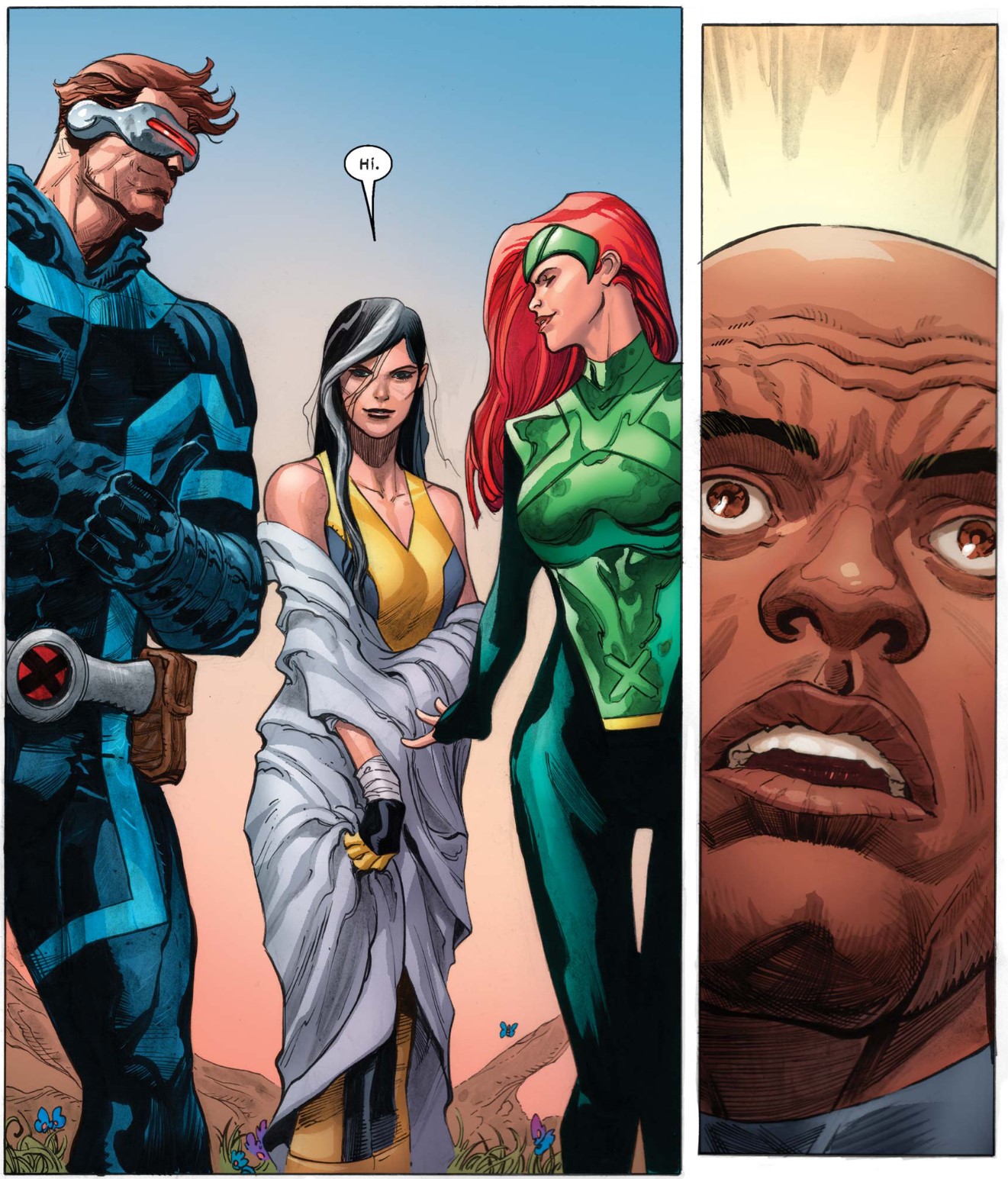 Of course, Scout is a clone of Laura, but they do not share the same memories. These two Lauras do have one identity in common, up until the "original" Laura's entry into the Vault. Obviously, Synch is ecstatic that his love has returned.
Why would Duggan make this story decision? In-universe, instrumentalist Forge feels his higher priority is finding Darwin—he has the means to retrieve only one mutant from the Vault. Is this twist in the story justified? In any case, Forge's confirmation of the "original" Darwin's continued existence comes later, when in issue #17, he appears to Forge in a simulated vision (of a utopian city-state version of Krakoa, appealing to Forge) that matches Project Blackbox's persuasiveness—he has long since uploaded his mind into the Vault's computer system.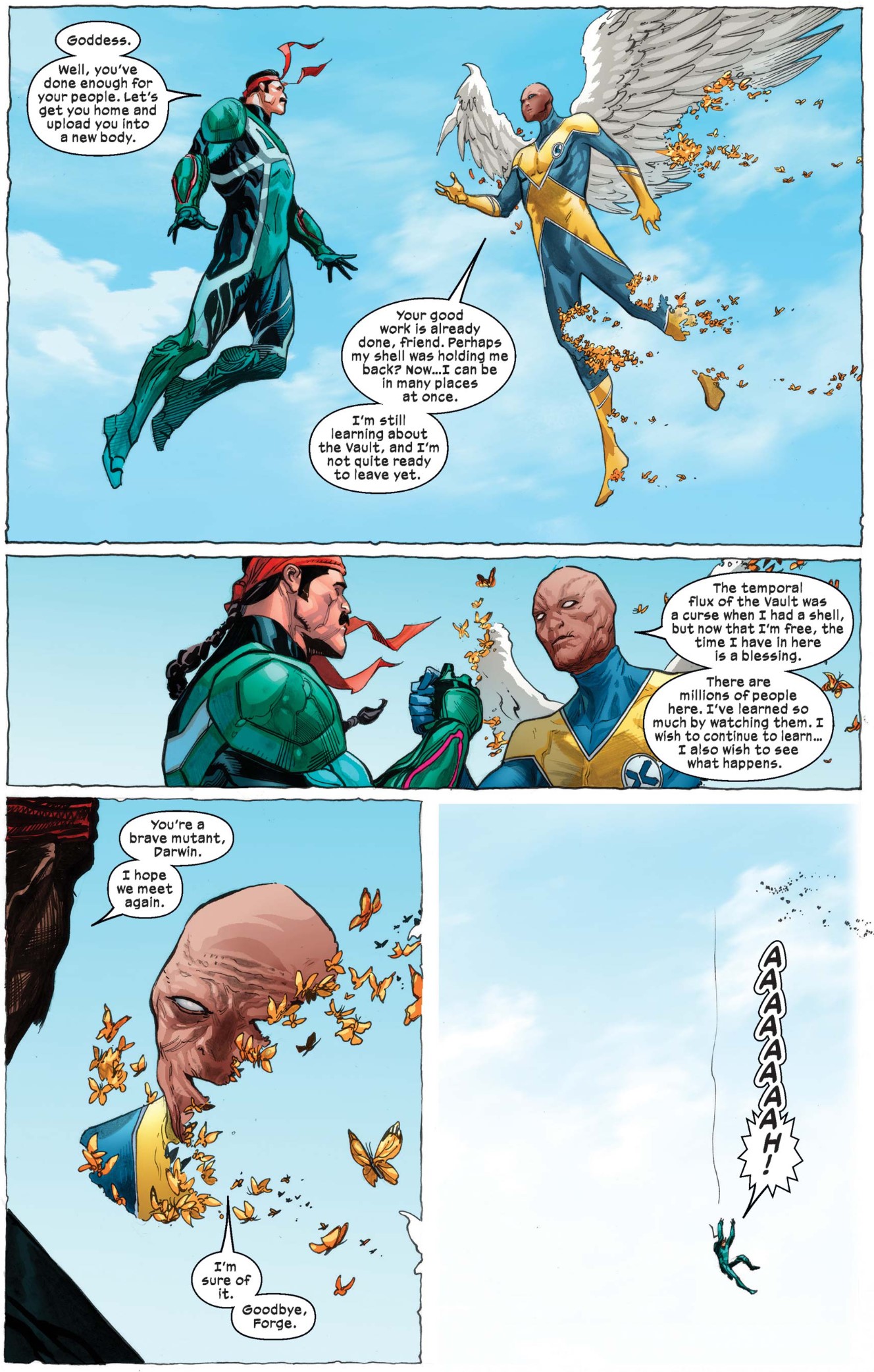 Now, if you think about this issue's last data page, a medical report from Cecilia Reyes, the implication is that Darwin somehow transferred himself to Forge's mind ("Now Forge's backups are larger than some of our most powerful telepaths") and then left Forge, unseen of course, for presumably elsewhere on Krakoa, leaving his erstwhile host's latest backup back to normal ("within the expected strike zone").
Where is he now? Again, we haven't seen him since. Still, Darwin was rescued from the Vault! It turns out, mission accomplished anyway! And hey, this isn't the first time a Marvel character meets their alt future self!
Or, maybe Forge's abnormally large backup coming out of the Vault wasn't Darwin hitching a ride but Serafina. After all, she is a mind-controlling technopath, as demonstrated to devastating effect with Cannonball in her debut arc, way back in X-Men vol 2 #188-192 by Mike Carey and Chris Bachalo (2006). Those cables plugging into Forge before his utopian vision of Krakoa, wherein he briefly communes with the digitized Darwin, could well have been Serafina's. She certainly looks much more "advanced" from the last time we saw her, so the notion that she, too, could stow away inside another mind does not seem far-fetched. That could mean the mutant nation is now open to sneak attack from both Nimrod and the Children. Thus, the "Fall of X?"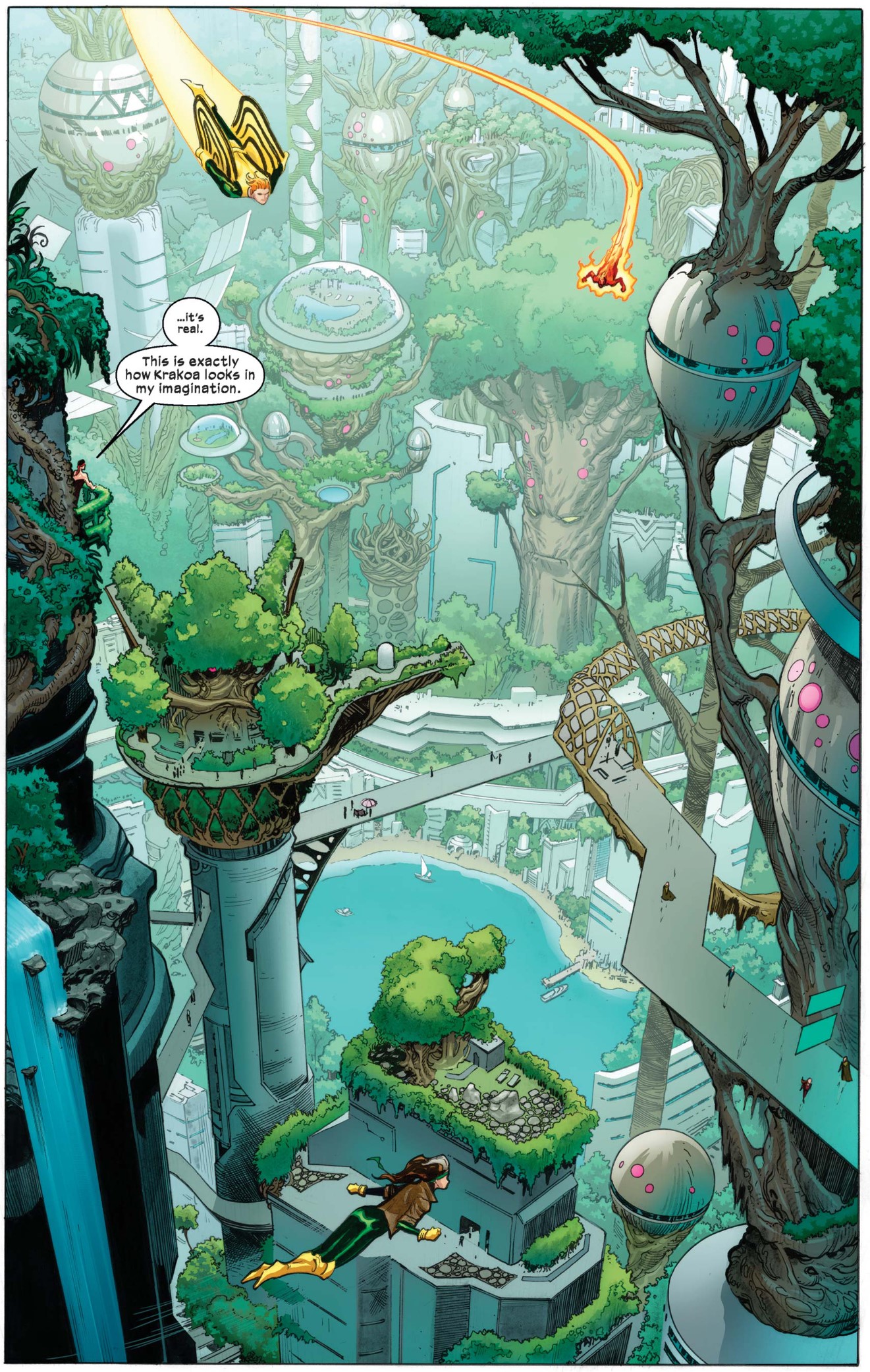 Anyhow, it is, of course, highly unlikely that Old Woman Wolverine (er, Talon?) will live out the year. But who knows. Seriously, Old Man Logan stuck around a lot longer. The more important question is whether both Lauras die and have their backups merged into the subsequent resurrected Laura. That would be a jarring experience, but hey, even this would be far from the first such identity merge in Marvel Comics (looking at you Jean/Maddie!).