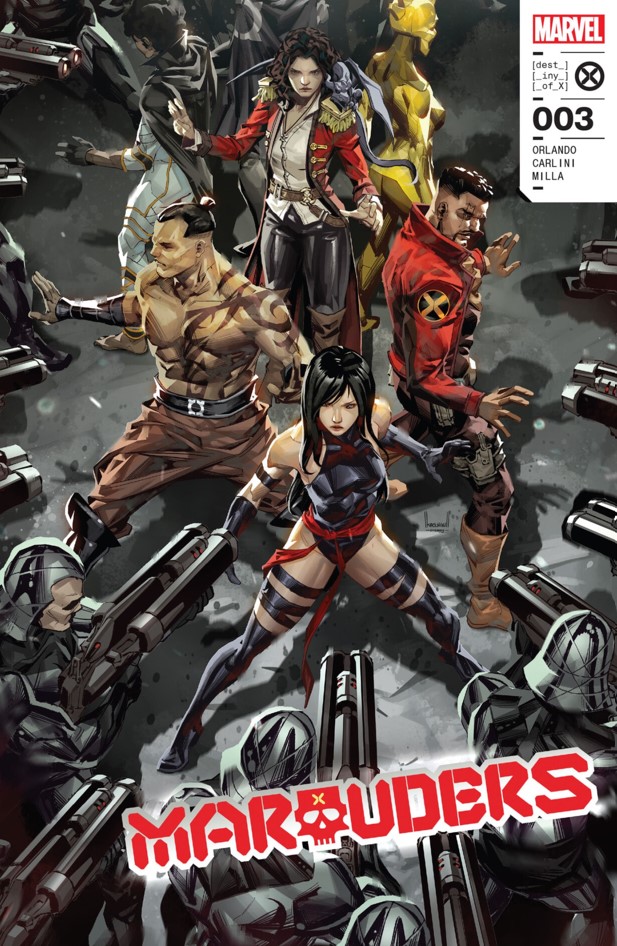 [cover by Kael Ngu]
Three issues, Steve Orlando and Eleonora Carlini's new Marauders title still promises to be fun, colorful and breathlessly action-packed. Much mystery remains, though how much that mysteriousness proves relevant beyond the pages of Marauders isn't clear. Orlando delights in the obscurest pulls and references from X-Men lore, and that's catnip to deep Marvel heads—but could this also be distracting us from the lack of gravity to the story so far, or maybe detracting from the story's broader potential relevance? Regardless, this series feels like it's shaping up to be a fresh take on Krakoan era adventure, a freshness that is otherwise sorely lacking elsewhere in the franchise. So far, this is quite a good comic, though it doesn't have the heft and epic scope of Immortal X-Men and X-Men: Red, nor does it involve and provoke like Sabretooth, and it doesn't promise the earnestly thoughtful and long overdue character reconstruction of beloved characters that New Mutants is doing for longtime fan faves who've been dealt too many bad hands.
All the same, Marauders is far ahead of the other books—all of them, notably, by writers who have been with Krakoa since the beginning. I'm not going to argue that all would be better if Hickman hadn't left, because that's a counterfactual we'll just never know the answer to, except that he wanted to leave, so he did. Where we are now, it's just a telling observation that following Hickman's departure, the Krakoan narrative has drastically loosened, is maybe in a transitional period of restructuring, and the storytellers who appear most ready to strongly define the franchise and carry it forward are all taking their first swings.
It could be that in a few months, as this newest stage of this new era—the Destiny of X—takes clearer shape, we'll find all the X books equally fresh and exciting. This is probably magical thinking. Still, it will at least be interesting to see how the various creative teams grapple with Hickman's legacy and the perennial dilemmas of this wonderful but ridiculously unwieldy franchise. One big question is: Exactly what kind of X-Men story do these writers want to tell? Hickman undid the franchise's evermore embarrassing narrative disarray with the hardest reset possible without a complete reboot. A move so radical wouldn't seem to be an option for the current writers. Chris Claremont, Grant Morrison and a few others remain clear inspirations, but those earlier creators had so much more runway, it's hard to see how the status quo won't soon fall back into a too-familiar pattern of hectic muddling through—now with Disney gatekeeping.
[Read more…] about Marauders #2-3 in Review! Uncertain Dynasty