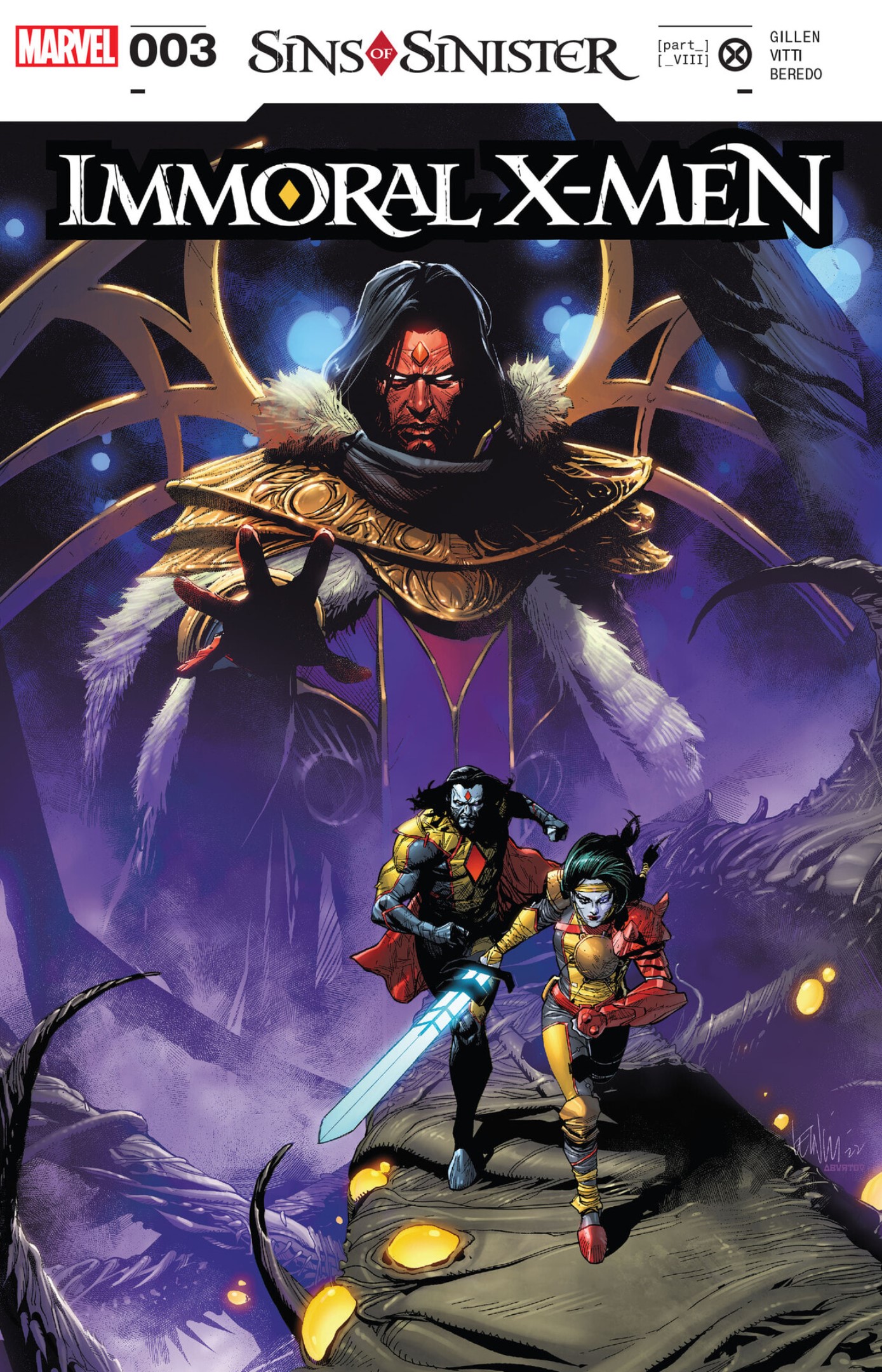 "Our Nine-Hundred-Years-and-Counting Mission"
Credits: Kieron Gillen writes; Alessandro Vitti draws; Rain Beredo colors; Clayton Cowles letters; cover by Leinil Francis Yu and Jesus Aburtov
A millennium into the Sinister Era—or rather, 900 hundred years into the Exodus Dominion (speaking only in the religious sense)—and our plucky heroes, Mister Sinister and his devoted servant Rasputin IV, are winding dramatically toward the conclusion of their centuries-long star romp, whose grim relentlessness must surely echo in tone the source of this issue's epigraph, literature's most embittered picaresque, Voltaire's Candide. The 1759 French novella is most pointedly a rebuttal of Leibniz's belief that our world must surely be the best of all possible worlds; this is actually the opposite a "multiverse" theory, since Leibniz was saying only one world is, it is this one and since God made this one world, why, it must surely be the best there could possibly be—so, Candide's cast parades through a sequence of real-world horrors, which they mostly happily rationalize as simply integral to God's miraculous natural order. And if our reality is so great, what does that say about the lesser options that might have been? Here's an answer:
Welcome to Sinister X-Men: Warhammer!
Imagine the most loathsome anti-life tendencies of religiosity multiplied throughout the galaxy via Prayerworlds, each a world engine of mindless devotion wrenched from tortured meatpuppet prayerbots to feed a giant Exodus—whose greatest enemy is the next closest Exodus on his own Prayerworld. Warhammer goodness, indeed. The Warhammer universe Emperor is somewhat akin to what we see here from Exodus, in that each day, a thousand souls are sacrificed to sustain his immortality and thus his endless war against heretics, and even mutants! There is no individuality left in this war-ravaged reality (A few years ago, Gillen himself wrote a Warhammer title for Marvel).
[Read more…] about "Sins of Sinister" Part 8: Immoral X-Men #3—in Review!