The Krakoan Era of X-Men comics has done tremendous work invigorating, resetting, creating, and returning characters. Magneto is the only major character in the franchise to die a Permanent Death. How could one of Krakoa's founders and a principal X-Men character be taken off the board indefinitely? Moreover, why?
Magneto's journey across this era mimics a full day. House of X & Powers of X are the dawn of his new epoch. He awakens, rinses himself clean of his past, and heads out into the world as a New God. From there, he spends the bulk of the daytime adjusting to Krakoa and its ramifications for his people, his family, and himself. During the daytime of his Krakoan story, Magneto tries to "build something…A great work. The great work" as he later tells Fisher King. That day at work is hard, harder than he imagines and, as dusk settles in, Magneto is left "shattered to pieces." The evening of Magneto's tale sees the breakdown of his triumvirate with Moira and Charles, the Trial he endures with his family, and the loss of trust between himself and his fellow Mutant. At night, Magneto lays down to rest but "[he does] not fear a life that ends" because he has raised up a new generation of political leaders to carry on and improve his legacy should he not wake from his sleep.
He did not wake.
That is how Magneto was taken off the board, but the reason why is more subjective. The Krakoan Era has revealed a lot about the three "traditional" leaders of Mutantkind that form the Autumn Seats of the Quiet Council: Apocalypse revealed his true self, [A], and the deep Mutant history that comes with him; Xavier has allowed power and secrets to reveal the depths of his narcissism and egomania; and Magneto struggles between his classic self (vicious, egomaniacal, and grandiose) and his best self (familial, heroic, and commemorative). His best self wins out in the end.
Since his story has come to a close, for now, I wanted to develop a comprehensive reading order for Magneto. Each issue below characterizes Magneto and his relationship with various characters. To that end, I have marked each issue with "thematic signifiers" to help guide reading. "Founders" marks issues that focus on Magneto and Prof. X and/or Moira X. Often, these issues demonstrate Magneto out front as statesman with Prof X., working in the shadows with the founding triumvirate, or both. Issues marked "Family" illuminate the complex familial relationships between Magneto and his relatives. Over the course of the Krakoan Era, his relationships with his daughters are an absolute treat, highlighting the importance of healing intergenerational trauma, and demonstrating the diversity of familial relationships people may have. While not family, Cyclops, Jean, Storm, and eventually Legion and Hope are marked as "Heirs" to Magneto's name. They aren't simply leaders of Mutantkind like the Quiet Council, but Mutants who take on Magneto's legacy by charting their own course and developing new blocs and movements within Mutant politics, specific to the Krakoan Era. Interactions with the current leaders of Krakoa are denoted as "QC" for the Quiet Council.
Support For Comic Book Herald:
Comic Book Herald is reader-supported. When you buy through links on our site, we may earn a qualifying affiliate commission.
Comic Book Herald's reading orders and guides are also made possible by reader support on Patreon, and generous reader donations.
Any size contribution will help keep CBH alive and full of new comics guides and content. Support CBH on Patreon for exclusive rewards, or Donate here! Thank you for reading!
Similarly, "GR" marks interactions with the Great Ring of Arakko. These two thematic signifiers often demonstrate Magneto's political maneuvering, for better or worse, and tend to be ripe with exquisite banter and charm. Frequently paired with "GR" is "Brotherhood" for the Brotherhood of Arakko. The "night" of Magneto's life cannot be understood without seeing him building the Brotherhood of Arakko with Storm and giving his legacy and the legacy of a "Brotherhood of Mutants" to her and Sunspot. "Community" marks the issues that demonstrate what Magneto means to his people and show him interacting with the broader community, negatively or positively. Lastly, "Illuminati" designates important interactions with the Illuminati. While never a member, Magneto is clearly of their caliber in the Krakoan Era and outright challenges their positions and authority in a time of Mutant ascendancy.
Here is the Krakoan reading order for Magneto:

Magneto: Dawn
This is the beginning of Magneto's journey into the Krakoan Era
House of X & Powers of X
1-6 (Founders, Community)
The dueling books, House of X & Powers of X, are absolutely necessary for the Krakoan Era and Magneto's journey, specifically. The story radicalizes Prof. X into a compromise with Magneto that will protect Mutantkind while also utilizing their resources to benefit humankind. We see the secret triumvirate between Moira X, Magneto, and Prof. X form, and learn the lengths they will go for their Krakoan Dream. Though we see his darkness with the triumvirate, we also see Magneto proud of the leap forward Mutantkind has taken and his resolve to protect their dreams.
Daytime – Covering the Dawn of X and most of the Reign of X, this is Magneto's time in the sun. He is building his nation-state and building his relationships with his family, community, and heirs.
X-Men #1 (Heirs, Family, Community)
While Magneto is not the main focus of this issue, he shows off his strength while assisting Storm and Cyclops in a fight against Orchis. In that moment and later on the island, Magneto is a mythic hero, Herculean in strength and stature, but as the Krakoan Age continues he is increasingly humanized and is far more likely to stand next to or take orders from Cyclops and Storm than fly above them. Polaris and Cyclops discuss how renewed he is and that reflects the healing that Krakoa can bring, if allowed.
X-Force #2 (Founders, Heirs)
Xavier's assassination is a moment of hardening for Magneto. It represents his worst fears about the Krakoa experiment, but he doesn't let those fears capture him. Instead, Magneto gives Jean her great mission: Proving Krakoa's feasibility by resurrecting Xavier. Through this mission, Jean embodies Xavier's declaration "No more."
X-Force #3 (Founders)
After Charles is resurrected, X-Force begins to form. Charles and Magneto give Jean and the rest of what becomes X-Force a new mission: Destroy Krakoa's enemies and deny all of it. The Founding Fathers of Krakoa encourage the darker natures of these Mutants just as their triumvirate with Moira X encourages them.
X-Men #4 (Founders, QC, Heirs)
X-Men #4 is one of the all-time best X-Men issues because it shows [A], Magneto, and Prof. X flexing on humans in their bastions of elitism. Magneto is confident and sexy as he checks the Davos attendees while eating steak. He even makes time to help Cyclops as they prevent another assassination attempt. Beyond the confidence, this issue shows growth from Magneto as he didn't turn to violence in response to the threat of violence. He doesn't need petty violence to demonstrate that humans have New Gods; he just tells them they do.
X-Factor #1 (Family, QC)
X-Factor #1 shows Magneto doing the business of governing with his fellow Quiet Council members, but it also uses his relationship with Polaris, or lack thereof, to foreground her character arc. Their relationship would be furthered in X-Factor #4, but the audience sees just how little connection they have. He can't even describe her personality when asked. Magneto becomes an audience surrogate in the moment as they both begin a journey to understand who Polaris is and how she will relate to her father going forward.
X-Men #6 (Founders, QC)
While this issue is primarily a Mystique spotlight, it shows the darker, dehumanizing side of Xavier and Magneto. From statesmen in X-Men #4 to co-conspirators here, this issue shows the ugly side of Krakoa, the alliance of its founders, and the shadow the 10 Lives of Moira X casts on their outlook. Despite the good found in Krakoa's ascension, when with Prof. X and Moira X, Magneto seems to shift from hero of Mutantkind to puppeteer. He more resembles Prof. X's peers in the Illuminati than an X-Man.
X-Men/Fantastic Four #1-4 (Founders, QC, Illuminati)
"It is a current priority for the mutant nation of Krakoa to protect and nurture its greatest natural resource: Omega level mutants". That imperative pushes Magneto and Prof. X into conflict over the allegiance(s) of Franklin Richards. Kate Pryde acts as the humanizing foil to these two because she sees Franklin Richards as a person not just a "natural resource" in service to Krakoa. Once again, the objectifying tendencies of the Founding Fathers is put on display. It is furthered when they confront Mr. Fantastic about his "x-gene masking" technology that he employed on Franklin. Prof. Xavier removes the idea from his mind and, through his ruthlessness, reminds the audience that he is as serious and committed to Krakoa as Magneto.
Wolverine #3 & #4 (Community)
These issues are not italicized because they are not essential to Magneto's journey in Krakoa but do feature the complicated but sometimes amicable relationship between Wolverine and Magneto. Seeing the ever-serious Master of Magnetism be jovial and joyous over drinks and later embarrassed by Wolverine in The Grove was humanizing and a reminder that, for all his grandeur, he is still just a man.
X-Men #11 (Community)
Jonathan Hickman perfectly spotlights Magneto as both a hero to his people and am admirable superhero for the audience. The utilization of the Empyre event here is brilliant and should be the standard. Magneto is commanding, sexy, and even funny in this issue. If a reader couldn't buy into Magneto as a hero before, this is the issue to point them to. His viciousness and brutality are in service of a greater good, the embodiment of Krakoa's promise.
X-Factor #4 (Founders, QC, Family)
X of Swords represents the first test of Krakoa with [A]'s secret, magical schemes revealed, Resurrection Protocols endangered, and the threat of Amenthi invasion looming. Once again, the darker, colder side of Magneto is revealed in his interactions with Polaris and [A]. He seemingly can't help being unempathetic as Polaris struggles to remember the prophecy and [A] lays close to death in the Healing Gardens. It is hard to observe after issues like X-Men #11 where Magneto's love for his people is on full display, but that duality is what makes him a compelling character.
X-Men #13 (QC, Family)
This is another non-essential issue where Magneto is a minor character. That said, we have a wonderful moment of Magneto supporting Polaris as she restraints [A] during his physical outburst. It contrasts X-Factor #4 by showing him as a supportive and collaborative father.
X-Men #15 (QC, Heirs)
The choice to separate the X-Men from the Quiet Council is born here. While other Quiet Council members, like Sebastian Shaw, care little for the personal pressure Jean Grey and Cyclops are under with Kid Cable in the Contest of Swords, it is clear that Magneto and Xavier empathize. They also recognize that they do have a nation to govern and cannot risk the collapse of the Krakoan government in Otherworld. The Founding Fathers take the rejection of the Quiet Council's rules and desires by Scott and Jean with a smile; their "children" have grown up and are stepping out into the world ambitiously.
X-Men #16 (QC, GR, Founders, Heirs)
There is always something delightful about seeing Magneto and Prof. X humbled after so many moments of grandeur and grandstanding and this issue is chock-full of that. The arrival of Arakko and its millions of Mutants shocks them, Isca's rebuke on their Krakoan Goodwill Trip, and Cyclops and Jean rejecting their council invitations are all great reminders that the Founding Fathers are just men attempting to play a great game, not gods orchestrating their master plan. It is an important moment for Magneto and Prof. X to be reminded that Cyclops and Jean are the next generation of Mutant leaders in their own right, not obedient successors.
S.W.O.R.D. #1 (Community)
Valerio Schiti and Al Ewing open this issue with Magneto flying himself to the S.W.O.R.D. station in case anyone needed a reminder that he's a badass. We also have some adorable interactions with Kid Cable who serves as the audience surrogate as he fanboys over Magneto. Most importantly, the conversation between Magneto and Abigail Brand sets the stage for X-Men: Red and the eventual confrontation between Brand and Storm, one of Magneto's heirs.
S.W.O.R.D. #2 (Community)
S.W.O.R.D. #2 offers multiple moments of reflection from characters like Fabian Cortez and Frenzy. These serve as reminders that Magneto isn't just a contemporary character or hidden away in The Grove; he is a major figure in Mutant culture who has influenced and impacted the lives of multitudes of characters.
S.W.O.R.D. #5 (QC)
Building from issue #2, Magneto gives Fabian Cortez the chance to speak about the Murder No Man law of Krakoa. This issue feels like an entertaining Congressional hearing as Fabian understands himself to be the star, only to find himself embarrassed by Magneto, Peepers, and breakout star Khora of the Burning Heart. Magneto's performative nature is on full display but so is his growth from the days of being manipulated by Mutant Snake Oil Salesman, Fabian Cortez.
Way of X #1 (QC, Community)
Nightcrawlers' anxieties surrounding Crucible bring him into conflict with Magneto. Spurrier's writing positions Nightcrawler as being sensible and Magneto as being brutish and violent but then flips the script. Nightcrawler's earlier dismissal of Lost and his rejection of Crucible have led Magneto to perform the violent ritual. There is plenty to be said about Magneto's propensity for violence and the violent nature of Crucible in general, but Nightcrawler's inaction is also a choice with serious consequences for Lost. It is easy for him to philosophize with the Quiet Council or in the Narthex, but the hard, dirty work of nation-building and governing happens out in the world.
X-Men #20 (Founders, QC)
The Founding Fathers once again objectify Mystique in their quest to stop Nimrod and prevent Destiny's resurrection. The idea that Prof. X and Magneto were holding Mystique's wife hostage was disgusting on its face, but the reality that it was in service of Moira X's anti-Mutant designs is even more tragic. It's almost Shakespearean that Prof. X and Magneto are preventing Destiny's return when she is the one who will save Mutantkind from Moira. Their trust in Moira X turns them into clownish puppets, but their disdain for Mystique turns them into cruel ones.
Giant-Size X-Men: Magneto (QC, Illuminati)
With the knowledge of the Hellfire Gala and Planet-Sized X-Men in mind, Giant-Sized X-Men: Magneto is an early preview of the lengths Magneto will go to serve his people. His relationship with Emma Frost is deepened here as they engage as equal rulers of Krakoa and exchange favors. The turn in their relationship in Inferno would be surprising if it were Magneto by himself but it is with Prof. X and Moira X, which always renders people into pieces on a chessboard. Similarly, Namor treats Magneto like a subject of his kingdom and not an equal. Ideally, this would remind Magneto to not be like Namor and center the personhood of his fellow Mutant, but it will take more tragedy and distance from Charles Xavier for that shift to take place.
X-Men #21 (Founders, Illuminati)
After building Mykines, Magneto strolls into the Hellfire Gala in kingly regalia. Though dressed like a ruler, he is not treated like one by Namor who chooses the Illuminati over Mutantkind. There's a beautiful irony to Namor's belief that he is better than Krakoa. What he thinks is "just an island" later becomes one piece of "a single archipelago in a sea of stars" in Planet-Size X-Men. Though disrespected, Magneto maintains a quiet confidence because he is playing a much bigger game than Namor could ever imagine.
Hellions #12 (Family)
The Hellfire Gala offers moments of relationship building and engagement between a variety of Krakoans. Seeing Polaris and Magneto interact or, more hilariously, Magneto interact with the Hellions is a treat. The self-serious Master of Magnetism, on the biggest night in Mutant culture, is not a good fit for the likes of Nanny, the Orphan-Maker, or Havok
Planet-Size X-Men (Founders, QC, GR, Heirs, Community)
Once again, Magneto is center stage as he does what he does best: Use his powers to build for Mutantkind. From planning to execution, the terraforming of Mars is Magneto's brainchild. He understands the scale that Mutants must work and think at to survive this new age. Planet-Size X-Men feels like the synthesis of Magneto's prior story beats from being rejected by Isca the Unbeaten to building Mykines island for Emma Frost. He works in concert with his fellow Omega-level Mutants to resurrect the cold, red dirt of Mars to provide refuge for his Arakkii cousins, but also lets his ambitions flourish as Krakoa declares the planet the Capital of the Sol System. In terraforming Mars, Magneto also creates the physical space for Storm's ascent as the Voice of Sol and the building of her own major faction of Mutantkind.
S.W.O.R.D. #6 (Heirs, Family)
The portions of this issue about Storm don't seem to directly relate to Magneto's journey, but her ascent to Regent of Arakko and Voice of Sol is critical to his later stories. Storm is becoming a historical leader of Mutantkind much like Prof. X, [A], and Magneto just as Magneto begins his journey into the winter of his life. The arrival of the Scarlet Witch and her death, later in X-Factor #10, send him down the path that leads to his retirement to Arakko, submission to Storm as a leader, and eventual heroic death.
X-Men: The Onslaught Revelation (Founders, QC, Heirs)
Like S.W.O.R.D. #5, The Onslaught Revelation deals with Magneto's legacy as a leader through Fabian Cortez and, like S.W.O.R.D. #6, deals his children in Onslaught. Way of X begins with Magneto challenging fellow Quiet Council member, Nightcrawler, to be a man of action, and, in The Onslaught Revelation, Nightcrawler returns the favor. Though not the central character of Way of X and The Onslaught Revelation, Magneto's legacy is at their heart. It was Magneto's Acolytes that introduced the world to the bereft Fabian Cortez who leeches off of Magneto in spite of his additive power. Fabian's downward spiral after being fired in S.W.O.R.D. #5 manifests here as he finally faces his actions and his own emptiness. Similarly, The Onslaught Revelation deals with Magneto's offspring like S.W.O.R.D. #6, but this time it's Onslaught himself. In some ways, The Onslaught Revelation offers a prelude to Inferno by forcing the audience to deal with messes that Magneto and Charles create when they're together. Their blind spots in Resurrection Protocols and in the culture of Krakoa threaten to burn the entire island down, but thankfully Nightcrawler is looking for snakes in the garden of Eden. Moreover, Charles's ultimate blind spot, Legion, helps Nightcrawler by creating an astral Eden for his fellow Mutants to heal in. Magneto will come to need Legion and his Altar during Judgment Day; solidifying another heir to his legacy.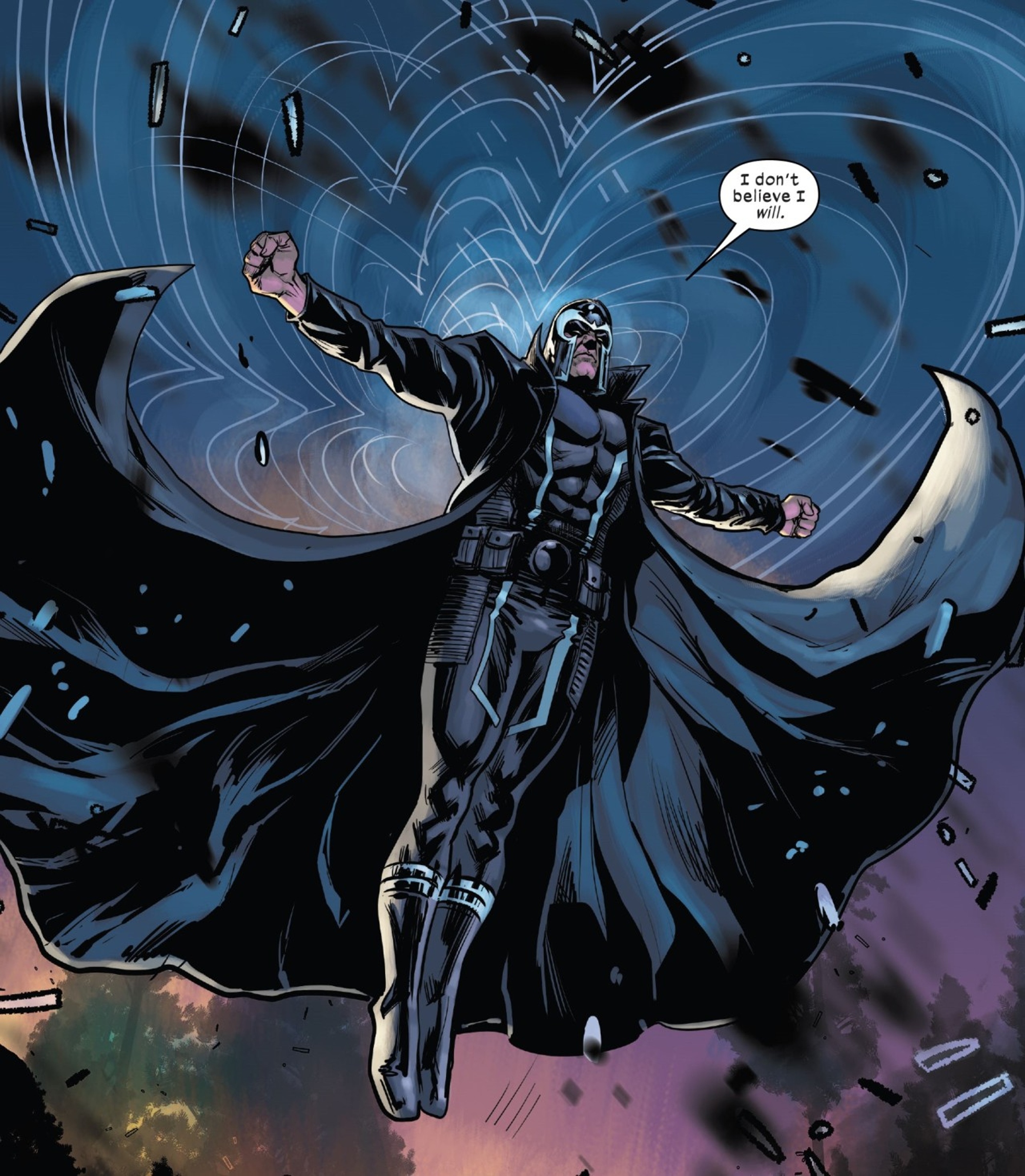 Magneto: Evening
The following issues see a breakdown of the boundless joy of Krakoa and darkness fall over Magneto and his great work. These issues cover the end of Reign of X into the Destiny of X eras.
X-Men: The Trial of Magneto #1-5 (Founders, Family, QC, Heirs)
Throughout the Krakoan Era, we have seen Magneto battle between his darker nature and his heroic, idealized self. The viciousness with which he fights his fellow Krakoans, nearly kills Prof. X, and denigrates Polaris is both real and a mask he wears to hide the pain of the death of the Scarlet Witch. More than her actual death, Magneto is grieving their painful and traumatic relationship. Her redemption is only through trial and more pain, and the only way he can execute his plan is by dressing in his all-black costume and feigning murderous contempt. It's an act of masochistic self-flagellation to convince everyone that he might have killed his daughter and obscure their deeper scheme. He believes he can take their hate. It is clear by his tears at the end of issues #5 that he cannot and that his violent tantrum is all performance to hide the pain of not being an adequate father to any of his children, particularly Wanda. His inadequacy has gotten her killed in a scheme that, like all of his and Charles's schemes, never goes as well as planned. This series is the chickens of his publication history coming home to roost and an omen for the burns to come in Inferno. While Scarlet Witch is redeemed and Magneto is exonerated, it's important to note that this is done through sacrificing Toad, another piece on the chessboard. Lastly, we see the relationship between Hope Summers and Magneto develop as she asserts her own capacity as the catalyst for Krakoan Resurrection.
Hellions #18 (QC)
Much like X-Men #15, the readers of Hellions #18 are caught between the emotional attachments to the cast and the recognition that Krakoa must be a place of laws. It's painful to watch the Quiet Council sentence Nanny and the Orphan-Maker to the Pit of Exile while understanding that these are the consequences within the unjust criminal system of Krakoa. While not essential, this issue sets the stage for Victor LaValle's Sabretooth and the further breakdown of trust in the Founding Fathers. There's also an important moment between Emma Frost and Magneto at the end wherein they recognize that Mr. Sinister is "a cancer" within their society and will only cause them further harm. Like Giant-Size X-Men: Magneto, we see what could be an equal relationship between the two, and a possible triumvirate with Prof. X, but Magneto's participation in the Parents of Krakoa (Moira X and Prof. X) will always make that impossible.
Inferno #1-4 (Founders, QC)
While fighting Nimrod and Omega Sentinel with Prof. X is one of Magneto's finest and most badass moments, he is otherwise unheroic in Inferno. Magneto is too caught up with the other Parents of Krakoa, their secrets, and their dehumanizing puppetry to act in an ethical manner towards Emma Frost, Mystique, or Destiny. In fact, Magneto and Prof. X even extend their paternalism to Moira X as they track her movements because she is "too important to lose," only for them to lose her to Mystique and Destiny. There's something funny about Magneto trying his hand at grand schemes with Charles and failing so spectacularly; it's not in his nature. He is a warrior and, at the best of times, he is a hero. Inferno punishes him in a Shakespearean manner for abandoning what makes him great just like in The Trial of Magneto. He burns bridges with other Quiet Council members, turns Moira X into an enemy of Mutantkind, and gets himself killed attempting a Game of Thrones that he has neither the skill nor inhumanity for. It is sad to read the same man who, in X-Men #1, promised the children of Krakoa that he would protect the island from all enemies nearly cause the downfall of Krakoa through his conspiracies against his fellow Mutants.
Sabretooth #1-5 (Founders, QC, Community)
The twilight of Magneto's Krakoan story is rooted in an over attachment to Prof. X and his methods. Their relationship feeds Magneto's worst instincts and the criminal punishment system of Krakoa is no exception. The Founding Fathers believe that they have the carceral system of Krakoa under control but, as we see in Inferno and Trial, they are not remotely in control. Sabretooth shows how the news of The Pit of Exile and the "judicial system" of Krakoa stains Prof. X's reputation, but the same can be imagined for Magneto. The difference is that Magneto's reputation is balanced by great acts like defending the island during Empyre and terraforming Mars.
Immortal X-Men #1 & #2 (QC, Heirs)
Magneto's retirement from Krakoa and replacement on the Quiet Council by Hope Summers demonstrate a hero in pain. It's not clear that Magneto ever realizes that his pain is caused by living in the realm of conspiracy and politics, not in his living on Krakoa itself. He has forgotten that he is a mythic hero, but he never loses his heroic instinct to protect the island. His fight with Storm against the kaiju foreshadows their Mutant Circuits later in X-Men: Red but also the renewed focus on their relationship. With Storm, he performs his last great acts in the eyes of Krakoa and prepares to pass the torch to her. She sees his greatness despite the secretive games he has played with the Quiet Council.

Magneto: Night
Magneto's "night" is dark as he lives out his last days before laying to rest. All of his actions and stories in the Krakoan era are synthesized as he prepares to pass his legacy on to the next generation.
X-Men: Red #1-4 (GR, Heirs, Community, Brotherhood)
With Storm as the leader of the Brotherhood, Magneto is able to focus on his true role: Being a hero to his people. Magneto's heroic acts aren't simply fighting with the Arakkii against the Progenitors. His deepest act of heroism is killing Tarn the Uncaring, who effectively ran concentration camps during the Amenthi occupation of Arakko. Magneto becomes the hero he needed during his time in Auschwitz. Though he sees his retirement to Arakko as an admission of failure, Magneto is actually freeing himself from conspiracies and games and can fall into his nature as a hero. His journey mirrors Storm's as she rejects being the "Queen of Mars" to be something better and more natural to her: A hero. Magneto claims himself "a fool" and "a failure" with "nothing to say…nothing left" but in that bereft state, he is able to find his true self. With that at the fore, he deletes his backup and becomes a warrior, a hero of Arakko.
A.X.E. Judgment Day #1 (QC, GR, Brotherhood, Heirs)
Magneto makes a small cameo in A.X.E. Judgment Day #1 which is expanded upon in X-Men: Red and subsequent A.X.E. issues. What's most important is that his final day starts by relaxing with Cable and Storm; he feels joyous and content prior to Nightcrawler's arrival. The news of the looming Eternals threat makes Magneto serious because he understands that like humans, the Eternals are threatened by Mutantkind's ascension. Powerful but marginalized people stepping into the fullness of their power will always threaten the traditional hegemons, and Magneto knows that deeply. Issue #1 of this event also introduces audiences that have not been reading Eternals by Kieron Gillen to Uranos the Undying, the ultimate enemy for Magneto. Similarly, the audience is prepared for the role that Cyclops and Jean Grey will play defending Krakoa while Storm leads the defense of Arakko. His heirs are prepared to lead and protect their people.
X-Men: Red #5 (GR, Brotherhood)
The attack on Arakko was known already but the consequences for Magneto were despair inducing. The Hour of Uranos is filled with horror and destruction as he lays siege to Arakko, the great trauma of their people. For Magneto, the industrialized mass murder that Uranos unleashes is the return of his great trauma too and he will not stand for it. In this moment, he does not stand alone as he fights with the Great Ring but also the Brotherhood that he created with Storm and Sunspot fights for Planet Arakko and its guests. It is further developed in issue #6 but Magneto is executing the first Omega-level Mutant Circuit among Arakkii Mutants in years, possibly centuries. Though they do not succeed in stopping Uranos or his armories, it is narratively critical that the institution they built holds fast for Arakko even without Storm and Magneto leading them. Especially without Magneto to lead them. In this hour of horror, Magneto's heart is ripped from his chest meaning that the Brotherhood will have to carry on long after his death. For Magneto and Arakko, night has fallen.
X-Men: Red #6 (GR, Heirs, Community, Brotherhood)
Though Storm begins this issue leading the defense of Arakko, it is truly The Hour of Magneto. Magneto pulls off his greatest feat thus far: Using his magnetism to pump the blood in his body as a replacement for his heart. Yes, that is his greatest skill with his magnetism because it requires finesse and pure conviction. To be the Master of Magnetism is to resuscitate oneself and continue to fight even as die. This is the culmination of Magneto's story. It's not the grand acts of moving The Peak or building Emma an island; it's fighting past death to defend a planet of Mutant refugees from a genocidal madman. Being that Uranos has returned to The Exclusion, Magneto and the rest of Arakko must focus on saving as many people as possible and defeating Urano's death machines. To that end, Magneto and Storm take their rule breaking to new heights as she syncs her powers with his to keep him alive and boost his output. It is beyond a Mutant Circuit; they have become one interdependent fighting force. It is an act of grandeur and humility that embodies the night of Magneto's life. He is full of power and skill yet willing to sublimate his ego to be the hero that Arakko and Earth need.
Legion of X #6 (Heirs)
Some of this issue takes place at the beginning of the attack on Arakko wherein Legion fights Uranos. Like many young men, Legion desires a hero's death, to be a legend in martyrdom, in the hopes that maybe then he will have purpose and also acknowledgement by his father. Instead that title goes to Magneto, and it should. It's the older, wiser members of the community that should give their lives to protect it, not the young people with so much more life to live and such recklessness that they might throw their lives away. As Magneto marches off to his death, he leaves the defense of Arakko to Legion because he is the only one who can do it. Between destroying the death machines and securing people in The Altar, Legion is the only one who can provide the violence and safety needed to survive Judgment Day and Magneto trusts him. In that moment, Legion inherits Magneto's legacy on Arakko.
A.X.E. Judgment Day #4 (GR, Heirs, Illuminati, Community)
Magneto appears in this issue after Uranos begins to burn the world to the ground. The perpetrator of omni-genocide is faced with the survivor of two genocides and his heir. It is important to note that Storm and Magneto would not have been able to fight Uranos in his armories if not for Tony Stark. Despite the tensions with the Illuminati at the first Hellfire Gala, years of villainy by Magneto himself, and years of strife between Mutants and Humans, it is through collaboration that they save the world. Magneto is not shrouded by the darker portions of his nature or delusions of the supremacy of Mutantkind. He is driven by his core desire to be a hero and the recognition that Uranos is his devil. Most importantly, despite all of the scheming with Prof. X and Moira X, Magneto remains true to his word and allows himself to die. He fights like a man that does "not fear a life that ends." He leaves the world and the audience with the best of himself and is rewarded with the sight of the daughter he thought lost, Anya. The Progenitor eulogizes him astutely by saying "I think if all were like him, there would be no need for men like him".
X-Men: Red #7 (GR, Heirs, Brotherhood)
"In the heart of the Earth" Magneto gives Storm his legacy. He has watched as she renewed the name "Brotherhood of Mutants," took him at his lowest, and pushed him to be a hero of Arakko. In the night of his story, Storm lays Magneto to bed with the promise to keep his dream alive when she wakes in the morning. Much like the Curse of the Quiet Council, knowledge of Moira X, Magneto gives Storm a charge that is as much a duty as a curse: She must protect Krakoa and Mutantkind from Prof X. With Moira X sided with Orchis and Magneto dying, Charles has no countervailing force. Magneto has always been the equal and opposite force to Prof X.; he is willing to be understood as "bad" for Mutantkind just as Prof. X is willing to do anything to be understood as "good." Storm is the synthesis of their wills, much like Jean, Legion, and Cyclops. Moreover, Storm has led the "undesirable" Mutants that Prof. X never could or would, whether that's the Morlocks or the Arakkii. She has seen the need to be more than just a "good Mutant" but a hero, like Magneto.
Storm takes this legacy right to her and Magneto's foil: Isca the Unbeaten. Isca who stands alone, Isca who has betrayed Arakko more than once, Isca who cannot see beyond herself. Storm makes clear that they would all fight Isca even if they would lose, like Magneto just did with Uranos. Isca cannot be beaten but she will never know what it is to be a hero. Fisher King, Magneto's close friend, makes this clear by challenging her "to a contest of understanding" where the winner "is the one who most truly understands the meaning of loss." It is important that Fisher King, possibly Magneto's first human friend in decades, challenges Isca. Like Magneto, he is not afraid of a life that ends and, further like Magneto, he knows loss. Magneto's shadow looms large as Isca resigns from the Great Ring; he was more of Arakko than she ever was because he could lose and has lost so much, so many times. While she betrayed the Great Ring and killed Idyll, Magneto jumper-cabled himself back to life to keep fighting for his Arakkii cousins; while Isca denigrated others for being weak or ugly or small, Magneto stood tall for those who could not; while Isca and Tarn violated their fellow Mutants in the Abyssal Prisons, Magneto honored his people killed in the Holocaust and on Genosha by taking down Uranos; and while Isca murdered Sunspot for challenging her, Magneto embraced his former student's challenge and stood against Tarn for all of Arakko.
Storm's last act recognizes Magneto's troubled time as a Founding Father by yielding the Seat of All-Around-Us to Lodus Logos. She lets the Arakkii's greatest artist and dreamer decide their future and embraces Magneto's legacy by taking the Seat of Loss, his last title, to stand when all else on Arakko has fallen, just as he did.