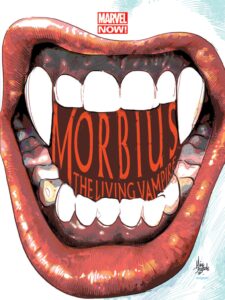 The Morbius (2013) series seems to come a bit out of left field, considering that the last time we'd consistently seen Michael M. had been back in the early 1990s with Rise of the Midnight Sons. Receiving a hard push into his own series roughly two decades later with a new costume and a full superhero makeover may have seemed like an odd move because… it was!
Morbius isn't a character who works particularly well as a superhero—he's much better-suited for horror-adjacent solo series or guest spots in the books of more traditional heroes like Spider-Man. Yet Marvel NOW! was all about bringing old concepts into the modern age whether they liked it or not, so we ended up with a fairly unusual short-lived Morbius solo that sometimes works, though it often does not.
Covering Morbius (2013) #1-9 [Read more…] about Marvel Then: Morbius Moves Forward in Marvel NOW!