Norse mythology is rife with bizarre imagery and legends about the war-mongering tendencies of the gods. Outside of Marvel's necessarily cheerier take on the Norse tales of old, many creators have found themselves inspired to explore their more upsetting elements. Some books effectively serve to show the effects of long-term war on a person, as in Heathen
, while others offer an examination of some of the negative, or at the very least self-important, aspects of the gods, as in The Sandman.
In A Wave Blue World's Bloody Hel
, the story takes us into the trenches of WWI, drawing a connective line between the majesty of the myths and the filth, pain, and lack of a clear purpose that many on the front lines are forced to bear in global wars. A story that manages to be both introspective and epic, this is a comic not to be missed for fans of mythology, war history, and/or tightly-paced single-volume comics.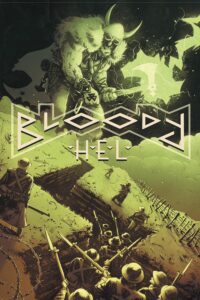 Old Gods of War Meet Modern Warfare
The story for Bloody Hel was created by Clayton McCormack and Daniel Edelman, while the comic itself is told by McCormack and colorist Russ Badgett. The comic kicks off in the gory trenches of WWI with limbs quite literally flying through the air in a late-night, rain-trodden battle. We watch people die en masse, then flashback to earlier that day, where our protagonist Anderson is forced into backbreaking labor as he questions the validity of the war he's fighting. Growing complacent, he suggests that a man uses a dead man's half-shattered helmet for protection. As the day commences, he witnesses a great deal of death and is ultimately sent on a suicide run. Fighting for his life, he sees a great wolf in the fire, who fans of Norse mythology will guess to be Fenrir, the offspring of Loki and Angerboda.
At this point, the story flashes back to the rise of Henrik, a conqueror whose army sails the cold, foggy seas from township to township, instilling terror across the land. When his peer, Astrior, notes that he should wear a fallen king's crown proudly, he notes that they are simply "picking the bones of ragged kingdoms" as he tosses the crown into the sea. Henrik seeks to make a "gilded stranger" his queen, but she reveals herself as Death itself and swears he and his fellow Vikings will never reach Valhalla, cursing them to a death-like forever life "until Ragnarok." Taking this modern times to be just that, they awaken on the battlefields of WWI.
"It Could Have Been You."
The narrative does nothing to lessen the horror of war, and in fact, forces readers to deal with it regularly. When a mass grave of French soldiers who died taking the very land the British troops are fighting for, Anderson is disgusted. A fellow soldier urges him to show some respect only to be graphically shot in the head by a sniper mid-sentence. The gore and the grime that real-world WWI soldiers lived and died in is well-communicated as the story absolutely refuses to glorify the brutality of these battlefields.
Support For Comic Book Herald:
Comic Book Herald is reader-supported. When you buy through links on our site, we may earn a qualifying affiliate commission.
Comic Book Herald's reading orders and guides are also made possible by reader support on Patreon, and generous reader donations.
Any size contribution will help keep CBH alive and full of new comics guides and content. Support CBH on Patreon for exclusive rewards, or Donate here! Thank you for reading!
In a quote to Comic Book Herald, McCormack noted that the focus on Anderson as someone who is forced to experience life-altering horror that he personally fails to see the point of is integral to the story being told. "As an infantryman in WWI, Andersen is in a position of being extremely powerless," McCormack notes. "I wanted to put him into a situation where he's surrounded by all the power he wishes he had, and see how/if that changes him throughout the course of the story."
Even the mighty warriors of old are forced to confront their own ghoulishness. As they tear open the battlefields of earth, Astrior glumly notes, "there is no glory in this." Their gods remain distant and uncaring, removed from the blood and guts that they are mired in. In this fight, it all comes down to individual choices. Not simplifying the matter to "kill or lay down the sword," the story offers another course of action – consider who it is you fight for and why.
As for why this story leaned into juxtaposing relatively war-glorifying mythology with the gory realities of WWI, McCormack notes that the dissonance between these two things is a major part of the story. "What appealed to me about mixing Norse mythology/Viking legends with WWI was seeing how the ethos of glorifying war/battle generally ascribed to the Vikings would stand up to one of the most messy, bleak, and extreme wartime situations in human history," explains McCormack.
When Hell Comes To Earth
Visually, the pencils and corresponding inks make for a shaky, changeable backdrop that communicates Anderson's general vulnerability perfectly. The shifting background is made of mud that rapidly reforms under torrential rain, wood that splinters, reams of barbed wire that cuts and ravages, bomb blasts that shatter the earth, and flesh that rips, rots, and disintegrates.
Likewise, the colors in this story are integral to the shifting time periods, with the opening featuring dark greens and blacks while much of the rest of the story is told in sepia tones. "I had a very specific idea of what I wanted the colors to look like, and he got what I was going for right away, so it was a very easy process," McCormack says of the collaborative process with Badgett. While it's easy to picture this book in black and white, the colors add an extra element by differentiating time periods and general moods.
Indeed, Bloody Hel is a messy book, and it doesn't offer any easy conclusions. War is Hell, but the central characters have been shoved into lives (and afterlives) in which it would be difficult to imagine an existence without the battle scars and traumas that their personalities were built on. Even as he is threatened that war will only come back again and again, greater than ever before, until it swallows the human race whole, Anderson can't do much but shrug. Peace might be unimaginable to him by then, but it doesn't stop him from doing what he can to limit or even reverse the effects of war for others.
In this way, Bloody Hel manages to criticize and even condemn the idea of war without ever contextually leaving the battlefield, making it a rare, genre-bending treat that avoids treating its central issue as something easily solved. Brutal, gorgeous, poignant, and unsettling, this is a well-told story that suggests its themes are a part of a larger, ongoing conversation around human nature that can't be answered by any one person. Yet, it does all this while still placing Anderson's actions as something that he, gloriously and somewhat tragically, has total control over, making it an ode to the power of free will as much as it is a criticism of the hubris of global wars.