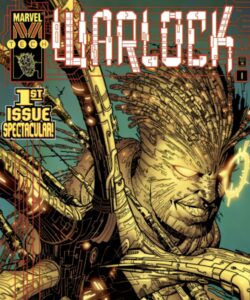 The M-Tech line of the late 1990s is a mostly forgotten footnote in Marvel's history today, but that's not to say it doesn't hold up. After all, it didn't have much of a chance to breathe before the whole thing was canceled, which makes it difficult to write it off fully—not a bad idea so much as one that buyers weren't quite ready for. Regardless of the line's brevity, tapping into underutilized tech-based characters like X-51 and Deathlok for their own solo series made for some interesting comics, and Warlock Vol. 5 is one of them.
It was in writer Louise Simonson's run on New Mutants
in #95 that the techno-organic being known as Warlock (temporarily) perished at the hands of Cameron Hodge. This was in 1990, immediately before she left the book with #97 and it transformed into X-Force. Here, nine years later, she returns to the character while remaining soundly outside of the X-Line for which they were both known. In the interim, she was one of the main architects behind The Death of Superman and surrounding stories at DC, and Warlock had been through resurrection, a name change, and more than one serious identity crisis.
Discussing Warlock Vol. 5 #1-9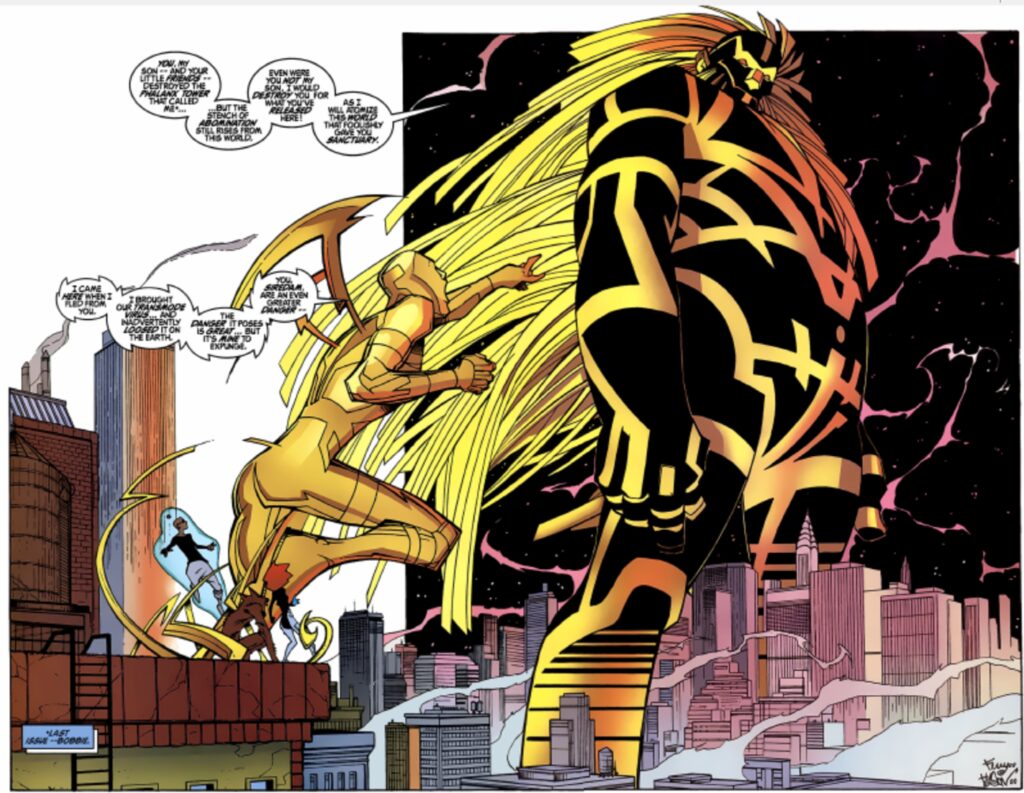 Douglock No More!
This story picks up after a particularly strange time for Warlock and Doug Ramsey, with Doug having been killed by the Ani-Mator in the Fall of the Mutants arc while Warlock himself perished in Genosha. After the Douglock resurrection, it was believed that the two had merged into a single being, though in truth Warlock had simply been implanted with Doug's memories. The conclusion of the original run of Excalibur in late 1998 freed him up for a surprise turn into an original series in 1999.
The story opens with Warlock traveling to Doug's grave in hopes of mining some sort of information that could bring Doug back. He is pursued by AI, and he arrives just after Doug's parents leaves flowers at his grave, driving home the impact of Doug's death in ways few stories had. Coming quite literally face to face with a body whom he was told had been infected with the techno-organic virus, he is surprised to find no trace of it on Doug's skeleton.
Support For Comic Book Herald:
Comic Book Herald is reader-supported. When you buy through links on our site, we may earn a qualifying affiliate commission.
Comic Book Herald's reading orders and guides are also made possible by reader support on Patreon, and generous reader donations.
Any size contribution will help keep CBH alive and full of new comics guides and content. Support CBH on Patreon for exclusive rewards, or Donate here! Thank you for reading!
Even at the outset, Warlock is very aware of the danger his existence poses to humanity. Blaming himself for bringing the techno-organic virus to Earth, his mission is to contain it before it causes bigger problems than he can control. He ventures into a Mainspring Facility and encounters a sort of Typhoid Mary for the virus in Esperanza, referred to as Hope, and her pet monkey, Chi-Chee. The character design is very much of its time, with Hope sporting enormous anime hair, but for Warlock's newly styled superhero look, it works. He cuts quite a figure with a new cape and the classic X-Men blue and gold.
This is early-career Ferry, between runs on Heroes For Hire and Action Comics. He's a good choice for the book, and the anime influences work for a series that is visually very much action and tech-focused. The backdrops are a bit boring, however, and this isn't helped by the colors, which tends to color entire cityscapes in a drab light gray. There is room for improvement, but the expressiveness of Warlock and is friends is always communicated expertly, and that is the most important thing when it comes to communicating Warlock's emotional state. The chaotic linework of Sienkiewicz's '80s take on Warlock may reign superior, but that wasn't the vibe of this series.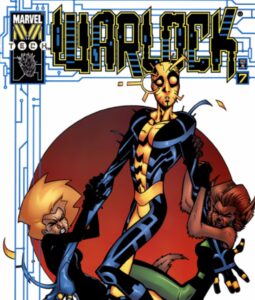 I Get By with a Little Help from My Friends (And Their Pet Monkey)
The cast is quickly joined by siblings Psiren and Psimon of the Psi-Cops, who exist to end the threat the virus poses to humanity while hoping to undermine the shady Mainspring, the villain of the story who seems to have his people everywhere. Psimon bonds with Hope, which annoys Warlock as they have different thoughts on how she should control the virus. An entire issue passes where her main concern is trying to eat a meal without transforming it into something inedible. All of these characters are great, and it's a shame they more or less faded into the ether at the close of the series.
Meanwhile, a number of Marvel characters pop up to help in Warlock's attempts to fight the Psi-Guys off, track Mainspring down, and keep the virus from spreading to the general populace. An appearance from Iron Man in #2 is brief but entertaining, while a team-up with Spider-Man to fight Psycho-Man comes a little out of left field, but it helps the fledgling heroes up their ante.
Kate Pryde shows up at the end of #5, and Hope makes a mental note that his sense of humor is significantly muted around her, as if he's attempting to fit into the mold that she kept him in when she believed he was Doug in the pages of Excalibur. This leads them to take a trip to Muir Island, where he is reunited with Rahne, with whom he'd had a brief romantic connection with. This leads to Hope acting out as she wishes to keep his attention for herself, leading to a classic "Betty and Veronica tugging Archie in opposite directions"-style cover for #7.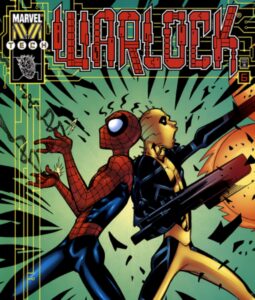 We've Got Jokes
A major part of why this series clicks is the classic Louise Simonson banter between Warlock and his newly found friends. Hope is thrilled and surprised to be rescued, but seems '90s-Marvel levels of underwhelmed by Warlock's incredible shapeshifting powers. We learn that she lost both of her parents when they were infected by the Phalanx right before her eyes, adding a level of horror to her existence that puts her generally gung-ho attitude toward superheroics into context.
Warlock's powers, however, are used to great effect, and often with a comedic note in mind. When Tony Stark visits an art museum, Warlock is posing as an abstract sculpture, at which Tony wryly comments, "A humorous commentary on social deconstruction," before they are attacked by the villainous Gatekeeper. Likewise, while many of the villains in the series are standard "evil mysterious overlord" and "questionable organization" tropes, there is still some compelling stuff thrown in. When Mainspring finds the dismembered head of Bastion and begins questioning it, it leads to a surprisingly great exchange between two low-personality villains. Naturally, everything leads into an epic showdown between Warlock and his father, the Magus, complete with a guest appearance from the Avengers.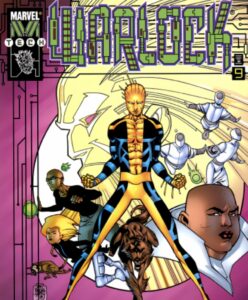 I Get By with a Little Help from My Friends (And Their Pet Monkey)
Early on, we see Warlock feeling remorse for an infected Chi-Chee, then noting that he can't allow his sadness to save the monkey because it might put the world at risk. This shows that the lessons he was learning in Excalibur about making difficult decisions have stuck somewhat, but when Hope argues with him, he immediately caves to her judgment. While he possesses much of Warlock's early optimism, he grows impatient and even angry often enough, adding depth to a character that is often considered fairly one-note. Even Rahne, who was often portrayed as hysterical and irrational after this series, shows a surprising level of maturity when she reaches out to the troubled Hope.
Perhaps most importantly for longtime readers, Doug's death weighs on Warlock. The series kicks off with him visiting Doug's body, and it's clear that he's never far from his mind. Anytime he acts selflessly, he notes that it's something that he learned from Doug. During the Douglock days, it seemed more like his coldness and pragmatism were among the primary traits inherited, whereas here we see a genuine enthusiasm for superheroics that puts his character into a new light.
It may have not been destined for this superhero take on Warlock to stick around, and as the character is a lot of fun in his more chaotic form, that is no great loss. On the other hand, this series is an important piece of the puzzle when it comes to getting Warlock (and Doug) to where they are now. As the modern era leans into the importance of these two to the greater X-Men story in ways we have not yet seen, it's important to remember that there were a series of starts and stops along the way, and that some of them were better than others. This series is a strange segue, but it clicks, and Warlock and Doug Ramsey fans will be moved by our hero's dedication to their friendship throughout these nine issues.