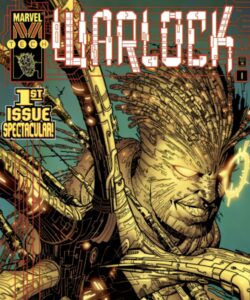 The M-Tech line of the late 1990s is a mostly forgotten footnote in Marvel's history today, but that's not to say it doesn't hold up. After all, it didn't have much of a chance to breathe before the whole thing was canceled, which makes it difficult to write it off fully—not a bad idea so much as one that buyers weren't quite ready for. Regardless of the line's brevity, tapping into underutilized tech-based characters like X-51 and Deathlok for their own solo series made for some interesting comics, and Warlock Vol. 5 is one of them.
It was in writer Louise Simonson's run on New Mutants
in #95 that the techno-organic being known as Warlock (temporarily) perished at the hands of Cameron Hodge. This was in 1990, immediately before she left the book with #97 and it transformed into X-Force. Here, nine years later, she returns to the character while remaining soundly outside of the X-Line for which they were both known. In the interim, she was one of the main architects behind The Death of Superman and surrounding stories at DC, and Warlock had been through resurrection, a name change, and more than one serious identity crisis.
Discussing Warlock Vol. 5 #1-9 [Read more…] about M-Tech's Warlock: An Underrated Late '90s Gem