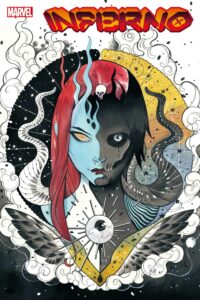 Wrapping with Inferno #4, Hickman's X-Men has drawn to a close, yet the Krakoa era has only just begun. New stories are kicking off and away from the central premise introduced in HoXPox
, ushering in another chapter of X-History. There are many important elements of this run to discuss, which is a major reason why it has been widely reviewed and commented on by critics both within comics and in the larger entertainment sphere. From the resurrection protocols to Moira X to Nimrod and the Omega Sentinels, Dawn of X and then Reign of X hit the ground running and the X-Titles are showing no signs of slowing down.
One monumentally important element of the era has been bringing the villain Destiny back and reinstating her importance in both the franchise and Mystique's life. While decades of subtext, film franchises, editorial mandates, and death have kept them apart, this run effectively brought the pair to the forefront as a couple for the first time in ways that could never have happened before. Among the many things this era has given its readers, perhaps no gift has been so sweet as the reunion between these two murder wives and the long-awaited continuation of their beautiful love story, all while pitting them against Moira X, Xavier, Magneto, and others.
Discussing elements of House of X/Powers of X, X-Men Vol. 5 #1-21, and Inferno #1-4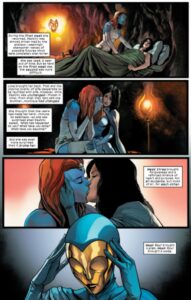 Let's Talk About the Greatest Love Story The X-Men Have Ever Known
Irene Adler is the precognitive villain known as Destiny, beset with the task of making sense of Marvel's shifting futures and timelines. Raven Darkholme is a shapeshifter with a penchant for using her powers to impersonate political figures as well as doing mean things just because she thinks they're funny. Together, they are the greatest love story the X-Men have ever known.
After kicking off their time in comics by antagonizing Carol Danvers and enlisting their adopted daughter Rogue into a life of crime, Destiny and Raven were forced into community service alongside other mutants under the team name Freedom Force, which remains a truly majestic title for a bunch of criminals tasked with regulating mutants. While Mystique struggled with Rogue leaving the fold, Destiny prepared herself for her pending death. Eventually, Legion murdered her, leaving Raven devastated and swearing vengeance on Legion, Forge, and the whole rest of the world.
Support For Comic Book Herald:
Comic Book Herald is reader-supported. When you buy through links on our site, we may earn a qualifying affiliate commission.
Comic Book Herald's reading orders and guides are also made possible by reader support on Patreon, and generous reader donations.
Any size contribution will help keep CBH alive and full of new comics guides and content. Support CBH on Patreon for exclusive rewards, or Donate here! Thank you for reading!
Regardless of the lack of official confirmation of their relationship outside of innuendo, Raven without Irene is unquestionably a woman on the edge. Decades pass, and there is no question that Mystique would give up absolutely anything to see Destiny again. While the issue of Raven's uneven characterization is more a question for creatives and editorial than anyone else, looking at it from a distance, Mystique can easily be read as unable to cope with the loss of her lover as she chases the increasingly loose threads of her life in hopes of bringing her back. While this was not contextual in the books as they were coming out, the new era acknowledged that Raven lost her way after Destiny died.
Yet, Destiny always planned to return to Raven, and even as Raven was working around the clock to bring her back, Destiny had left diaries and letters for her and others to find that made it feel as if she'd never truly gone. In X-Men #6, we see that Destiny told Raven that Xavier and Magneto might try to prevent her from bringing her deceased lover back to life despite the resurrectional nature of Krakoa. Destiny says, "Bring me back. And if you cannot…if they will not…then burn that place to the ground."
As noted, the romantic nature of Mystique and Destiny's relationship has been widely referenced but seldom confirmed. It is nodded to in many minor entries and backup stories, with perhaps the most canonical acknowledgment occurring when Rogue muses about their relationship during Northstar's wedding in Astonishing X-Men #51. She wonders aloud that if her mothers had been able to marry and live openly, it might have changed things for them. Beneath their villainy, there has always been an element of tragedy for these two, and that's why there is no undervaluing the momentum of Mystique referring to Destiny as her wife throughout Hickman's run. It took an unbelievably (and inexcusably) long time to get to this point, and that only makes it all the more important.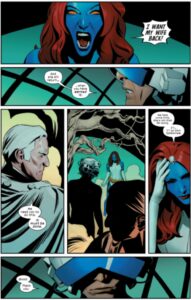 Xavier and Magneto Play with Fire
When the revelation that Moira has been a mutant drops, we discover that Destiny is one of the few who can see her past her "defense mechanism" of being undetectable to other mutants. This is revealed when she and Raven find Moira on a day of great celebration as she and her lab celebrate their "cure for mutants." The Brotherhood breaks in and murders everyone in the building, dragging Moira out to the beach and lighting her aflame.
As always, Raven and Irene's methods are absolutely brutal, and Moira's agonizing death at their hands will remain one of the most exhilarating and horrifying moments in X-Men comics. First told through Moira's perspective in HoxPox, with Destiny and Raven barging in and killing everyone she's ever loved only to inflict painful death on her, Inferno
gives us another view of the situation. Destiny saw the catastrophic effects of Moira's anti-mutant engineering practices unfold across timelines and sought to put a stop to it. There is a strange morality to Destiny's actions, and the fact that every crime she commits is in service to a greater cause makes her all the more frightening.
In the early pages of Hickman's X-Men, Mystique is enlisted in a number of dangerous missions ultimately leading to her own death and resurrection when she fails to stop the creation of Nimrod in X-Men #20. Throughout, her only demand is that when she is done they will return Destiny to life. Instead, Erik and Charles deliberately toy with her.
Raven is far from what might be considered a "good person," but Xavier's casual cruelty in regard to her desire to see her wife makes her actions significantly more understandable. Rarely have we seen him so pointedly spiteful, taking on a martyr stance when Raven tells him she despises him and referring to her at various times as both a "monster" and a "tool." Using her as completely disposable, he and Erik quite literally force her into an unwinnable situation and then make her beg them to resurrect Irene, which they then decline to do.
When this all blows up in their faces, they plead ignorance, but that is only further evidence of the hubris that Moira calls them out for in Inferno. While she and Destiny remain forever at odds, they have formed similar views of Xavier and Magneto built on a foundation of experience. As with so many real-world historical figures, these men have been revolutionary at many points in their lives, but their inability to listen to women is their downfall. Mystique brings Irene back in spite of them, and they sweep the Quiet Council. When Xavier postures that he's going to vote to have Mystique removed, Destiny quips, "Would you like me to tell you how it's going to go?"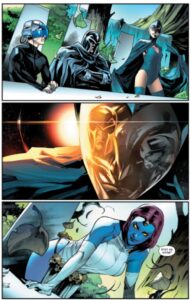 Moira X and Destiny
The resolution of Inferno involved many puzzles pieces falling into place. Indeed, positing Destiny and Moira as opposite sides of the same coin makes both of them scarier, but it also makes them each more sympathetic. While Destiny's lover is so loyal to her that she would die for her a thousand times over, Moira has lived multiple lives and will always be painfully alone. Being perhaps the smartest person ever to live can't free her from Destiny's prophecies, nor does it protect her from the arrogant decisions of powerful men. Moira's conclusions are no less exacting than Irene's, but she is able to lie to herself in a way that Irene is not. If Erik and Charles' differing ideologies grant us a moral counterbalance, Irene and Moira do much the same for one another.
Another exciting element of Destiny's resurrection is that she was long portrayed as Mystique's softer side, but over Hickman's run, it has become more than evident that the two have always worked in tandem when it comes to the brutality of their vision. Though there is certainly space for self-serving ambitions, these are two women that are thoroughly disgusted by the way mutants have been treated, and they fear a future in which that continues or worsens. As seen many times, they will do everything in their power to prevent that from happening, including crossing every moral event horizon that is presented to them.
Yet, they are equally repulsed by Xavier and Magneto and the way the two of them dance in a constant circle, more burdened by individual dramas than an overarching vision. Developing the political ideology of Raven and Irene as something more complex yet also more ruthless than Erik or Charles has shown a rare willingness to tap the full potential of these fascinating characters. Fleshing out the political stances of mutants outside of the exhaustingly repetitive and ideologically narrow Magneto/Xavier dichotomy is a major part of why these stories have succeeded, and nowhere is that more true than with Destiny and Moira X.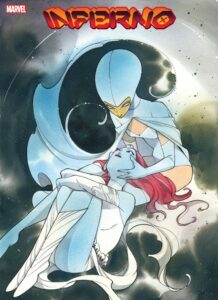 Krakoa is Life
While many in X-Men fandom attempted to assign an auteur role to Hickman, no one fought against that image more effectively than Hickman himself as he opened the door for a larger group of creators to make this era one that can be defined by its many, occasionally conflicting implications rather than one singular take. In the end, what Hickman, in conjunction with a truly on-their-game editorial team, succeeded at perhaps more than others was to help usher in a larger network of titles that work in harmony with one another while remaining very much in dialogue with what has gone before. The unique directions that are taken with each book only serve to create a greater whole, and many sidelined characters are being infused with new life.
The many revolving parts of the modern era of X-Men are all crucial to making it work, but perhaps none play so vital a role as Mystique and Destiny. The story of these star-crossed lovers rages like a fire through the X-Men mythos, constantly subdued but never diminishing even as the decades passed us by. Naming this event "Inferno" takes on many different meanings along the way, but the flame that Destiny lit in Mystique's heart all those years ago has continued to burn bright as a star even when real-world elements and fictional pitfalls have conspired to extinguish it. The lovers are finally reunited and the future is free to unfold in ways that it never could have before, and that will always be a major part of Hickman's legacy on this franchise.