X-Men Epic Collection: X-Cutioner's Song features the collective X-Men titles at arguably their most tumultuous time. Less than a year before the earliest issues collected in this volume were published, the X-Men were at the height of their powers, coming out of a successful linewide relaunch led by superstar artists which propelled the books to record-breaking sales. Yet less than halfway through this volume, those creators are gone, left to start a new comic book company in what is sometimes called the "Image Exodus." A new batch of creators, most untested in such a bright spotlight, were then forced to learn on the job while picking up the pieces left behind by the exodus, while also somehow crafting those pieces into the next semi-annual crossover event story to bring all the various X-Men titles together to tell one cohesive story.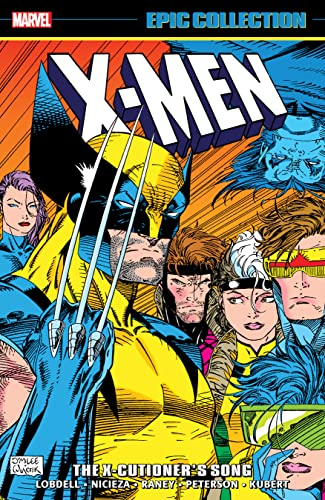 That they not only succeeded but, in the process, crafted one of the better X-Men crossovers of all time, was never guaranteed. But a combination of talent and the lift that came from working with some of the most popular characters in all of comics ultimately won out. Before "X-Cutioner's Song," there was a legitimate question as to whether the X-Men were popular because people liked the characters, or if they were popular because creators like writer Chris Claremont and artist Jim Lee were crafting their stories. The Image Exodus offered an opportunity to answer that question,
While the record breaking sales of X-Men (vol. 2) #1 would never be met again, the post-Image Exodus X-books, buoyed by a popular cartoon and accompanying action figure line, continued to dominate the comic book marketplace, becoming a key source of revenue for Marvel even as the speculator bubble of the early 90s burst and corporate chicanery led to things like layoffs and bankruptcy. Thus, X-Men Epic Collection: X-Cutioner's Song captures the point in time in which the question of whether or not the X-Men could not only survive but thrive without the likes of Lee and Claremont is both raised and answered. It captures the point in time in which the X-Men become self-sustaining, when it is made clear that people love their stories regardless of who was crafting those stories.
[Read more…] about X-Men Epic Collection: X-Cutioner's Song Review!